Pillars of enchanting red rocks. Secret slot canyons. Endless acres of beautiful public lands. Welcome to Highway 12 in Utah, 123 miles of the most stunningly beautiful landscape in the Southwest.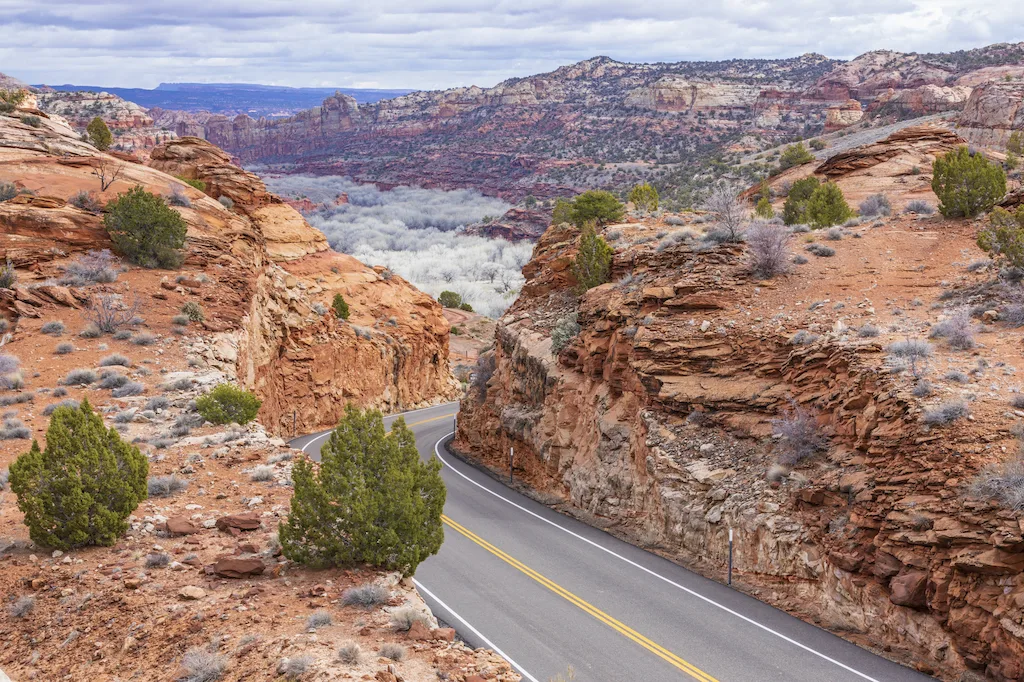 If you are looking for a unique road trip that features enchanting national parks, great camping, and endless opportunities for outdoor adventures, stop what you're doing and plan a Highway 12 road trip through southern Utah.
Our family has embarked on back road journeys all over America, but we happened upon Scenic Byway 12 in Utah by accident. Since that fateful day, we've been fueling our road trip dreams on the mere memory of the time we spent there.
Highway 12 in Utah is a National Scenic Byway and has also been designated an All-American Road for a rustic landscape that isn't found anywhere else on earth.
Driving Highway 12 is truly an epic experience, and one of the most memorable visual feasts in America, bringing you through landscapes so ruggedly desolate that the drive alone is an experience worth reading about.
But there's more to Utah Scenic Byway 12 than extraordinary beauty as viewed from the window of your road warrior machine.
Your journey could be extended for weeks and weeks as you explore two national parks, three state parks, and millions of acres of national recreation and forest lands.
Ready to plan your adventure on Highway 12 in Utah? First some practicalities, and then the good stuff!
When is the Best time to Drive on Highway 12 in Utah?
The best time to drive this stunning route is in October when the weather is dry and days and nights are cool. March and April are lovely too and you will see more vegetation and flowers blooming in the spring.
Highway 12 is passable year-round unless there is a major snowstorm, but the white-knuckle driving in winter makes the road unpleasant to drive on. Summer, while hot, is beautiful in the canyons and honestly not as crowded as I would have thought.
What's the Best Way to Get to Scenic Byway 12?
If you have to fly in and rent a car, you will be driving just under four hours to get to Panguitch where your Highway 12 journey begins. It's a toss-up between using McCarran Airport in Las Vegas or Salt Lake City International Airport, so do your research ahead of time and find the best deals on flights and car rentals before booking.
Insider tip: Las Vegas and Salt Lake City both have Escape Campervan depots if you want to make your trip a bit more adventurous! This is one of the best road trips we can think of for van camping under the stars!
HOT DEAL! Use the code BACKROADRAMBLERS10 for 10% off your 2023 trip with Escape Campervans from any location with no blackout dates. Book your trip before 4/31/2023 to get your discount.
How Long Should I Spend Driving on Highway 12 in Utah?
From a technical standpoint, you could drive Highway 12 in a single day, but what would be the fun in that?
To take full advantage of the recreation opportunities, I recommend spending 2-3 nights in Bryce Canyon National Park, 1-2 nights on Highway 12 (we'll list more suggestions below), and 2 nights in Capitol Reef National Park, for a 5-7 day road trip with lots of hiking and exploring.
Will I Have Access to Amenities on Highway 12?
There are grocery stores and gas stations at either end of Route 12, and a few more gas stations along the route. I suggest getting all of your provisions and filling your tank in Panguitch before heading east. There are small stores in both Bryce Canyon and Capitol Reef National Parks.
The Best Stops on a Highway 12 Utah Road Trip
Here are some highlights of this fabulous road trip on Scenic Byway 12 – an absolute must for everyone who wants to fall hopelessly in love with the open road.
Panguitch and Red Canyon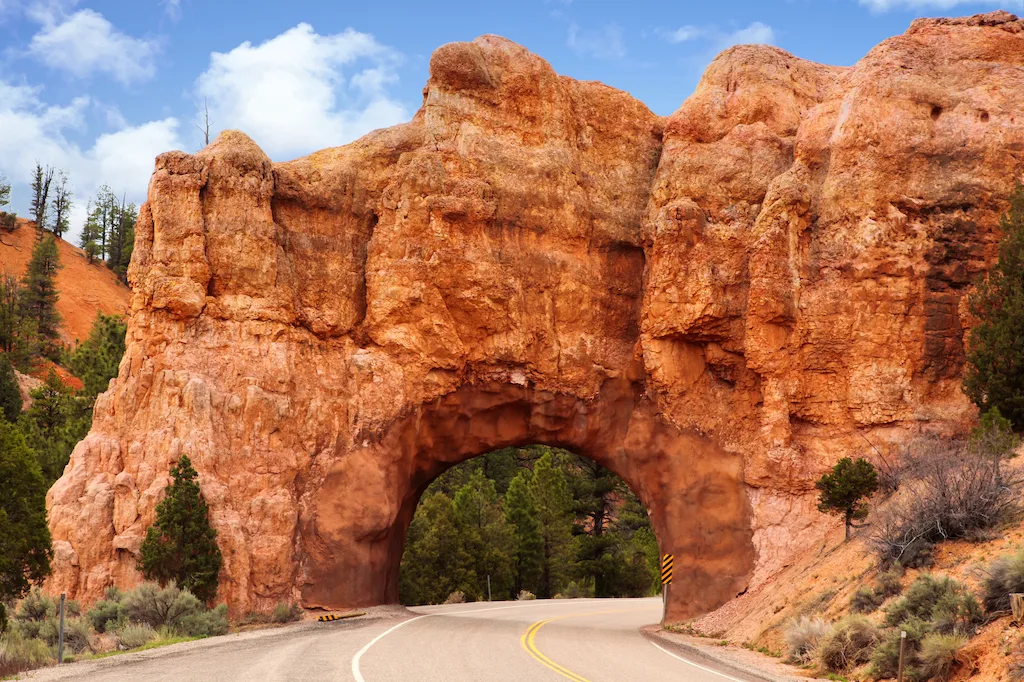 Traveling from west to east, you will begin your foray in the little town of Panguitch. A historically-rich village that is steeped in the weather-beaten charm of the wild west, Panguitch is the place to stock up on provisions, throw back a drink at an authentic saloon, or embark on a historical walking tour.
Just 25 miles from Bryce Canyon, Panguitch boasts a growing tourist economy while still maintaining its small-town roots.
From Panguitch, you will enter Red Canyon, which is where the excitement begins.
Turn up your favorite tunes and prepare to be amazed at the pillars, pinnacles, and spires that stretch out for miles and offer jaw-dropping spectacles around every bend. The performance continues for miles, but the red rocks will entice you to get a closer look before you're too far into your journey.
Your first stop is not far from Panguitch.
The Red Canyon Visitor Center is the perfect place to stretch your legs, learn more about the geological forces behind the landscape, and eat a picnic lunch.
You might want to take a leisurely stroll on the Pink Ledges Trail. It's a short, interpretive hike from the visitor center that leads you through a conifer forest to the base of a red rock cliff. Don't forget your camera – even the cliffs around the visitor center are stunning!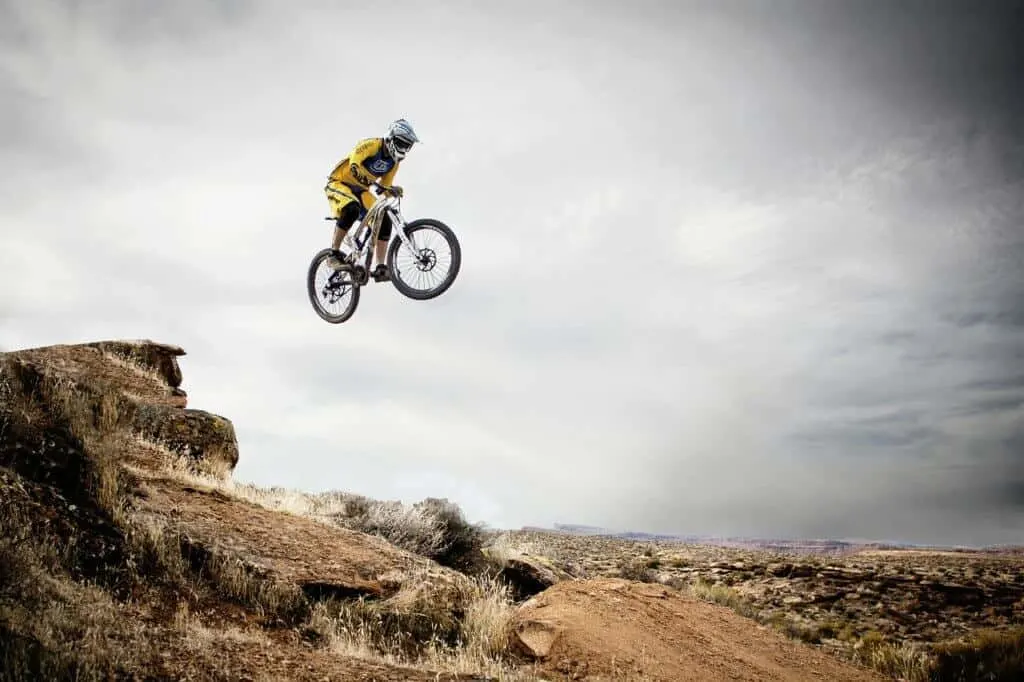 If you're into careening down a mountain on two wheels as the scenery blurs past and hikers run for safety, pull off at the trailhead of the Thunder Mountain Trail, just before the Red Canyon Visitor Center.
This is a world-class mountain biking destination and when combined with the paved Red Canyon bike path, it makes a great loop for experienced riders. At one point, the cliffs drop off on two sides and you can see for miles in every direction. Just don't look down.
Welcome to Bryce Canyon National Park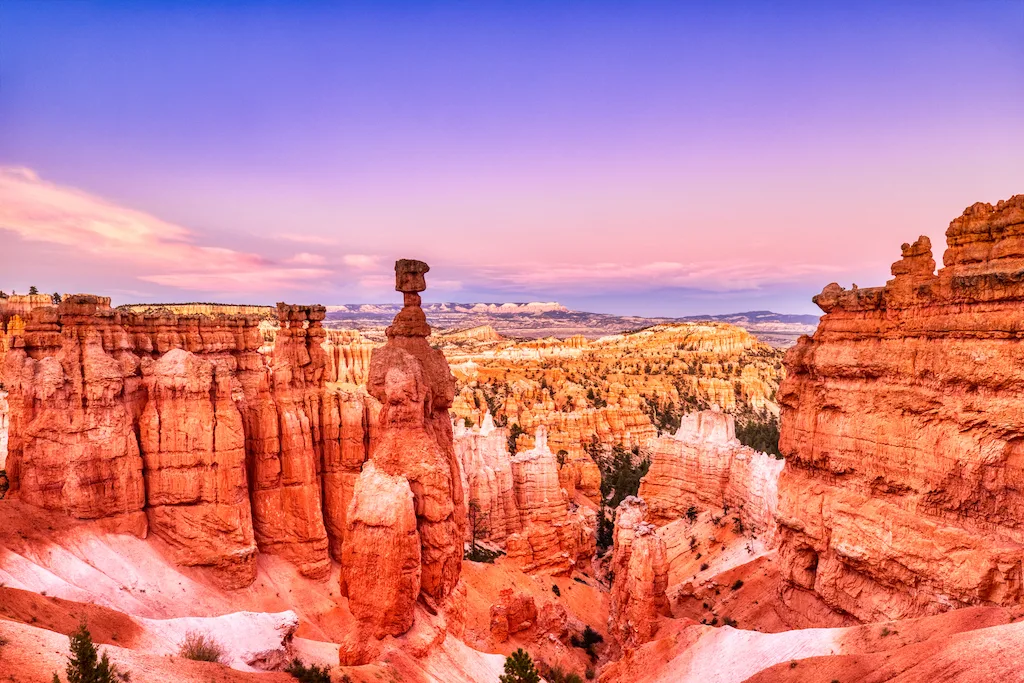 Sure, you can drive through Bryce Canyon National Park, stopping at all the vistas and taking some photos before heading on your way, but to really appreciate this otherworldly landscape, I recommend pitching your tent (or parking your Escape Campervan) for a couple of days.
If camping isn't your thing, book a room at the Lodge at Bryce Canyon.
There are two campgrounds in Bryce Canyon National Park. Sunset campground has 100 tent/RV sites that can be reserved ahead of time between May 20 and October 15 on Recreation.gov. North campground has 99 first-come-first-serve sites, 30 of which are open year-round.
During our recent visit, we scored the last campsite at Sunset Campground without a reservation, but we don't recommend doing it that way!
If you make a point of getting up before the sun, you can watch it rise over the hoodoos and bathe the canyon in a rainbow of colors. Then, before the campground comes to life and you head back down for your morning coffee, you will feel like you are the only one in the vast empty canyon, and you'll embark on a life on the road, changed forever.
Okay, that's just my little fantasy, but Bryce Canyon and this particular road trip really did rock my world.
One more thing, please take advantage of the ranger-led night walk if it is offered during your stay. There are full-moon hikes and astronomy programs that will leave you breathless. On a clear, dark night, the milky way shines like a silver streak across the heavens and 7500 stars are visible to the naked eye.
You can also sign up for a guided tour of Bryce Canyon, where you can visit the most scenic spots in the park and learn about the impressive history of the area.
Best Vistas and Trails in Bryce Canyon National Park
With only a couple of days to explore this magical place, you want to hit the best vistas and trails before heading on your way. Here's where we'd recommend going.
Visitor Center – Stop here to grab a map, learn about trail closures and special programs, and visit the museum.
Sunset Point and Navajo Loop Trail – If you only have time for one hike, do the 1.3-mile Navajo Loop, which will take you past some of the most stunning hoodoos in the park, including Thor's Hammer, Wall Street, and Twin Bridges. This trail has an elevation change of 515 feet.
Fairyland Loop – The 8-mile Fairyland Loop will take you most of the day, but it is a great way to get into the canyon without the crowds, and the scenery is gorgeous.
Rim Trail – 5.5 miles one-way, the Rim Trail is a paved path between Fairyland Point and Bryce Point with numerous viewpoints and vistas from above the canyon. If you just want to walk a portion of the Rim Trail, walk the mile between Sunset and Sunrise Point.
Escalante Petrified Forest State Park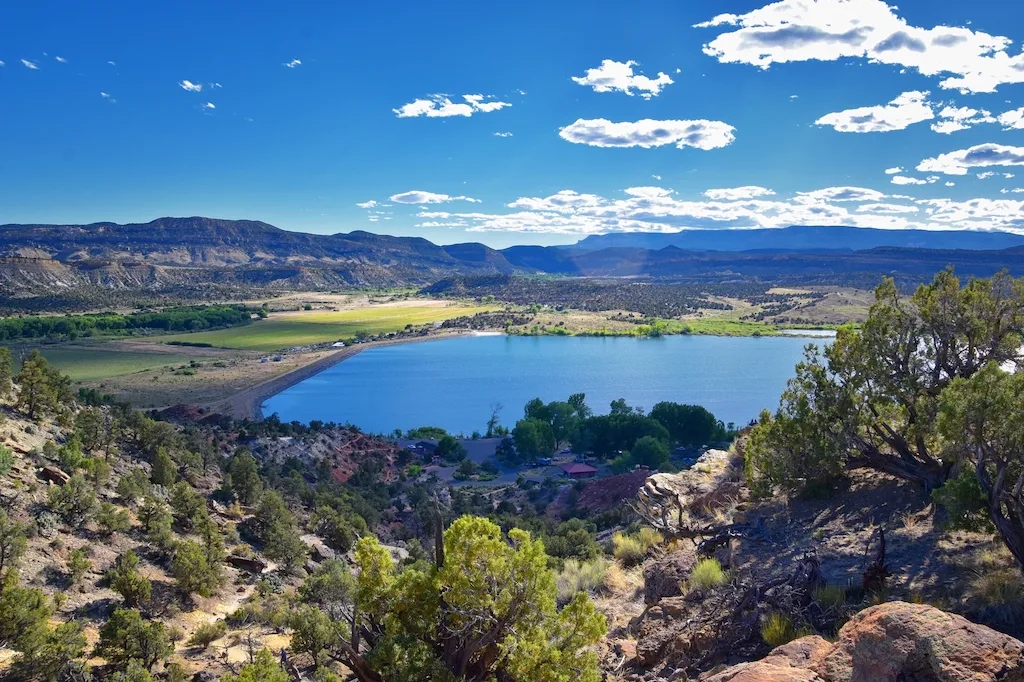 Travelers on Scenic Byway 12 in Utah often pass this park by in favor of more majestic and popular scenic attractions, but this quiet underachiever has some secrets to share if you give it half a chance.
At Escalante Petrified Forest State Park, you will find a small 22-site campground, a reservoir for bird watching, canoeing, and swimming, and some cool geological wonders.
While this petrified forest is less impressive in color and magnitude than the Petrified Forest National Park in Arizona, Escalante's beauty lies in its obscurity and opportunities for solitude.
Two short trails snake through the park. The first – Petrified Forest Trail, climbs up behind the campground and offers panoramic views of the surrounding park. The Trail of Sleeping Rainbows is a bit steeper with larger petrified specimens.
In July, when we passed through, we shared the whole park with one other camper. Day use is $10, camping is $25 or $30 with hookups. Campsites can be booked in advance.
Coffee with a View and a Pueblo Village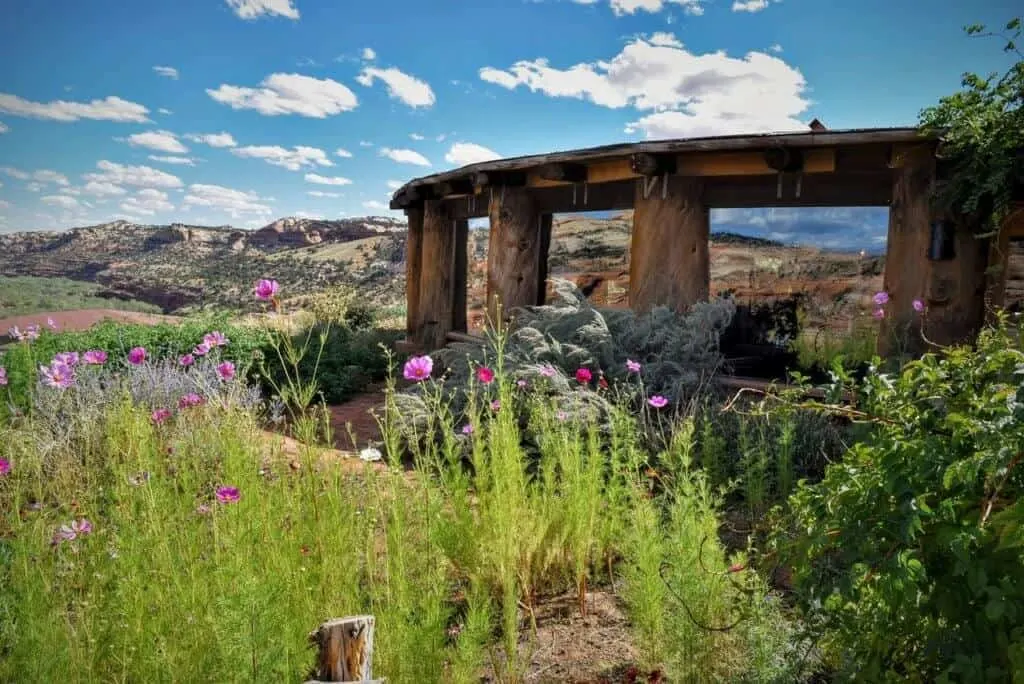 Heading east on route 12 in Utah, you will just start to get into your driving groove when you will spot a sign for coffee. The magnetic pull of the road may be too strong for you to resist, but I urge you to pull off and visit Kiva Koffeehouse.
This one-of-a-kind building is modeled after a traditional southwestern kiva, and it's perched on the side of a cliff with expansive views of the canyon.
What's more, the coffee is really good, especially if you've been drinking gas-station mud since San Francisco. On this particular road trip, our family had a thing about visiting coffee shops. They were our weakness and a huge source of comfort, especially in foul weather.
Anyway, by the time we reached Kiva Koffeehouse, we hadn't had a decent cup since the coast, and we didn't have high hopes for remedying the situation any time soon. We were happily surprised by the quality of the pastries and the coffee at Kiva, and we were stunned by the beauty of the building and the amazing views.
Next stop – Anasazi State Park Museum. This small museum and reconstructed Anasazi village is a quick and interesting spot, perfect for your picnic lunch, and especially fun if you have kids.
The museum contains authentic pottery and a number of artifacts that were excavated on-site. The Anasazi, or Ancestral Pueblos, occupied the spot from 1050 until about 1200. The village is a combination of original excavation and reconstruction and is very well done, a perfect side trip for history buffs and homeschoolers like us.
Capitol Reef National Park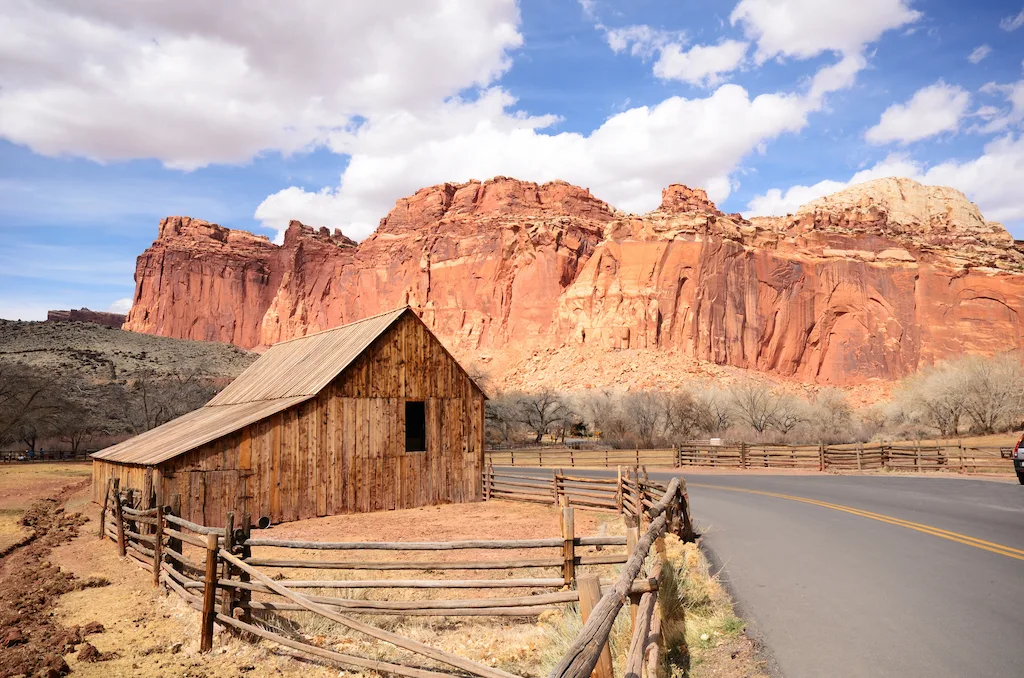 The last stop on your highway 12 adventure isn't even on highway 12, but just to the east. Capitol Reef is a small national park, but rich in history and full of charm.
Nomadic hunters inhabited the area before the Fremont people finally settled down in 500 CE. You can view petroglyphs from this time period from a boardwalk just a short walk from the parking area. It is incredible to think that this ancient art has stood the test of time and the elements.
Mormon pioneers settled the valley in the 1800s as a mission, planting an abundance of fruit trees and farming the fertile land. This settlement was short-lived, but the orchard is still maintained by the National Park Service. In fact, the historic orchard at Capitol Reef is the largest in the national park system, with more than 3,100 fruit and nut trees.
The orchard is open to the public for picking, but we were a bit early for the harvest when we headed through in July. We did, however, score a fresh-baked cherry pie and homemade ice cream at the Gifford Homestead store. Fresh-baked pie when you're living out of your car is a pretty big deal indeed.
The campground at Capitol Reef is small and unassuming, with a tiny river for swimming (we saw a snake in the water), and nice walking trails. The whole park has a hometown and leisurely feel to it. The rangers, as usual, were awesome, and even in the busy July travel season, the crowds were minimal.
If you want to spend time exploring Capitol Reef National Park, but don't want to camp, consider Capitol Reef Resort, which is close to the park entrance, features amazing views, and you can choose from a standard hotel room, a teepee, or a covered wagon for your lodging. There's also a casual restaurant on site, an outdoor pool and hot tub, and a fitness center.
Ready to plan your next road trip on America's most scenic highway? Highway 12 in Utah promises endless opportunities for every type of adventurer!
Where to Stay on Highway 12 in Utah
We recommend book-ending your drive at Bryce Canyon National Park and Capitol Reef National Park, but you should also consider spending one night somewhere in between the two. Camping at Escalante Petrified Forest State Park is a great choice, if you don't want to camp, here are a few more ideas.
Budget option – Ponderosa Inn, Escalante. This small unassuming motel has just five cozy rooms. It's located in downtown Escalante and within walking distance of eateries.
Glamping – Yonder Escalante. Looking for a special glamping getaway to celebrate this awesome road trip? Yonder Escalante is an upscale glamping resort with private cabins and Airstreams for rent. Amenities include a pool and hot tub, grab-and-go meals, a general store, and a drive-in theater. Pets are welcome for an additional fee.
Bed & Breakfast – Slot Canyons Inn. Choose from rooms, suites, or the Isaac Riddle Cabin on 160 acres near Grand Staircase Escalante National Monument. All rooms have an outside entrance and breakfast is served daily.
What to Pack for Your Highway 12 Road Trip Through Southern Utah
Not sure what to pack for your Highway 12 road trip? Go for 100% activewear, as you'll be doing lots of outdoor adventuring, and spending minimal time in town. Nightlife will include stargazing and marshmallow roasting, so leave the heels at home. Here are a few useful items to throw into your bag for this road trip.
---
Need more adventures in the American Southwest? Read these next:
---
Follow us on social media for more outdoor inspiration!
Pin for Later?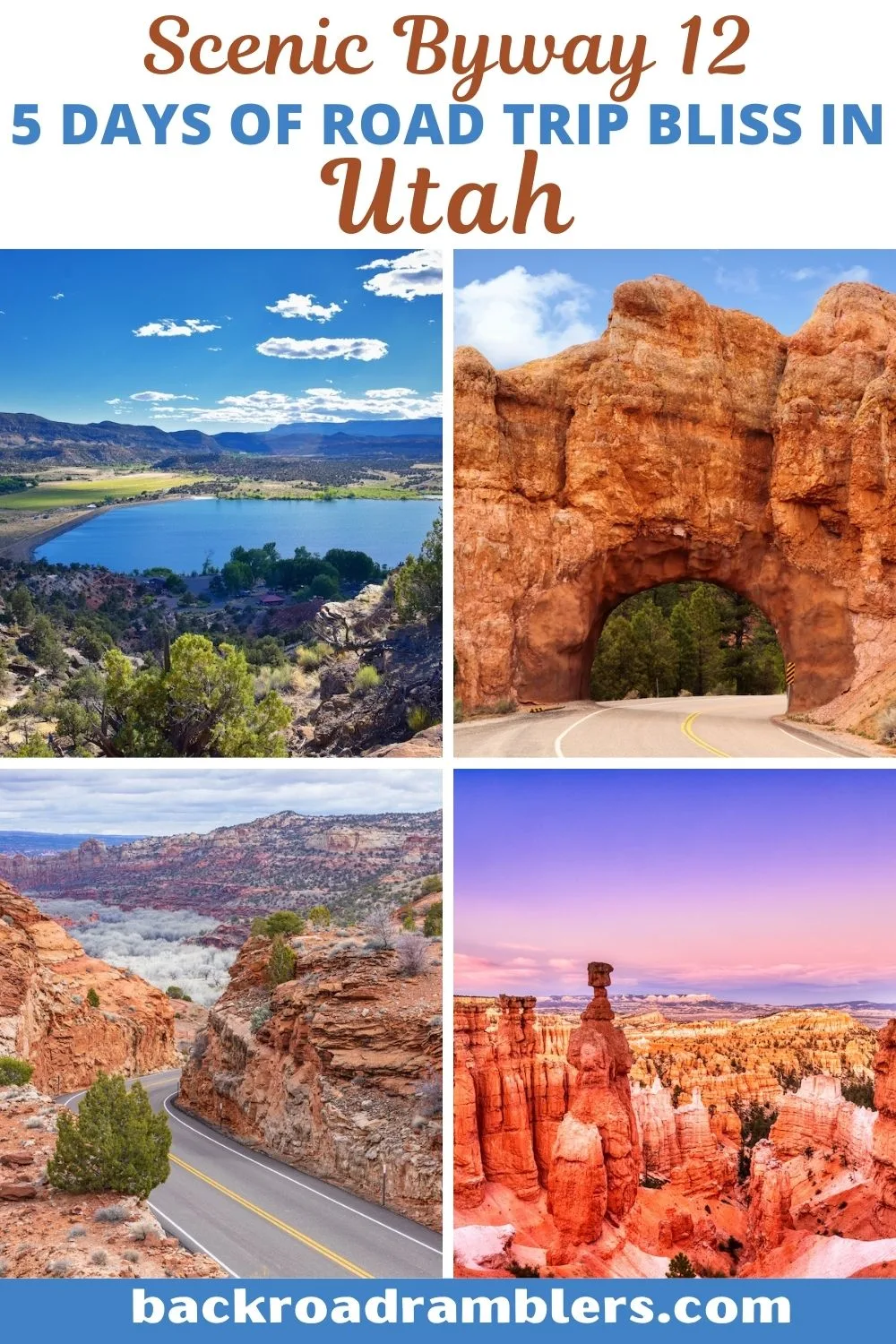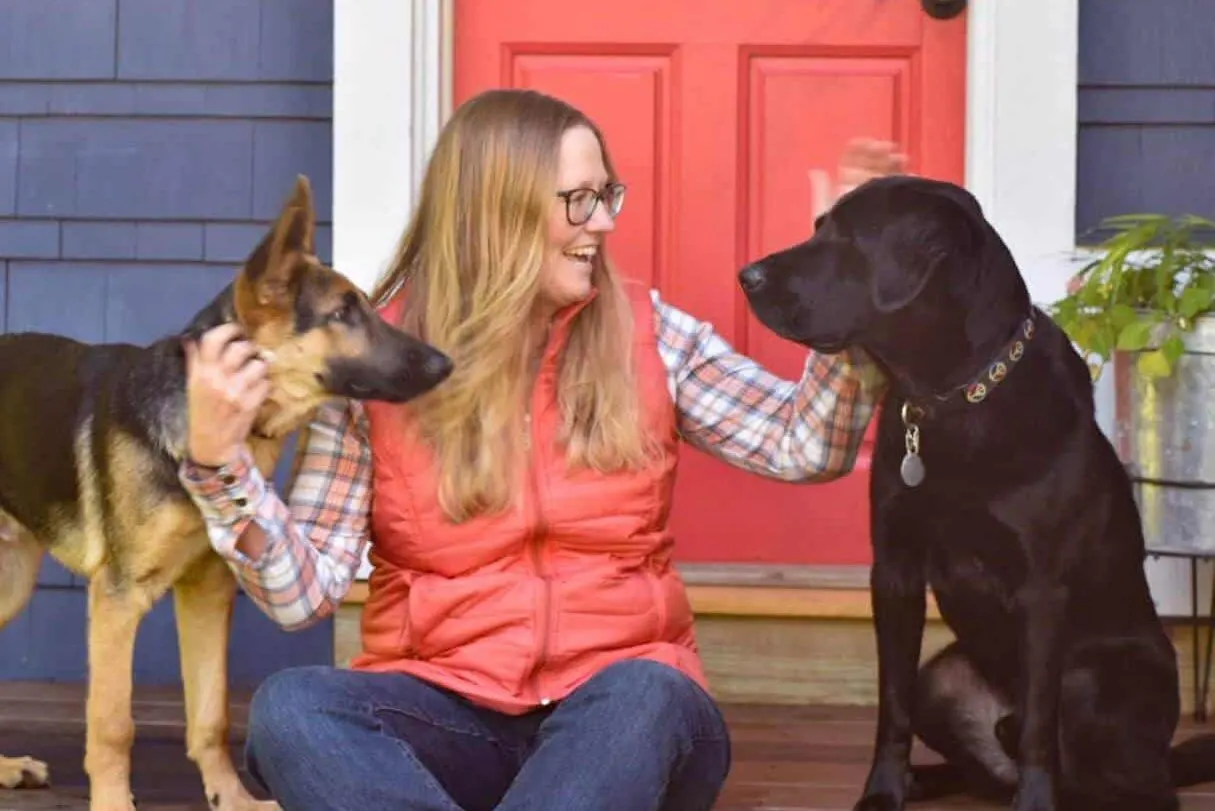 Our Favorite Resources for Road Trips and Outdoor Adventures

These are the resources we use to plan road trips, save money while traveling, and shop for outdoor gear.

Car Rentals: While we use our own car most often for road trips, we also enjoy flying into major airports and then renting a car for more regional road trips. We use Kayak to compare prices and find deals from dozens of car rental agencies at once.

Flights: We use Kayak to search out flight deals.
Money-saving tip: If you find yourself using the same airline repeatedly (we are huge Southwest fans), consider joining their loyalty program and getting an airline credit card. With our Southwest Rewards Visa, we earn a few free flights each year.

Hotels: When it comes to lodging, we seek out small boutique hotels or quirky roadside motels. First, we search for hotels on TripAdvisor so we can read reviews from other travelers. Then, we use Booking.com to make reservations (they have the best prices, plus a flexible cancelation policy).

Camping: Camping is one of our favorite things to do on long road trips. It allows us to explore the outdoors, cook our own food, and save money. We use They Dyrt Pro to find campsites and read reviews before booking on Recreation.gov or state park websites.

Glamping and Vacation Rentals: For weekend getaways and shorter vacations, we love glamping (check out our glamping resource guide). We book glamping properties through Tentrr, Hipcamp, and Airbnb. For cabins and vacation rentals, we like to use VRBO (they have fewer fees and a better cancelation policy than Airbnb).

Guides and Maps: If we are visiting a new region, we usually invest in a Moon Travel Guide for the area. We pass them on to friends and family after our trip. If we are planning on hiking, we also purchase a Falcon guide in the Best Easy Day Hikes series.

Outdoor Gear: We are REI Co-Op members. It cost us $20 for a lifetime membership, but we get a yearly dividend based on our purchases, plus great deals and coupons throughout the year. REI also has a great return policy.

Check out our complete guide for planning a road trip on a budget