Miles of sandy beaches, world-class museums, glacier-scoured mountains, and a plethora of cool historic sites. If you're in the throes of planning your next family vacation, don't neglect the East Coast of the United States!
Not only does the east coast of the US feature some of the most kid-friendly cities in the entire world, but this massive geographic region is also fantastic for outdoor recreation or that quintessential beach vacation.
Throw in a few crazy affordable flight deals, and you got the beginning of a stellar east coast vacation.
To make things easier, we've divided this post into three sections: kid-friendly cities (both large and small), spots for outdoor adventures, and east coast beach vacations.
Most of these beautiful east coast locations we've explored with our own family (we zip up and down the east coast more than we want to admit). The others are on our family bucket list!
Whether you're looking for inspiration or you're already knee-deep in planning mode, here are the best family vacations on the east coast, both well-known and obscure.
Best Family Vacations on the East Coast: Kid-Friendly Cities
City vacations are not usually my cup of tea (I'm all about small-town vacations!), but my two kiddos love urban getaways. While that has caused a bit of vacation-planning strife over the years, I've come to appreciate the cultural attractions, incredible restaurants, and beautiful architecture that big east coast cities offer.
Living in Vermont, we are within a day's drive of lots of great cities. Here are our favorite small and large cities for fun (and not too chaotic) east coast family vacations.
I know I'm going to get grief for not including two of my personal favorite big cities, New York and Boston. As much as I love them, I think the cities on this list are better choices for kids.
Washington D.C.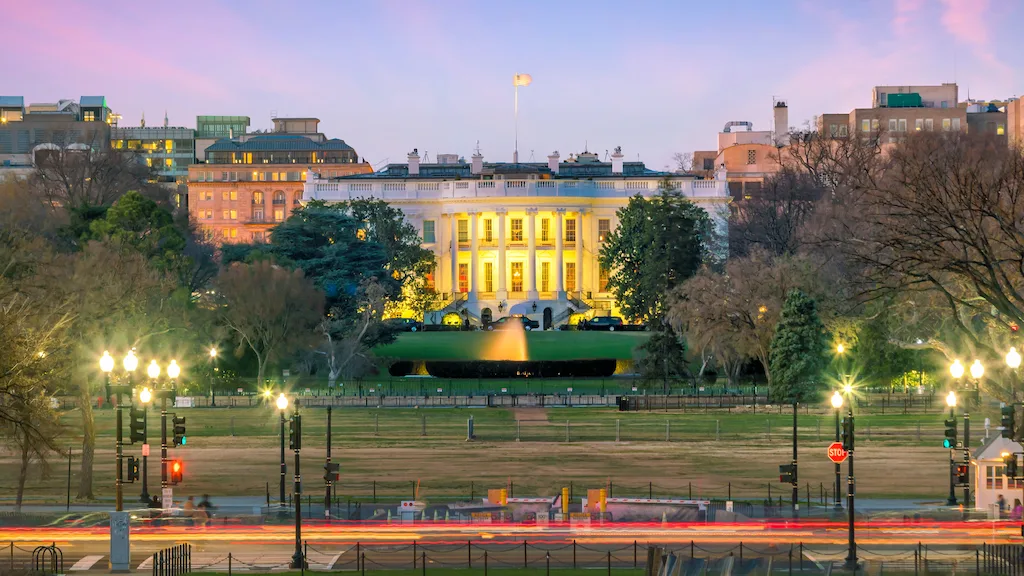 When it comes to affordability and kid appeal, it's difficult to hold a candle to Washington D.C. Home to the world's largest museum complex (which just happens to be completely free for visitors), D.C. is a walkable city with enough cultural attractions to keep families busy for a week or more.
Most of Washington's monuments are clustered in a park-like setting on or near the Washington Mall. Families can ride to the top of the Washington Monument, pay their respects at the Vietnam Veteran's Memorial, and learn about America's most iconic presidents at dozens of memorials.
What do kids love about Washington D.C.? Sleuthing at The International Spy Museum, catching a show about Lincoln's assassination at Ford's Theater, and visiting the pandas at Smithsonian's National Zoo.
Where to stay: Save yourself major headaches by staying near the National Mall. I promise that it's worth the extra cost. With basic amenities and clean rooms, the State Plaza Hotel is within walking distance of all the major attractions and is very affordable.
How to get around: If you don't mind getting your steps in while pounding the pavement, you can do much of your touring on foot. D.C.'s Metro system is an affordable choice for visiting the zoo or traveling outside of the downtown area.
Recommended tour: The Hop-On Hop-Off Trolley Tour allows you to explore monuments and museums at your own pace. 15 sites are included and you can purchase a one or two-day pass.
---
Philadelphia, PA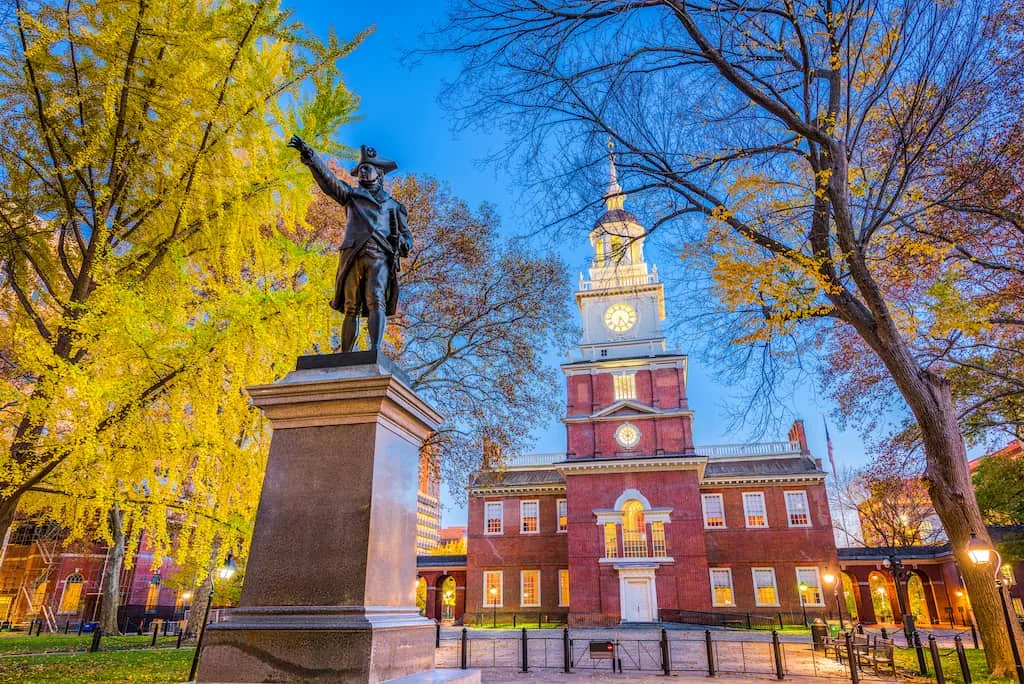 Philadelphia is another major east coast city that proves that urban family vacations can be affordable. With oodles of free attractions and activities, wonderful family-friendly museums, and some of the best restaurants we've tried anywhere, Philadelphia should be on every family's bucket list.
History buffs will absolutely want to visit the Liberty Bell (free, but expect long lines), take a tour of Independence Hall, where the Constitution and the Declaration of Independence were signed, and meander around Old City, with its cobblestone streets and 18th-century charm.
What do kids love about Philadelphia? Little kiddos love exploring the exhibits at Please Touch Museum in historic Memorial Hall, and older kids delight in the hands-on science exhibits at The Franklin Institute, one of the east coast's most beloved science museums.
Where to stay: Philadelphia is made up of several smaller neighborhoods, each with its own character and vibe. We haven't tried them all, but we love Fishtown for its walkability and great restaurants. This cute apartment is affordable and sleeps 12 people in two bedrooms. It even has an outdoor patio.
How to get around: Philadelphia is rated as one of the best walking cities in the country, and the different neighborhoods and great outdoor spaces make it fun to explore on foot. You can also buy a day pass to SEPTA, the city-wide train/subway system, and get within a few blocks of most city attractions.
Recommended tour: For kids 12 and up, this Segway Tour is a fun way to explore some of Philadelphia's most iconic sites. It's a small-group tour that lasts about two hours.
---
Atlanta, GA
Atlanta is absolutely one of the best family vacations on the east coast for iconic kid-friendly attractions that will impress toddlers and teens alike. This sprawling city is home to the world's largest aquarium, the College Football Hall of Fame, and the famous Coca-Cola factory. But, there's so much more!
Atlanta is a choose-your-own-adventure type city, and if you enjoy outdoor spaces, there are dozens of parks with playgrounds and walking trails. Atlanta Botanical Garden is located in Piedmont Park and features 30 acres of beautiful year-round displays.
No trip to Atlanta would be complete without a visit to the family-friendly Martin Luther King, Jr. National Historical Park. Families can tour the park where King was born, see Ebenezer Baptist Church where he preached, and pay respects at his gravesite.
What do kids love about Atlanta? Frolicking around the Fountain of Rings in Centennial Park, visiting one of the oldest zoos in America, and catching a Broadway show at the historic Fox Theatre.
Where to stay: Sheraton Atlanta features an outdoor pool and a great restaurant with patio dining. It's a short walk to Centennial Park or the Georgia Aquarium.
How to get around: The MARTA system provides decent coverage in the downtown and mid-town areas, but we have found that car travel, either your own or Uber works better.
Recommended tour: CityPASS is such a good deal for Atlanta attractions. It includes entry into Georgia Aquarium, the World of Coca-Cola, and Zoo Atlanta, as well as your choice of two additional attractions. Use your pass for up to nine consecutive days.
Roanoke, VA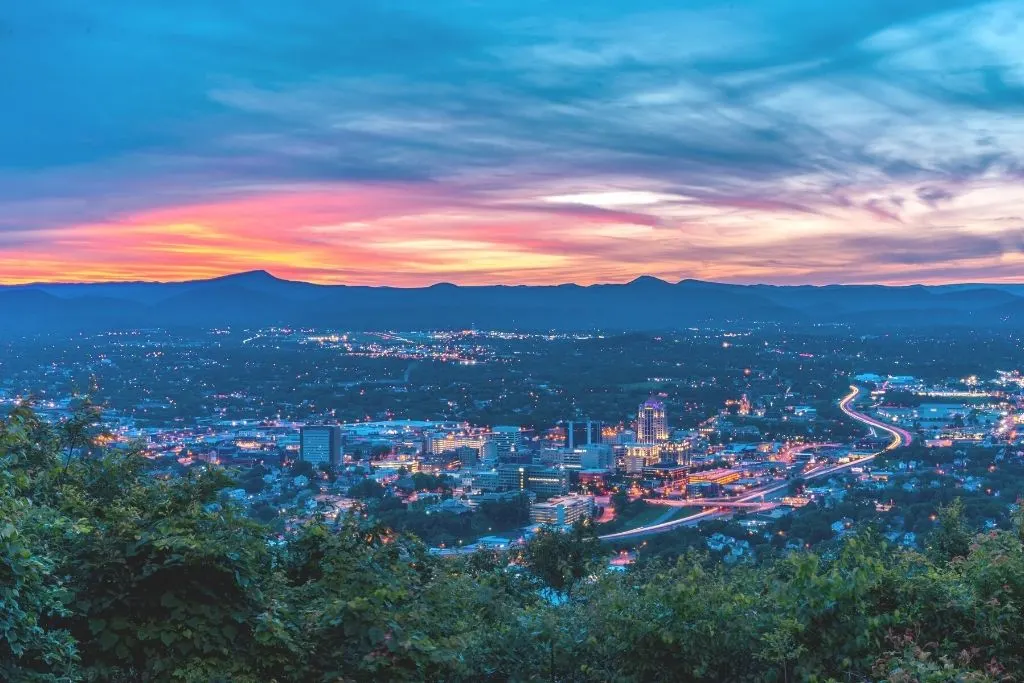 Roanoke is not a big city, and for that reason, it may not be on your radar as one of the best family vacations on the east coast, but it's honestly one of the first cities that I recommend to parents who are looking for something different.
Located in the Blue Ridge Mountains (right off the Blue Ridge Parkway!), Roanoke is a city that wholeheartedly embraces the outdoors. There are 55 parks within the city limits, as well as eight recreation centers, five public plazas, two public pools, and two dog parks.
Families can check out the daily outdoor farmers' market, visit the iconic Roanoke Star on Mill Mountain, and check out Roanoke's awesome Taubman Museum of Art, which offers free general admission every day of the week and includes eleven galleries of modern American art.
What do kids love about Roanoke? Center in the Square, a massive art and cultural center that includes the Roanoke Pinball Museum, Kids Square Children's Museum, and The Science Museum of Western Virginia.
Where to stay: Try a glamping experience in Explore Park, where you can rent a yurt, glamping tent, or cabin for a few nights.
How to get around: We recommend driving to Roanoke on the Blue Ridge Parkway. A car is the best way to get around the city.
Read Next: The Best Things to Do in Roanoke, Virginia is an overview of the city's best attractions for kids and adults. The Best Parks in Roanoke will help you plan awesome outdoor adventures.
---
Burlington, VT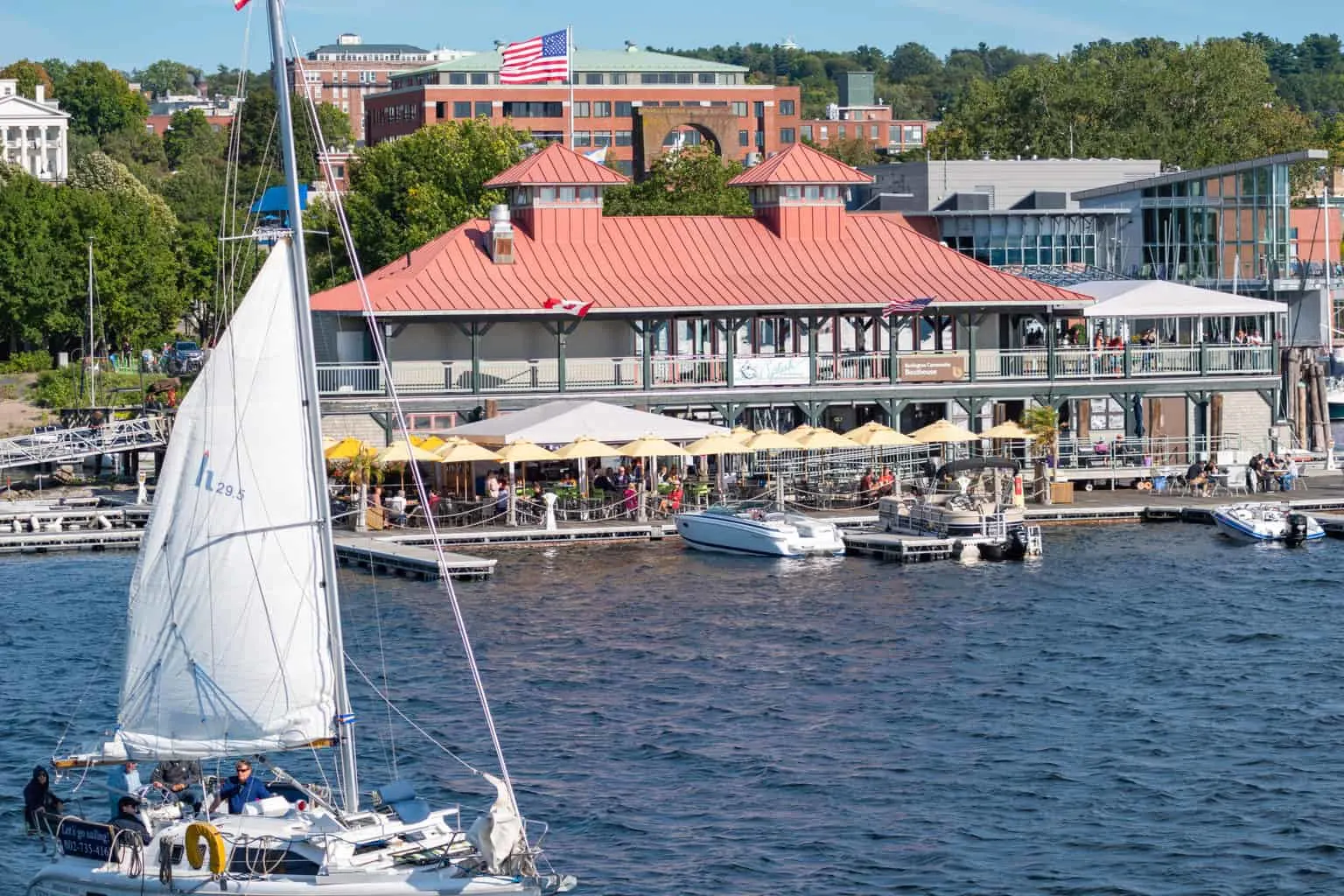 Are you ready to explore Vermont's largest city with your family?
Burlington, Vermont is such a special place! It's a great city for families – not too big, with a walkable downtown, and breathtaking scenery as you look out over Lake Champlain.
Burlington is home to the University of Vermont, the famous Church Street Marketplace, and about 42,000 residents. It's a mecca for beer and coffee drinkers, foodies, and shoppers, and has been named the healthiest city in the United States many times over.
It's also one of the best family vacation spots on the east coast!
Located on the shore of Lake Champlain, one of the best ways to explore this beautiful city is to get out on the water, or at least beside it.
The paved Burlington Greenway runs along the water for eight miles, connecting several awesome parks and recreation areas, including the Burlington Waterfront, North Beach, and Leddy Park. Rent a bike at Local Motion and spend the day cruising along the lake, stopping for a dip when it gets too hot.
There's no better way to enjoy summer, than with a sunset cruise on Lake Champlain. The Spirit of Ethan Allen departs from the Burlington Waterfront for sunset cruises on Friday and Saturday evenings through the summer, and sightseeing cruises are offered daily.
What do kids love about Burlington? Hands-on fun at The Echo Leahy Center Lake Champlain, followed by an afternoon at North Beach.
Where to stay: Hilton Garden Inn is located right on Main Street, within walking distance to all of downtown Burlington. It has an indoor pool for extra family fun.
How to get around: There is a public bus system in Burlington, but it's far easier to stay downtown and get around on foot.
Read Next: Things to Do in the Summer with Kids in Burlington and Best Easy Hikes Near Burlington
---
Family Vacations on the East Coast: Outdoor Adventures
For east coast vacations that are both affordable and family-friendly, consider embarking on an outdoor adventure with your kiddos!
For our family, outdoor-based vacations started because we were on a serious budget, but we quickly discovered that exploring the outdoors wherever we go is our favorite way to travel, with or without kids!
Here are the best family vacations on the east coast for amazing outdoor activities.
Great Smoky Mountains National Park, NC and TN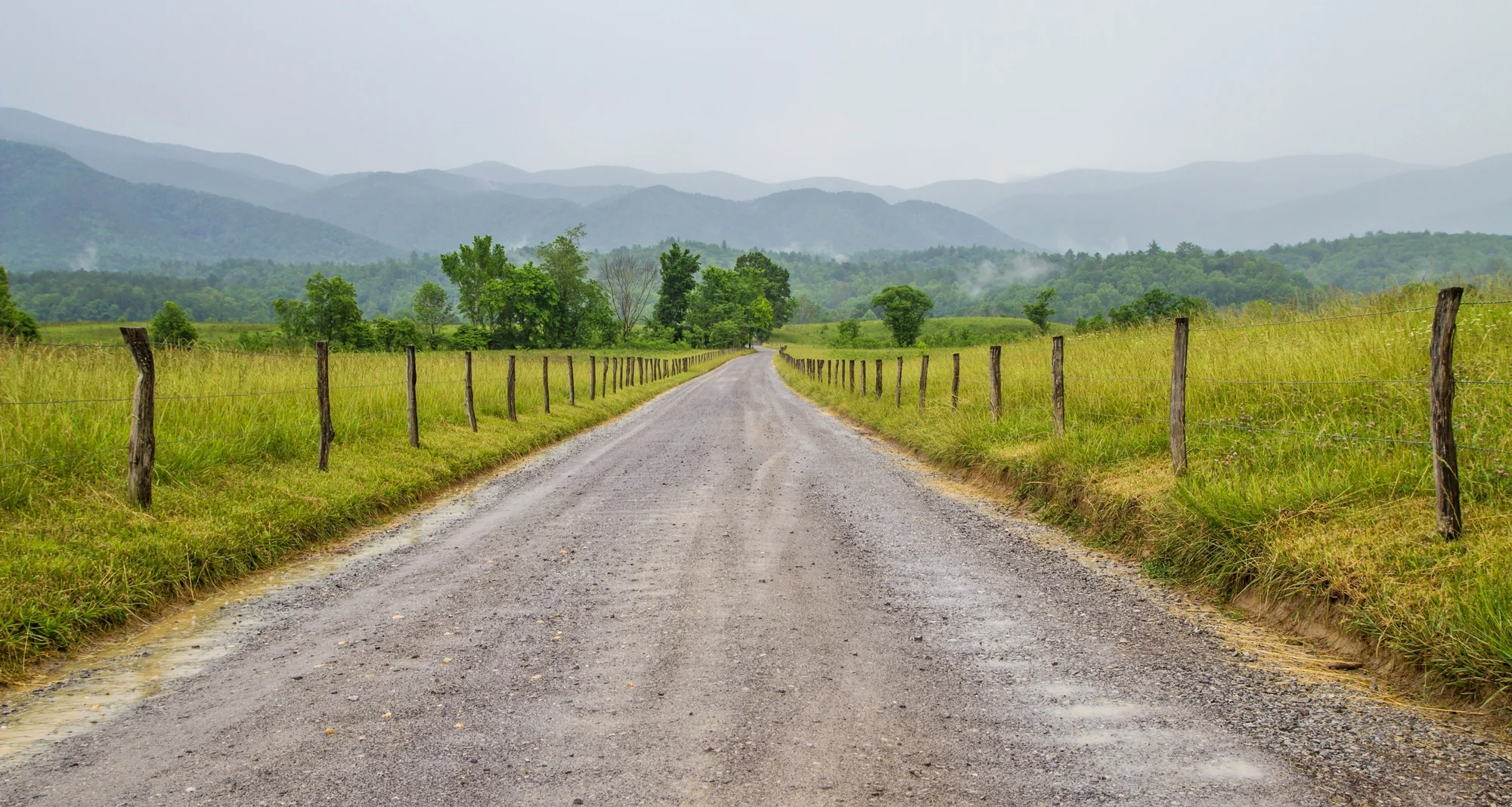 America's most-visited national park sees more than 11 million visitors annually. But that's no reason not to visit this special place!
Great Smoky Mountains National Park features 800 miles of hiking trails crisscrossing more than 520,000 acres of mostly forested lands.
With numerous kid-friendly attractions, amusement parks, and conveniences in nearby Pigeon Forge and Gatlinburg, combined with beautiful campgrounds, wildlife, views, and recreation opportunities, this could easily be considered the adventure of a lifetime.
We definitely recommend choosing a campground first, and then planning your itinerary with hikes and adventures nearby so you don't spend all your time driving. If exploring Gatlinburg with kids is part of that itinerary, make Elkmont Campground your home base. Cades Cove Campground is smaller, more remote, and close to some great hiking trails.
What do kids love about Great Smoky Mountains National Park? Kids enjoy seeing all the wildlife (sightings of bears, deer, raccoons, and turkeys are common). The easy hike to Clingman's Dome, while crowded, is a favorite for kids of all ages. This is the highest point in Great Smoky Mountains National Park at 6,643 feet.
Where to stay: We 100% recommend camping, but we know that's not for everyone. Greystone Lodge on the River in Gatlinburg is a great place and close to all of the kid-friendly attractions in the city, and it's got a nice outdoor pool for after-hours fun.
---
White Mountains National Forest, NH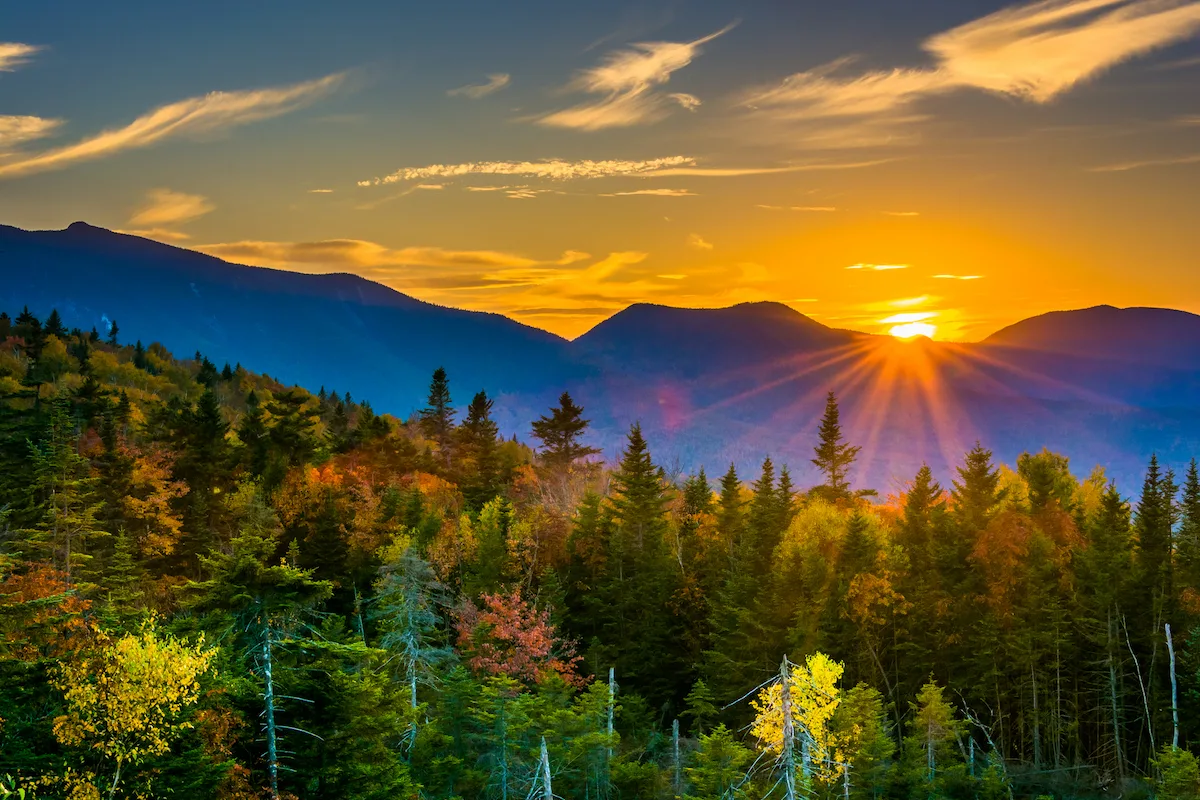 Where in New England can you find hard-core hiking opportunities, a world-famous scenic byway, and spectacular waterfalls and swimming holes?
If you said the White Mountains in New Hampshire, you win a prize!
The quaint resort town of Lincoln, New Hampshire is nestled in the Western White Mountains of New Hampshire, and it's a mecca for hikers, campers, road trippers, and family vacationers.
If pitching your tent in this ancient forest sounds like fun, you can choose from six front-country campgrounds right off the Kancamagus Highway, which by the way is a must-drive road trip featuring great hiking trails, beautiful overlooks, road-side waterfalls, and covered bridges.
Franconia Notch State Park spans 6,693 acres in the White Mountains. This is one of those state parks that rivals many national parks in the United States. Families visiting Franconia Notch can check out the gorgeous waterfalls at Flume Gorge, swim in Echo Lake, and Cannon Mountain Aeriel Tramway.
What do kids love about the White Mountains? All the kid-friendly attractions in Lincoln, New Hampshire! These include the Hobo Railroad, Whale's Tale Waterpark, and Hobo Hills Mini Golf.
Where to stay: RiverWalk Resort at Loon Mountain is located in Lincoln, New Hampshire at the base of South Peak. The resort maintains year-round heated pools, is within walking distance of Lincoln restaurants and attractions, and features spacious family-friendly rooms with balconies. It's a great place to make your White Mountains home base.
How to get around: You will definitely need a car to make the most of the White Mountains.
Also read: The Best Things to Do in Lincoln, New Hampshire, and 5 Reasons to Love RiverWalk Resort at Loon Mountain
---
Canoe Camping in the Adirondacks, NY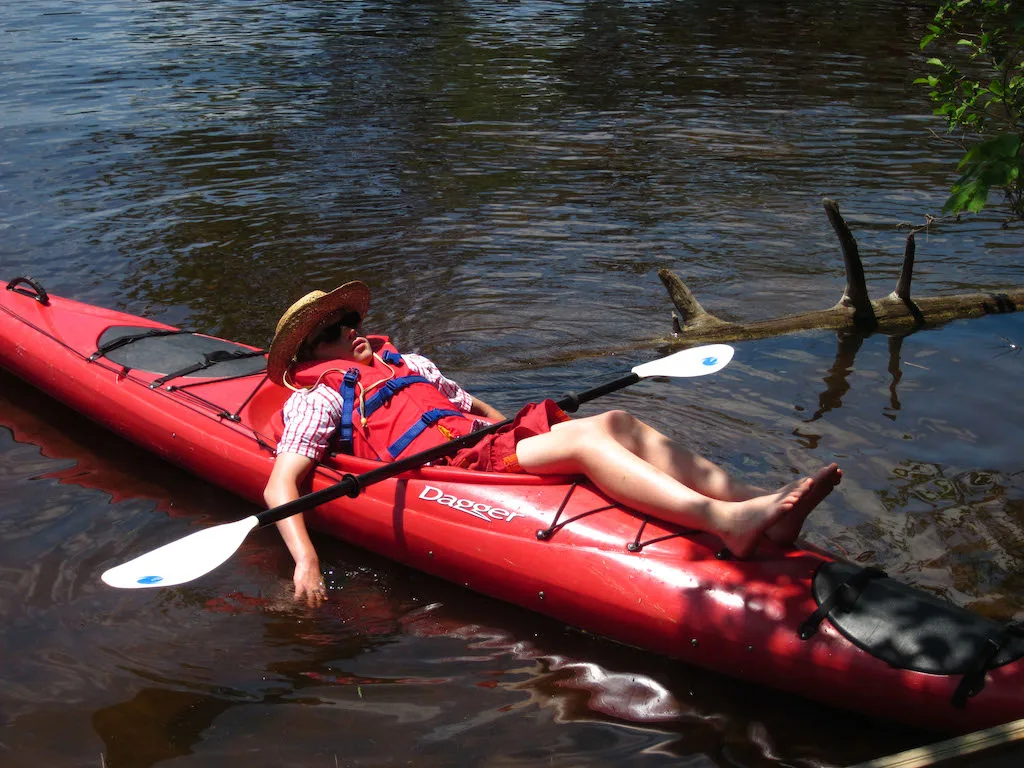 For outdoor lovers who have always wanted to try canoe camping, but didn't know where to go, consider heading to the St. Regis Canoe Area in the Adirondacks of Upstate New York.
This is the perfect spot for beginners – where can you camp somewhere new every night, bask in the glory of breathtaking, wilderness scenery, and swim in pristine mountain lakes whenever the mood strikes you.
St. Regis s the largest wilderness canoe area in the northeastern United States, covering 19,000 acres in Franklin County of New York. It is also the only designated canoe area in New York State.
Canoe campsites are totally free and offered on a first-come, first-serve basis. If you don't have a canoe of your own, you can rent one pond-side at St. Regis Outfitters before heading on your way.
What do kids love about canoe camping in the Adirondacks? Never having to get in a car, fantastic swimming, and primitive camping!
Where to stay: Stay in a different campsite every night as you tour the area, or choose a spot and take paddling day trips!
Read next: Plan a Canoe Camping Adventure in the St. Regis Canoe Area
Best Family Vacations on the East Coast: Beach Vacations
I'd be remiss to not include a few of our favorite family-friendly beach vacations on the east coast. Personally, I'm not much of a beach person, but this isn't about me. And our kids always enjoy a weekend at the beach!
Here are the best family vacations on the east coast for beach lovers!
Cape Henlopen State Park, DE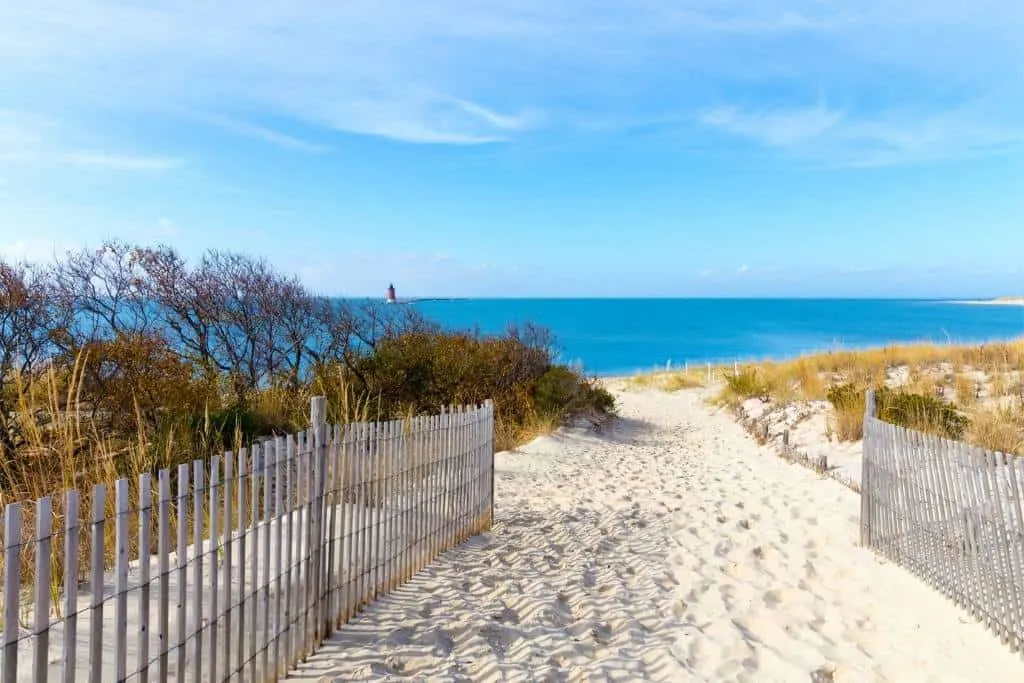 Crashing waves on a stretch of wild Atlantic coastline, miles of beautiful hiking trails, and affordable camping and cabins near the beach. Welcome to Cape Henlopen State Park in Delaware, the perfect stretch of sand for your next ocean getaway, and one of the most beautiful beaches on the Atlantic coast.
This gem of a park encompasses 5,193 acres in Sussex County, and according to the Delaware State Parks website, Cape Henlopen Beaches are some of the most popular in the state. What makes Cape Henlopen State Park so awesome, though, is that there is way more to do than swim in the ocean or lie on the sand.
Hiking, biking, fishing, disc golf, and kayaking are all easy ways to relax at Cape Henlopen. You could spend a week here and not run out of amazing things to do!
At Cape Henlopen, there's a special surfing beach, a beach just for fishing, and a lovely bayside beach with quiet water for families with littles. Dogs are allowed on the beaches during the off-season, but not during the summer when lifeguards are on duty.
What do kids love about Cape Henlopen State Park? The free bike rentals and climbing to the top of the Fort Miles Observation Tower.
Where to stay: The best way to explore Cape Henlopen State Park is to pitch your tent or rent one of the camping cabins in the campground. The adorable town of Lewes, Delaware also has some lovely hotels.
Read next: Magic in Delaware: Discover Cape Henlopen State Park
---
Acadia National Park, ME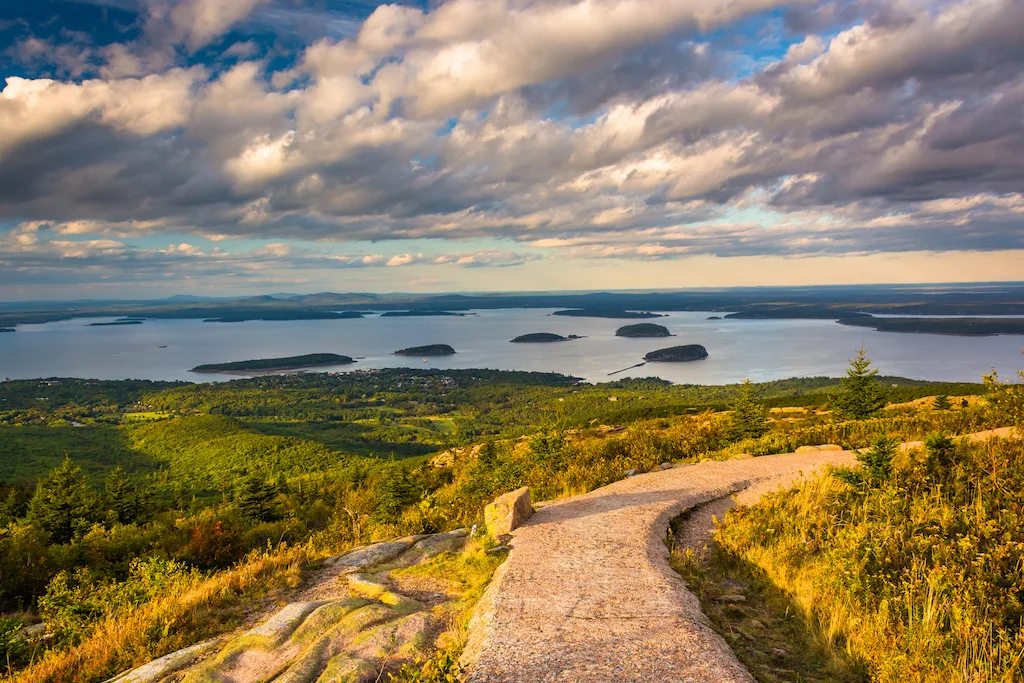 Acadia National Park is one of those special places that everyone should experience at least once in their lifetime, and it's also one of our favorite beach vacations in New England.
This beautiful coastal park on the Atlantic Ocean encompasses 47,000 acres of forests, granite peaks, and rocky beaches. Visitors can hike a variety of beautiful trails, kayak quiet bays and inlets, or swim in a freshwater lake before heading into Bar Harbor for an indulgent seafood dinner.
Because Acadia National Park can be congested during the summer months, we recommend visiting in early or late summer. As much as we love a scenic drive, experiencing Acadia while stuck in traffic isn't much fun!
What do kids love about Acadia National Park? Hiking the Wonderland Trail at low tide, swimming in Jordon Pond or Echo Lake, and looking for wildlife on an Acadian boat tour (boat rides leave from Bar Harbor).
Where to stay: Pitch your tent at one of two campgrounds on Mount Desert Island or stay at Acadia Inn in Bar Harbor, where you can swim in the outdoor pool and hike right into the park.
How to get around: You will need a car to properly explore Acadia National Park.
Read next: Check out this four-day itinerary for families from Packed for Life!
---
Outer Banks, NC
The Outer Banks (OBX) is a collection of barrier islands stretching more than 130 miles along the Atlantic Coast in North Carolina. Characterized by white sandy beaches, small towns and villages, and more summer sunshine than should be legal, the OBX makes a wonderful spot for a laid-back beach vacation.
While the Outer Banks is no longer a hidden gem, the beaches are rarely overcrowded. Visitors often find a favorite spot to call their own, and we're partial to the area around Nags Head and Coquina Beach, where you can walk for miles and miles along the shore.
Surf and sand may be all you need for a family beach vacation, but there are plenty of other things to keep you and your kiddos busy for days. Tour the Bodie Island Lighthouse, see where the Wright Brothers took their first flight at Kitty Hawk, and cast a line from Jeanette's Pier.
What do kids love about the Outer Banks? Learning about the lost colony of Roanoke at Fort Raleigh National Historical Park.
Where to stay in OBX: You have so many choices! During our recent visit, we found this affordable, two-bedroom condo with a community pool and lovely sunsets (there's a three-night minimum).
How to get around: You will definitely need a car to explore this family vacation spot.
Read next: Trip Chiefs has a great post about exploring the Outer Banks with kids.
---
Do you have a favorite spot on the east coast for family vacations? Leave us a comment and let us know!
Survive the family road trip! Read these next –
---
Follow us on social media!
Pin for Later?