What budget adventure has the primitive solitude of backpacking without having to carry everything on your back?
It's a spot where can you camp somewhere new every night, bask in the glory of breathtaking, wilderness scenery, and swim in pristine mountain lakes whenever the mood strikes you. Yes, I'm talking about a canoe camping trip in the St. Regis Canoe Area of the Adirondacks of New York!
The St. Regis Canoe Area is located in Adirondack Park and is the largest wilderness canoe area in the northeastern United States, covering 19,000 acres in Franklin County of New York. It is also the only designated canoe area in New York State.
This spectacular piece of wilderness is closed to motorized vehicles and includes 58 ponds, which are more like small lakes. The lakes are accessed via portages (canoe carries) ranging in length from a few hundred feet to several miles. Only two of the ponds can be reached without portaging.
The St. Regis Canoe Area also contains the headwaters of the West and Middle Branch of the St. Regis and the Saranac Rivers.
Primitive camping is permitted on many of the lakes and ponds, and there are dozens more lakes and ponds outside of the officially designated canoe area. They are just as wild and spectacular, but some of them do allow motorboats, so keep that in mind when planning your Adirondack canoe camping trip.
What's so Awesome about Paddling in the St. Regis Canoe Area?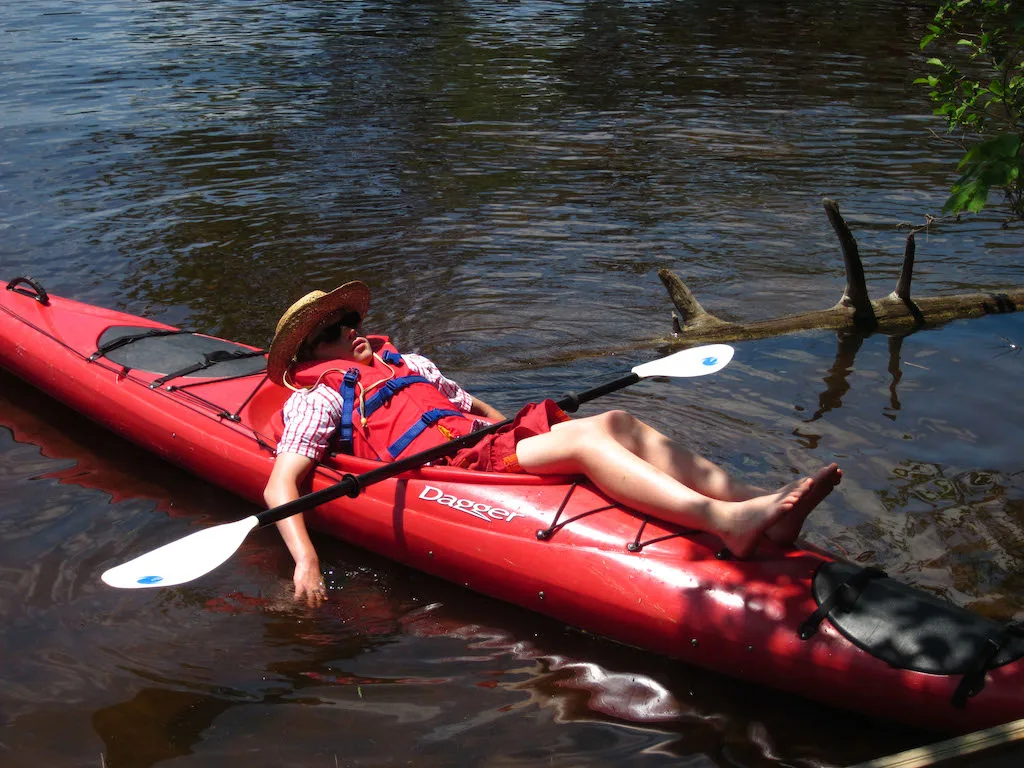 Where to begin? There are so many things to love about paddling the St. Regis Canoe Area. It's the perfect trip for kids and adults who love being outside. You don't need any special skills to enjoy paddling here, as there's a trip for everyone, from beginner to expert.
Here are some more reasons to fall in love with paddling in the St. Regis Canoe Area.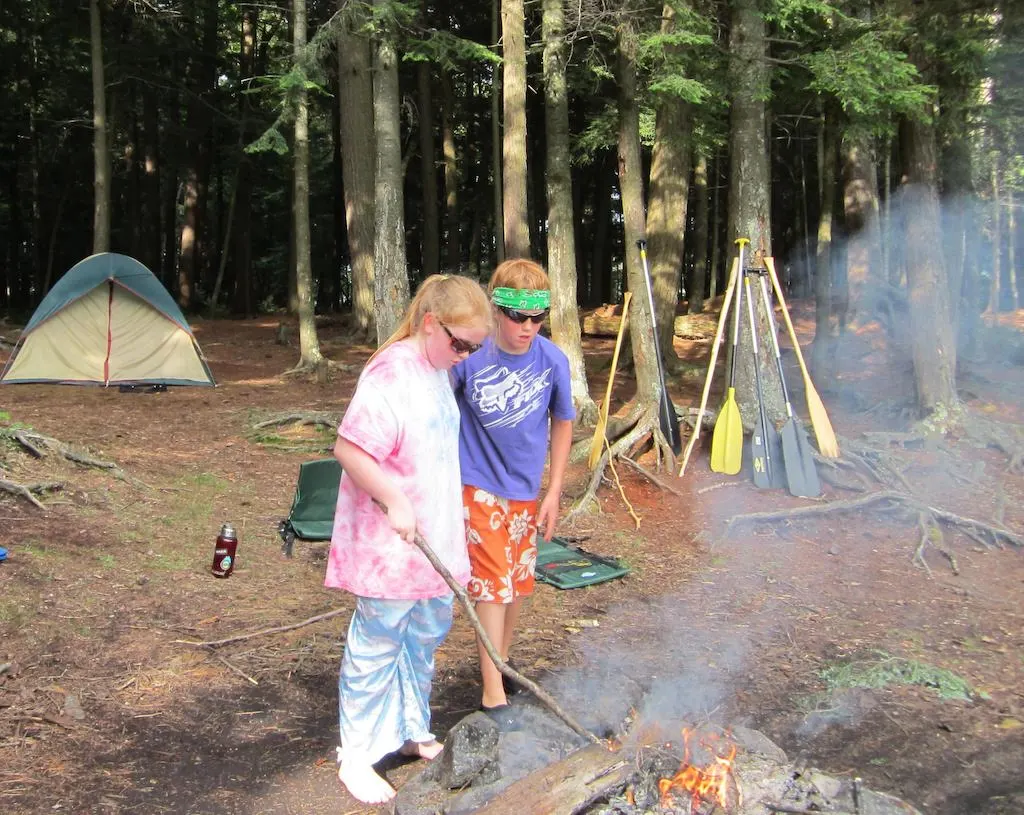 Free canoe-in campsites – Yes, free. And if you play your cards right, you can have a whole island to yourself. Campsites within the Saint Regis Canoe Area are primitive, with a fire pit and an outhouse. If you get a picnic table, you're lucky.

Cool, clear water for swimming – There are hundreds of lakes in the Adirondacks, and each has its own personality. While there are a few that are murky, and a few more that are overpopulated, the majority are perfect gems, with dense, wooded shorelines, calling loons, and water so clear and refreshing, you'll be tempted to skip canoeing altogether and make it a swimming holiday. Don't knock it 'till you've tried it!

The lakes in the St. Regis Canoe Area are all connected – That's why they call it a canoe area. The lakes are connected by well-marked portages, which means you haul your canoe and gear on foot to the next lake. Some are short and easy, while others require a bit of strength and finesse. On our last trip, we planned it so we didn't portage at all. We were still able to tour 6 lakes, all connected.

You're far from civilization, but not too far – When the sun goes down on your island campsite, you feel like you're alone in a vast and wild country. You can scarcely hear a whisper of civilization. But, if you run out of bug spray or get a hankering for tuna fish, it's really not a big deal to paddle to the nearest camp store.

It's a vacation for kids and adults – There is plenty to do for everyone. Spend the day paddling, fishing, hiking, or bird watching, then set up your campsite and relax with a glass of wine while the kids catch dinner.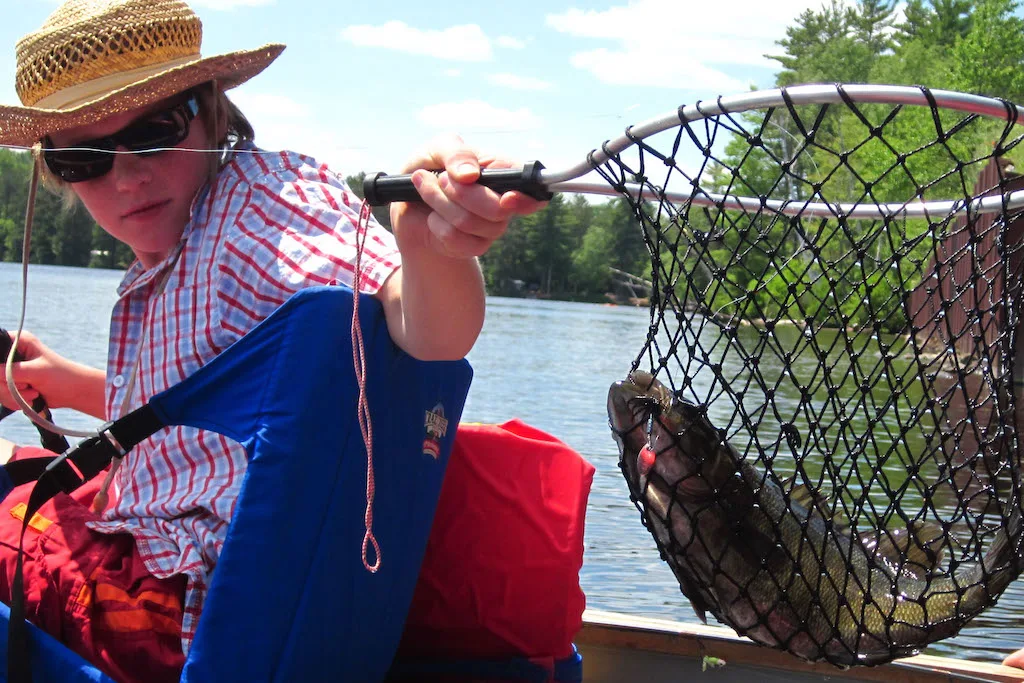 Resources for Planning Your Canoe Camping Trip to the St Regis Canoe Area
If you are new to canoe camping, the first thing you should do is call or visit the folks at St. Regis Outfitters. They will help you plan a trip that will fit your level of experience and your time frame.
St. Regis Outfitters maintains an outpost on Floodbrook Pond, which is a great place to start your canoe camping adventure. You can park your car there, stock up on supplies, and check the weather forecast before launching yourself into the wilderness.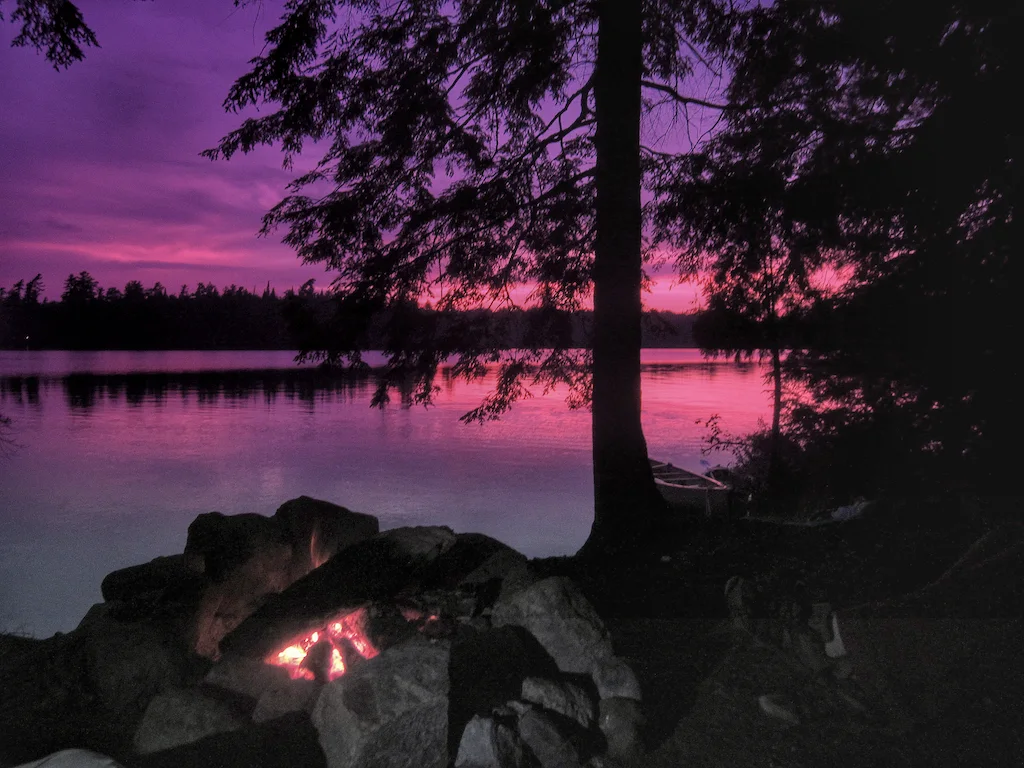 If you don't have a canoe of your own, St. Regis Canoe Outfitters maintains a fleet of rentals, plus camping equipment, food, and maps.
If you feel confident that you can design your own canoe camping trip in the St. Regis Canoe Area, you should start by purchasing the Adirondack Paddler's map. I'm a total map geek, and this map is one of my all-time favorite finds. You can't plan a St. Regis Canoe Area trip without it, and it's really fun to break out your map in the winter to plan your summer camping trip.
The Adirondack Paddler's Map will show you each portage, as well as every campsite available on your route.
Choosing Your St. Regis Canoe Area Paddling Route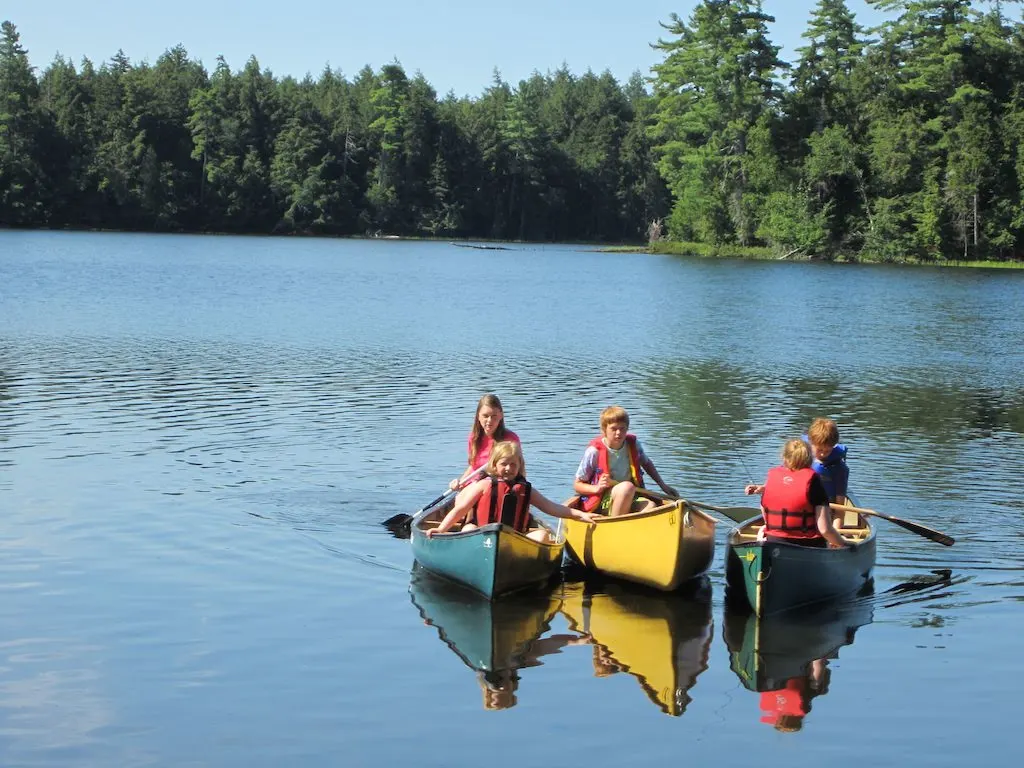 If you want a tried-and-true route that has been used by thousands of paddlers over the years, consider either doing the Seven Carries or Nine Carries
The Seven Carries canoe route is a nine-mile paddle that was originally created for anglers and tourists as a transport route between the Saranac Inn, which has since burned down, and Paul Smith's Hotel, which is now Paul Smith's College.
The current route consists of six portages, bringing paddlers across three lakes and seven ponds. It's a one-way trip that requires two cars or a shuttle to do it successfully. The Seven Carries can be paddled in one day, but it's much more pleasant to stretch it out over a couple.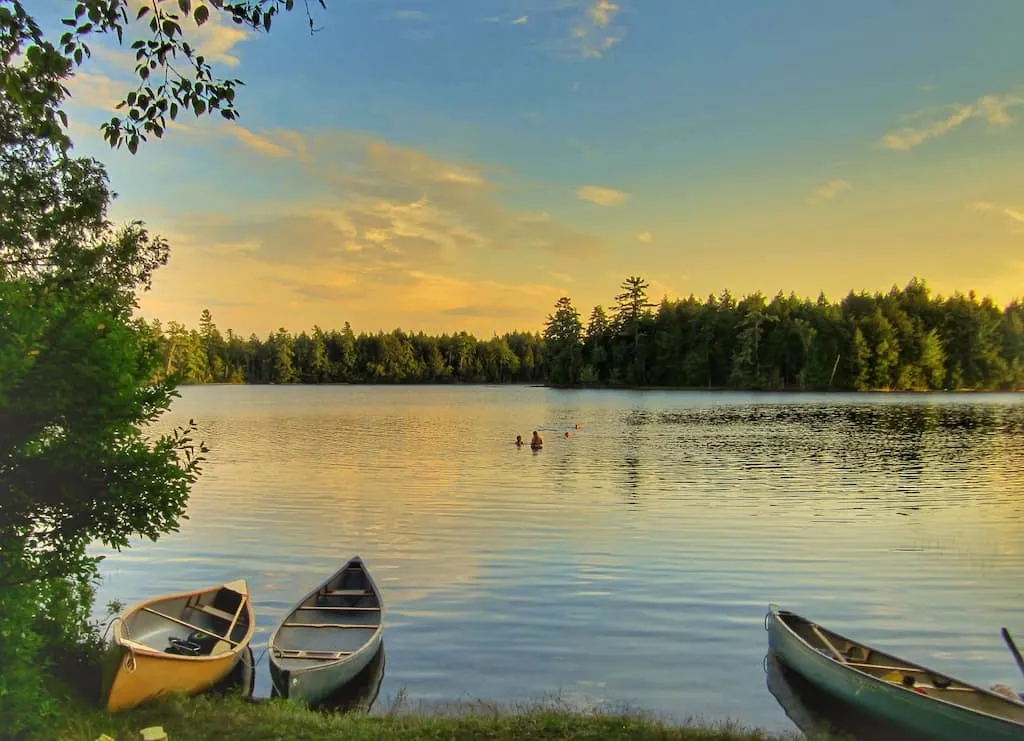 The Nine Carries canoe route is another great wilderness trip that you can tackle in one to four days, covering 12-15 miles. This is another one-way trip, beginning at Floodwood Pond and ending at Little Clear Pond.
The trip we love is a variation of the Nine Carries, starting at Floodwood Pond and paddling 20+ miles across nine ponds and then looping counterclockwise back to Floodwood.
We usually complete this over three nights and four days, camping on one of the islands on Floodwood Pond the first night after a long drive to the Adirondacks from Vermont. I don't know the exact mileage off the top of my head, but if you get the Adirondack Paddler's Map, it will give you more precise details, including all the free campsites available on the routes.
This loop is not entirely within the St. Regis Canoe Area, so you will have to deal with a few motorboats. Our favorite lake of the trip, Follensby Clear, is one of the larger lakes that allows motorboats, but we can't imagine not having it be part of the itinerary!
Trip Guide to our Floodwood Pond Loop in the St. Regis Canoe Area
Here's the route we take most often on our Adirondack canoe camping adventures. We've done it with groups of novice paddlers in both summer and fall. We prefer summer paddling because of all the swimming we get to do!
Day 1: Drive from wherever you are coming from to St. Regis Outfitters on Floodwood Pond outside of Saranac Lake. There are free car-camping sites on the road leading to the canoe launch and outfitters. If you get there before dark, you can also paddle for less than a half-hour to find a free island campsite. Fingers crossed that it will be available!
The campsites are well-marked from the water and are available on a first-come, first-served basis. If you are visiting on a busy summer weekend, expect most of the Floodwood campsites to be full by late afternoon.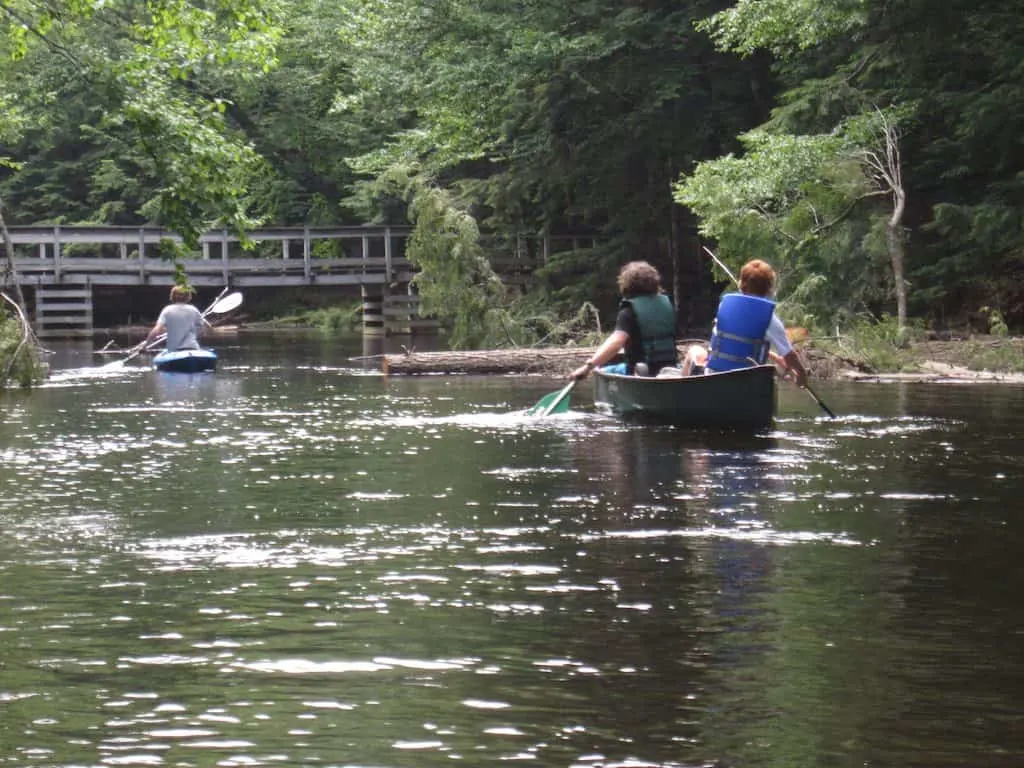 Day 2: Paddle south on your counterclockwise loop. Travel from Floodwood Pond to Little Square Pond, down Fish Creek, through the Fish Creek Ponds, and into Follensby Clear. Camp on Follensby Clear. There are two lovely islands toward the north part of the lake. We love camping here if possible and have been known to spend more than one day relaxing here. It's a very special spot!
Day 3: Continue your route with three portages today. Travel from Follensby Clear to Polliwog Pond, to Hoel pond to Turtle Pond. Camp on Turtle Pond, where yes, you will probably see lots of turtles!
Day 4: Paddle up through Turtle Pond, portage to Slang Pond, then to Long Pond, then take your longest portage from Long Pond back to your car on Floodwood Pond.
Because there are so many lakes and ponds out that make up the St. Regis Canoe Area, you can design a canoe camping trip that lasts a few days or many weeks, but the one documented above is our favorite!
Tips for Canoe Camping in the St. Regis Canoe Area
A paddling trip in the St. Regis Canoe Area is perfect for novice or expert paddlers.
We took our first-ever canoe camping trip here when our kids were 6 and 8 years old. We brought one canoe and one kayak and spend five days. Since then, we have visited for at least a few days almost every summer. Here's what we've learned along the way.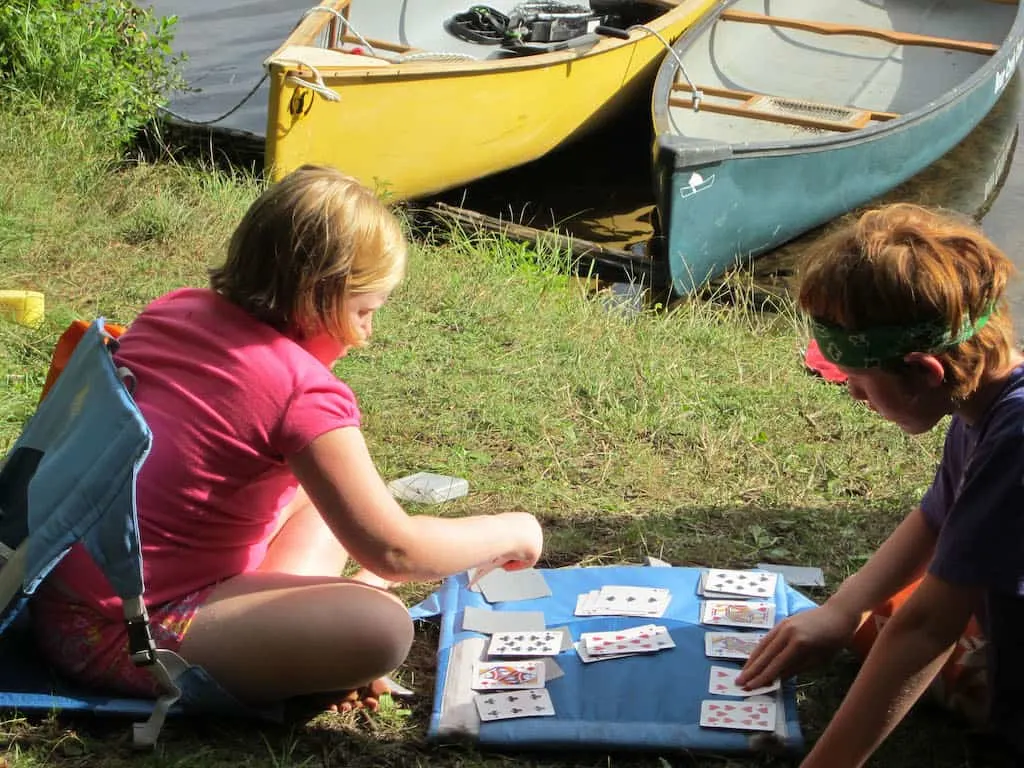 Visit the St. Regis Canoe Area before July or in September. Okay, the crowds are never overbearing, but in the middle of summer, your favorite campsite may be taken, and that can be a bummer. It's also way less crowded during the week. The ponds with longer portages will also have fewer people.
Rent a set of wheels. Ignore this advice if you have an ultra-light canoe and you lift weights. For the rest of you, consider renting a set of sturdy wheels for your canoe from St. Regis Outfitters. This way you can walk your canoe or kayak along the portage like a big, heavy dog. It's easiest to do this with two people, one holding the "leash" and the other helping the canoe over the roots and rocks.
If you want to invest in portaging your heavy canoe, you can also buy a set of wheels at your local outfitter or on REI. These are pricey, but worth getting a good set. If you are an REI member, this is one of those items that you can save for the 20% off one full-price item sale that they have over Memorial Day weekend.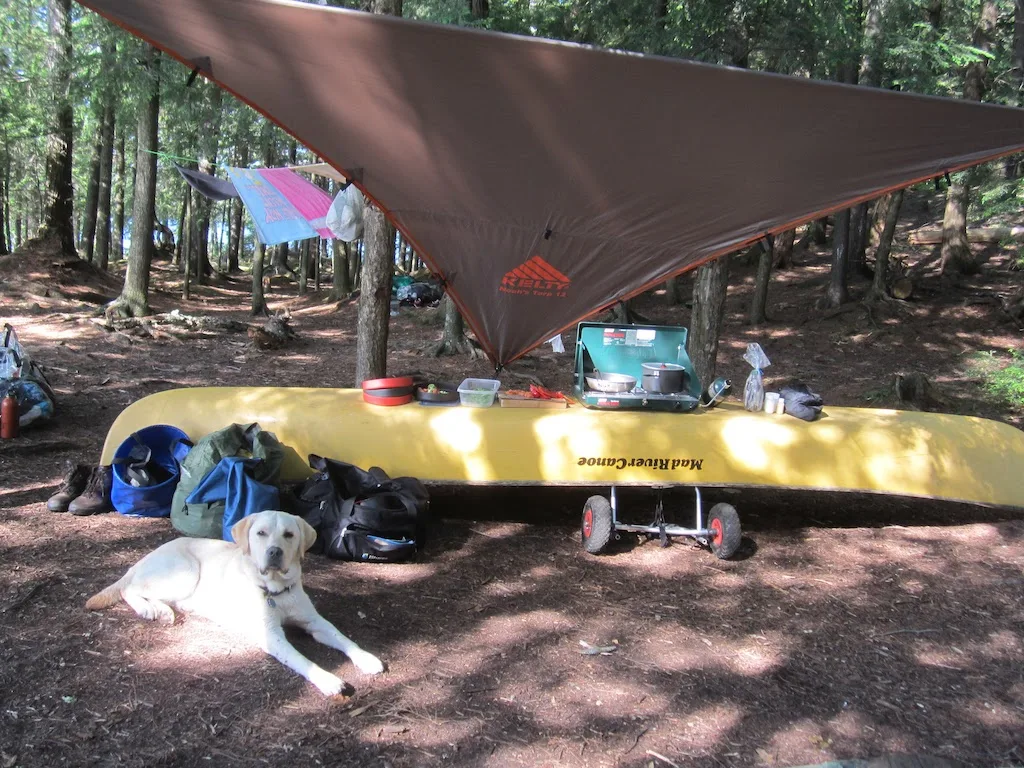 Pack your bug spray, and then pack an extra bottle. We really did run out one year, the buggiest two days we've ever experienced in our lives. We backtracked miles just to buy more, and we will forever be plugging our favorite insect repellent, which works far better than anything we've ever tried. It's the Sawyer Picaridin insect repellent available at most outfitters and REI.
Buy a fishing license and prepare for fish dinners. The St. Regis Canoe Area is a dream for anglers of all abilities. If you love to fish and love to cook fish over a campfire, be sure to buy a license before setting out.
Claim your campsite by the early afternoon, even if you want to keep exploring. This way, you won't be scrambling for a site in the evening. This will really only be an issue in July and August, and generally only with the less remote campsites.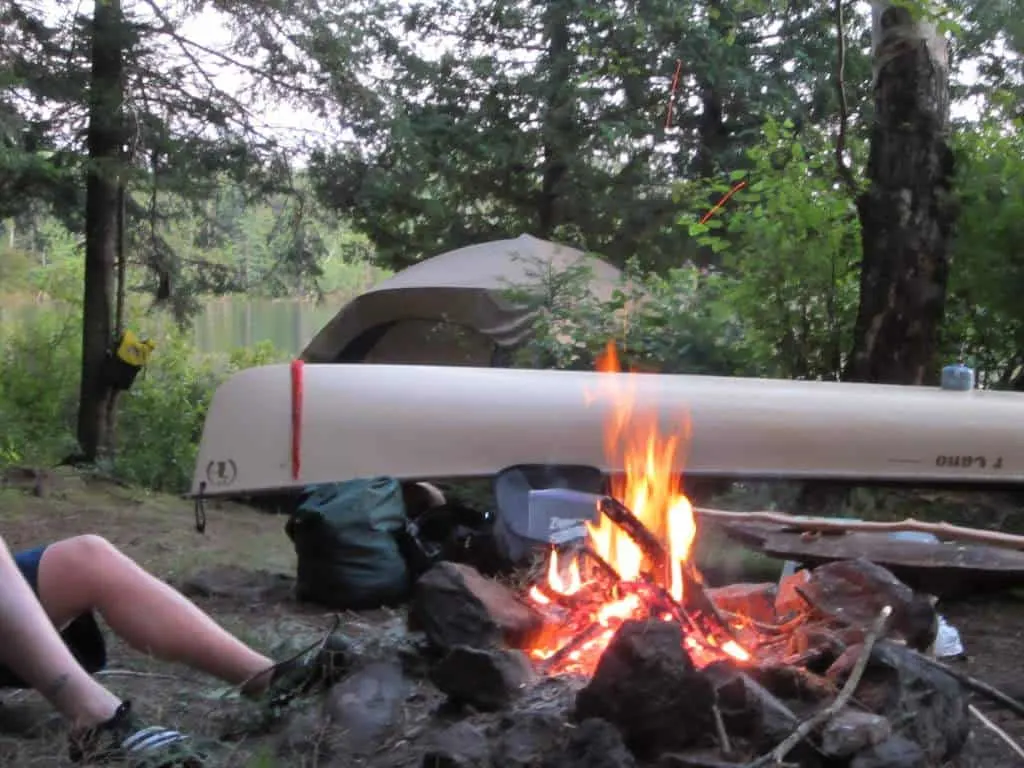 Use your canoe as a table. Most of the primitive campsites in the St. Regis Canoe Area don't have a picnic table, but flipping your canoe over and setting it up on a couple of logs makes a nice makeshift table for cooking on.
Like many wilderness adventures, the St. Regis Canoe Area in the Adirondacks makes an awesome budget vacation, and is perfect for families with young kids, couples, and dogs.
Whether you've got a few days or a week to spend exploring, it's well worth the journey.
---
Need help planning your camping adventure? Check out these posts!
---
Follow us on social media!
Pin for Later?