Crashing waves on a stretch of wild Atlantic coastline, miles of beautiful hiking trails, and affordable camping and cabins near the beach. Welcome to Cape Henlopen State Park in Delaware, the perfect stretch of sand for your next ocean getaway!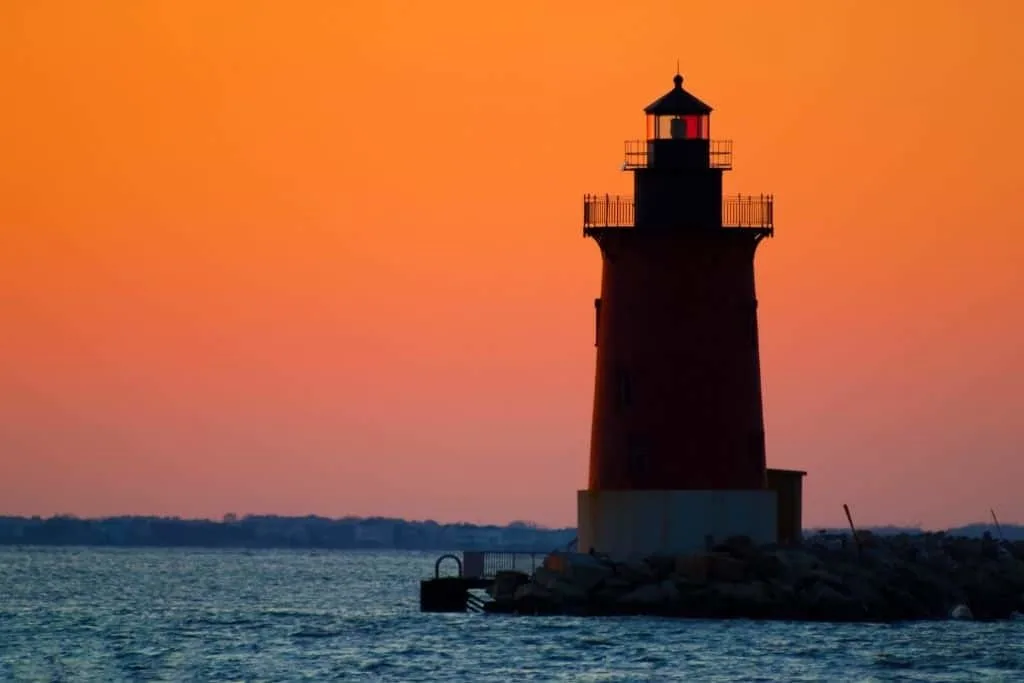 This gem of a park encompasses 5,193 acres in Sussex County, and according to the Delaware State Parks website, Cape Henlopen Beaches are some of the most popular in the state. What makes Cape Henlopen State Park so awesome, though, is that there is way more to do than swim in the ocean or lie on the sand. Hiking, biking, fishing, disc golf, and kayaking are all easy ways to relax at Cape Henlopen. You could spend a week here and not run out of amazing things to do!
My family is fortunate enough to travel up and down the east coast a lot. Although I currently hang my hat in Vermont, I have lived in Maine, New York, Maryland, and Florida. In each ephemeral landing spot, I've left behind a little bit of myself, not to mention countless friends and family members. This means that we spend lots of time traipsing around visiting loved ones — one of my favorite pastimes!
The downside, of course, is that with all the hustle and bustle in this part of the country, we have trouble finding back road adventures away from the elaborate interstate highway system. We keep trying though, and one of our most special finds is Cape Henlopen State Park in Lewes, Delaware.
The best way to explore Cape Henlopen State Park is to pitch your tent or rent one of the camping cabins in the campground. We recommend spending a long weekend or three to four days during the week to make the most out of this special place.
Here are our favorite things about Cape Henlopen camping, and why we think you should book your camping trip ASAP!
Why You'll Love Cape Henlopen State Park
Quick Facts: Cape Henlopen State Park

Address: 15099 Cape Henlopen Drive
Lewes, DE 19958Activities: swimming, hiking, paddle sports, camping
Open: Year-round
Fees: $5 in-state car, $10 out-of-state car
Dogs: Yes, on leash with some restrictions
Camping: There are year-round RV sites with full-hook-ups, walk-in tent sites ranging from $30 to $50 a night. Camping cabins range from $70 to $130 a night.
Activities: Swimming, camping, biking, fishing, surfing, birdwatching

Directions to Cape Henlopen State Park
Cape Henlopen State Park website
When the thermometer maxed out at 96 degrees Fahrenheit, we were a little nervous. We drove our little car slowly through Lewes, Delaware and wondered if we should just keep driving. We had heard that Vermont was a balmy 75 degrees and we were just a day's drive from home. In the end, the draw of the ocean was too strong and we passed by the ferry launch that would take us into New Jersey, and headed into the wilds of Cape Henlopen State Park.
The park ranger who checked us in asked if we had brought an air conditioner for our tent. Was he kidding? Apparently, there are such things. Have you used one? Instead, we bought a bag of ice for our tiny cooler. The ranger wished us luck, and we headed out to the Cape Henlopen Campground.
We took it nice and slow through the park, making use of the air conditioner we did have, and the first thing we noticed was the amazing bike path that meandered through forest, field, and dune. Not only that, there were people using it — people who embrace the heat as summer's best feature. I was sure we could do it too.
Cape Henlopen Camping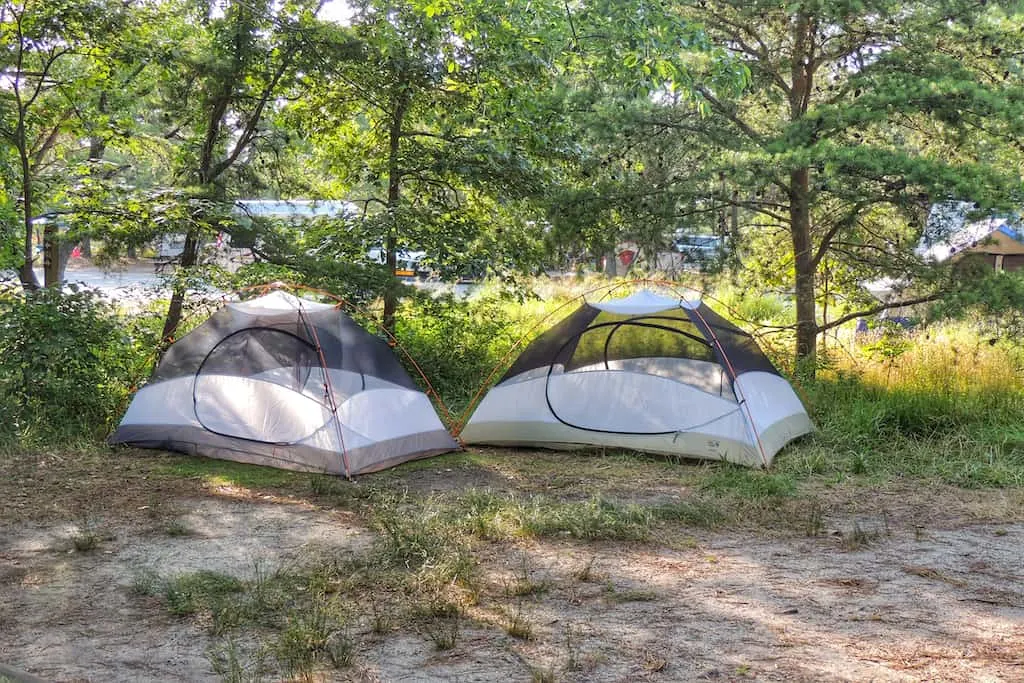 Yes, the campground at Cape Henlopen State Park is busy, with sites that are not always private. However, the trails, beaches, and all the awesome things to do here make the crowded campground totally bearable, if not downright enjoyable. Plenty of people come to Cape Henlopen to enjoy the beaches during the day, but to really make the most of the park, you have to stay a few days!
The Cape Henlopen campground area is divided into three sections. There's the RV area, which is really most of the campground. You'll also find a loop just for tenters and a row of cute cabins. We opted for a tent site, thinking it would be more peaceful, but the park doesn't allow generators, and quiet time is strictly enforced after 10 pm, so even the RV loop was really quiet.
The Cape Henlopen campsites are flat and sandy with a good mix of shady and sunny sites, but they are packed pretty tightly together and offer very little in the way of privacy. During our last Cape Henlopen camping trip, we scored a centrally-located site with lots of bushes for privacy. It was perfect!
The campground restrooms are clean and spacious, with hot showers (cold showers are better than air conditioning in your tent). The summer bugs, however, might send you over the edge, or at least to the beach. Biting flies harassed us during the day and mosquitoes came on duty in the evening. We don't know of a good repellent for biting flies, so we spent lots of time in the ocean.
I know, it's camping. We love it, really we do.
Because Cape Henlopen State Park is a popular place, we recommend reserving your site well ahead of time. You can book your site on Reserve America. We have stopped a few times in the summer to try and camp without reservations, and we have been lucky enough to find a site, but both times were during the week. I imagine that weekends are fully booked.
Cape Henlopen Cabins
The cabins at Cape Henlopen State Park are really cute and perfect if you have a small family and don't want to deal with sandy sleeping bags and leaky tents (believe me, I was tempted). Although the cabins sleep 6, it's a tight squeeze, with two sets of bunk beds in the back room, and a queen sofa bed in the front room.
The cabins do have air conditioning, electricity, and a small fridge, which is awesome, but you still have to do your cooking outside. In my opinion, the Cape Henlopen Cabins are the perfect solution for families who love playing outside, but not necessarily sleeping outside. Those bugs are ruthless, let me tell you!
The other awesome thing is that the Cape Henlopen cabins are open year-round, and if you are like me, and don't need to actually sunbathe or swim in the ocean, then a fall visit may be just your thing. Please note that pets are not allowed in any of the Cape Henlopen cabins.
Cape Henlopen Beach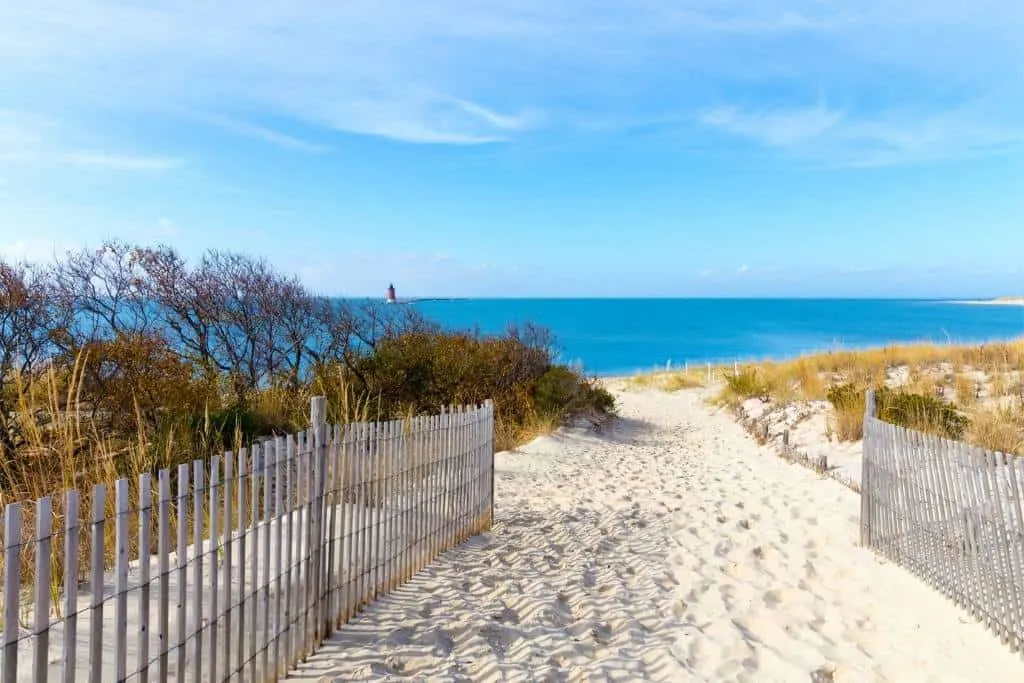 By the time we had lunch, fended off a million biting insects, and changed into swimwear, the temperature had soared to 104 degrees. Time to chill out in the Atlantic. The park is big enough that you have to drive from your campsite to the beach. Okay, you don't actually have to, but if you're a northerner suffering through a sweltering summer day, take the car and don't feel guilty.
So the Cape Henlopen Beach — it's pretty much perfect and is definitely one of my all-time favorite East-Coast beaches. It can be busy right by the concession and shower area, with good lifeguard coverage (available from Memorial Day to Labor Day), but the expansive strip of sand quickly fades into serenity as you walk either north or south along the shore. The water was blissfully cold at the end of June, a good 10 degrees colder than the same ocean three hours south in Virginia Beach.
During our visit to Cape Henlopen Beach, the waves stayed small, even during a pretty spectacular thunderstorm, but some of the other campers mentioned that the little waves were unusual. We meandered along the shore, watched lots of shorebirds and frolicking dolphins in the surf, and hundreds of horseshoe crabs chillin' in the quiet bayside waters.
At Cape Henlopen, there's a special surfing beach, a beach just for fishing, and a lovely bayside beach with quiet water for families with littles. Dogs are allowed on the beaches during the off-season, but not during the summer when lifeguards are on-duty.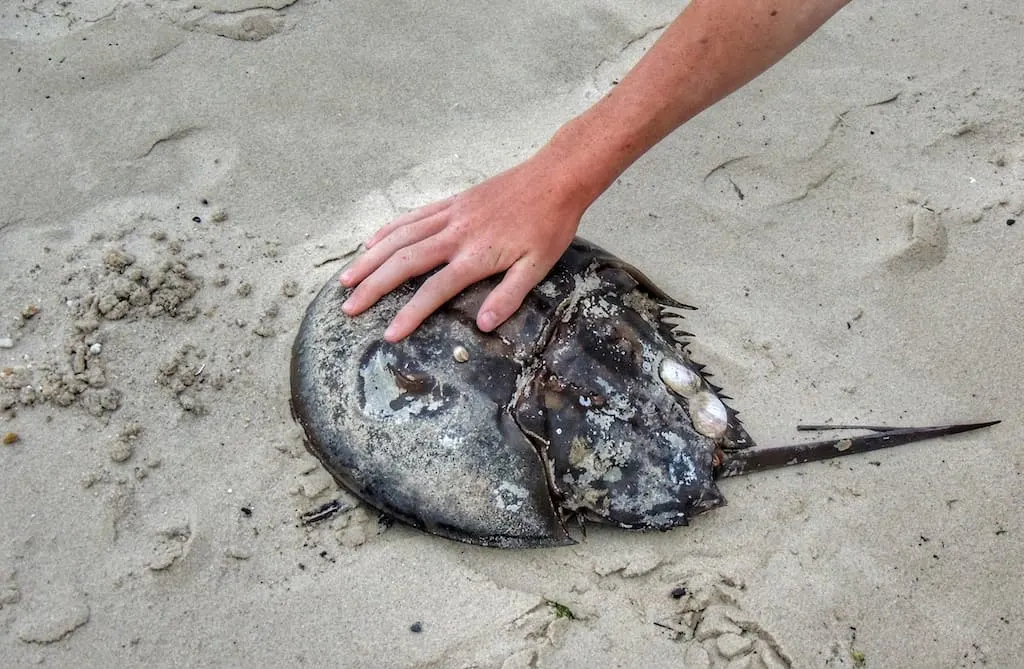 With so much room to spread out, Cape Henlopen Beach never feels crowded, and the grass-covered dunes add a touch of wild to the rugged shore. If you've never been to the beaches at Cape Henlopen State Park, this is your call to action!
Cape Henlopen State Park Hiking Trails
While the temps were too sweltering to do much hiking, we did get in some early morning trail time while we were visiting. Here is a run-down of some of the awesome trails in Cape Henlopen State Park.
Walking Dunes Trail — We meandered along the Walking Dunes Trail, hoping to catch the sunrise over the east coast. The clouds thwarted our plans, but the trail didn't disappoint. The huge diversity of birds made quite a ruckus in the tidal marsh and we didn't see a single human for more than two hours. This is an easy hike — through dunes, woods, and a bit of pavement. The only downside is the limited shade and a bit of poison ivy.
Bike Loop — Did I tell you that bike rentals are free at Cape Henlopen State Park? The trails, the roads, and even the nearby town of Lewes are all very bike-friendly. It's a great way to explore this huge park, and there's nothing like letting the waves wash your sweat away after a grueling ride from the campground to the sea. The bike loop trail is an awesome way to get around the park. You can stop off at the nature center, the Cape Henlopen fishing pier, the kayak rental shop, and the observation tower. The trail itself is flat and paved, perfect for seasoned riders and training wheels alike.
Pinelands Nature Trail — Thanks to a raging storm, we didn't have time to check out this trail, but all the park rangers recommended it to us. It's a two-mile path through the woods, where you'll get a glimpse of the old military bunkers and a cranberry bog without even breaking a sweat. Please let us know about your hike if you decide to give it a go.
More Fun at Cape Henlopen State Park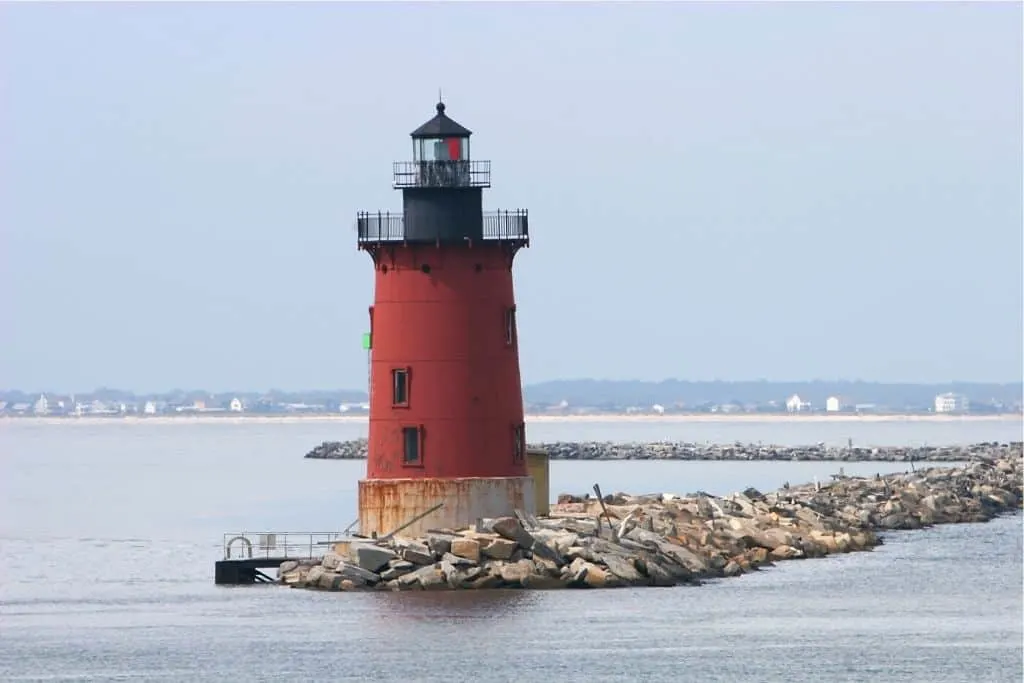 As if the crashing waves, meandering trails, and absolute beauty weren't enough, there's even more to Cape Henlopen State Park. If you're a family that needs options, here are a few more ways to while away the day.
Climb the observation tower – Part of Fort Miles, the tower sits right on the bike loop. It offers 360 degree views of the surrounding park, and is a great spot to watch the sun come up.
Visit the bunkers at Fort Miles – Fort Miles was a key piece of our nation's coastal defense during World War II. The fort was in operation until 1958, when long-range missiles brought an end to harbor defense strategies. You can get a guided tour of the fort Monday through Friday from 8 to 4.
Rent kayaks – Tour the bay on your own, or take part in a seriously fabulous guided tour. The park rangers and naturalists know so much and they love to share their knowledge with visitors. You'll learn about the birds, fish, and mammals that live here, plus you'll experience the park from a whole new perspective. The sunset tour promised to be amazing when we were there, but a giant storm kept everyone out of the water. Now we have an excuse to go back.
Watch the sunrise – Nothing like a sweet Atlantic sunrise to make the rest of your day fabulous.
Watch the sunset – Over the bay as the tide goes out, you'll likely spot dolphins frolicking, pelicans fishing, and awesome people enjoying the world just as much as you are.
Check out the Nature Center – It's a mini-aquarium, complete with a touch tank, local fish, and lots of cool info about this special ecosystem.
Play disc golf – 18 "holes" of Frisbee fun. I'm having trouble learning the sport, but the courses seem to be popping up in parks and campgrounds everywhere, so I'm giving it a go.
Fish of the Cape Henlopen Fishing Pier – Word on the street is that the fishing pier has some of the best saltwater fishing on the east coast. I'm not an angler, so you'll have to be the judge, but the pier was super busy when we visited.
Cape Henlopen is a huge park on the Atlantic Ocean that kept us captivated from the moment we arrived. If you like a side of rugged and wild with your beach vacation, you won't be disappointed. You've got a sweet little beach town nearby with shopping and dining if that's your thing; the beach is as lovely as any on the Atlantic Coast, and there's plenty of room to spread out and explore. Have you been to this magical place? We'd love to hear about your experiences.
Resources for Exploring Cape Henlopen State Park and Nearby Areas
Delaware State Parks – Find out more about Cape Henlopen State Park, as well as other awesome parks in Delaware.
Lewes Chamber of Commerce – This cute town is just outside the park and totally worth a visit. This website gives an overview of the town, as well as dining, lodging, and shopping ideas.
Cape May, NJ – Cape May, NJ is right across the bay from Lewes, DE. Not only is this an adorable seaside town, it's also one of the premiere birding spots in the United States. Check out CapeMay.com for information about exploring the town.
---
Follow us on Social Media!
Pin for Later?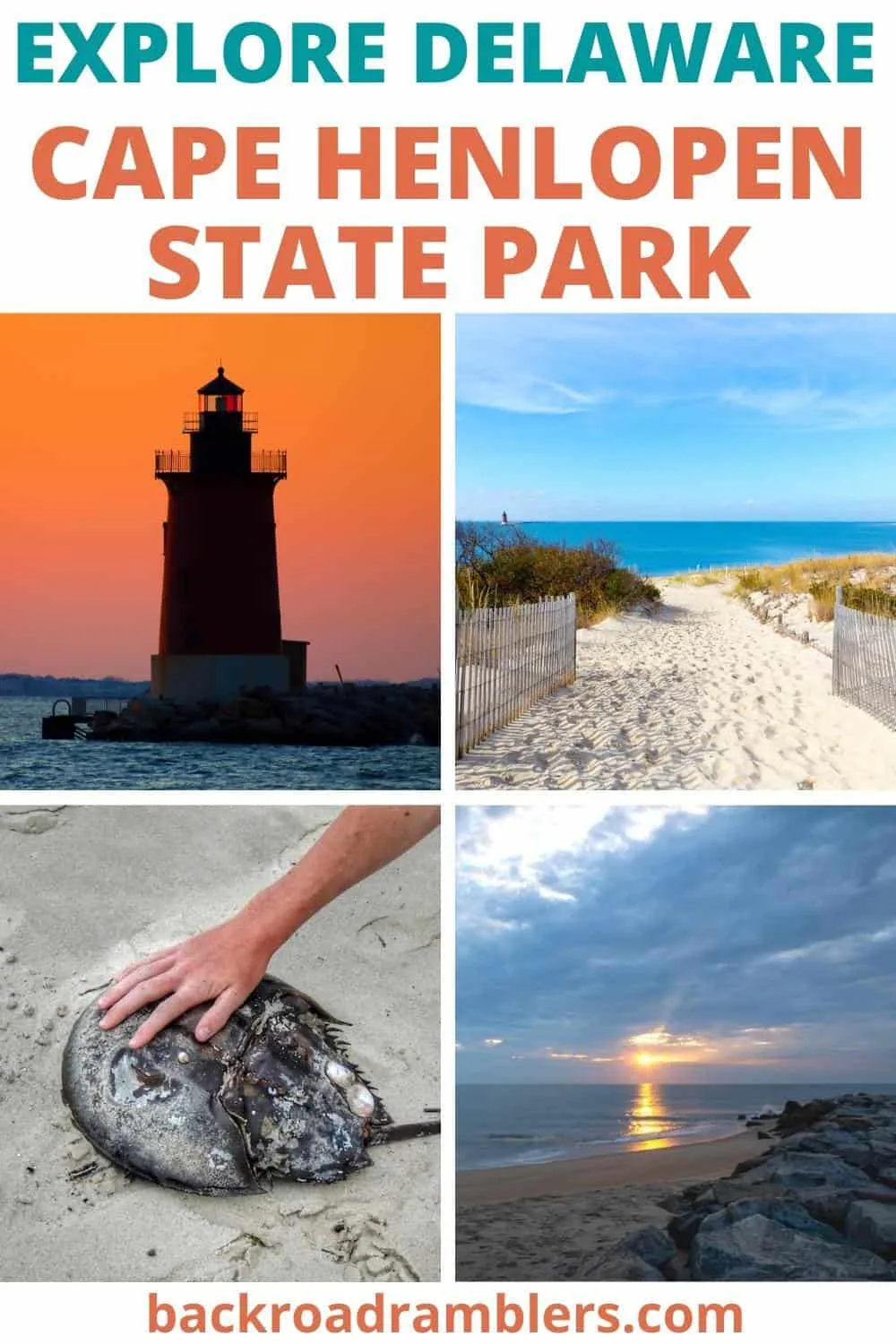 Check out the web story for Cape Henlopen State Park!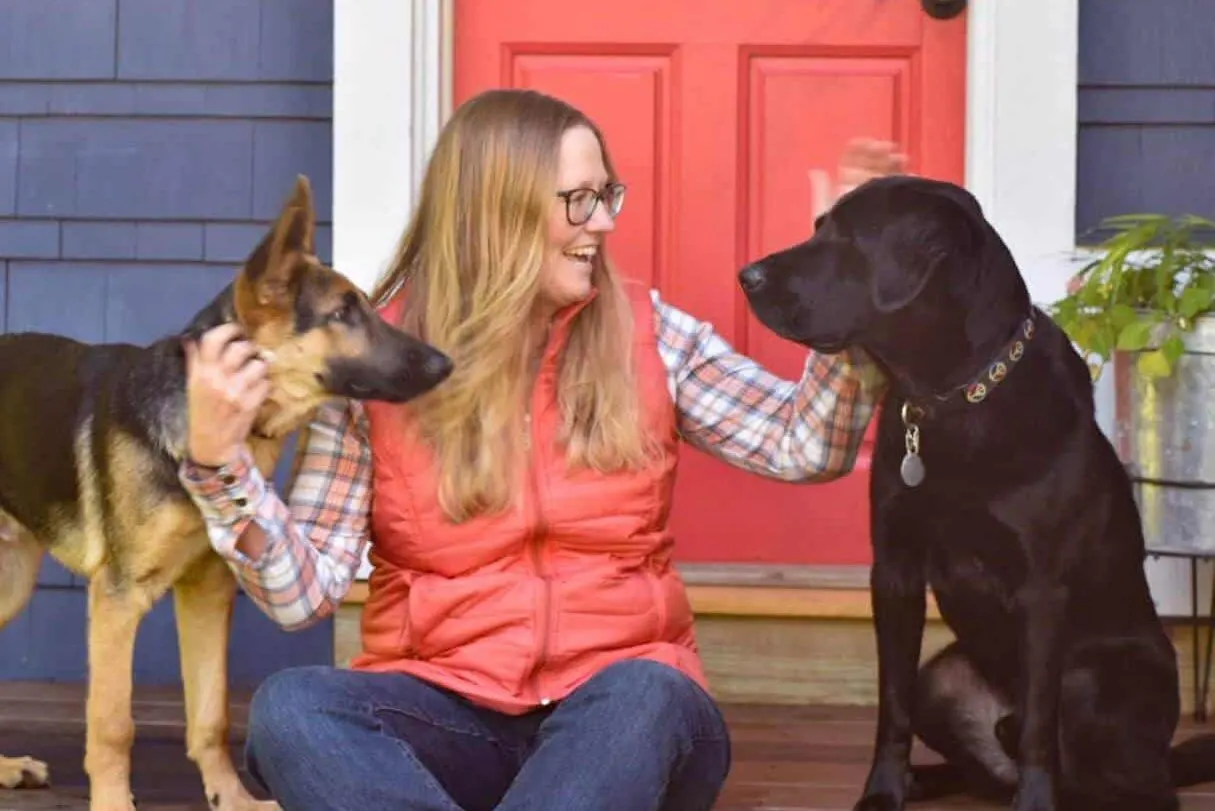 Our Favorite Resources for Road Trips and Outdoor Adventures

These are the resources we use to plan road trips, save money while traveling, and shop for outdoor gear.

Car Rentals: While we use our own car most often for road trips, we also enjoy flying into major airports and then renting a car for more regional road trips. We use Kayak to compare prices and find deals from dozens of car rental agencies at once.

Flights: We use Kayak to search out flight deals.
Money-saving tip: If you find yourself using the same airline repeatedly (we are huge Southwest fans), consider joining their loyalty program and getting an airline credit card. With our Southwest Rewards Visa, we earn a few free flights each year.

Hotels: When it comes to lodging, we seek out small boutique hotels or quirky roadside motels. First, we search for hotels on TripAdvisor so we can read reviews from other travelers. Then, we use Booking.com to make reservations (they have the best prices, plus a flexible cancelation policy).

Camping: Camping is one of our favorite things to do on long road trips. It allows us to explore the outdoors, cook our own food, and save money. We use They Dyrt Pro to find campsites and read reviews before booking on Recreation.gov or state park websites.

Glamping and Vacation Rentals: For weekend getaways and shorter vacations, we love glamping (check out our glamping resource guide). We book glamping properties through Tentrr, Hipcamp, and Airbnb. For cabins and vacation rentals, we like to use VRBO (they have fewer fees and a better cancelation policy than Airbnb).

Guides and Maps: If we are visiting a new region, we usually invest in a Moon Travel Guide for the area. We pass them on to friends and family after our trip. If we are planning on hiking, we also purchase a Falcon guide in the Best Easy Day Hikes series.

Outdoor Gear: We are REI Co-Op members. It cost us $20 for a lifetime membership, but we get a yearly dividend based on our purchases, plus great deals and coupons throughout the year. REI also has a great return policy.

Check out our complete guide for planning a road trip on a budget