Let's face it. Getting outside is just harder in the winter, and when you're hiking with kids in cold weather, the secret is to be over-prepared.
Just like packing a diaper bag for your babes, your winter daypack for hiking will include all the necessities, and a few nonessentials to make life a bit more fun for everyone.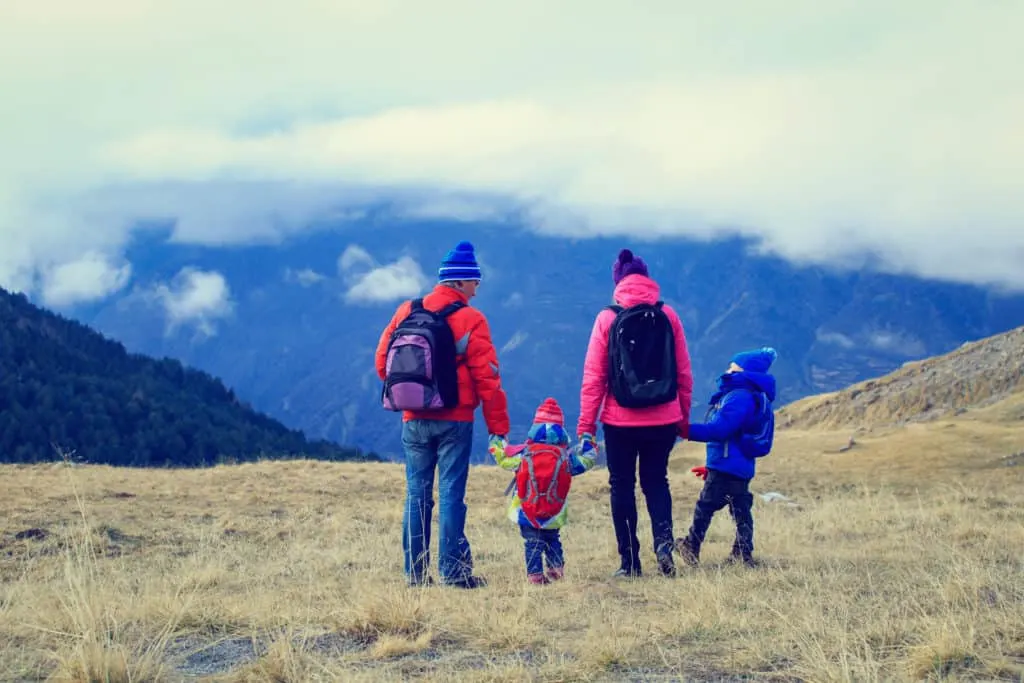 Your winter hiking essentials can live right in your backpack so that you're always ready for an impromptu afternoon outside. Use it for more than just winter hiking – take it with you when you go sledding, snowshoeing, or cross-country skiing too!
You never know when you'll need your daypack essentials, especially in the winter. The winter hiking gear mentioned below will easily fit in a small backpack (under 20 liters).
I also recommend that your kids carry their own daypacks to lighten your load and get them used to the responsibility of carrying necessary supplies.
What is the Difference Between a Backpack and a Daypack?
A daypack is a type of backpack that is designed for short hiking trips lasting less than a day, hence the name.
Most daypacks are between 10 and 25 liters, which is perfect for packing the 10 essentials for hiking, but not suitable for long trips where you have to pack lots of food and clothing.
I use my daypack every single day in both summer and winter. It's kind of like a purse for the outdoor adventurer.
The Best Winter Daypacks for Hiking
You don't necessarily need a summer daypack and a winter daypack for hiking, although you should make sure that your winter daypack is rugged, water-resistant, and large enough to carry some extra layers.
In the summer, I usually use a Gregory Nano 18 H20 Hydration Pack. It is super small and light, with just enough room for snacks, a rain jacket, and a small first aid kit, and it includes a 3-liter reservoir for easy access to water.
If you live in an area with cold winters, I don't recommend using any type of hydration system in the winter. When it's cold and snowy, I pack the Osprey Sirrus 24 Pack, which comes with an integrated rain cover, has four exterior pockets, and is large and rugged enough for a long family day hike.
In the summer, I use the Osprey for longer hikes. It is compatible with hydration bladders – I just don't like dealing with them when it's cold.
Winter Hiking Essentials: What to Pack in Your Winter Daypack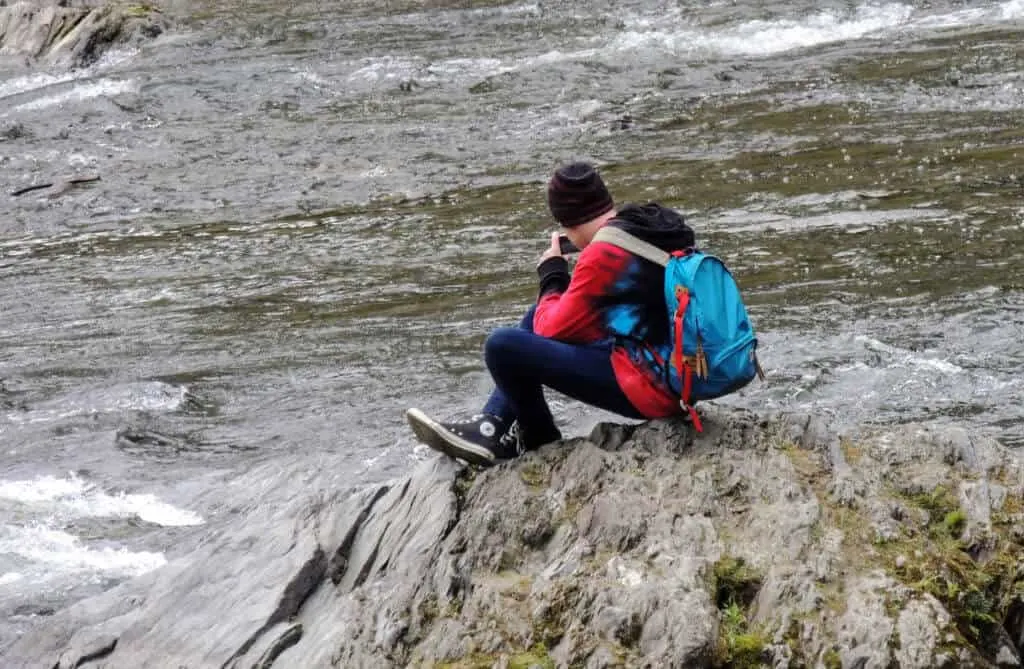 So what kind of gear do you need to pack for winter hiking with kids?
Let's start with your hiking daypack. We'll get to the kids' daypack later on. Here's what's in our winter daypack for hikes that are longer than a stroll in the park, but shorter than five miles.
First aid kit – We keep a waterproof plastic bag with basic first aid supplies at the bottom of our winter hiking daypack. In the winter, our most commonly used item is our ACE bandage, Bandaids, and moleskin for blisters.
You can buy a ready-made first-aid kit for hiking, but we usually make our own. This article from Backpacker lists everything you need in your day hiking first aid kit.
I would only add a list of emergency numbers for the location we're hiking in – hospital, police, and veterinarian (if you hike with dogs).
Extra socks – Everyone in our family wears thick wool socks for winter hiking, and I always bring an extra pair for each person. I've only had to use the extras once when one of the kids stepped through the ice and into a monster puddle. Those socks were immediately put to good use!
Our favorite socks for winter hiking? Darn Tough Vermont socks, which are made in Vermont and unconditionally guaranteed for life. They are made of the softest merino wool and come in sizes for kids and adults. For the kids, we buy cushioned ski socks for winter hiking. We've had the same socks for more than five years, and they've still got plenty of cushion left.
Hand/feet warmers – If you live in the northern part of the country, you can find hand-warmer packets at most drug stores, discount stores, and gas stations throughout the winter. They make great stocking stuffers for kids, and we bring a pair for everyone on every winter day hike.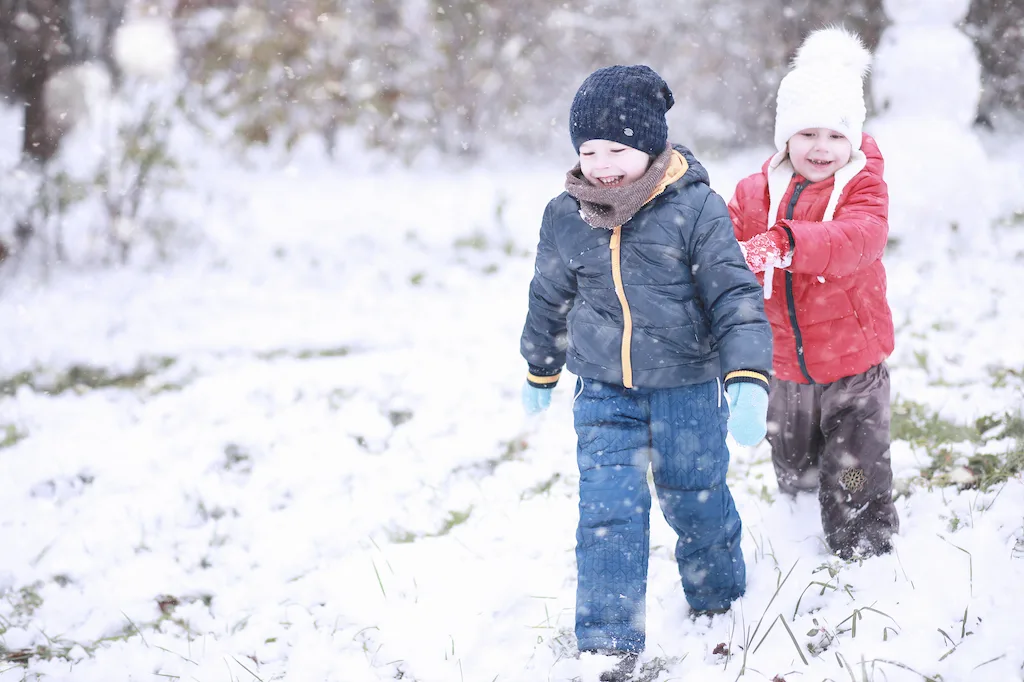 Snacks – It's cold out and your kids are hungry. This is probably not the time to dole out apples or carrot sticks. I recommend treats that are sweet, high in protein, and easy to eat with mittens on — in other words, these super-seed granola bars.
Water bottles (2) – Depending on how cold it is, I will sometimes carry warm water in an insulated Hydro Flask bottle. Otherwise, our drinking water becomes ice-cold halfway through the hike. Gotta love winter hiking in Vermont!
Trail map – Everyone carries their own trail map. We look at the map and discuss the trail we are taking before we embark. I also have a downloaded version of our trail map on AllTrails+ so we have a map and GPS tracks even if we lose cell service.
Emergency firestarter – A source of fire is important to have in emergency situations. I carry waterproof matches and a lighter in my hiking daypack, and my kids are old enough to carry their own as well.
Cell phone and battery pack- Because of spotty service, we know not to rely 100% on our cell phones while hiking, but we do bring them, along with a power bank.
Satellite messaging device – If you know you will be hiking where cell phone service is spotty (most of Vermont, ha!), it is worth the peace of mind and the small subscription fee to have a satellite messaging device.
We use the SPOT X, which allows you to communicate with family and friends even if you're out of cell range, plus it has an SOS feature that can communicate with search-and-rescue organizations if you ever need help in the backcountry.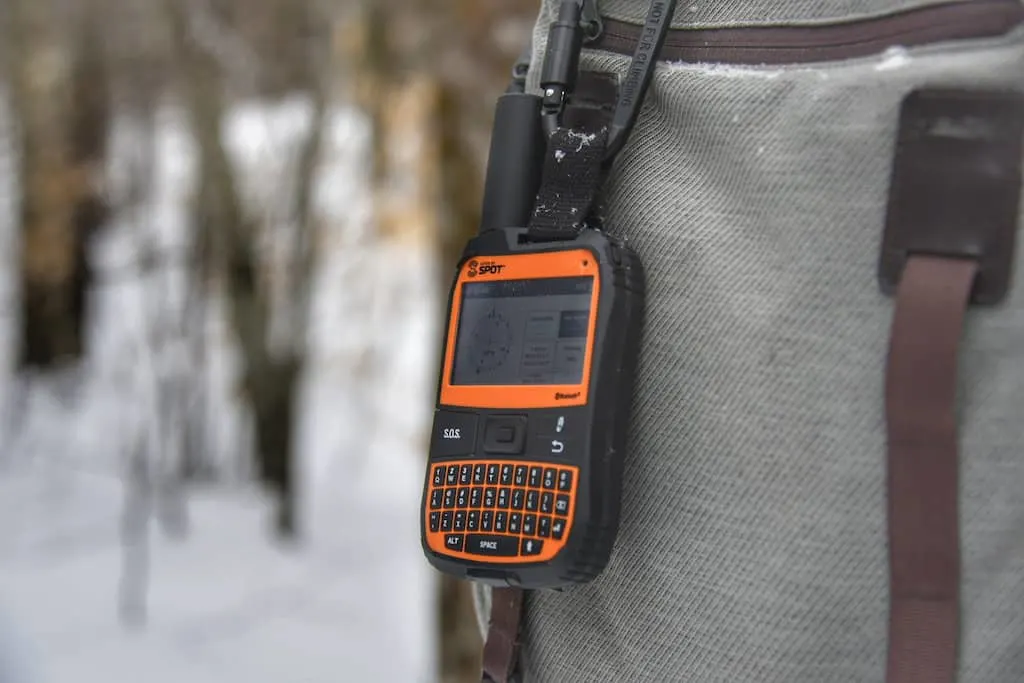 Sun protection – We are a bunch of redheads, and the winter sun is harsher than it looks. We pack SPF lip balm, sunscreen, and sunglasses.
Multitool or pocket knife – We love our Opinel pocket knives. They are sharp and affordable!
Emergency mylar blanket – So light and easy to pack, this is one of those boy scout items that I've never used, but always carry.
Extra mittens/gloves – Cold fingers can ruin a trip very quickly, and kids are very apt to make snowballs, fall in puddles, or just futz around with their hands in the dirt. The answer, of course, is an extra pair of warm mittens or gloves for everyone in your group.
Extra layers – This depends entirely on the weather, but I will often pack a midweight fleece layer for everyone, just in case. Read about how we layer babies, toddlers, and older kids for winter hiking and other outdoor adventures.
Not-So-Essential Gear for Winter Hiking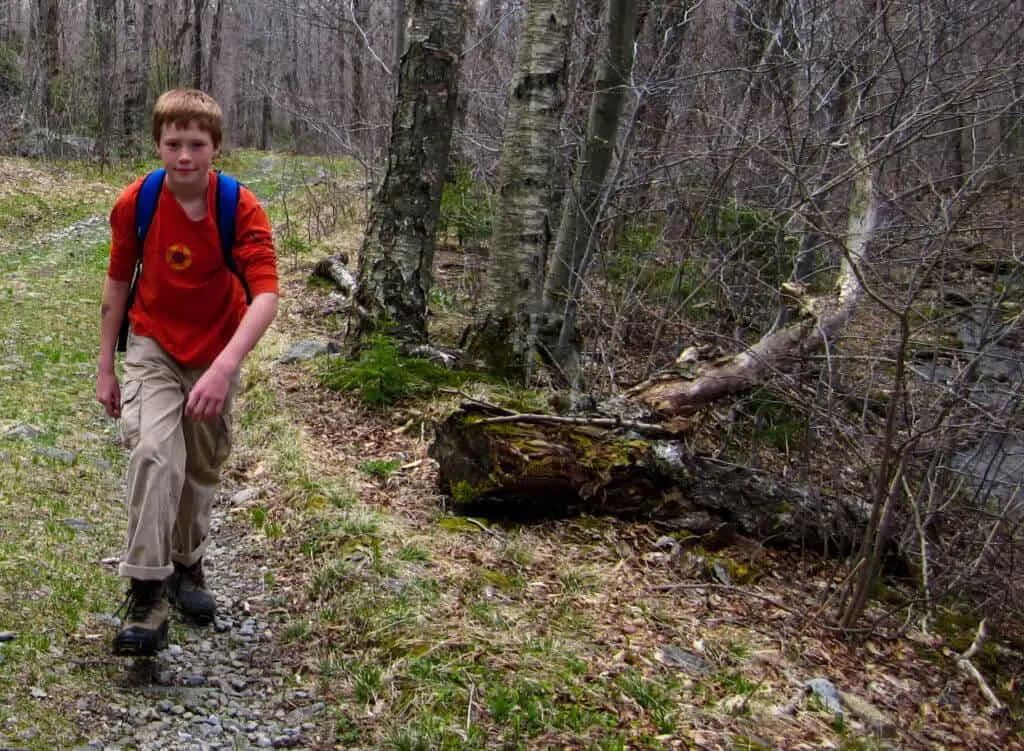 Okay, so you've packed all the essentials listed above and you still have room in your bag. Here are a few winter nonessentials for your hiking daypack, simply to make your hike more fun.
Hot cocoa or tea in a small thermos is always a hit in our family. In fact, it's pretty much expected!
A ball or something to throw – I wouldn't recommend this on every hike, but if we're not climbing a mountain, we often bring something to toss back and forth while we're walking.
A magnifying glass or a pair of binoculars – Have you ever looked at a snowflake under a magnifying glass? How about a distant bird through a pair of binoculars? It's fascinating!
Tools for helping your kids see things differently make for a lot of fun on the trail.
---
Read Next: Everything You Need to Know to Get Started Bird Watching with Kids
---
Winter Hiking Essentials: The Kids' Daypack
As I mentioned earlier, we always encourage our kids to carry a small pack of their own. Now that our kids aren't really kids anymore, I can say with confidence that starting them young paid off!
As they grew, they rarely complained about hiking with a pack, and by the time they were teens, they carried more than I did.
I think the secret is to ensure that the stuff they carry is both lightweight and important. They should absolutely carry their own snacks!
The Best Hiking Backpacks for Kids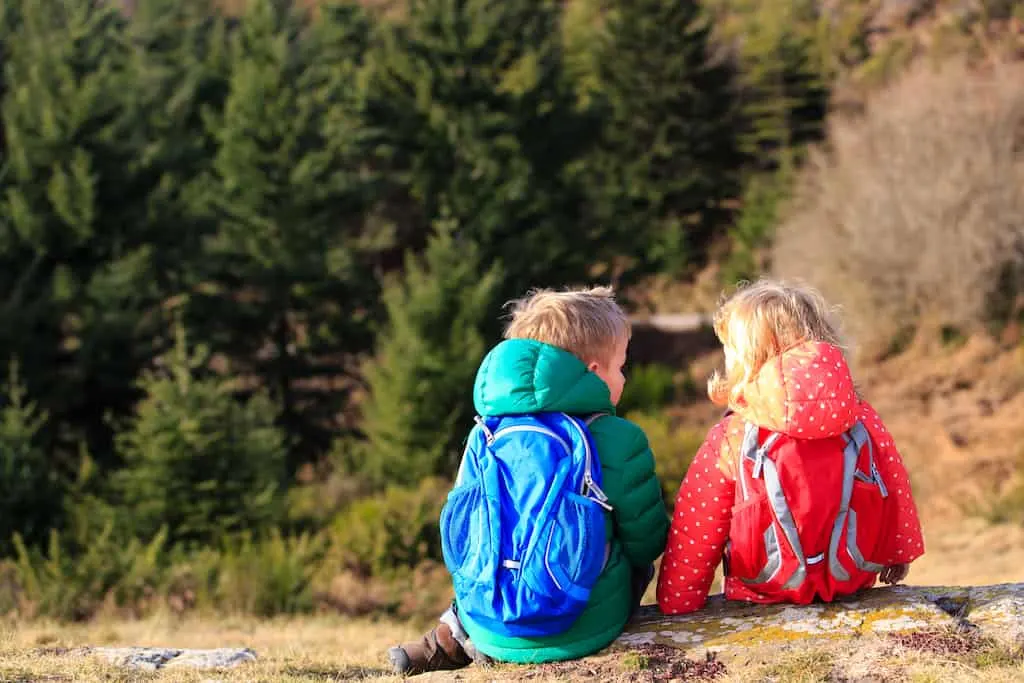 We've got a couple of suggestions for awesome daypacks for kids. Of course, any old backpack will do, but if you can afford it, I'd get a dedicated hiking backpack, which will be lighter and more rugged than a backpack that is meant for carrying books to school. Here are our top choices for daypacks for kids.
REI Co-Op Tarn 18 Pack – Kids' – This 18-liter pack comes in under $30 and it's got padded shoulder straps, a hip belt, and a sternum strap. Side compression straps help balance the load, and it is hydration bladder compatible. The Tarn 18 comes in two colors – Nightsea and Redrock, plus reflective accents.
REI Co-Op Tarn 12 Pack – Kids' – Exactly like the Tarn 18, only smaller. The Tarn 12 is a 12-liter pack that comes in two colors – Clean Green and Goji Red.
What to Pack in Your Kids' Daypack for Winter Hiking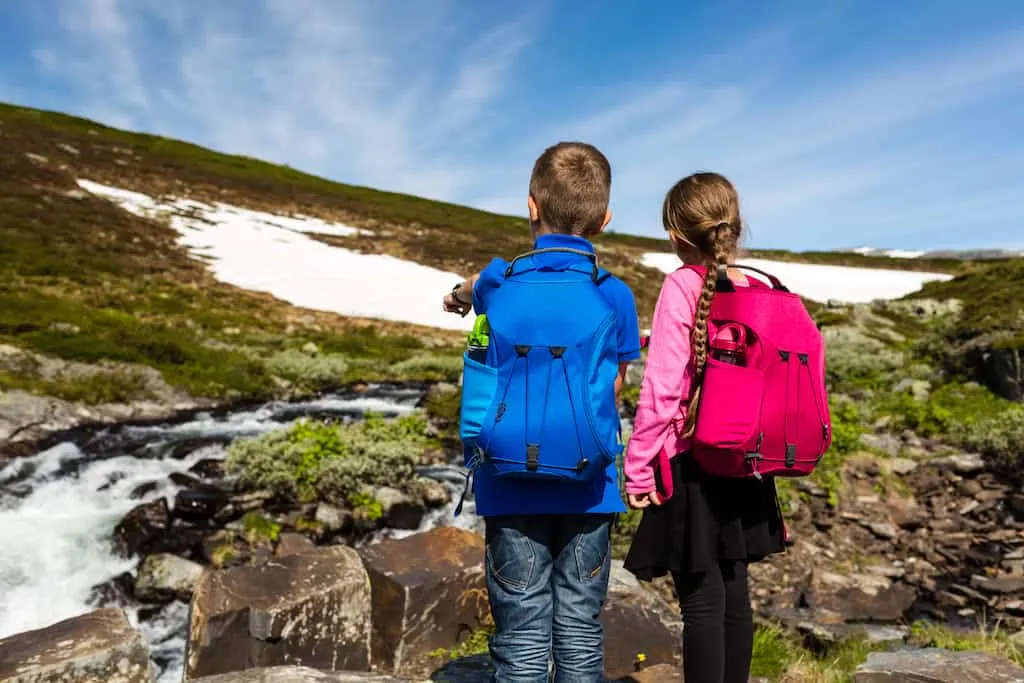 Young children will love carrying their own pack with a bit of gear, even if it's just a few necessities like food and water. As they grow and mature, kids can carry more of the load, making it a bit easier on their parents.
Here are some winter hiking essentials for your kids' packs.
Water bottle
Snacks
Whistle -Remind your kids to blow three times if they're lost or in trouble.
Trail map
Compass
Pocket knives (if they're old enough) – Opinels are inexpensive and fun to use.
Hand/feet warmers
Sunglasses
Lip balm
Emergency mylar blanket
Extra mittens/gloves/socks
While it may seem like a lot of stuff to carry around, it's better over-prepare for a winter day hike. Aside from the water and snacks, much of this hiking gear stays in our winter daypacks all the time.
This way when it's time to hit the trail, all we have to do is pack the snacks, fill up the water bottles, and get outside.
Would you add any winter hiking essentials to this list?
---
Want to read more about adventuring with kids? Check out these posts:
---
Follow us on social media for more outdoor inspiration!
Pin for Later?