Please note: There's a good chance that this post contains affiliate links from which we earn a small commission at no extra cost to you.
When our kids were wee babies, my husband and I decided that the only way to stay sane in the winter was to get everyone outside every single day. We did this rain or shine for years and years, and even though our kids are teens now, I still throw them out on a regular basis. The secret to providing your kids with fun and memorable outdoor experiences is starting with the right cold-weather clothes. We are lucky to live in a time when there is an incredible array of choices for winter clothes for kids.
After raising kids in Vermont for 13 years, we've got a lot to share about the best cold-weather clothing, from toddler snow pants and mittens to cozy base layers that won't let you or your kids down.
There is no such thing as terrible weather, just inappropriate clothing. For our kids to actually enjoy being outside, they had to be warm. We experimented for years until we found the right clothing system for winter. Our babies always had rosy cheeks in the winter, but we knew they were toasty under their layers. As teens, they spend whole days on the ski slopes or in the woods, and they rarely complain about the cold.
Cold-Weather Tips for Dressing Babies and Toddlers
What you dress your little one in for a few hours outside depends on a couple of variables. First of all, if you have a baby who isn't walking yet, will you be putting him or her in a stroller or a carrier? Babies who will be hanging out next to your own body warmth won't need as many layers as babies in a stroller. The temperature and the wind chill are obviously a huge consideration, as is the distance from your home base. If you are heading away from home, it's better to be over-prepared. If you're hanging out in the back yard, you can make adjustments as needed. Here are a few tips for keeping your babies and toddlers snug and warm in the winter.
Keep their heads covered and their feet warm. Kids will stay out longer if they're comfortable, and little feet and ears can get cold really fast. Look for warm, wooly socks, and hats that tie or velcro under the chin so they stay put.
Keep mittens secured with clips or sew long string between the two so that they can be secured to your child's jacket. You can never have too many pairs of toddler mittens. They seem to always be getting lost!
Instead of scarves that are bulky and can get lost or caught in things, try a fleece neckwarmer. Even though they're relatively lightweight, they offer plenty of warmth, plus they're easy to wash and really soft against their skin.
Keep the base layers snug and the top layers big – Your waterproof layer can be a size or two larger than what your child normally wears, but be sure the base layer and the insulating layer fit just right.
Our Top Picks for Cold-Weather Layers for Babies and Toddlers
For the Infant and Toddler Base Layer
Patagonia Infant Capilene Set
– Infant/Toddlers' – The base layer you choose for your child is very important, and Capilene is warm, soft, and fairly lightweight. This set includes a long-sleeve onesie and a pair of stretchy long-johns with reinforced knees.
Meant for littles up to age 2, this set has built-in odor control and flat seams to reduce chaffing. It wicks moisture away from your baby's body, so you never have to worry about them being damp or cold. 2 sets of base layers should do it for the whole winter – one to wear and one to wash. No matter what goes on top of this set, these are perfect for every day in the winter.
For the Insulation Layer
After the base layer, you've got to insulate your child to the proper outdoor conditions. Many outdoor jackets include an insulating layer and a waterproof layer. This is totally fine for backyard play but much less versatile than buying separate layers and mixing and matching them yourself based on the conditions. Here's what we recommend for an insulating layer for your baby or toddler.
Patagonia Micro D Crew – This mid-weight Patagonia fleece for infants and toddlers is versatile enough to keep handy
all through the year. It's not bulky, so it can be worn under a shell, plus it works as a solo top on warmer days in the fall and spring.
Patagonia Baby Micro D® Fleece Bottoms – These soft fleecy bottoms from Patagonia are suitable for babies and toddlers and are designed to match the Micro D Crew mentioned above. Sizes run from 3 monthts to 5T.
Zutano Unisex Baby Cozie Fleece Cuff Pant– Incredibly soft fleece bottoms for babies that can double as pajamas. Comes in every color of the rainbow and can be sized up to 24-months. These are a little more form-fitting than the Patagonia layers and we love the soft cuffs at the waistband and ankles.
Columbia Snowtop Infant Bunting – For babies that aren't walking yet, choose a one-piece fleece bunting, that way the cold is less likely to sneak in. The only issue we had with the one-piece bunting was trying to change diapers with all those layers, but that's a pain no matter which way you look at it.
The North Face Infant Moondoggy 2.0 Down Jacket – For colder weather, nothing beats the
insulating power of down. You get supreme warmth without the massive bulk. We like this hoody for wind protection, but you can also get a version without the hood. This isn't waterproof, but it is windproof. On the coldest, snowiest days, this is a great middle layer for babies, paired with Capilene underneath and a waterproof shell on top. These particular jackets are sized up to 18-months, but Moosejaw has a good selection of down jackets for older kids too.
Keep Your Kiddos Warm with an Outer Shell
For the last layer, it's a good idea to get a waterproof shell with little or no insulation. This way you can use it as a rain jacket in warm weather. The last thing you want is for your toddlers to be so overdressed that they can't get out the door, so maximize warmth while minimizing weight.
We've tried lots of different brands of infant and toddler snow pants, and I really don't have a recommendation for a certain product. We're always happy with Patagonia for kids' winter clothes, but as long as it protects them from the wind and the rain, whatever you choose should work.
Trespass Dripdrop Rain Suit Child – For under-twos, I highly recommend this one-piece waterproof shell. It's not insulated at all, so you can use whatever layers you want underneath, depending on the weather— this powerhouse will keep out wind, rain, and mud.
LL Bean Discovery Rain Pants for Infants and Toddlers – These babies are 100% waterproof with no insulation, so you can layer depending on the weather. Our kids could stay out all day in the snow wearing these and then come in dry as can be.
REI Co-op Toddler's Rain Jacket – This toddler rain jacket makes the perfect shell for toddlers. With two colors to choose from (blue and lavender), and sizes up to 4T, this is a great, affordable and rugged option.
Socks for Infants and Toddlers
Stretchy wool is the way to go with socks for babies and toddlers. You want socks to stay put and keep your kiddos warm warm. Unfortunately, most of my favorite sock brands don't make socks in toddler or infant sizes. Here's what I'd recommend:
SmartWool Bootie Batch Socks – Merino Wool (For Infants) – Soft wool for itch-free feet, these merino wool socks are made in the USA and come in two sizes for your littlest outdoor lovers.
Smartwool Wintersport Polar Bear Socks
– For toddlers and older kids, these wool socks feature a light cushioning and extreme warmth. 25% nylon keeps them nice and stretchy, and kids will love the polar bear design.
Mittens for Toddlers and Infants
Mittens are tough because little ones just don't seem to want to keep them on. Our kids were very different in their mitten-wearing philosophies. On would happily wear them and the other would either rip them off or cry and scream if he couldn't rip them off. We tried the super long-sleeved mittens for both of them and loved them most of the time. They keep wrists warm and are practically impossible to get off, so if that appeals to you, give them a try. I don't recommend gloves because they just don't offer enough warmth for little fingers.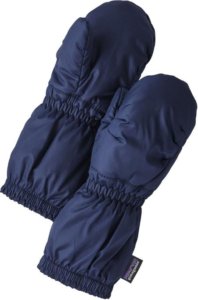 Patagonia Baby Puff Mittens – Toddlers'/Infants'- These guys are really easy to put on, and the best news is that they actually stay on! Elasticized cuffs seal in heat and 100 grams of Thermolite keep little fingers toasty.
These layers will help you become an outdoor family no matter how frigid the weather becomes. Many of these pieces were chosen because they could actually be used year-round.
---
Want to learn more about getting outside with your kiddos in the winter? Check out these posts:
---
Did you find this post helpful? Pin it for later!