Is there a secret to helping your kiddos enjoy the outdoors in the winter?
Besides making sure they get out in all types of weather, the key is providing them with winter layers that are non-restrictive and warm.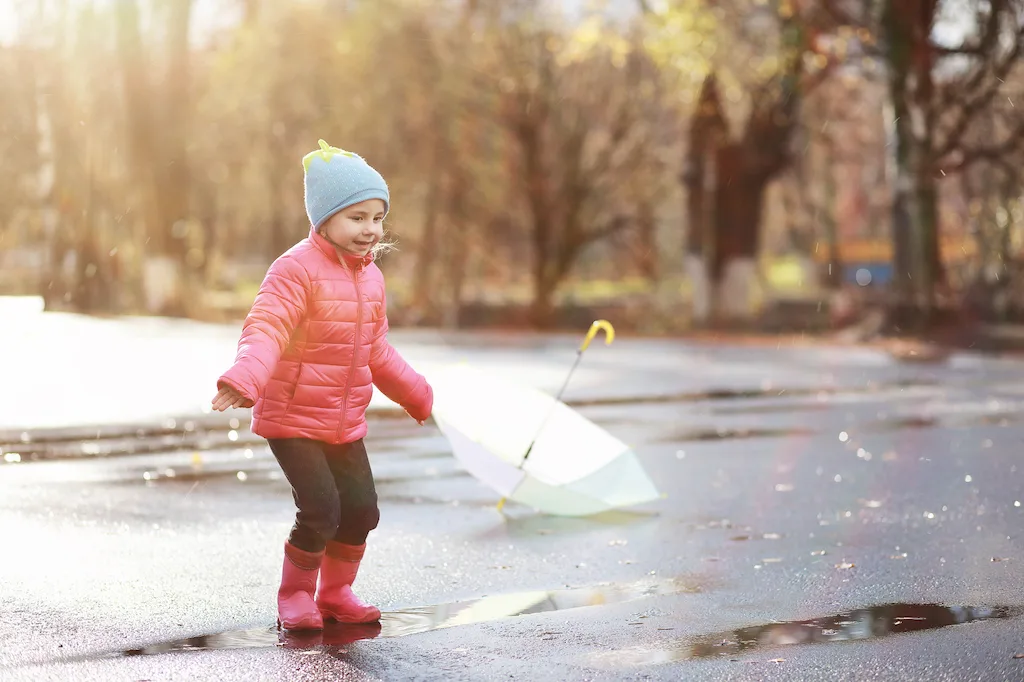 We're going to cover our perfect layering system and give you recommendations for the best winter clothes for toddlers and babies.
Living in Vermont, where we get six months of cold weather every year, we realized pretty early on that the key to providing kids with fun and memorable outdoor experiences is starting with the right cold-weather clothes.
When our kids were wee babies, my husband and I decided that the only way to stay sane in the winter was to get everyone outside every single day. We did this rain or shine for years and years, and now that they are grown, they still make a habit to get outside regularly.
We are lucky to live in a time when there is an incredible array of choices for winter clothes for kids.
After raising kids in Vermont for 16 years, we've got a lot to share about the best cold-weather clothing, from toddler snow pants and mittens to cozy base layers that won't let you or your kids down.
You've probably heard the saying – there is no such thing as terrible weather, just inappropriate clothing. For our kids to truly enjoy being outside, they had to be warm.
We experimented for years until we found the right clothing system for winter. Our babies always had rosy cheeks in the winter, but we knew they were toasty under their layers.
First, a Few Cold-Weather Tips for Dressing Babies and Toddlers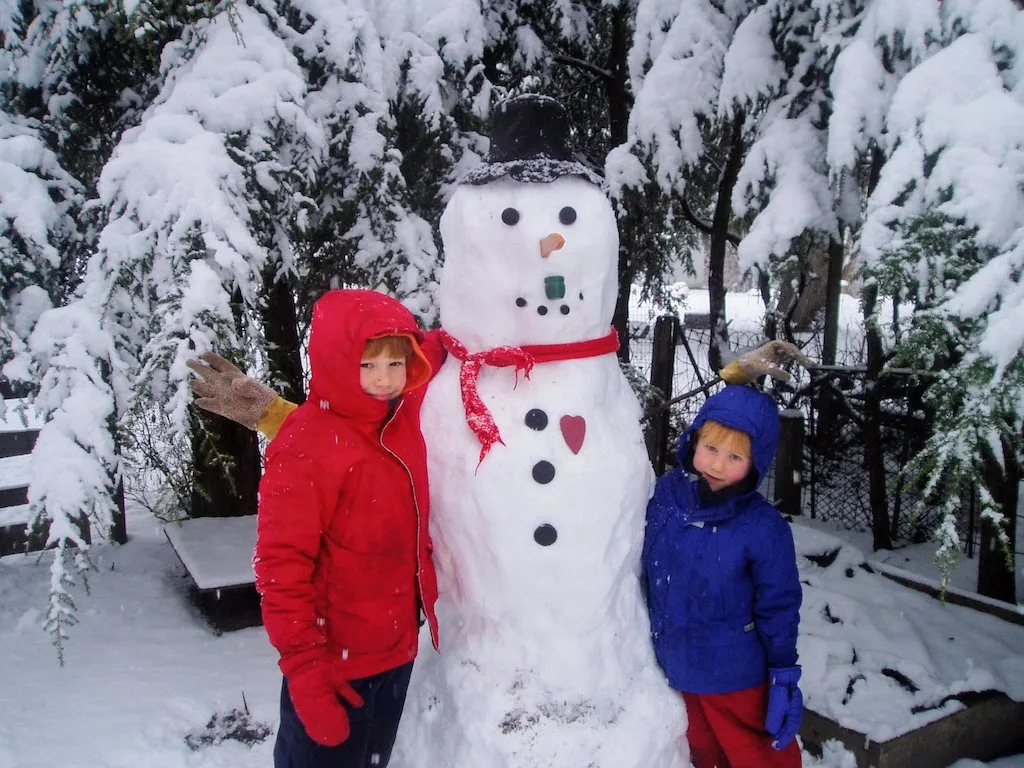 What you dress your little one in for a few hours outside depends on a couple of variables.
First of all, if you have a baby who isn't walking yet, will you be putting him or her in a stroller or a carrier? Babies who will be hanging out next to your own body warmth won't need as many layers as babies in a stroller.
The temperature and the wind chill are obviously a huge consideration, as is the distance from your home base. If you are heading away from home, it's better to be over-prepared. If you're hanging out in the backyard, you can make adjustments to your winter baby clothes as needed.
Here are a few tips for keeping your babies and toddlers snug and warm in the winter.
Keep their heads covered and their feet warm. Kids will stay out longer if they're comfortable, and little feet and ears can get cold fast. Look for warm, wooly socks, and hats that tie or velcro under the chin so they stay put.
Keep mittens secured with clips or sew a long string between the two so that they can be secured to your child's jacket. You can never have too many pairs of toddler mittens. They seem to always be getting lost!
Instead of scarves that are bulky and can get lost or caught in things, try a fleece neck warmer (we love these from Turtle Fur). Even though they're relatively lightweight, they offer plenty of warmth, plus they're easy to wash and soft against your kids' skin.
Keep the base layers snug and the top layers big – Your baby or toddler's waterproof layer can be a size or two larger than what your child normally wears, but be sure the base layer and the insulating layer fit just right.
The Best Baby Base Layers for Winter
When choosing winter clothes for babies and toddlers, we work with three main layers for warmth — the base layer, an insulating layer, and the waterproof layer.
Outstanding Base Layers for Babies and Toddlers
The base layer is the one that sits next to your baby or toddler's skin. It should wick away moisture (either from sweat or from leaky diapers). We love Capilene for the base layer, especially because it is so easy to care for.
The softest merino wool also makes a fabulous base layer for babies and toddlers. It's warmer than Capilene, is naturally antimicrobial, and doesn't smell.
Wool often requires special handling when washing though, so be sure you read the label so you know what you're getting into!
Here are our top picks for thermal base layers for toddlers and infants.
Winter Baby Clothes: Ecoable Thermal Footed Romper
I can't say enough great things about merino wool for babies and toddlers. These beautiful rompers by Ecoable are made from 70% organic wool and 30% silk, with sap closures on the bottom for easy diaper changes.
With sizes up to 24 months, these one-piece rompers come in a variety of colors that are perfect for both boys and girls.
Merino is naturally anti-microbial, wicks away moisture, and provides superior warmth, even when wet. In short, merino is a miracle fabric.
2 wool rompers should do it for the whole winter – one to wear and one to wash. No matter what goes on top of this romper, it's a perfect layer for every day in the winter.
---
Another Great Infant Wool Base Layer Option: Merino Wool Onesie from Woolino
Another all-natural, extra soft option for your baby's cold weather base layer, this organic, Merino wool, long-sleeve onesie by Woolino with sizes from newborn to 12 months.
Merino maintains a comfortable temperature in both warm and cool temperatures, and unlike synthetics, wool feels warm even when damp. Merino wool is also naturally flame-retardant without the use of chemicals, and it is anti-microbial too!
We were so excited to find these adorable onesies in three different pastel colors. Woolino also has a great line of Merino shirts and pants that would make great base layers for babies and toddlers.
---
Insulation Layers for Babies and Toddlers
While your child's base layer will generally be the same throughout the whole winter, what you choose for your baby's insulation layer will depend a lot on the day's weather and what you're doing outdoors with your kiddos.
Fleece, wool, and down all work well as insulators – adding warmth without the bulk so your kids can still get around!
Many jackets for babies and toddlers include both an insulating layer and a waterproof layer. There is nothing wrong with this approach, but for more versatility, we usually opt for a waterproof jacket for kids that can be used in three seasons and a separate insulating layer.
Here's what we recommend for an insulating layer for your baby or toddler.
Patagonia Furry Friends Hoody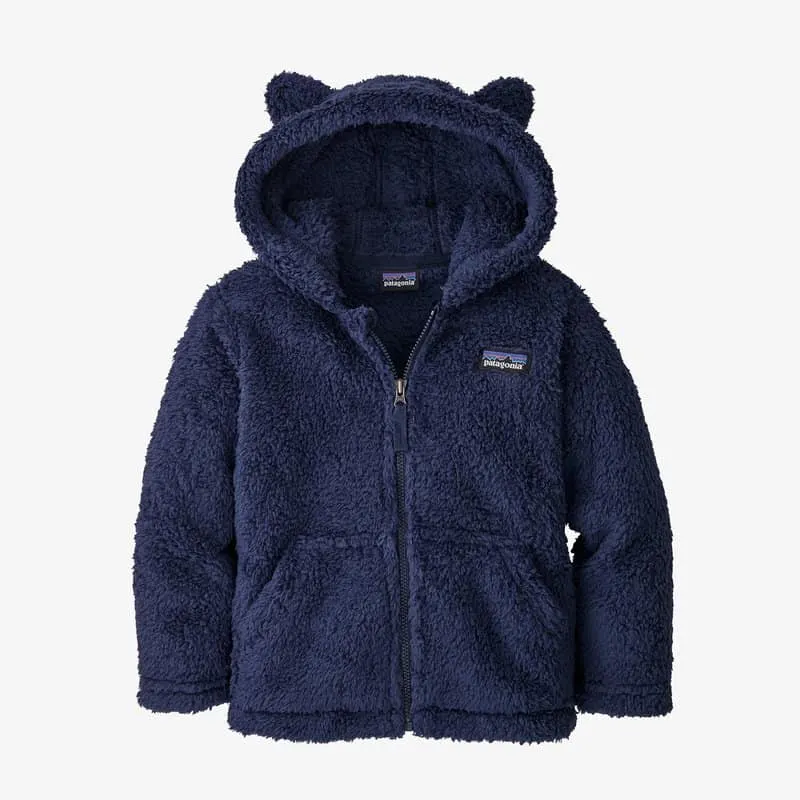 How adorable is this baby hoody from Patagonia? This is an awesome mid-weight layer for babies and toddlers.
It's made from 100% recycled polyester fleece that is Fair Trade Certified sewn. Plus it's got hand-warmer pockets and it comes in several adorable colors. I wish they made these in adult sizes, but they do come in sizes from 3 months to 5T.
---
Microfleece Bottoms for Babies from Patagonia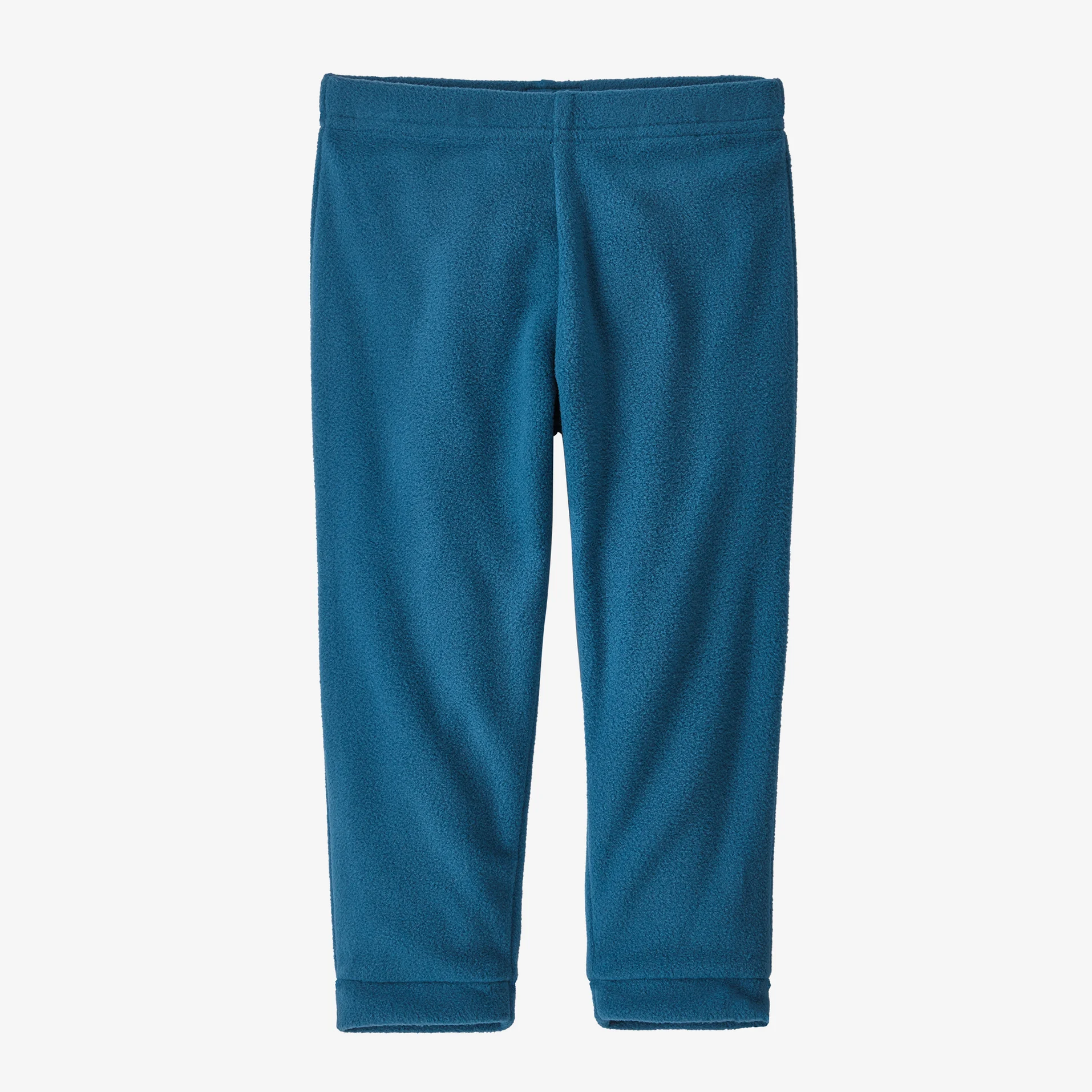 Incredibly soft fleece bottoms for babies that can double as pajamas. These pants come in a variety of colors and patterns and sizes between 3 months and 5T.

Made just for little ones, these pull-on pants are made of warm, soft 100% recycled polyester fleece and can be worn alone or over a Merino base layer.
---
Columbia Snowtop Infant Bunting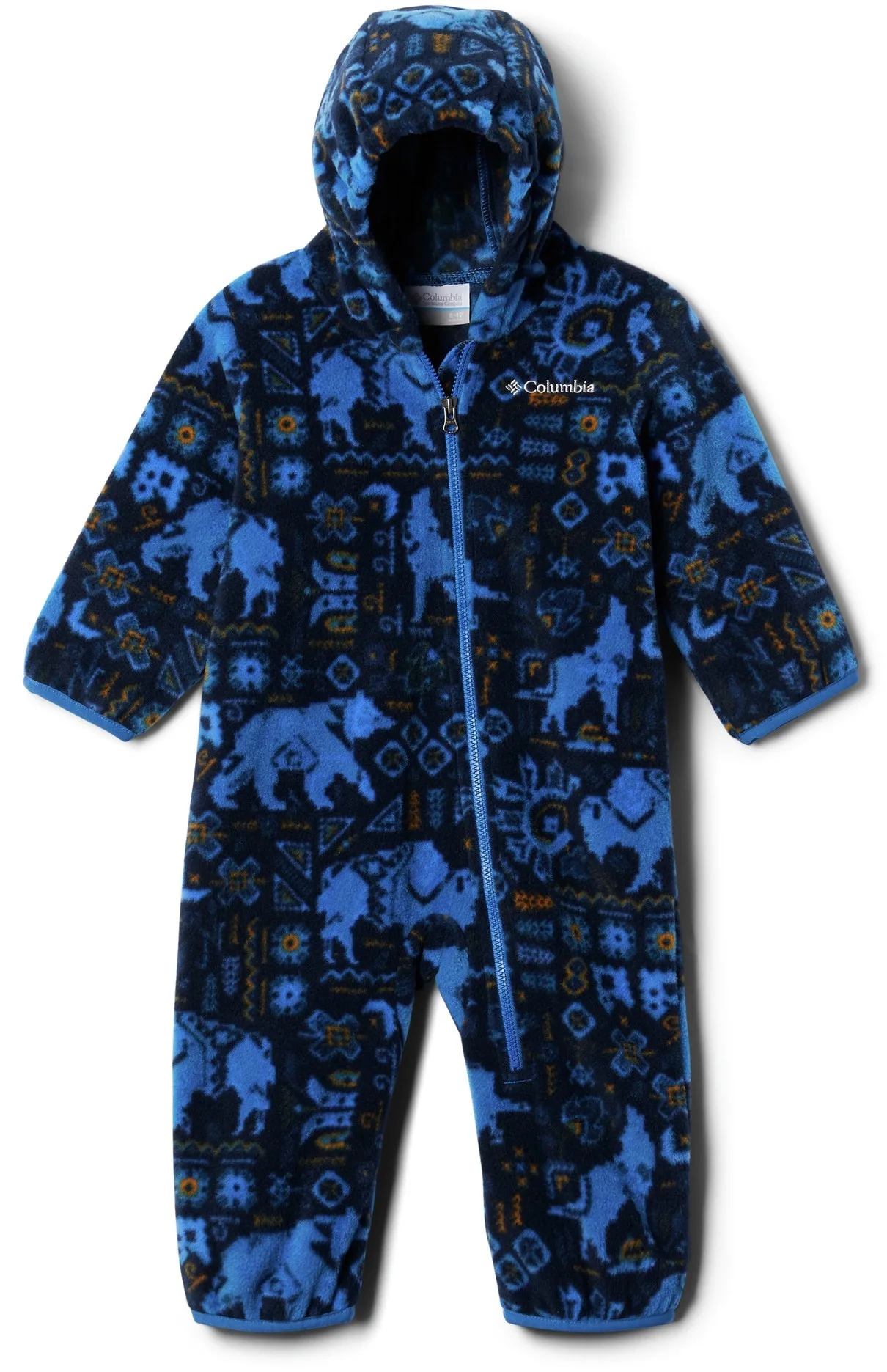 For babies that aren't walking yet, choose a one-piece fleece bunting, that way the cold is less likely to sneak in. This fleece bunting from Columbia is buttery soft and incredibly warm, with sizes up to 24 months.
The only issue we had with the one-piece bunting was trying to change diapers with all those layers, but that's a pain no matter which way you look at it.
---
Patagonia down sweater jacket for babies and toddlers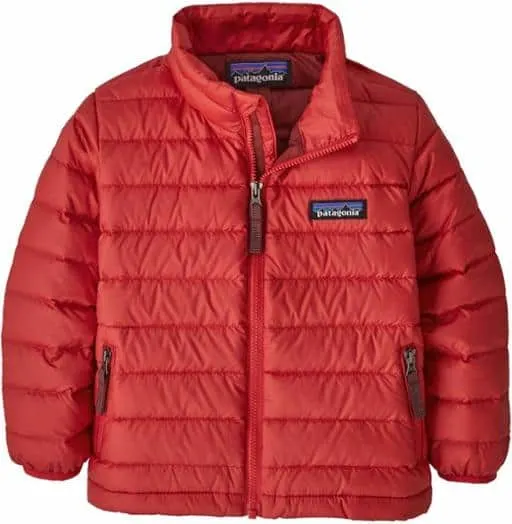 For colder weather, nothing beats the insulating power of down. You get supreme warmth without the massive bulk. This layer from Patagonia is water-resistant, windproof, and ultralight.
On the coldest, snowiest days, this is a great middle layer for babies and toddlers, paired with Capilenene or wool underneath and a waterproof shell on top. Nice features include zippered hand-warmer pockets and a zipper garage to protect your baby's chin from being pinched.
These come in sizes from 3 months to 5T and they come in cool colors and patterns.
---
The Final Layer for Babies and Toddlers – A Waterproof Shell
For the last layer, you're looking for a waterproof shell, otherwise known as a snowsuit. Most baby and toddler snowsuits are quite insulated for extra warmth, but if you look for a snowsuit with less insulation, you can layer it as you see fit. You can even use it as a rainshell in warm weather.
The last thing you want is for your toddlers to be so overdressed that they can't get out the door, so maximize warmth while minimizing weight. Here are some of our favorite snowsuits for babies and toddlers.
Patagonia Snow Pile One-Piece Snowsuit for Toddlers – Hands-down our favorite snowsuit for toddlers. This awesome snowsuit is incredibly waterproof and windproof with taped seams, comes with non-bulky polyester insulation, a grow-fit feature that lets you add up to two inches to the cuffs, and includes elastic bootstraps so the pants don't ride up. Sizing starts at 2T and goes up to 4T, and there are a few different colors and patterns to choose from.
Columbia Hot-Tot Baby Snowsuit – Regular Fit is an easy, lightly relaxed fit for a comfortable
range of motion. Lightweight nylon provides waterproof protection and polyfill insulation offers warmth without excessive bulk. This suit pairs with a warm, microfleece lining throughout and has reflective elements for safety. This infant snowsuit is perfect for little ones from birth to 24 months.
The Best Socks and Mittens for Toddlers and Babies
Keeping little hands and feet warm is crucial for happy winter kids, but it's also the hardest to do. Little socks and mittens are notorious for falling off and getting lost inside your kids' boots, or worse, in the snow.
We have yet to find infant socks that stay on reliably. For the smallest babies, we'd recommend the baby wool socks mentioned below, but for older babies who aren't crawling, go for the longer toddler socks and pull them up over their long underwear so they don't fall off.
Wool Socks for Infants and Toddlers
Stretchy wool is the way to go with socks for babies and toddlers. You want socks to stay put and keep your kiddos warm. Unfortunately, most of my favorite sock brands don't make socks in toddler or infant sizes. Here's what I'd recommend: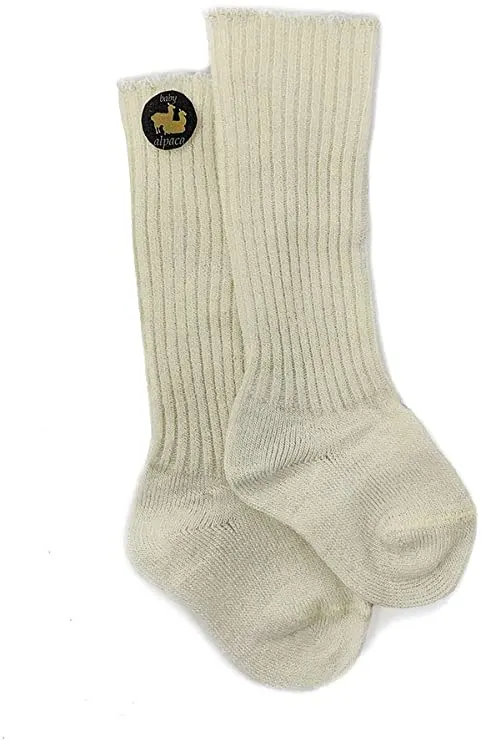 Warrior Alpaca Socks – These socks are long enough to pull up over your baby's base layer so that they stay put. They are a blend of alpaca and acrylic and are machine washable, but shouldn't be put in the dryer.
These plush Eocom socks for babies and toddlers are made from 45% wool, 40% polyester, and 5% spandex. The set comes with six pairs of socks in different colors, and they are machine washable.
These cozy socks will provide your kiddos with extra insulation while also wicking away moisture. Size newborn to 5T.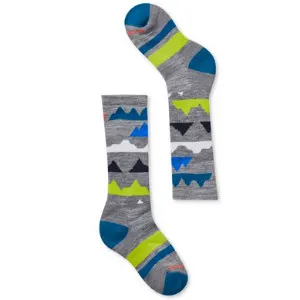 Smartwool Wintersport Mountain Socks – For toddlers and older kids, these Merino wool socks feature light cushioning and extreme warmth. 25% nylon keeps them nice and stretchy, and kids will love the fun patterns and colors! Pair these with a sturdy waterproof snowboot, and they'll be good for an afternoon of adventure!
Baby and Toddler Mittens
Mittens are tough because little ones just don't seem to want to keep them on. Our kids were very different in their mitten-wearing philosophies. One would happily wear them and the other would either rip them off or cry and scream if he couldn't rip them off.
We tried the super long-sleeved mittens for both of them and loved them most of the time. They keep wrists warm and are practically impossible to get off, so if that appeals to you, give them a try. I don't recommend gloves because they just don't offer enough warmth for little fingers.
Patagonia Baby Puff Mittens – These guys are really easy to put on, and the best news is that they actually stay on! Elasticized cuffs seal in heat and 100 grams of Thermolite keep little fingers toasty. They come in a variety of sizes and colors too!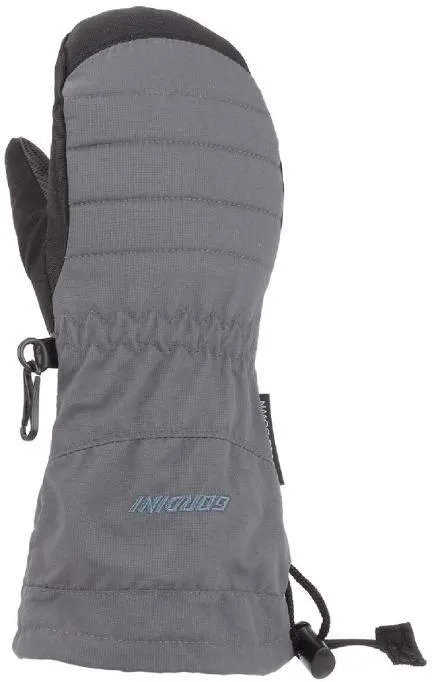 Gordini Snugget Down Mittens for Toddlers – Some kids (and parents) prefer the zipper for easy on/off action. These
Gordini mittens for toddlers include a leather-like polyurethane palm that is extremely rugged, a waterproof shell, and an insulating layer of goose down and waterfowl feathers. The micro denier lining is great for wicking away moisture from the hands, and palm and thumb reinforcements make them durable and rugged.


If You Want to Skip Insulation in the Outer Layer for your Kiddos in the Winter
Sometimes you just need a waterproof, windproof layer without any insulation at all. These rain pants and jackets can be used over a fleece for a superior range of movement. Perfect for kids who run hot — our kids almost always preferred rain gear when playing in the snow, except on the very coldest days.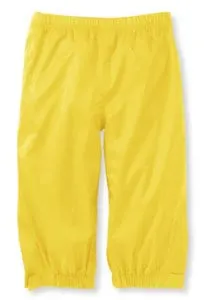 LL Bean Discovery Rain Pants for Infants and Toddlers – These babies are 100% waterproof with no insulation, so you can layer them depending on the weather. Our kids could stay out all day in the snow wearing these and then come in dry as can be. The other nice thing about these rain pants is that they're under $20!
REI Co-op Toddler's Rain Jacket – This toddler rain jacket makes the perfect shell for toddlers. With two colors to choose from (navy and coral), and sizes up to 4T, this is a great, affordable, rugged option.
---
Want to learn more about getting outside with your kiddos in the winter? Check out these posts:
---
Follow us on social media for more outdoor inspiration!
Pin for Later?