Want to plan an epic winter vacation this year without spending a fortune at a ski resort?
Skiing may be the most popular winter sport, but ski resorts are expensive and crowded, and skiing itself can be a little frightening if you're new to the sport.
Not to worry. I'm here to tell you that there you can have lots of fun winter adventures with your family without getting on a ski lift, wearing a helmet, or fearing for your life.
As much as my own kids love to ski, I have never gotten the hang of it. I will blame my father for stealing me away from my Vermont home when I was young so I could grow up among palm trees and an ocean breeze in Florida.
No matter where you currently live, you can still travel to the world's most wintery locations and have a blast without skiing. That's because winter is long and snow-loving folks have been really creative about making it awesome.
Some of these winter activities are entirely free, while others require a bit of an investment, but none of them will hurt your wallet as much as the expense of a ski resort vacation.
Here are our favorite winter family vacations for non skiers; in other words, snowy activities that don't involve careening down a mountain at full speed!
Plan a Snow Tubing Family Vacation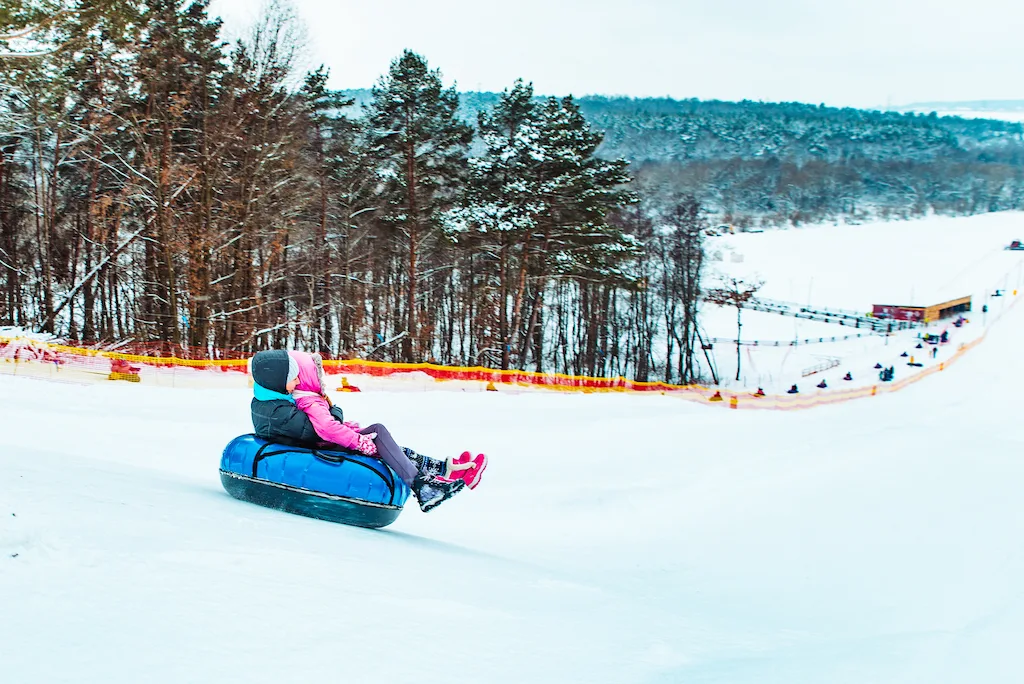 Snow tubing offers kids and adults the thrill of flying down a mountain without the inherent dangers of skiing and snowboarding, or the hefty price tag.
Yes, most snow tubing adventures take place at ski resorts, but snow tube rentals are just a fraction of the cost of a full-day lift ticket, and you can also skip the expensive equipment necessary for skiing and snowboarding.
Young children are especially drawn to snow tubing because it's like sledding on steroids. Snow tubing adventure centers have been springing up all over the northern United States, and as far south as Georgia.
Whether you're looking for an exhilarating way to spend the day or planning a full-fledged winter vacation for your family, snow tubing with kids might be just the winter adventure you're looking for. It's definitely one of our favorite ways to spend a winter afternoon with kids.
Best Places to go Snow Tubing with Kids in the USA
Not sure where to go for your next snow tubing adventure? Here are some great choices for snow tubing vacations throughout the USA.
Camelback Mountain Resort in Tannersville, PA is the biggest snow tubing park in the USA. This expansive snow park features 42 lightning-fast lanes, a magic carpet so you don't have to trudge uphill with your tube, and snow tubing after dark with an LED light show.
Stay onsite and lodge at Camelback Lodge and Waterpark so that you can bring the fun indoors when the kids are cold and the parents want to relax. Indoor activities include a waterpark, ropes course, bumper cars, laser tag, rock climbing, bowling, and an arcade. It's an adventure lover's paradise!
Mountaintop Snow Tubing at Keystone Resort in Keystone, CO is serious snow tubing for serious fun. Keystone Resort features a huge, multi-lane hill, a lift to make life easier for tired legs, and night tubing under the lights. There's even a bunny hill for smaller kids to enjoy their own bit of powdery snow. Keystone Lodge & Spa is located onsite and is the most convenient and affordable lodging, although it's far from cheap. The crazy mountain views and heated outdoor pool make it totally worth it, not to mention the indoor/outdoor hot tubs and the full-service spa for tired parents!
Hawksnest Snow Tubing Park in Seven Devils, NC: The 30 snow tubing lanes at Hawksnest range from 400 to 1,000 feet long and are perfect for both big and little kids, although you have to be three years old or older to go tubing. There are four different tubing areas with varied terrain for a wild and exhilarating tubing experience. Hawksnest makes snow for improved conditions and offers night snow tubing for families under the lights.
Hawksnest Snow Tubing Park is just a short drive from Blowing Rock and Boone, NC, but the closest lodging is at the Best Western Moutain Lodge at Banner Elk.
Nashoba Valley Snow Tubing Park in Littleton, MA is the largest tubing park in New England and one of the best spots for a winter vacation with kids. The park is open seven days a week until 8 pm. Eighteen lanes are serviced by four lifts and maintained by a fleet of groomers. You'll also have access to an onsite lodge with a snack bar, a full bar, and indoor/outdoor seating for picnics or relaxing.
Nashoba Valley is just 25 minutes from Boston, making it a great day trip from the city. For lodging, we'd recommend the Courtyard by Marriott in Littleton. You'll get all the Marriott luxury without paying Boston prices.
Want more ideas for snow tubing with kids? Check out this post on Family Vacation Critic.
---
Plan a Day of Ice Skating with Kids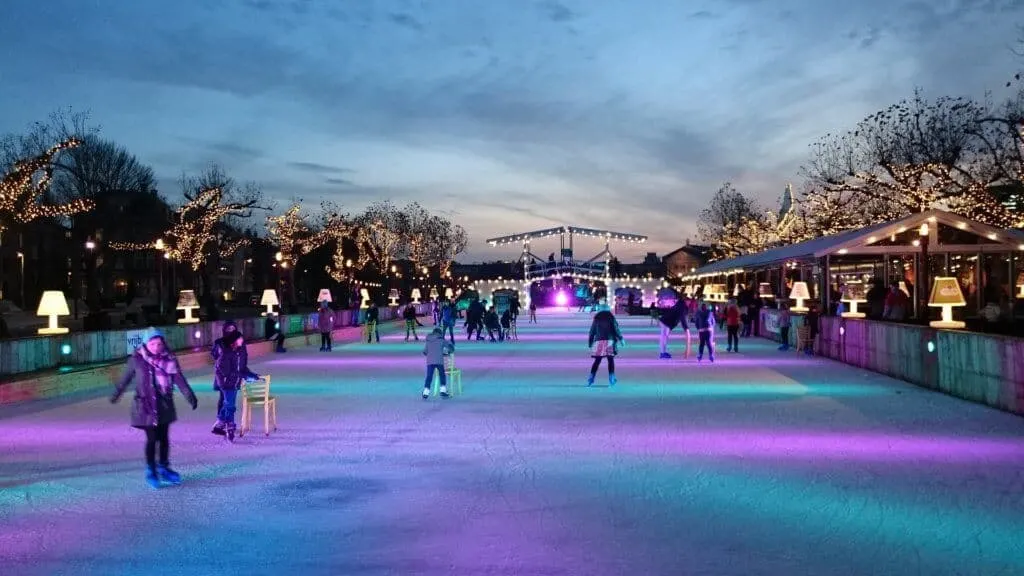 Frozen lakes open up all kinds of opportunities for adventure, and many lakeside resorts offer enticing packages to help them (and you) make the most of a lakeside winter.
One thing's for sure – unless you are ice skating with kids indoors, you will likely have to travel to the northern US to find reliably frozen outdoor skating rinks. Ice skating is fun no matter where you go, but some rinks are truly unique and make for an incredibly memorable winter vacation.
Incredible Ice Skating Rinks in North America
If you're looking for something to write home about, check out these fantastic ice skating rinks in North America.
Lake Morey Resort, Fairlee, VT – Lake Morey Resort maintains one of the largest ice-skating trails in the US. It's a 4.5-mile loop around the lake, with smaller rinks for children and hockey games.
The best way to take advantage of this awesome ice trail is to rent nordic skates for you and your kids. These are kind of like a cross between cross-country skis and ice skates and they're perfect for long distances. Lake Morey Resort has some great winter deals on lodging, especially if you visit midweek.
Wollman Skating Rink, New York City, NY – Located in the heart of Central Park, Wollman Rink is both cheaper and larger than its famous neighbor, Rockefeller Center.
The rink opened in 1949 and is open every day for ice skating. The views from the rink are gorgeous, there are twinkly lights at night, and there's even a snack bar that serves hot cocoa. If you happen to find yourself in NYC for winter with your family, be sure to spend some time outdoors in Central Park too!

Looking for an affordable hotel near Central Park and Wollman Rink? The Manhattan Club provides luxury suites with European-style kitchenettes and valet parking for under $300 a night. It's within walking distance of many major NYC attractions.
Half Dome Village Ice Rink, Yosemite Village, CA – With a breathtaking backdrop of Yosemite's Half Dome, this may just be the most beautiful ice skating rink in the world. Located on the eastern side of Half Dome Village, families can rent skates, warm up near the fire pit, and purchase snacks and hot cocoa from the on-site snack bar.

If you haven't been to Yosemite in the winter, do it! It's so much less crowded and just as amazing as a summer visit. For winter lodging in Yosemite, you can't beat Yosemite Valley Lodge, which is within walking distance of Yosemite Falls and a short drive from all of the major attractions in Yosemite Valley, including ice skating and other winter adventures.
Rideau Canal Skateway, Ottawa, Canada – This is the largest ice skating rink in the world, winding through the heart of Ottawa for a total of 7.8 kilometers. Along the canal, there are three skate rental facilities and four rest areas with concessions, restrooms, and fire pits. Ice conditions are updated daily on the National Capital Commission website.

For a memorable winter vacation in the heart of Ottowa, stay at the landmark Fairmont Chateau Laurier Hotel – a magnificent limestone edifice with turrets and masonry reminiscent of a French chateau. Ottowa is a beautiful city to visit in the winter, and the hotel is located right next to the Parliament Buildings.
---
Plan for a Day of Sledding with Kids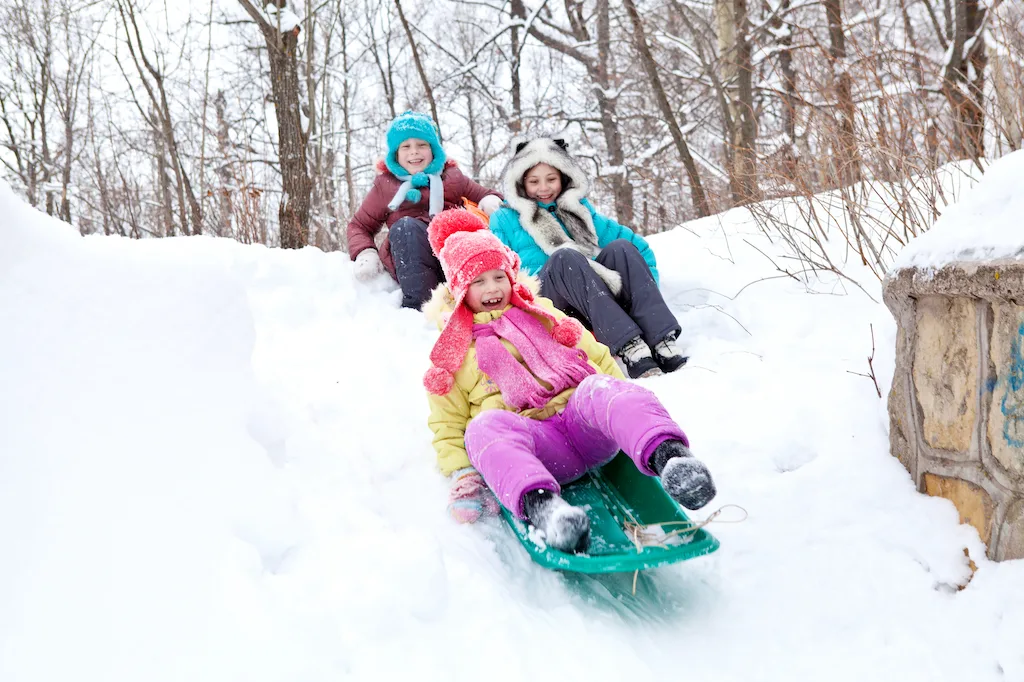 Give kids a bit of snow and a sled and you've got the potential for hours of winter fun!
The great thing about sledding with kids is that as long as you've got snow and a bit of an incline, you can do it anywhere, without spending a lot of money.
Just about every town I can think of that gets snow in the winter has a dedicated hill where the kids like to congregate for sledding parties. In our Vermont town, we have more than one. If you are traveling and want to know where the locals go sledding with kids, your best bet is to join a local Facebook group and ask.
As for sleds, there are many different types, and my husband and I have different opinions about which are the best for sledding with kids. We love the wooden toboggan that we've had for years, but it doesn't work well if the snow is super sticky on warm days. For those days, we use regular old plastic sleds that we get from the grocery store during our travels.
One thing my husband and I both agree on, plastic snow discs are the worst, and they're dangerous because they're impossible to steer.
Make your sledding adventure successful with a thermos of hot cocoa, warm, woolly socks, waterproof boots and snow clothes, and a cozy hat. The last time we packed up and went to our local sledding hill, someone had set up a table and a Coleman stove and was busy cooking hot dogs and hamburgers for all of the kids. Parents and adults had a blast.
---
Plan a Snowshoeing Outing with Kids
When the snow piles up everywhere, you are all-of-a-sudden very limited as to where you can travel on foot. Either stick to slushy, dirty roads and sidewalks, or strap on snowshoes and hit the trails for winter fun that never ends.
Snowshoeing is a bit more strenuous than walking, or even hiking, but it allows you to experience the quiet and solitude of a peaceful winter day, and you can do it anywhere with a layer of snow. If you're planning a winter vacation to one of the destinations above, rent snowshoes and spend an afternoon exploring with your kids.
The secret to snowshoeing with kids is to take lots of breaks and make it fun. Go animal tracking, spread out a winter picnic, and explore places that are inaccessible in the lush summer growth. Read our complete guide to snowshoeing with kids before embarking on your winter adventure.
---
Plan a Dog Sledding Excursion with Kids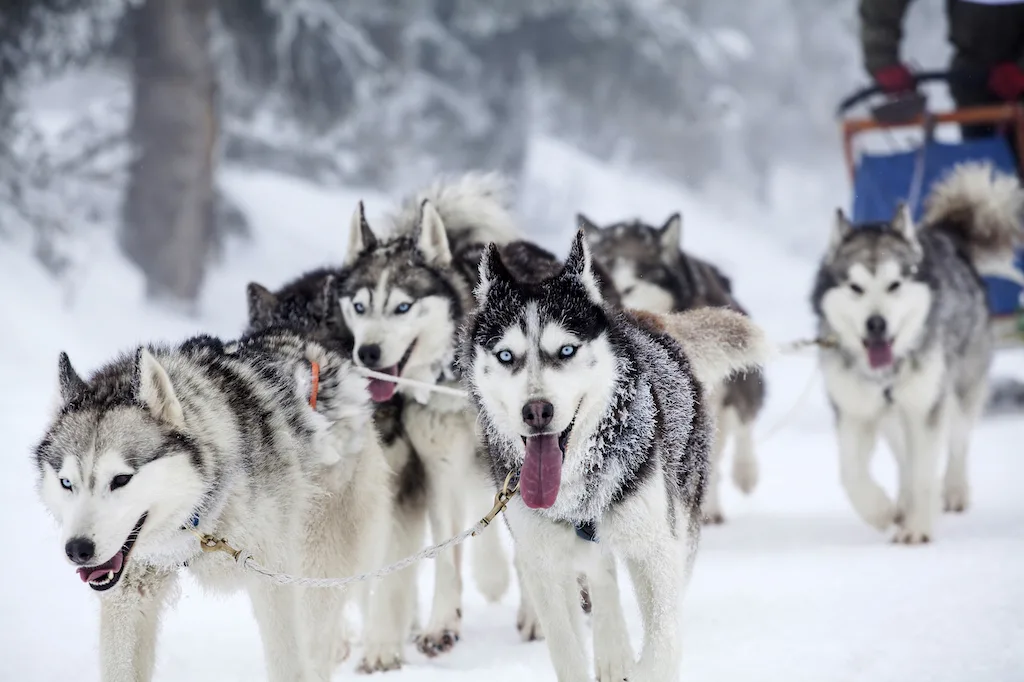 Dog sledding is thought to have originated in the northern reaches of Canada or Siberia several thousand years ago, and today you can find dog sledding outfitters all over the northern United States and Canada.
Winter destination spots and ski resorts will usually have a resident dog-sledding team, ready to take you out for an hour, a day, or even longer.
Multi-day trips often involve cozy accommodations, full meals, and hands-on training with the canines, which makes for a memorable vacation for dog-loving families. Here are some of the top dog-sledding excursion destinations in the United States and Canada.
Snowy Owl Dog Sled Tours in Canmore, Alberta, Canada: Dog sledding tours with Snowy Owl can last anywhere from a few hours to a few days, and the company includes extensive information about how they care for their dogs on their Sled Dog Welfare page.

Canmore is located near the southeast border of Banff National Park so a dog sledding tour may be just the beginning of a fantastic family vacation. You can also try snowshoeing or Nordic skiing at Canmore Nordic Centre and ice climbing with Yamnuska Mountain Adventures.

Stay at Sunset Mountain Inn, which is within walking distance from downtown Canmore, and features an indoor pool with a waterslide, a hot tub, and a fitness center.
Ultimate Dog Sledding Tours in Oxford, Maine: Located in the Western mountains of Maine, Ultimate Dog Sledding Tours offers dog sledding tours for beginners and experts that can last a few hours or a few days. These speedy sled dogs are a mix of Siberian Huskies and German Shorthaired Pointers.

Hampton Inn Oxford is pet-friendly and has an indoor pool to relax in after your dog sledding adventure
White Wolf Dog Sled Trips in Ely, Minnesota: Ely is the unofficial capital of dog sledding in Minnesota, and there are lots of snow trails for mushing. White Wolf provides full-day and camping dog sled trips in the Boundary Waters Canoe Area. The camping trip also gives families the opportunities for sightseeing, viewing the northern lights, and ice fishing, making for a unique and memorable adventure in the backcountry.

If you are considering the day-trip dog sledding excursion, stay at Grand Ely Lodge, which features spacious rooms, an indoor pool, a sauna, and a hot tub. This waterfront property also provides access to local hiking trails and is pet-friendly.
Tips for Planning a Non-Skiing Winter Vacation with Kids
A family vacation is a great way to shake off those winter blues and embark on cold-weather adventures with your kids. To ensure that your vacation is memorable for all the right reasons, follow these tips.
Dress your kids in winter layers: Warm thermal layers made from Merino wool, Capilene, fleece, and down will add warmth without bulk – perfect for active kids. Read our suggestions for the best winter layers for babies and toddlers. and the best winter layers for active kids.
Pack a hot drink for your adventure: Want to make the grumpy face disappear when outdoors with kids? Pack a hot drink and break it out on the sledding hill or snowshoe trail. Here are our favorite hot drink recipes for winter adventures.
Be prepared: A winter adventure with kids requires some advance planning to stay safe and have fun. Here are our winter daypack essentials for hiking with kids.
---
Whether or not you love winter, you might as well make the best of it while it's here. Bundle up and enjoy the snow without strapping on skis or spending a fortune.
What do you do to enjoy winter as a family? We'd love to hear your suggestions in the comments below.
Keep in touch! Follow us on social media:
Pin for Later?