Is there anything as romantic as an epic road trip with the one you love by your side?
On a road trip, there are no "honey-do lists," only bucket lists. And instead of stressing about getting it all done, you'll be enjoying sunset picnics, secluded hot springs, and long stretches of back-road rambling.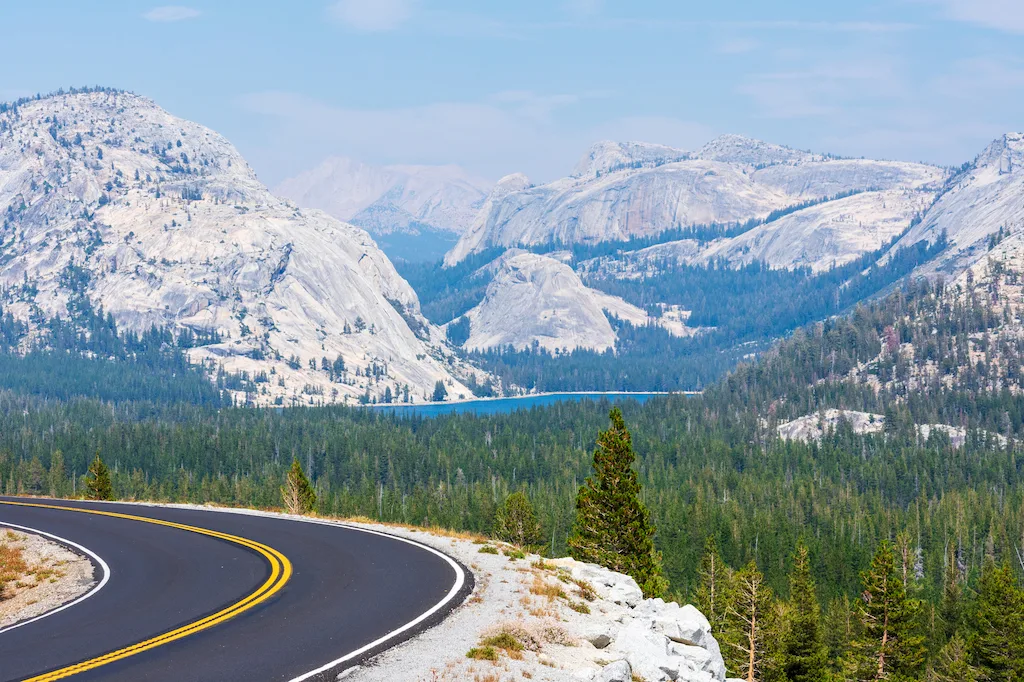 Road tripping as a couple is about overcoming obstacles, strengthening your relationship, and discovering the world together.
This means, that just about any stretch of beautiful highway will do, but there are some ingredients that make for more romantic road trips than others — Beautiful scenery. Opportunities for solitude. Great lodging and dining. Out-of-the-ordinary experiences.
With that in mind, we've collected our most memorable and romantic road trips across America. If you're planning your next romantic getaway and aren't sure where to go, the following road trips have never let us down.
---
Also Read: 7 Reasons Why a Couples Road Trip will Improve Your Relationship
---
Coastal Fun on Oregon Coast Highway 101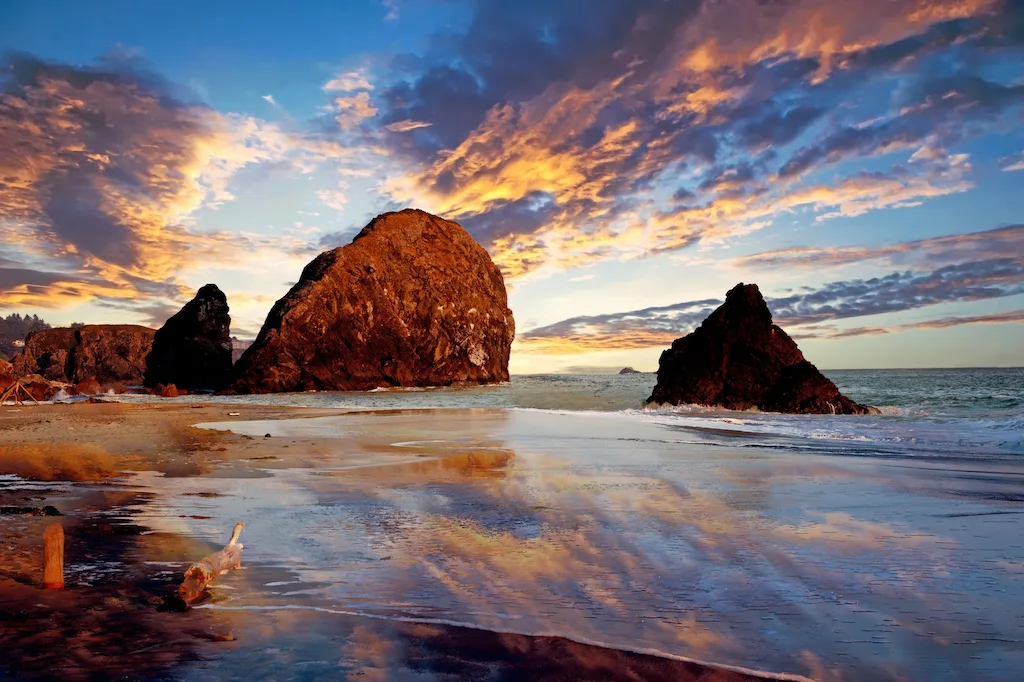 What could be more romantic than a coastal road trip with gorgeous views around every corner? The Pacific Coast in Oregon is known for its wild shoreline, gravity-defying cliffs, and quirky coastal towns.
There's no shortage of tiny restaurants near the shore where you can sip a glass of wine as the sun sinks into the ocean.
Five days on the Oregon Coast Highway may convince you that it's one of the most beautiful and romantic road trips in the entire world.
Covering about 340 miles, you can certainly cover this road trip in a weekend, but we're proponents of slow travel, and five days gives you lots of time to explore while spending three to four hours in the car each day.
The trip begins on the northern border in the town of Astoria, where three rivers converge with the Pacific Ocean. From there, you'll begin a leisurely drive southward, stopping at ocean overlooks, coastal hiking trails, and tiny surf shops.
Be sure to explore the galleries and boutiques in Manzanita, sample ice cream at Tillamook Creamery, and tour the Cape Meares Lighthouse.
Check out the route on Google Maps
Where to stay: So many choices! In Astoria, Clementine's Bed & Breakfast is as cute as they come, and each room has a private balcony. Heading south to Manzanita, this adorable cottage is just a block from the beach. The Landmark Inn in Florence is a seven-minute walk to shops and restaurants and just a short drive from Oregon Dunes National Recreation Area.
Best time to take this road trip: Summer or early fall would be ideal!
Sound like a perfect romantic adventure? We've got a full five-day itinerary for this Oregon coastal road trip.
---
A Romantic Road Trip through Vermont and New Hampshire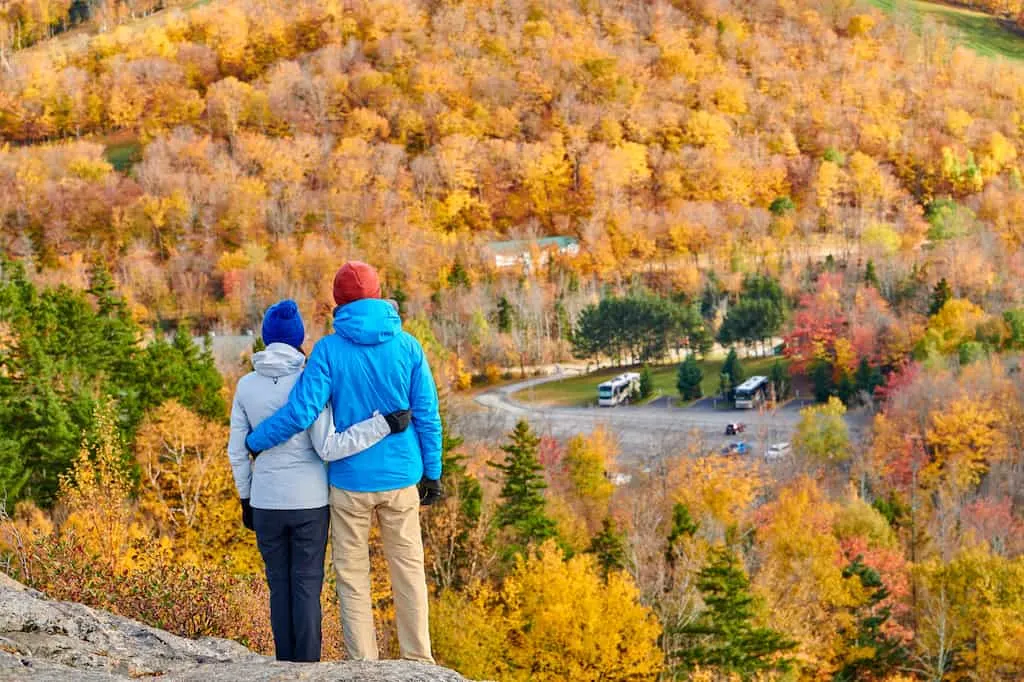 You can't get much more romantic than a road trip through the mountains of Vermont and New Hampshire, where you'll discover tidy villages, rugged mountain peaks, more craft beer than you can possibly drink, and creaky rocking chairs on the front porch of every general store.
The mountains in New England are ancient and forested, and the back roads lead to all kinds of surprises that haven't even been discovered on Instagram yet.
We recommend five to seven days for this 460-mile loop that begins and ends in Portsmouth, one of New England's oldest settlements. If you're craving sea breezes or seafood, spend a few days in Portsmouth before driving north into the White Mountains.
One of the most enticing stretches of pavement on this New England journey is the 34-mile Kancamagus Highway that connects Conway and Lincoln, New Hampshire. This area is a wonderful jumping-off point for exploring waterfalls, trails, and picnic areas.
Next, drive through a beautiful stretch of rural Vermont (look out for moose!) and land in the mountain village and ski town of Stowe. In Stowe, you can spend the day hiking, take the gondola to the top of Mount Mansfield at Stowe Mountain Resort, enjoy craft beer and a stellar meal at Idletyme Brewing, and spend a day exploring cute shops and gorgeous views.
From Stowe, drive south, stopping in Vermont's capital city and spending at least a day in Woodstock, where you can explore Vermont's only National Park and another adorable downtown. Grab a romantic dinner at the Prince & the Pauper.
Continue south to the vibrant arts community of Brattleboro, before heading east and back into New Hampshire. If you have time, hike to the top of Mount Monadnock, the second most-hiked mountain in the world (after Mount Fuji).
Check out the route on Google Maps
Where to stay: In Portsmouth, we can't say enough about the Water Street Inn. It's within walking distance of downtown and beautiful. In Lincoln, New Hampshire, check out RiverWalk Resort at Loon Mountain. There's a heated outdoor pool and hot tub, a spa, and an onsite winery. In Stowe, stay at Talta Lodge, where you'll have your own outdoor seating area and access to the river and rec path. Finally, check out the Monadnock Inn near Jaffrey, New Hampshire, which is very close to Mount Monadnock.
Best time to take this road trip: October is phenomenal for fall foliage, but you will want to book lodging well in advance as it's a busy time to visit.
---
Explore Coastal and Interior Maine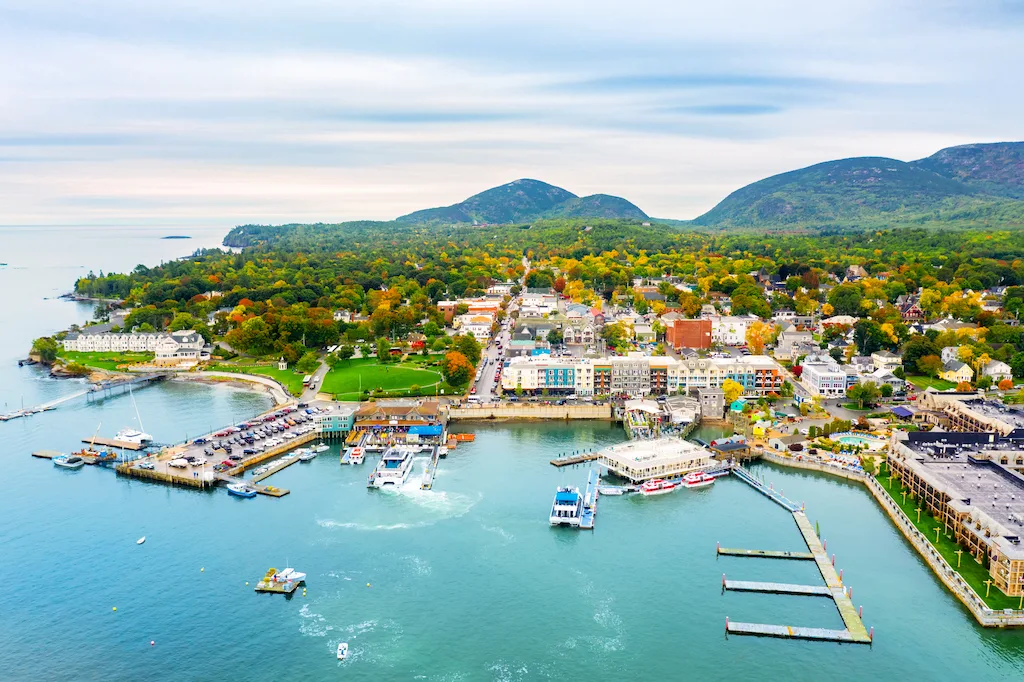 Maine is a big state, and while lots of people combine a Maine road trip with nearby New Hampshire and Vermont, we think it deserves a trip all its own. Most people think of the rocky coast, lobster, and LL Bean when they think of Maine, but spend a day or two in the interior, which is gorgeous and wild, with lots of opportunities for solitude and romance.
This romantic Maine road trip is just shy of 560 miles, starting in the busy seaport of Portland and traveling up the coast to Acadia National Park and the tiny town of Lubec before heading inland to explore a few small towns. Give yourself a week to explore Maine on this beautiful road trip.
In Portland, meander around Old Port and the West End, stopping for a drink and dinner at one of the many waterfront cafes. Hike around the Portland Head Lighthouse at sunrise before heading north on Route 1.
They say that there is more coastline in Maine than any other state, and once you start driving, you'll understand why – there are so many inlets and peninsulas jutting out into the Atlantic Ocean, that you could spend a lifetime exploring them. Detour to the touristy Boothbay Harbor, Pemaquid Beach, and Camden Hills State Park before spending a few days in Acadia National Park.
The town of Lubec is the easternmost point in the United States. There are some nice hiking trails and beautiful views near the West Quoddy Head Lighthouse.
Interior Maine is a choose-your-own-adventure type of place, with secluded ponds and lakes, small farming communities, and tiny villages. Rent a cottage in the Belgrade Lakes Region in the Kennebec Valley, a chain of seven lakes that are perfect for all kinds of water-based activities.
Check out this road trip on Google Maps
Where to stay: In Portland, check out The Westin, a hip hotel with a rooftop bar in a restored 1927 building. In Boothbay Harbor, splurge on a romantic stay at Harbour Towne Inn, a waterfront property within walking distance to downtown. There are many amazing spots to stay in Bar Harbor, but one of our favorites is Yellow House Inn, which has delightful rooms and an amazing breakfast. The Keeper's Cottage in Lubec is near the West Quoddy Lighthouse and sleeps four.
Best time to take this road trip: Summer is gorgeous in Maine, but it also gets really crowded, so I suggest visiting between September and October so you can focus on your romantic road trip and not on traffic jams.
A Camping Road Trip on Highway 12 in Utah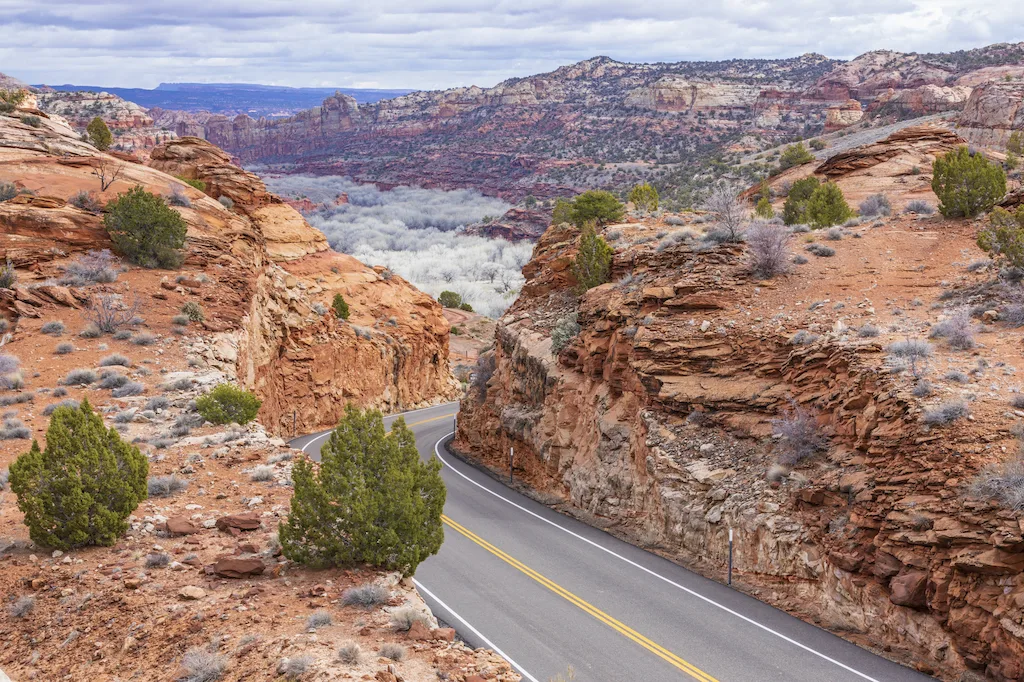 It's no secret that I adore Utah, and this route is one of the most beautifully romantic road trips around. Imagine long desert sunsets, secluded canyons, and endless acres of public lands.
If you are looking for a unique road trip that features awesome national parks, great camping, and endless opportunities for outdoor adventures, stop what you're doing and plan a Highway 12 road trip through southern Utah.
This one-way road trip is 123 miles of the most stunningly beautiful scenery in the southwest. We've done this trip as a family and as a couple, and I imagine we'll keep on exploring it for decades to come.
This route makes a lovely weekend getaway, but I'd also recommend spending several days in both Bryce Canyon and Capitol Reef National Park, extending your trip to five days.
The trip begins in the town of Panguitch and travels through the Red Canyon before entering Bryce Canyon National Park. Pitch your tent at Sunset Campground, take in the hoodoo views, and hike some trails with the one you love.
Continue east and stop at Kiva Koffeehouse for pastries and caffeine. For a romantic night that doesn't involve pitching a tent, book a night in Kiva Cottage. This is such a dreamy spot! We didn't stay there, but we checked out the spot and the views just don't stop!
Capitol Reef National Park is the most underrated of the five national parks in Utah. A historic orchard is open to the public for picking in late July, and you can score a fresh-baked cherry pie and homemade ice cream at the Gifford Homestead store.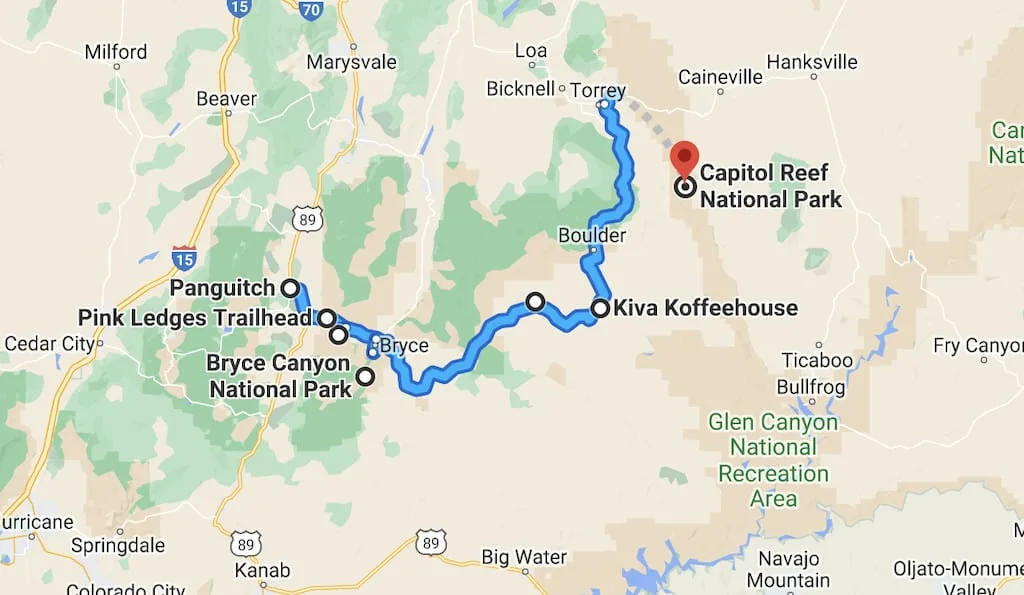 Where to stay: Camp at Sunset Campground in Bryce Canyon, and book a night at Kiva Cottage if you can. If you want to spend time exploring Capitol Reef National Park, but don't want to camp, consider Capitol Reef Resort, which is close to the park entrance, features amazing views, and you can choose from a standard hotel room, a teepee, or a covered wagon for your lodging. There's also a casual restaurant on site, an outdoor pool and hot tub, and a fitness center.
The best time to take this road trip: is April or October to beat the heat and the majority of crowds.
Sound like a perfect adventure? Here's an overview of our summer road trip on Highway 12 in Utah.
---
Wine and Waterfalls in the Finger Lakes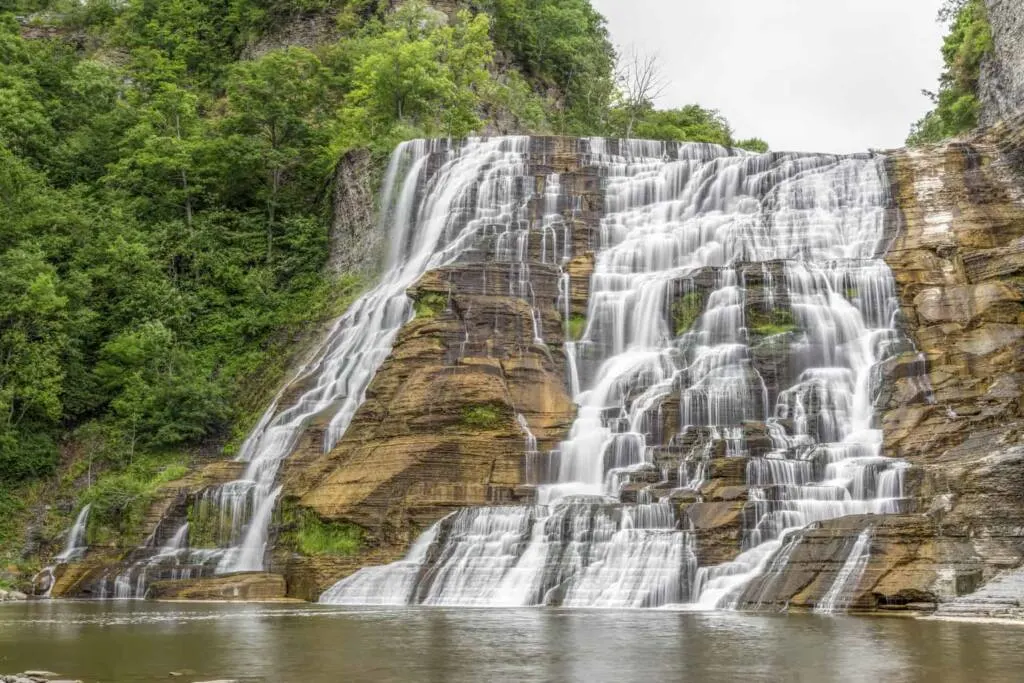 What happens when you combine five state parks, five wineries, and 50+ amazing Finger Lakes waterfalls into a five-day road trip? A kind of crazy, but oh-so-fun Finger Lakes vacation in Western New York — one of the most romantic road trips we can think of!
The Finger Lakes region is just four hours from Manhattan, but you might as well be on another planet. No other area east of the Mississippi can boast of more wine-sipping and gorge-hiking goodness than Western New York. Throw in more than 150 waterfalls and a few perfect spots to spend the night, and you'll want to pack your bags before you finish reading.
This trip covers about 145 miles (depending on where you begin) in five days. Each day features a hike in the morning and wine tasting in the afternoon, followed by a night either camping or glamping (we provide a few hotel options as well).
Check out this route on Google Maps
Best time to take this road trip: Definitely summer. There are endless patios to relax on and rivers to swim in!
Sound like a perfect adventure? We have a complete five-day itinerary for exploring wine and waterfalls in the Finger Lakes, complete with where to stay each night.
---
Find Love on the Blue Ridge Parkway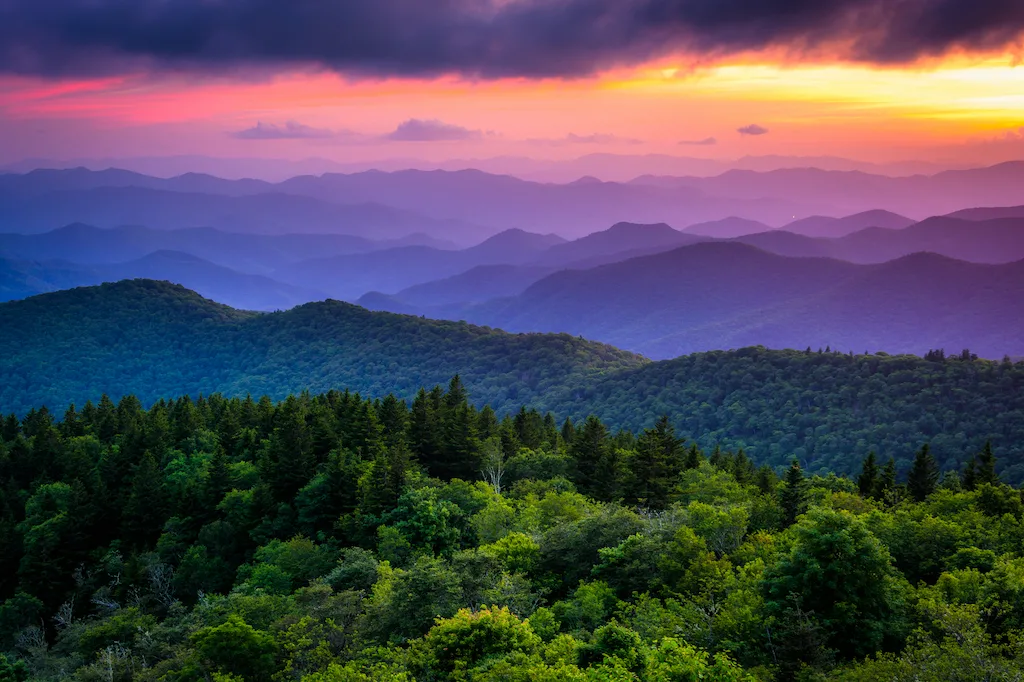 The 469-mile Blue Ridge Parkway has been called America's favorite drive. Meandering through the mountains from Rockfish Gap, Virginia south to Cherokee, North Carolina, you'll no doubt kindle a bit of romance on the Blue Ridge Parkway, and you may become a dedicated road-tripper if you aren't one already.
As long as you pay attention to your mileposts, traveling on the Blue Ridge Parkway and finding attractions, hikes, and vistas is easy. The numbers start at 0 at the northern entrance in Waynesboro, Virginia, and end at milepost 469 in Cherokee, North Carolina at the southern entrance. There are plenty of places to get on and off the parkway along the way.
You may have already noticed that we're fans of easy hikes, waterfalls, and camping, and you'll find plenty of that stuff on your journey, but you'll also discover cool historic sites, wineries, small towns, and lots of mountain music.
Give yourself five to seven days to drive the whole Blue Ridge Parkway. If you have time, stay a few days in Roanoke, Virginia, which is one of our favorite small cities in America.
Use this interactive Blue Ridge Parkway map to plan your trip.
Where to stay: There are nine designated campgrounds on the Blue Ridge Parkway, so your trip can be affordable and romantic if you don't mind roughing it a bit. If you crave comfort, we've got suggestions for glamping on the Blue Ridge Parkway too!
Sound like the perfect adventure? Here are seven fabulous things to do on the Blue Ridge Parkway.
Best time to take this trip: May through October is great for camping on the Blue Ridge Parkway.
---
Hot Springs and Hiking in California and Nevada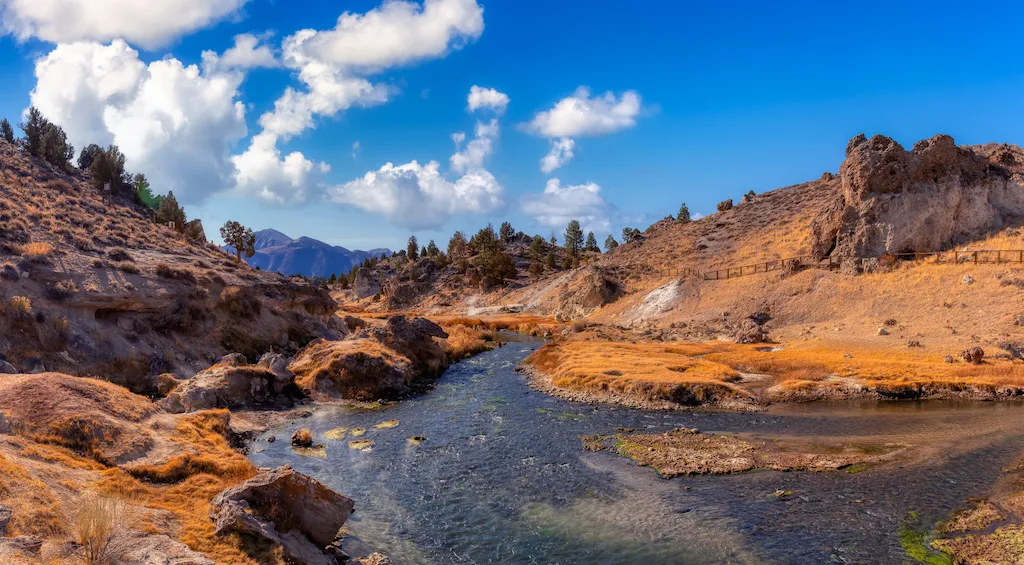 Lonely desert highways, weird roadside attractions, and a nice mix of thrilling outdoor adventures that you won't find anywhere else. Welcome to the quiet side of California and Nevada, one of the most romantic road trips we can think of for lovers of solitude.
Actually, this ten-day California and Nevada road trip starts in the crazy-busy, must-visit Yosemite National Park and heads off the beaten path from there.
I will not tell you that this road trip has something for everyone because that would be a lie. Instead, it's got secret aliens, weird clowns, hidden hot springs, ancient petroglyphs, and trees hanging with shoe ornaments. Intrigued?
This is the ultimate quirky, but scenic route that starts in the Sierra Nevada mountains and ends in the intimate metropolis of Reno, Nevada. While the vast desert landscape often looks the same for miles and miles, there are enough cool spots to keep things interesting.
Give yourself at least 10 days to explore everything on this 1,200-mile road trip, or make adjustments based on the time you've got.
Check out this route on Google Maps
Best time to take this road trip: September or October for cool temps and fewer crowds.
Sound like the perfect adventure? Check out the complete 10-day itinerary, which includes hikes, attractions, and lodging.
Have you taken any of these romantic road trips with the one you love? Share your favorite in the comments!
---
Follow us on social media for more road trip ideas!
Pin for Later?