Far-reaching mountain vistas, hidden waterfalls, and a perfect mix of outdoor activities and cultural attractions in the Appalachian Mountains. It's time to drop everything and start planning your trip along the Blue Ridge Parkway in Virginia and North Carolina.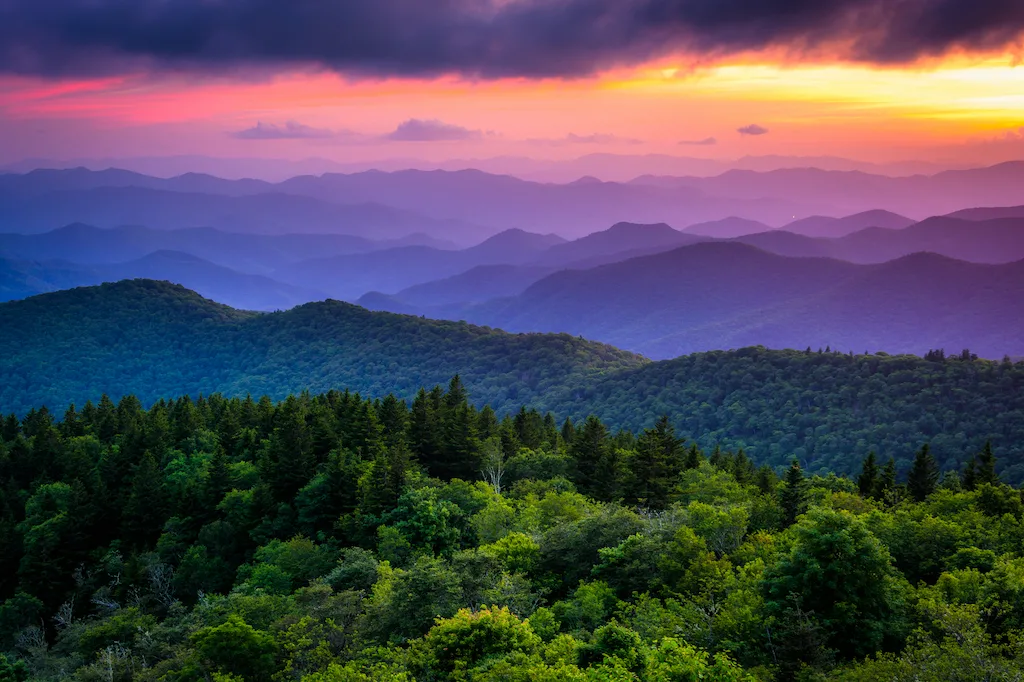 More than 15 million people drive the Blue Ridge Parkway each year, making it America's favorite road trip.
Along its 469-mile stretch through the mountains of Virginia and North Carolina, you will find an abundance of natural beauty and ways to enjoy it.
There are waterfall hikes, roadside vistas, cool historic sites, sprawling vineyards, and adorable mountain towns. You'll hear mountain music wherever you go, and you can pitch your tent at one of nine campgrounds along the way.
Wait, what's that you're telling me? You aren't interested in roughing it while embarking on America's favorite drive? No worries! We've got another solution for you. A Blue Ridge Parkway glamping road trip!
There is awesome glamping in North Carolina and Virginia, and we've discovered some of the most gorgeous places to spend the night while exploring the Blue Ridge Parkway.
Driving the Blue Ridge Parkway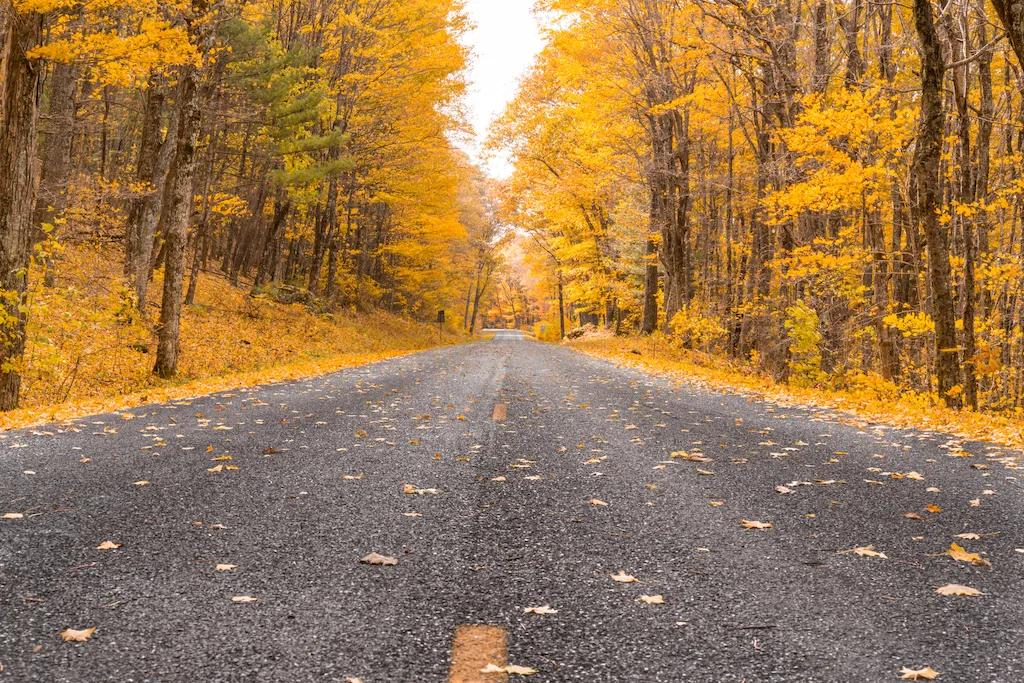 First, let's talk a little bit about logistics. The Blue Ridge Parkway travels through the Blue Ridge Mountains, part of the larger Appalachian Mountain Range, for 469 miles from Waynesboro, Virginia south to Cherokee, North Carolina.
There are so many attractions along the way, including trailheads, visitor centers, and historic sites. The best way to find these attractions and plan your trip is to use the mileposts along your route.
The numbers start with 0 at the northern entrance to the parkway in Waynesboro and end at milepost 469 in Cherokee. There are numerous spots to get on and off the Blue Ridge Parkway, and you are free to explore as much or as little of the road as you like.
Insider tip: Our favorite resource for planning stops along the Blue Ridge Parkway is the Blue Ridge Parkway Association, and we've also gathered up our personal favorite stops here: 7 Fabulous Things to do Along the Blue Ridge Parkway
The Blue Ridge Parkway is free to drive on and the entire thing is managed by the National Park Service. The speed limit on the Blue Ridge Parkway is 45 MPH on most stretches. Occasionally it drops down to 35 or 25 MPH near popular attractions.
Glamping or Camping along the Blue Ridge Parkway?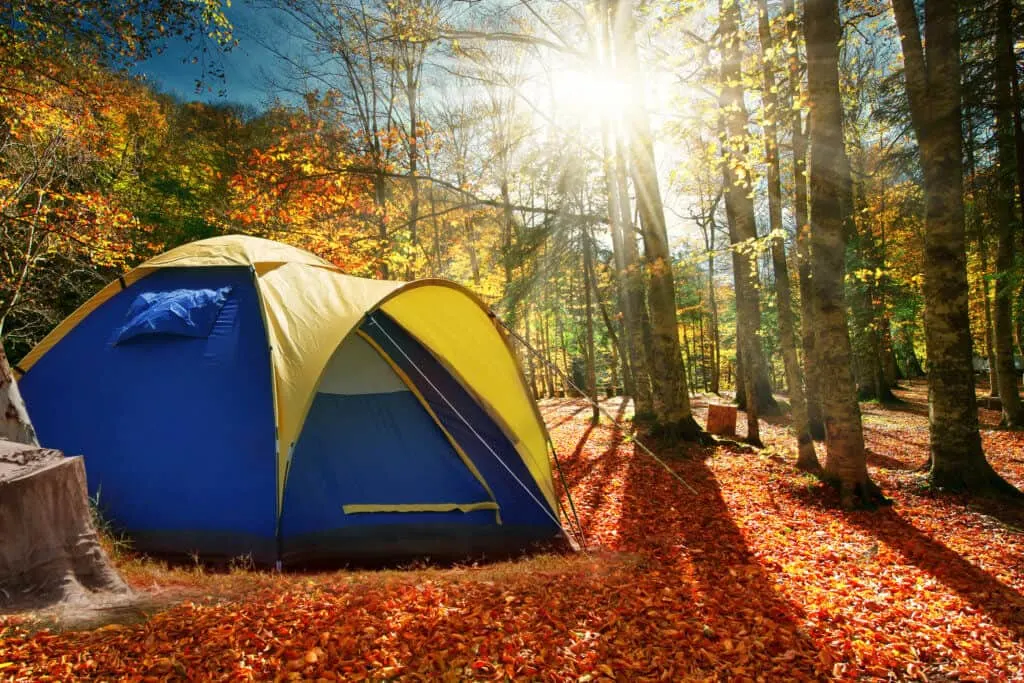 As I mentioned above, there are nine campgrounds right off the Blue Ridge Parkway. Eight of these are managed by the National Park Service and one is managed by the city of Roanoke, Virginia.
I did a camping road trip on the Blue Ridge Parkway in 2018 and loved every minute of it. I wouldn't hesitate to recommend camping to anyone, but I also know that not everyone wants to sleep on the ground and that glamping allows for more flexibility when it comes to seasons and weather. If you're on the fence about whether to plan a glamping or camping trip on the Blue Ridge Parkway, here are the pros and cons.
Yes, you can also just book hotel rooms. I won't judge.
Camping on the Blue Ridge Parkway: Pros
It's absolutely the cheapest option
Campgrounds are located right on the Parkway so it's very convenient
Camping allows you to spend more time outdoors
It's fun to meet camping neighbors from all over the world
Camping on the Blue Ridge Parkway: Cons
You need special gear for camping
You are at the mercy of Mother Nature and her crazy weather
You have to build time into your schedule for setting up and breaking down your camp
Public bathrooms and showers aren't always clean
The camping season is usually only summer (unless you are a hard-core camper)
Glamping on the Blue Ridge Parkway: Pros
You get to sleep in a real bed (most of the time)
Most, but not all, of the gear is provided for you
Glamping structures are quite weatherproof
The season is extended – you can glamp in the spring, fall, and sometimes winter
It's still an immersive outdoor experience without all the extra work
Glamping on the Blue Ridge Parkway: Cons
Glamping is more expensive than camping
With one exception, glamping isn't right on the Blue Ridge Parkway. You will have to drive off the Parkway to your glamping destination
Amenities vary wildly between different glamping spots. You may have a full kitchen, Wi-Fi, and a private bathroom. Or you may not. Read the listing carefully before booking.
The Best Time for a Glamping Trip Along the Blue Ridge Parkway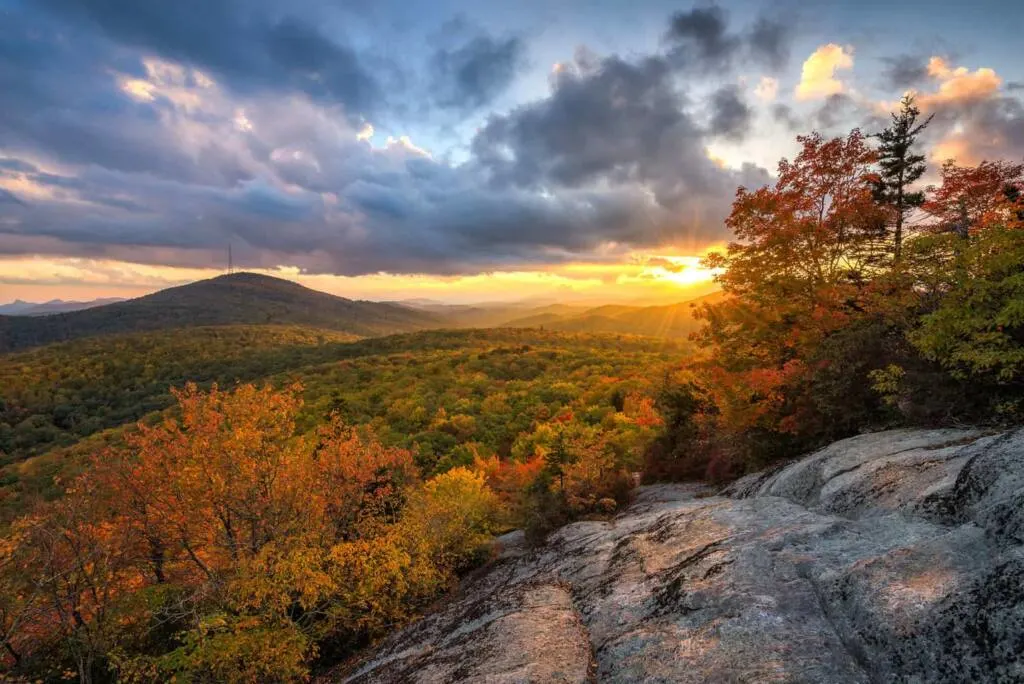 Summer is awesome on the Blue Ridge Parkway because there are lots of events and festivals in the area, plus you can do a lot of swimming, hiking, and patio dining. Visiting during the fall foliage is breathtaking too, and my absolute favorite time to visit. If you do plan to drive the Blue Ridge Parkway in the fall, try and visit toward the end of October. Be sure to reserve everything early because the amazing fall colors here aren't exactly a secret.
---
Read Next: 7 Incredible Things to do on the Blue Ridge Parkway
---
The Most Incredible Glamping Near the Blue Ridge Parkway
Now that you've decided that you simply must plan a glamping trip on the Blue Ridge Parkway, here are some of the best glamping spots we've found in both Virginia and North Carolina.
We're going to start north in Virginia and work our way south along the Parkway.
---
Tiny Cabin Rentals in Roanoke, Virginia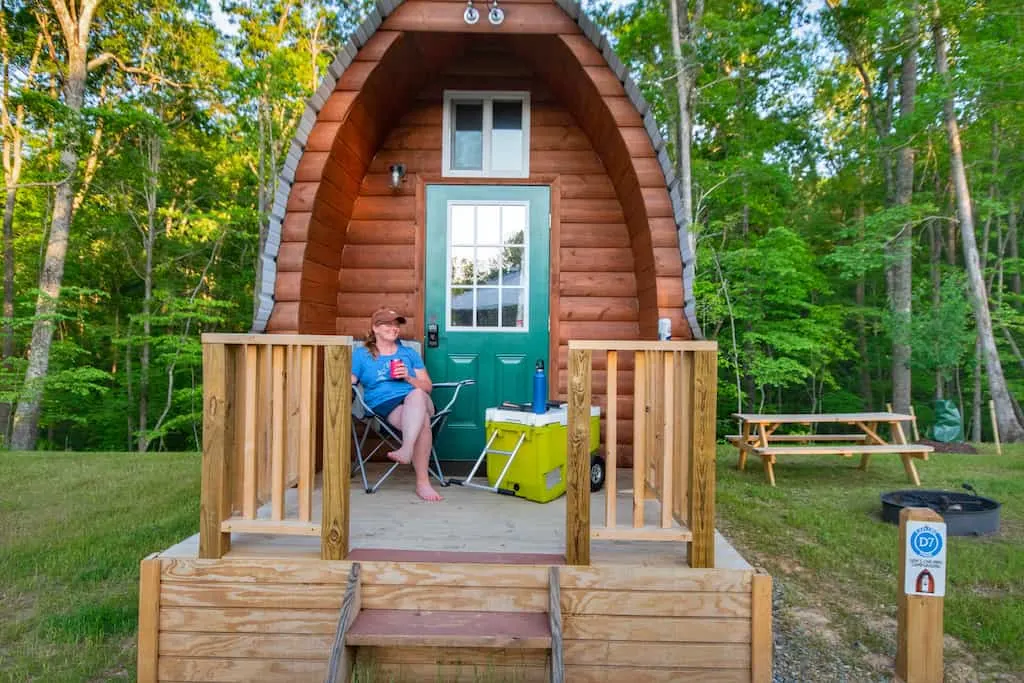 If you want a glamping destination convenient to Roanoke, Virginia, one of our favorite spots is Explore Park right off the Blue Ridge Parkway.
Because Roanoke is one of the major urban areas along the famous Blue Ridge Parkway, its gritty charm has never been much of a secret, but in recent years it has morphed into a renowned destination for young professionals, outdoor-loving families, and retirees. Spend a few days glamping in Roanoke so you have time to explore.
Outdoor lovers will be excited to learn that there are 55 parks within the city limits, as well as eight recreation centers, five public plazas, two public pools, and two dog parks. We've got a separate article about our favorite parks in Roanoke, Virginia, as well as the best things to do in Roanoke, indoors and out.
Explore Park was definitely one of the highlights of my visit to Virginia's Blue Ridge. The park encompasses more than 1,000 acres right off the Blue Ridge Parkway at milepost 115. It is managed by the Roanoke County Department of Parks, Recreation, and Tourism.
Roanoke County is working with a variety of vendors to provide all kinds of cool recreation opportunities, including tubing, aerial obstacles, kayaking, mountain biking, hiking, and both rustic camping and luxurious glamping.
Don's Cab-Inns is just one of the glamping areas in Explore Park. The cabins are tiny and so cute, with two beds and a little kitchenette. There's also an outdoor picnic table and fire pit, plus a clean, spacious bathhouse. This makes a great home base for all of your explorations in and around Roanoke.
What we love about this Virginia glamping spot: Hiking, mountain biking, tubing, and ziplining without ever leaving Explore park!
Explore Roanoke, Virginia
Give yourself a couple of days to explore this beautiful part of the Blue Ridge Mountains. You'll find lots to do in Explore Park where you're staying. You can even relax at Twin Creeks Brewpub right inside the park. Be sure to visit the farmers' market in downtown Roanoke, the Virginia Museum of Transportation, Black Dog Salvage, and the iconic Roanoke Star.
---
Secluded Glamping Cabin Near Roanoke, Virginia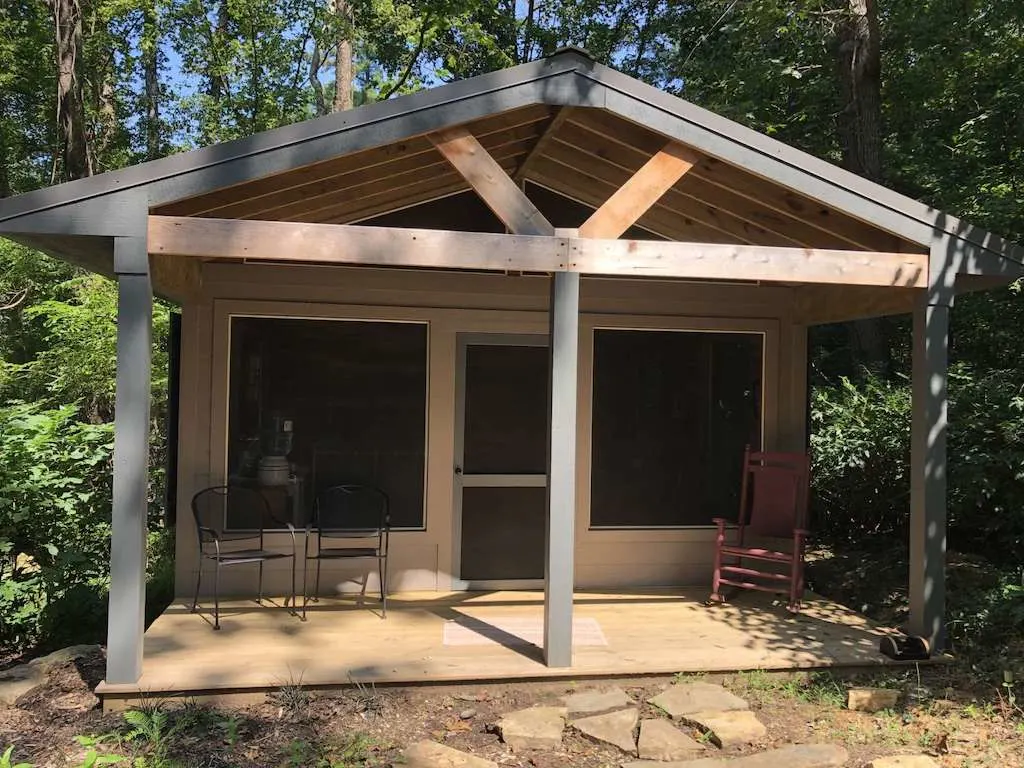 Because we adore Roanoke, we wanted to give you one more glamping option nearby. Pond Haven is rustic and charming in the best possible way. The cabin is a 16 x 16 screened room with a front porch for relaxing on. Pond Haven has no electricity or running water but does offer a composting toilet, drinking water, and a single burner propane stove. Glampers enjoy a comfortable double bed with clean sheets – perfect for those that don't mind being off-grid for a night or two.
The cabin is nestled at the end of a short street within walking or biking distance to the Blue Ridge Parkway. Pets are not permitted in the cabin.
What we love about this Virginia glamping spot: The beautifully rustic interior of the cabin.
---
Read Next: 8 Perfect Things to do in Roanoke, Virginia
---
Beautiful Yurt with Views and a Hot Tub in Fancy Gap, Virginia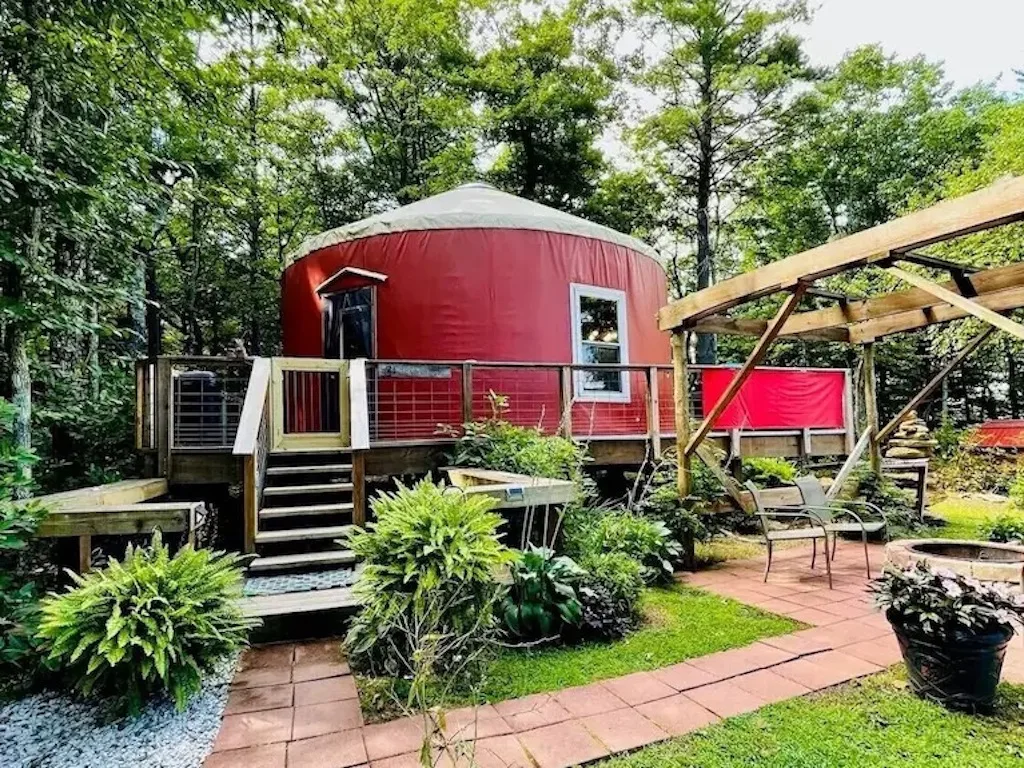 This beautiful yurt is located just two miles from the Blue Ridge Parkway in Piper Gap, Virginia. The biggest draw here is the spectacular view from the yurt, but you'll also fall in love with the quirky indoor and outdoor space, not to mention the outdoor hot tub!
The property is nestled in a pristine evergreen and hardwood forest. The interior of the yurt features unique design elements made from reclaimed wood, solar-powered lights, water from a crystalline rock aquifer, a queen-size bed, and a full bathroom. The kitchen includes everything you need for cooking indoors or out, and pets are permitted too!
This eco-friendly retreat is conveniently located near the Blue Ridge Music Center, Buffalo Mountain Ziplining, and Chateau Morrisette Winery. My suggestion is to figure out how long you want to stay in the area, and then book an extra day or two!
What we love about this Virginia glamping retreat: The outdoor space, including the fire pit and hot tub.
Explore Fancy Gap, Virginia
There is a lot to do in this area, so give yourself a couple of days if you can. Devil's Den Nature Preserve surrounds a 600-million-year-old cave and a beautiful trail system. The famous Blue Ridge Music Center is nine miles away, and Chateau Morrisette Winery is a pet-friendly winery in nearby Floyd.
---
Unique Treehouse on 72 Acres in Jefferson, North Carolina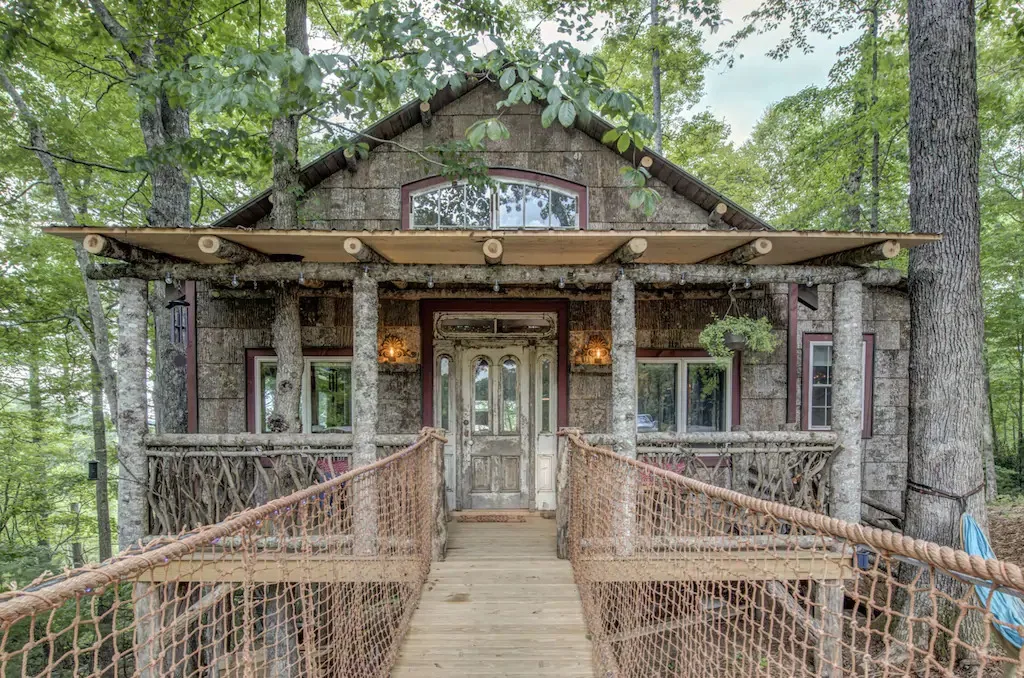 Have you always wanted to live in a treehouse? This one-of-a-kind North Carolina glamping experience is just what you need to relive those childhood dreams! This treehouse is an adventure for the senses, full of unique nooks and creative artistry. Luxurious amenities include a clawfoot bathtub, a cozy woodstove, a full kitchen, and a beautiful balcony.
The treehouse is located on a mountain farm with friendly farm animals that will appeal to kids and animal lovers of all ages. There is hiking on the property, and New River State Park is just a short drive from the treehouse. This is truly one of the most unique glamping destinations you'll ever experience! The treehouse is recommended for children over the age of 10, and pets are permitted too.
What we love about this North Carolina glamping spot: It's a treehouse – what's not to love!
Explore Jefferson County, North Carolina
The New River was named a National Wild and Scenic River in 1976, and it wildly winds through some of the best North Carolina mountain scenery. Be sure to check out New River State Park. You can also rent canoes, kayaks, or tubes at Zaloo's Canoes for a full-day river adventure.
---
North Carolina Glamping Near Blowing Rock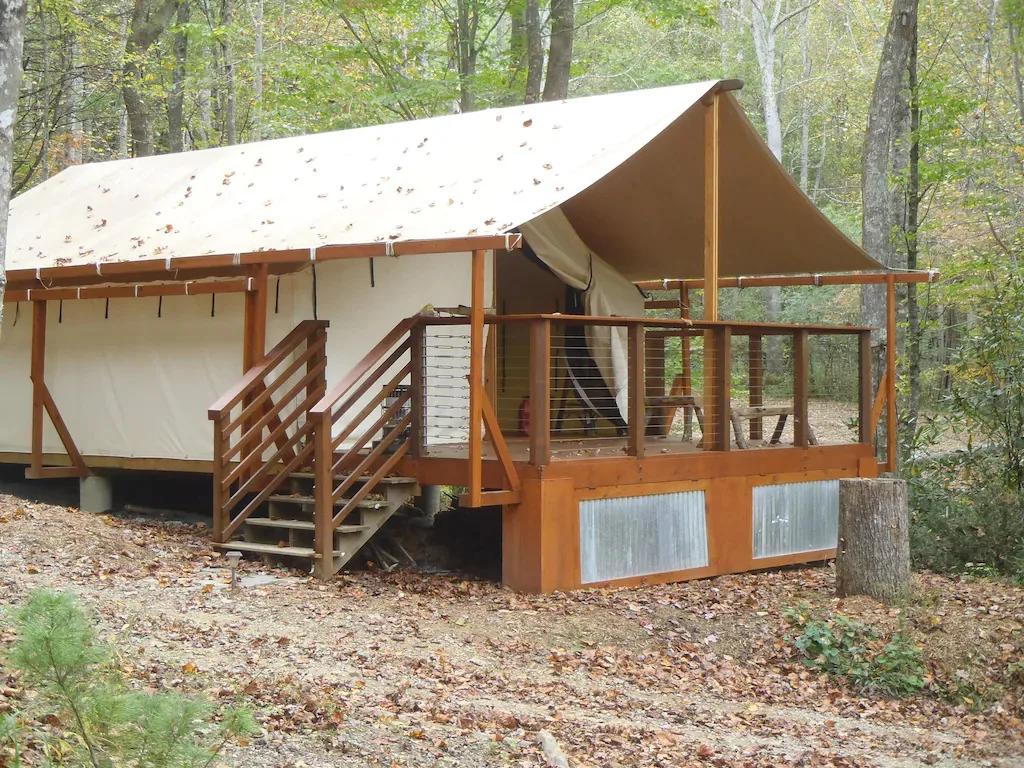 Located in Apple Ridge, North Carolina, this awesome glamping tent is perfect for a whole family, including the family dog. The glamping tent includes beds for up to eight people, an indoor and outdoor sitting area, composting toilet, and an outdoor kitchen Pavillion. Right next to the glamping tent is a lovely patio with a fire pit and a small creek for cooling off.
The glamping tent is located on 22 acres of woodland, just a few miles from downtown Blowing Rock.
What we love about this North Carolina glamping spot: It feels very secluded but is close to Blowing Rock attractions.
Explore Blowing Rock, North Carolina
Blowing Rock is a small mountain town with unique shops and restaurants. It's also close to historic sites on the Blue Ridge Parkway like Moses H. Cone Memorial Park and The Blowing Rock, which was North Carolina's first tourist attraction. We spent a lot of time here with our dog in 2018 and wrote an article about dog-friendly attractions in Blowing Rock.
---
1800s Log Cabin in Black Mountain, North Carolina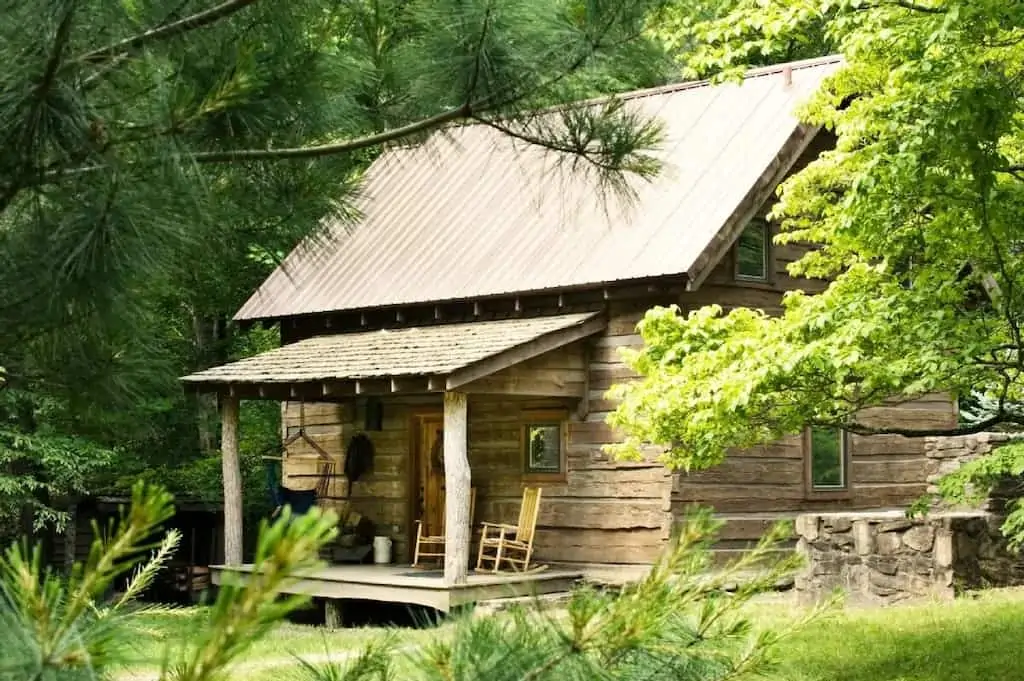 The next few North Carolina glamping properties are all within a short drive of Asheville, which is one of the most popular destinations on the Blue Ridge Parkway. This authentic log cabin is located in Black Mountain, just 20 minutes from Asheville. The cabin is beautifully furnished with a loft bedroom and two futons to sleep four people comfortably. There is a small kitchenette, a woodstove to keep things warm and cozy, and the perfect rocking chair porch.
The cabin, combined with a few other great vacation rentals, is located on 90 wooded acres near Lake Eden. Some of the tallest mountains east of the Rockies tower in the distance. This gorgeous property makes a great home base for exploring Black Mountain and Asheville. Pets are permitted with advance approval and an additional fee.
What we love about this North Carolina glamping spot: Staying in the cabin is like stepping back in time!
Explore Black Mountain, North Carolina
This spot is about 12 miles from Asheville, which could keep you busy for many days! If you want to explore more locally, check out Black Mountain Center for the Arts, where you'll find great exhibits and events. If you get a chance, grab some take-out from Cousins Cuban Cafe. What a treat!
---
Romantic Yurt with a Hot Tub in Asheville, North Carolina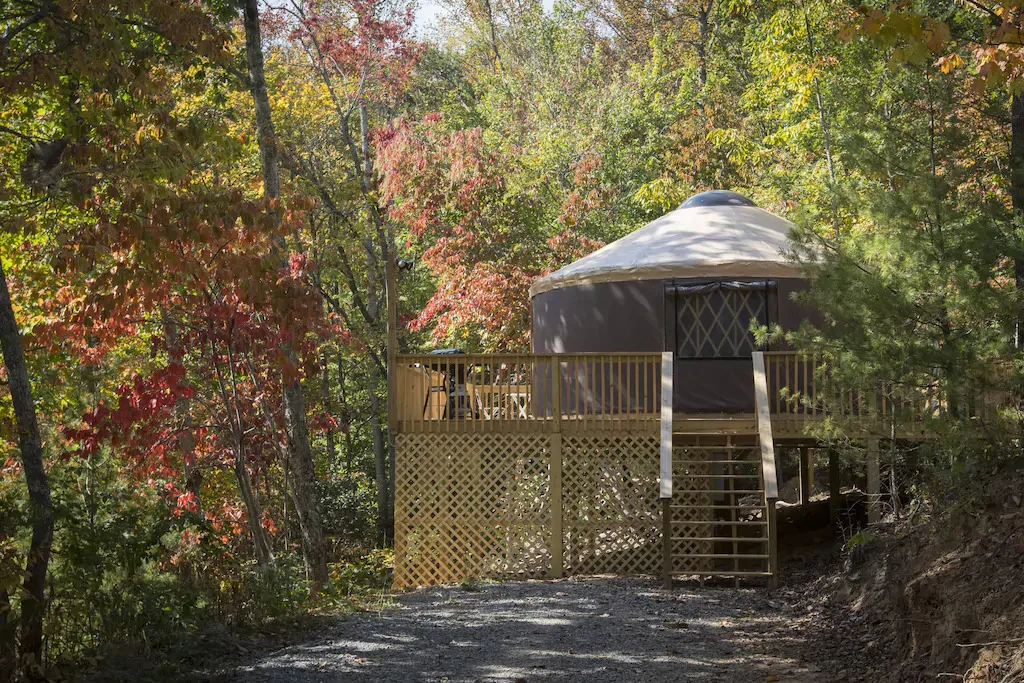 We love yurt glamping, and this beautiful little yurt is perfect for a romantic getaway to one of North Carolina's most lovely areas. This yurt is tucked away in the woods and feels very secluded, but in reality, you're just a few minutes away from shopping, restaurants, and the Blue Ridge Parkway and just 20 minutes from the Biltmore Estate and downtown Asheville.
The yurt is perfect for two people and features wi-fi, satellite TV, a hot tub, a full bathroom, and a small kitchen. The deck is perfect for enjoying your morning coffee and the Mountains to Sea Trail is just a five-minute walk from the yurt. Pets are not permitted at this property.
What we love about this North Carolina glamping spot: The location is very convenient to Asheville!
Exploring Asheville, North Carolina
Asheville is one of those cities that you will want to take some time to explore properly. Not only is it a foodie paradise, but it's also home to some of the state's best breweries, cultural attractions, waterfalls, and hiking. We recommend exploring the downtown area, visiting the North Carolina Arboretum, and the Craggy Gardens Trail off of the Blue Ridge Parkway.
---
Glamping on a Private Island in Alexander, North Carolina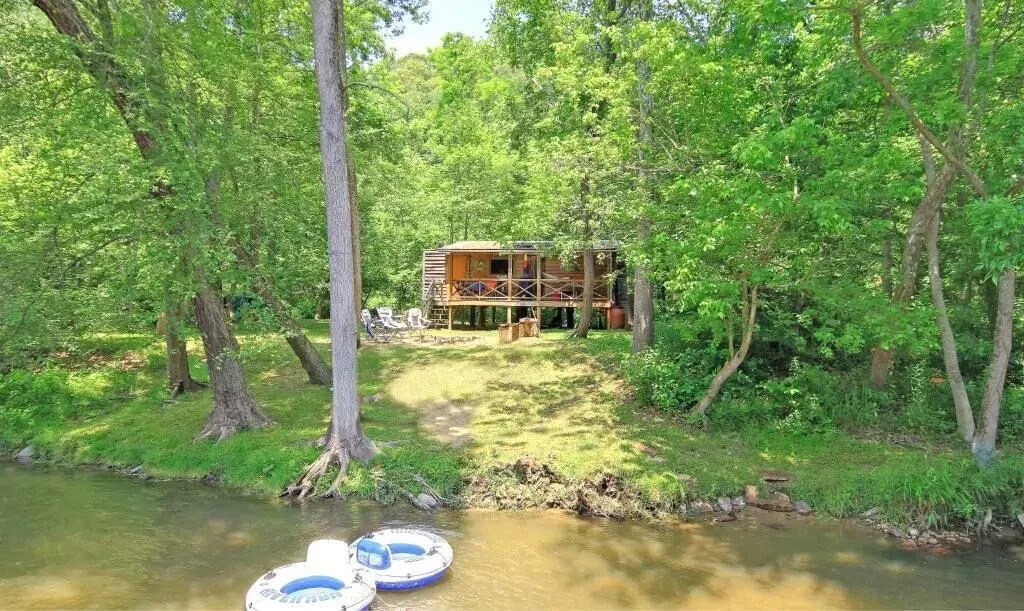 This unique private island can be yours for a night or longer when you book this lovely little cabin right on the river in Alexander, North Carolina. This tiny house is located on the French Broad River and is perfect for up to three people. While the cabin is private and secluded, it's just 25 minutes from downtown Asheville.
This rustic cabin features one room and a modified bathroom – perfect for anyone that just want to get away from it all. You have everything you need for a rustic vacation, including a queen-size bed, a small kitchen area, an outdoor shower, a gas grill, and a fire pit. Dogs are permitted for an extra fee.
What we love about this North Carolina glamping spot: Swimming in the river and total privacy!
Explore Alexander, North Carolina
Alexander is close enough to Asheville to take advantage of all that the city has to offer, but most people rent this island getaway to well, get away! There are tubes at the rental that you can use for floating, but the river does move fast, so caution is advised. If you want to practice your kayaking skills, visit Ledges Whitewater River Park, where you can also hike or picnic near the river.
---
Ready to explore the Blue Ridge Parkway with a glamping road trip through Virginia and North Carolina? These glamping retreats will ensure that your vacation is one you'll never forget! And, if you've been bit by the glamping bug like we have, be sure to check out our glamping resource guide. You can also find more great glamping spots throughout the USA below:
---
Follow us on social media for more glamping ideas!
Pin for Later?