Joshua Tree National Park flawlessly combines otherworldly landscapes, incredible recreational opportunities, and a colorful, wild-west history, making it one of the most unique national parks in the United States.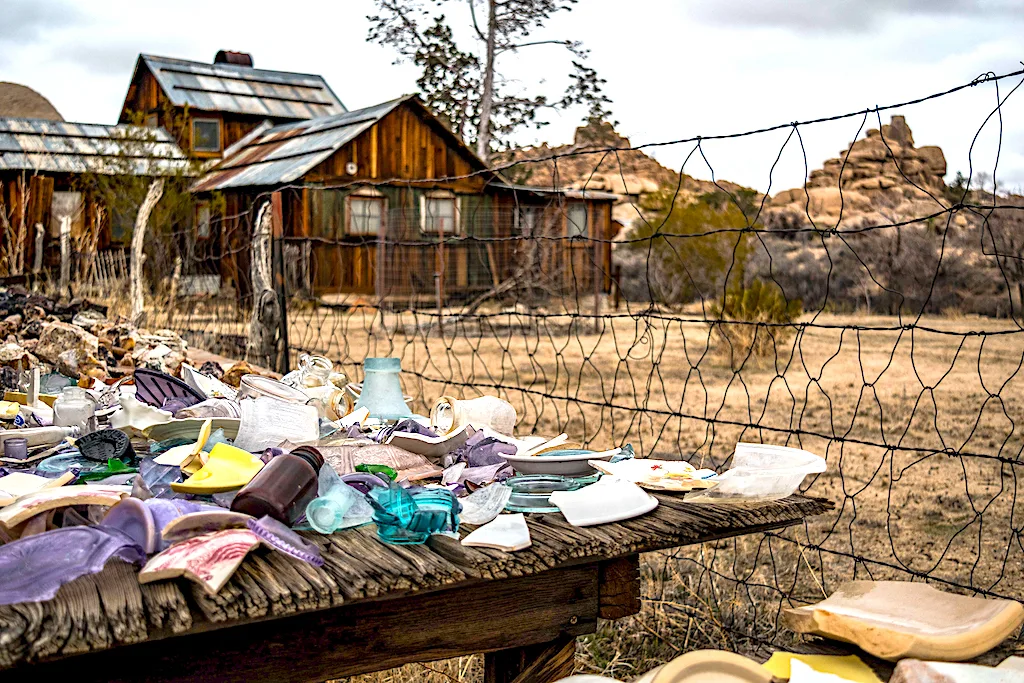 If you're planning a trip to this incredible desert park, you've got to put a tour of Keys Ranch in Joshua Tree on your itinerary!
Did you know that before it was a national park, Joshua Tree was home to cattle rustlers, gunslingers, miners, and rugged homesteaders? It was a harsh environment to eke out a living, and nobody did it more successfully or profitably than jack-of-all-trades, Bill Keys, and his homesteading family at Desert Queen Ranch.
The Keys family lived in what is now Joshua Tree National Park in Southern California for more than 60 years, raising five children, and surviving on perseverance, luck, and shrewd dealings.
The story of the Keys Ranch and the people who called it home for so many years is fascinating. The ranch itself has been meticulously preserved and remains almost exactly the way it was left when Keys died in 1969. Keys Ranch was listed on the National Register of Historic Places in 1975.
You can tour Keys Desert Queen Ranch with a ranger and hear the whole fascinating story for yourself. This ranger-led program is one of the best things to do in Joshua Tree National Park, and it's particularly awesome if you enjoy history and photography.
The Desert Queen Ranch tour was one of our favorite things to do in Joshua Tree National Park. Here's an overview to convince you to book your tour with the National Park Service.
Quick Facts: Keys Ranch in Joshua Tree National Park
Location: View on Google Maps
Days and Times: October to May, Thursdays and Sundays, 9:30 – 11 am
Reservations: Tours can be reserved up to 60 days in advance on Recreation.gov.
Fees: $10 for adults and kids 12+, $5 for kids 6-11, seniors and access pass, Under 6 is free
Walking: 1/2 mile
Dogs: No
Notes: Keys Ranch is only open for tours with a guide. Wear sturdy walking shoes. Smoking and eating are not allowed on the tour. Limit 10 people per tour.
Official Park Website
Touring Keys Desert Queen Ranch in Joshua Tree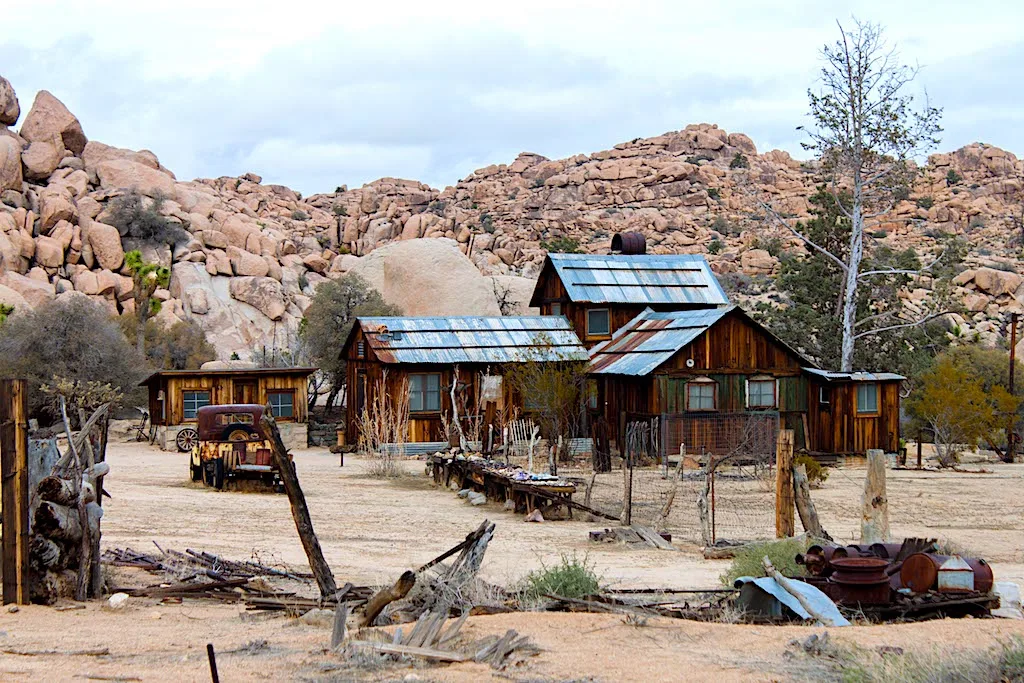 In order to preserve the authentic nature of Keys Desert Queen Ranch, visitors are not allowed unless they are part of a ranger-led tour. Tours are available from October to May on Thursdays and Sundays at 9:30 am. Summer tours are not available.
The Desert Queen Ranch walking tour requires walking a half-mile and lasts about 90 minutes, and the group size is limited to 10 people; you'll have lots of time to wander around and take photos, so be sure to bring your camera!
You can easily purchase tickets online at Recreation.gov until the day before the tour is offered. Unfortunately, you will not be able to get same-day reservations.
Our tour guide had been taking visitors around Desert Queen Ranch for more than 10 years, and he knew everything about the Keys family and the history of the ranch. Not only was he really knowledgable, but he was also engaging, answering questions enthusiastically from every member of our group, ages 10 to 84.
We heard lots of stories about Bill and Frances Keys and their eclectic life at Desert Queen Ranch, and I'm convinced they were the most interesting desert homesteaders in the area!
You can't go into the house the family lived in, but you can peek in the windows, and check out all of the outbuildings on the property.
The Keys Desert Queen Ranch tour is great for kids who enjoy history, and the photographer in me loved all the cool desert artifacts, old buildings, and immense boulders.
History of the Keys Desert Queen Ranch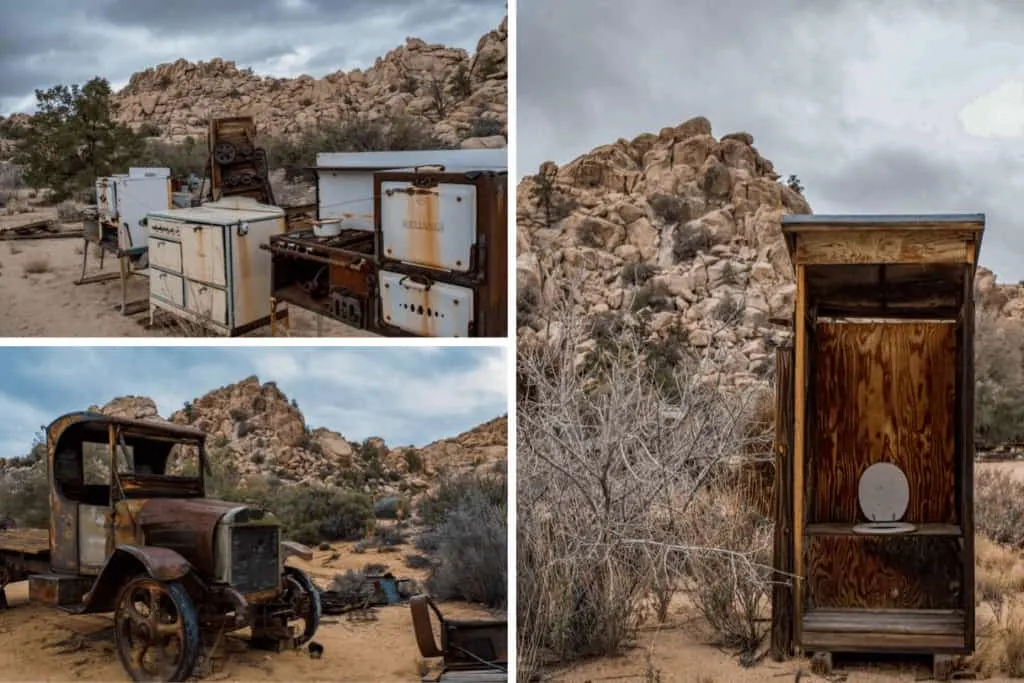 The rocky desert where Desert Queen Ranch now stands was once home to the Cahuilla and Serrano people, who lived here for 500 years before Europeans came on the scene. They were nomadic people, who arrived in Joshua Tree each spring and stuck around until the cold weather drove them farther south.
Miners, cattle ranchers, and homesteaders began settling in the area at the turn of the century, and they quickly depleted many of the resources that the native peoples used for their livelihood.
The Cahuilla and Serrano people departed permanently soon after, but they left behind enigmatic pictographs and petroglyphs that can still be found around the park today.
Bill Keys came on the scene in 1910, as the superintendent of the Desert Queen Mine. He was young and single at the time, and in 1915, when the mine was floundering, he took ownership of the property in lieu of the back pay that was owed to him.
Bill married Frances May Lawton soon after and brought her back to the ranch to homestead this harsh land more than 50 miles from civilization.
Together they would thrive at the ranch — Frances kept a huge garden, an orchard, and livestock to feed her growing family. Bill would keep busy building roads, staking claims, rustling cattle, scavenging, prospecting, collecting machinery, and building dams.
Before there were cars on the Desert Queen Ranch, a trip to town required two days and lots of planning. With the exception of sugar, coffee, and flour, everything the Keys family needed was produced right on the ranch. They butchered their own animals and canned several hundred jars of food to get them through the harsh winters.
For a time, Frances homeschooled her children, but in 1932, Bill built the Desert Queen School and hired Oran Booth to teach the kids, along with the children of several other homesteading families in the area.
The Shootout: Welcome to the Wild West
In 1943, Bill Keys was traveling home from town on a road that crossed his neighbor, Worth Bagley's property.
There had been ill feelings between the two for years, but on this particular day, Mr. Bagley was waiting in ambush for Bill. He claimed that Bill had shot some of his livestock and pulled a gun on him. Worth Bagley fired several shots at Bill but missed every time. When Bill fired back, Worth Bagley fell down dead.
Keys immediately turned himself into the local authorities, and he was quickly convicted of murder and sent off to San Quentin prison.
While Frances struggled to keep the homestead running, Bill spent five years in prison reading, writing, and relaxing. For a man that worked as hard as Bill, a stint in prison was a bit like a vacation. Bill was fully pardoned in 1956 when it was determined that he killed Worth Bagley in self-defense.
The End of an Era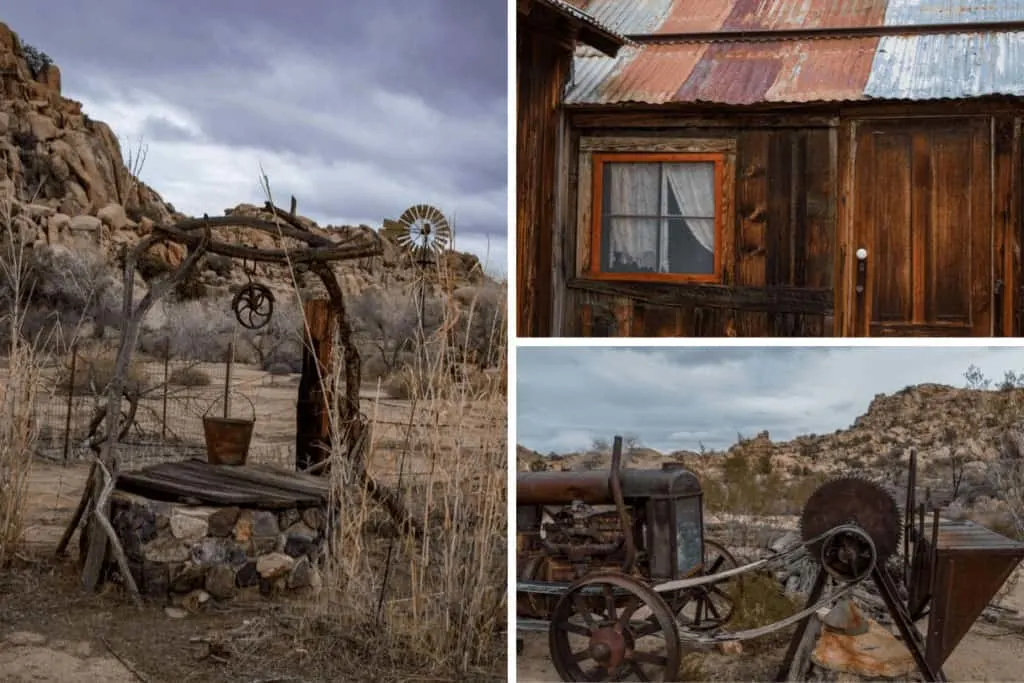 In 1936, the land surrounding Keys Desert Queen Ranch became Joshua Tree National Monument, and Bill and Frances took full advantage of the tourists by renting out cottages on the ranch. This brought a bit of extra income to the family as they struggled to continue their homesteading lifestyle.
By the 1960s, many of the neighboring homesteaders had moved away, and Bill and Frances's own children had all married and settled elsewhere.
Frances died in 1963, and Bill finally sold the ranch to the National Park Service. He continued to live on the ranch until his death in 1969. He was 89 years old.
Keys Desert Queen Ranch in Joshua Tree is a fascinating piece of history that has remained virtually unchanged since 1969. If you are planning a trip to Joshua Tree National Park, definitely add a Keys Ranch tour to your itinerary!
Tips for Visiting Desert Queen Ranch and Joshua Tree National Park
Where: Joshua Tree National Park is located in Southern California, within a day's drive of Los Angeles, San Diego, Phoenix, and Las Vegas.
When: Joshua Tree National Park is open year-round, but the best time to visit is early spring or late fall. Tours of the Desert Queen Ranch are only offered Thursdays and Sundays, from October through May.
Cost for admission: $30 per carload will get you into the park. It's good for seven consecutive days. You can also buy an annual pass that will get you into every national park for a full year. Tickets for the Keys Ranch tour are $10 per person.
Amenities: There are four visitor centers in the park, all with toilets and running water. There is no cell service or Wi-Fi.
Transportation: Most people fly into Las Vegas. Find a great deal on Kayak, and then rent a car to drive to Joshua Tree. It's a three-hour drive, but quite lovely. Dozens of car rental providers are available right at McCarran International Airport.
Camping: There is no lodging within the park, but several gorgeous campgrounds. Our favorite Joshua Tree campground is Jumbo Rocks Campground, with sites reservable on Recreation.gov. For a unique camping opportunity, rent an Escape Campervan in Las Vegas and use it as a tricked-out adventure mobile!
Lodging: You can find all types of lodging in Palm Springs, Joshua Tree, and Twentynine Palms. We scored a $69 room at the El Ranch Delores Motel (it was great!) during our January stay. There's also amazing glamping near Joshua Tree, which would make for a unique getaway!
Joshua Tree Guides: Make the most of your trip with the Moon Travel Guide to Palm Springs & Joshua Tree and the Falcon Guide to Easy Day Hikes in Joshua Tree National Park.
---
Explore more national parks with our camping and hiking guide, or check out these posts:
---
Follow us on social media!
Pin for Later?