Explore beautifully preserved Pueblo ruins, embark on some easy hikes with views that never end, and pitch your tent under the canopy of a billion stars at Mesa Verde National Park.
Mesa Verde is a must-visit if you are passing through the Four-Corners area of the Southwest, and the best way to see the sites is to spend a few days exploring.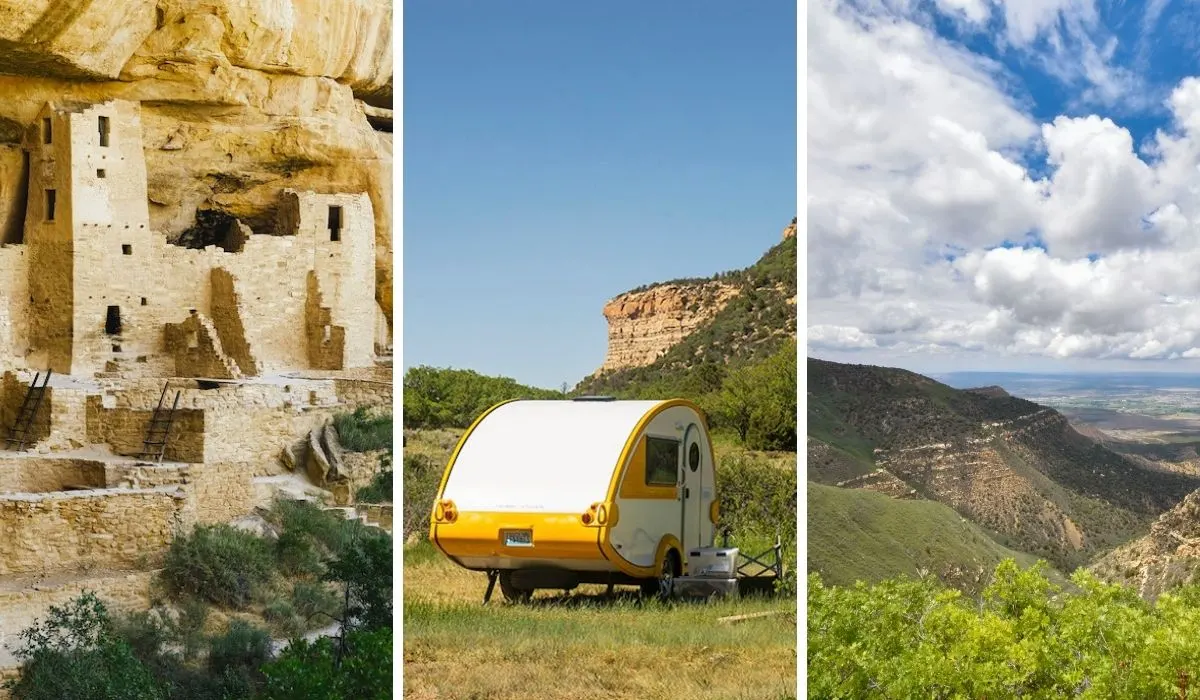 Mesa Verde is located in a remote part of Colorado, so your best bet is to stay right inside the park, either at Morefield Campground or Far View Lodge.
In all honesty, you don't have a lot of choices for Mesa Verde camping or lodging, but we've explored those options and want to share what we've learned with you.
I brought my dad to Mesa Verde National Park for Father's Day, and it was such a memorable and magical experience. He loves archaeology and learning about cultures of the past, and I love easy hikes on remote trails.
This incredible park has plenty of both, along with wildlife, scenic drives, and great ranger-led programs.
I won't dig too deep into our itinerary here. Instead, I want to tell you about Mesa Verde camping and lodging opportunities.
But, first…
Why You Should Visit Mesa Verde National Park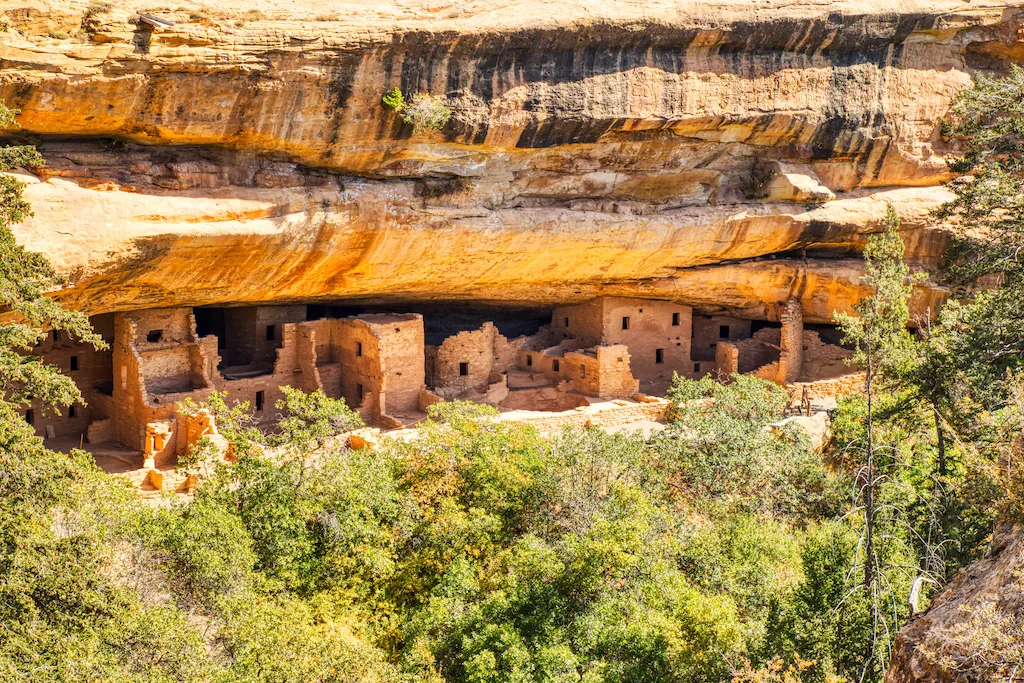 Tucked away in the corner of southwestern Colorado, Mesa Verde National Park preserves more than 4,000 Ancestral Puebloan archaeological sites across more than 52,000 acres. It's a UNESCO World Heritage Site and the largest archaeological preserve in the United States.
The area that is now Mesa Verde National Park was home to the Ancestral Pueblos from about A.D. 600 to 1300. Among the thousands of archaeological sites, are 600 spectacular cliff dwellings, some of which can be explored on guided tours.
In addition to exploring the many historical sites throughout the park, there are also lots of great day hiking opportunities.
A few days is plenty for exploring the best archaeological sites and hikes within Mesa Verde National Park.
Mesa Verde Camping: Morefield Campground
There are lots of reasons why we usually choose camping over other types of lodging when visiting national parks. Cost is definitely one of them.
As far as national park campgrounds go, Morefield Campground is on the expensive side. It's run by a private concessioner, so the cost is about double what you would typically pay for camping in a national park — $38 per night for tent/RV sites without hookups and $51 for sites with full hookups.
By comparison, Far View Lodge will set you back about $180 a night.
The sites at Morefield are quite large, and like most national park campsites, come with a picnic table and fire ring. Occasionally, during arid weather, a fire ban goes into effect, and campers must cook on a contained camp stove, so be sure to pack one just in case.
Morefield Campground makes a great home base for anyone who wants to spend time exploring in Mesa Verde National Park. Creature comforts may be lacking, but the sites are right near the park entrance and close to hiking and historical sites.
What You Need to Know about Mesa Verde National Park Camping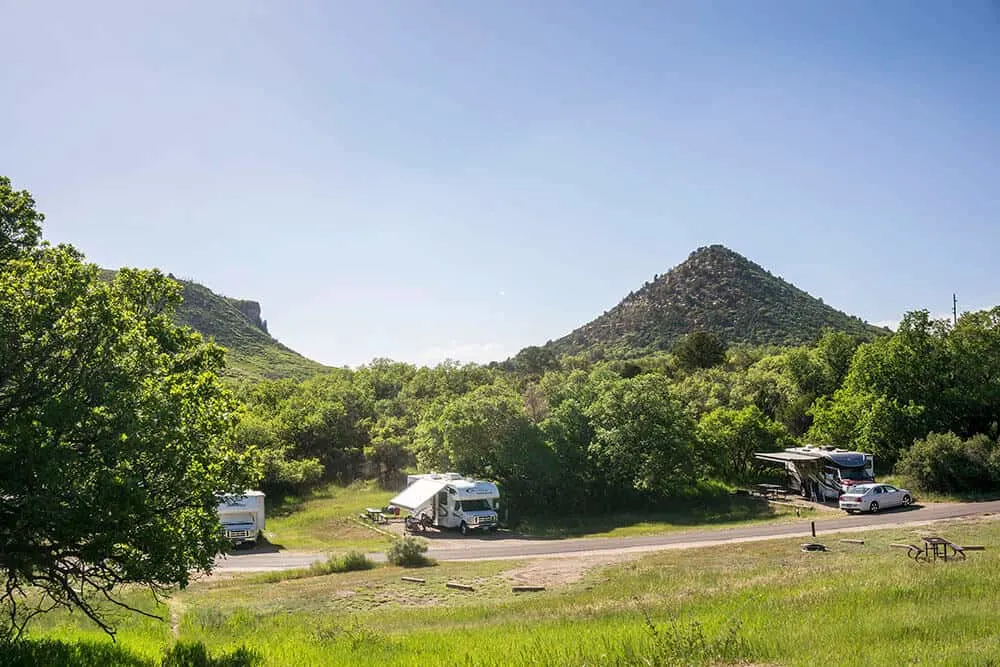 Both Far View Lodge and Morefield Campground are run by Aramark, a private company that has a contract with numerous national parks.
Morefield Campground has 267 campsites, and rarely fills up, even on busy summer weekends, but you can also make reservations at Visit Mesa Verde.
Here is some vital information that will make your Mesa Verde camping trip relaxing, fun, and memorable.
Big RVs

– Morefield Campground does not allow RVs larger than 46 feet long.

Pet Policy

– Pets are permitted at Morefield Campground, but must be kept on a leash at all times. Please note that Mesa Verde National Park is not very pet-friendly. Pets are not allowed on any trails or at archaeological sites. If you do bring your dog, consider using Morefield Village Kennel for boarding while you explore the trails and sites.

Extra fees – The above rates are for 2 people. If you have additional people over the age of six, there are additional fees.
Camping Season

– Morefield Campground is only open from mid-April to mid-October.

Backcountry Camping?

Nope. Due to the sensitive archaeological features in Mesa Verde National Park, camping is

only

available at Morefield Campground.

Provisions

– There is a well-stocked camp store at Morefield Campground, as well as the Knife-Edge Cafe, which offers all-you-can-eat pancakes in the summer.
Morefield Campground Amenities
Compared to many national park campgrounds, Morefield Campground is pretty luxurious. You will find the following amenities onsite.
Gas station

Camp store

Showers (available 24 hours)

Laundry facilities (open 24 hours)

Telephones

Dump station

Cafe

Free Wi-Fi
Pros and Cons: Mesa Verde Camping at Morefield Campground
If you want to camp in Mesa Verde National Park, this is your only option. Here's what we loved and didn't love about our Mesa Verde camping experience.
Pros:
Our site was shady and relatively large, which was a bonus. There are plenty of small sites in full sun, though, and there's no way to choose a shady/large site on the campground's website.
There are showers nearby and coin-operated laundry. You will get shower tickets when you reserve your campsite.
There's a camp store that also serves breakfast. This was very convenient as there were a few things that we had forgotten (bug spray).
The night sky was amazing! Try and get a spot as far from the lights of the bathhouse as you can!
Cons:
As with many campgrounds we've stayed in recently, the park was short-staffed. Dumpsters were full and bathrooms were not as clean as we would have liked.
Most of the sites are very close together.
We had trouble finding a level spot for our tent.
Mesa Verde National Park Lodging: Far View Lodge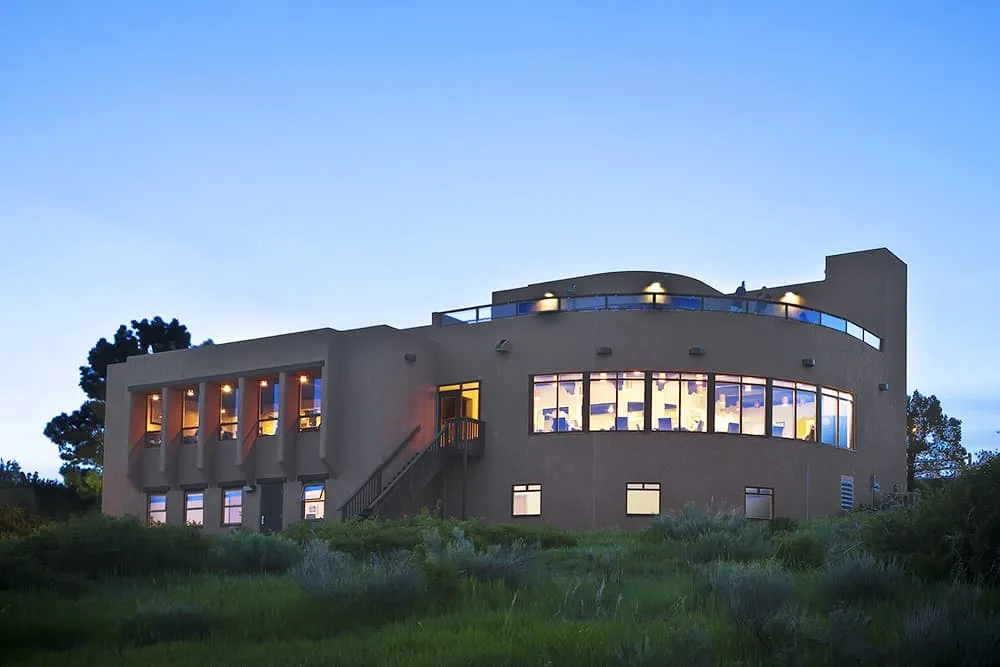 Before our trip, we researched hotels, Mesa Verde campgrounds, and other lodging opportunities and were disappointed to find that we didn't have a lot of choices.
The closest town to Mesa Verde is Cortez, Colorado, but because it is more than 30 miles outside the park, we decided to stay a few nights at Far View Lodge and a few nights in Morefield Campground, both right inside Mesa Verde National Park.
Far View Lodge is located in the middle of Mesa Verde National Park. It is very close to the turnoff to Weatherill Road, which is a great road trip in the summer months, as well as Park Point, which became our favorite spot to watch the sunset.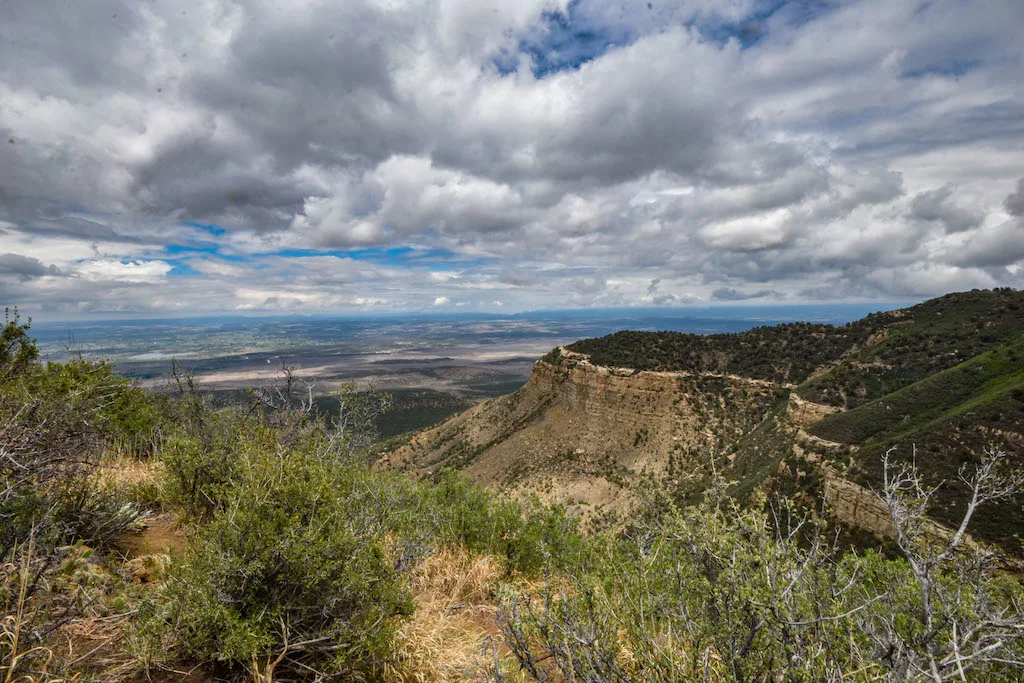 From Far View Lodge, you can walk to the Far View Terrace Cafe, which has decent breakfast and lunch fare. The Metate Room, which is a little more upscale, is located next to the lodge.
If you are hoping to get a room at Far View Lodge on the weekend, we definitely recommend making a reservation ahead of time.
Find the best deals and read Far View Lodge reviews on TripAdvisor before booking your stay.
The Rooms at Far View Lodge
When booking your Mesa Verde lodging at Far View Lodge, you'll have a choice between a Kiva room and a Kiva Deluxe room.
The only difference is whether you want an expansive view from your balcony. We decided to pay the extra $10 for this little luxury and are so glad we did!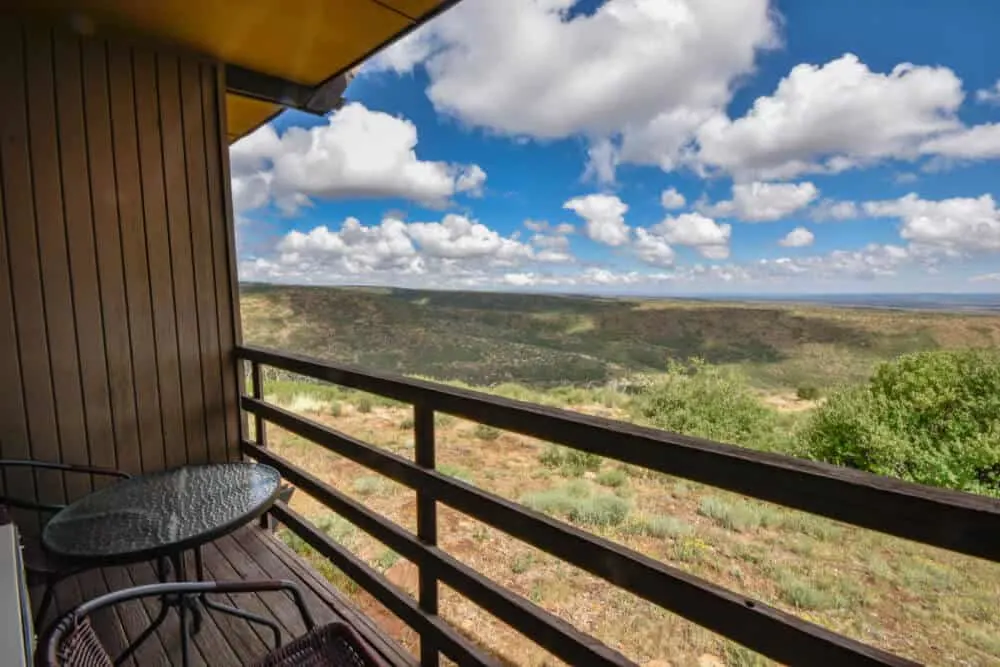 The rooms at Far View Lodge are quite small but very inviting and nicely decorated. The two double beds took up most of our room, and there was also a dresser, desk, coffee maker, and a small refrigerator.
The bathroom area is also quite tiny. The rooms do not have TVs, which was fine with us, as we spent most of our time exploring the park. WiFi is usually available but wasn't working at all during our visit.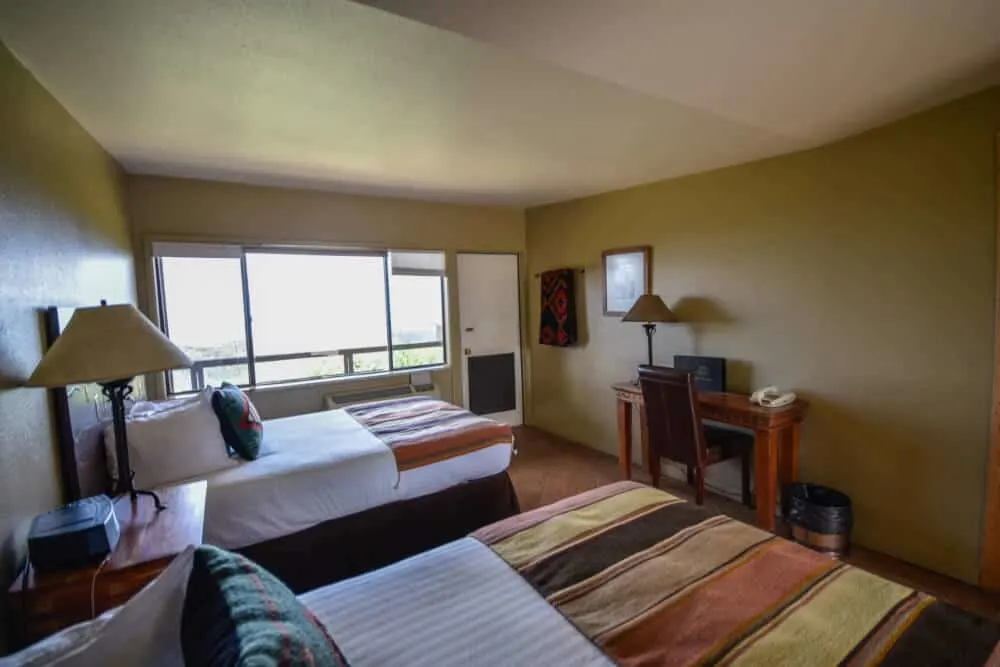 All-in-all, Far View Lodge was a modest, comfortable place to spend a weekend. It was small and clean, and the beds were quite comfortable. The central location was perfect for exploring Mesa Verde National Park, and I wouldn't hesitate to stay there again.
I do think that our room was pricey for what we got. We paid $180 plus tax.
My dad spent a lot of time relaxing on the balcony while I hiked around (he's not a hiker), but basically, our room was just a spot to sleep. The comfy beds and great location made Far View Lodge worth the price, but if I visit again, I will likely spend the whole time camping at Morefield Campground.
---
Give yourself at least 2 days to explore all that Mesa Verde National Park has to offer. Whether you choose to camp or stay at the Far View Lodge during your visit, sleeping within the park will allow you to beat the crowds and make the most of your visit.
---
Want more ideas for exploring the Southwestern United States? Check out these posts!
---
Follow us on social media for more national park ideas!
Pin for Later?