Towering spires of otherworldly rock formations. Incredible desert wildlife. An oasis campground that's perfect for an unforgettable off-grid weekend. Welcome to Cathedral Gorge State Park in Nevada! Located right on the Utah border, Cathedral Gorge is a sweet little gem of a park that is 100% worth a stop on your next Southwest road trip.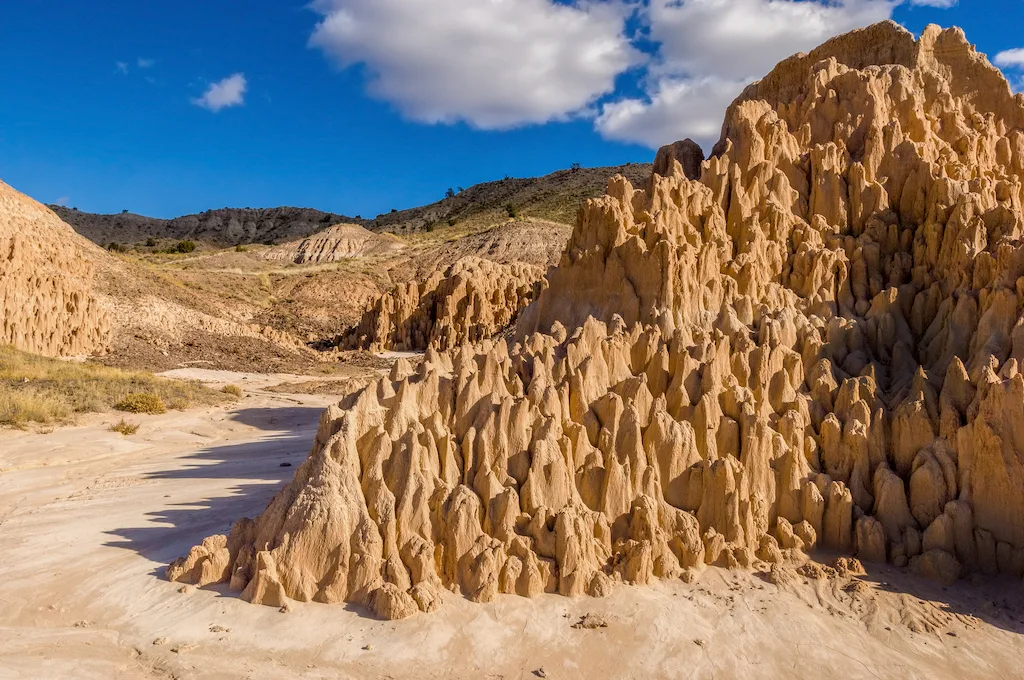 And speaking of road trips… not too long ago, our family embarked on a monumental road trip, covering more than 10,000 miles in a Pontiac Vibe over the course of two and a half months. During this particular road trip, we were fly-by-the-seat-of-our-pants kind of travelers.
We stayed in campgrounds every night and we never made reservations. This led us to some incredibly interesting and beautiful campgrounds that we never would have discovered online.
Cathedral Gorge State Park was one such location. We had just hopped off of the Extra-Terrestrial Highway after some seriously long and lonely driving and were looking for a spot to camp for a few days. Cathedral Gorge State Park showed up as a little tent-next-to-a-pine-tree icon on our map.
As we drove down the narrow, winding road toward the park, we felt like we were entering another world entirely. Spires of soft, bentonite clay rose out of the desert and seemed to go on for miles and miles. Surrounding the gorge was a land of sprawling sagebrush, and in the middle of that – a tiny oasis of activity, otherwise known as the Cathedral Gorge State Park Campground.
We spent several days in Cathedral Gorge before continuing on our massive road trip. We relaxed in the campground, hiked the trails, and saw tons of wildlife, including songbirds, lizards, snakes, jackrabbits, and foxes. Cathedral Gorge State Park was one of the highlights of our road trip and we can't wait to share it with you!
Quick Facts: Cathedral Gorge State Park
Location: View on Google Maps
Hours: Always open
Camping: 22 tent/RV sites, some with electric/water hookups (no reservations)
Fees: day rate – $5 ($10 out-of-state), camping rate – $15 to $30 depending on site
Dogs: On-leash
Official Park Website
Download a Cathedral Gorge Trail Map
How to Get to Cathedral Gorge State Park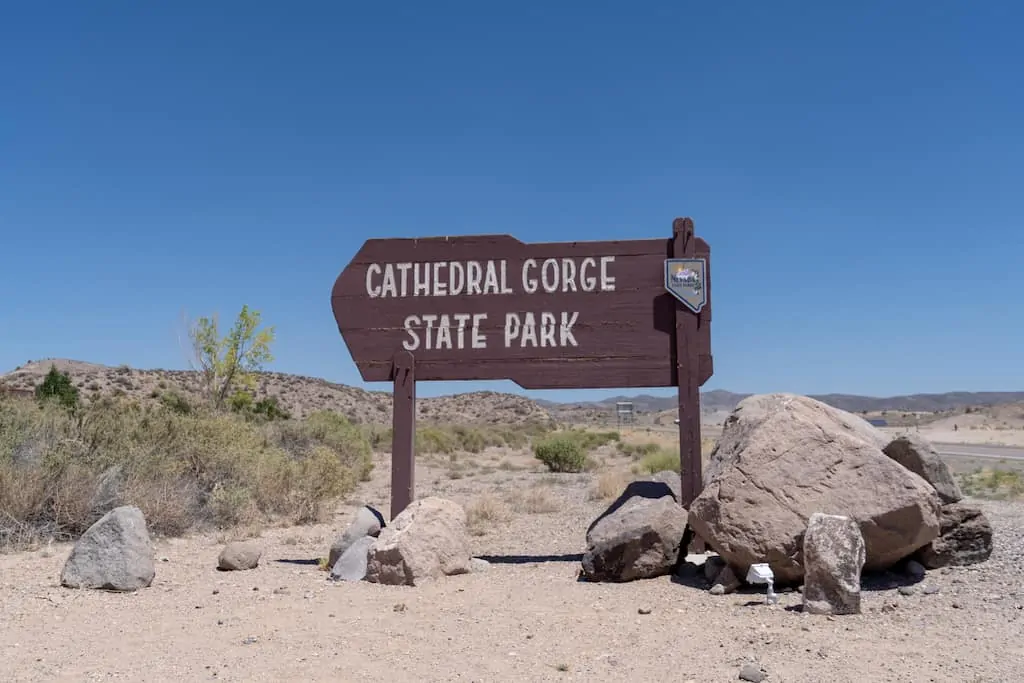 Cathedral Gorge State Park is kind of in the middle of nowhere, but also en route to some pretty amazing destinations. If you aren't visiting as part of a mega cross-country road trip, I would advise flying into McCarran International Airport in Las Vegas and renting a car. We love using Kayak to find the best deals on both car rentals and flights in and out of Vegas. From Vegas, it's 173 easy miles to Cathedral Gorge State Park.
If you want to up the fun factor, rent an Escape Campervan in Las Vegas and use it as your adventure mobile. The campervans come with everything you need to explore in style, including beds, dining areas, and kitchens.
HOT DEAL! Use the code BACKROADRAMBLERS10 for 10% off your 2023 trip with Escape Campervans from any location with no blackout dates. Book your trip before 4/31/2023 to get your discount.
Combine your visit to Cathedral Gorge with a trip to Great Basin National Park, which is about 128 miles north of Cathedral Gorge, or continue west into Utah to explore Zion National Park or Highway 12, which brings you to both Bryce Canyon National Park and Capitol Reef National Park.
It's an easy drive from McCarran Airport to Cathedral Gorge State Park. Hop on Interstate 15 North for a few miles and then take 93 North all the way to the park.
Best Time to Visit Cathedral Gorge State Park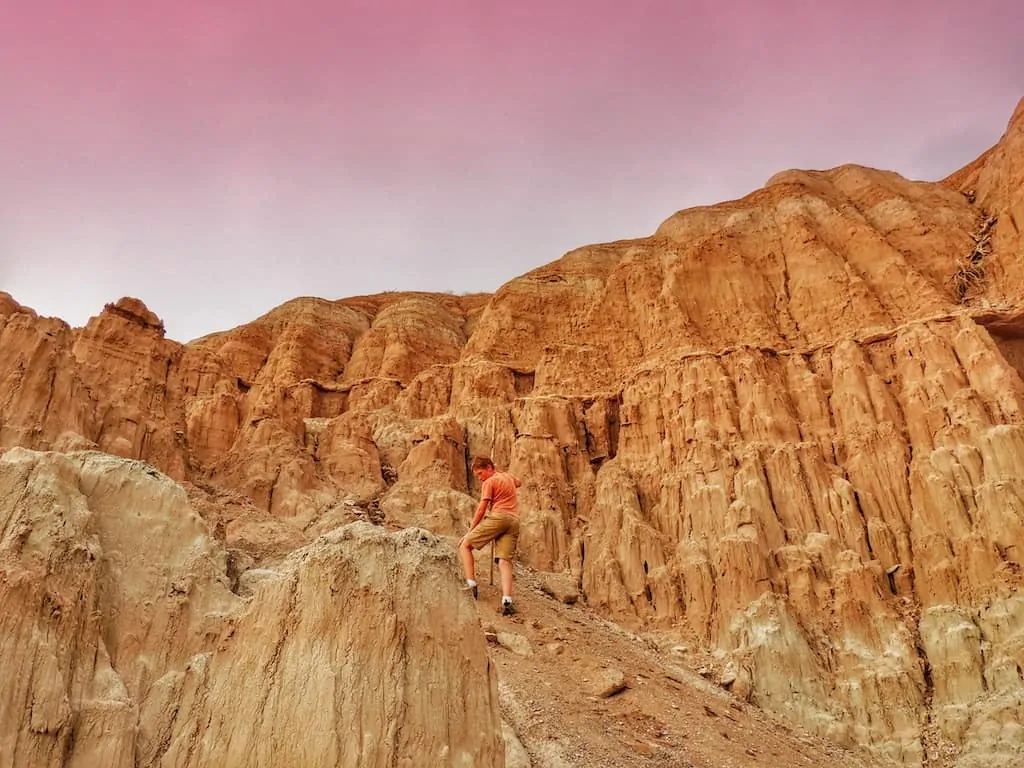 Cathedral Gorge State Park is open year-round but does experience some major weather extremes. The park is located 4,800 feet above sea level with a high-desert climate. Temperatures are very hot in the summer, with daytime highs hitting 95-degrees Fahrenheit or higher most days. Winter temperatures are often below freezing at night, and snow is not uncommon; To avoid these temperature extremes, we recommend visiting in September/October or March/April, when you'll experience warm days and cool nights that are perfect for outdoor recreation and camping.
---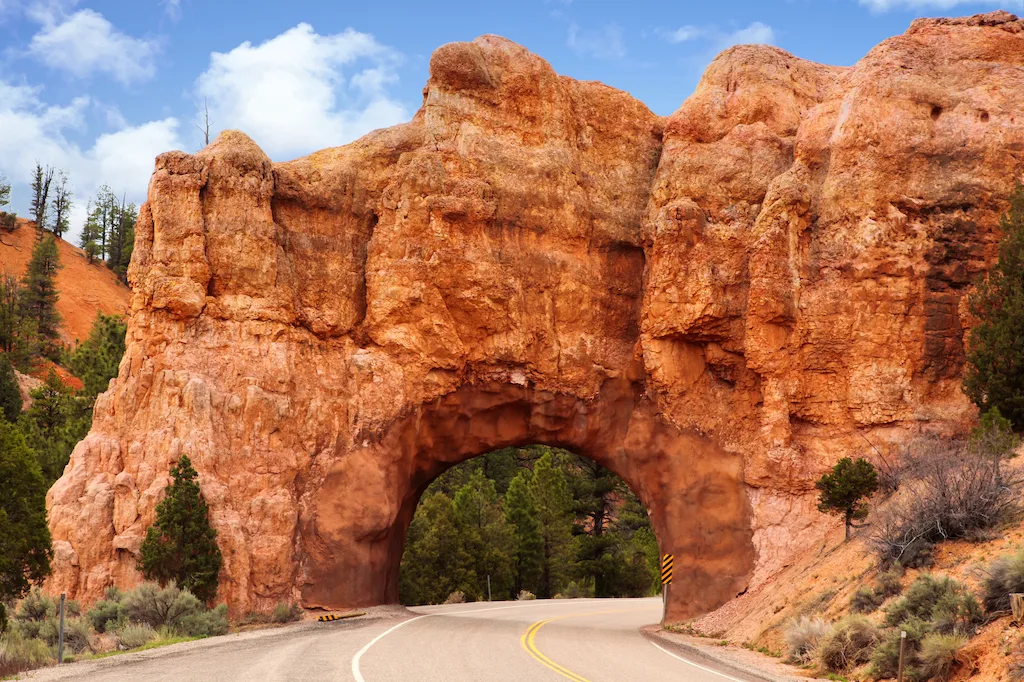 ---
What to Pack for Your Visit to Cathdral Gorge State Park in Nevada
What you need for your adventure in Cathedral Gorge State Park will depend on what time of year you choose to visit, but here are a few things you'll want to pack no matter what season you choose to visit.
Sun protection – This includes a wide-brimmed hat, sunglasses, and sunscreen. The sun is harsh, even in the winnter, and there is very little shade.
Long pants – Even on days when it's warm enough for shorts, we recommend wearing long pants to protect you from desert plants and animals. My current favorite hiking pants are the Saturday Trail pants from Columbia. They are one of the few companies that make petite sizes for shorties like me and tehy are so comfy! For kids, we recommend the REI Sahara Convertible pants for both boys and girls.
Rugged hiking shoes – We don't recommend hiking through the desert in sandals or other flimsy shoes. Get yourself a pair of sturdy hikers that will keep your feet protected while walking through the desert.
Insulated water bottles – Insulated water bottles from Hydro Flask will keep your water cool and fresh while hiking in the desert.
Trail guide – If you are exploring more trails in Nevada, Top Trails of Nevada covers hikes in Great Basin National Park, Cathedral Gorge State Park, Valley of Fire State Park, and 23 more Nevada parks.
Camping at Cathedral Gorge State Park
With just 22 campsites scattered among the park's only stand of trees, I thought we would be pretty lucky to find a site, but it turned out that the place was pretty empty, except of course, for the birds and jackrabbits.
The birds were singing and flitting around from the moment we arrived, and we learned later that the little campground in Cathedral Gorge State Park is a mecca for desert birdwatchers. I love birds, but I can scarcely tell a sparrow from a warbler. The songs those birds sang to us that evening, though, were an absolute treat.
The jackrabbits were everywhere, and unlike our little cottontail rabbits back east, these guys and gals weren't at all skittish. They loved watching us and would bounce a few steps away when startled.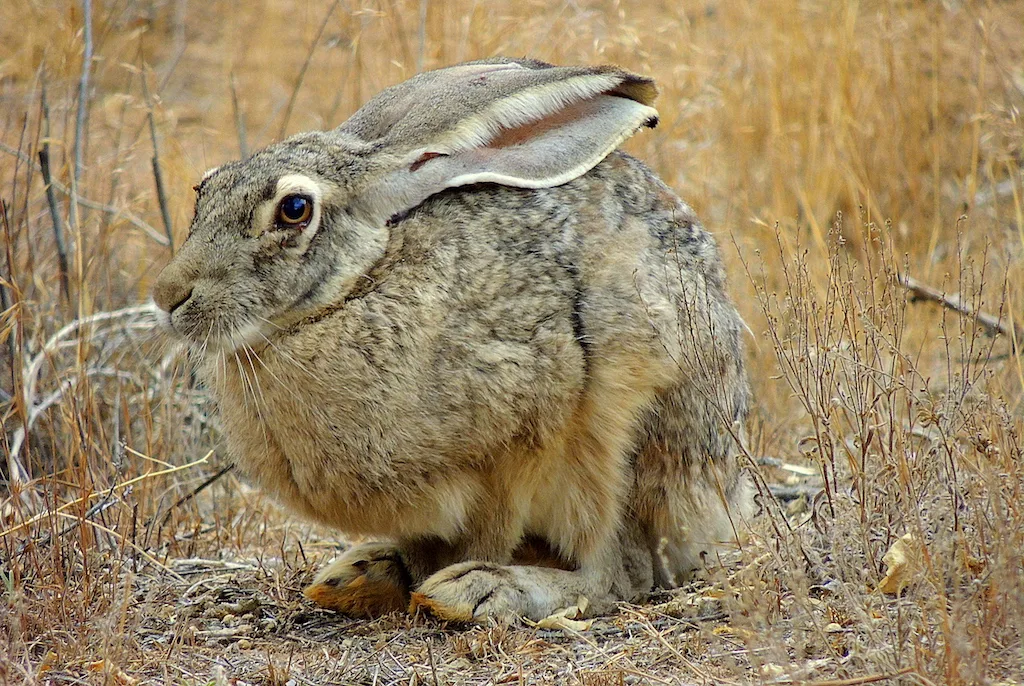 The campground at Cathedral Gorge is beautiful, with lush plantings, shaded pavilions, and large, private campsites. From the campground, trails snake through the desert and sagebrush toward the gorge, where we'll take you in a minute. First a few tips about camping at Cathedral Gorge State Park.
Tips for Cathedral Gorge Camping
Cathedral Gorge State Park and campground are open year-round. Electrical hook-ups are available for an extra fee. The bathhouse is really clean and has hot showers.
Sites are not reservable. We visited Cathedral Gorge in the summer, and three of the 22 sites were being used. Even during the busies season (fall and spring), you are likely to get a site without much effort.
You can camp here for up to 14 days at a time. Sign me up!!
There are two handicapped-accessible sites and a large group area.
The night sky is one of the most outstanding features of Cathedral Gorge State Park. It's incomparable, especially for someone from the east coast of America.
Be prepared for hot summer temperatures. I guess this should go without saying, but like most of the state, Cathedral Gorge State Park gets really hot in the summer. My advice – spend your evenings hiking, your nights paying homage to the universe, and your days chillin' out in your tent with your favorite book.
Watch out for rattlesnakes. There are lots of places for snakes to hike in the canyons and gorges.
Exploring Cathedral Gorge State Park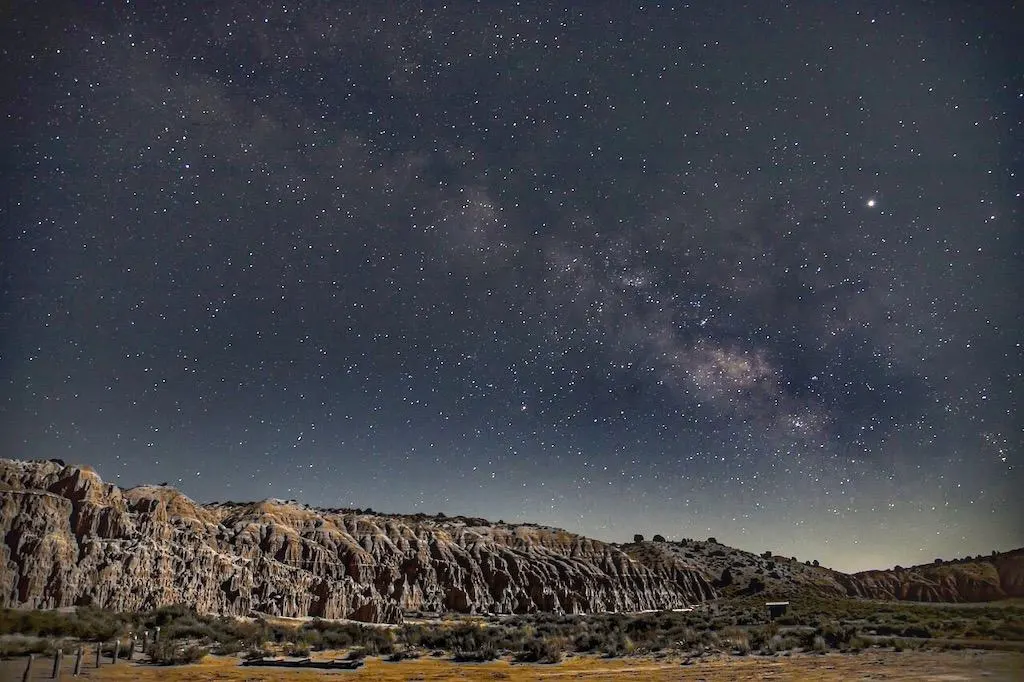 The rock spires and other formations that make up Cathedral Gorge are a short hike from the campground. You'll pass through low-growing plant communities which consist of white sage, four-winged saltbush, barberry sagebrush, and greasewood, plus a few others that I couldn't identify.
Because the ecosystem here is quite fragile, there are signs asking you to stay on the trail. The gorge consists of incredible spires of bentonite clay reaching toward the heavens and creating cave-like formations that just beg to be explored. It's like an elaborate labyrinth – perfect for games of hide-and-seek.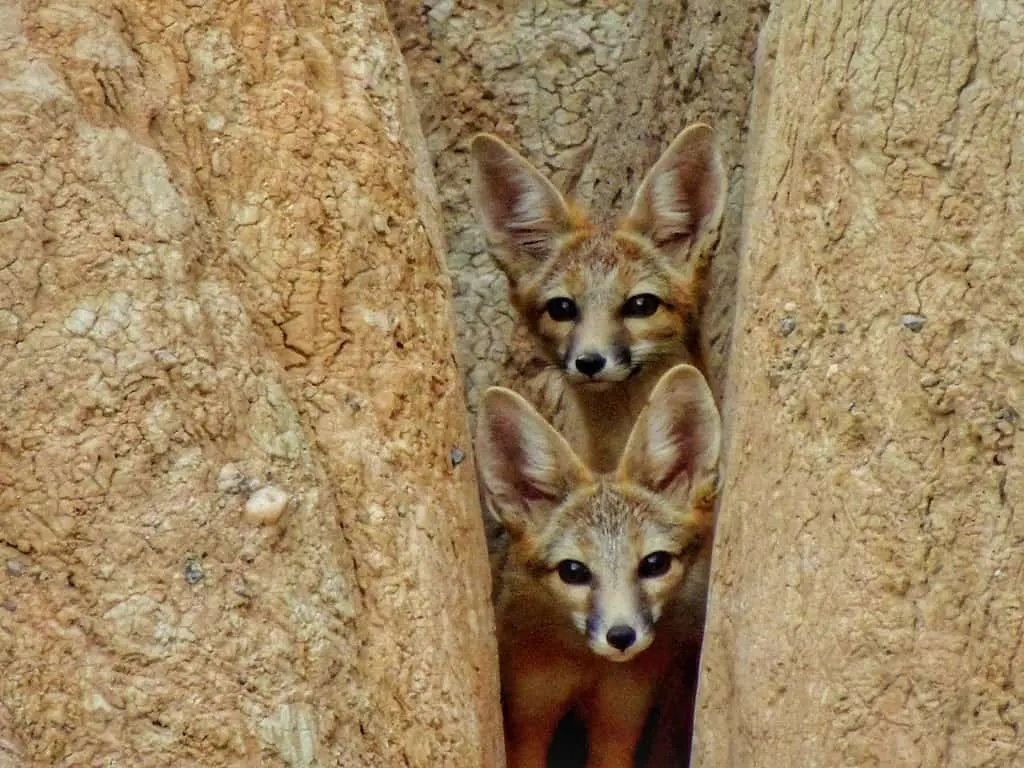 Looks like we weren't the only ones smitten with the allure of the towering cathedrals. We found this litter of kit foxes playing inside the labyrinth. They weren't a bit startled by our presence – in fact, they were incredibly curious about us.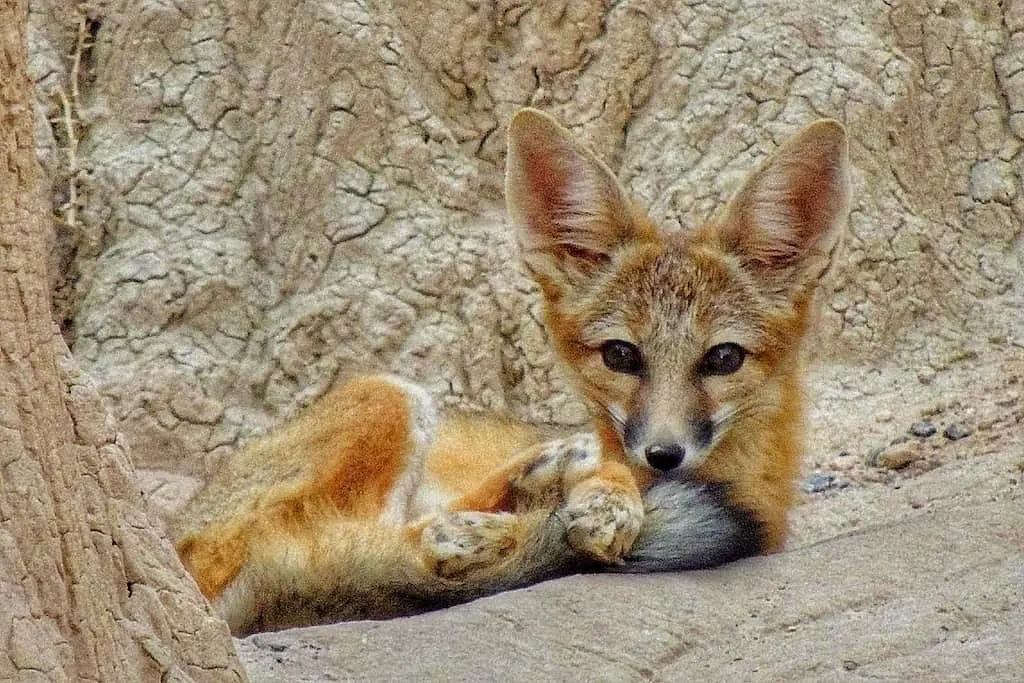 After exploring the gorge a bit, you can hike a four-mile loop trail that starts at the campground and circles through the desert, around the gorge, and out to a spectacular overlook. This is a great early morning or evening hike, especially if you're hoping to catch glimpses of the abundant wildlife.
Our weekend at Cathedral Gorge State Park in Nevada was one of the highlights of our humongous cross-country road trip. It's a small park and really quiet, but perfect for a weekend getaway, and just as lovely if you're only passing through.
Make Cathedral Gorge State Park a priority on your next road trip, and say hello to our friends the jackrabbits.
---
More posts about adventuring in the Southwest United States:
---
Follow us on social media to keep in touch!
Pin for Later?
Pin for Later?