Lincoln, New Hampshire is a classic New England mountain town in the heart of the White Mountains of New Hampshire. The town marks the beginning of the famous Kancamagus Highway, is home to one of New Hampshire's premier ski resorts, and is just a short drive from all the natural attractions in Franconia Notch State Park. Lincoln is an ideal small-town getaway for families who love the outdoors – like us!
If you're planning a trip to the White Mountains and are looking for the perfect home base, we'd like to put in a plug for RiverWalk Resort at Loon Mountain. This four-season resort offers spacious suites with full kitchens, separate bedrooms, and special deals throughout the year, but there are even more reasons to love RiverWalk Resort.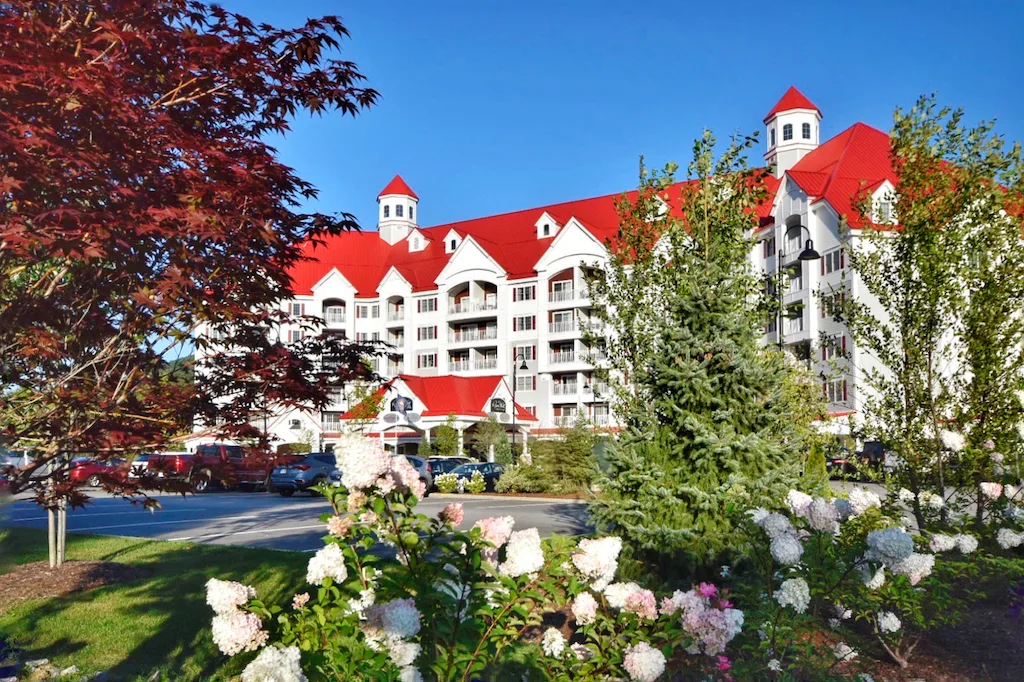 Over the summer, we had the pleasure of spending a few days in Lincoln, New Hampshire. We did a lot of hiking and waterfall hunting, road-tripped on the famous Kangamagus Highway, and slept like pampered babies at RiverWalk Resort at Loon Mountain. We have nothing but good things to say about this fabulous hotel. It's the perfect destination for a family vacation, a couples escape, or a girlfriend getaway. Here are some reasons why you'll love staying at RiverWalk at Loon Mountain in Lincoln.
---
Read Next: The Best Things to do in Lincoln, New Hampshire
---
You Can't Beat the In-Town Location at RiverWalk Resort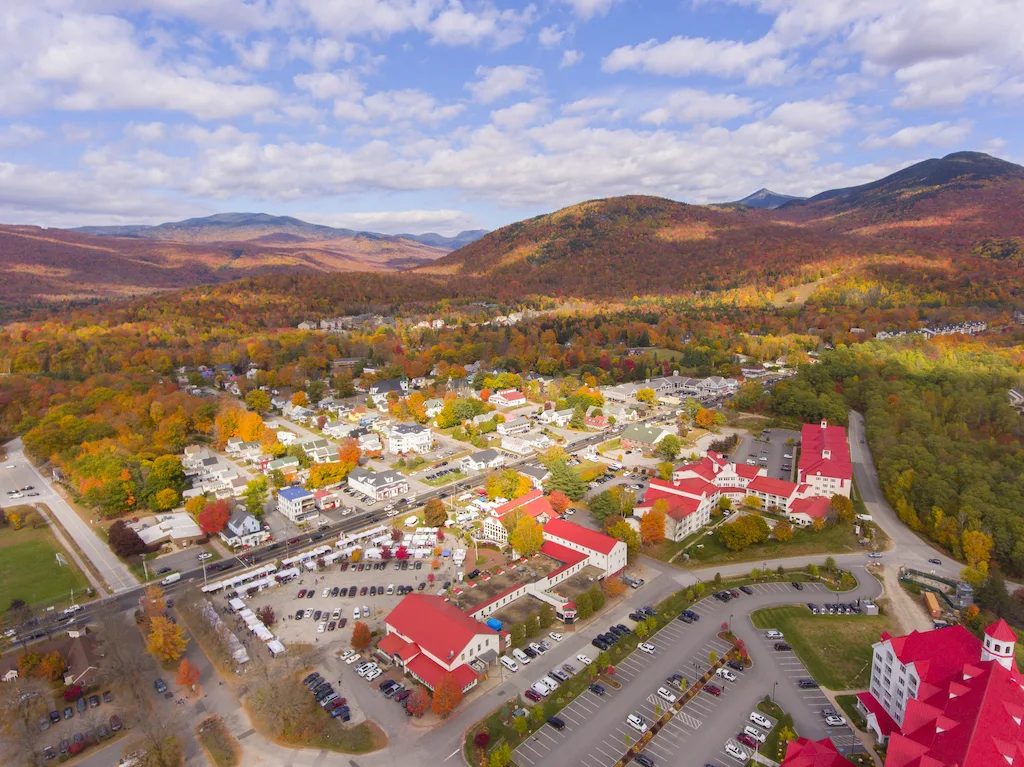 Whenever we travel, we look for lodging that allows us to walk as much as possible. RiverWalk Resort is located right in downtown Lincoln and just a stone's throw from Loon Mountain. If you're traveling to Loon Mountain to visit the Ice Castle or to ski, you'll be happy to learn that RiverWalk Resort provides shuttles to and from the mountain so you won't have to worry about traffic or parking.
Downtown Lincoln is bustling in all four seasons, with a handful of restaurants, several outdoor outfitters, a ropes course, a movie theater, mini-golf, and much more. You can walk just about anywhere in town from RiverWalk Resort.
We loved waking up each morning and wandering through town. We found a new place for coffee and pastries each morning, and we even discovered a lovely in-town swimming hole just a short walk from RiverWalk at Loon. If you don't want to spend all of your time in the car, RiverWalk is the place to be! Here are some of our favorite in-town adventures near RiverWalk Resort at Loon Mountain.
The Swimming Pool at RiverWalk Resort is Beyond Amazing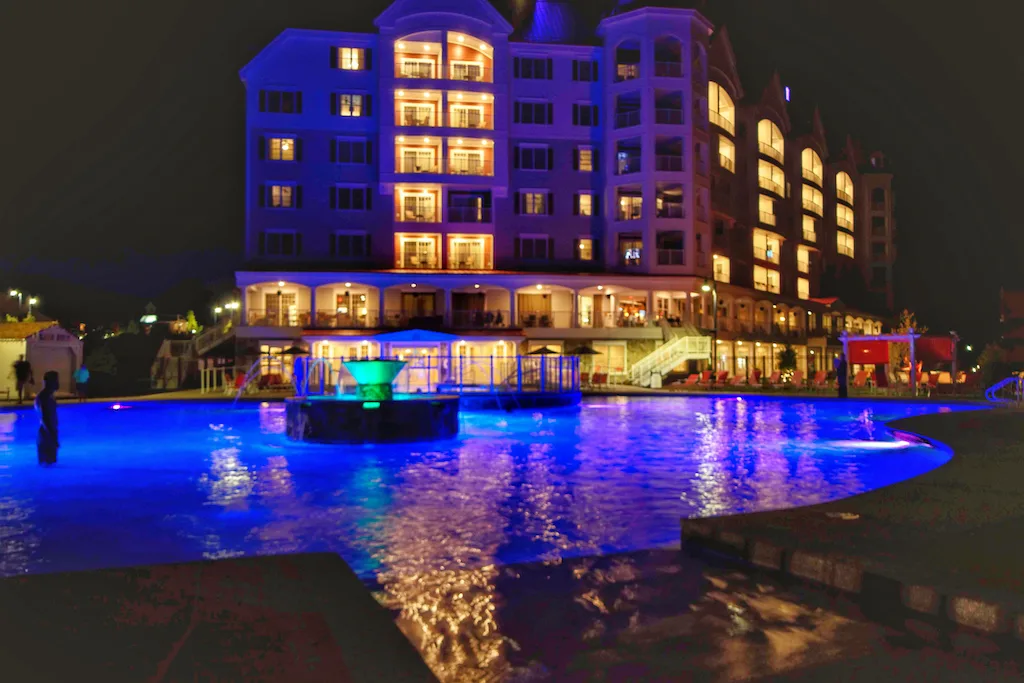 With two separate heated pools and hot tubs to frolic and relax in, and beautiful scenery in every direction, you'll want to build plenty of pool time into your vacation schedule. During the spring, summer, and fall, RiverWalk Resort provides two separate outdoor pools, an outdoor hot tub, and an indoor hot tub. In the winter, one of the pools becomes a magical ice-skating rink, and the other pool remains open (and heated of course).
The upper deck pool begins inside so you can submerge while still indoors and swim through a faux wall to the outdoors. The large, outdoor lagoon pool surrounds a beautiful fountain and slopes downward to a maximum of five feet deep. All-in-all, this is a magical setting and one of the best hotel pools we've experienced.
There's nothing like a day outdoors in the White Mountains followed by a relaxing swim. Talk about being pampered!
Incredible On-Site Wine Tasting at Seven Birches Winery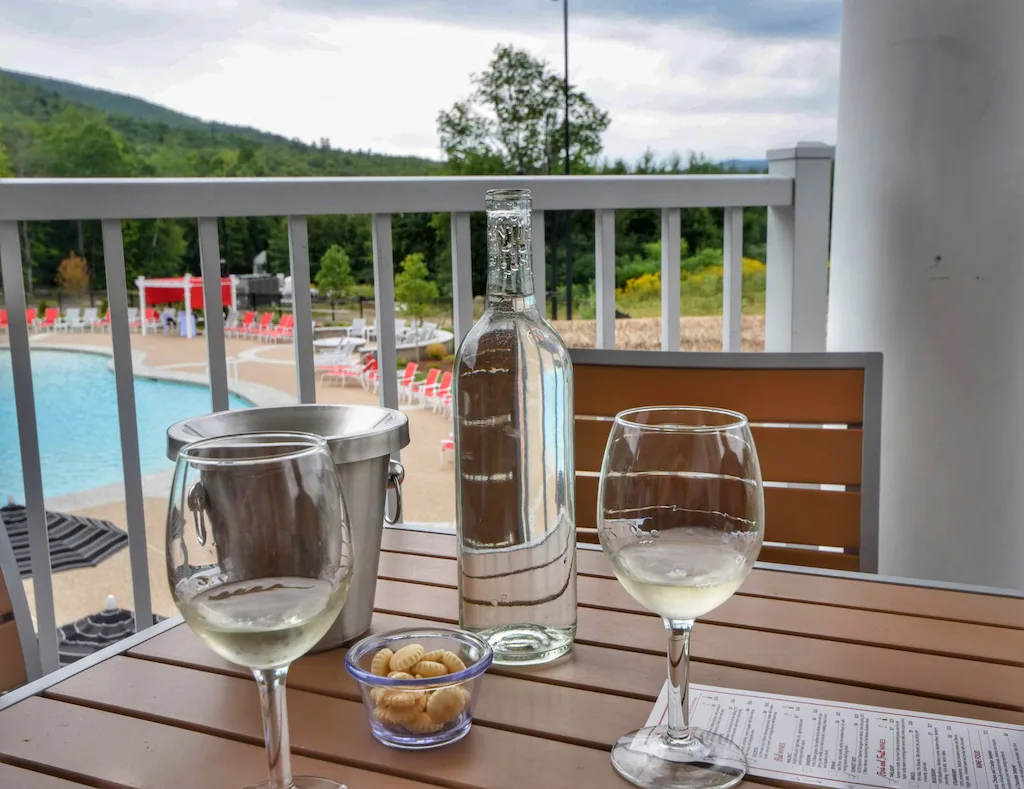 Just like swimming in awesome hotel pools, we usually only do wine tasting when we're traveling. Located right at RiverWalk Resort, Seven Birches Winery features local New Hampshire wine, a shop with unique gifts, and tastings on the balcony overlooking the pool.
The tasting room at Seven Birches is open daily in the afternoon and evening. We opted for a flight of five different wines, and a plate of local chocolate. Surprisingly, our favorite wine was the blueberry, which reminded us of a very sweet port wine. We bought a bottle to take home as a souvenir of course — it was so delicious!
There is also an on-site restaurant on the first floor that we didn't have time to check out. La Vista Italian Cuisine features wood-fired pizza, pasta, steak, and seafood, and is open year-round for breakfast and dinner and seasonally for lunch. So, between the pool, the wine, and the Italian food, you could certainly have a great little getaway without even leaving the resort, and I haven't even mentioned the spa, fitness center, or game room yet.
RiverWalk Suites Give You Plenty of Room to Spread Out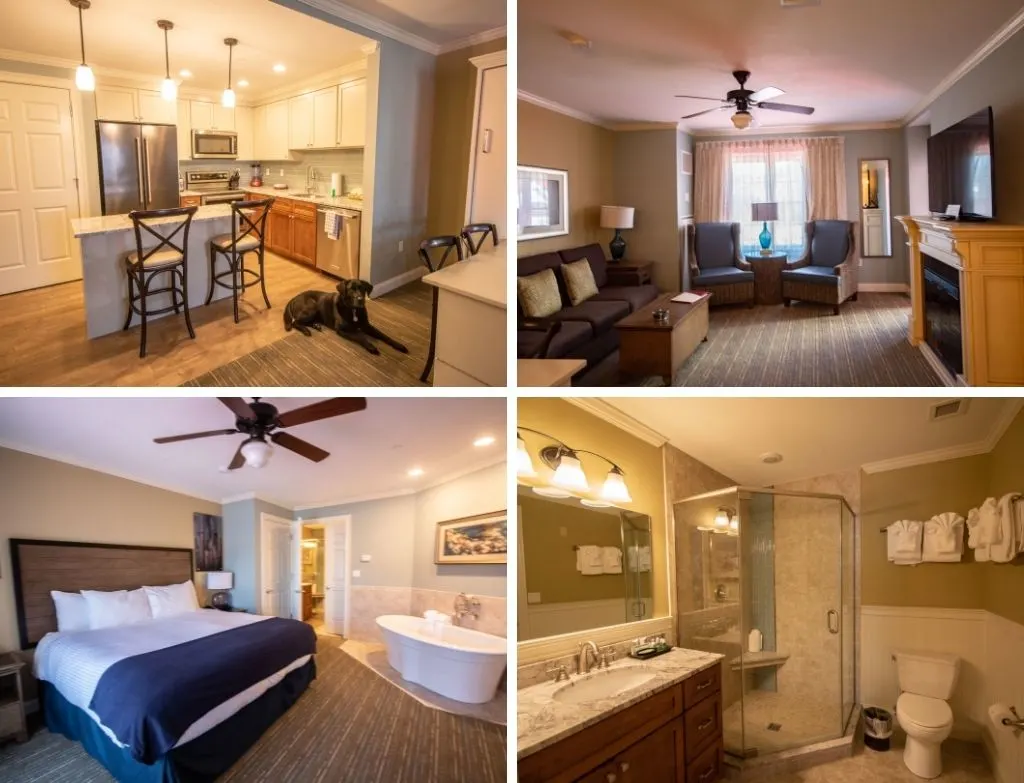 No matter how big or small your family, RiverWalk at Loon Mountain gives you plenty of room to relax and find your own space. Our one-bedroom suite came with a full kitchen and dining area, a living room with a fireplace, and a bedroom with its own soaking tub. Because I had to spend time working during our New Hampshire getaway, I really appreciated the separate bedroom.
We slept in an incredibly comfortable king-size bed with luxurious linens and extra pillows (very important). Families can also utilize the queen-size pullout sofa. Each suite comes with a private balcony, and even though ours overlooked the parking area, we still were treated to a fabulous sunset and nice mountain views.
In addition to the one-bedroom suites, RiverWalk Resort offers studio suites, two bedroom suites, executive suites (with three bedrooms and an office), one and two-bedroom presidential suites (for large gatherings), and finally, the luxurious three-bedroom penthouse suite, which sleeps 12 people comfortably.
RiverWalk Resort at Loon Mountain is Dog-Friendly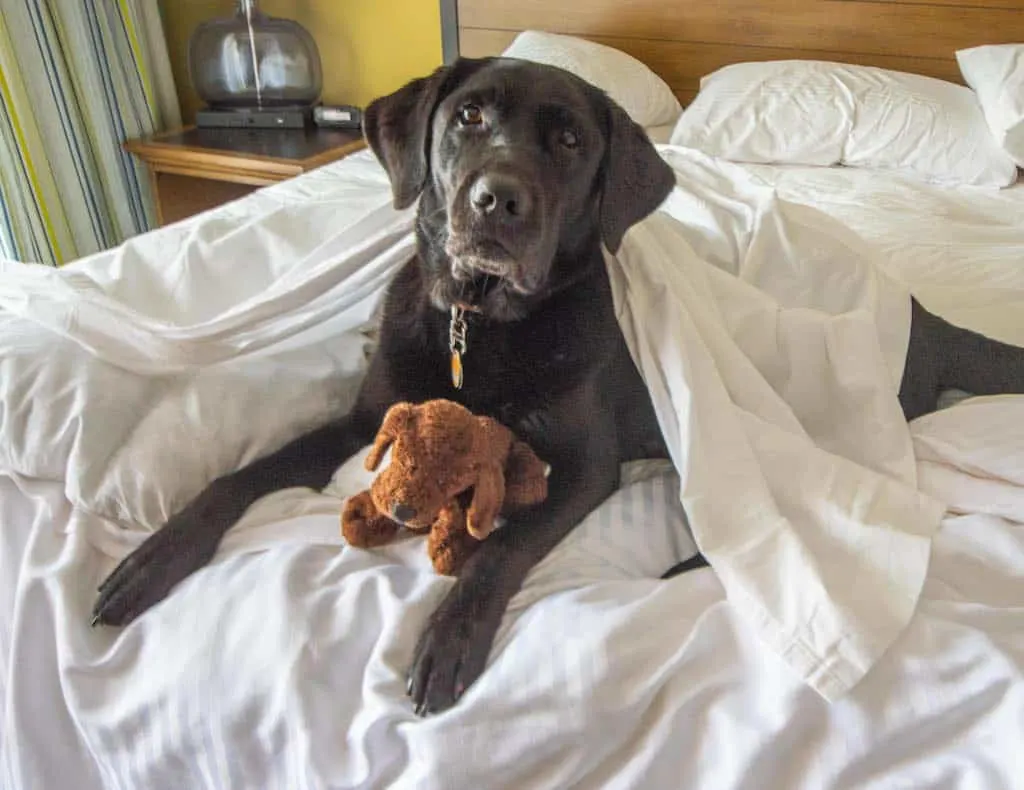 We almost always travel with our dog, Flynn. He is a retired guide dog and much happier going where we go. When inquiring about our stay at RiverWalk Resort, we were very excited to learn that they are dog-friendly, and while they don't allow dogs in every room, they definitely make accommodations if you want to bring your pup along.
All of the staff that we met were happy to interact with Flynn, and he's a lab, so he takes greeting people very seriously. Dogs are permitted inside the resort and on the grounds, plus there are some great walking trails behind the resort. Dogs are not permitted in the restaurant, winery, spa, or pool area.
A Few More Awesome Things About RiverWalk at Loon Mountain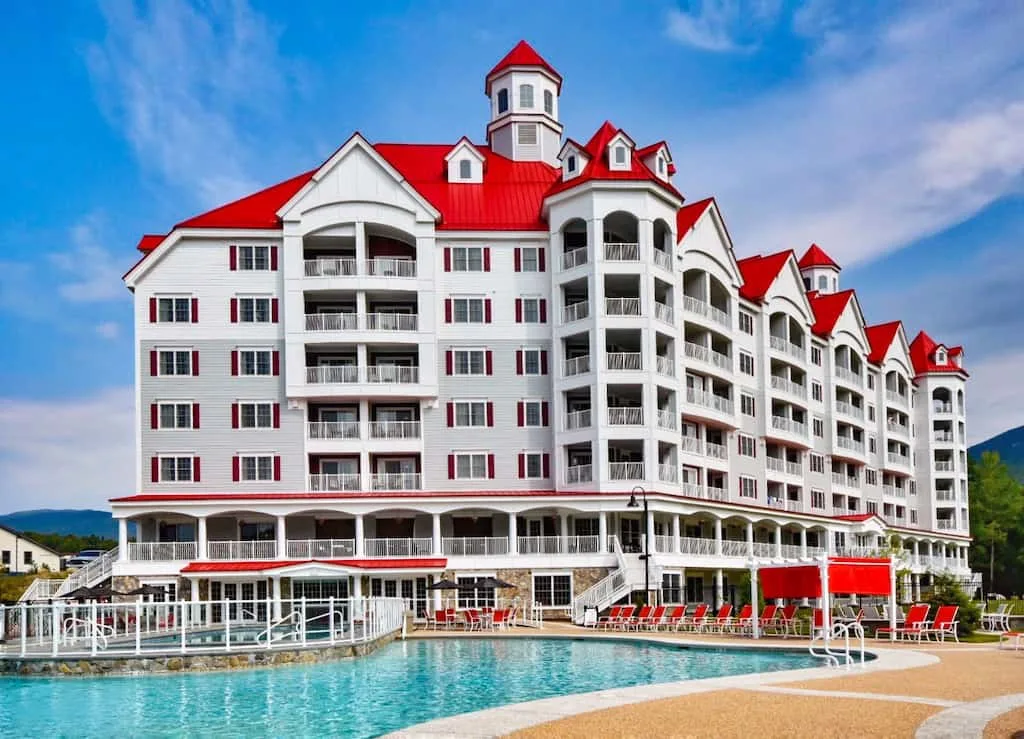 In addition to the awesome amenities we've waxed on about, RiverWalk Resort at Loon Mountain also has some extras that we didn't have time to check out. These include:
A game room with a pool table and arcade games
A fitness center
The Solstice North Day Spa
Tesla charging stations
Backyard campfires
Special events and programs for families
RiverWalk Resort at Loon Mountain makes a great home base for anyone exploring Lincoln, the Kancamagus Highway, Franconia Notch State Park, or the Western White Mountains.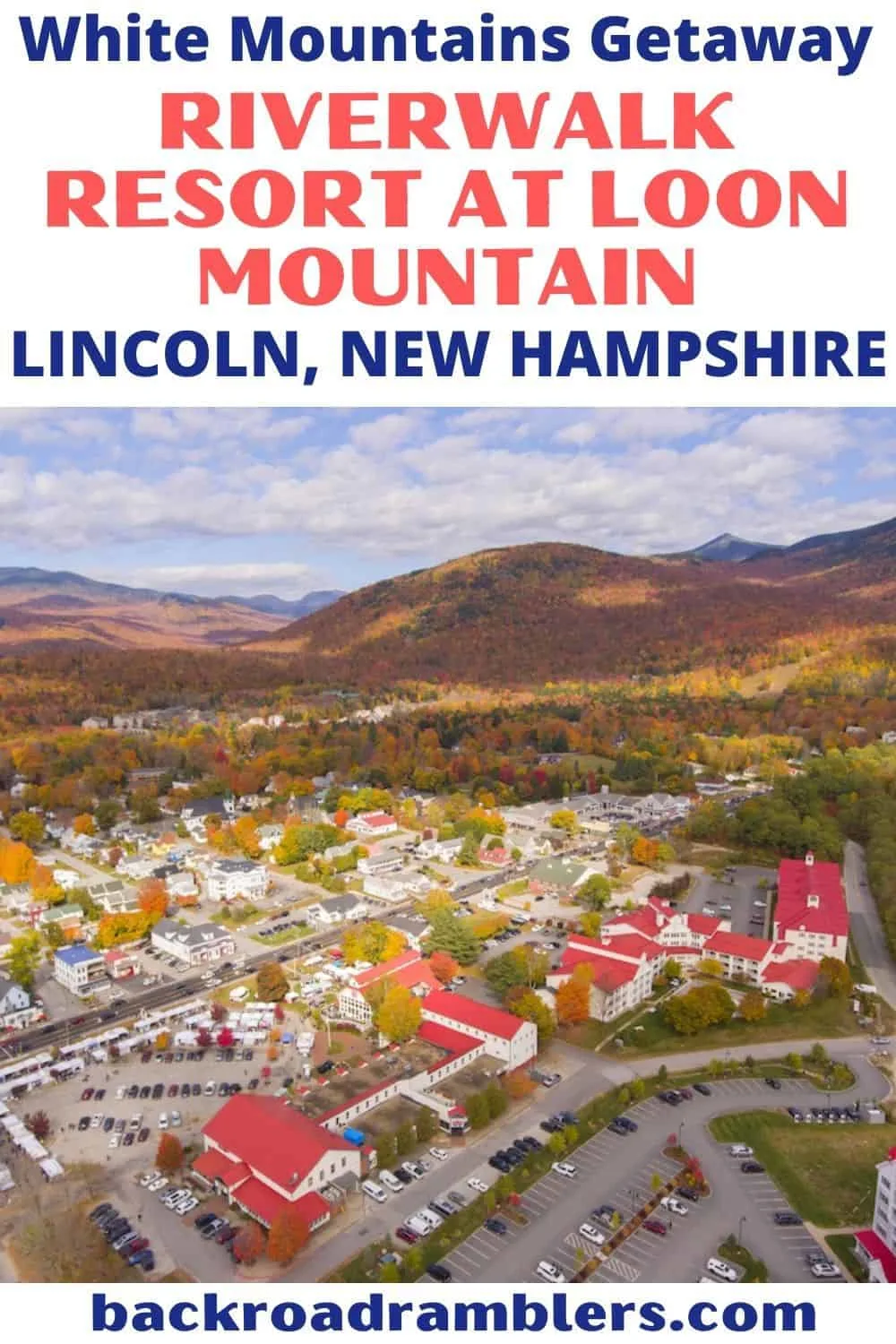 ---
Want to learn more about RiverWalk Resort at Loon Mountain? Read reviews and find awesome deals on Trip Advisor before booking your stay, and don't forget to read more about adventuring in New Hampshire! Check out these posts next:
---
Please note: Were were hosted guests of RiverWalk Resort. All opinions are entirely our own.