If you're searching for an all-in-one tool that will let you discover amazing places, plan itineraries, and add them all to a map that you can access en route or share with your friends, then the Roadtrippers app is worth downloading ASAP.
Of all the tools we use for road-trip planning, the one we use most is Roadtrippers. Why? Because it's a comprehensive database of popular and unusual sites and road trip ideas, not to mention great spots to eat and spend the night.
Roadtrippers is equally useful for the plan-every-minute folks and the never-plan-a-thing folks. We've got both in our family so I speak from experience. With the Roadtrippers app, the only danger is getting sucked into their addictive platform and planning more trips than you can realistically take.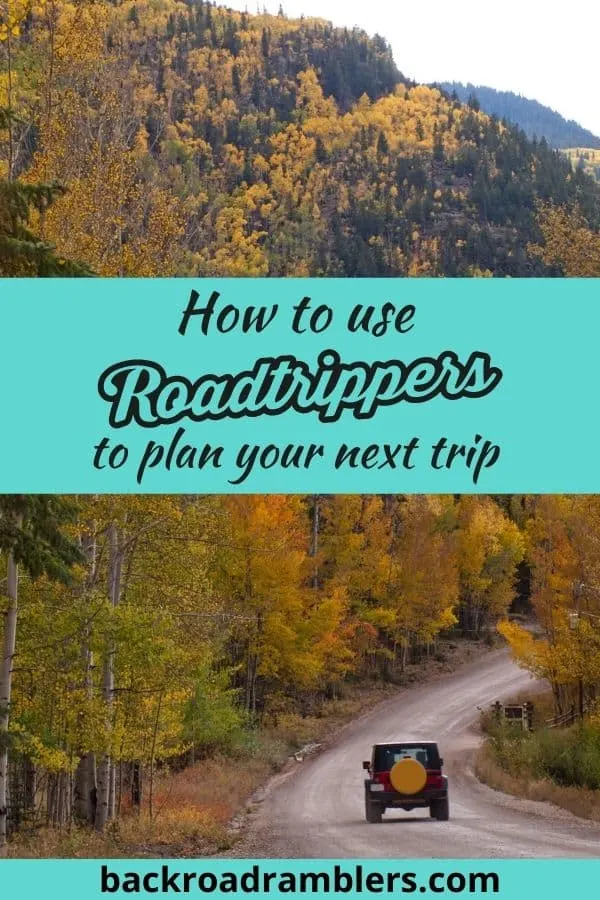 Ready to Plan your Next Awesome Adventure on Roadtrippers?
The first thing you need to do visit the Roadtrippers website and sign up for an account. From there, you can download the app to use it on the go. While the Roadtrippers app is free to download, the free version does have some limitations. When planning a road trip using the free Roadtrippers app, you can only add five stops to your itinerary. I don't know about you, but that's a day-trip.
I'll admit that I didn't last an hour with the free version. The premium version of the Roadtrippers app lets you add up to 150 stops on your trip, plus you won't have to deal with ads, you can download a variety of offline maps, and check traffic conditions while on the road. The cost to use Roadtrippers Plus is just $6.99 per month or $29.99 per year (the best value).
For even more savings, use my awesome referral link and the code BTR5QTP for $5 off. This will earn me $5 as well, which I'll obviously use to take more road trips.
The Most Amazing Features on the Roadtrippers App
The most important – find amazing stops for your next road trip based on your interests and location
Read and post reviews for road-trip stops, attractions, restaurants, and hotels
Plan your route based on the stops you want to visit
Estimate mileage and the cost of gas for your trip
Navigate between stops using Roadtripper's navigation feature
Read road trip guides and itineraries that others have created
How to Use Roadtrippers During the Planning Stages
It starts harmlessly enough. Someone tells me about a cool restaurant, hotel, or attraction and I do a simple search on Roadtrippers using the 'find stops along my route' feature. Before I know what's happened, I've got a full four-day road trip itinerary with stops to see the world's largest marble museum, a Japanese garden, and a Finnish castle. This is the most delightful problem with planning a trip on Roadtrippers.
Here's how to design your road trip itinerary, whether it's loosey-goosey or to-the-minute detailed.
First, visit Roadtrippers.com to create an account and download the app. Choose the free app if you're planning a short trip with under five stops, or if you just want to try it out before upgrading. If you want to plan a more detailed trip, upgrade to Roadtrippers Pro for $29.99 per year (use promo code BTR5QTP for $5 off).
Open the app on your phone and give permission for Roadtrippers to access your location.
Tap 'Nearby' from the menu at the bottom of the screen.
Tap 'Start a New Trip'.
Add a starting and finishing location in the location fields.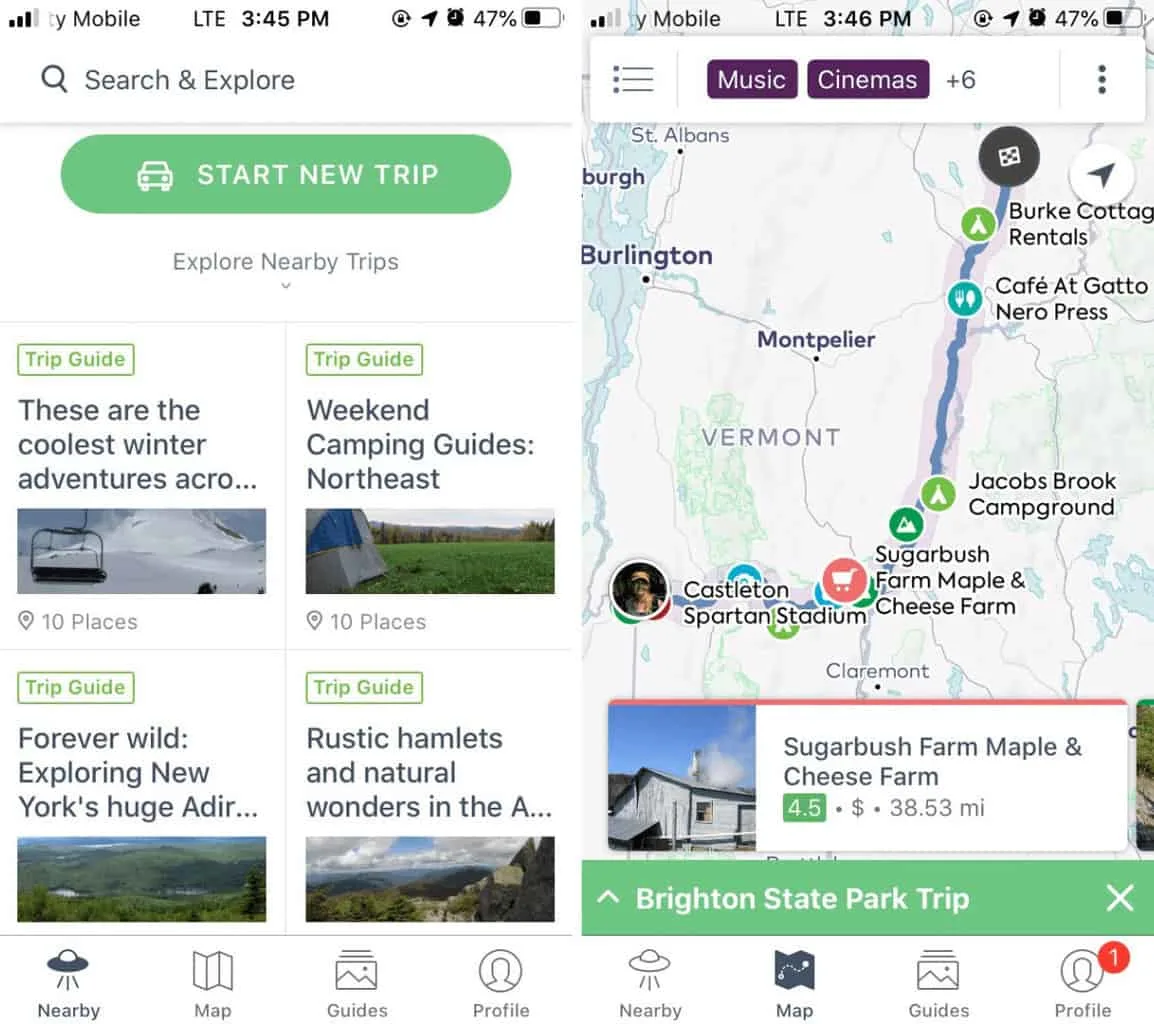 Now you can search along your route for things to do and see. You can choose from the following categories: Hotels, Things to Do, Food & Drink, Camping & RV, Outdoors, Points of Interest, and Amusement & Nightlife. Each of these categories can be further categorized into more specific options.
Zoom in for a closer look at your map and click on anything that catches your interest along your route.
If you find a stop that you want to add to your itinerary, tap 'Add to Trip'.
At any point, you can tap on the name of your trip, which will be highlighted in green on the bottom of the screen. This will bring up your itinerary.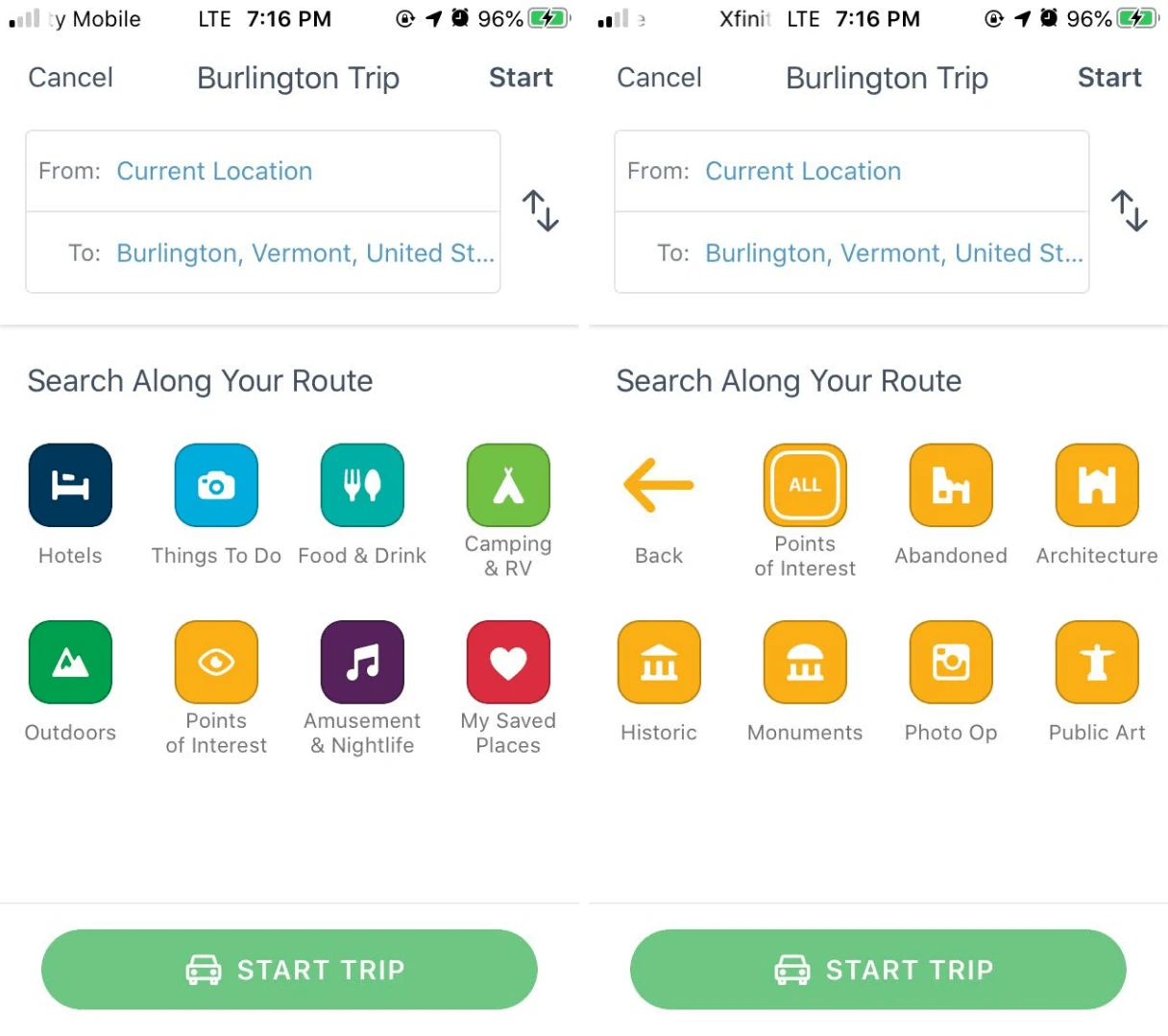 If you tap on individual stops, a window will pop up allowing you to see the details of the attractions, set a date to visit, add notes, or remove the attraction from your itinerary.
Want to visit somewhere that doesn't show up in a Roadtrippers search? Perhaps a friend's house, an Airbnb stay, or an obscure trailhead? Simply tap the search bar and type in the address, and then add it to your itinerary by tapping 'Add to Trip'.
Roadtrippers will automatically sort the places that you want to stop in the most logical order. You can view your trip on the map by tapping 'Map' and zooming in or out.
Tap the name of the trip to see a list of your itinerary.
Tap 'Guide' at the top of the screen to see a more detailed overview of the places you are planning on visiting.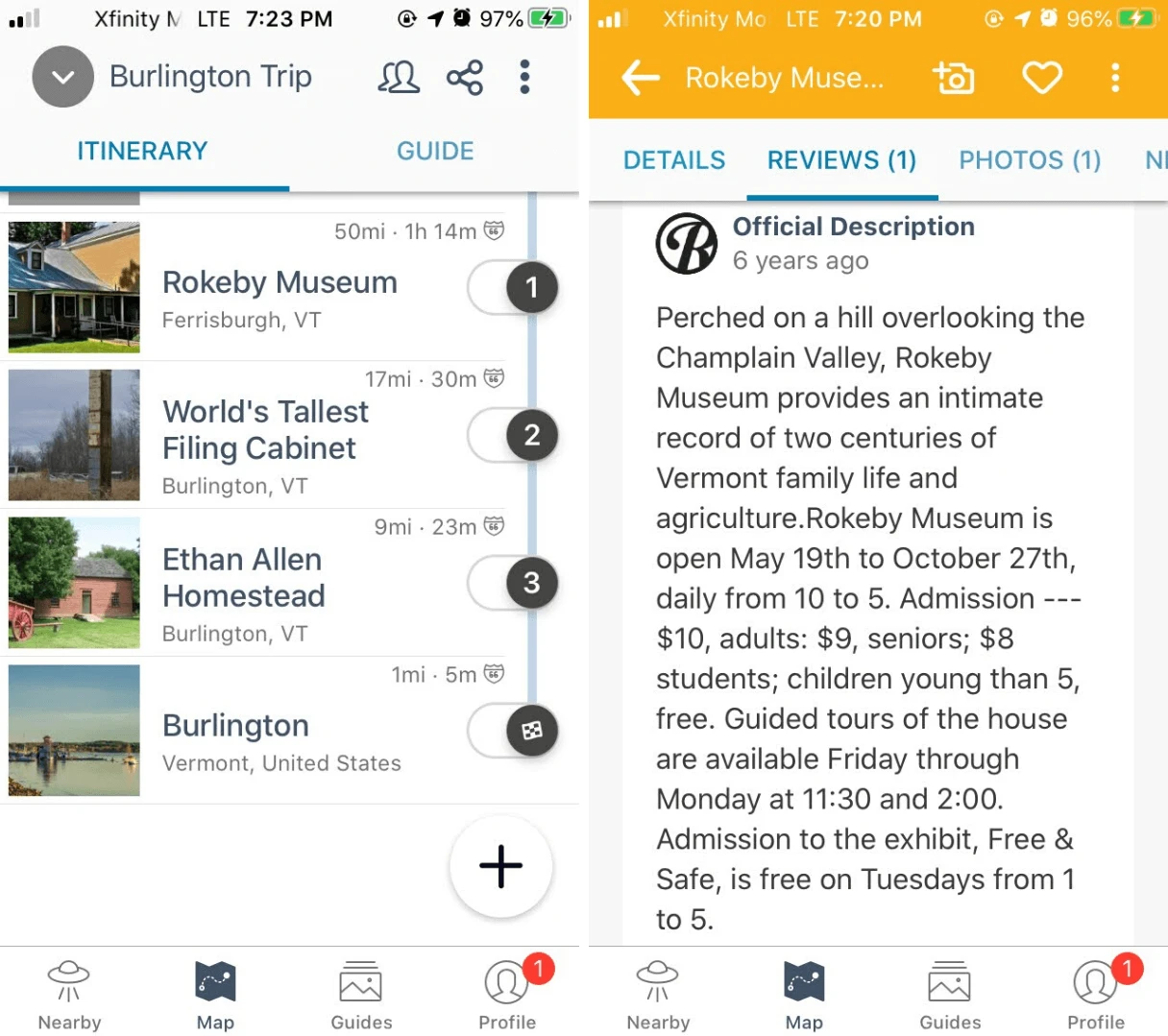 When you are finished creating your trip, you can invite others on the trip or share it with your contacts by tapping the share buttons in the top right corner of the screen.
Tap the three dots in the upper right corner to pull up an additional menu. With it, you can delete your trip, save it as a PDF, reverse it, and more.
At any point, you can tap on your profile to see all the trips you've created.
How to Use Roadtrippers When You're Traveling
Ready to hit the road? You can use the Roadtrippers app as a navigational tool while you're traveling. Once you have a trip planned, follow these steps to get where you want to go. And even if you don't have a planned itinerary, you can always open the Roadtrippers app to find things to do, plus places to eat and stay wherever you are in the United States.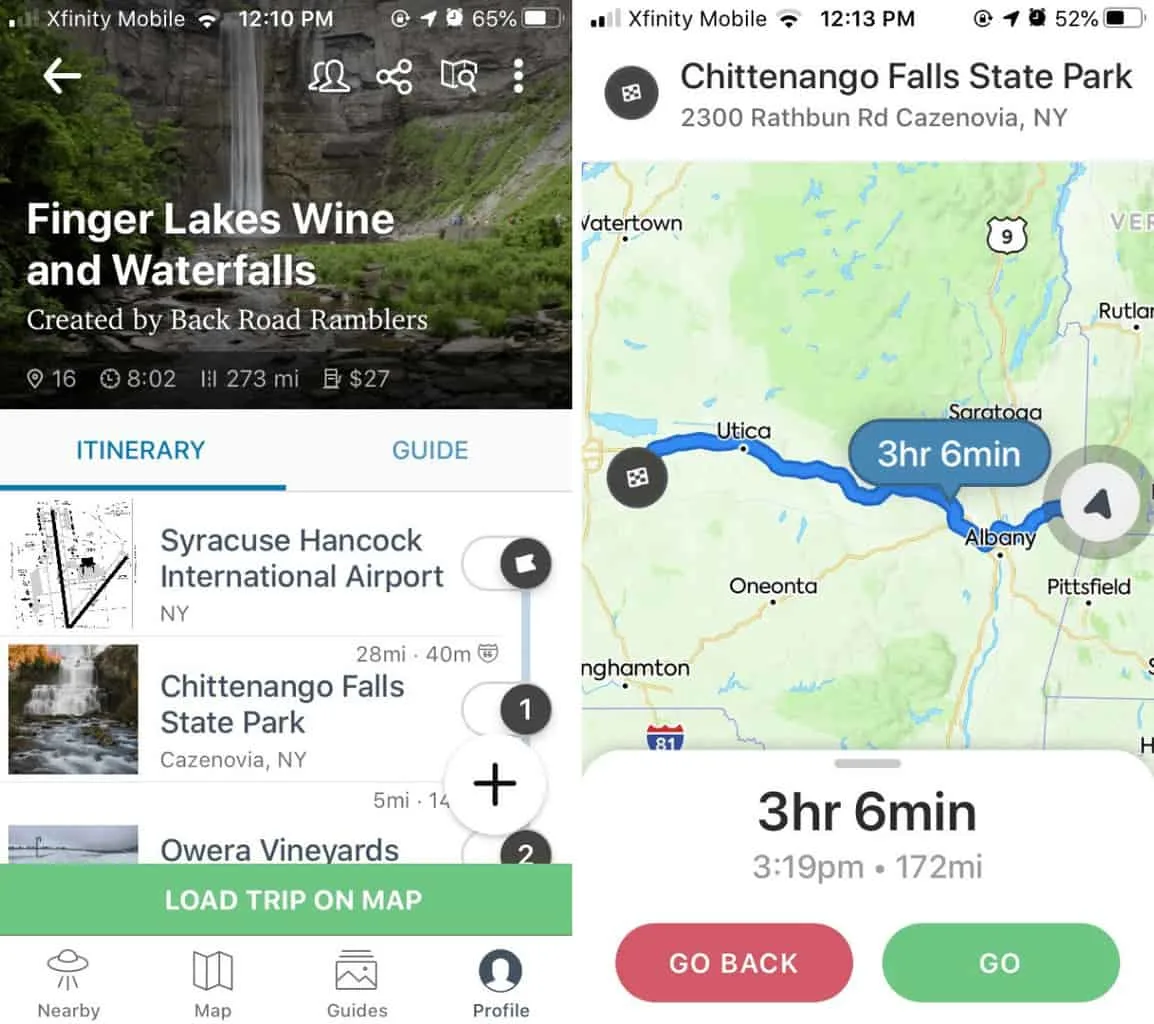 Open the Roadtrippers app on your phone.
Tap 'Profile' in the bottom right corner of the screen.
Scroll through your trips and choose the one you're embarking on.
Tap 'Load Trip on Map' to open up your numbered itinerary on the map.
Click the starting point for your trip, which will appear at the bottom of the screen.
Tap 'Navigate' to load the step-by-step directions to your first stop.
Continue to visit, add, or remove stops to your road trip as you are traveling.
As you complete a stop, you can leave reviews to remind yourself and others how your visit was.
There are several apps that we deem essential for road tripping, but Roadtrippers is definitely the one we use the most. We wouldn't travel without it!
---
Want to read more about planning your next awesome road trip? Check out these posts!
---
Our Favorite Resources for Road Trips and Outdoor Adventures

These are the resources we use to plan road trips, save money while traveling, and shop for outdoor gear.

Car Rentals: While we use our own car most often for road trips, we also enjoy flying into major airports and then renting a car for more regional road trips. We use Kayak to compare prices and find deals from dozens of car rental agencies at once.

Flights: We use Kayak to search out flight deals.
Money-saving tip: If you find yourself using the same airline repeatedly (we are huge Southwest fans), consider joining their loyalty program and getting an airline credit card. With our Southwest Rewards Visa, we earn a few free flights each year.

Hotels: When it comes to lodging, we seek out small boutique hotels or quirky roadside motels. First, we search for hotels on TripAdvisor so we can read reviews from other travelers. Then, we use Booking.com to make reservations (they have the best prices, plus a flexible cancelation policy).

Camping: Camping is one of our favorite things to do on long road trips. It allows us to explore the outdoors, cook our own food, and save money. We use They Dyrt Pro to find campsites and read reviews before booking on Recreation.gov or state park websites.

Glamping and Vacation Rentals: For weekend getaways and shorter vacations, we love glamping (check out our glamping resource guide). We book glamping properties through Tentrr, Hipcamp, and Airbnb. For cabins and vacation rentals, we like to use VRBO (they have fewer fees and a better cancelation policy than Airbnb).

Guides and Maps: If we are visiting a new region, we usually invest in a Moon Travel Guide for the area. We pass them on to friends and family after our trip. If we are planning on hiking, we also purchase a Falcon guide in the Best Easy Day Hikes series.

Outdoor Gear: We are REI Co-Op members. It cost us $20 for a lifetime membership, but we get a yearly dividend based on our purchases, plus great deals and coupons throughout the year. REI also has a great return policy.

Check out our complete guide for planning a road trip on a budget