Please don't travel until it's safe to do so, and be sure to check with each state/destination for its current COVID-19 guidelines before planning a visit. Also, please note that this post may contain links from which we earn a small commission.
Camping with our kids has always been one of my favorite ways to go on vacation, and over the years, we have done some serious compromising when it comes to our car camping meals. At home, our food is mostly whole-food, often fresh from the garden, and fairly time-consuming to prepare. At camp, our kids want hot dogs on a stick, mac and cheese from a box, and gooey s'mores every single night.
We indulge in these treats occasionally, but it doesn't take long for a crappy camp diet to put a damper on things, even for the kids. Instead, we try to create or source easy car camping recipes that are simple enough for the kids to prepare themselves (I don't want to do ALL the cooking) and yummy enough to feel special (most of the time).
What to Look for When Sourcing Easy Camping Meals
Meals that are nutritiously balanced
Ingredients that are available at most supermarkets
Recipes that use only small amounts of perishable ingredients. For the most part, we stay away from meat, dairy, and leafy greens when camping. Our exceptions are hard cheeses, yogurt, pepperoni, and other dried meats.
Recipes that use one or two pans are easy to clean up.
Our Kitchen is Designed for Easy Car Camping Meals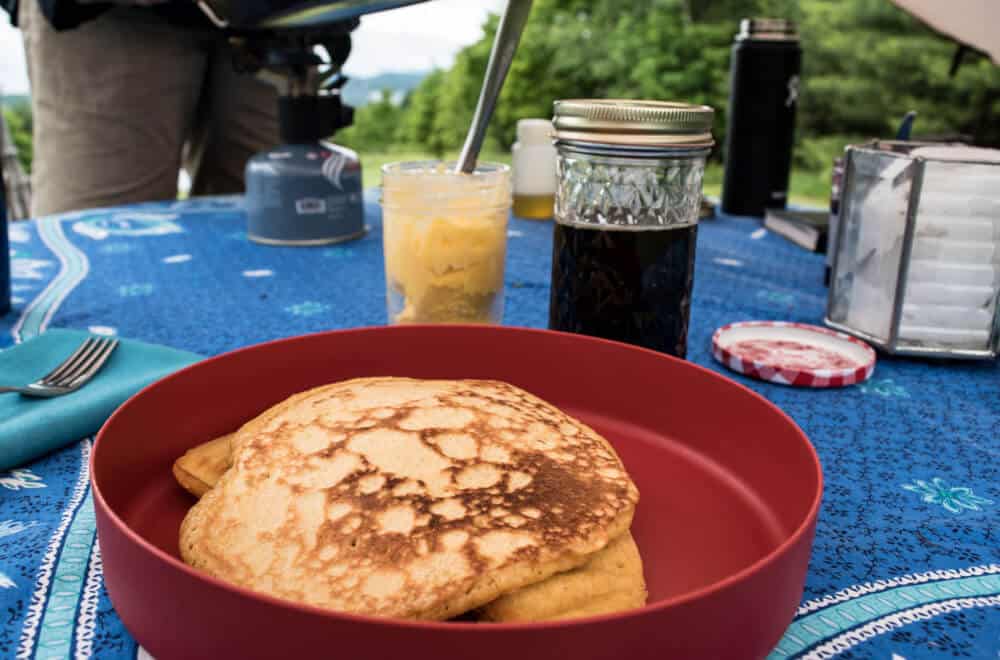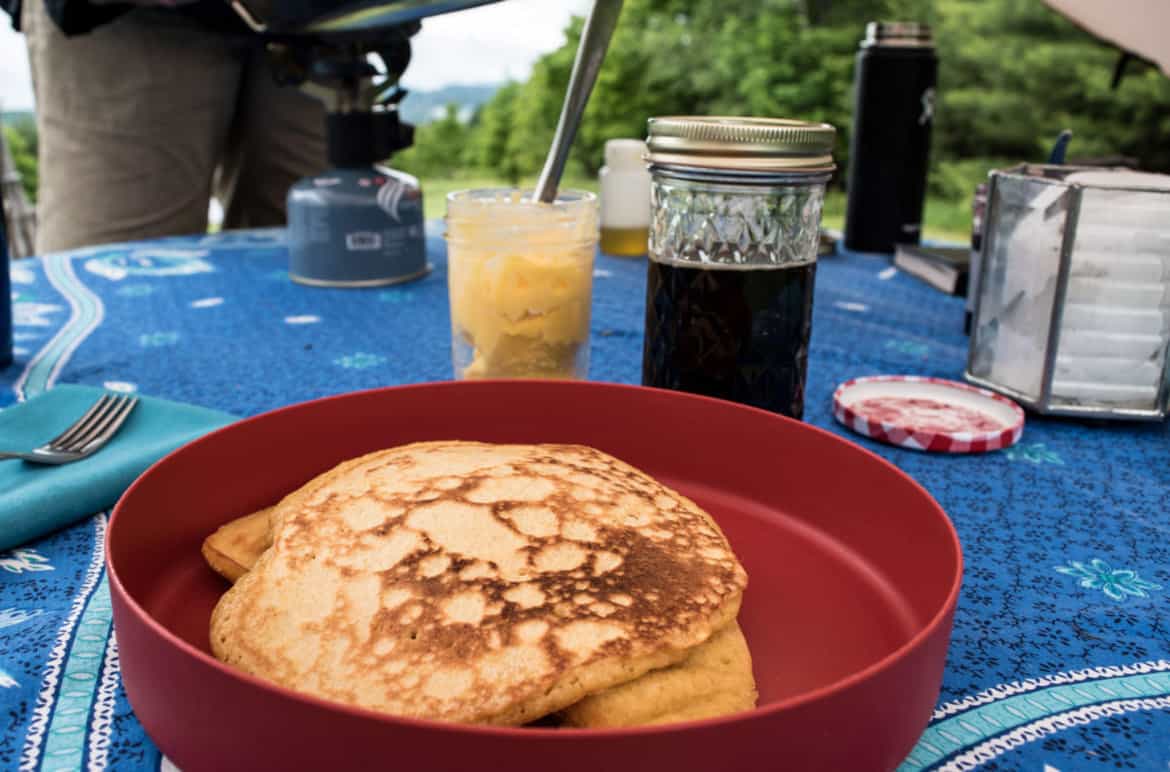 Cooking over an open fire is lots of fun, but if you're camping long-term, it quickly becomes a hassle. We save open-fire cooking for special occasions and generally use a 2-burner propane stove for most meals. Using a propane stove means that you can have morning coffee in a flash, not to mention simple foods like soup and pasta. Totally a life saver!
Our car camping kitchen is actually a big duffle bag that holds everything we need for awesome meals on the road. Want to read about how we organize and pack our car camping kitchen? We wrote a post all about it: Your Amazing Car Camping Kitchen
We keep our camping kitchen packed and ready to go, so when the time comes, we just have to add food. Here's a quick overview of what's in our car camping kitchen:
One 4-quart and one 2-quart saucepan with a lid that fits on both – Our all-time favorite set is made by MSR. This is a nesting set with a removable handle. It's lightweight and made for backpacking, but is perfect for car camping too. The lid has a strainer built-in for pasta, which is ingenious. While the price point is higher than cheaper models, I can totally vouch for this set. We've had ours for 6+ years, and it's the set we buy for all the new campers in our family.
A 12-inch fry pan with a removable handle – Our frying pan is 5.9 ounces and light enough to take backpacking. Made by MSR, it nestles perfectly with the saucepans mentioned above. This pan is fantastic for cam pancakes, which everyone needs!
Plates and silverware for everyone in the family – For plates, we love these from MSR because they can hold soup or solids and are easy to clean. They are super light and come in different colors. We don't use sporks or plastic utensils, just regular stainless steel silverware.
Camping mugs – We switch up our camping mugs based on where we're camping and what we're doing. Mostly, we use this one from TOAKS because it's simple and easy to clean, but you can read about some of our other favorite camping mugs too.
A 12-egg plastic carton – There is nothing worse than finding a carton full of broken eggs when camping. Everyone who car camps needs this egg carton. It is guaranteed to be spillproof and leakproof, and it keeps your eggs safe no matter where you venture.
A small plastic cutting board – Plastic cutting boards are available just about everywhere, including your local grocery store. These colorful cutting boards are incredibly lightweight and small. Perfect for camping!
A serrated, folding picnic knife – We LOVE this knife, which is probably our most coveted item when we're out camping or picnicking with friends. It's also our all-time favorite gift for outdoor-loving friends. We take it everywhere and use it for bread and tomatoes.
A chef's knife – Sure we could just steal a knife from our kitchen, but we find it easier to have a dedicated camping knife. This affordable knife from Primus is incredibly light. We've had ours for almost 3 years, and it is still the sharpest knife we own.
A whisk, rubber spatula, wooden spoons, big serving spoons, and a bench scraper – Stolen from our kitchen, but someday I'll buy dedicated camp utensils.
A plastic liquid and dry measuring cup
Fuel for the stove, a lighter, and matches
A roll of tinfoil, plastic Ziploc bags, and grocery bags for clean-up
A cooler – I could go on forever about the pros and cons of different coolers, but the bottom line is that you want a cooler that will hold us and keep your food cold for many days. It's worth paying more for this luxury because who wants to be constantly buying ice? I won't proclaim to be an expert, but I will share our favorite – The Rovr RollR 45. It has the most rugged wheels, and it's 100% worth the price!
---
Do you bring a spice kit with you when you go camping with your family? Our super awesome homemade spice kit comes with us on all of our camping road trips.
---
Now for the Super Easy Camping Meals for Your Family
We don't experiment much when we're on the road. We test car camping meals at home so we don't encounter any surprises. When we're camping, the food has to taste good, but we also just want to fuel our bodies so we can get on with our adventures. Here are our favorite easy camping meals for our family. We use these for just about every road trip or camping adventure.
Easy Camping Meals Dinners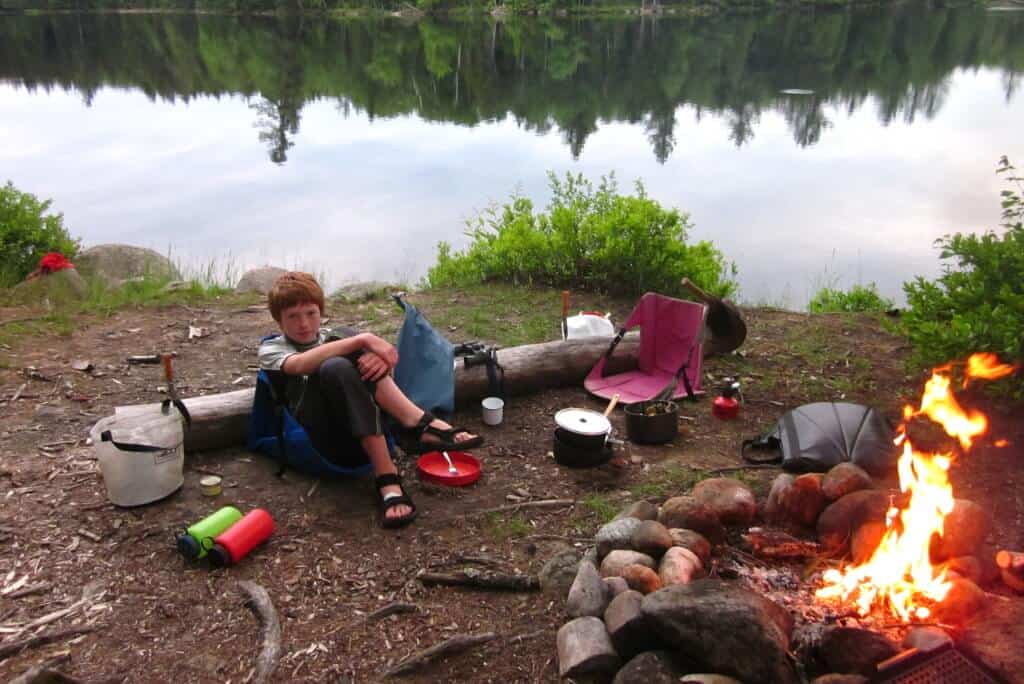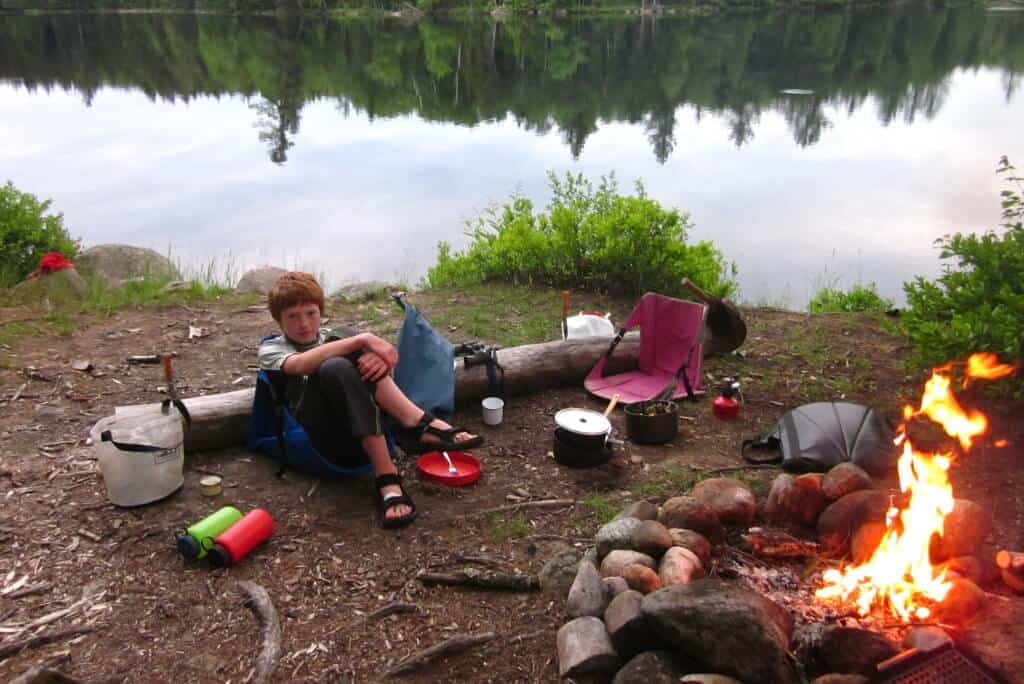 Loaded Baked Potatoes for Camping
Potatoes are the perfect camping staple. They are both easy and filling, and they taste awesome over a campfire. Our kids love having crispy loaded baked potatoes at least once during every camping trip. As a bonus, there's very little clean-up with this one. Here's how to make them.
Make a hot fire and let it burn down to glowing coals. They will take about 45 minutes to cook thoroughly, so give yourself plenty of time.
Wrap big, russet potatoes in foil and place them over the coals.
Chop a head or two of broccoli and mix with some olive oil and salt/pepper. Wrap in foil and add to the fire.
Chop some cheddar cheese into bite-sized pieces. When the potatoes are ready, cut into them on your plate and add the broccoli and cheddar.
If we're using a camp stove instead of an open fire, we make mashed potatoes and stir-fry the broccoli, but it definitely doesn't taste as good as the fire-roasted potatoes.
Spicy Peanut Noodles for Camping
This is our go-to peanut sauce recipe for camping. Make it at home before you leave for your camping trip. You can keep it at room temperature. It is the perfect amount for a pound of pasta. I just thin it out as needed with the pasta cooking water. You can mix the whole thing in a Ziploc bag if you don't want to wash an extra pot. Here's how to make peanut noodles using a regular camping stove.
Get a pot of water boiling in your 4-quart pot to cook the pasta.
In your frying pan, stir-fry either broccoli or snap peas (our favorite when we can find them) in oil
. When the pasta and veggies are cooked, drain the pasta, leaving a bit of the cooking water behind with the noodles.
Add the peanut sauce and the veggies to your pot of pasta.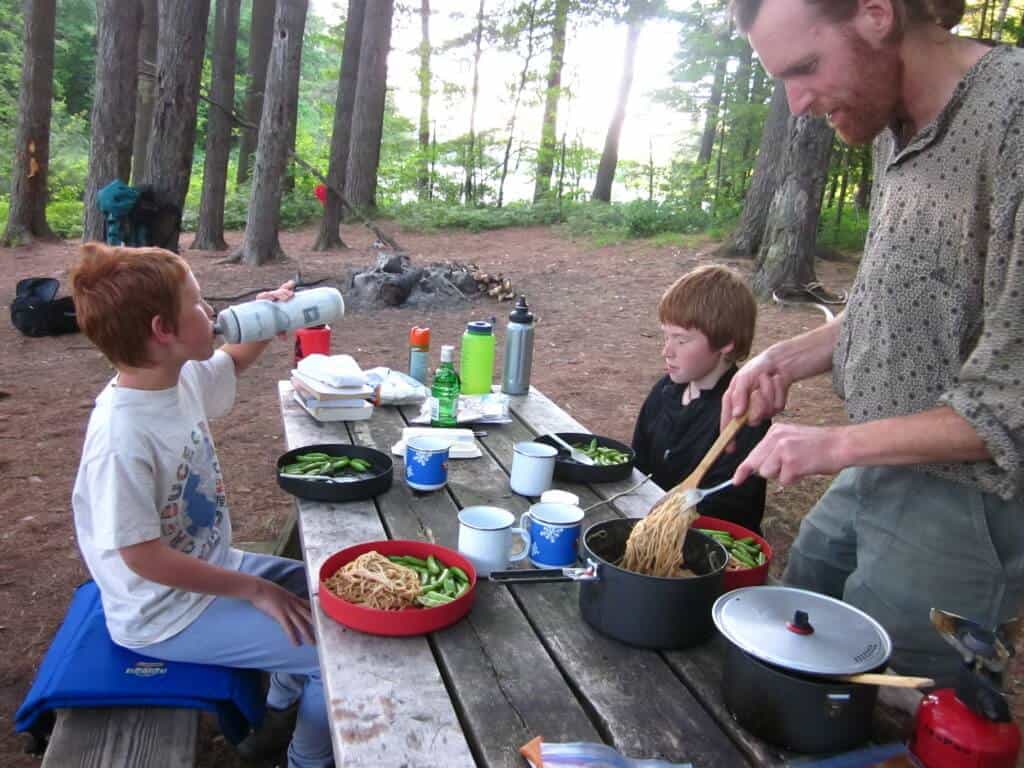 Pizza Quesadillas for Camping
I think if you asked my kids what their favorite camping meal is they would say pizza quesadillas. We make them in a frying pan on our camp stove, but you could probably wrap them in foil and put them over the fire as well. Here's how to make them.
Spread flour tortillas with canned tomato sauce.
Top with grated or chopped cheddar, which keeps better than mozzarella.
Add chopped onions, peppers, and sliced pepperoni.
Fold in half and fry in a bit of olive oil.
Little Quinoa Patties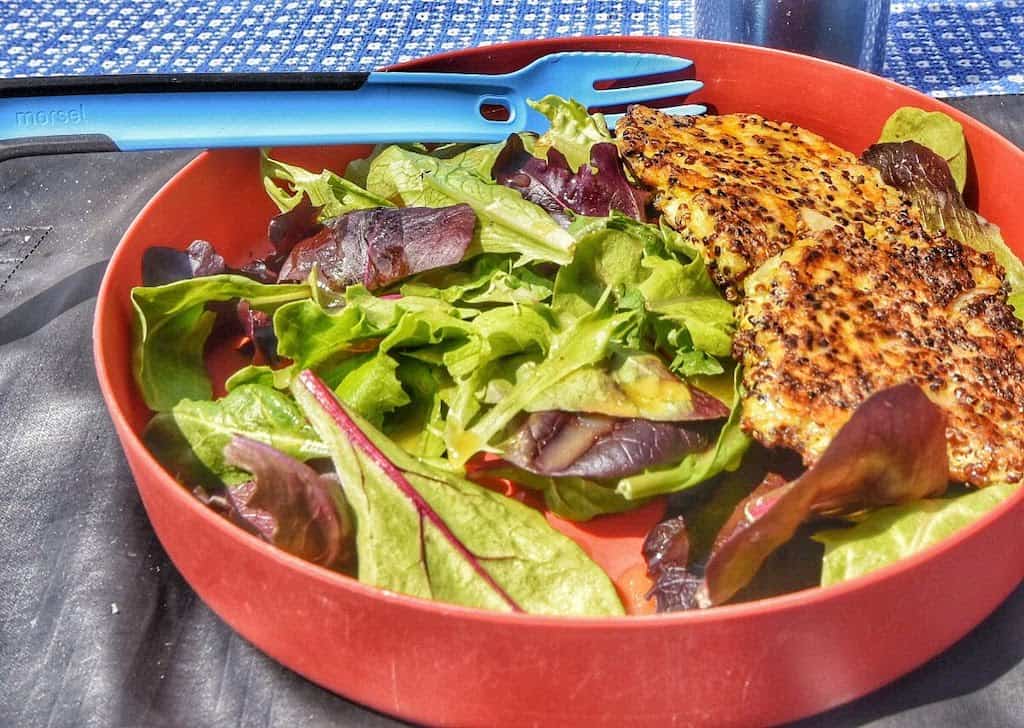 Quinoa is a great grain for camping because it is quite high in protein. These patties do require eggs, which actually keep really well in our camping pantry or cooler. We use this recipe for quinoa patties.
The recipe is really versatile, and in the past, we've omitted the onions, used powdered garlic, and made them with parmesan instead of cheddar. They always come out amazing, especially when served over a salad with honey-mustard dipping sauce.
Portuguese White Bean Soup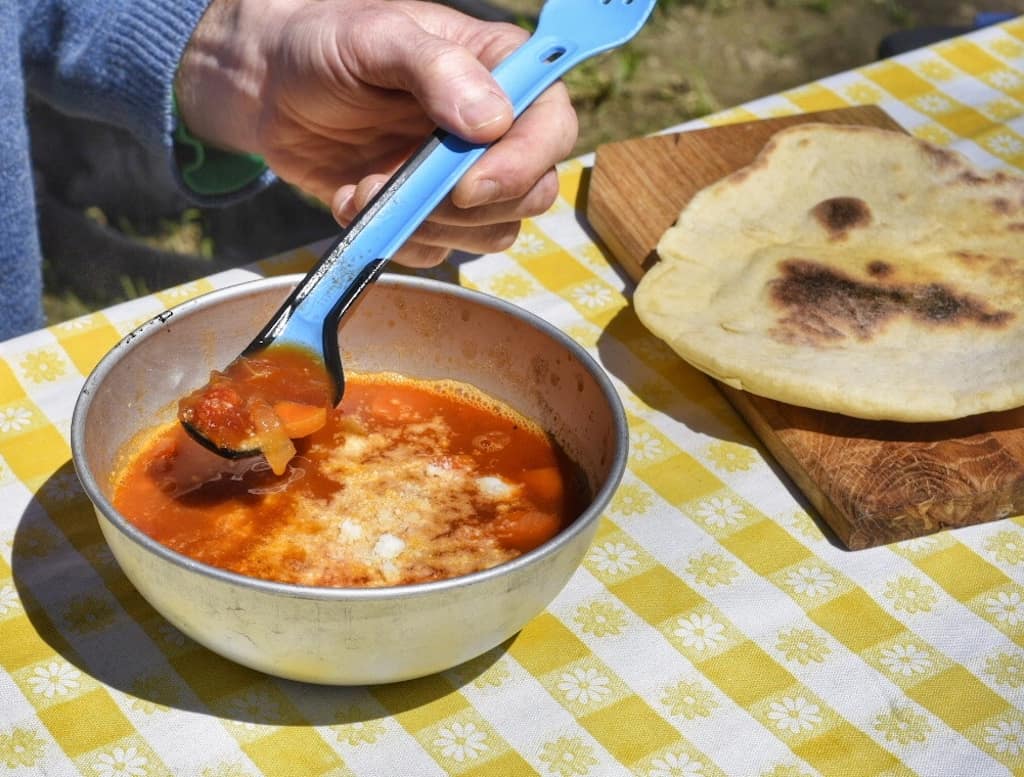 We make some version of this white bean and tomato soup fairly often when we go camping, but of course, we make our own loose version using whatever veggies we have on hand, usually potatoes, carrots, garlic, and onions.
We love using fresh greens when we can, but we only add kale if we've been to the store that day. Otherwise, we either skip the greens, or we forage for wilds like dandelion, violet leaves, or plantain.
This soup is a one-pot camping meal and it's such a versatile recipe that as long as you've got the beans in your camp pantry, you can add whatever else you have on hand and it will still taste delicious.
Panzanella: A No-Cook Camping Meal
At the height of summer (camping season), nothing beats this Panzanella from Smitten Kitchen. I could eat this every day of the week in August. When we're camping, we rarely have tomatoes or fresh basil, but when we do, we NEVER fail to make this recipe.
Panzanella is especially awesome on a camping road trip, after stopping at a side-of-the-road farm stand. Pick up tomatoes, basil, cukes, peppers, and a red onion and whip this colorful salad up to go with burgers over the fire. It's heavenly!
Easy Family Camping Meals for Breakfast
Our camping breakfasts don't change much on the road. We have four standard meals that we love to cook, and for really hot, rainy, or busy days, we make do with PB&Js, granola bars, and fresh fruit. Here are our four basic meals that we rotate throughout the trip.
Camping Oatmeal
Before leaving home, I mix up my own instant oatmeal mix consisting of:
2 cups old-fashioned oats
1/2 cup dried milk powder
1/4 cup brown sugar
1/4 cup coconut flakes
1 tsp. cinnamon
pinch of salt
At home, I whir this in a food processor for just a few seconds so it cooks faster when we're camping. At camp, I add 1/2 cup of whatever dried fruit and nuts I have on hand. I mix our camping oatmeal mix with water in a pot, cook for a few minutes and serve. Easy-peasy.
Camping Pancakes
We're Vermonters, so if we have room, we always have a few jars of real maple syrup on hand. Not only do we use this in coffee and on pancakes, but we've also traded syrup for car repairs in a pinch. Once you're out of the north country, the stuff is in demand! Anyway, pancakes are really versatile. I try to make a fairly nutritious mix before leaving home:
2 cups whole wheat flour
1 cup buckwheat flour,
1 cup almond flour
½ cup of dried milk powder
1 tablespoon baking powder
1 tsp. baking soda
a pinch of salt
If I don't have time to whip up the mix above, I make do with Kodiak High-Protein Pancake Mix, which is the best pancake mix I've ever tried. At camp, we add eggs if we have them (they're not necessary), a tablespoon of oil, and enough water to make a loose batter.
---
If we're feeling adventurous, we like to create some of these incredible pancake variations. We eat them fried and smothered in syrup.
---
Cheesy Egg Quesadillas
Not exactly a camping recipe, but these egg quesadillas are so good after a night under the stars! Scramble a bunch of eggs, add chopped cheese and salsa. Fry in a pan and serve on tortillas. One of the easiest and most delicious meals going. It's a great pre-hike meal because it keeps you full for a long time and it provides you with extra protein.
Yogurt and Granola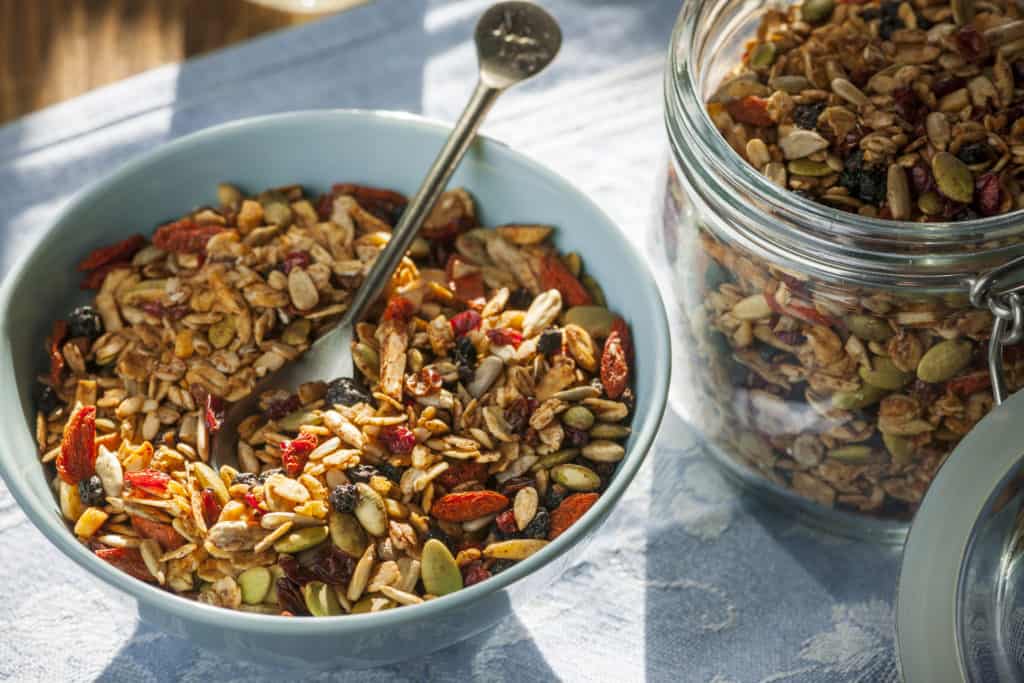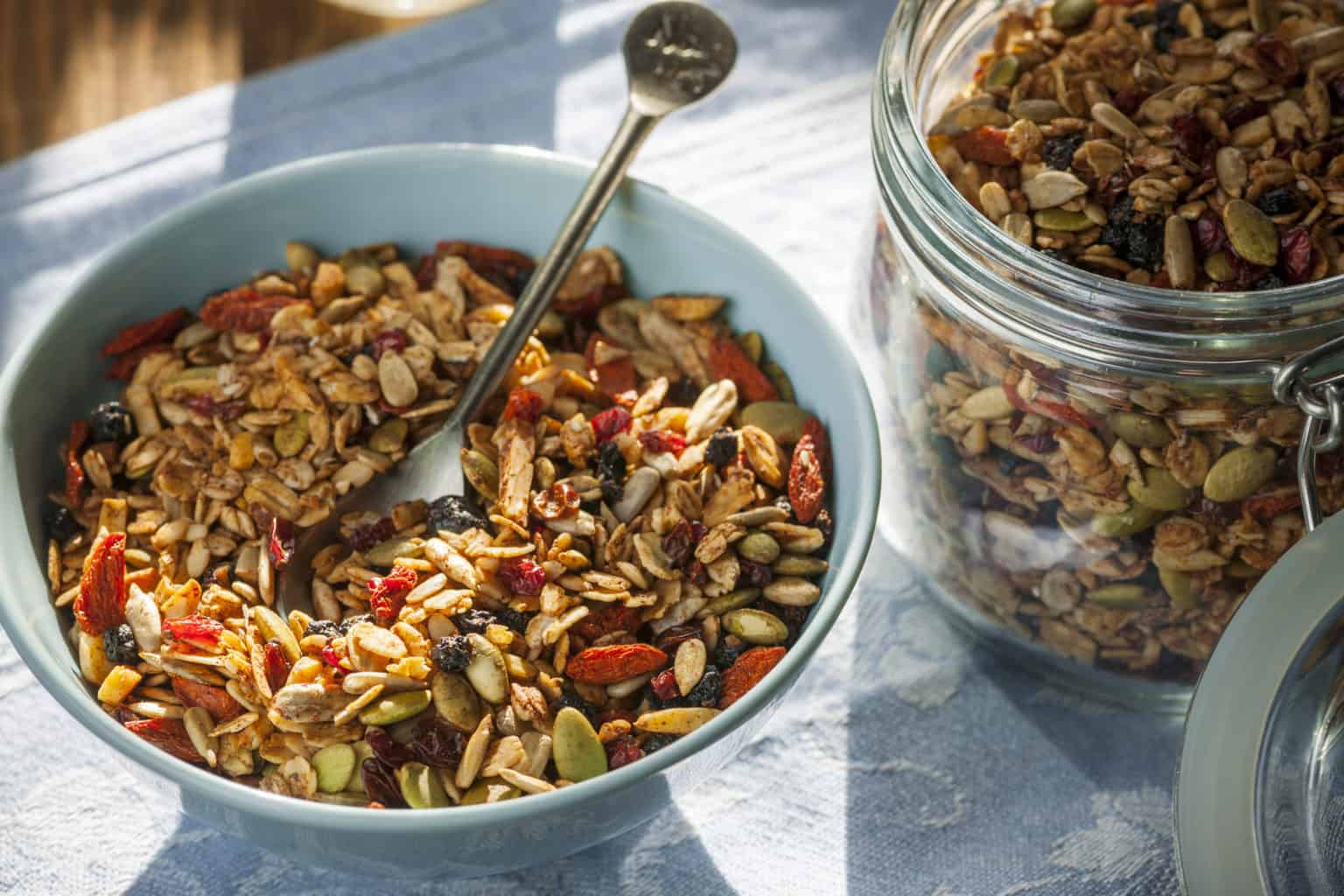 Again, not exactly a camping recipe, but one of our favorite quick meals in the morning is yogurt and granola. For the most part, we try to stay away from dairy products while traveling, but a quart of yogurt will keep in a cooler without ice for several days as long as nobody eats from the container (then it spoils quickly). We make granola before the trip or buy it on the road.
---
So there you have it, our easy camping meals for the family – the recipes we use over and over again when we don't have time to experiment. Lunch and desserts are usually fend-for-yourself affairs, but we try to keep a well-stocked pantry (plastic storage bin) with munchy-type foods, bread, jam, and peanut butter. We shop every few days when we're traveling and less-frequently if we're staying put in a campground.
---
Want to read more about how we prepare car camping meals? Check out these posts:
---
Our Favorite Resources for Road Trips and Outdoor Adventures
Here are our favorite resources for planning road trips, saving money while traveling, and outdoor gear.
Car Rentals:
While we use our own car most often for road trips, we also enjoy flying into major airports and then renting a car for more regional road trips. We use
Kayak
to compare prices and find deals from dozens of car rental agencies at once.
Flights:
We use
Kayak
or
Skyscanner
to search out flight deals. Money-saving tip: If you find yourself using the same airline over and over again (we are huge
Southwest
fans), consider joining their loyalty program and getting an airline credit card. With our Southwest Rewards Visa, we earn a few free flights each year.
Hotels:
When it comes to lodging, we seek out small boutique hotels or quirky roadside motels. First, we search for hotels on
TripAdvisor
so we can read reviews from other travelers. Then, we use
Booking.com
to make reservations (they have the best prices, plus a flexible cancelation policy).
Camping:
Camping is one of our favorite things to do on long road trips. It allows us to explore the outdoors, cook our own food, and save money. We use
They Dyrt Pro
to find campsites and read reviews before booking on
Recreation.gov
or state park websites.
Glamping and Vacation Rentals:
For weekend getaways and shorter vacations, we love glamping (check out our
glamping resource guide
). We book glamping properties through
Tentrr
,
Hipcamp
, and
Airbnb
. For cabins and vacation rentals, we like to use
VRBO
(they have fewer fees and a better cancelation policy than Airbnb).
Guides and Maps:
If we are visiting a new region, we usually invest in a
Moon Travel Guide
for the area. We pass them on to friends and family after our trip. If we are planning on hiking, we also purchase a
Falcon guide
in the Best Easy Day Hikes series.
Outdoor Gear:
We are
REI Co-Op members.
It cost us $20 for a lifetime membership, but we get a yearly dividend based on our purchases, plus great deals and coupons throughout the year. REI also has a great return policy.
Pin for Later?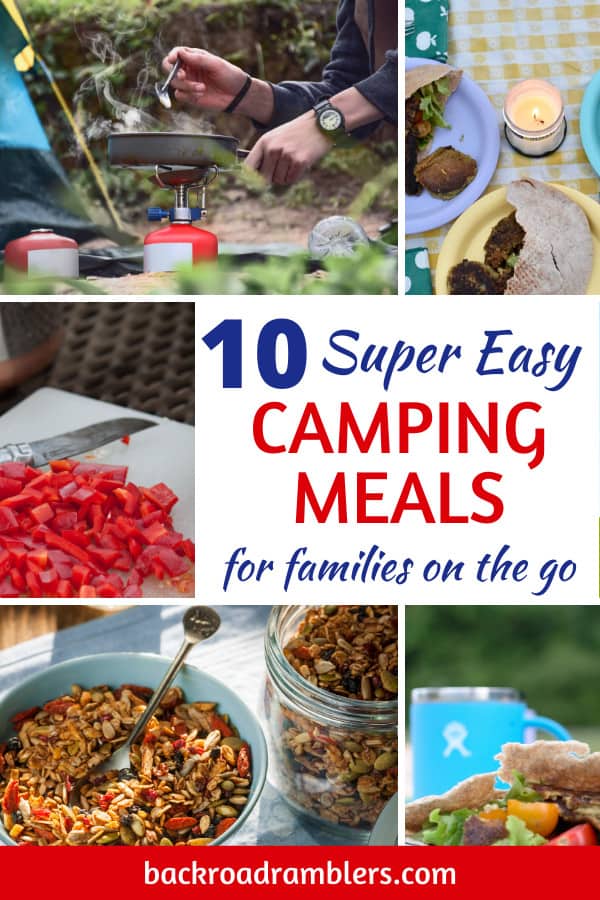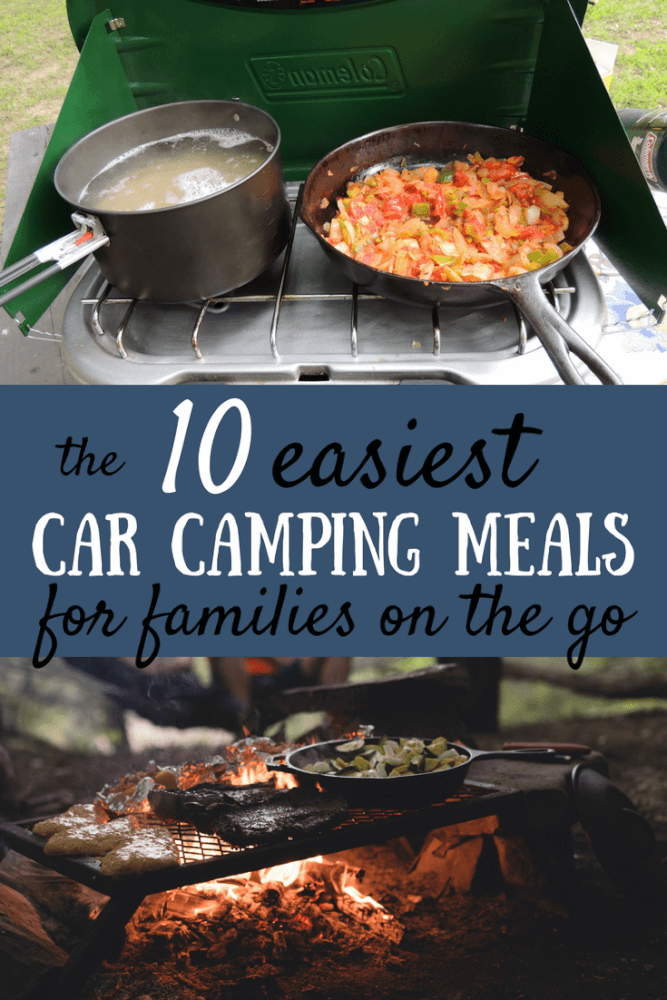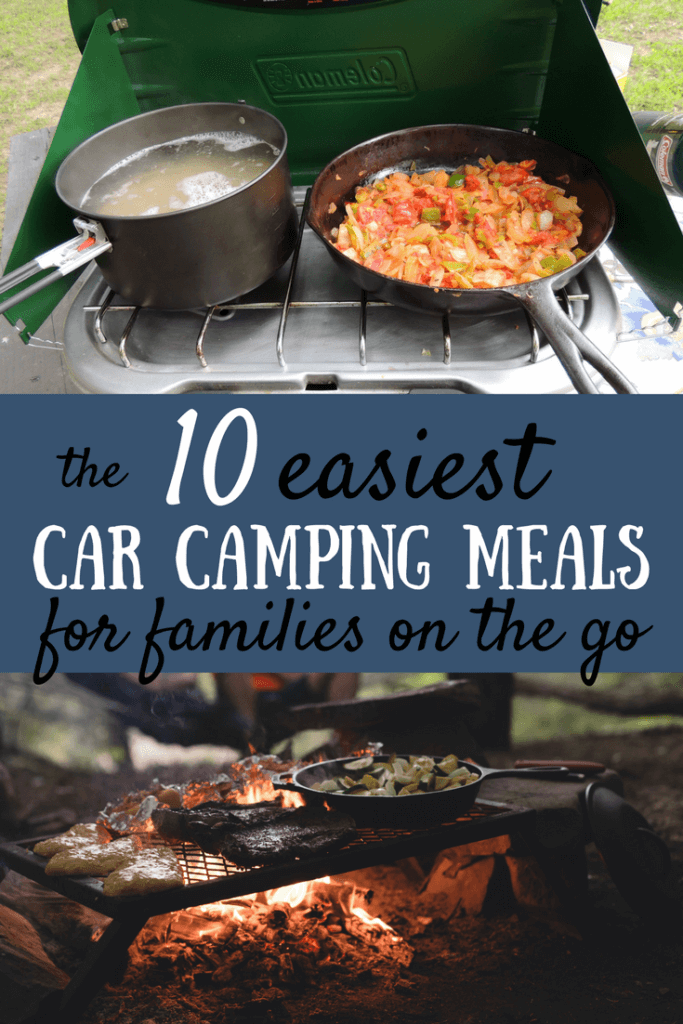 Do you have favorite easy camping meals for your family? We'd love to experiment with new camping meals before our next trip, which is just over the horizon.