Wildflower hikes might just be my favorite way to enjoy spring — they're usually more like meanders and often include a picnic blanket, field guide, and a camera.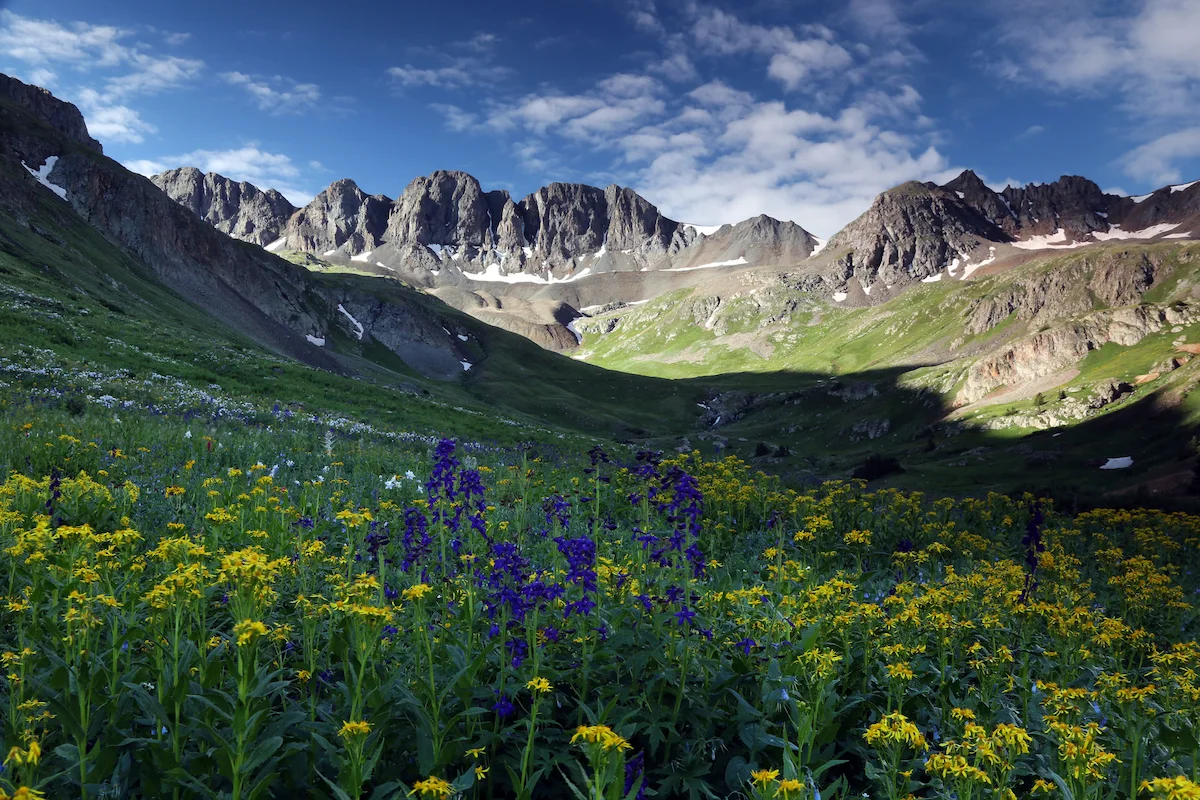 With the memory of winter still hanging in the air, a field full of wildflowers takes on a near-mystical quality. Are you ready to dust off your hiking boots and find the colors of spring?
We've got to make it through March and April before the local wildflowers really get going, but we're well on our way to blue skies, tank tops, bug spray, and meadows full of wildflowers.
Don't want to wait for wildflowers to bloom in your area? If you're willing to travel, you can catch blooming wildflowers between February and September in the United States.
When is the Best Time to See Wildflowers While Hiking?
That's the million-dollar question, isn't it?
The United States consists of vast tracts of wilderness ecosystems, ranging from hot, arid deserts to high alpine meadows.
Each of these ecosystems revolves around its own set of seasonal cycles. In Joshua Tree National Park and the Southwestern United States, it's not uncommon for wildflowers to bloom in February. Head to Mt. Rainier in Washington State, and you'll find wildflowers blooming in late August.
If you primarily hike in your home state, I would advise investing in a wildflower field guide specific to the area where you live.
The National Audubon Society publishes an Eastern Wildflower Guide and a Western Wildflower Guide, so that's a good place to start.
These guides will give you bloom times for common flowers in your region, which is useful if you want to catch a superbloom in California, the Blue Bonnets blooming in Texas, or the colorful lupines in New England.
Tips for finding Wildflower Hikes Near Me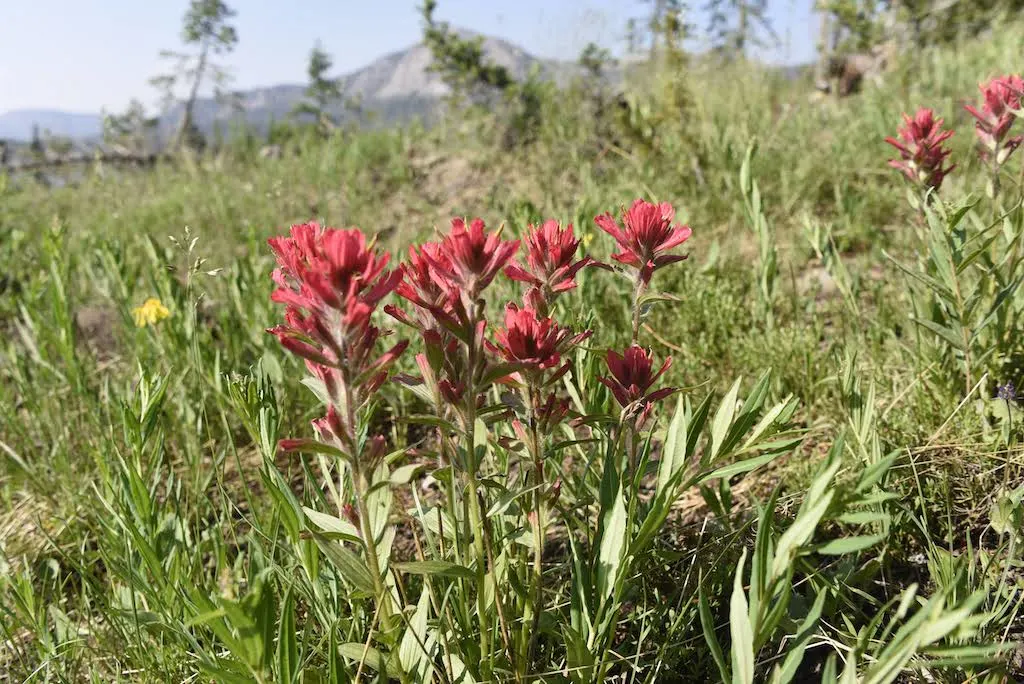 We have a robust list of favorite trails for hiking through wildflowers all over the United States, but this isn't exhaustive.
The truth is that if you spend a lot of time hiking, you're bound to discover your own favorite wildflower trails where you live. Here are a few tips for finding magical wildflower walks in your own region.
Join a local hiking club. In Vermont, the Green Mountain Club is a wealth of resources for hikers of all ages and abilities. There are regions all over the state, and they publish several amazing trail guides that are worth their weight in gold. There are nonprofit organizations like this all over the country, and most of them have their own websites that are chock-full of information for locating trails.

Find a hiking group on Facebook. No matter how you feel about Facebook and its amazing ability to eat up all your time, it's hard to argue with the effectiveness of targeted Facebook groups for crowdsourcing information. We are part of the Hiking in Vermont Facebook group and love asking questions about the best hiking trails in our region. They have almost 24,000 members, all willing to help other hikers get out onto the trails.

Buy a wildflower hiking book for your region. If you can find a book with specific wildflower hikes for your region, consider yourself lucky and buy one ASAP! It's a rare commodity, but we've found wildflower hiking guides for Colorado, Washington State, New Mexico, and North Carolina.

When all else fails, Google saves the day! Sometimes a basic Google search for "best wildflower hikes in [your state]" will result in all kinds of great trails that you didn't know about before. We've found some of our favorite hiking trails using only Google. You may have to weed out results that aren't answering your questions, but Google is getting smarter about figuring out what you are looking for.
Beautiful Wildflower Hikes Across the United States
The following hiking trails feature incredible wildflowers and are easy enough for outdoor-loving kids to tackle. Dogs are allowed on all but two of the trails we've mentioned here, so you can make these fun excursions for the whole family!
Ready to lace up your hiking boots and enjoy some beautiful wildflower displays?
Here are some amazing wildflower hikes to help you plan your next adventure!
Mitchell Lake Trail to Blue Lake: Brainard Lake Recreation Area: Ward, Colorado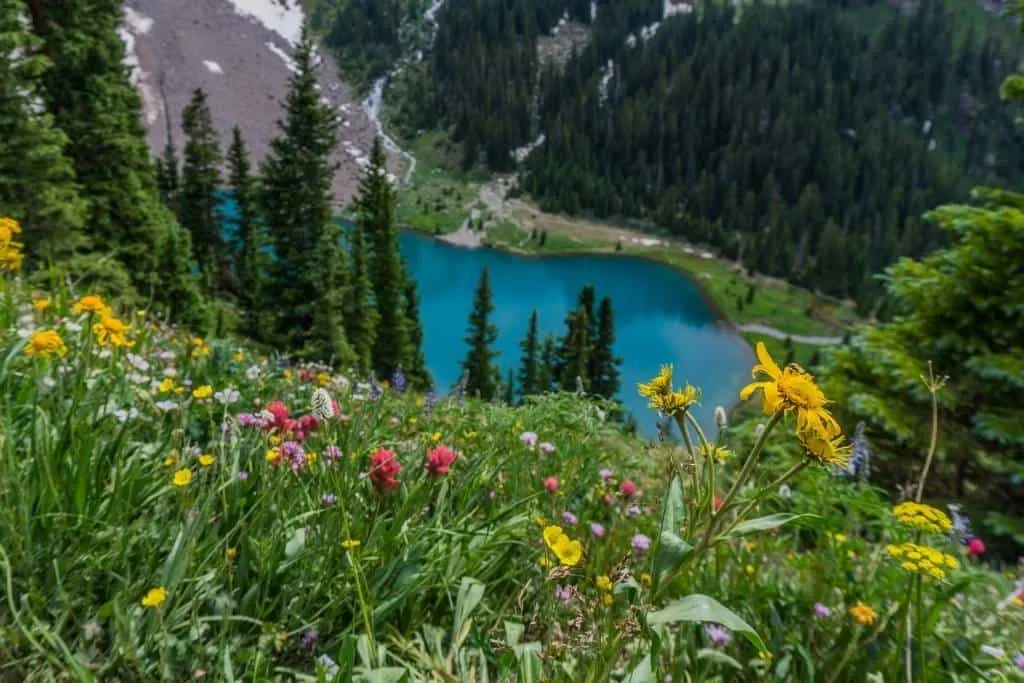 Quick Facts: Mitchell Lake Trail to Blue Lake
Length: 5.1 miles round trip
Difficulty: Moderate
Kids: for sure
Dogs: on leash
Best time to see wildflowers: June – July
This Colorado wildflower hike has a little bit of everything – pristine alpine lakes, meandering streams, towering mountains, and meadows full of wildflowers. It's a good climb to Blue Lake, but easy enough for young and old hikers who are steady on their feet. Native flowers start popping up as soon as the snow melts in these parts, which might not be until July.
Expect to see columbine, Indian paintbrush, blue flax, bistort, and elephant's head along the trail, plus the tiny succulents and alpine plants that are so common above the tree line.
You'll also have spectacular views of Mt. Toll, Mt. Audubon, and Paiute Peak surrounding Blue Lake. The grassy shores of Blue Lake are exactly where you want to have your afternoon picnic, and if you're really brave, you might venture into the lake for a frigid (even in summer) swim.
If there's a downside to Mitchell Lake trail, it's that a lot of folks love to hike it. Start early in the morning during the summer, especially on weekends. Oh, and there's a $10 fee (self-pay) to enter the Brainard Lake Recreation Area. It's well worth it – I promise.
Ready to make it happen? First read this first-hand account of hiking to Blue Lake with Kids from Rocky Mountain Tot, then head over to the US Forest Service for a trail map and guide.
---
Skyline Trail Loop, Mount Rainier National Park: Longmire, Washington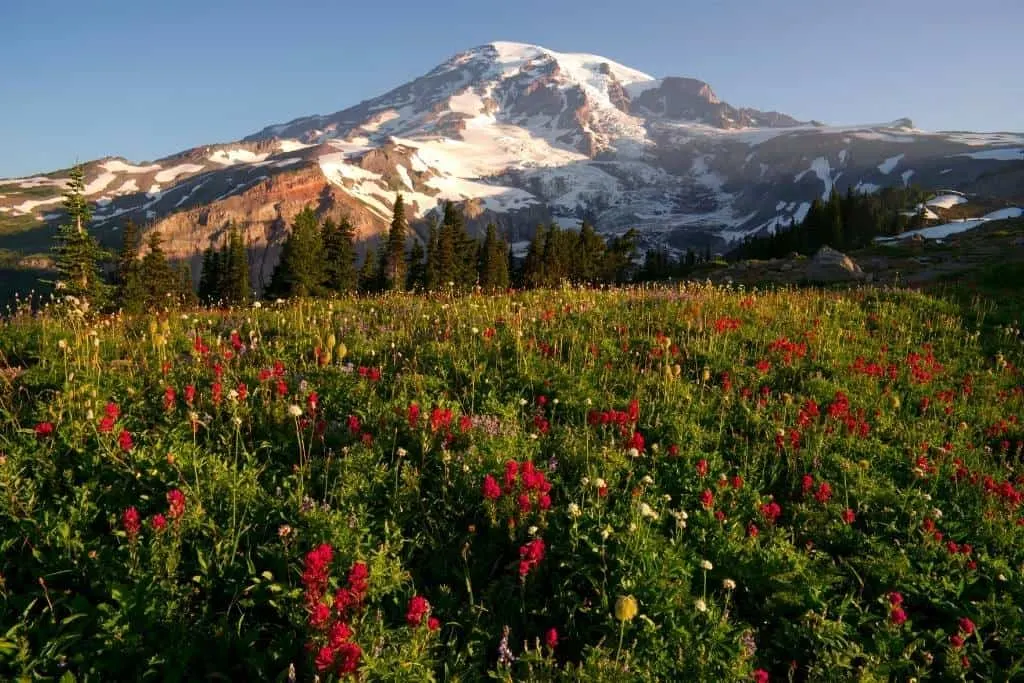 Quick Facts: Skyline Loop Trail
Length: 5.5 miles
Difficulty: pretty tough
Kids: Yes, if they like to hike. If they're new to hiking check out the waterfall side trail as you're making the initial climb and call it a day.
Dogs: no
Best time to see wildflowers: July – August
Welcome to the Paradise Valley, on the south side of Mount Rainier in Mount Rainier National Park.
The Skyline Trail Loop is in a heavily-trafficked day-use area, but there are so many trails that crisscross the valley, mountains, and glaciers, that the traffic thins out significantly once you leave the parking lot.
This loop climbs steeply in places (1,700 feet in all), but it's a climb that is well worth the work. The alpine meadows are carpeted with mountain heather, lupines, scarlet paintbrushes, bistort, and cascade asters in the summer, plus you'll have AMAZING views of Tahoma, Mount St. Helens, Mount Adams, and the Paradise Valley.
This is one of the prettiest wildflower hikes in Washington, but we do recommend starting early or tackling on a weekday to beat the crowds.
While hiking the Skyline Trail, you'll skirt the edge of Nisqually Glacier, spy sun-worshipping hoary marmots, and the picturesque Myrtle Falls. Yes, this trail is a stunner – waterfalls, glaciers, mountains, and of course – wildflowers.
For details and directions, visit the National Park Service, and for a more detailed trail guide, check out Visit Rainier. And don't forget to visit our national park camping and hiking page for even more great resources.
---
Treasure Loop Trail, Lost Dutchman State Park: Apache Junction, Arizona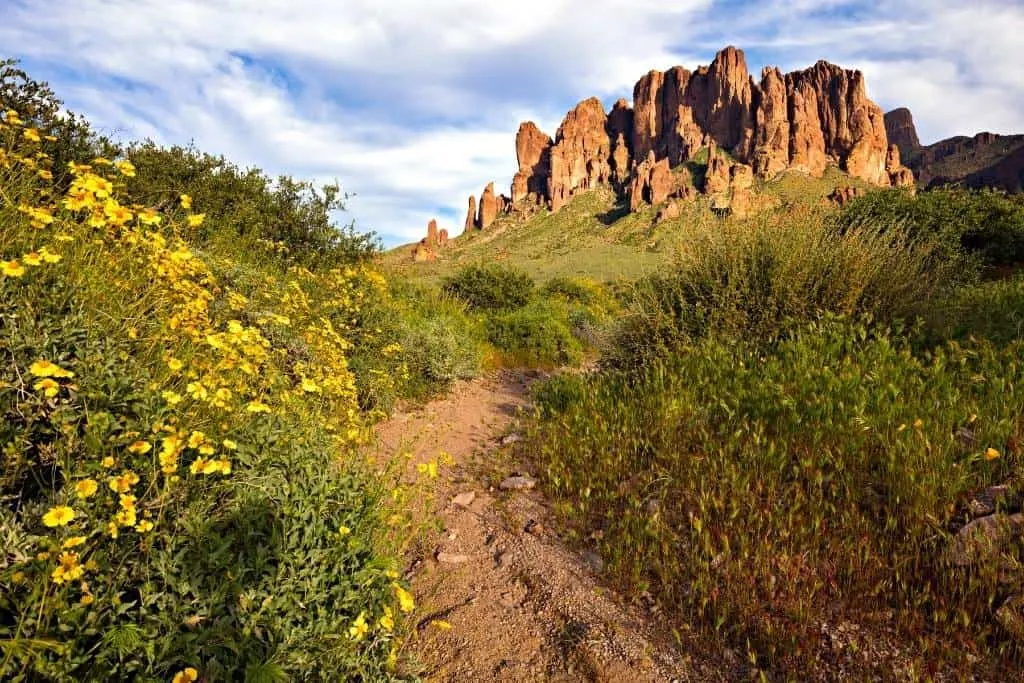 Quick Facts: Treasure Loop Trail
Length: 2.4-mile loop
Difficulty: easy
Kids: definitely
Dogs: leashed
Best time to see wildflowers: February – March
This easy wildflower hike traverses a rugged desert landscape to the incredible Praying Hands rock formation.
There are benches along the way for relaxing and incredible views of the distant mountains and desert wildflowers. Keep a lookout for brittlebush, desert marigold, desert tobacco, and masses of California poppy.
This easy loop takes about an hour to hike, but there are numerous side trails of varying difficulty if you want to make a day of it.
In addition to the beautiful Treasure Loop Trail, we'd also recommend the Native Plant Trail (get an interpretive guide at the visitor center) and the Siphon Draw Trail, which is rated as difficult, but so much fun!
Lost Dutchman State Park is a great park for spring break with kids, and one of our favorite state parks for camping in Arizona.
Reserve one of 138 beautiful campsites or a camping cabin. Check out the official website for Lost Dutchman State Park to learn more.
---
Want to find more wildflower hikes in Arizona? Check out Arizona's Best Wildflower Hikes on Amazon.
---
Canyon Creek Meadows: Camp Sherman, Oregon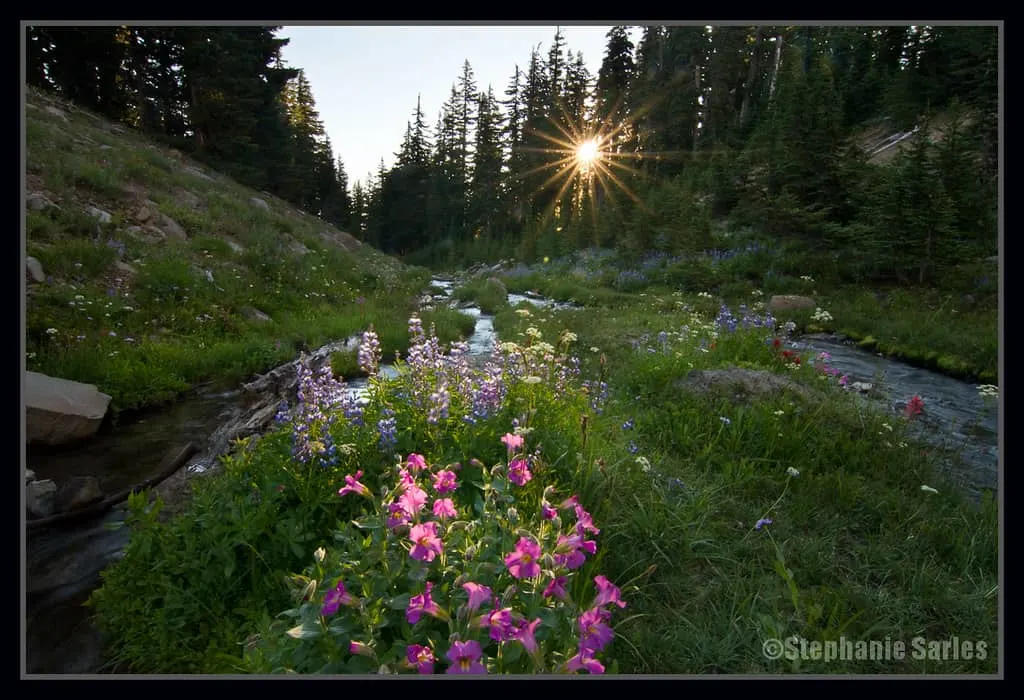 Quick Facts: Canyon Creek Meadows
Length: 4.5-mile loop
Difficulty: easy
Kids: yes!
Dogs: yes
Best time to see wildflowers: July – August
Another fantastic and easy wildflower hike – perfect for a meandering stroll, a mountain picnic, and bouncy kids.
There are two trail choices that you can tackle here – the lower meadow loop is 4.5 miles with just 400 feet of elevation gain. This easy trail explores the wildflower meadows of the High Cascades, without strenuous climbing.
For more of a challenge, continue to the upper meadow, where you'll have a spectacular viewpoint beneath Three Fingered Jack's summit pinnacles. The hike to the upper meadow at Canyon Creek is 7.5 miles round trip, with 1,400 feet of elevation gain, and is recommended for kids 10 and up.
Canyon Creek Meadows can be a busy place on summer weekends, so if you're looking for solitude, shoot for a weekday hike.
The National Forest Service also recommends hiking the trail clockwise to reduce the number of people you run into. Masses of lupines and red paintbrushes are prolific until the end of July, but be warned – so are the mosquitoes!
Here's a great Canyon Creek Meadows trail overview of both the lower and upper meadow hikes from Hike Oregon.
---
Want to explore more wildflower hikes in Oregon? Check out the Best Summer Wildflower Hikes in the Central Cascades.
---
Bar Island, Acadia National Park: Bar Harbor, Maine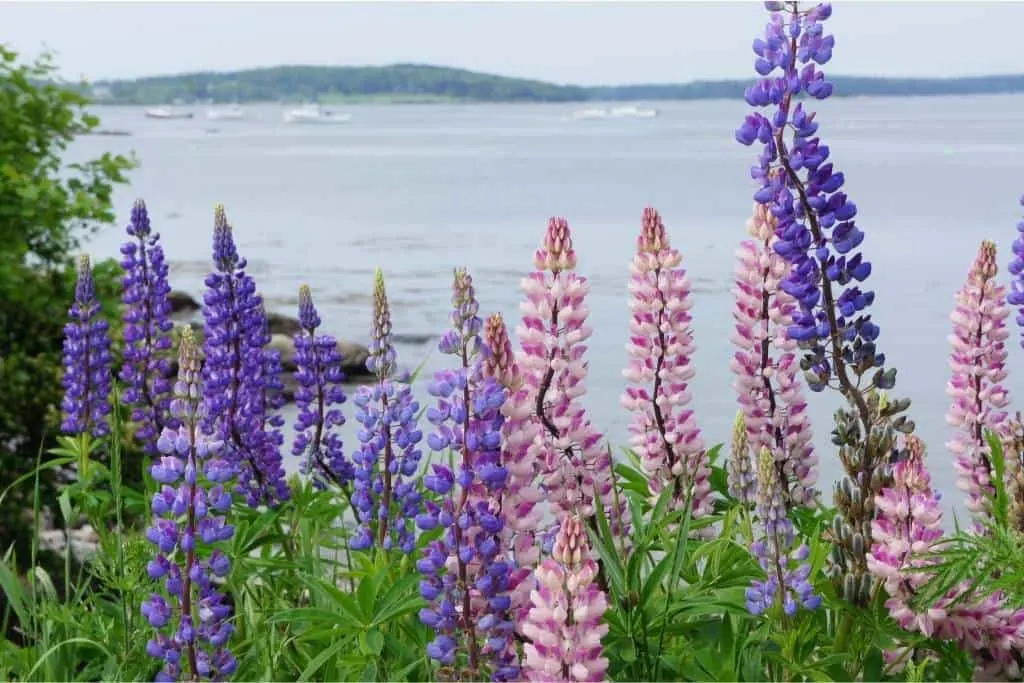 Quick Facts: Bar Island
Length: 2 miles (round trip)
Difficulty: easy
Kids: will love it!
Dogs: leashed
Best time to see wildflowers: May – June
There are huge fields of pink, purple, and white lupines all over Maine — all over Acadia National Park for that matter, but Bar Island is one of the most lovely spots to enjoy a field of wildflowers, a unique walk, and beautiful coastal views.
Bar Island is a small island near the town of Bar Harbor, Maine. The coolest thing about it is that you have to walk there from Bar Harbor at low tide.
The walk from Bar Harbor to Bar Island takes about two hours round trip, and you've got about three hours to do it if you want to stay dry. I recommend leaving the picnic at home and indulging in a waterfront lunch at Gayn's Restaurant after your beautiful wildflower hike.
The Bar Island trail follows a dirt road that runs along the shore, through the meadow, and up to a hill with stunning views of the surrounding harbor and parklands.
The meadows in the middle of the island are just brimming with flowers. You'll also see an incredible array of songbirds and perhaps a deer or two. It's a magical place.
Learn more about hiking trails in Acadia National Park on the National Park Service website. For more detailed Bar Island trail info, check out Joe's Guide to Acadia National Park.
---
Taylor Creek Loop, Tosohatchee Preserve: Christmas, Florida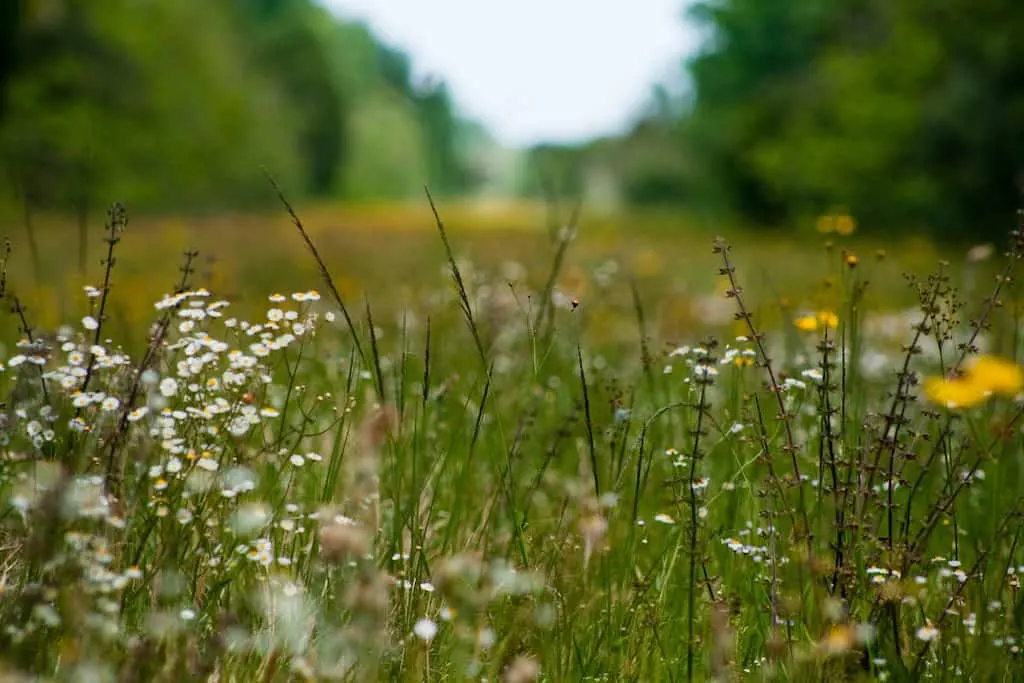 Quick Facts: Taylor Creek Loop
Length: 4.7 miles
Difficulty: Moderate
Kids: yes
Dogs: yes
Best time to see wildflowers: February
Explore a botanical wonderland along the St. Johns River on the Taylor Creek trail in Christmas, Florida.
This beautiful ecosystem is shaded by towering palm trees, making it the perfect habitat for songbirds and other elusive critters. Throughout the 31,000-acre preserve, you'll find lots of water – meandering creeks, cypress swamps, and freshwater marshes, but the Taylor Creek Loop is usually high and dry.
Wildflower highlights include stunning displays of irises, vibrant St. John's-wort, and delicate butterwort. Find a detailed trail guide on Florida Hikes.
Want to learn more about Florida's wildflowers? Space Coast Wildflowers is a fabulous resource.
---
Read Next: The Ultimate Guide to Hiking with Kids
---
Poppy Trail (north and south), Antelope Valley California Poppy Reserve: Lancaster, CA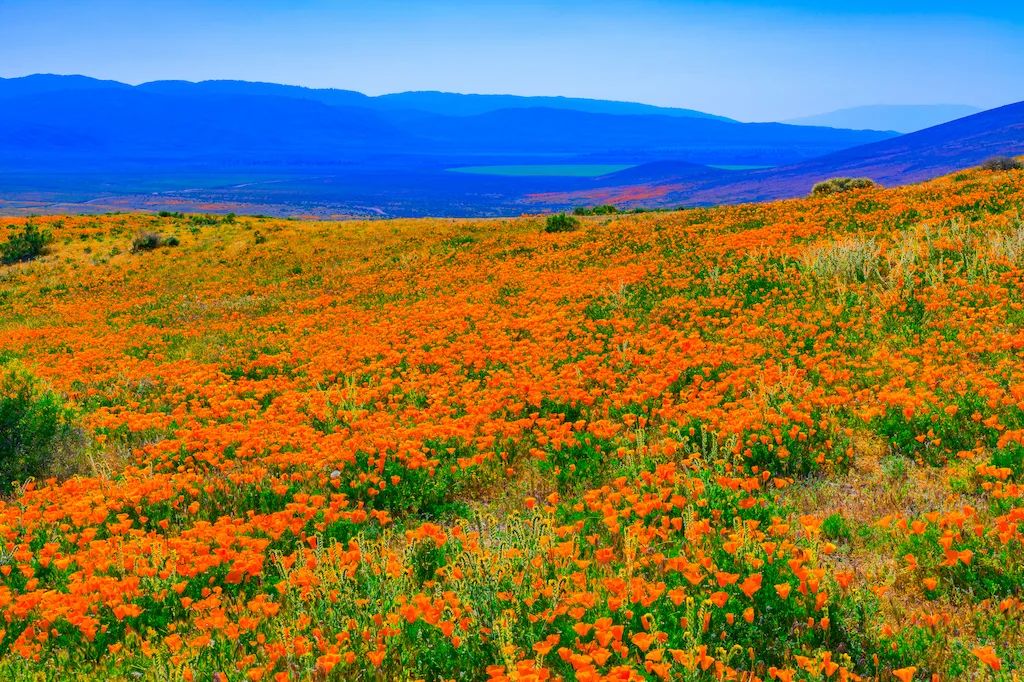 Quick Facts: Poppy Trail
Length: 2-mile loop
Difficulty: easy
Kids: yes
Dogs: no
Best time to see wildflowers: Late February to late April
Come for the profusion of California poppies, but stay for the lupines, keel fruit, fiddlenecks, red maids, and other highly seasonal blooms along the north and south Poppy Trail in Antelope Valley California Poppy Reserve.
As with many popular wildflower hikes, Antelope Valley California Poppy Reserve is working to address environmental impacts from high than anticipated numbers of visitors. This is a beautiful, easy trail in early spring, but be sure to stay on marked trails so as not to damage the delicate plants and flowers.
Park in the small parking area and pay the $10 parking fee. There are eight miles of trails in the valley, but the two-mile Poppy Loop is the perfect length for families with young kids. The vibrance of the poppy bloom will depend on rainfall, but you can expect to see blooms starting at the end of February and lasting until the weather gets too dry and hot.
For a trail map, field notes, and photos of the area, visit the California Department of Parks and Recreation. To celebrate California's state flower in earnest, check out the California Poppy Festival, which takes place in late April each year.
---
Wildflower hikes are a great way to shake off Old Man Winter and immerse yourself in the fragrance and colors of spring. Do you have a favorite wildflower walk? Leave your tips in the comments – I'd love to explore some new trails this year.
---
Follow us on social media for more easy outdoor adventures!
Pin for Later?