Where can you find ancient, rounded mountains with winding trails and gorgeous vistas, and a vibrant, walkable downtown with lively outdoor patios, and more breweries than you could possibly visit in a single weekend?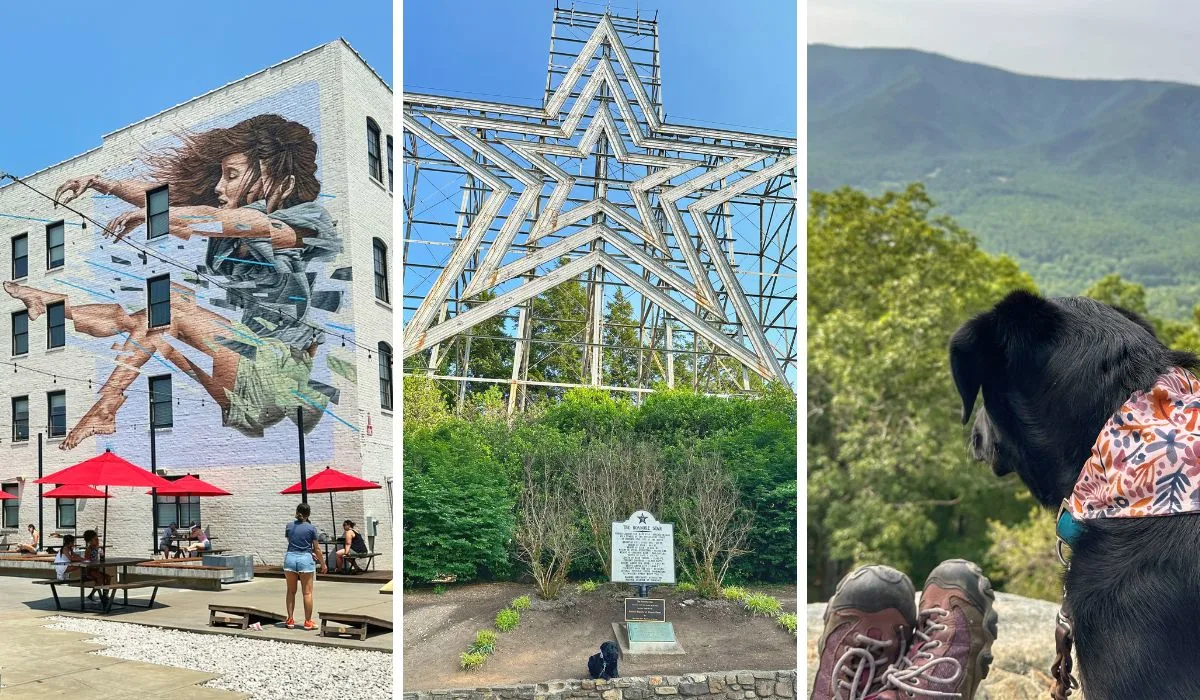 Welcome to Roanoke, Virginia, the largest metropolitan area on the iconic Blue Ridge Parkway, and the cultural and commercial hub of the Greater Roanoke Valley.
A weekend is just enough time in Roanoke to get a taste of the gorgeous trails on the outskirts of the city and the wonderful craft breweries downtown.
Roanoke is also one of the most dog-friendly cities we've visited, so be sure to include your favorite canine in your vacation plans.
Start your days in the mountains and your evenings on sunkissed patios with a pint of locally brewed beer. Roanoke makes a fantastic weekend getaway!
Where to Stay in Roanoke VA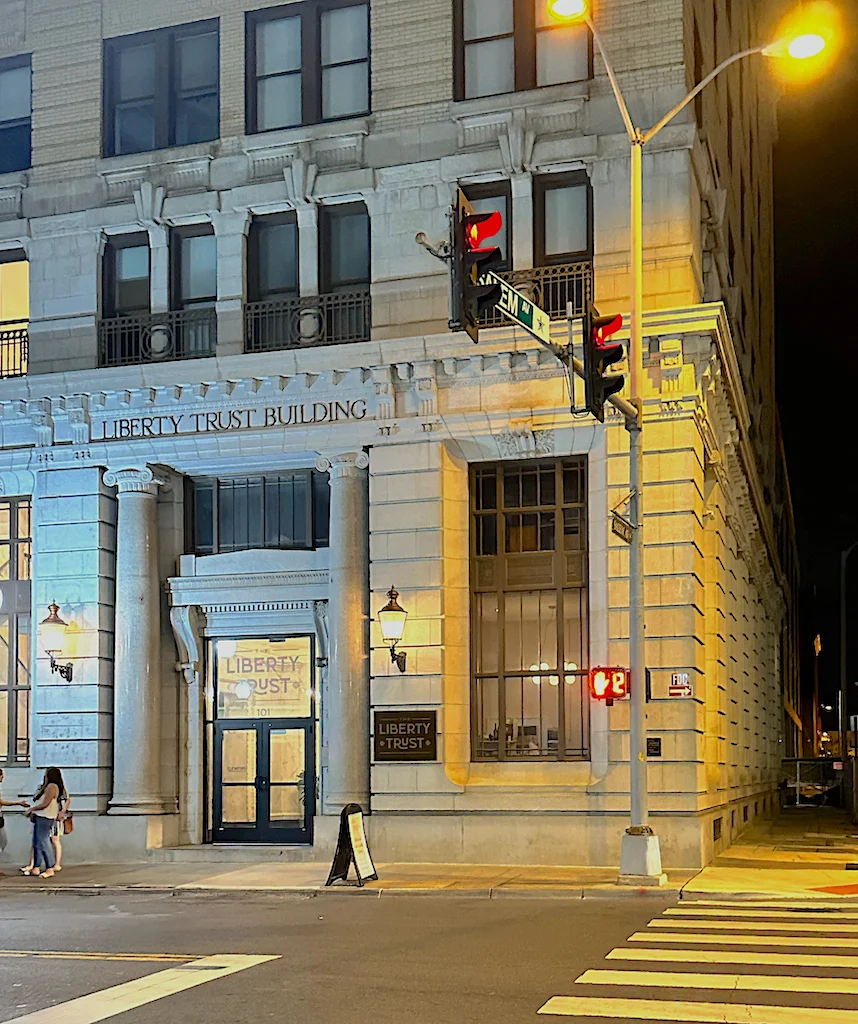 While you'll definitely want a car for whisking yourself into the mountains surrounding Roanoke on your daily jaunts, we recommend staying downtown so you can walk to the various Roanoke breweries, restaurants, and shops.
The Liberty Trust is one of Roanoke's most distinguished and historic hotels. Constructed in the early 20th Century as the First National Bank headquarters, this gorgeous building has been meticulously preserved, retaining grandiose details of its past, while taking on a luxurious new persona.
It's centrally located, beautifully furnished, and it's dog-friendly.
With 54 boutique guest rooms, upscale amenities, and sumptuous linens, a stay at the Liberty Trust makes for a memorable weekend in Roanoke.
Two Things to Do Before Your Weekend in Roanoke VA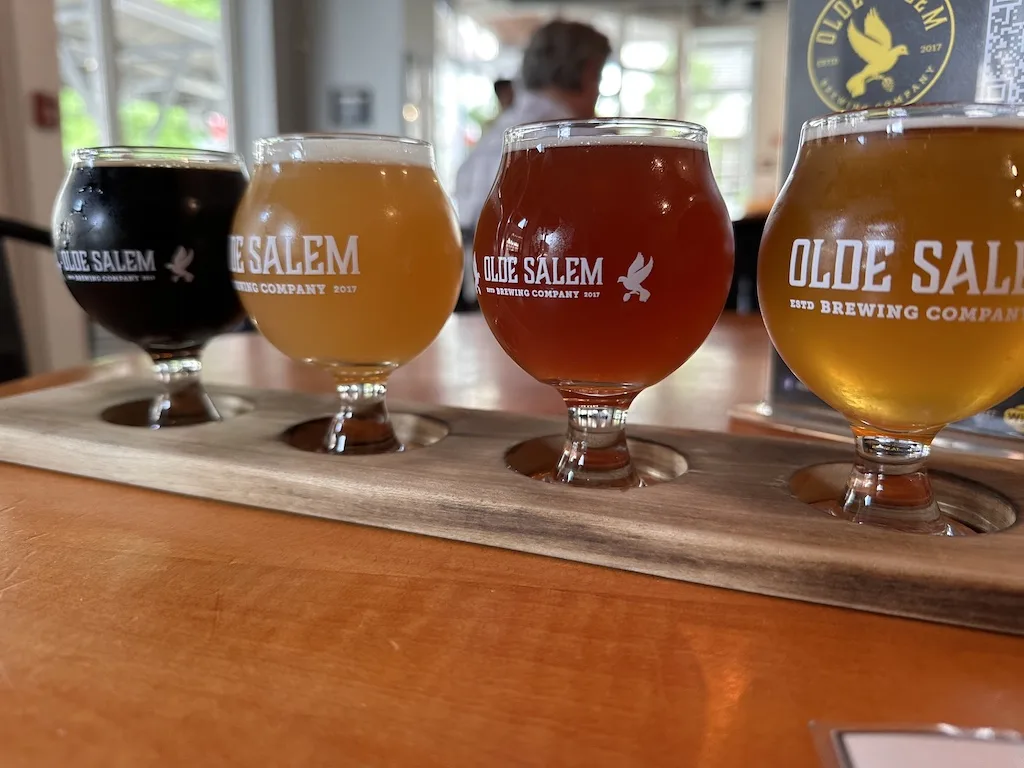 Yes, I'm giving you homework before your trip! Easy homework.
First, sign up for an AllTrails account and download the app if you don't already have it. The easy/moderate hikes in our Roanoke itinerary can all be found on AllTrails, which gives you access to a trail map, directions to the trailhead, user reviews, and tons of photos from the trail.
For access to offline maps for use on the trail, upgrade to AllTrails+, which is just $35.99 a year ($2.99 a month).
Next, get ready to follow Virginia's Blue Ridge Cheers Trail, which will help you experience the growing craft beverage scene in Roanoke and beyond. Take advantage of the Cheers Trail Passport Program for exclusive discounts at regional breweries, wineries, and distilleries.
When you Check-in or redeem an offer at five different locations on the Cheers Trail, you'll get a free Virginia's Blue Ridge Cheers Trail T-shirt.
3 Days in Roanoke with a Dog: A Perfect Itinerary
A weekend trip to Roanoke is all you'll need to get a healthy taste of what the area has to offer.
Fair warning though — what may seem like a harmless vacation may turn into a longing to explore Virginia's Blue Ridge indefinitely, especially if you love spending time outdoors and sipping on craft beverages.
Day One: HIke Read Mountain and Settle In
Maybe you're road-tripping on the Blue Ridge Parkway. Maybe you're driving down from DC. Wherever you're coming from, you can stretch your legs with a nice hike on Read Mountain before heading into town.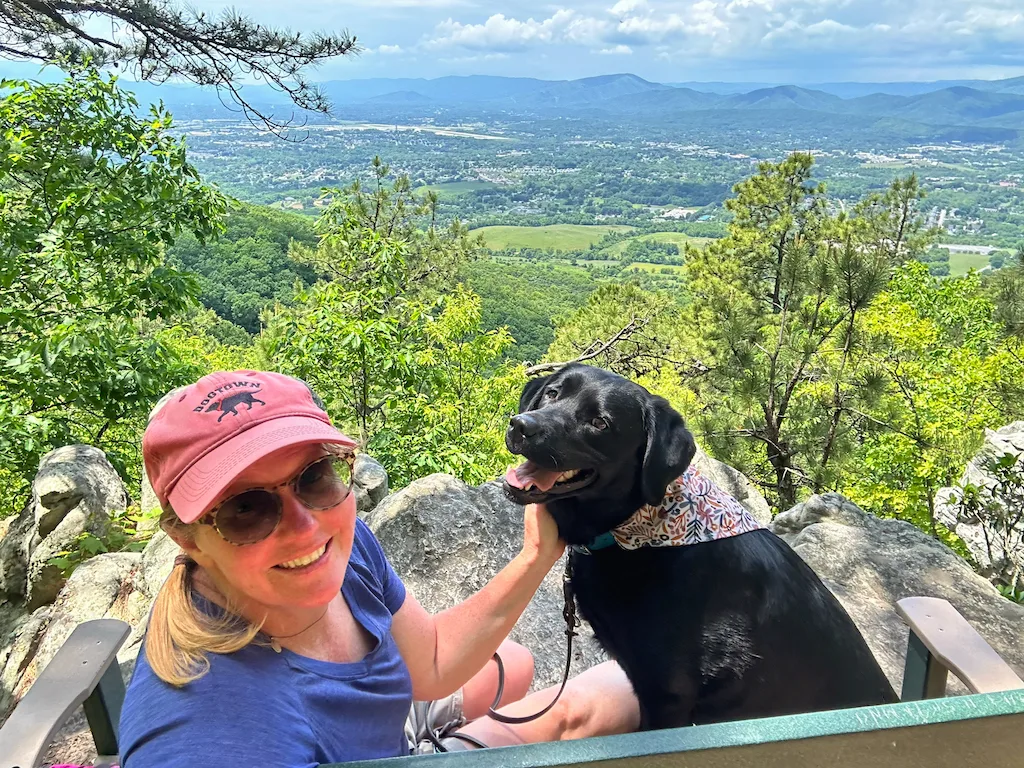 Located just seven miles north of Roanoke, this 243-acre preserve is nestled behind a small residential area and features a nice five-mile trail system. Take Buzzards Rock Trail from the parking area that leads to the summit of Read Mountain known as Buzzards Rock. You'll likely see said buzzards, but also fantastic views of the valley and mountains beyond.
There's a great little picnic area at the trailhead, or you can haul your launch up to the summit and dine with the buzzards. Bring water for your dog, as this is a dry trail.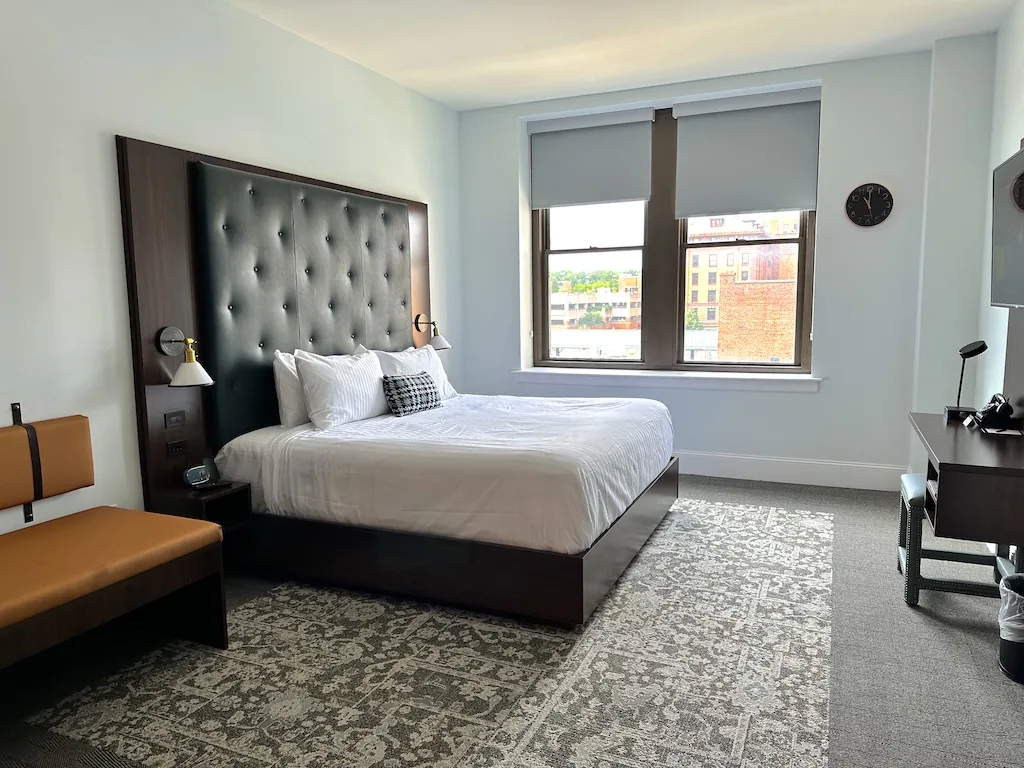 After your hike, drive into Roanoke and get yourself settled at The Liberty Trust. Parking is located in the Center on the Square parking garage, which is just a short walk from the hotel. There is a loading and unloading area right in front of the hotel entrance so you don't have to schlep your luggage from the garage.
Check into your room, then make dinner reservations at The Vault, which is located on the first floor. The Vault specializes in small plates and an unparalleled wine menu. It's open every evening starting at 4 pm and for light breakfast bites starting at 7:00 am.
A Little Shopping in Downtown Roanoke
Spend the afternoon meandering around downtown. If you've got a dog with you, head around the corner to Unleashed Dog Bakery & Boutique to grab a new treat or toy for your favorite travel partner.
During our recent visit, we stocked up on bulk training treats (cinnamon and carob) and Malinda picked out a bone that she hasn't let out of her sight since.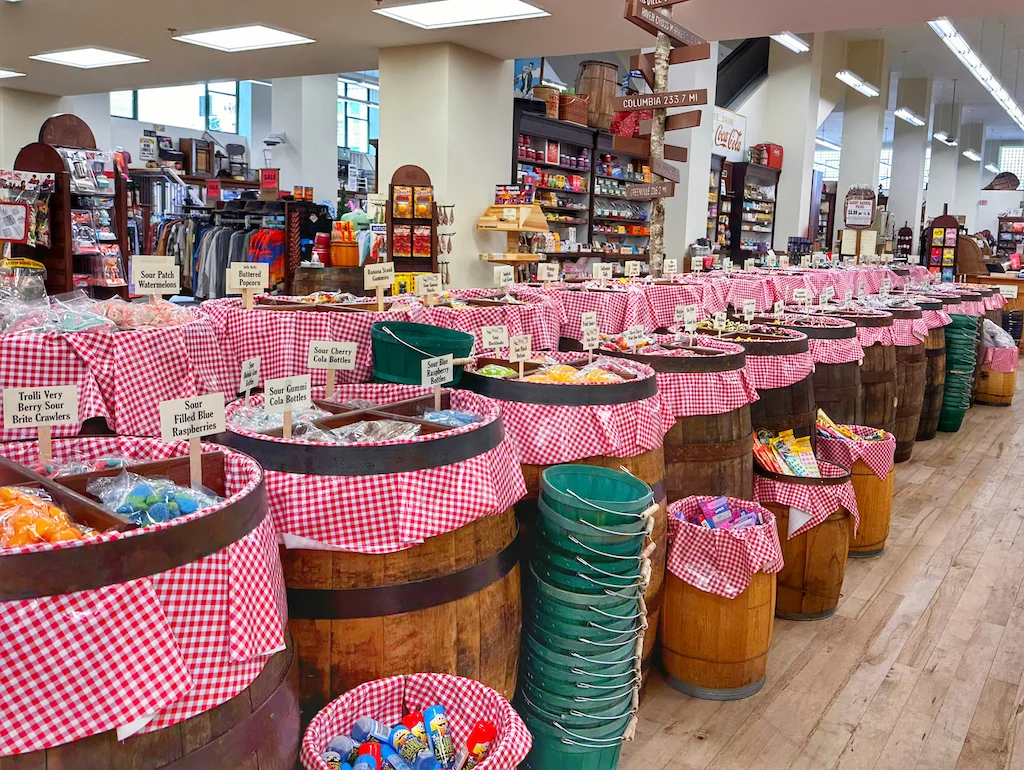 Need a little more retail therapy? Mast General Store is dog-friendly and sells everything from candy and toys to kitchenware, clothing, and outdoor gear. It would not be hard to spend hours browsing. Don't be late for dinner!
Grab a Pint or a Flight at Olde Salem Brewery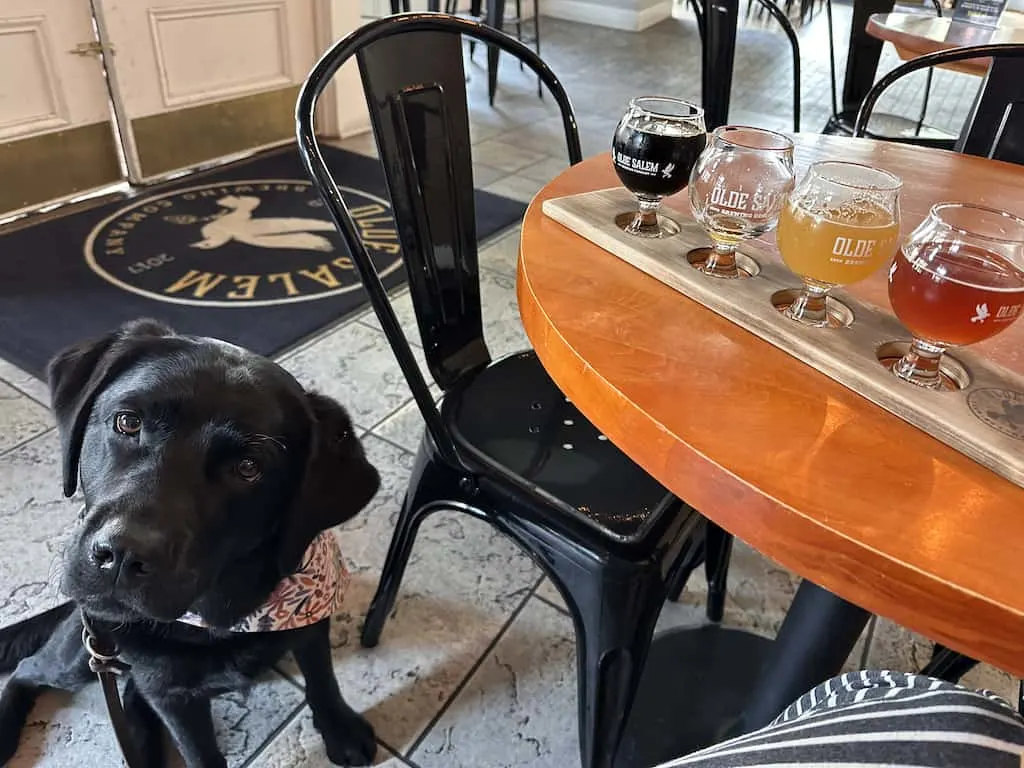 During my recent visit to Roanoke, I explored more than my fair share of local breweries (in the name of research, of course).
Olde Salem Brewery, located in nearby Salem, Virginia with a tasting room in downtown Roanoke, serves up robust, flavorful brews that exceeded my high expectations, and as much as I adore IPAs (I'm a Vermonter, after all), it was so refreshing to experience such a variety of delightful brews.
My recommendation? Grab a flight of four beers, and try varieties that you don't normally enjoy.
The raspberry wheat, called Heartbroken in Disrepair, is made with an unfathomable amount of fresh raspberries, and pretty much tastes like summer in a can. One Headlight, the coffee blonde ale pulls you in with its sweet, comforting aroma and is simultaneously light and robust — the perfect before-dinner beer!
Day Two: Sawtooth Ridge on the Appalachian Trail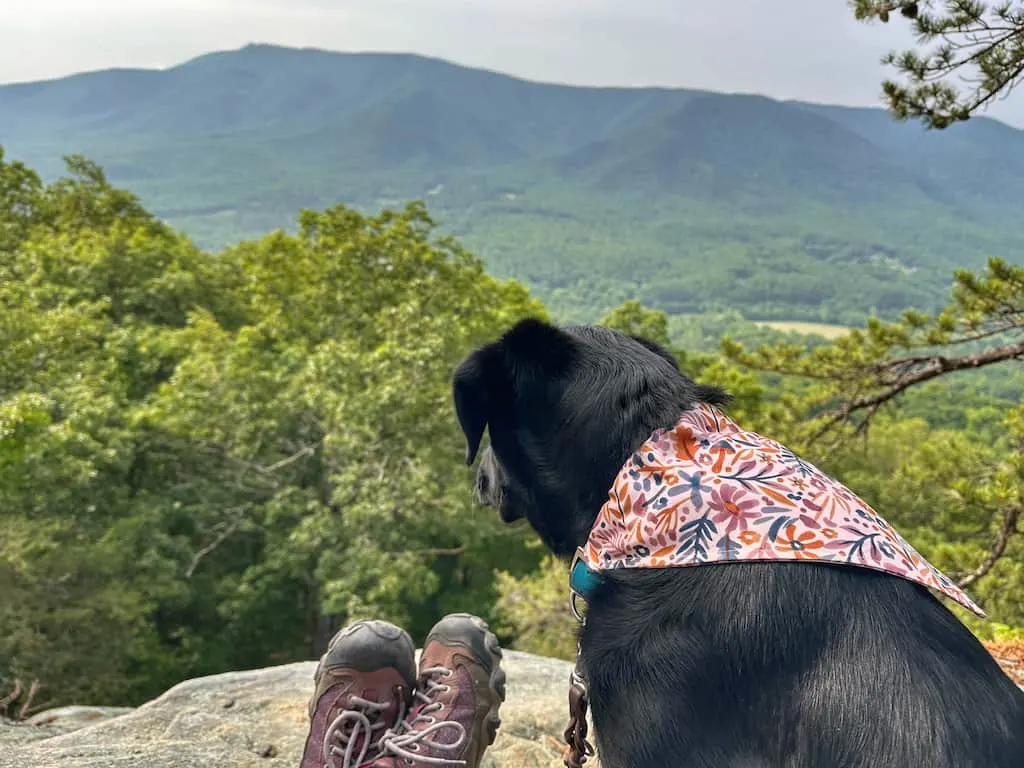 The famous Appalachian Trail passes just west of Roanoke on its journey from Georgia to Maine. You may have heard of the iconic trifecta of hikes called Virginia's Triple Crown, which consists of a 35-mile loop connecting McAfee Knob (7.7 miles round-trip), Tinker Cliffs (7.3 miles round-trip), and Dragon's Tooth (4.5 miles round-trip).
Of course, you can do any of these trails as a day hike (just click on the trail names above to see the deets), but I'm going to suggest an easier option for today. Park in the McAfee Knob lot, and instead of hiking north with throngs of other trekkers, head south on the Appalachian Trail to Sawtooth Ridge.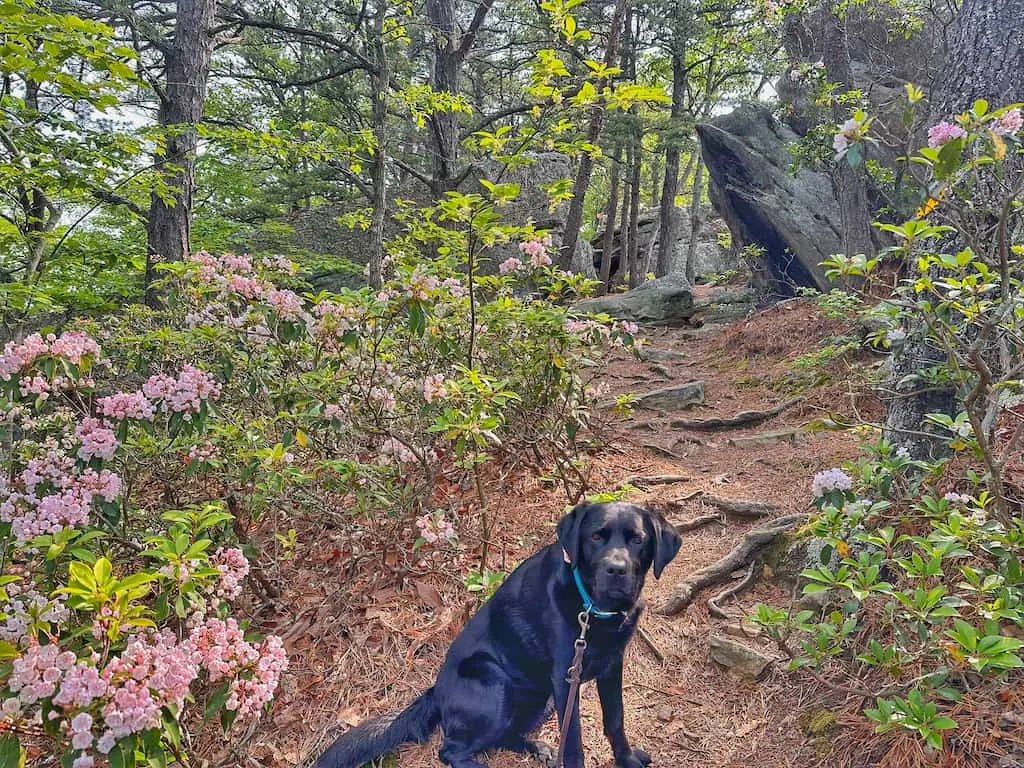 The hike to Sawtooth Ridge is an easy one, with expansive views at the top after just 30 minutes of hiking. You can keep going of course, and turn around whenever you like, but the hike to the vista at Sawtooth Ridge is 2 miles round-trip.
If you visit on a weekend, be prepared for a packed parking lot. I recommend getting to the parking area before 7:30 to snag a spot. The McAfee Knob shuttle runs Friday, Saturday, and Sunday starting at 7:30 between March and November, but unfortunately, dogs are not permitted.
Lunch at Three Notch'd Brewing Company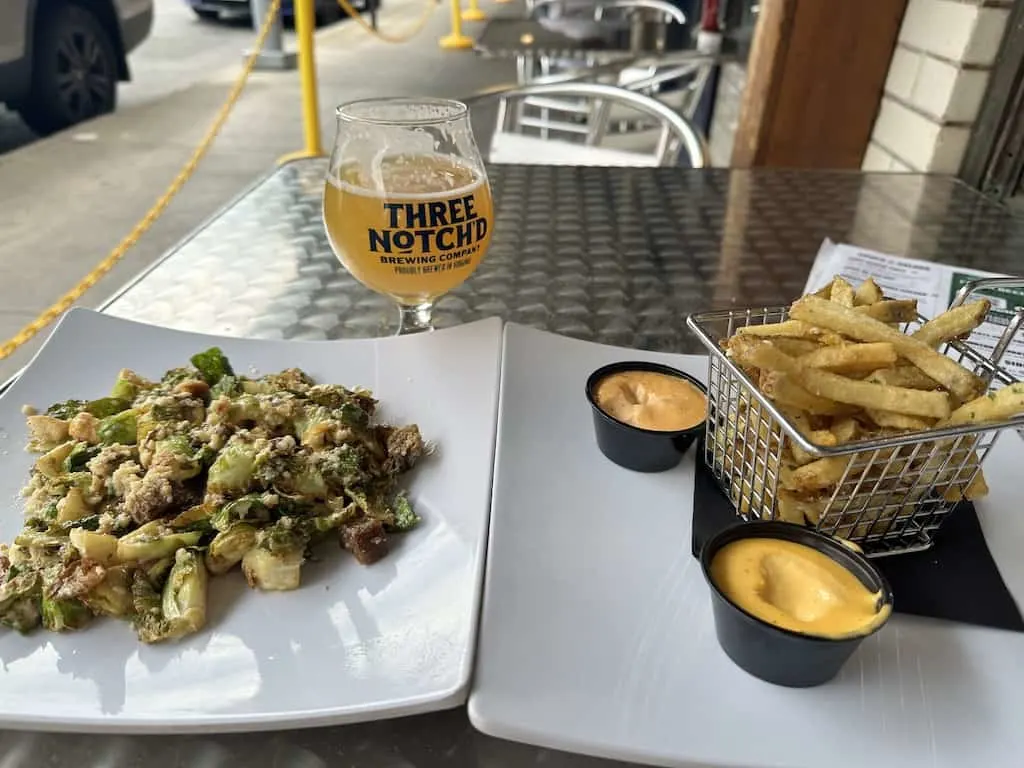 After your hike, head back into Roanoke for brunch at Three Notch'd.
Located on Cambell Avenue in downtown Roanoke, Three Notch'd is one of the few local breweries that runs a kitchen. Brunch is served Saturday and Sunday from 11 am to 2 pm, and dogs are permitted on the sidewalk patio.
During our recent visit, I devoured the Brussels Sprout Caesar (addictive) and fries, as well as the King of Clouds juicy IPA, which I'm told is their most popular brew — truly the perfect post-hike meal!
After brunch, it's time to explore one of Roanoke's most beautiful and iconic natural areas, Mill Mountain Park.
Visit the Roanoke Star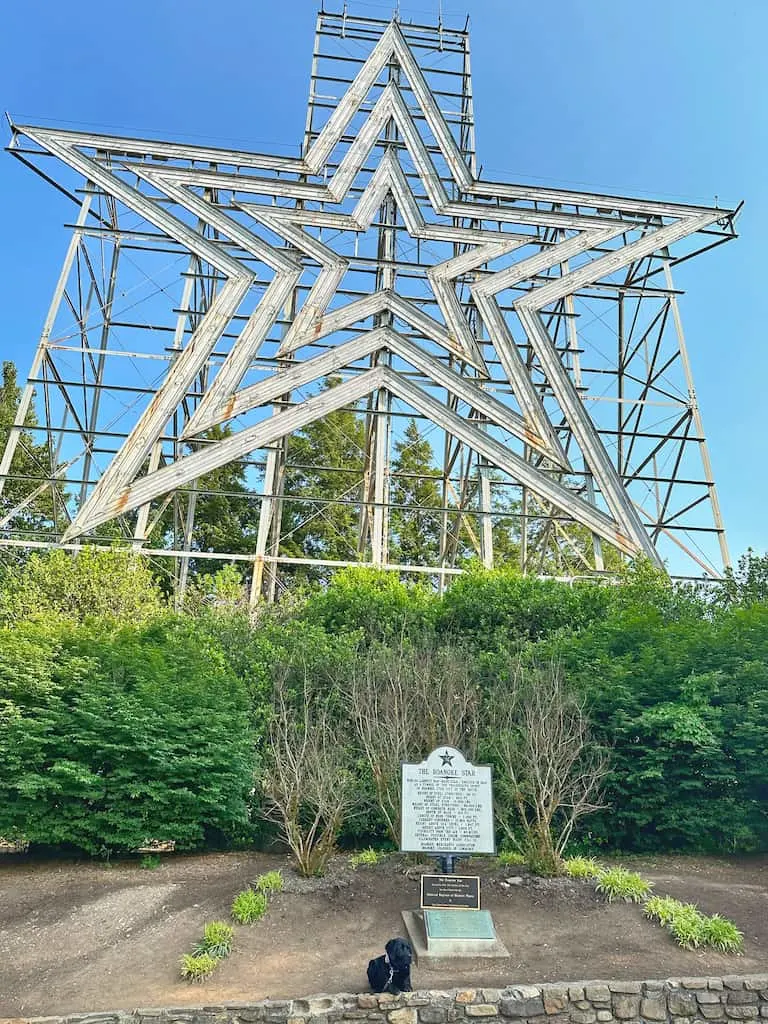 As home to the famous Roanoke Star, Mill Mountain Park is probably the most well-known and beloved park in Roanoke, and I'd also argue that it is one of the most beautiful.
Located right off the Blue Ridge Parkway and less than five minutes from downtown Roanoke, Mill Mountain Park is perfect for a leisurely stroll or a rugged hike.
You can hike to the star on the aptly named Star Trail, which is 1.6 miles long (one-way) and climbs 700 feet in elevation, or you can drive to the top of the mountain and walk a few hundred feet to the star and overlook.
The Roanoke Star was built in 1949 as a Christmas decoration sponsored by the Roanoke Merchants Association. Because of its popularity, this temporary mountain exhibit now graces Mill Mountain year-round and is illuminated every night of the year. It is 88 feet tall, contains more than 2,000 feet of neon tubing, and weighs more than 10,000 pounds.
The Roanoke Star can be seen from all over town, and because of it, Roanoke will forever be known as the Star City of the South.
---
Also Read: Explore the Best Parks in Roanoke, Virginia
---
Day Three: Roanoke Greenway and Black Dog Savage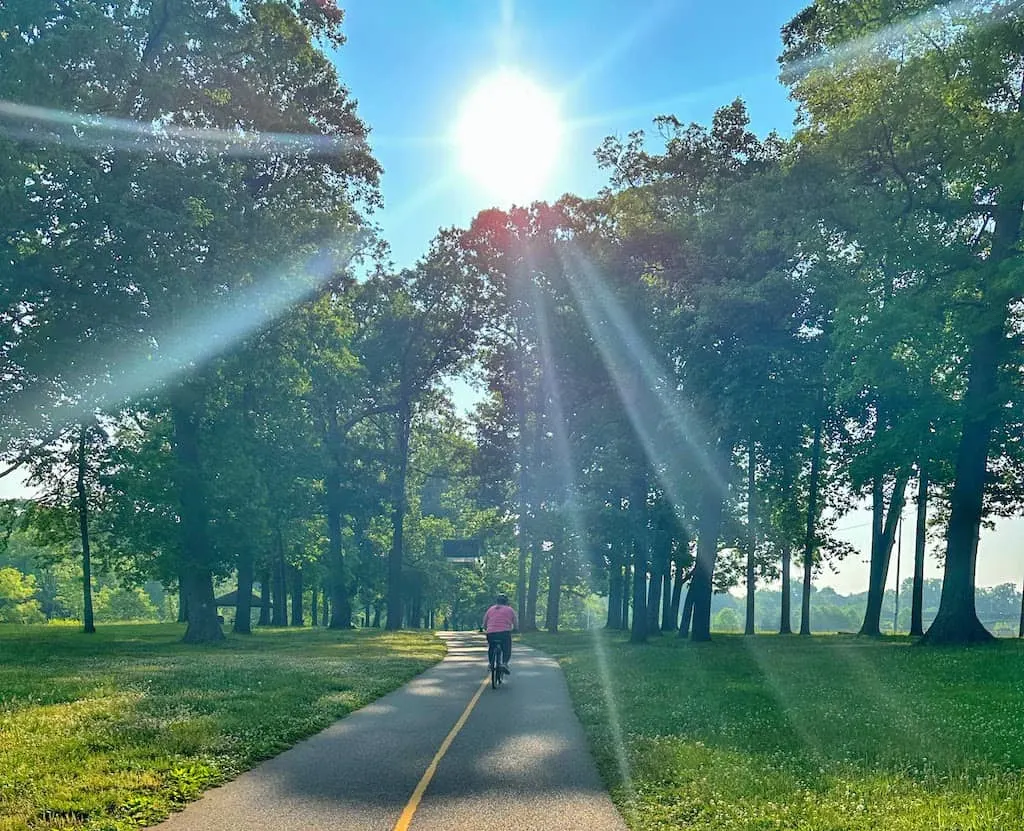 Grab breakfast downstairs at The Vault, and then make your way to Vic Thomas Park, adjacent to Black Dog Savage. This is the ideal starting point for a stroll, jog, or bike ride along the beautiful Roanoke River Greenway.
The Greenway is currently a 14.2-mile paved multi-use pathway that hugs the river while connecting multiple parks and playgrounds. You'll pass several outdoor art installations, meander over the Roanoke River, and end up in the community of Wasena.
Wasena Park is as good a place as any for a picnic, or you can treat yourself to lunch at the Green Goat, which is located right off the Roanoke River Greenway as you enter Wasena. Relax on the dog-friendly patio while enjoying a platter of sausages and cheese served with crostini and a sweet balsamic onion jam.
From Vic Thomas Park, walk across the street to Black Dog Savage, a 44,000-square-foot showroom full of architectural salvage, repurposed furniture, antiques, artwork, and offbeat pieces — from garden sculptures to stained glass windows.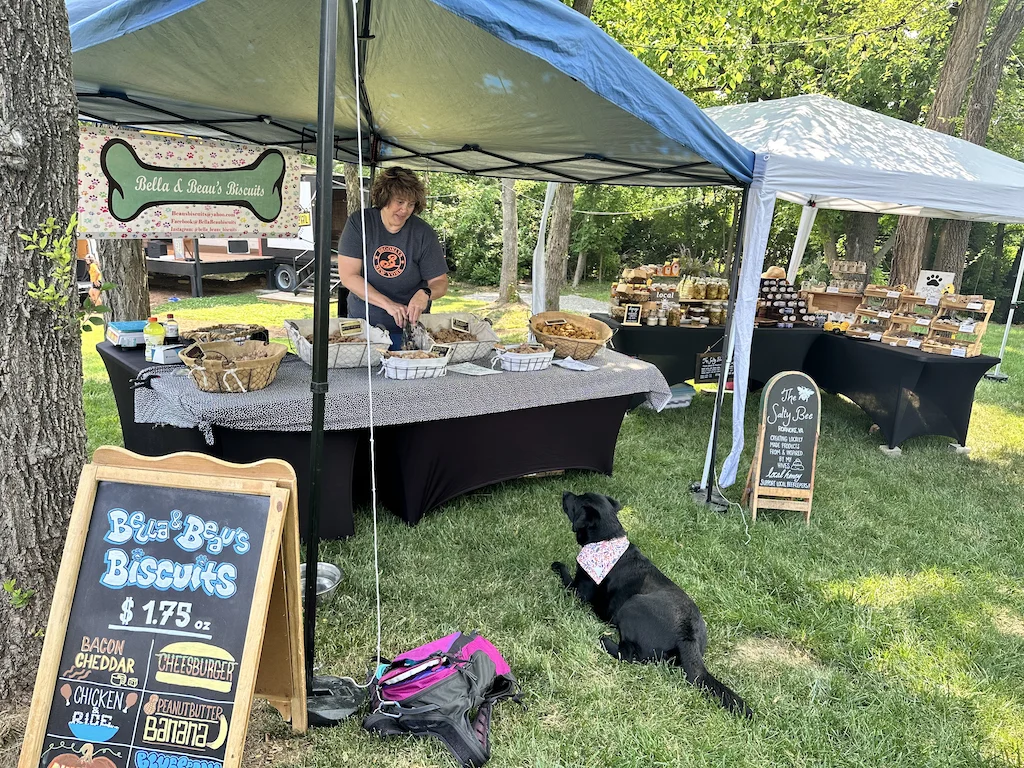 If it happens to be the third Sunday of the month, you'll be treated to outdoor craft vendors, food trucks, and live music at the Dog Bowl Market.
Ready for dinner? Head to Fork in the Alley for a wood-fired pizza on yet another dog-friendly patio.
Golden Cactus Brewing and Big Lick Brewing Company
Here are two more fantastic breweries to finish off your weekend. Golden Cactus and Big Lick are right across the street from each other on Salem Avenue, and they're within walking distance of The Liberty Trust.
Yes, both of these fantastic breweries are dog-friendly, inside and out.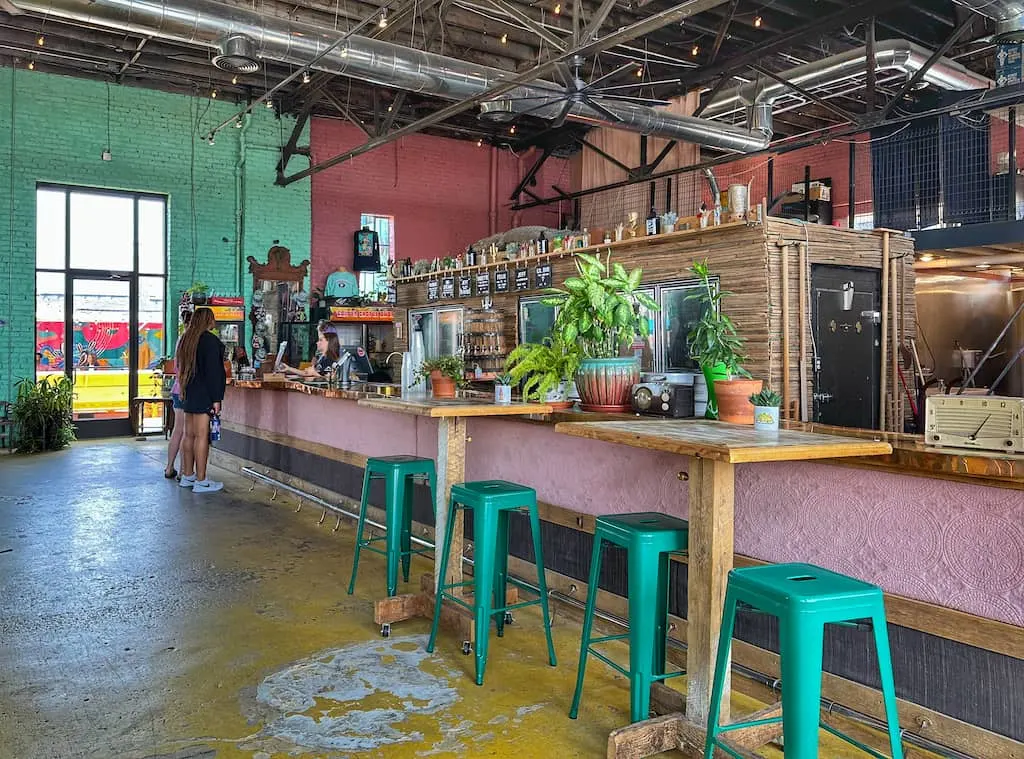 Golden Cactus Brewing has a serious boho vibe with colorful walls and vibrant murals, plants everywhere, and even a few pinball machines and an old-school game console.
In my humble opinion, the perfect sunny patio drink is the Rubus, a fruity sour with a 5.1% ABV so you can have a few and still walk back to your hotel afterward.
Golden Cactus is slinging beers every day of the week, and is open until 9 pm most days, 10 pm on Friday and Saturday nights, and 8 pm on Sundays.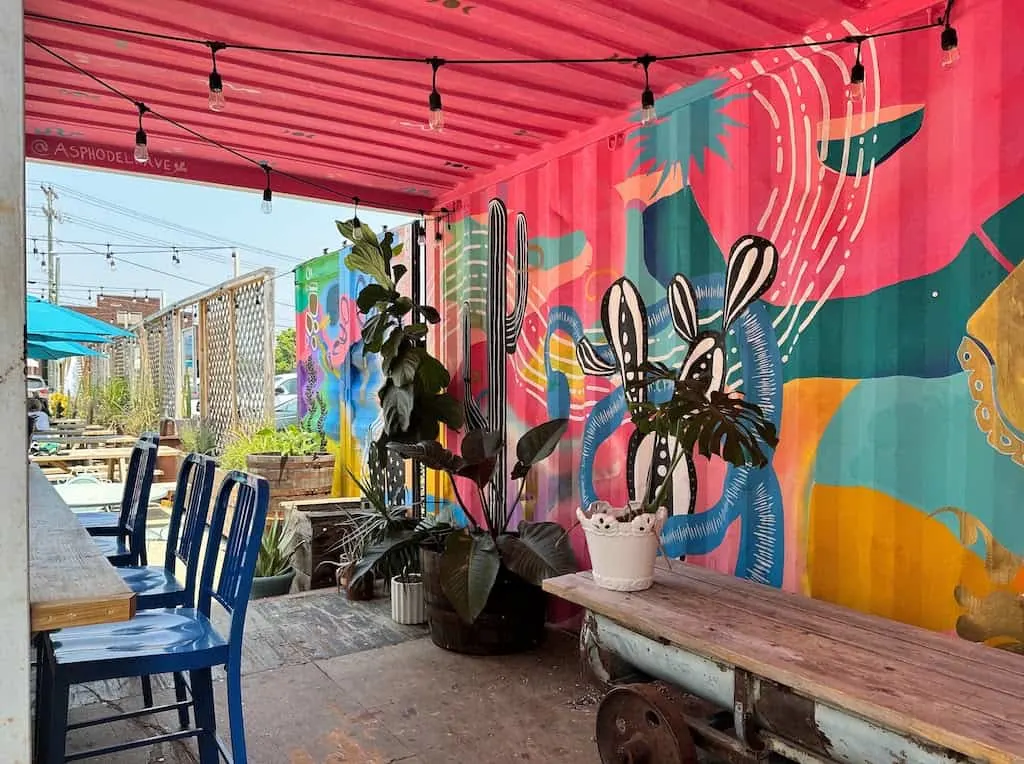 While Golden Cactus doesn't have a kitchen of its own, they share patio space with FoodHut RKE, which serves up a rotating menu of fun, casual food. FoodHut RKE is open for dinner service Wednesday-Sunday 4-9 pm and brunch on Saturdays and Sundays from 11 am- 2 pm.
Big Lick Brewing Company features a massive patio with big umbrellas, cornhole, and lots of opportunities to listen to live music while relaxing with your favorite brew.
In addition to a full line-up of weekend music, you can also pop in for midweek events like music bingo, trivia, and open-mic comedy.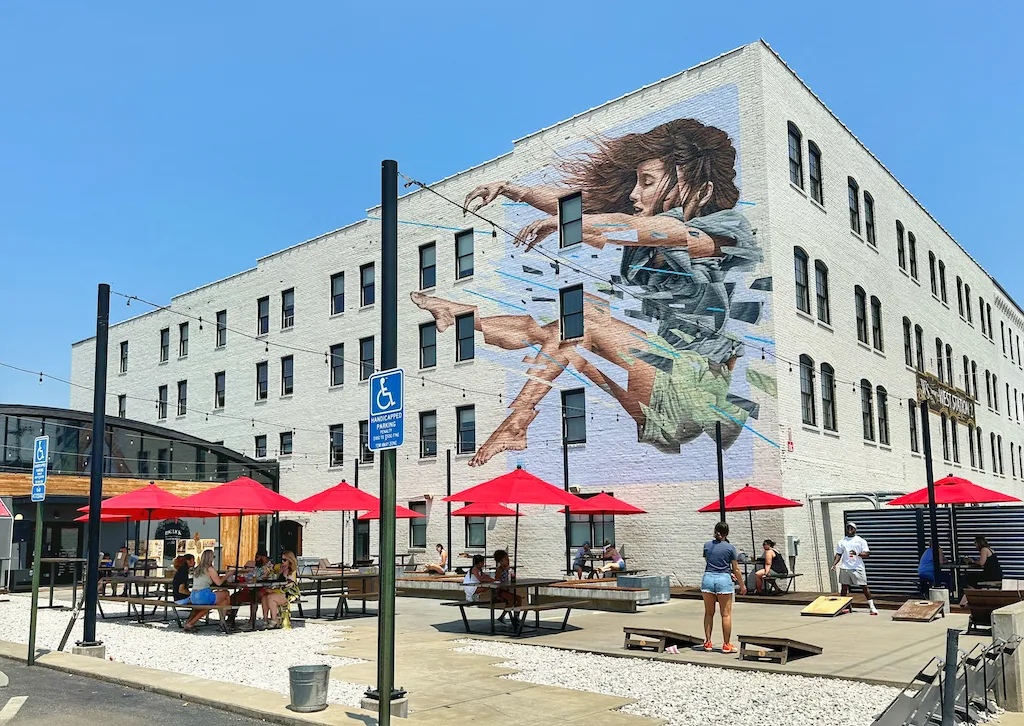 Big Lick's Star City Pale Ale is a refreshing, fruity brew for anyone who appreciates the sharp bite of a hoppy beer without the high alcohol content of a traditional IPA. It's the perfect ending to a fantastic Roanoke weekend.
This dog-friendly itinerary for a weekend in Roanoke VA is the perfect mix of easy adventuring and hard-core relaxing. You will come away feeling refreshed, and have a new appreciation for gorgeous trails, outdoor patios, and craft beer.
---
Follow us on social media for more ideas for weekend getaways!
Pin for Later?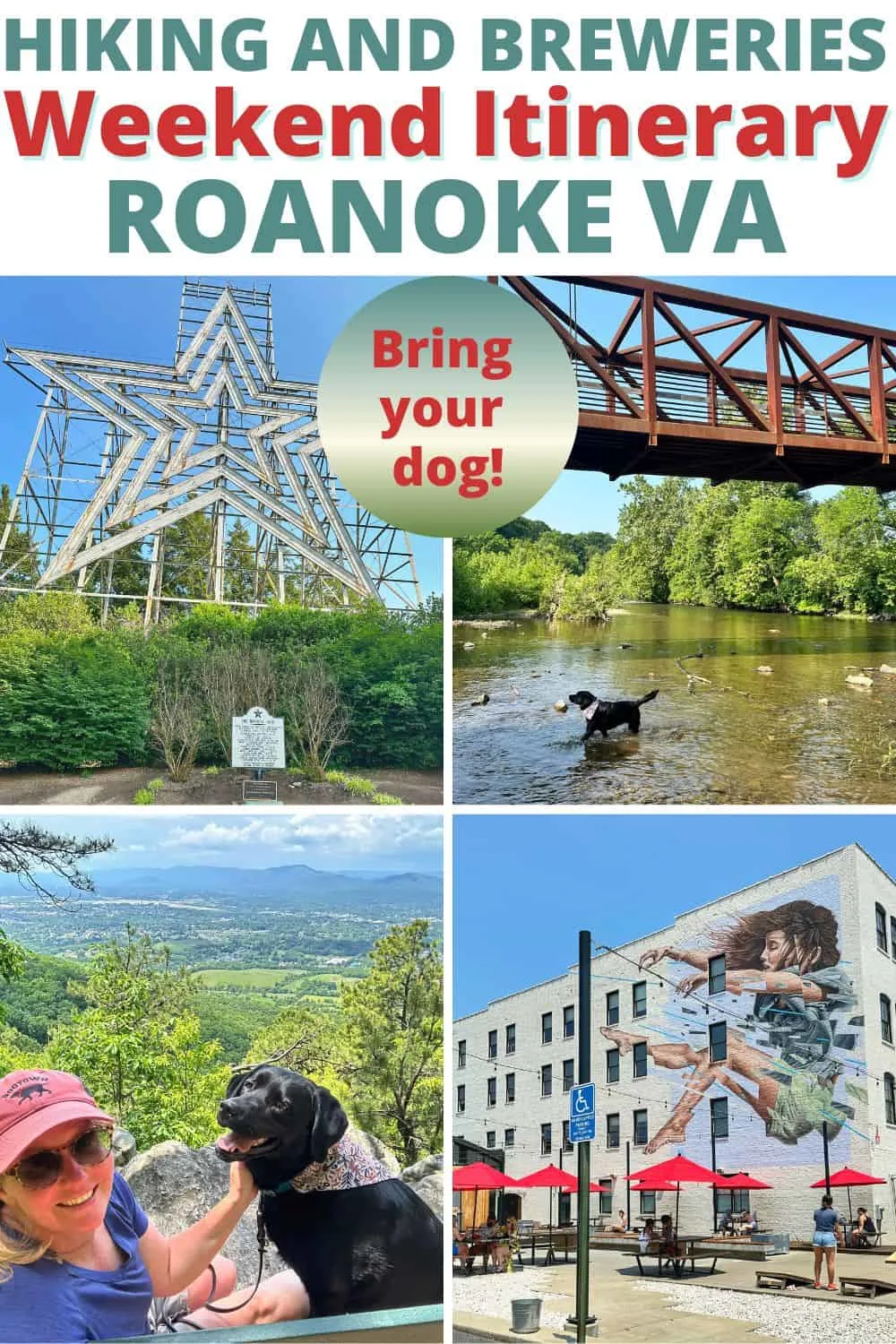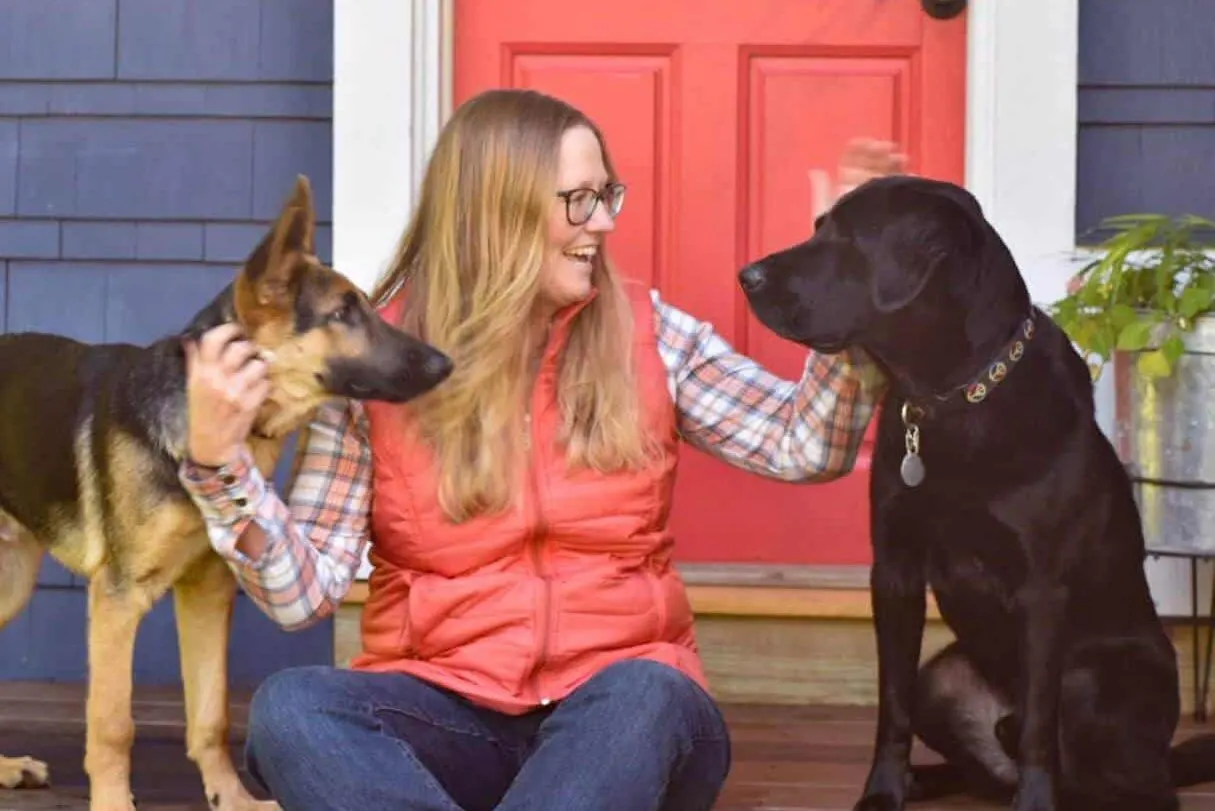 Disclaimer: We were generously hosted by Virginia's Blue Ridge to facilitate writing this post.