Looking for a mountain destination with a walkable downtown, fantastic art, quirky museums, and indulgent restaurants and breweries? Roanoke, Virginia is one of my absolute favorite places to visit east of the Mississippi, and the perfect spot for a weekend getaway any time of year.
Located in the heart of the gorgeous Blue Ridge Mountains, Roanoke is one of the largest metropolitan areas on the Blue Ridge Parkway, and one of the best places to grab a beer, while away a rainy day, or luxuriate in the perfect farm-to-table meal. Roanoke is home to some of the best food, craft brews, and wine in the whole state of Virginia.
Planning a family getaway? Roanoke is one of our favorite small-town vacation spots for families with kids.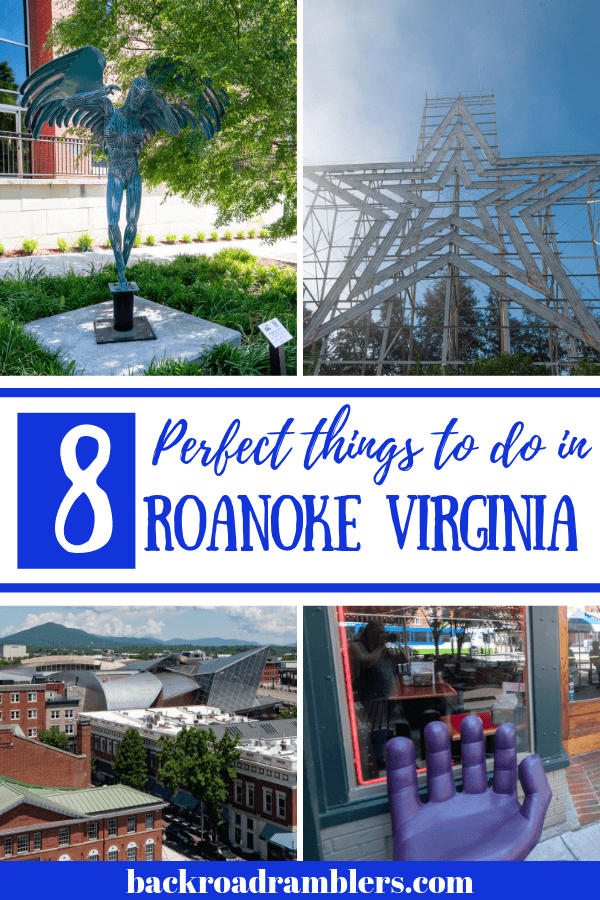 Oh, and don't forget the outdoor adventures… Roanoke is home to an amazing number of parks, hiking trails, lakes, rivers, and mountain biking opportunities that are perfect for all types of outdoor lovers. In short, whether you want to stroll around the perfect mountain town, hit the trail, or embark on the perfect scenic drive, you will find a million things to do in Roanoke, Virginia.
How to Get to Roanoke, Virginia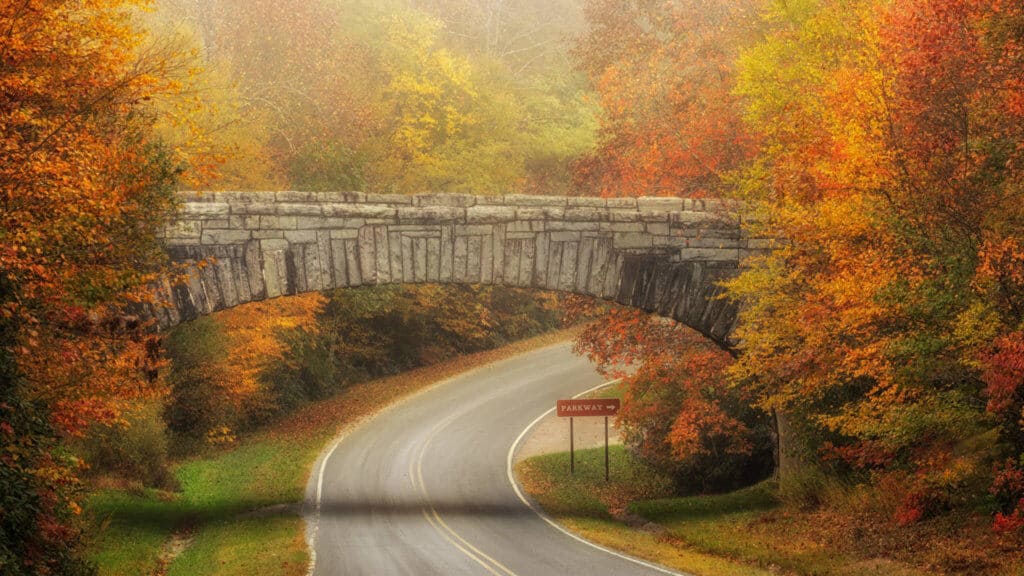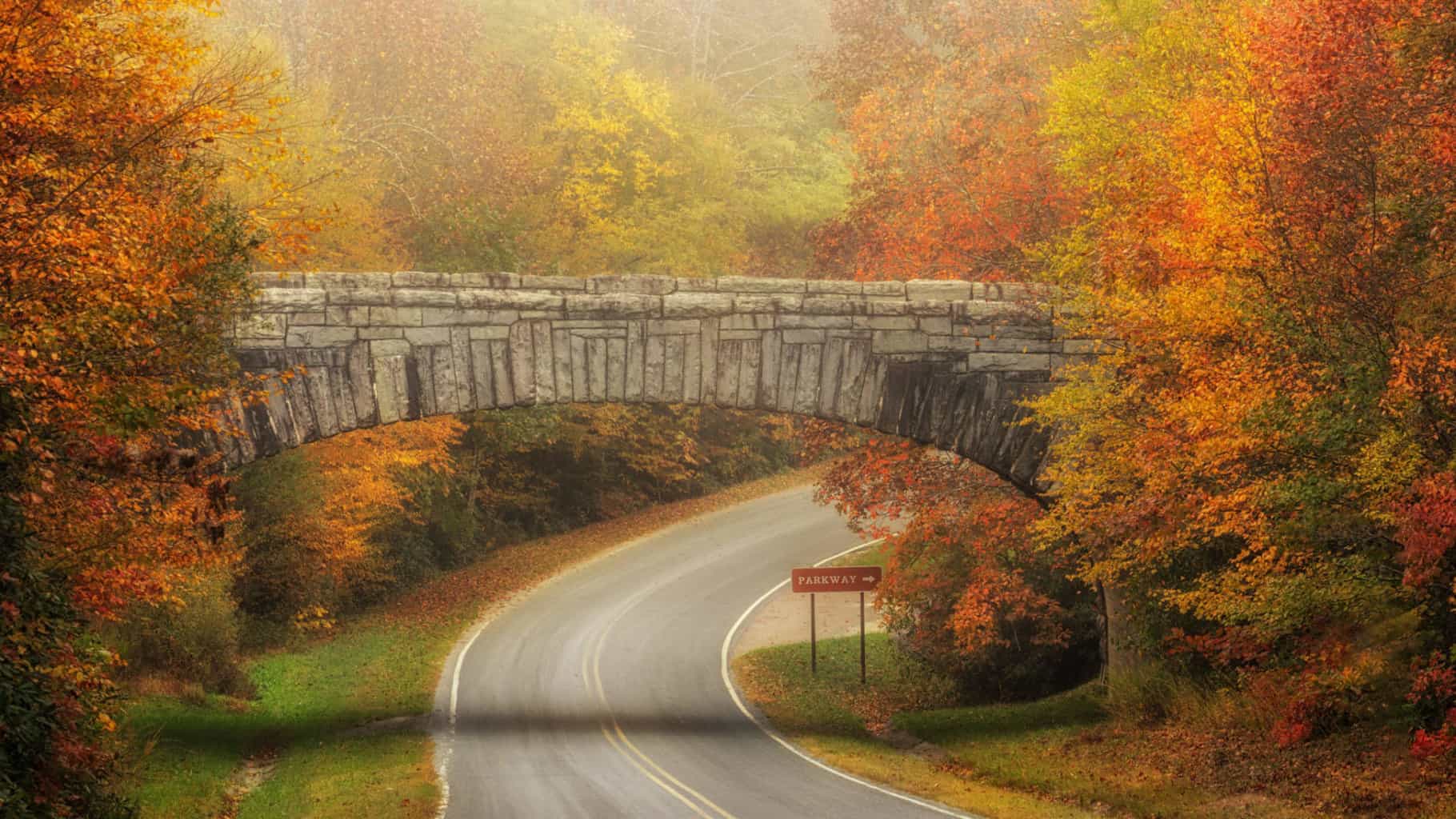 Roanoke is located in the mountains of western Virginia, and the area is home to a small regional airport, as well as an Amtrak station for the Northeast Regional Daily.
Driving will allow you to check out the Blue Ridge Parkway, which, in my biased opinion, is one of the most beautiful drives in the United States. Roanoke is just 83 miles from Greensboro, NC, 126 miles from Raleigh, and 195 miles to Washington D.C.
There is a metro bus that services the downtown Roanoke area as well as a commuter bus that links the Roanoke Valley with New River Valley.
---
Travel Tip: Give yourself at least two or three days to explore downtown Roanoke. If you are passing through on the Blue Ridge Parkway, you may be tempted to pop into Roanoke for an afternoon. Sure, you can treat yourself to some fine beer and a stroll through the farmers' market, but there is so much to do in Roanoke, VA that you will regret not spending more time there. Trust me!
---
8 Perfect Things to do in Roanoke, VA
Yes, there are more than 8, but we wanted to focus on our favorite things to do in this awesome mountain town. Here are some of the adventures that we enjoyed the most during our recent trip to Roanoke.
Learn About Roanoke's Railroad History
The railroad arrived in Roanoke in the 1850s, and it wasn't long after that the city made a name for itself manufacturing steam engines. More than 400 steam locomotives were built here between the late 1880s and the mid-1900s, along with hundreds of freight cars. The most famous of these is the Norfolk and Western J class, which was built to run on the N&W main line between Norfolk and Cincinnati.
You can visit the last remaining J locomotive, the 611, at the Virginia Museum of Transportation in downtown Roanoke. The engine has been lovingly restored and embarks on periodic excursions amidst adoring fans. Along with the largest collection of diesel locomotives in the South, you will also learn about Roanoke's period as a major railroad hub. The 45,000 square-foot building includes more than 2,500 objects that represent automotive, aviation, and mass transit history in Virginia and beyond.
The Virginia Museum of Transportation is open Monday through Saturday from 10 am – 5 pm and on Sunday from 1 – 5 pm. Admission is $10 for adults and $8 for seniors, students, and kids 13-18. Kids under 13 are $6 and children under 3 are free. The museum is an easy walk from downtown Roanoke hotels and the Roanoke Valley Greenway.
Fuel Your DIY Dreams at Black Dog Salvage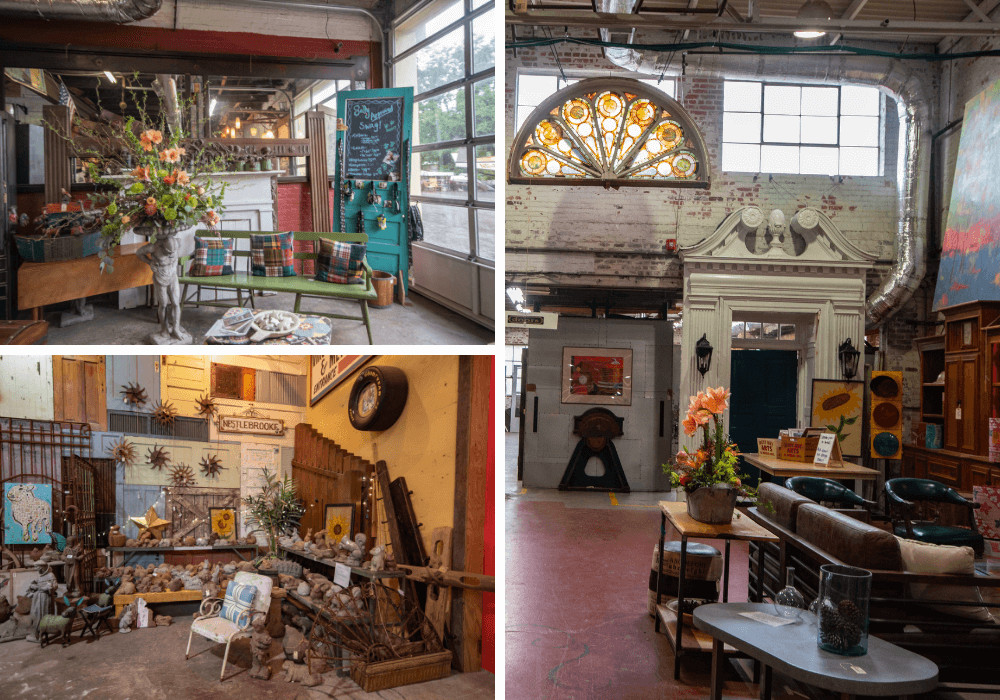 My own DIY escapades have been sorely lacking lately, especially when it comes to home renovations and decorating, but Black Dog Salvage changed my outlook as soon as I stepped into their 44,000 square-foot showroom in Roanoke. The space is magnificent, if a bit overwhelming, and every corner is full of architectural salvage, repurposed furniture, antiques, artwork, and offbeat pieces — from garden sculptures to stained glass windows.
Black Dog Salvage is also home to the popular TV show on the DIY Network, Salvage Dogs, where the Black Dog Salvage team tackles a salvage project and creates stunning works from their findings.
Black Dog Salvage is an awesome place to get lost in, and you'll want to spend at least an afternoon exploring – bonus points if it's a rainy day and you can spend more time. Don't have room in your carry-on for that upcycled desk? Black Dog Salvage will ship just about anywhere. You can also commission custom pieces, buy furniture paint, and listen to live music on summer weekends. This is a true Roanoke gem and one of the most unique shopping experiences you'll ever have, and one of the best things to do in Roanoke if you're into DIY.
Visit the World's Largest Freestanding Illuminated Star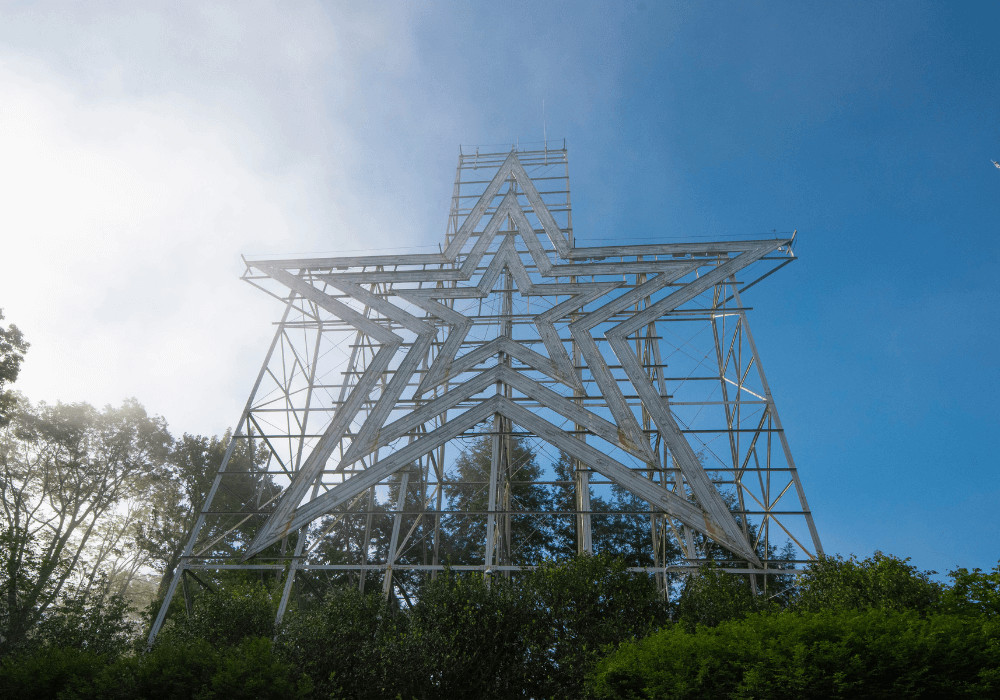 Locals love the beloved Roanoke Star, which is perched on top of Mill Mountain just outside of town and can be seen from 60 miles away. Not only is it an iconic symbol of Roanoke, but it's also got a pretty interesting history.
The idea for the Roanoke Star was developed by the Roanoke Merchants Association as a seasonal Christmas decoration back in 1949. The star was designed and constructed by Kinsey Sign Co. using 2,000 feet of neon tubing attached to a steel structure. The star was constructed at a nearby airplane hangar before being placed on top of Mill Mountain.
The Roanoke Star was a huge success with locals and visitors alike, and what started as a Christmas decoration turned into a cherished symbol that earned Roanoke the nickname "Star City of the South." The star is illuminated white every night of the year, and for special occasions, it shines red, white, and blue.
You can visit the 88.5-foot tall start at the top of Mill Mountain in Mill Mountain Park. There is a beautiful overlook with views of the surrounding mountains underneath the star, and the park is a great spot for a hike, bike ride, or picnic.
Stock up at the Historic Downtown Farmers' Market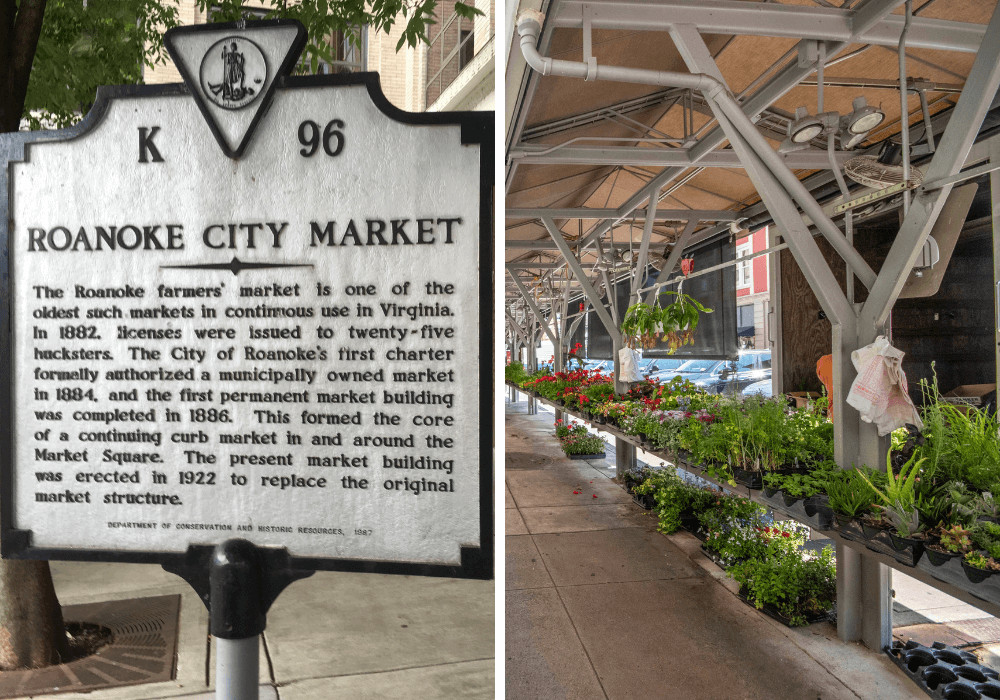 The Historic Roanoke City Market has been selling farm-fresh produce downtown since 1882, and is open seven days a week, from 8 am – 5 pm. For the best selection, visit on a Saturday, when you'll also find family-friendly activities and live music. This is a great opportunity to stock up on fruits, veggies, meats, cheeses, seafood, and local arts and crafts, plus the market is surrounded by some of Roanoke's most awesome shops, restaurants, and museums.
Explore a One-of-a-Kind Art and Cultural Center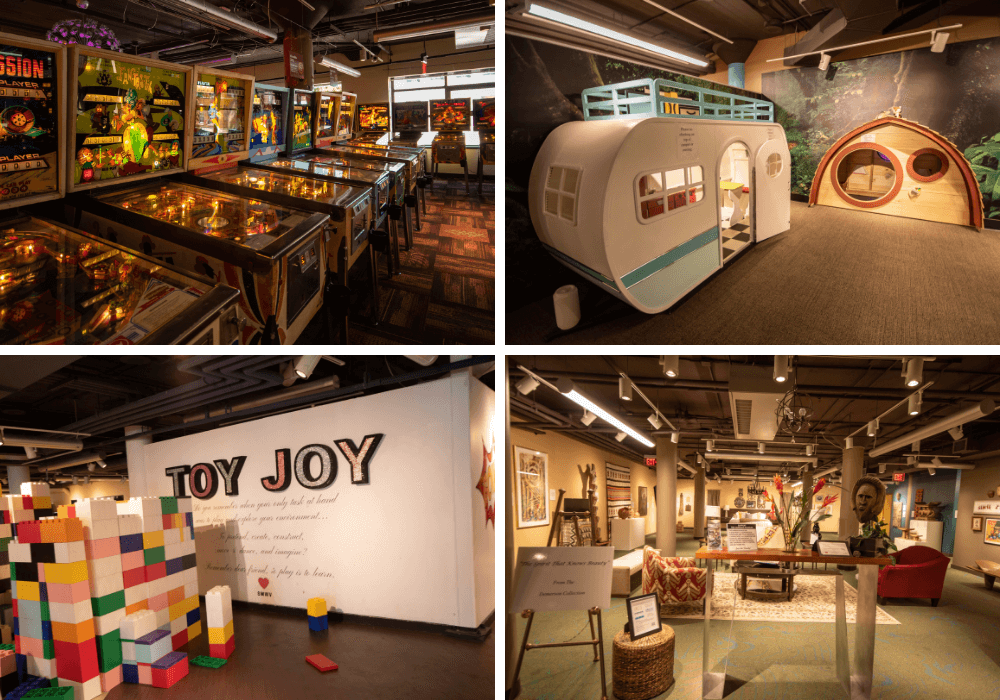 Just a stone's throw from Roanoke City Market is the innovative and expansive Center in the Square, featuring several nonprofits, museums, and the Mill Mountain Theatre.
Center in the Square is the perfect place to spend a rainy afternoon, bring the kids, and experience some of the best art, culture, and history in Virginia's Blue Ridge. Here's a sampling of what Center in the Square has to offer. The best part is that these fantastic nonprofits are all located in one seven-story building.
Indulge in a Local Craft Brew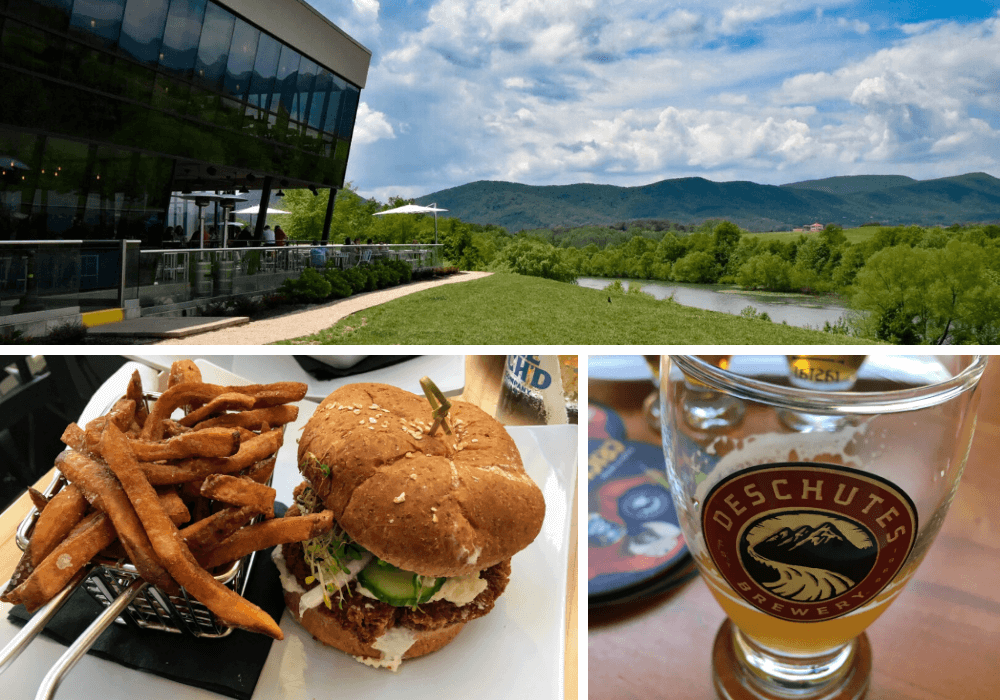 Did you know that there are more than 25 unique craft breweries in Virginia's Blue Ridge? Roanoke is a mecca for beer lovers, who come from all over the world to embark on the VBR Cheers Trail. You can get in on the fun by requesting a free digital passport and then tasting your way through Roanoke and beyond.
I had the privilege of enjoying several local breweries during my visit to Roanoke, and there are many more that I didn't get the chance to visit. Here are a few breweries in Roanoke and Virginia's Blue Ridge that I can't get enough of.
Enjoy Free Art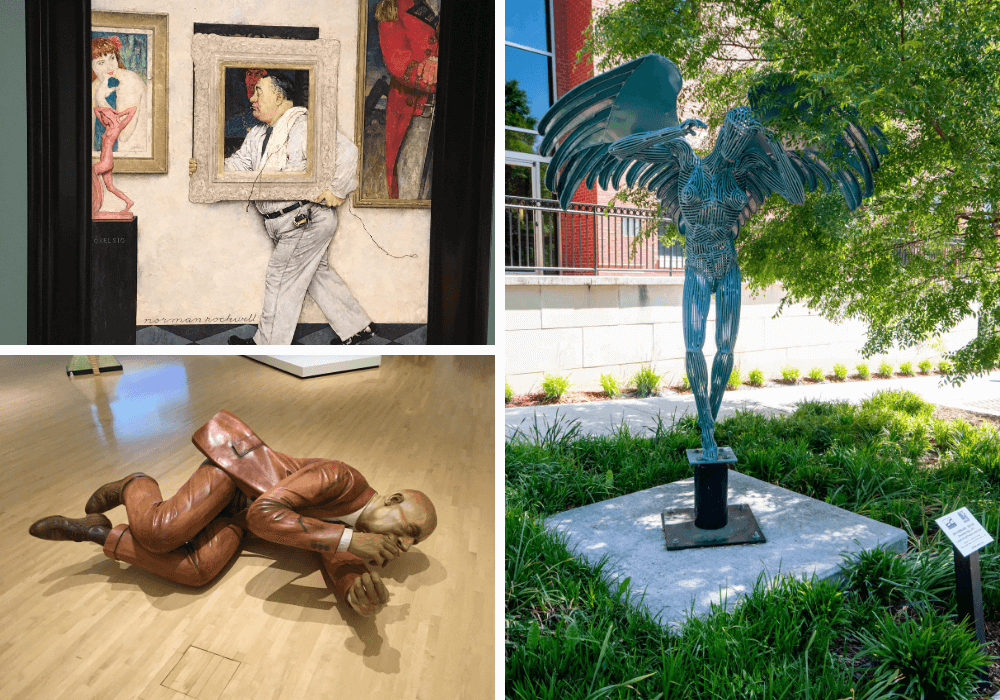 Roanoke's awesome Taubman Museum of Art offers free general admission every day of the week and includes eleven galleries of modern American art. More than 2,000 works are on display, including works by regional contemporary artists. During our visit, we enjoyed the works of Bob Trotman, which featured larger-than-life moving sculptures satirizing the world of corporate business.
In addition to the permanent and rotating collections, the Taubman Museum of Art hosts programs for kids and special events throughout the year. Did we mention that admission is free?
While we're on the topic of free art, be sure to stroll through the Elmwood Art Walk, which features a rotating cast of outdoor sculptures in Elmwood Park. Located right downtown, Elmwood Park is a great spot for a picnic.
Eat an Incredible Meal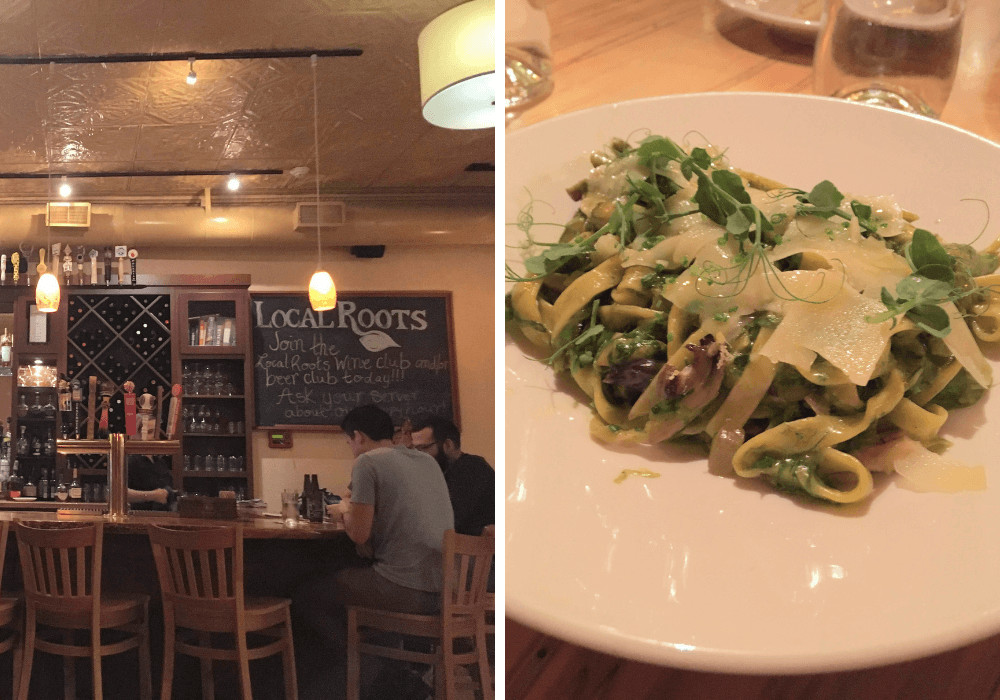 We had so many incredible eateries in Roanoke, it's hard to know where to begin, but I'm going to give you my three favorite Roanoke restaurants to cover breakfast, lunch, and dinner. Bon Appetit!
Where to Stay in Roanoke, Virginia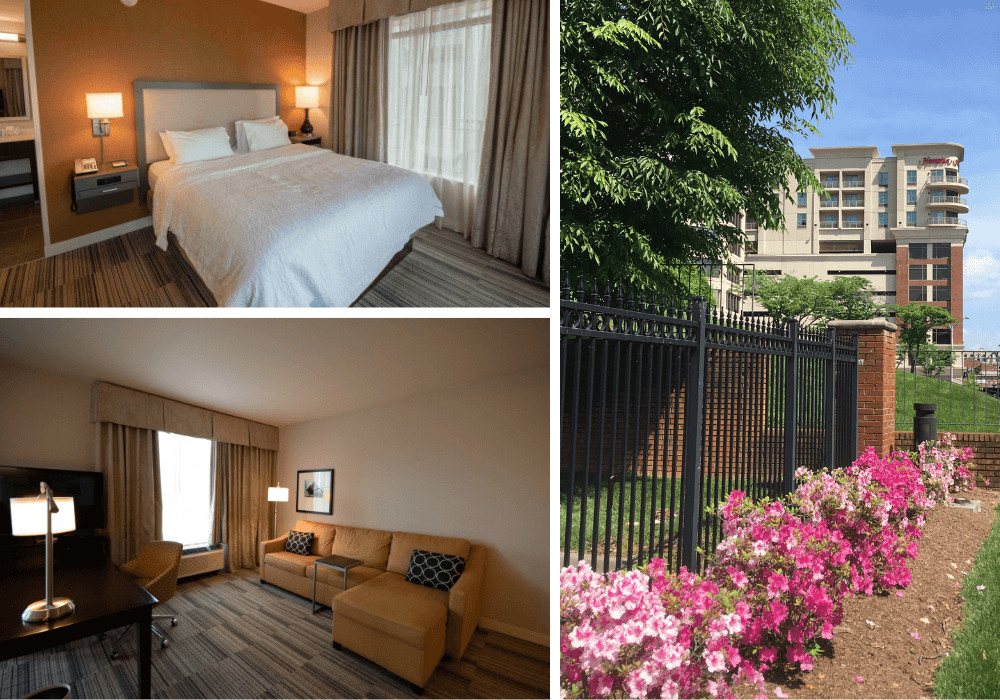 If I want to explore a town good and proper, I make sure I stay somewhere where I can get where I need to go on foot. The Hampton Inn & Suites in downtown Roanoke is perfectly located for all kinds of walking adventures. It is located right next to Elmwood Park, the downtown farmers' market, and the Deschutes Tasting Room, and only a short walk from everything downtown Roanoke has to offer.
The rooms, while not luxurious, are super comfortable, and include a small refrigerator, coffee maker, and microwave, plus a desk for being productive, access to free WiFi, and nice views of downtown, especially if you splurge on a balcony room.
Free breakfast includes yogurt, fresh fruit, and waffles, and if you do indulge in too much of Roanoke's awesome food offerings, there's a modern fitness center to help you ease the guilt. The Hampton Inn in downtown Roanoke sits atop a five-story parking garage so you can get in and out of the downtown area with ease. There is an extra fee for garage parking.
The Hampton Inn & Suites in downtown Roanoke is one of the top-rated hotels in the area, is modestly priced, and we always trust that the rooms will be clean and ready at check-in.
---
Want to read more about Roanoke and the surrounding areas? Check out these posts:
---
Guides and Maps for Exploring Roanoke, Virginia
We say this all the time, but we love having paper books and maps with us when we visit a place for more than a few days. Generally, we order a Moon Travel Guide if we can find one, a Falcon Hiking Guide, and a trail map, but sometimes a history book will catch our eye, and we'll get that too. Here are some great choices if you're planning a trip to Roanoke:
Pin for later?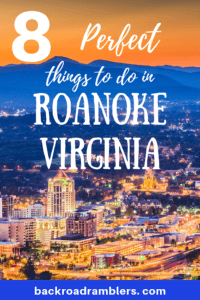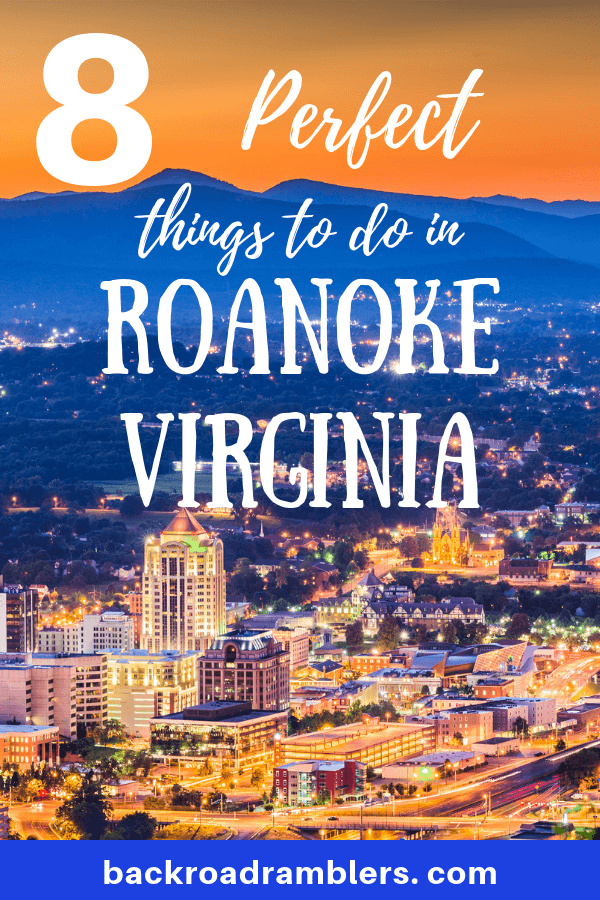 A huge thank you to Virginia's Blue Ridge, who hosted us during our visit to Roanoke!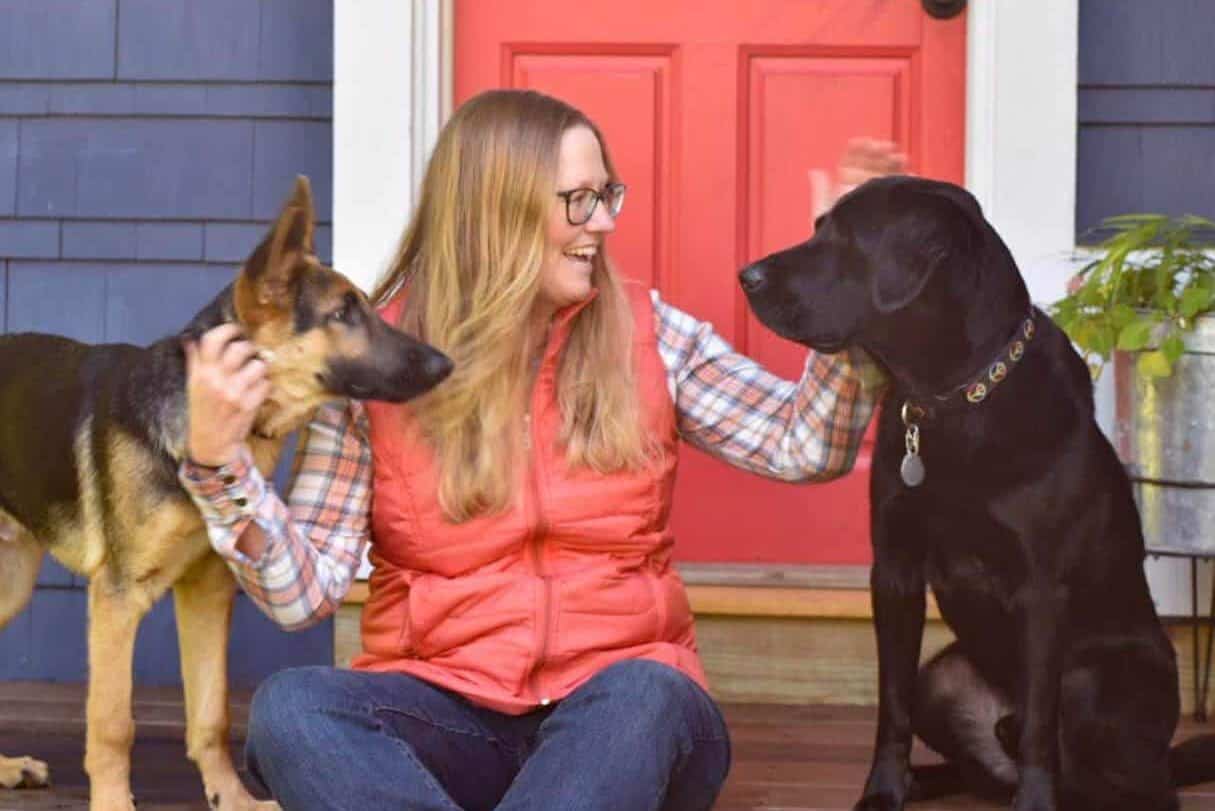 Tara is a freelance writer and travel blogger with a passion for outdoor adventures. She currently blogs at Back Road Ramblers and Vermont Explored, where she shares travel tips, adventure destinations, and vacation ideas for the wanderer in everyone.