Tent camping isn't for everyone, but it might be for you! Yes, you're sleeping on the ground, but modern gear has worked to make tent camping more comfortable so that you hardly notice that you're not actually in a cozy bed for the night.
The tent camping tips below may just make you a convert, and you'll fall head over heels for sleeping outdoors.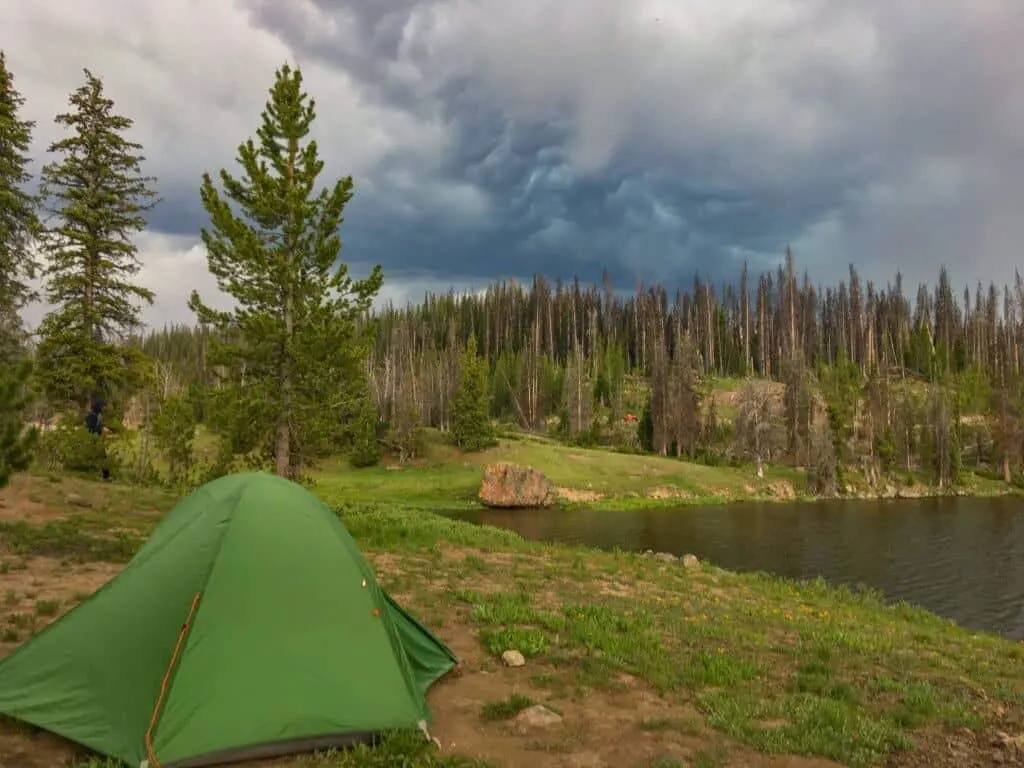 ---
I didn't start camping until I was in my early twenties, but after my first night in a tent, I was all in! There's so much to love about sleeping outside — the night noises, the damp air, and the morning serenade from the woodland birds.
Back then, I used a simple and lightweight foam camp pad, a thrift-store sleeping bag, and a pile of bunched-up clothing for my pillow, and I slept like a rock. Campfire cocktails probably contributed to those blissful nights as well.
Fast forward to modern times, and how things had changed since those carefree days of throwing whatever in a backpack and hitting the trail with a smile plastered on my face.
Last year, I started to realize that sleeping on the ground wasn't nearly as fun as it used to be. I climbed out of my tent each morning sore, tight, and more than a little grumpy. I started glamping and saying no to tent camping trips. I rented lots of hotel rooms, lots of Airbnbs.
But I still missed camping, and I didn't want the aging process to take away my love for sleeping outside.
Tent Camping Tips: Finding the Perfect Sleep System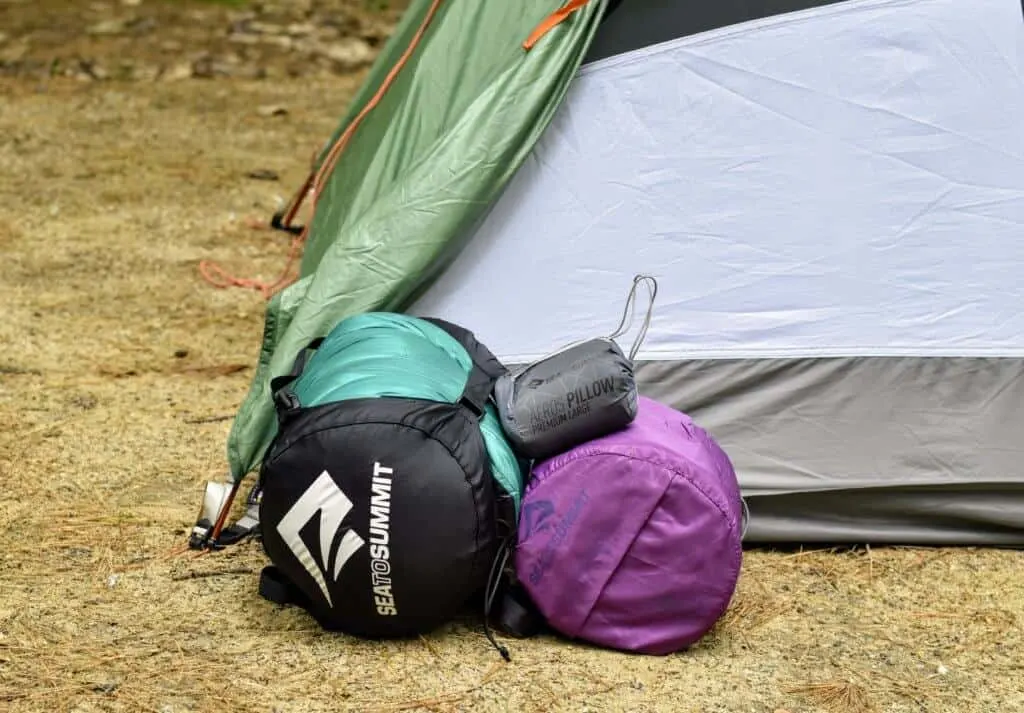 In early 2019, my niece asked me to embark on a national park road trip to celebrate her college graduation. A camping road trip. How could I say no to that? Instead of cursing the hard ground and packing extra ibuprofen, I decided to be proactive and invest in some new gear that would make sleeping on the ground a bit more enjoyable.
After hours of research online, and more hours snuggled up on the floor of several REIs, I found a system that I hoped would work for my mid-life camping crisis. I'm happy to say that my sleeping bag, sleeping pad, camp pillow combo rocked our month-long camping trip, and that I've never slept better outdoors than I did this summer.
My first decision was to buy all my sleeping gear from the same company so that they would work together as a system.
My second decision was to opt for women-specific gear that would work well for my body type.
Sea to Summit pulled through with a woman-specific sleep system that is perfect for three seasons of backpacking or car camping. Better yet — Sea to Summit offers a lifetime guarantee on all of its products, and the customer service is fabulous. Here's what I went with:
Sea to Summit Women's Comfort Plus Self-Inflating Sleeping Mat – I chose the Women's Comfort Plus because it offered more insulation and support in the hips, where I definitely need it. It has an R-value of 5.1, so suitable for four seasons of camping, and while it's relatively heavy – 32.6 ounces, I knew I could carry it on shorter backpacking trips.

At this stage of the game, comfort beat out weight as a priority, and at three inches thick, this sleeping pad is no joke! Of all the sleeping gear I purchased for my camping trip, choosing this sleeping pad has been best decision I've made. It's made tent camping so much more comfortable and is like sleeping on a firm mattress at home!

Sea to Summit Journey Women's 18-degree Down Sleeping Bag – I've shied away from mummy bags in the past, but the Journey is better tailored to a woman's body — more narrow in the shoulders and wider in the hips and knees. There's extra insulation in the toe box, and the Journey can be unzipped to lie totally flat for use as a quilt. Using the included compression sack, the Journey shrinks down to the size of a water bottle, and it only weighs 2 lbs. 9.6 oz. It's great for car camping, backpacking, or living out of a carryon when you travel.

Sea to Summit Aeros Ultralight Inflatable Pillow – My first dedicated backpacking pillow has me kicking myself for waiting so long. This little thing fits my pocket and weighs just 2.1 oz.

The Aeros Ultralight features a stretch-knit polyester coating that is way comfier than traditional inflating pillows that scratch your face and make your head bounce around in the night. Even better, the Aeros, and all Sea to Summit pillows are compatible with the Pillow Lock System, which keeps your pillow from sliding off your pad during the night. I will never use a bag of clothing for a camping pillow again!
Sea to Summit has the following promo codes available (updated March 1, 2022)
FreePillow – free pillow with any mat or bag purchase
SleepingMat15 – 15% off any sleeping mat
Tent Camping Tips: Choosing Your Sleep System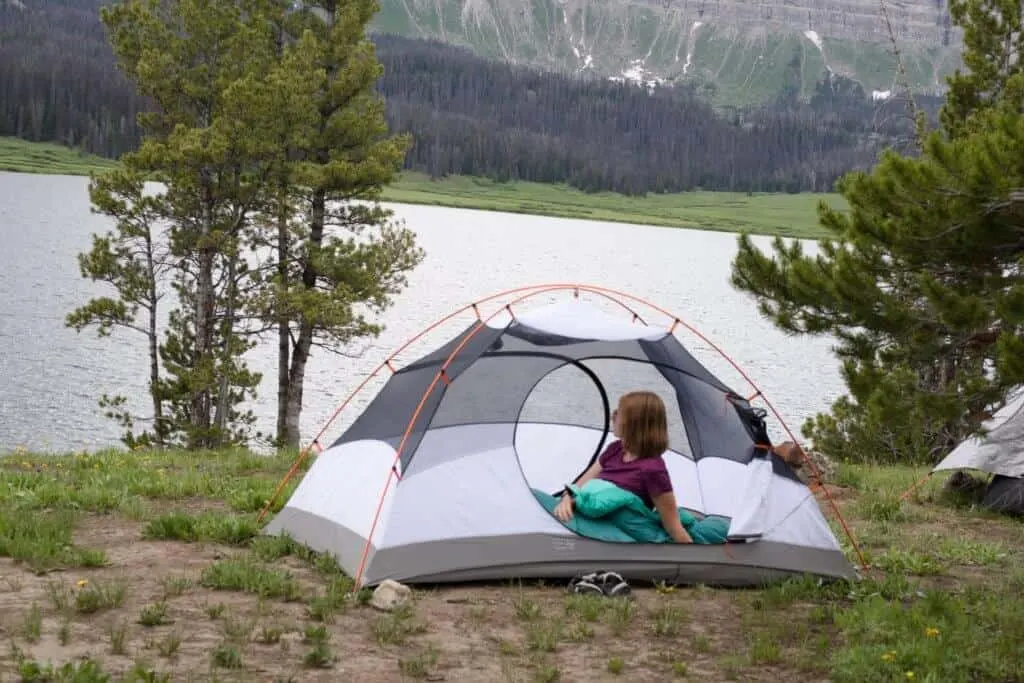 For years, I've been of the mindset that it's not the gear that gets you outside, and that anyone can enjoy camping, whether you can afford high-end gear or not. I guess I'm backtracking on that a bit, as having the right gear for the right adventure is actually pretty important, and while I hate to throw stuff out, that 25-year-old sleeping bag probably wasn't pulling its weight anymore.
Fine-tuning your camping gear to meet your changing needs is critical to continuing to enjoy your time outside, and what you used as a young adult will be different when you have children, and will change again as you age and your camping style evolves. Here are some tent camping tips to help you choose the best women's sleeping bag, sleeping pad, and pillow for years of camping comfort.
Tent Camping Tips: What's Your Camping Style?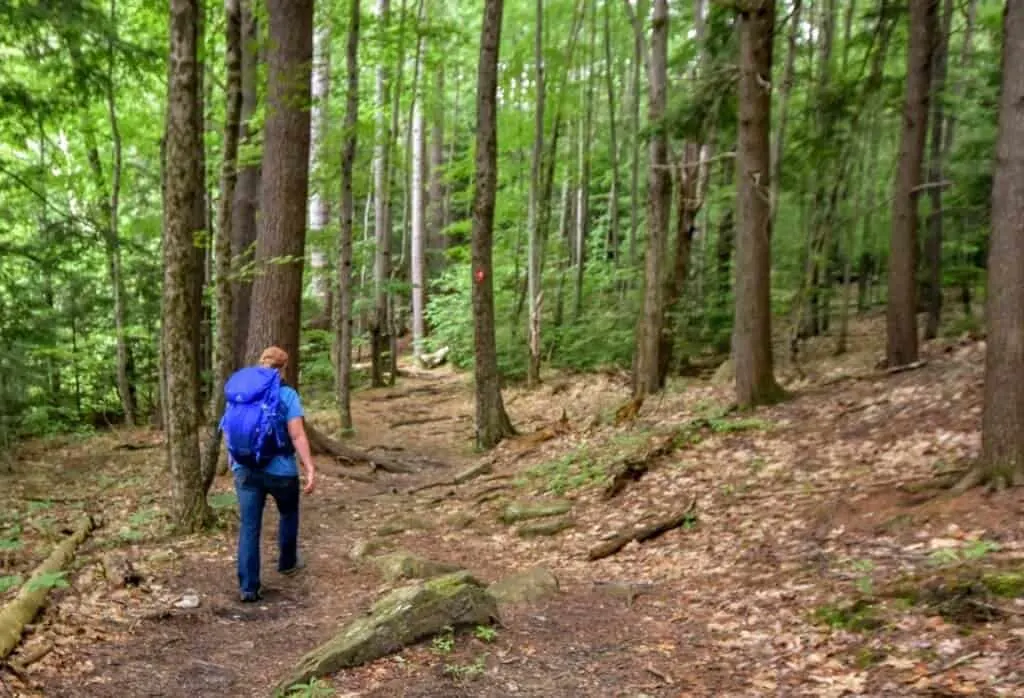 Are you a backpacker, a car camper, or both? Do you camp in the winter or just on warm summer weekends? Do you fly with your camping gear? Ideally, you want to figure out your camping style and then choose a sleeping bag and sleeping pad combo that can overlap across different outdoor adventures.
If you know that you will be putting in lots of miles backpacking, then weight and packability will be of utmost importance. If you are primarily a car camper, then comfort might have more of an edge. Thinking about how you will actually use your sleeping bag and pad will help you figure out the features you need most.
I am primarily a car camper, but I do want to be able to bring my gear on a few weekend backpacking trips each year. I also do a lot of flying so I can visit national parks out west, which means my gear has to pack up pretty small.
For me, camping is doable in three seasons, so anywhere from 20 degrees up to 90 degrees. Using this information, I was able to narrow down my choices to a lightweight three-season bag and pad.
Tent Camping Tips: What's Your Sleeping Style?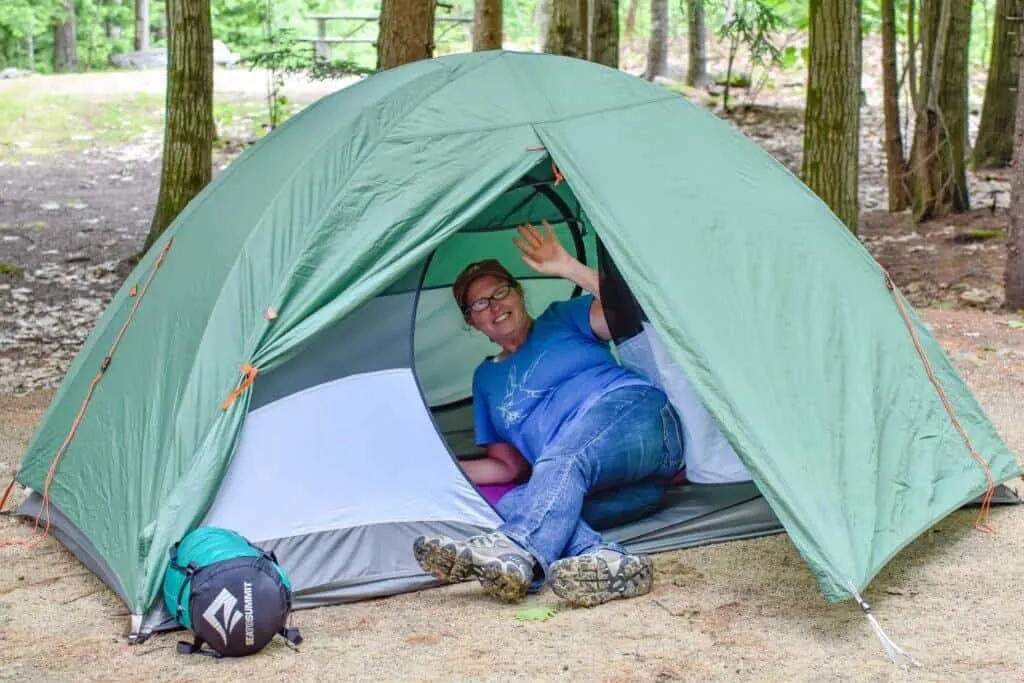 Do you sleep with a partner? Are you a side sleeper or a back sleeper? Do you sleep warm or cold? If you know that you like lots of extra covers at home, then you should also opt for a warmer sleeping bag and a sleeping pad with good insulation. A thicker sleeping pad will be useful for side sleepers, and if you think you will be sleeping with a partner or a child, then it might be useful to look for a sleeping bag that can double up with another.
I sleep cold, often camp with my husband, and do a lot of tossing and turning in the night. For these reasons, I chose a three-inch-thick sleeping pad that I could deflate slightly to make it softer, but still warm. I went with the Journey sleeping bag because it can be zipped together with another Sea to Summit bag to sleep two comfortably, and the extra insulation in the toe box makes me feel warmer all over.
Look for a Good Warranty
Sea to Summit edged out many competitors because of their customer service and their lifetime warranty. In 2021, my sleeping pad developed a slow leak. I followed the manufacturer's directions to find the hole, but I was unsuccessful. I contacted Sea to Summit, who agreed that my pad had an internal leak, and they sent me a new sleeping pad within days!
Customer service matters, and Sea to Summit delivers, but there are several brands that are worth checking out. Nemo, North Face, and Mountain Hardwear also have limited lifetime warranties against manufacturer defects. Reading customer reviews will give you a better idea of how a return, repair, or exchange is handled within each company.
Down or Synthetic Sleeping Bag?
This is an age-old question that I can't really answer for you. There are many advantages to using a down sleeping bag, including weight, packability, and more efficient insulation, but synthetics are generally cheaper and more waterproof than down.
I have used both synthetic and down bags at different points in my life and down is definitely my choice for superior comfort and warmth. Sea to Summit bags use down that is certified according to Responsible Down Standards (RDS).
The RDS requires independent, third-party assessments of all aspects of animal rearing and handling throughout the entire supply chain, providing confidence that each phase of the collection process has been completed with the welfare and ethical treatment of waterfowl in mind.
How to Make Tent Camping Comfortable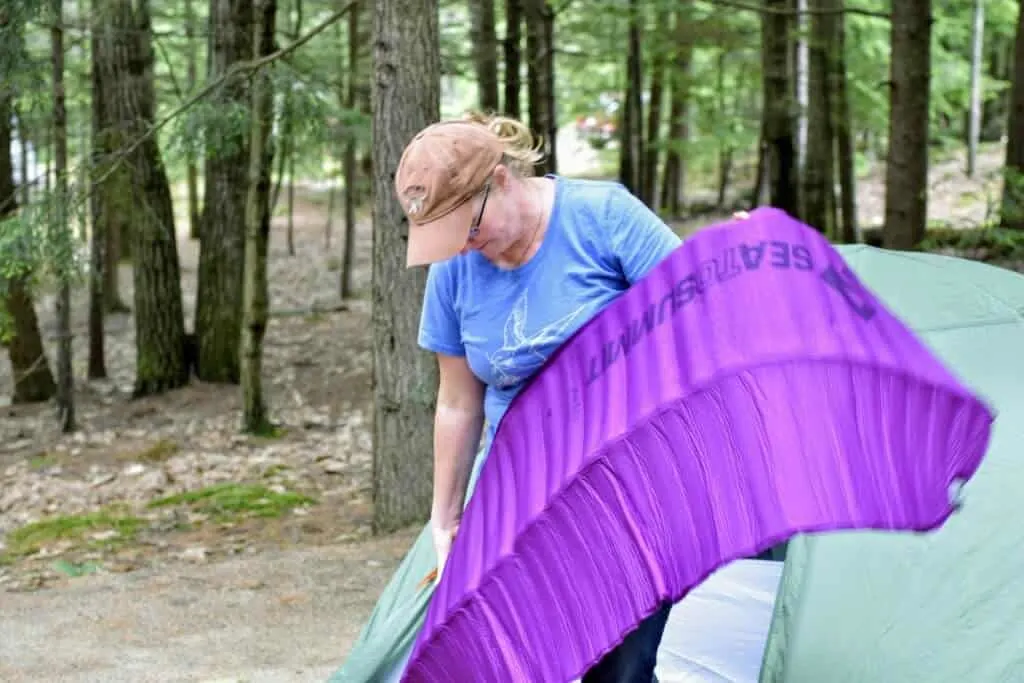 You've got the gear, but you still may be wondering how to make tent camping more comfortable. The sleeping bag, pad, and pillow you choose for your camping trip will go a long way toward a more restful night in your tent, but it's just the beginning.
Where you pitch your tent, what you wear to bed when camping, and even what you drink before turning in will affect how well you sleep. Want to ensure a restful night under the stars? Follow these tent camping tips.
Pitch your tent on flat ground. There is nothing worse than rolling off your sleeping pad into the wall of your tent because it's pitched on an incline. Oh wait, I can think of something worse — you spend the night with jagged rocks sticking into your back because you didn't take time to clear your chosen patch of dirt. Find a flat piece of land, clear it of rocks, sticks, and other debris, and pitch your tent. If you have to pitch on a slight hill, make sure your tent is aligned so that your head is positioned at the top of the hill.

Pack designated sleepwear. There's a distinct mental shift that seems to happen when you change from your campfire clothes to your sleep clothes. Sleeping naked in a sleeping bag, at least without a liner, is the worst. Sleeping in the clothes you wore all day is a close second. Choose comfy sleepwear that isn't too tight, even regular pajamas if you're car camping. If you're backpacking, you may need to make do with a set of lightweight thermal underwear.

Pack a camping sleep kit. If your not sure where you'll be sleeping on your camping trip, be proactive and pack a little sleep kit that includes a set of earplugs, an eye pillow, and a small bottle of lavender essential oil. Lavender helps erase stress and promote a calm and peaceful state. Add a few drops to your pillow before bed.

Don't drink tea, coffee, or alcohol before bed. Caffeine is obviously no friend to a good night's sleep, and drinking tea and/or alcohol before bed will mean that you're constantly sneaking out of your tent to go pee. My goal when tent camping is to spend the whole night inside my sleeping bag without having to use the woods.
Tent Camping Tips: Keeping Warm through the Night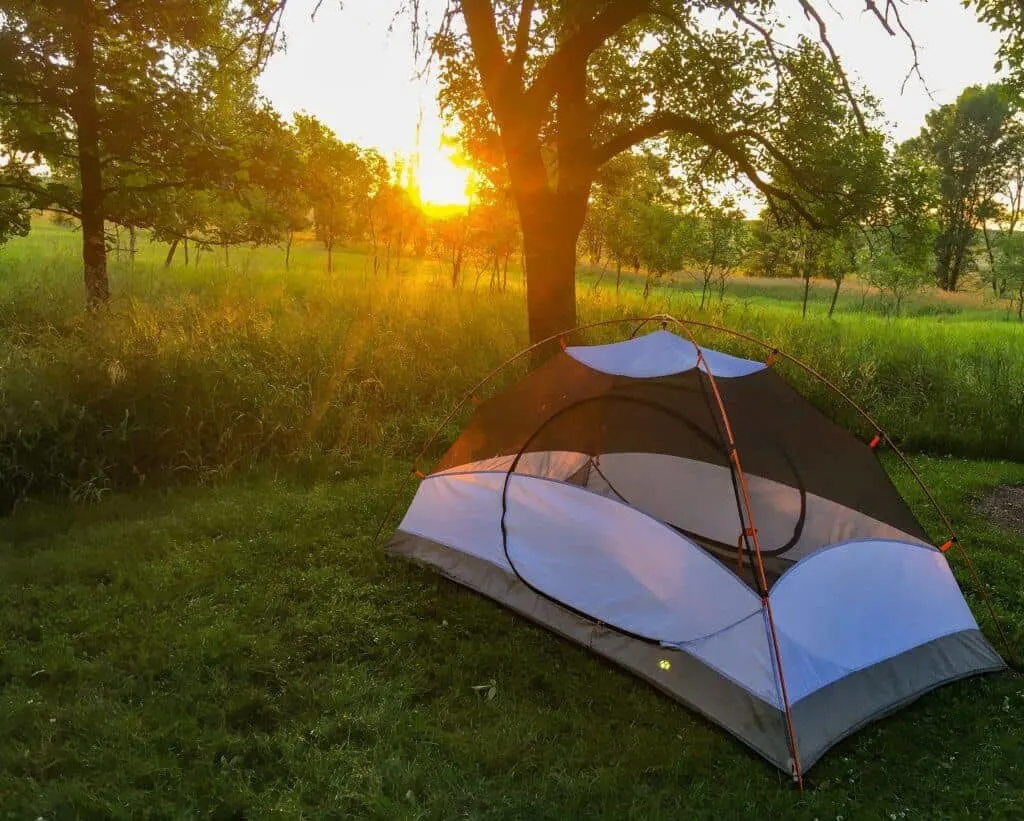 I truly can't get a good night's sleep if I'm cold, and I imagine that most people feel the same way. You want your camping trip to be memorable for all the right reasons, and for that, you need a measure of climate control.
Staying warm in your tent will obviously start with the sleeping bag and the pad that you choose for your camping trip. If you know you are a cold sleeper, then definitely pack a sleeping bag that is rated well below the forecasted temperature and a sleeping pad with a high R-value.
The Sea to Summit Comfort Plus Sleeping Pad is rated for four seasons of use with an R-value of 5.1. It's been toasty in really cold conditions, although I haven't tried it in the winter.
Because I'm not much of a winter camper, the Sea to Summit Journey Women's 18-degree sleeping bag is perfect for the coldest conditions I'm likely to encounter. The comfort range for this particular bag is rated as comfortable from 18 to 65 degrees.
I would also suggest inviting your favorite sleeping partner along, whether it's your husband, your child, or your dog. An additional warm body in your tent will definitely keep you warmer. Here are a few more tips for staying warm while camping.
Tuck a hot water bottle into your sleeping bag. Heat up some water over your campfire before bed, pour it into your Nalgene bottle and tuck it into the foot box of your sleeping bag for toasty toes.

Exercise before bed. You may think you're warm sitting around the campfire before bed, but as soon as you walk toward your tent, you'll be shivering. Make your own heat by doing a minute of jumping jacks before climbing into your tent. That warmth will last until to get into your sleeping bag.

Wear wool to bed. If you know it's going to be chilly on your next camping trip, pack merino wool base layers and socks. Wool regulates your temperature, won't make you stinky, and feels super soft next to your skin. Woolly makes affordable merino base layers, and Darn Tough merino socks come with a lifetime guarantee.
After investing in the right gear for a good night's sleep while camping, I can honestly say that I still love sleeping on the ground.
If you are on the fence about purchasing that high-end bag or pad, I urge you to take the plunge. Finding the gear that suits my camping needs has been a total game-changer, and well worth the price tag.
Are you a tent camper? What tent camping tips do you have for maximizing comfort for a good night's sleep?
---
Want to read more camping tips? Check out these posts:
---
Follow us on social media for more camping and road trip tips:
Pin for Later?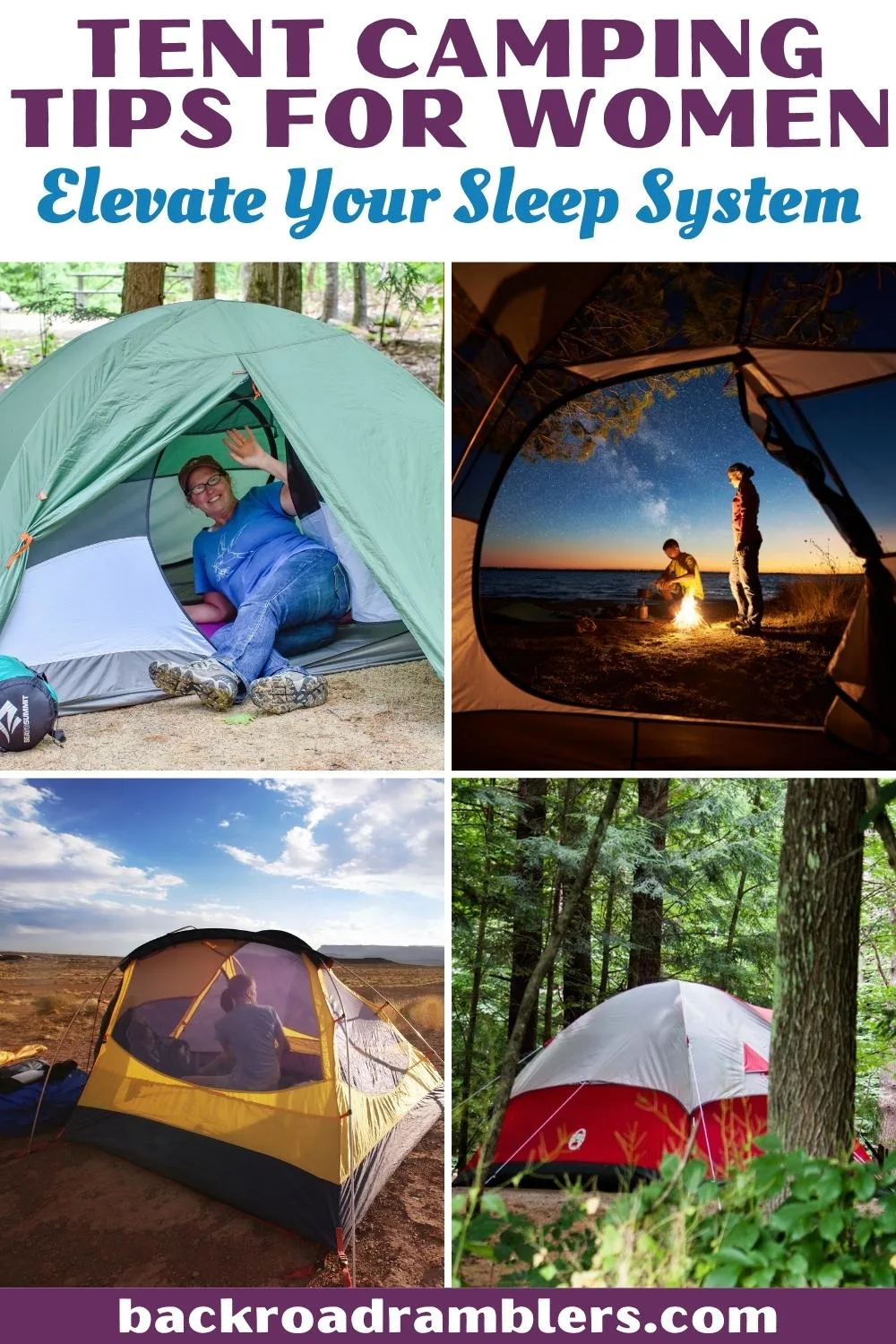 Watch our web story for a visual review of our tent camping tips for women.