Can we all just agree that the most difficult part of getting out the door and into a weekend of camping is food prep?
Between shopping, packing our camp "kitchen" and ensuring that everyone has plenty of snacks, getting ready to go camping sometimes takes longer than our camping trips!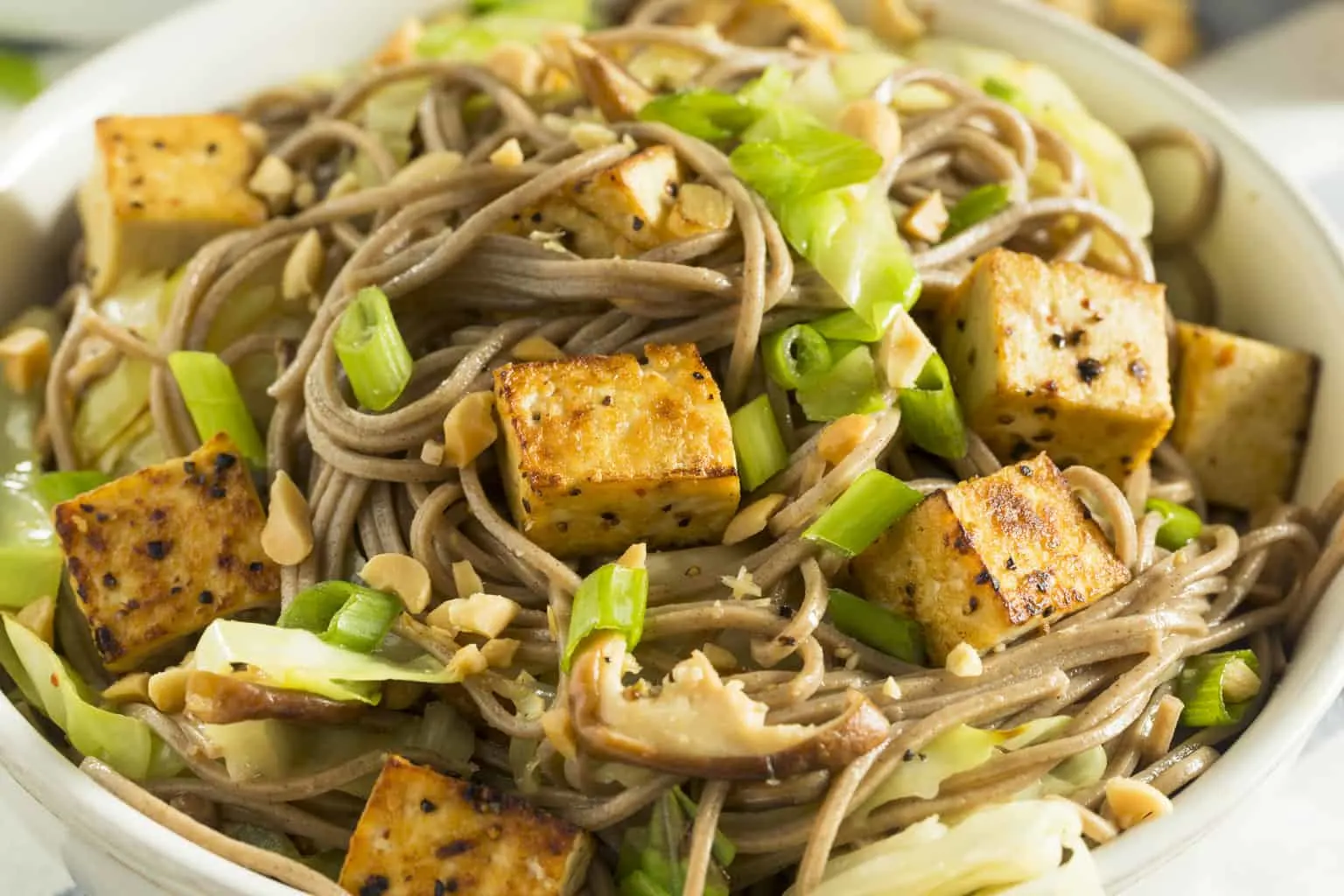 We love to wave goodbye to our responsibilities and head into the woods, though, so we do our best and try to keep things simple.
Even though we've gotten pretty good at planning and preparing meals for our trips, it remains the most time-consuming part of the camping process.
One of our favorite camping meals is noodles with spicy peanut sauce, which we serve up with a sturdy vegetable or a salad, depending on the limits of our cooler.
We've been making the same spicy peanut sauce for years, and when we camp with friends, someone always asks for our recipe. I've tried a lot of different recipes and combinations, and I always come back to this one. In fact, when I experiment with the recipe, my kids complain. They love this one and only this one.
I prepare this spicy peanut sauce at home and store it in a zip-top plastic bag or jar before heading out on our camping trip. This sauce doesn't need refrigeration and is great with tofu, cooked veggies, pasta, or rice.
If you're preparing for a weekend camping trip, spicy peanut noodles are one of the easiest meals to throw together for a quick camping dinner. Okay, it's probably not easier than hot dogs on a stick, but it's pretty close.
Spend 15 minutes at home putting it together and another 15 minutes cooking your pasta, and you've got an easy, delicious camping meal.
This also makes a great sauce for backpacking peanut noodles — just make sure to double-bag the sauce before heading out!
---
Also Read: The 10 Easiest Camping Recipes for Families on the Go
---
Special Equipment for this Recipe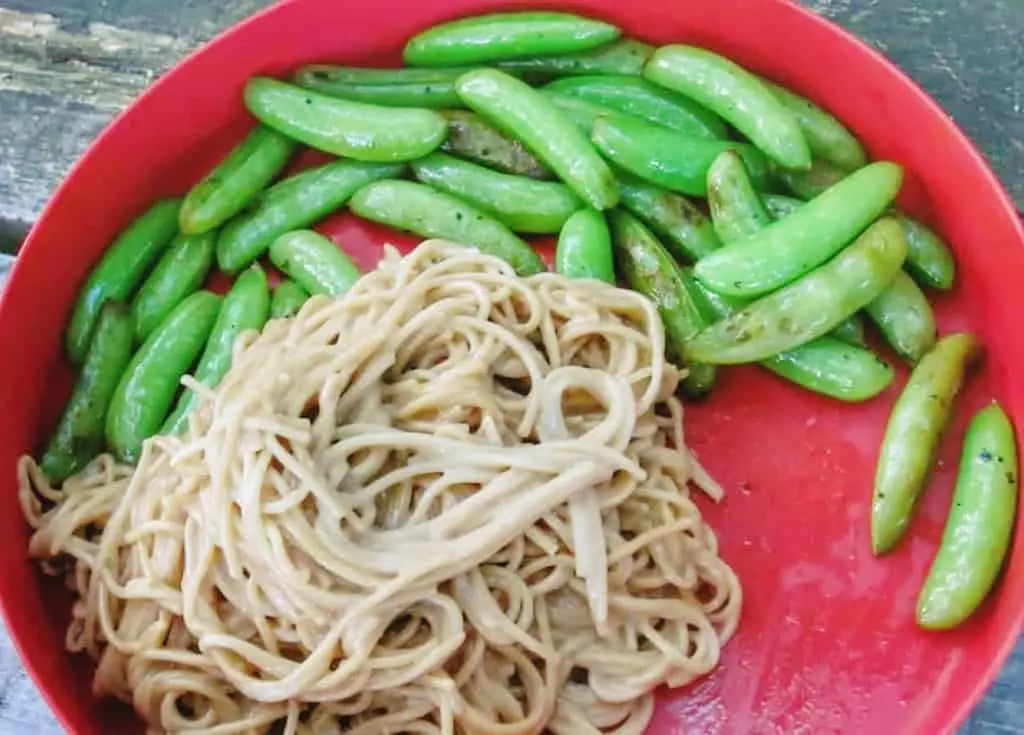 While you can certainly boil your pasta water over a campfire, it's easier and quicker if you use a standard 2-burner propane camp stove.
Any pot will do for boiling water, but our favorite comes with a built-in strainer in the lid for pouring the water off of your pasta. It's ingenious and incredibly useful for making pasta while camping.
Serving Suggestions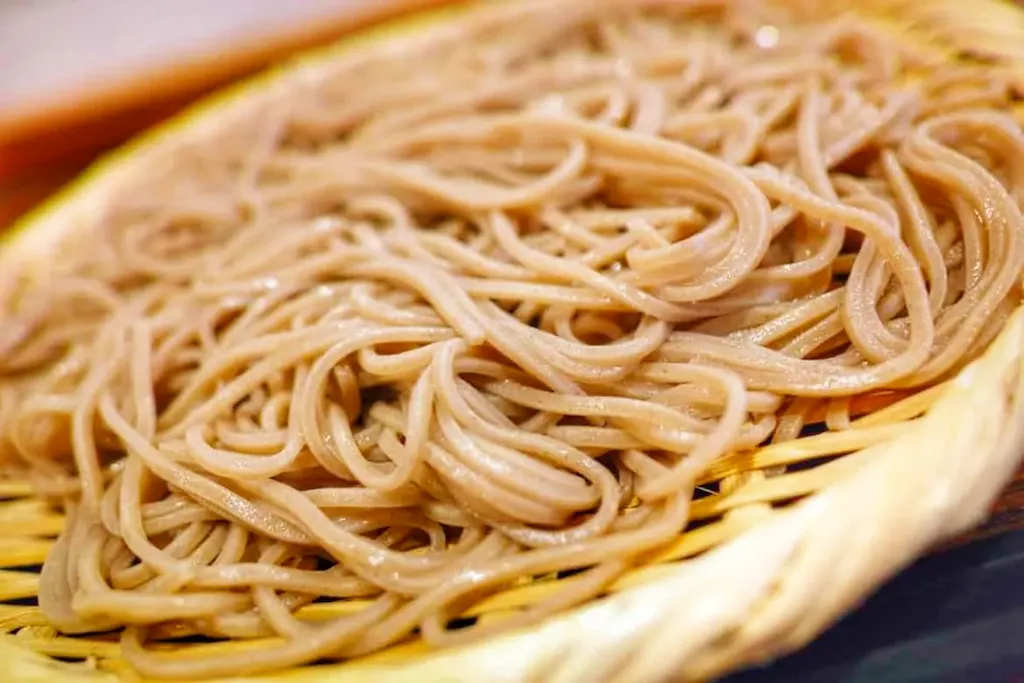 Make your spicy peanut sauce at home before leaving for your trip. You can store it without refrigeration for a few days, but keep it in your cooler if it's really hot.
For protein, you can choose to add marinated tofu, chicken, or beef. To make life easier, cook these at home and then add them to the pasta and peanut sauce just before serving.
I will usually marinate tofu or chicken in a mix of soy sauce and orange juice with a sprinkle of powdered ginger and garlic powder, then bake them for about 20 minutes until cooked through.
We most often serve spicy peanut noodles with a sturdy vegetable that will hold up well in the cooler. Snap peas, asparagus, broccoli, green beans, and cucumbers all work well.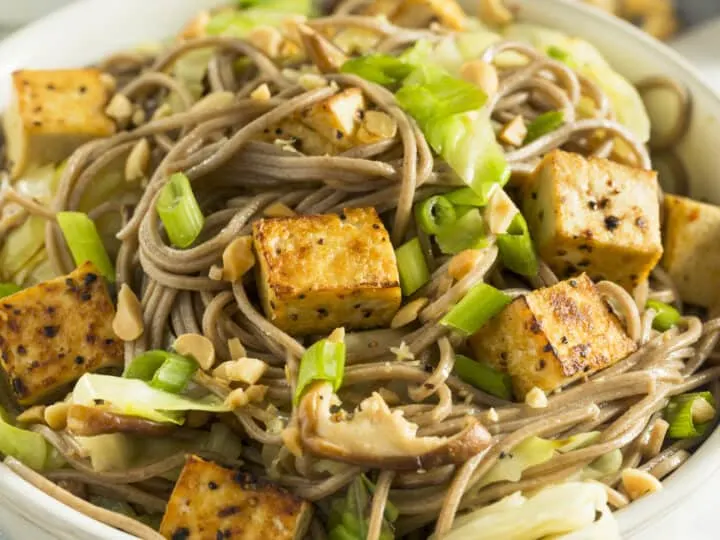 Yield:

6
Spicy Peanut Noodles for Camping
One of the great things about this peanut sauce is how versatile it is. You can serve it with any number of meat/veggie combinations.
Get fancy and serve it with chopped cilantro and scallions, or keep it simple and pour it over noodles and sauteed broccoli. If you decide to experiment, please let me know how it came out in the comments below.
Ingredients
1 ¼ - 1 ½ cups natural peanut butter (chunky or smooth)
½ cup rice vinegar
¼ cup low-sodium soy sauce or tamari
Juice of one lime
1 tablespoon sesame oil
1 teaspoon dried garlic
1 teaspoon crushed red pepper
1 pound of spaghetti or another type of noodles
Optional: one pound of tofu, chicken breast, or flank steak
Instructions
At home:
Add all the ingredients together in a large bowl. If your peanut butter is very thick, you can heat everything up in a saucepan on low heat so that it is easier to mix.
Whisk ingredients until smooth and store in a zip-top back or jar.
Optional: marinate chicken, beef, or tofu in a sauce of half soy sauce and half orange juice, with powdered ginger and garlic to taste, for 30 minutes.
Optional: bake tofu, chicken, or beef in a 400-degree oven until cooked through.
Cool thoroughly, and store in a plastic bag in your cooler.
At camp:
If you are serving spicy peanut sauce with pasta, cook your noodles in a pot of boiling water, then add a little bit of hot pasta water to the bag or jar with your peanut sauce to thin it out a bit.
Mix pasta and sauce into the pot with your noodles.
Add optional protein source.
Serve with a side of sturdy vegetables, like green beans, snap peas, asparagus, broccoli, or cucumbers.
Notes
Pasa with peanut noodles can be served hot, cold, or at room temperature.
Nutrition Information:
Yield:
6
Serving Size:
1
Amount Per Serving:
Calories:

803
Total Fat:

51g
Saturated Fat:

8g
Trans Fat:

0g
Unsaturated Fat:

37g
Cholesterol:

28mg
Sodium:

876mg
Carbohydrates:

50g
Fiber:

9g
Sugar:

6g
Protein:

45g
*Nutritional information has been automatically generated and can't be confirmed as accurate.
More Easy Camping Recipes
These are the camping meals that we make over and over again.
---
Follow us on social media for more camping ideas
Pin for Later?