This vegan grilled ratatouille is made with sturdy grilled vegetables and can be served hot, cold, or at room temperature.
It's the perfect hot-weather camping meal when local veggies are abundant, providing you with a burst of summer flavor.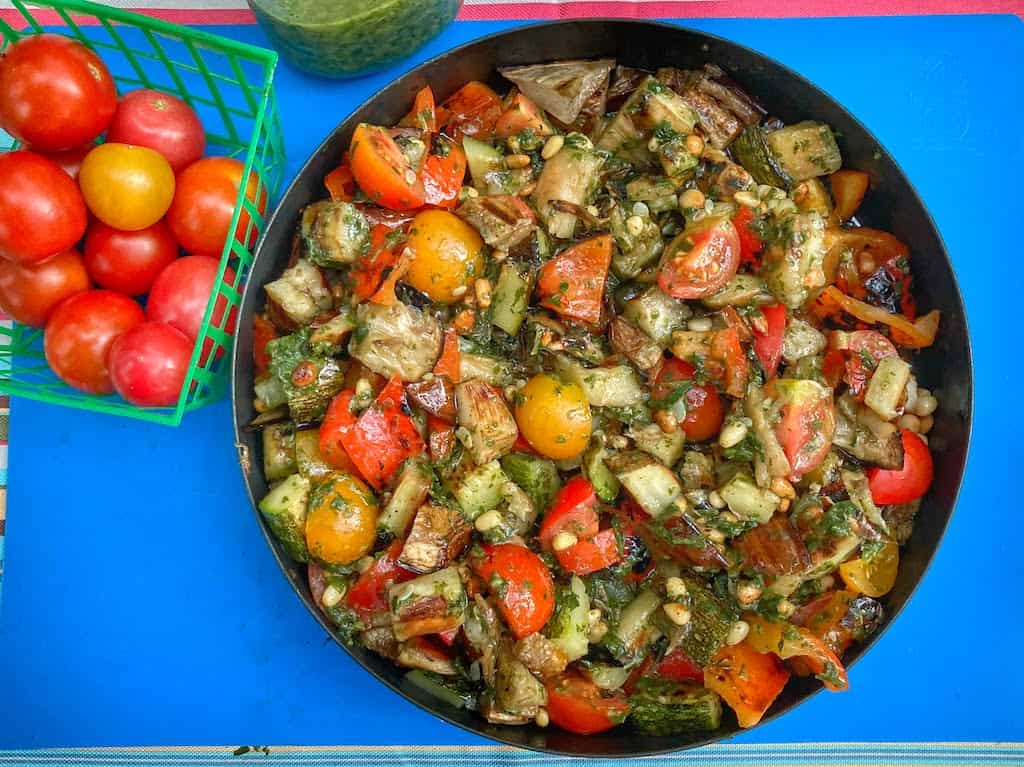 Our family is made up of vegetarians and meat eaters, so we usually pair this grilled ratatouille with veggie and meat sausages cooked on the grill, which means it's essentially a no-pot meal, our favorite kind!
Use whatever summer vegetables you love for this recipe — peppers, zucchini, summer squash, and eggplant hold up well outside of a cooler, at least for a few days.
The grilled veggies are paired with sliced cherry tomatoes, pine nuts, and a tangy summer dressing that you make ahead of time, which means this grilled ratatouille comes together super fast. You basically make a fire, chop your veggies, lay them on the grill, and crack a beer to enjoy while they cook.
---
Also read: The 10 Easiest Car Camping Meals for Families on the Go
---
Special Equipment for this Recipe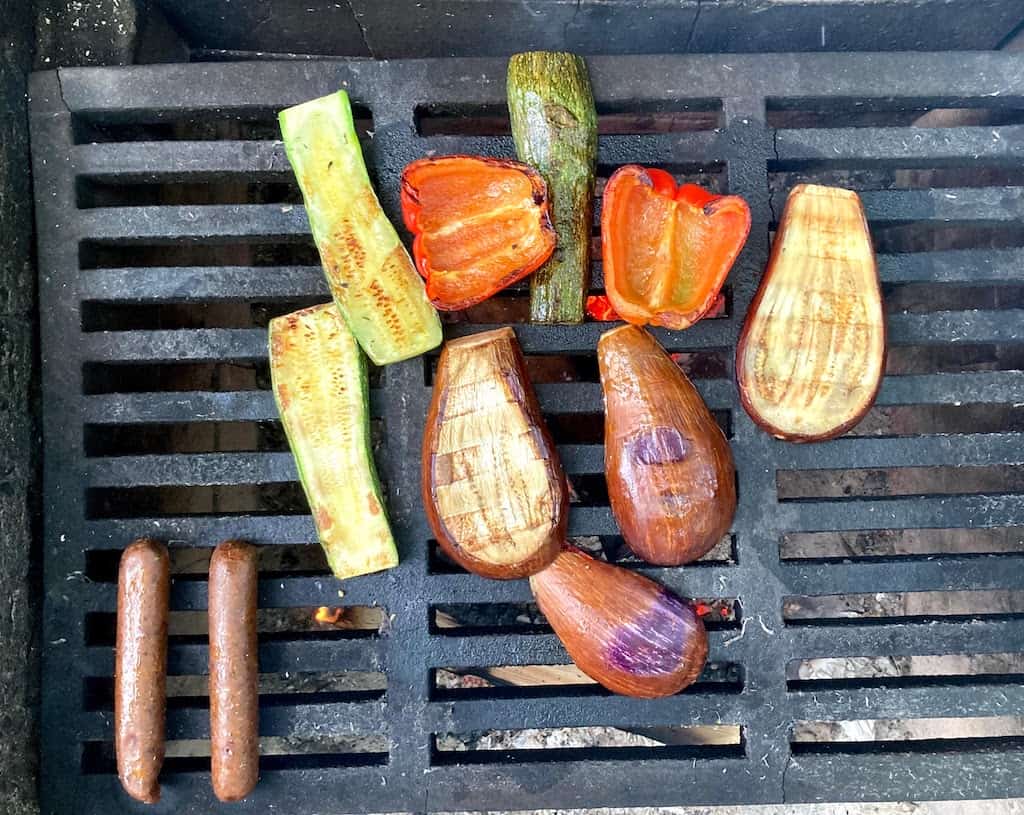 This is the ultimate easy camping dinner after a day of hiking, paddling, or sightseeing, and it's made even easier because as long as you have a campfire with a grill, you don't need special equipment.
Here are the basics to pull this one off:
A cutting board and a sharp knife: We will forever be singing the praises of this little cutting set from Primus. The knife stays sharp enough to cut bread and tomatoes, and it comes with a handy wrap that keeps everything together.
Basting brush: For oiling your veggies before sticking them on the grill.
Grill tongs and spatula: for flipping over your veggies
A cooler: Move over Yeti! The RovR wheeled cooler retains ice for eight days and the rugged wheels mean you can seriously take it anywhere. Best investment we've ever made! The dressing for this recipe should be kept cool. Not a big deal if you are grilling the same day you make it.
---
Also read: You're Amazing Car Camping Kitchen
---
A Few Tips for Making This Grilled Ratatouille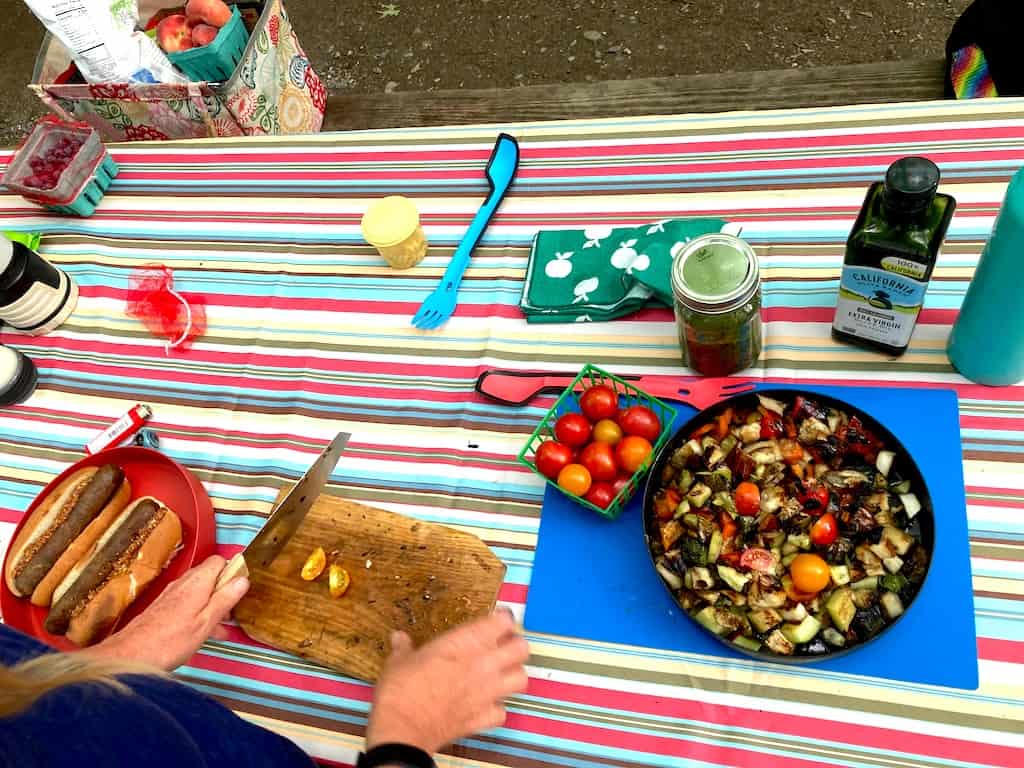 Make the dressing right before you leave home: The dressing comes together quickly in a blender and should be stored in a cooler until you're ready to grill.
Buy farm-fresh veggies: The vegetables are the main attraction in this meal, so buy the freshest vegetables you can find — maybe pick some up at a farmstand on your way to camp?
Any type of nuts will work: We used pine nuts in our grilled ratatouille, but I know they are expensive and sometimes hard to find. Walnuts, pecans, or even peanuts will work almost as well.
Serving Ideas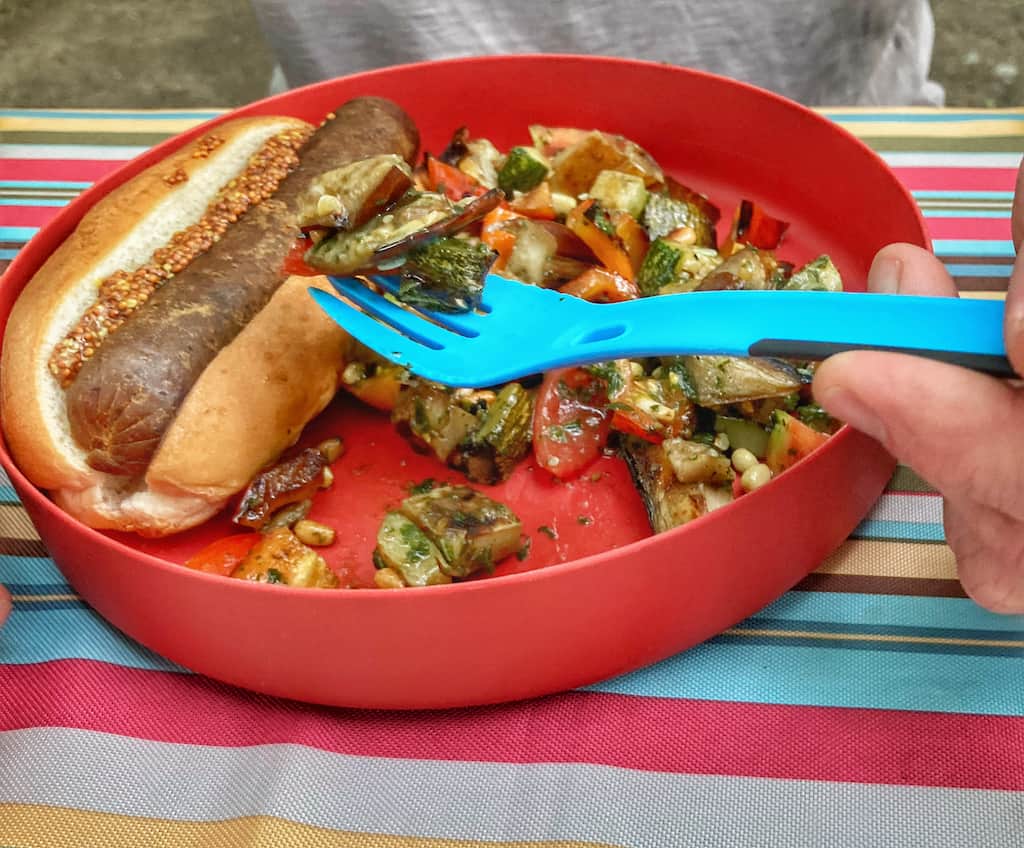 This grilled ratatouille will serve four as a main course or eight as a hefty side.
And, you've got options — you can serve it as a cold salad, at room temperature, or hot off the grill. Here are a few serving ideas to inspire you:
Serve ratatouille with a grilled sausage (vegetarian or meat) on a bun with mustard.
For a lighter meal, bring along a crusty baguette and fresh mozzarella cheese. You can even dollop the ratatouille right on top of the bread.
Want to get fancy? Make a whole spatchcock chicken on the grill to go with your grilled ratatouille.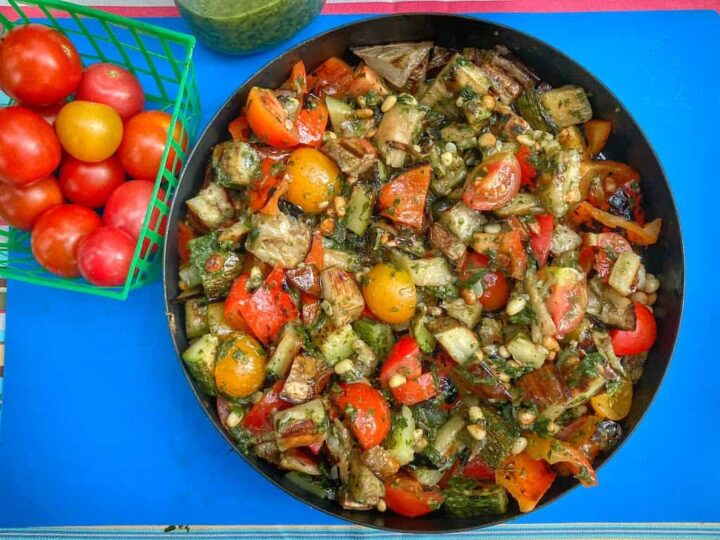 Yield:

8
Grilled Ratatouille for Camping
Perfect for high summer, this is one of the easiest vegan camping recipes we've ever tried.
Ingredients
1 large eggplant
1 yellow squash
2 zucchini
2 red bell peppers
2 cups cherry tomatoes, halve
1/3 cup toasted pine nuts
2 tablespoons plus 3 tablespoons olive oil
For the Dressing
2 cups mixed fresh herbs (basil, parsley, cilantro, chives)
1 large garlic clove
1/3 cup olive oil
juice of 1 lemon
1/4 cup water
1 tablespoon honey
1/4 teaspoon each of salt and pepper
Instructions
Make the dressing before leaving home:
Combine the dressing ingredients in a blender and blend until smooth and frothy. Transfer to a jar with a tight-fitting lid and store in your cooler.
When you're ready to grill:
Make a fire in your fire ring and burn it down to very hot coals.
Slice your vegetables into thick slabs, coat with olive oil, and sprinkle with salt and pepper.
Grill veggies for about 10 minutes, and then turn to grill the other side for another couple of minutes. Time will vary depending on your fire, but you want the vegetables nicely charred - soft, but not falling apart.
Take your veggies off the grill and let them cool for a few minutes before chopping them into large chunks.
Add grilled veggies, sliced cherry tomatoes, and pine nuts to a serving bowl, and pour half the dressing over top.
Toss everything together and season to taste with salt and pepper.
Nutrition Information:
Yield:
8
Serving Size:
1
Amount Per Serving:
Calories:

233
Total Fat:

18g
Saturated Fat:

2g
Trans Fat:

0g
Unsaturated Fat:

15g
Cholesterol:

0mg
Sodium:

43mg
Carbohydrates:

18g
Fiber:

4g
Sugar:

9g
Protein:

3g
*Nutrition is an estimate based on information provided by a third-party nutrition calculator.
---
Need more vegetarian camping meal recipes? Check out these posts next:
---
Follow us on social media for more camp food ideas!
Pin for Later?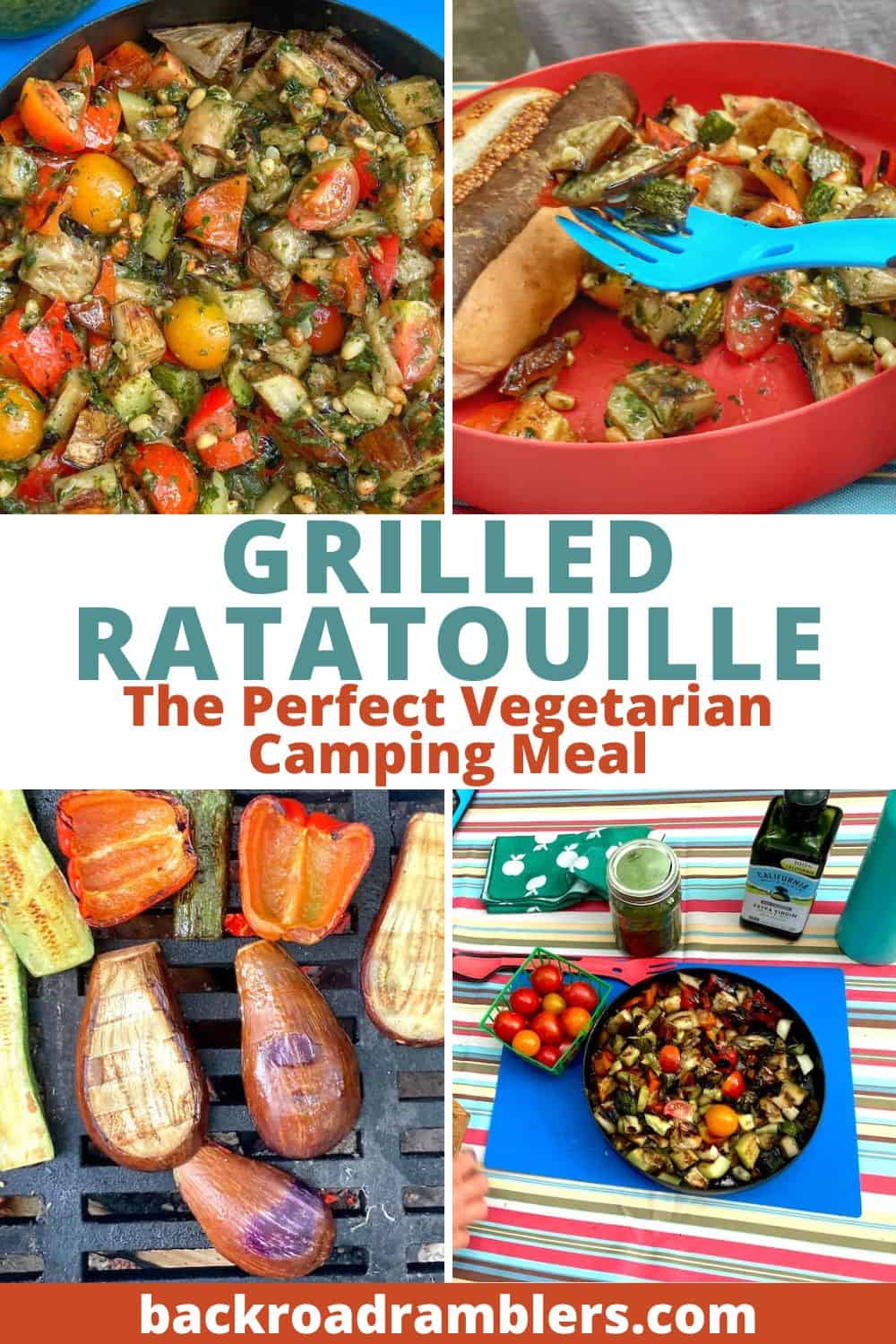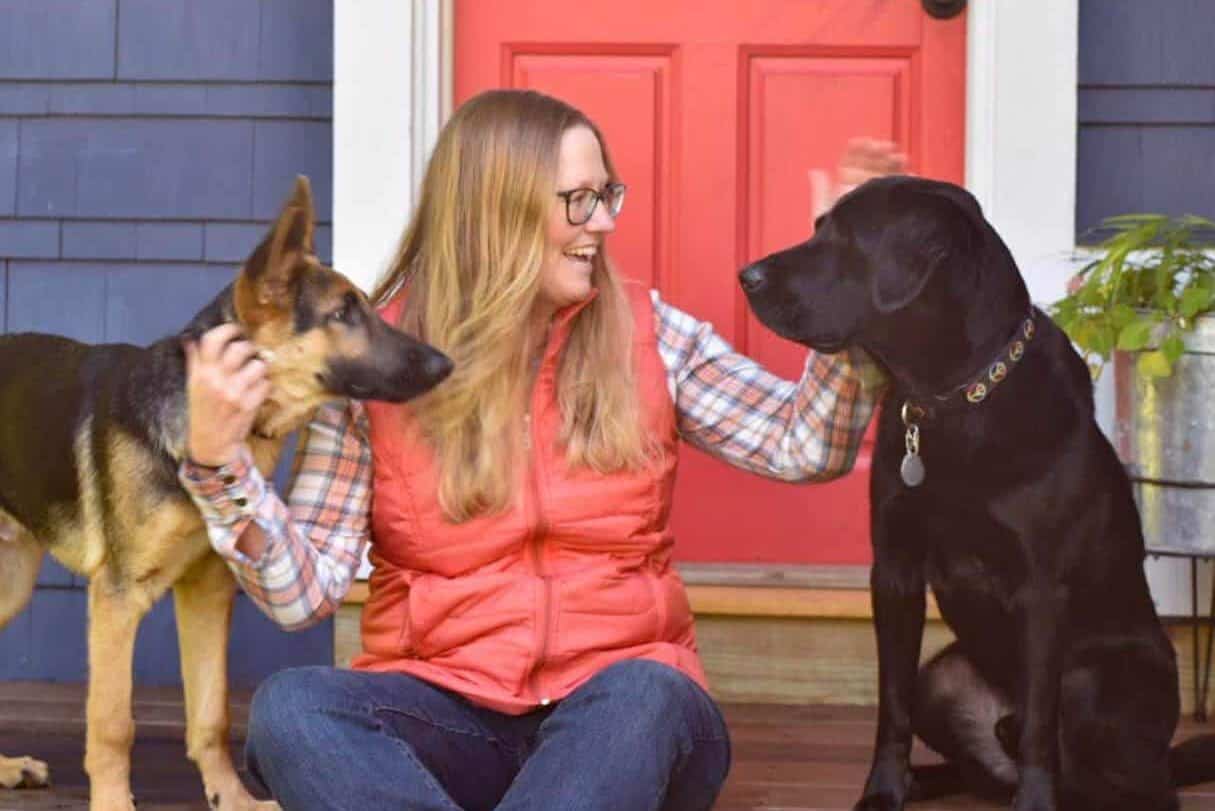 Tara is a freelance writer and travel blogger with a passion for outdoor adventures. She currently blogs at Back Road Ramblers and Vermont Explored, where she shares travel tips, adventure destinations, and vacation ideas for the wanderer in everyone.