Are you wondering where you can go to have world-class cultural experiences and outdoor adventures without the big-city crowds? Our top suggestion, especially if you are located in the Northeastern US, is the Berkshires of Massachusetts.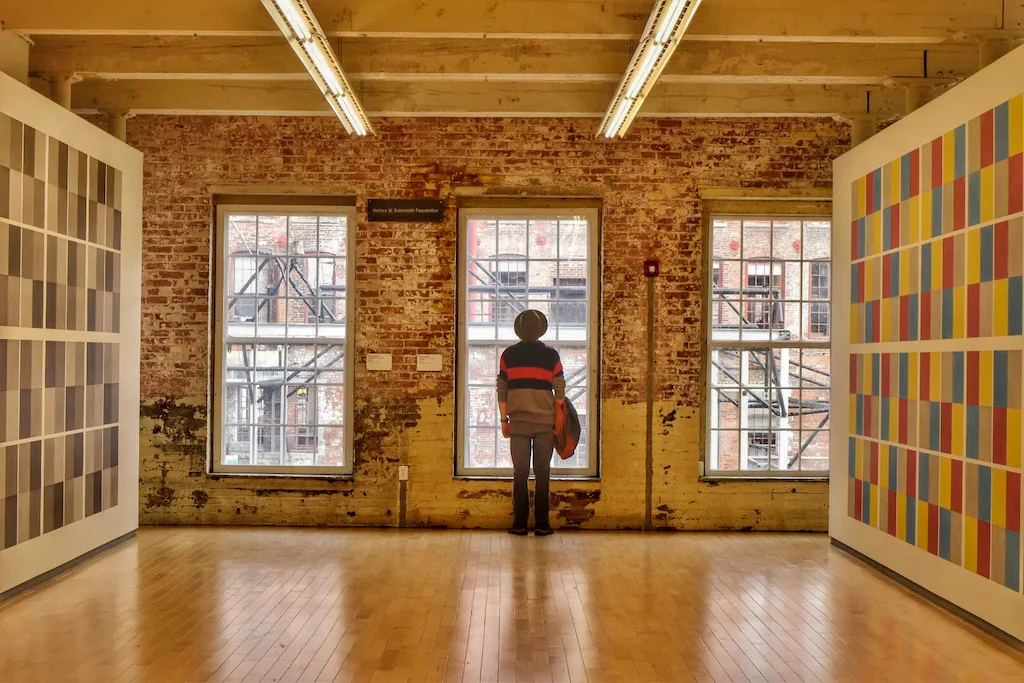 When choosing the perfect vacation spot, we often look to small towns instead of big cities, and New England often wins out over the rest of the country. Care to explore the creative side of the Berkshires with us?
These are our favorite Berkshires museums that we can't get enough of.
MASS MoCA, North Adams: Best Contemporary Art Museum in the Berkshires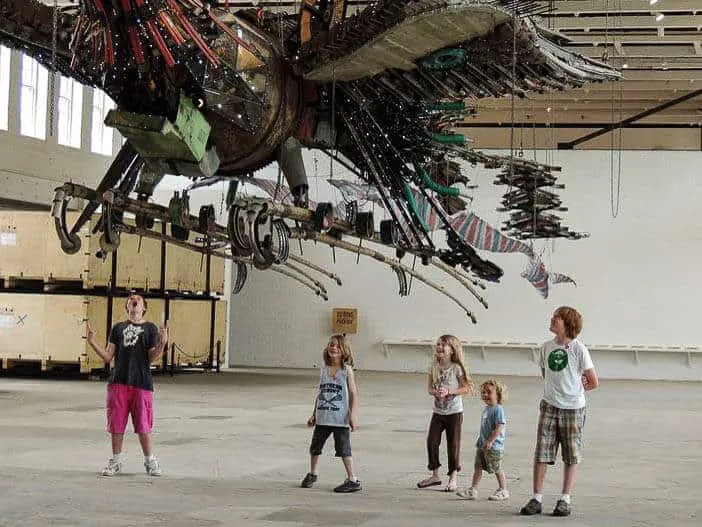 The Massachusetts Museum of Contemporary Art is one of the largest modern art centers in the whole United States.
The fact that it is tucked away in the Berkshire Hills and not living it up in some trendy city means that you can explore it with relative ease. If you ask our kids, they will tell you that MASS MoCA is their favorite museum in the Berkshires, and we are lucky that it is just a short drive from our home in southern Vermont
While the exhibitions at MASS MoCA are thoroughly contemporary, they're housed in an ancient, converted factory complex. The juxtaposition of old and new is so startling and beautiful. MASS MoCA is also huge – boasting more than 110,000 square feet of gallery space.
Give yourself plenty of time to wander through the sprawling chambers and hidden nooks. There's even an old hallway that sings to you as you walk through it.
This is a great museum for kids to explore, and while they'll enjoy many of the exhibits, the Kidspace gallery was created with children in mind.
Part exhibition space, part hands-on studio, you won't have to worry about convincing your kids to keep their hands to themselves at Kidspace. The beautiful, colorful exhibits change frequently, but they're always mesmerizing. In fact, the last time I visited MASS MoCA, I went without my kids, and the Kidspace exhibit was still my favorite!
Kids will love checking out the ArtBar, which is open during the weekend and school breaks. They can order up supplies and make their own masterpiece to bring home.
The details: MASS MoCA is located in the heart of North Adams, Massachusetts. The cost for admission is $20 for adults, $8 for kids 6-16, and $12 for students with a school ID. Kids under five are always free.
During the fall, winter, and spring, MASS MoCA is open from 10 am to 5 pm every day except Tuesdays. In the summer, the hours are 10 to 6 pm, but they are still closed on Tuesdays.
---
The Clark Art Institute, Williamstown: Fine Art in a Beautiful Setting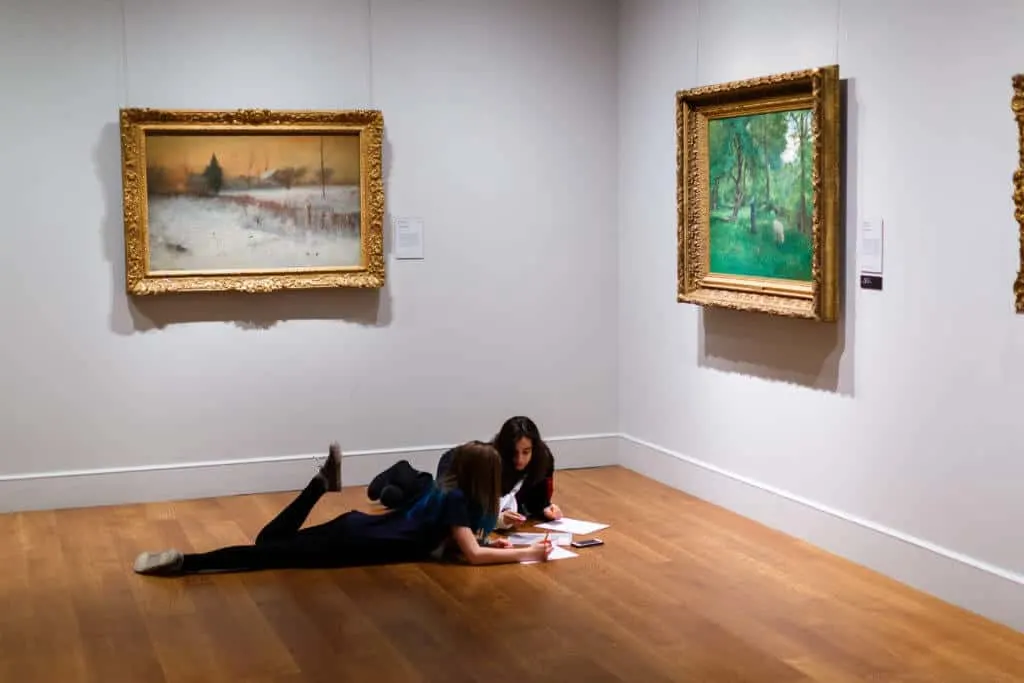 The Sterling and Francine Clark Art Institute is located in Williamstown, a bustling college town that attracts visitors from all over the world.
The Clark is just a short drive from MASS MoCA, but the difference in artistic styles is striking. The art on display at The Clark is seriously impressive, and again, surprising to find in a New England town of fewer than 10,000 people.
Permanent collections include French Impressionist works by Degas, Manet, Monet, and Renoir, rubbing shoulders with American works by John Singer Sargent, Winslow Homer, and Frederic Remington. Temporary exhibitions have included a visit from Whistler's Mother, works by Van Gogh, and the Magna Carta.
Unlike the eclectic layout and exhibits of MASS MoCA, the collections at The Clark are displayed in a more traditional style. It feels like an art museum, and while children are certainly welcome and appreciated, you may want to follow these tips for enjoying an art museum with your youngsters.
One of the best things about The Clark, aside from the fantastic art is the network of trails crisscrossing the grounds.
We almost always bring a picnic to enjoy next to the reflection pond, and afterward, We spend time meandering through fields and forests behind the museum.
The details: The Clark is located at 225 South Street in Williamstown, Massachusetts. Admission is $20 for adults, but free for children under 18, students with ID, and members. The Clark is open Tuesday – Sunday, 10 am – 5 pm, September to June, and daily in July and August, from 10 am to 5 pm.
---
Williams College Museum of Art, Williamstown: Family-Friendly Art for Everyone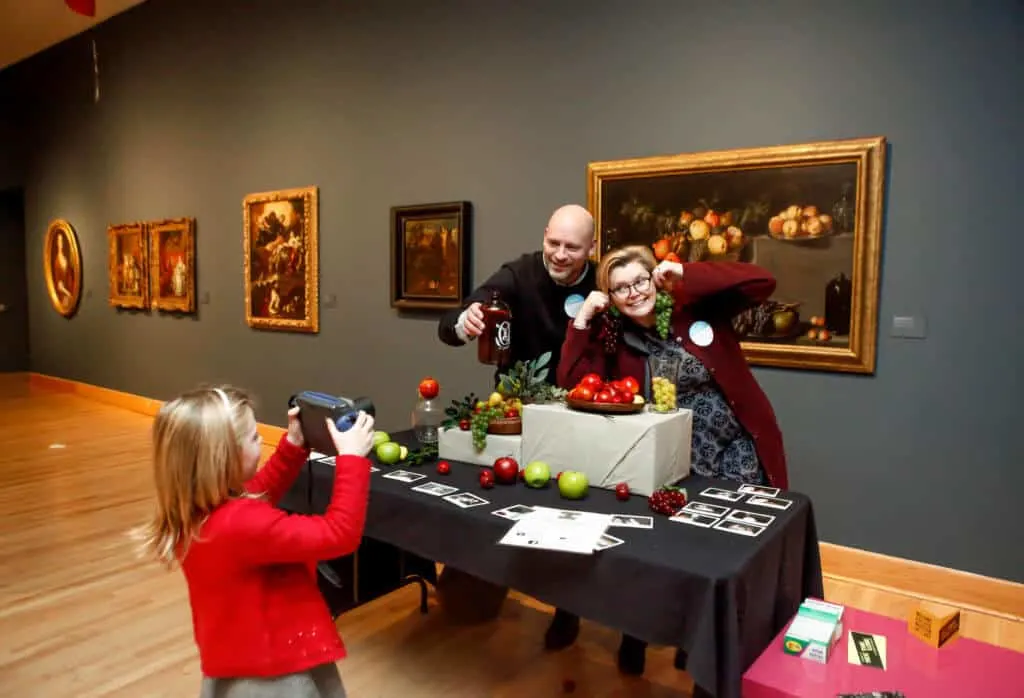 Also located in Williamstown, The Williams College Museum of Art is just one more surprise in this very creative corner of New England.
With more than 14,000 works focusing on contemporary art, photography, prints, and Indian painting, Williams College Museum of Art rounds out this inspiring trifecta of art museums that is such a draw for the northern Berkshires.
Families will appreciate the informal atmosphere at WCMA, where kids can begin their visit by climbing around on the giant eyeballs – Eyes (Nine Elements) by Louise Bourgeois – in front of the museum.
This awesome Berkshires museum is dedicated to art education, not just for college students, but for adults, pre-K – 12 educators, and visiting families. Special programs are offered on a regular basis and the best part? The WCMA is always free!
The details: Williams College Museum of Art is located right off Route 2 in downtown Williamstown, Massachusetts. It is open from 10 to 5 pm every day and from 10 to 8 pm on Thursdays during July and August. Admission is always free.
Norman Rockwell Museum, Stockbridge: An iconic Berkshires Museum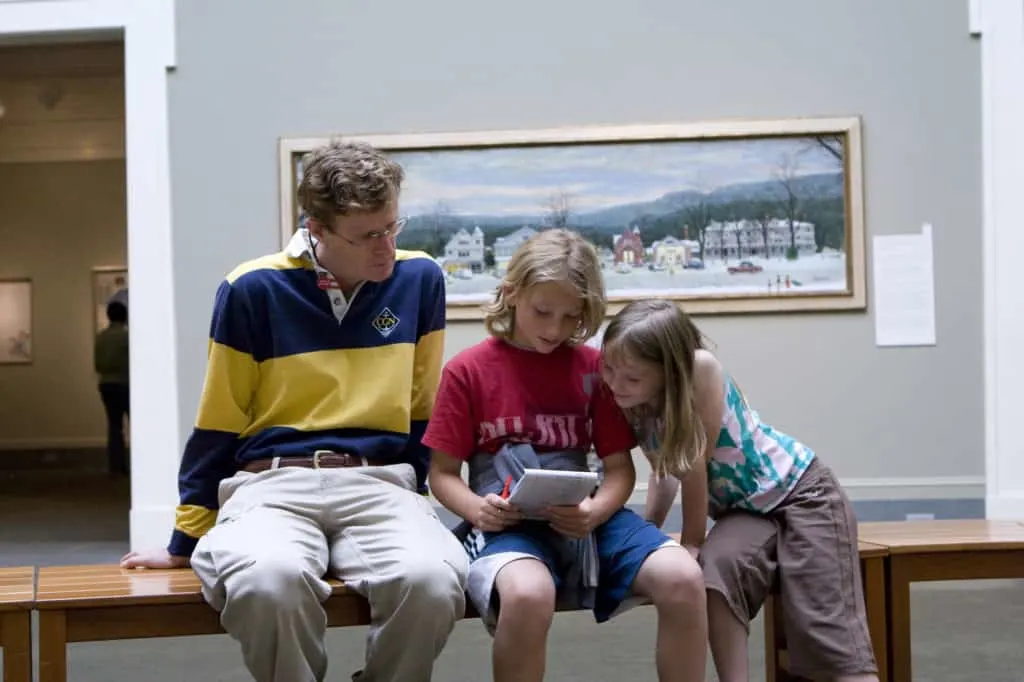 Has there ever been a more iconic New England artist than Norman Rockwell?
While he was born in New York City, Rockwell called both Massachusetts and Vermont home for much of his life and found success as an illustrator at an early age. He was a prolific painter, and the Norman Rockwell Museum in Stockbridge houses the world's largest collection of Rockwell art.
We have always found the Norman Rockwell Museum to be incredibly family-friendly, providing activities and special events for kids throughout the season. Some of the fun activities include a self-guided scavenger hunt that takes kids through the museum, an audio tour made specifically for kids, and a special art corner for creative kids.
The Norman Rockwell Museum is nestled among 36 beautifully manicured acres with walking trails, gardens, fields, and a river walk. It's the perfect spot for a post-art picnic, and the views aren't bad either.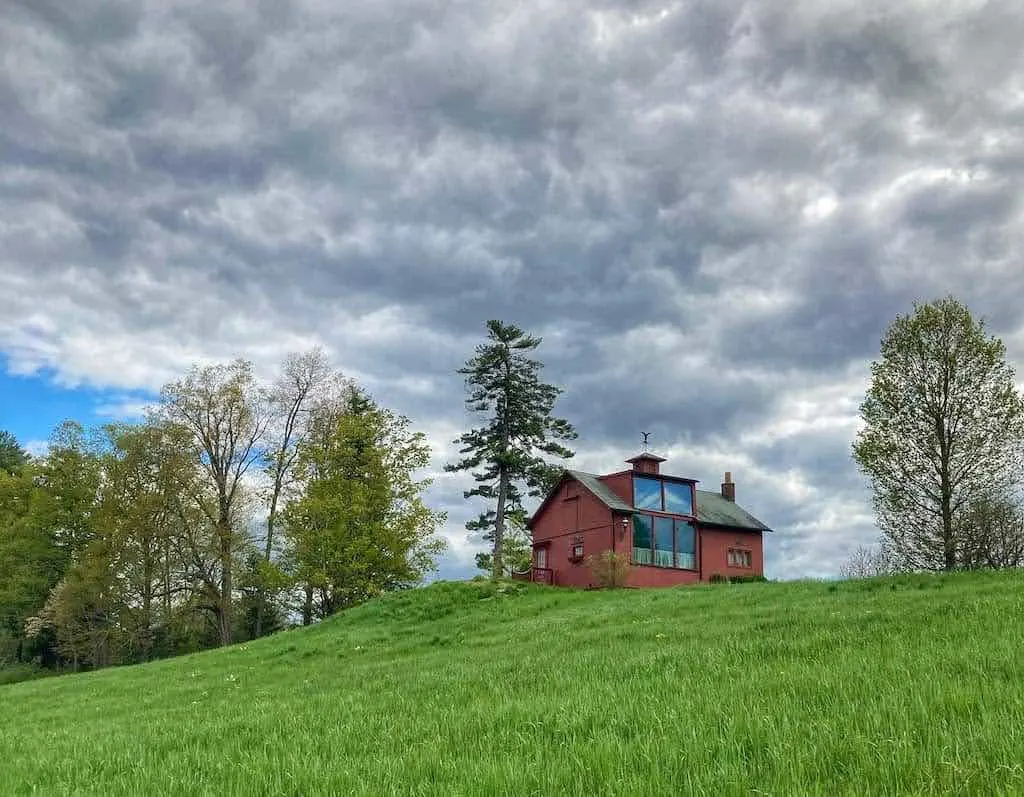 The details: The Norman Rockwell Museum is open Thursday to Tuesday from 10 am – 5 pm. GPS doesn't always work when placing the museum – for accurate directions, visit the website. Admission is $20 for adults with discounts for seniors, college students, and teachers. Kids under 18 are always free.
The Berkshire Museum, Pittsfield: A Fun Berkshires Museum for Hands-on Learning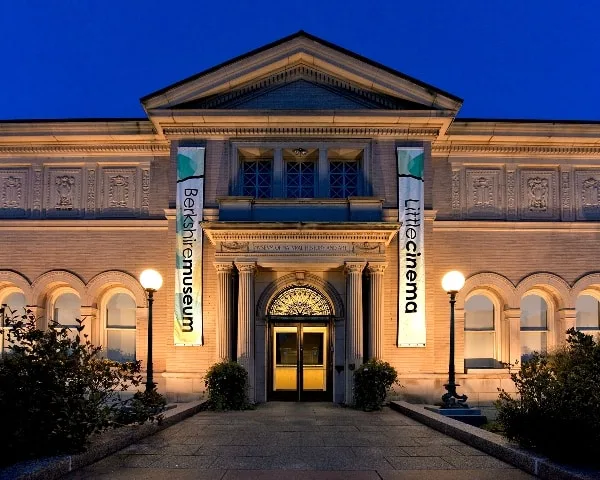 The Berkshire Museum is the only Berkshires museum on our list that isn't first and foremost an art museum.
While the Berkshire Museum does contain some fabulous works of art, it focuses primarily on natural history and ancient civilizations. We spent countless hours here during our homeschooling years, and still enjoy the exhibits and special events whenever we can.
Kids will love the Curiosity Incubator, where they can immerse themselves in exhibits using innovative and interactive displays that combine history and art with rich cultural experiences.
Other highlights include the 35 aquarium tanks, Berkshire animal specimens, and a really cool display of rocks and minerals.
After touring the galleries and exhibits, check out the offerings of the Little Cinema, which has been showcasing independent and foreign films for more than 60 years. Special events at the Berkshire Museum are robust and focus on STEM activities, natural history, art, and dance – perfect for creative kids and adults!
The details: The Berkshire Museum is located at 39 South Street in Pittsfield, right downtown. It is open from 10 am – 5 pm, Monday through Saturday, and 12 – 5 pm on Sundays. The cost is $15 for adults and $8 for kids 4-17. Children under 3 are free.
---
These awesome Berkshires museums are all within a 30-mile radius, making it easy to embark on a creative and inspiring vacation without a lot of hassle.
Whether you're planning a weekend getaway or embarking on a New England road trip, be sure to check out this little corner of Massachusetts for world-famous art and culture in a gorgeous setting.
---
Explore more of Massachusetts! Check out these posts:
---
Follow us on social media for more New England travel ideas!
Pin for Later?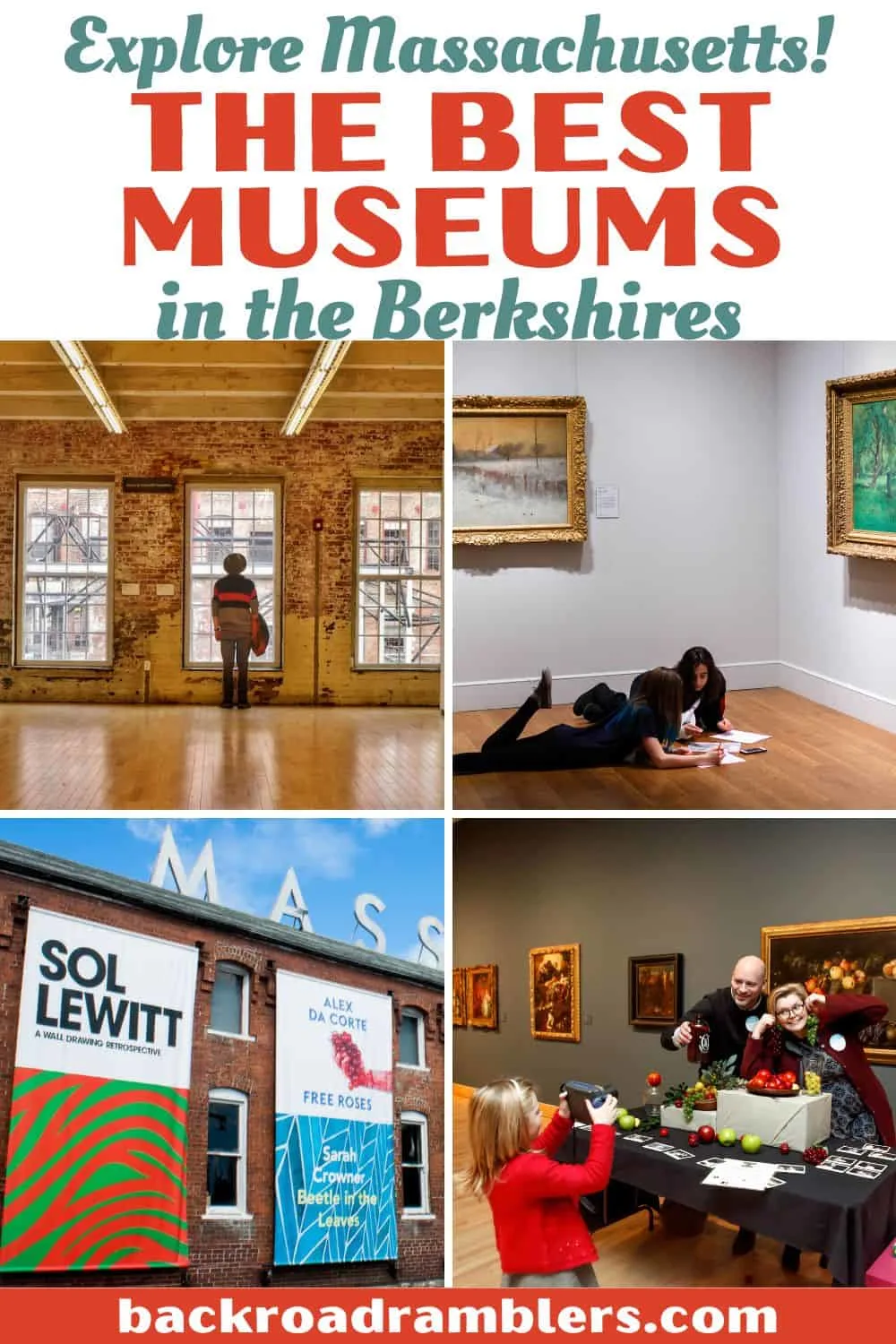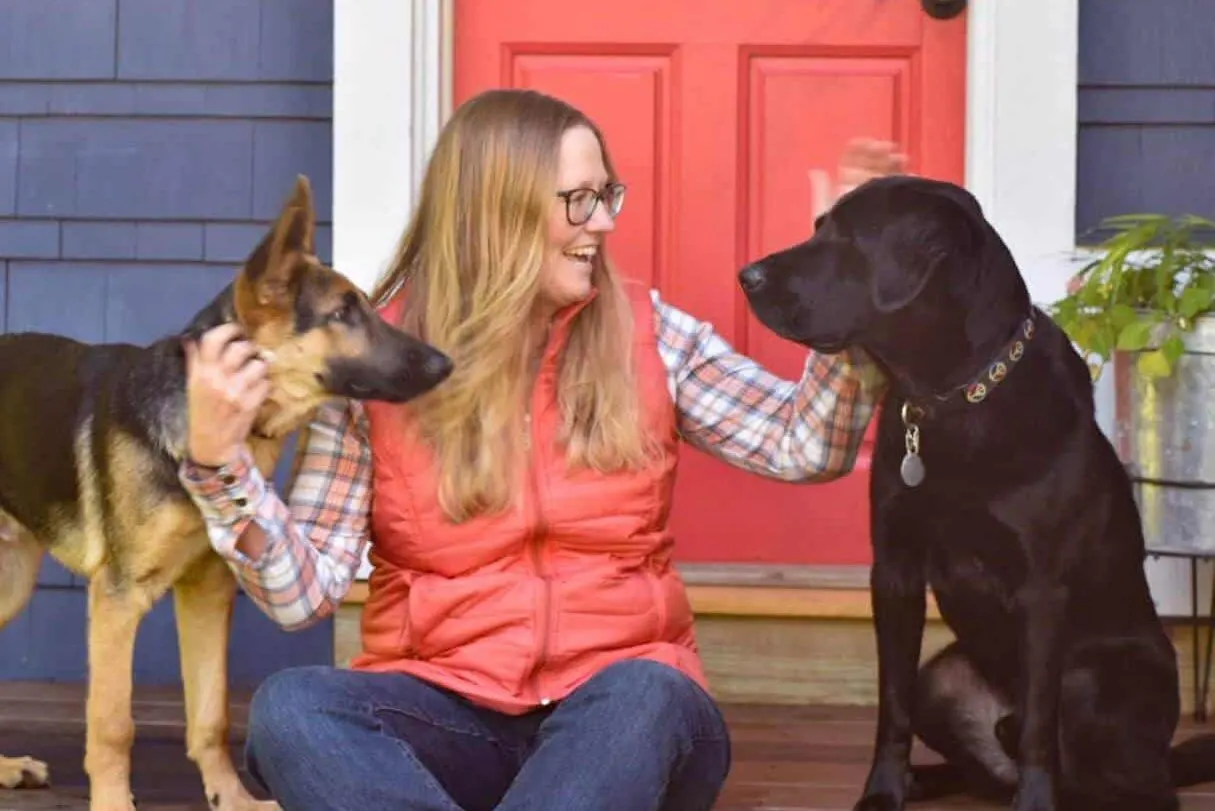 Check out our Google web story for these Berkshire museums too!