Not only is Pittsfield, Massachusetts the largest city in Berkshire County, but its vibrant arts scene, whimsical restaurants, and recreational opportunities are abundant enough to make Pittsfield the literal and cultural heart of the Berkshires.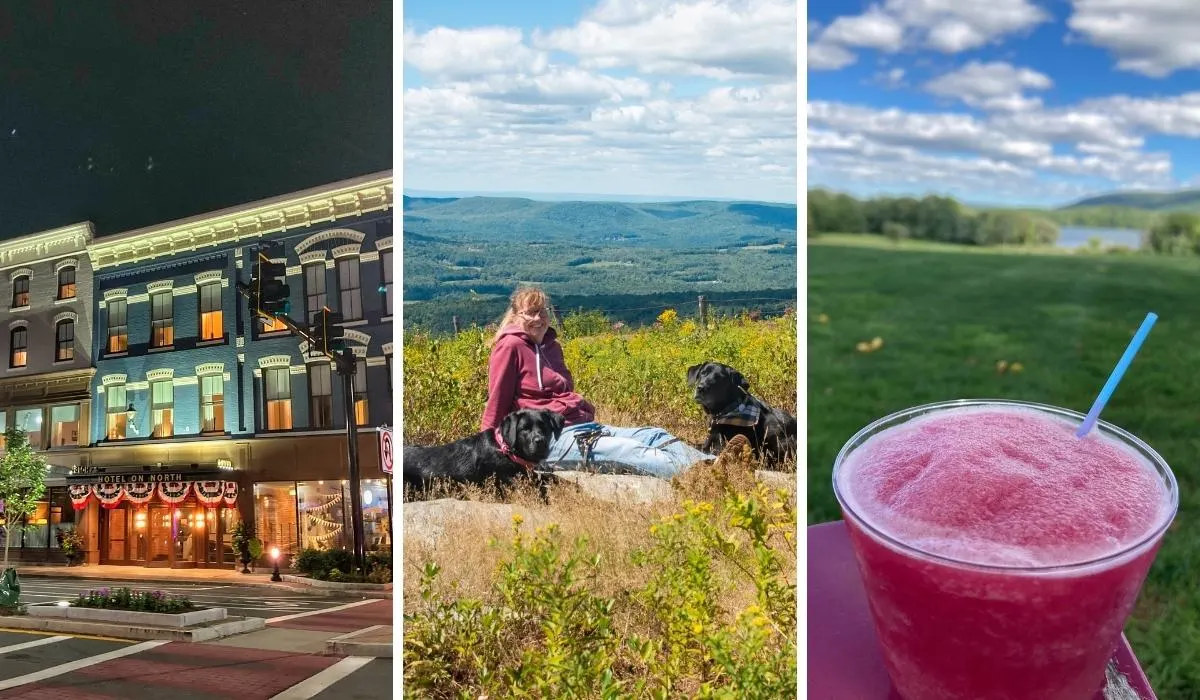 Pittsfield welcomes visitors with a historic and thoroughly walkable downtown — music pours out of restaurants and bars in the evenings, tall-steepled churches hug the mountainous skyline, and the city's artistic roots are on display all over town.
These are reasons enough to visit the heart of the Berkshires, but what really sold us on Pittsfield was how dog-friendly it is.
During our recent visit with Flynn and Malinda (the best Labrador travelers), we hiked beautiful dog-friendly trails, enjoyed dog-friendly patios, explored the local dog park, and were treated like celebrities at a posh downtown hotel.
Pittsfield, MA makes the perfect weekend getaway for both humans and dogs, and while you're close enough to explore all of the best attractions in the Berkshires, you'll find plenty to do without leaving the city limits.
Here's a perfect weekend itinerary that includes all the best things to do in Pittsfield MA — with dogs, of course!
At-A-Glance Trip Planner: Pittsfield, Massachusetts
Planning a trip to the Berkshires? Be sure to check out posts for nearby destinations!
---
Where to Stay in Pittsfield, MA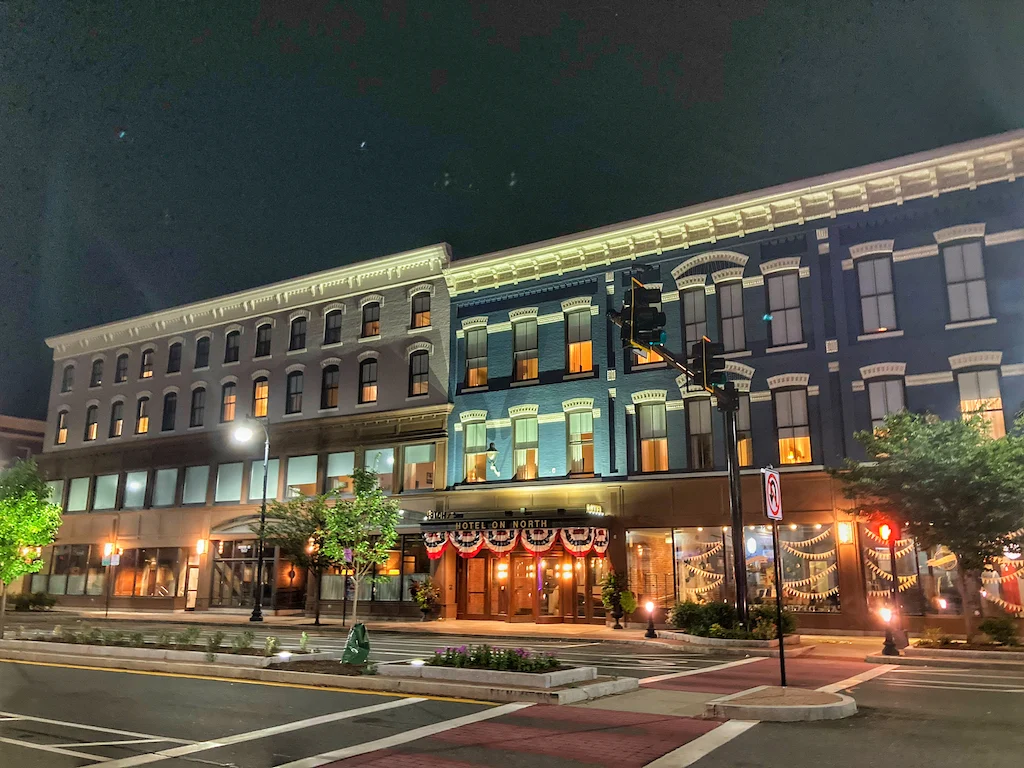 Hotel on North is a 45-room boutique hotel that is renowned for its hospitality, decor, and dog-friendliness. Not only is it within walking distance of everything in downtown Pittsfield, but it's got one of the most amazing hotel restaurants we've ever had the pleasure of indulging in.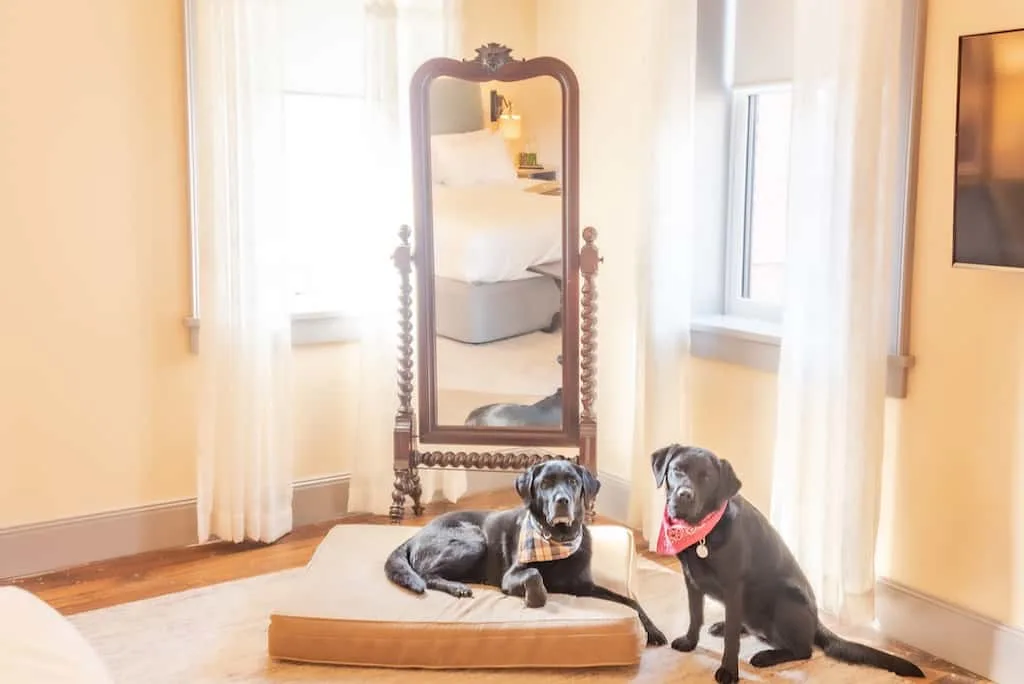 Looking for a standard hotel room with mass-produced art, beige Berber carpet, and endlessly boring hallways? You'll have to look elsewhere.
Every room at Hotel on North in Pittsfield is different. Curated shelves of books beg to be read, luxurious linens long to be snuggled in and the ample desks wait to compliment your afternoon Zoom call.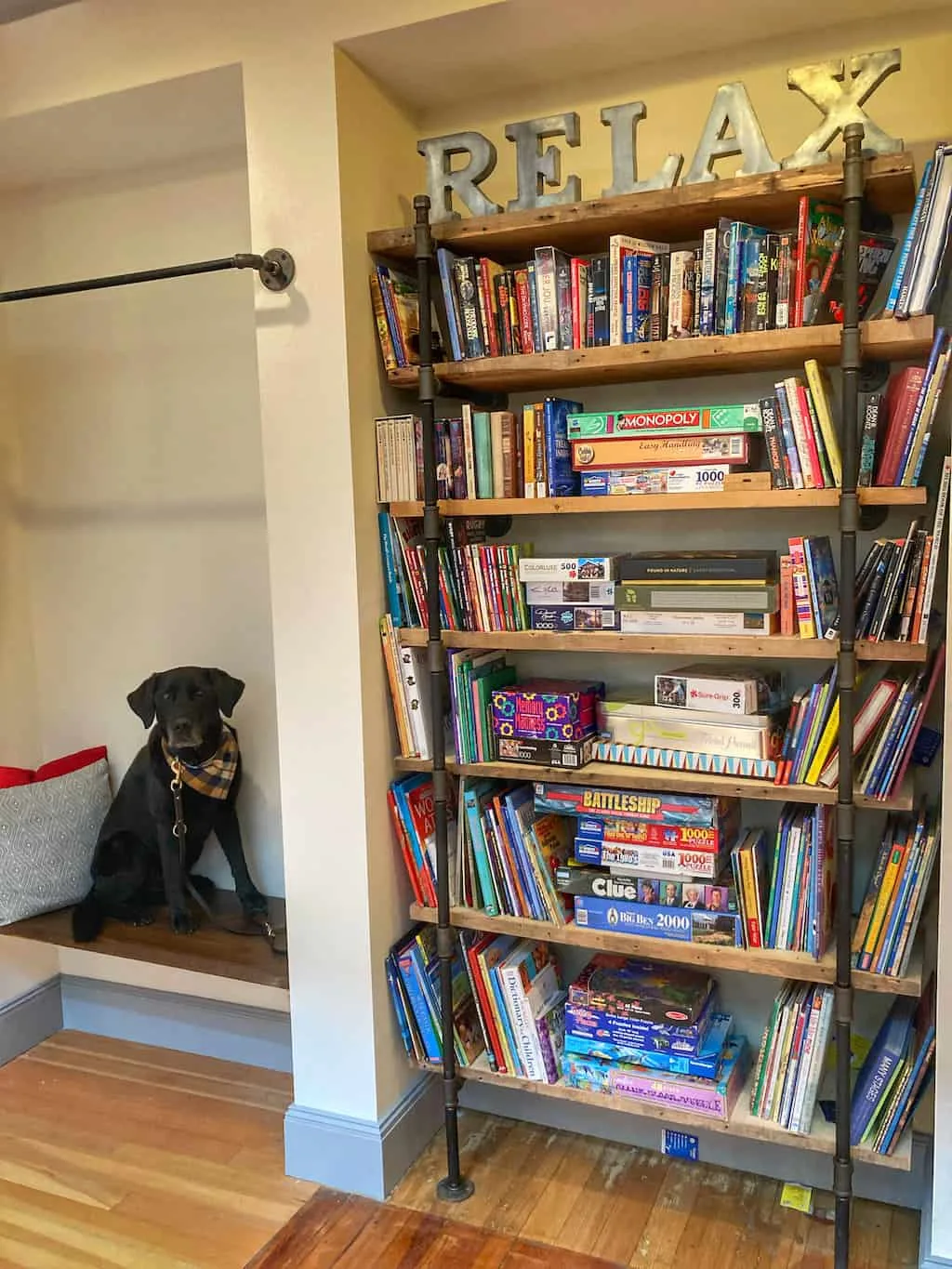 We stayed on the second floor and were fortunate to have a sunny atrium and communal lounge right outside our room. A spot where our dogs could make new human friends and we could play board games and sip cocktails.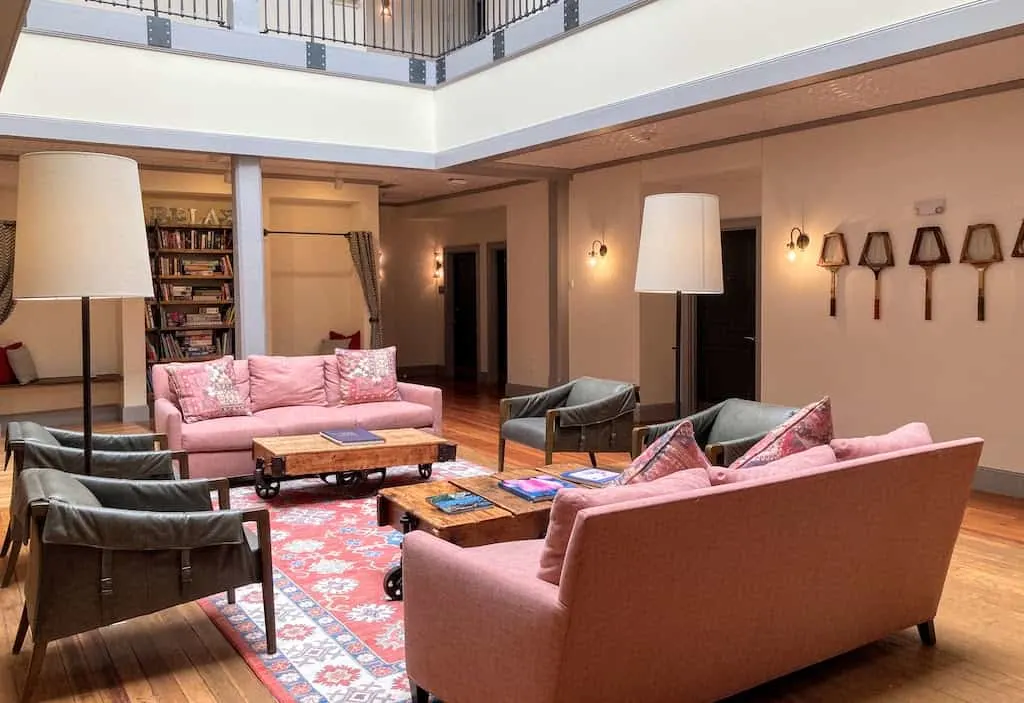 Hotel on North rolled out the red carpet for Flynn and Malinda, who became experts at riding elevators, greeting hotel patrons, and asking for treats. They both give their stay at Hotel on North very pawsitive reviews!
The Best Things to Do in Pittsfield MA: Day One
It's mid-afternoon as you approach the city of Pittsfield. Your very patient, but restless dog(s) will be longing to mark some trees and stretch some legs.
Hike The Boulders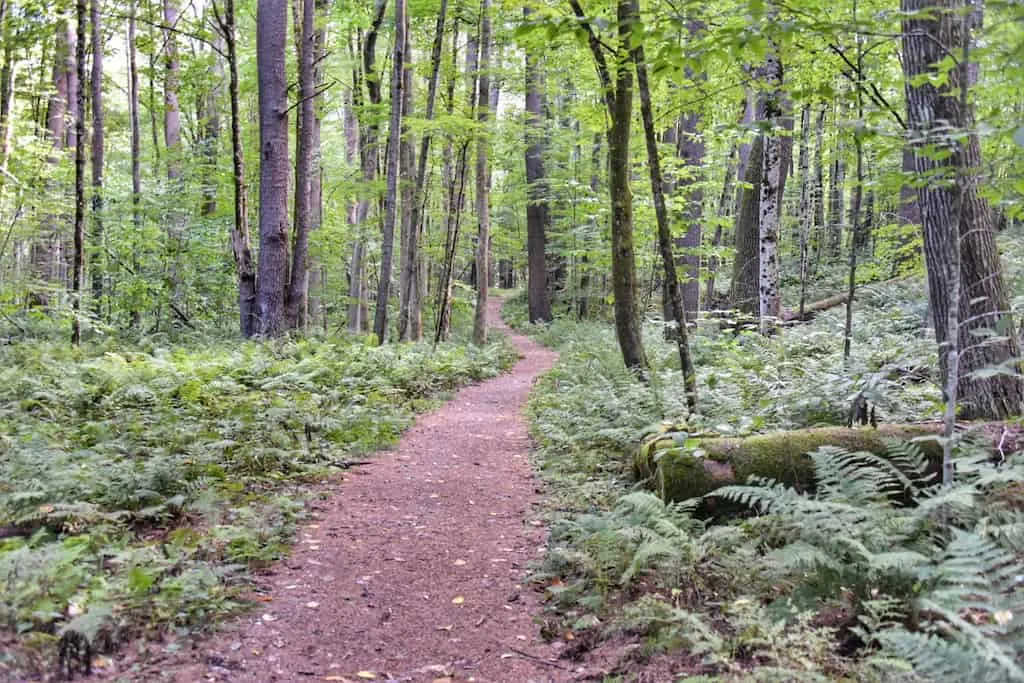 Just off Dalton Avenue within the Pittsfield City Limits is a beautiful old forest with trails crisscrossing among tall ferns within a dark canopy of hardwood trees. This is the Boulders, 645 acres of enchantment.
Don't let the urban trailhead (behind a Taco Bell) fool you. Follow the blue trail markers and let the forest embrace you as you walk the 1.4 miles to the area's namesake — a collection of massive boulders that are the literal rock stars of this natural community. Sitting atop a 1,395-foot high ridge, the boulders are beloved by kids, dogs, and geology nerds alike.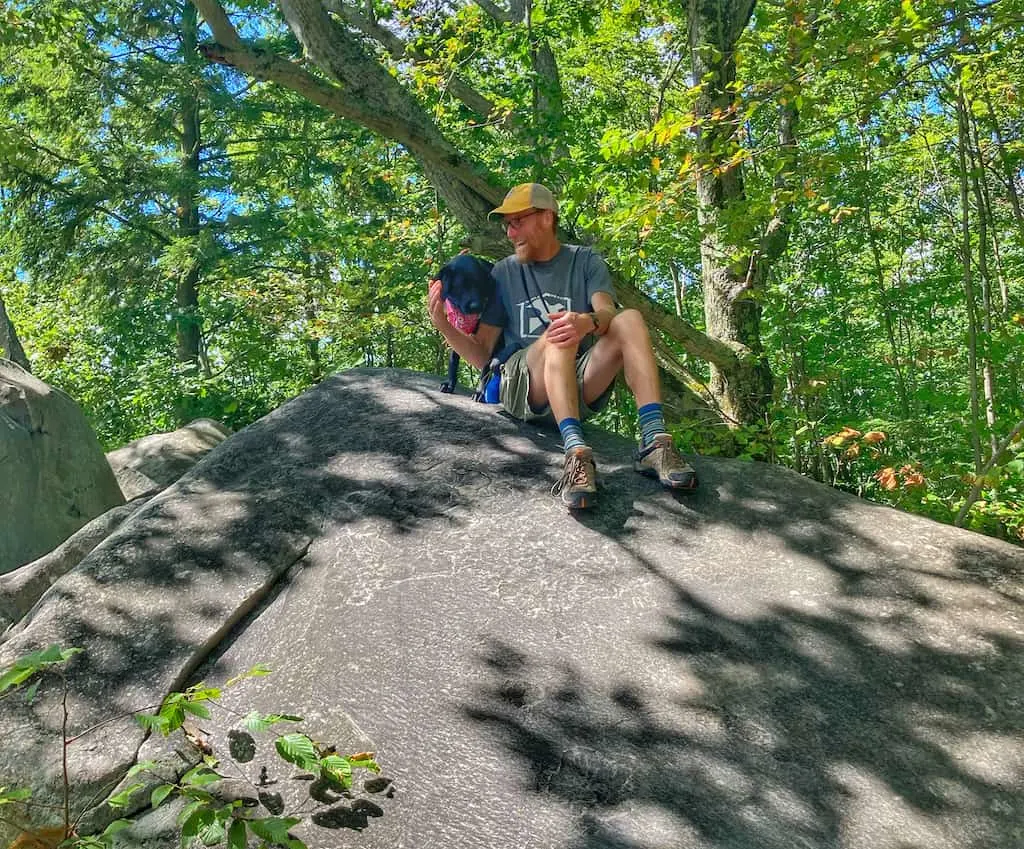 After playing among the rocks and taking in the limited view, turn around and hike back to your car on the blue trail create a loop by turning left and following the red trail markers, which will take you through a beautiful hemlock forest and past a small pond.
Download a trail map from Berkshires Natural Resource Council, or follow my tracks on Alltrails:
Dinner at Berkshire Palate
After checking into Hotel North, head to Berkshire Palate, just off the lobby, for an early dinner. If you're accompanied by canines, you can enjoy dinner in the lounge area, which is right next to the main eating area.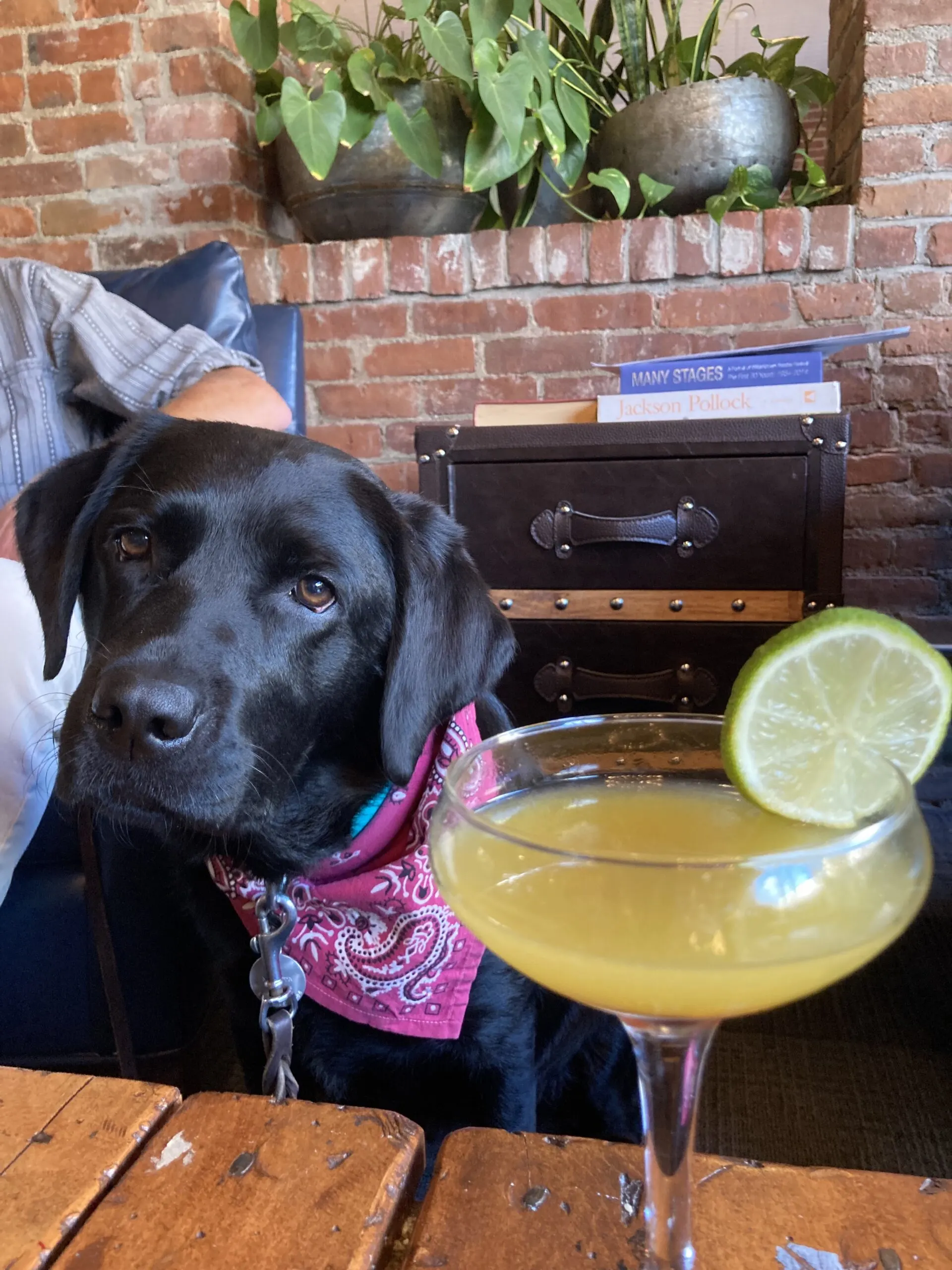 Berkshire Palate is a farm-to-plate restaurant serving eclectic casual meals, small plates, and charcuterie, plus a curated selection of beers, wine, and cocktails.
If you're dining without four-legged friends, consider sipping cocktails in the birdcage elevator for two while you wait for your meal.
Berkshire Palate is open Tuesday through Sunday for lunch and dinner.
Sunset over Onota Lake in Burbank Park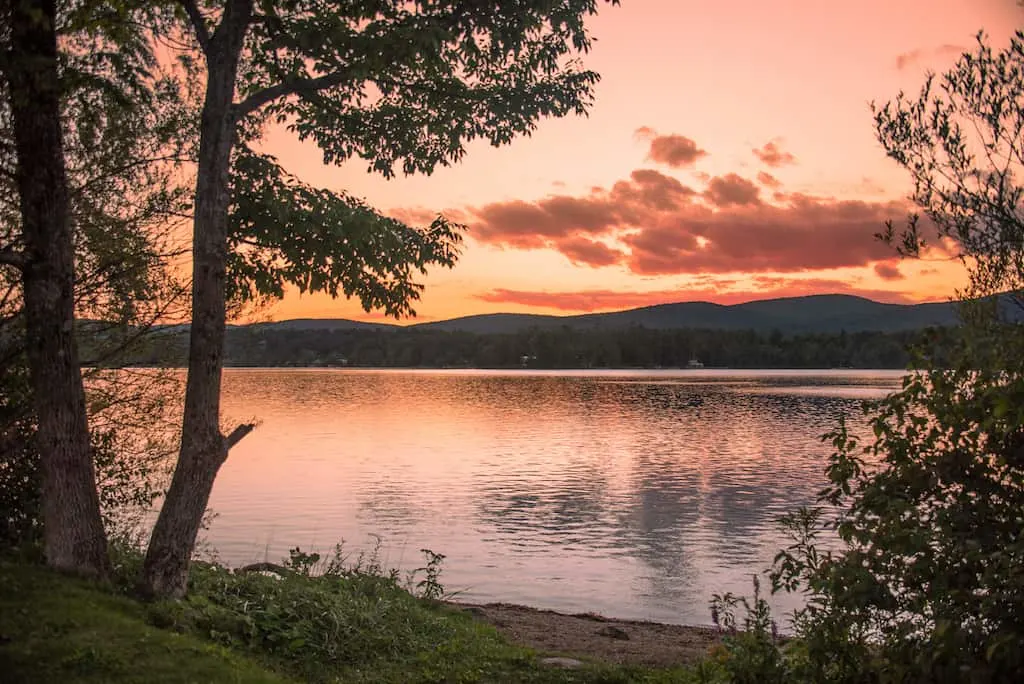 After your meal, escape the downtown area for a spell and head to the shores of Onota Lake where your dogs can swim and you can enjoy the warm glow of the setting sun as it sinks behind the mountains.
This 617-acre gem of a lake is located entirely within the city of Pittsfield.
Nightcap, Cocktails, or Second Dinner at Methuselah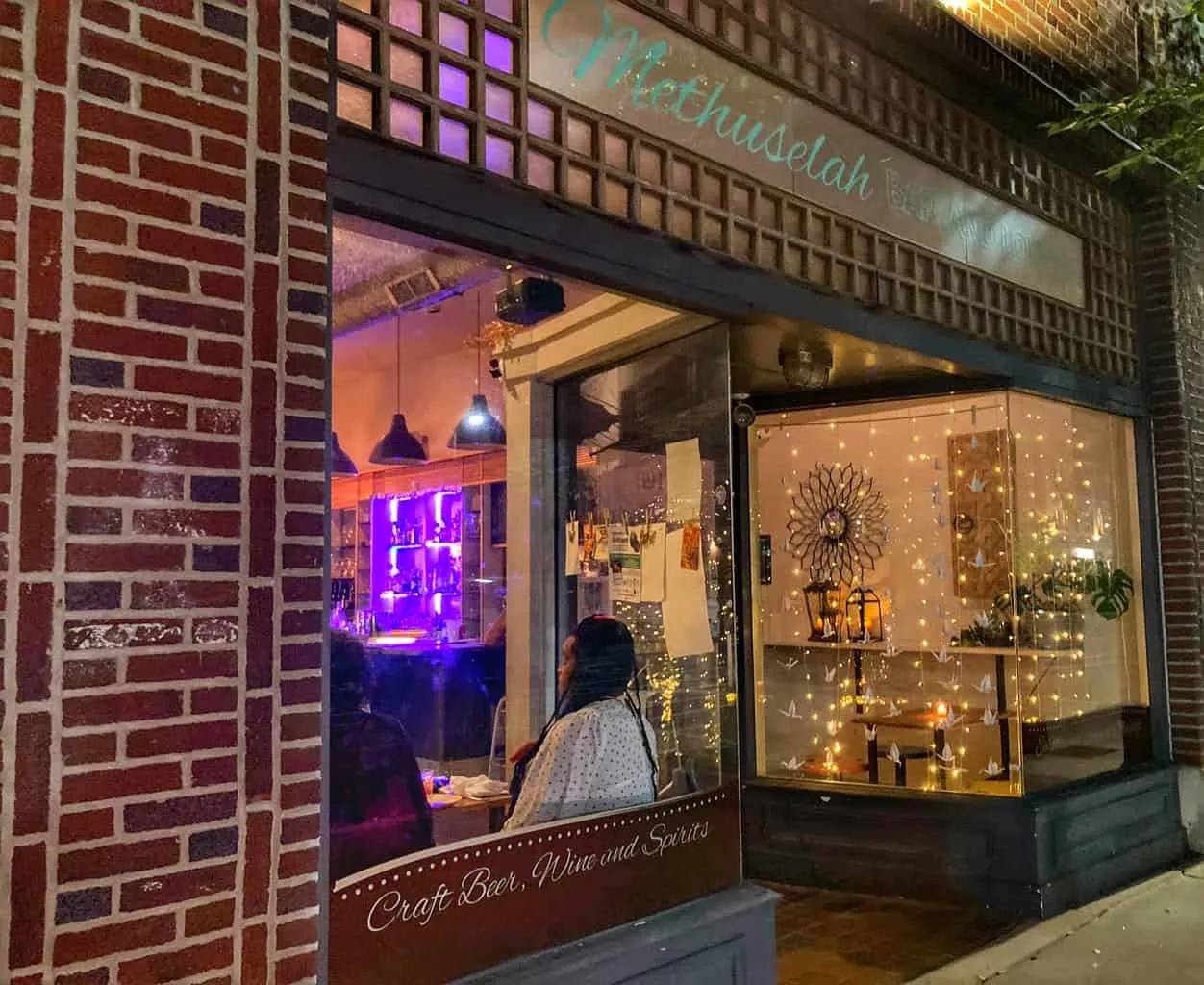 You'll have to leave your dog(s) behind for this one, but if you've still got some energy, head up North street a few blocks to Methuselah, where you can enjoy beautifully crafted cocktails, fun entrées, and ethereal desserts in a cozy nook that is full of twinkling lights and good vibes.
The house drink at Methuselah is the Berkshire Bramble, and it's divine — BMD Ethereal Gin, Blueberry mint syrup, and lime juice topped with soda. Yum!
Methuselah Bar & Lounge is open Monday through Saturday, from 5 pm to 12 am.
---
The Best Things to Do in Pittsfield MA: Day Two
Day two in Pittsfield includes more delicious food, a hike and picnic near the highest natural body of water in the state, and a trip to the dog park.
First, let's fuel up for the morning's adventures at Lulu's Tiny Grocery, where you can order a spicy turmeric ginger latte and a croissant to enjoy on a park bench as the city wakes up around you.
Lulu's is open Monday to Friday, from 8 am to 3 pm.
Enjoy Pittsfield's First Dog Park in Burbank Park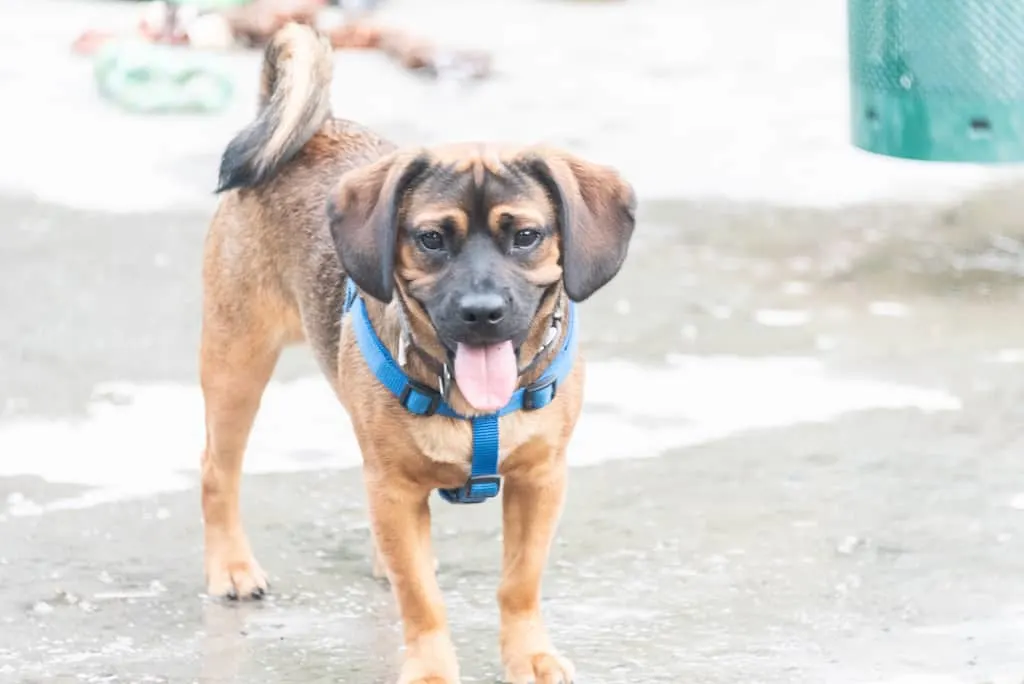 Have your dogs been impressing you with their exemplary behavior and charming ways? Reward them with a visit to Pittsfield's sprawling, shady dog park in Burbank Park.
This large off-leash park includes two separate fenced-in areas, one for small dogs and one for large dogs (or small dogs who think they are large dogs). There are benches for the humans to sit on, and lots of trees for dogs to pee on.
This is the perfect spot for friendly dogs to enjoy some freedom and make some friends.
Flynn and Malinda went on a snifari, flirted with the locals, and fetched a few balls before declaring it one of their favorite dog park visits to date.
Exploring Pittsfield State Forest is One of the Best Things to do in Pittsfield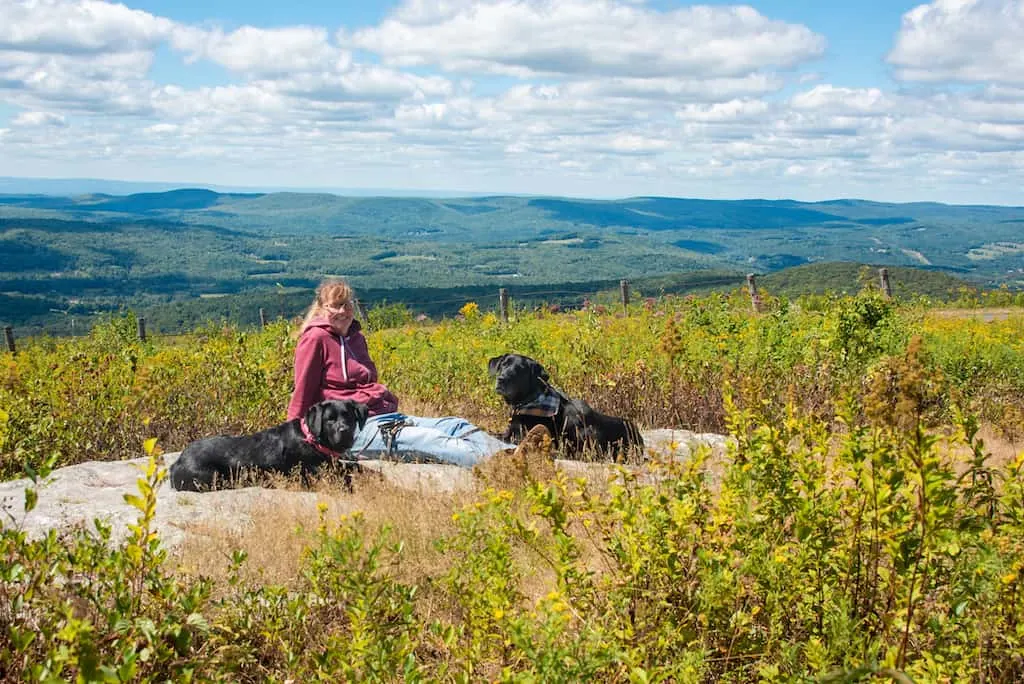 11,000 acres, 30 miles of trails, and a 165-boulder that appears to defy gravity. Welcome to Pittsfield State Forest, a wild enclave of mountains, ponds, and woods just outside of the city. Before leaving town, pick up a bagged lunch from Marketplace Cafe for a mountaintop picnic.
Here are a few of our favorite spots in Pittsfield State Forest — note that because Pittsfield State Forest is so massive, you will have to drive between these spots.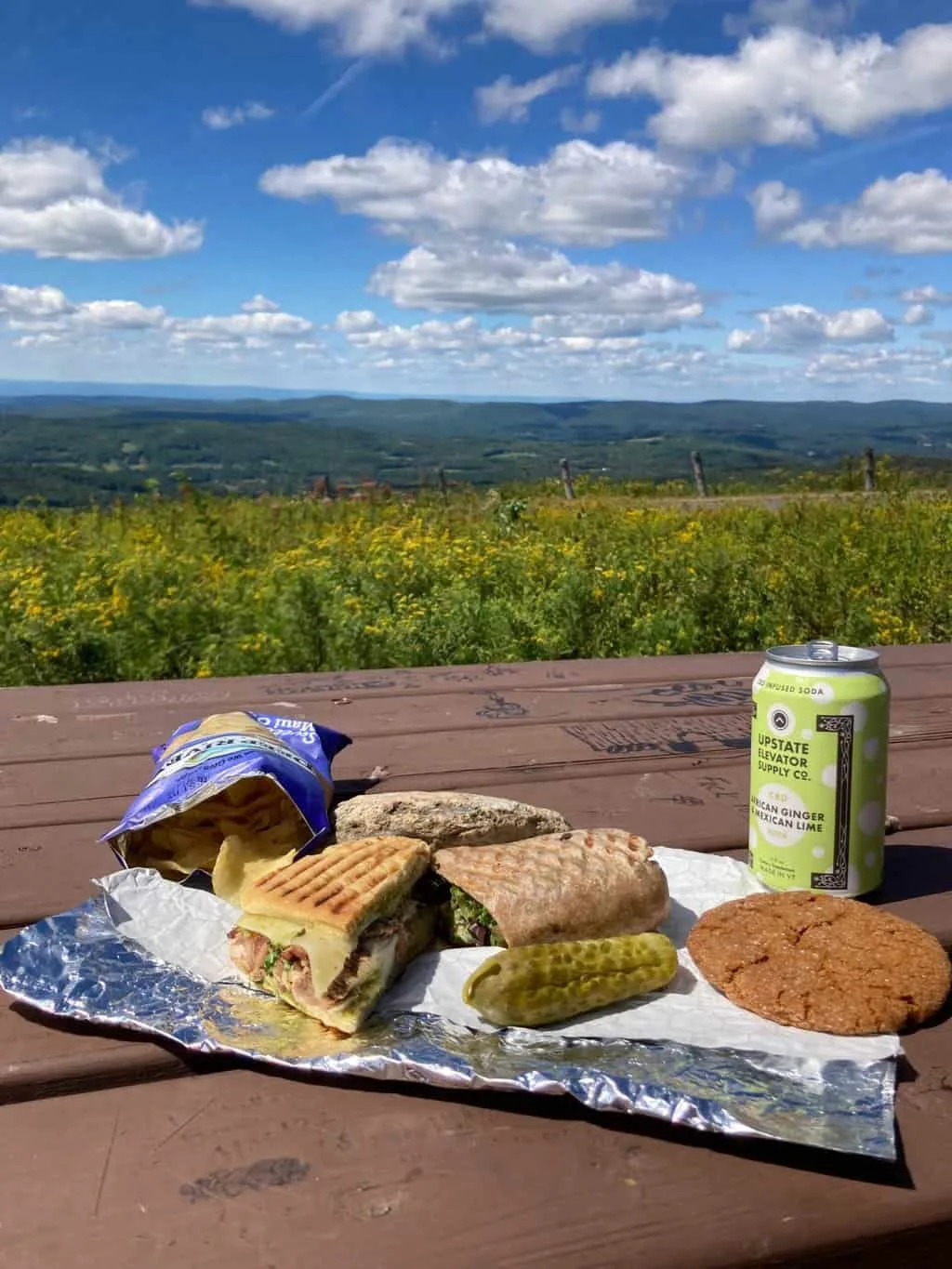 Shaker Mountain: The trail to Shaker Mountain begins at Hancock Shaker Village and travels past the site of a former Shaker settlement and a holy site on top of Shaker Mountain (1,845 feet). The trail can be tackled as a 6.5-mile loop, or you can just hike up to Shaker Mountain and back, which is 2.6 miles. There are no vistas, but the woods are lovely!
Balance Rock: This giant glacial erratic was deposited in this spot 13,000 years ago, and while it seems like it could topple from its perch at any moment, so far its massive size and weight have kept it in place. Visit Balance Rock from Balance Rock State Park in Pittsfield State Forest.
Lulu Cascade to Berry Pond: This 5.2-mile loop has everything — a beautiful brook, a small cascade, wildflowers, and panoramic views. The water level was very low in August/September, but it was still a lovely hike.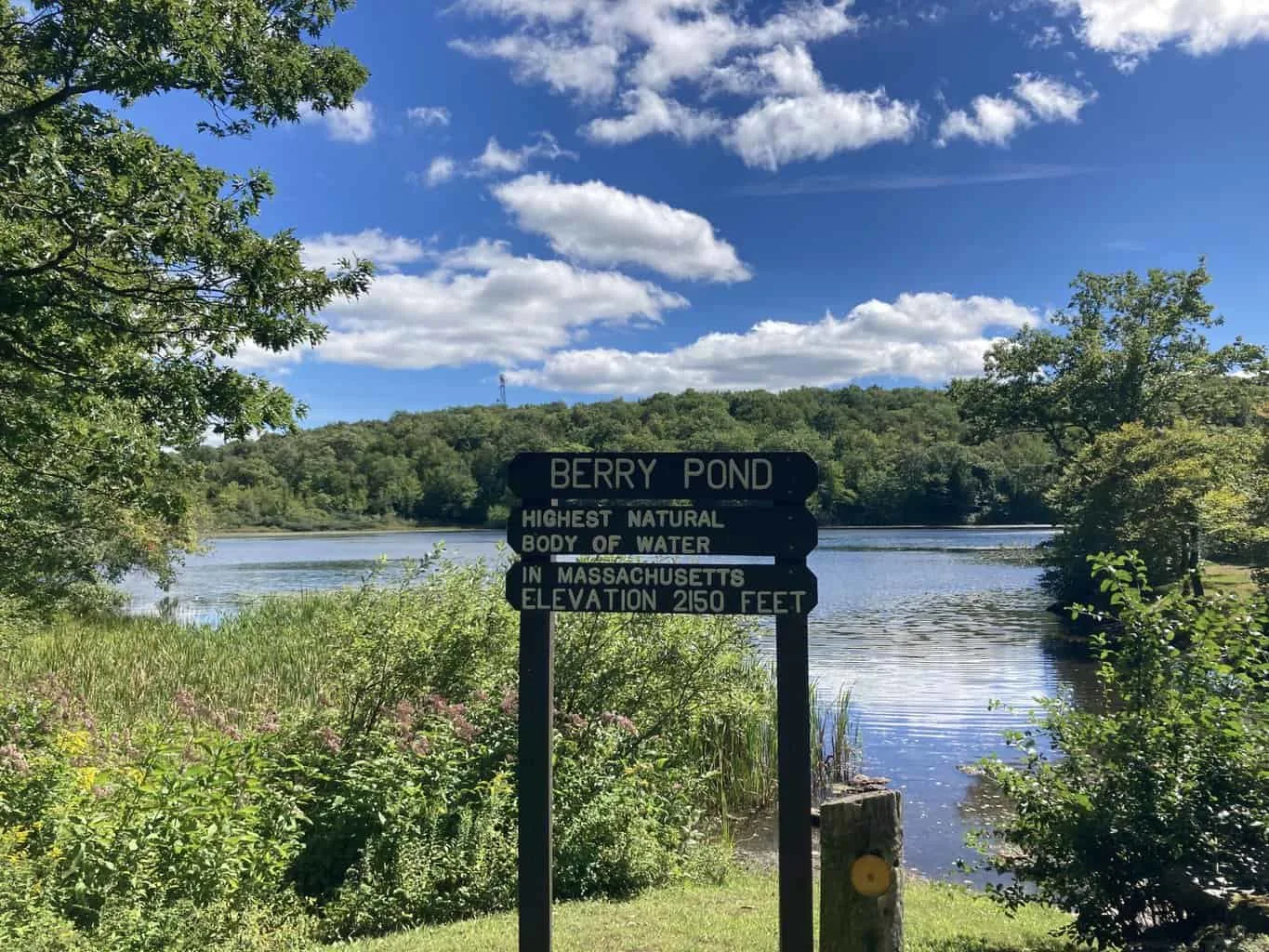 Berry Pond Driving Loop: If you don't have time for a hike, you can drive the Berry Pond Circuit Road to the top of the hill, where you'll find the perfect picnic spot. From there you can walk down to Berry Pond.
There is a day-use fee of $5 for residents and $20 for non-residents, however during our recent visit, the entrance station was closed and we were able to drive in without paying.
Download a Pittsfield State Forest Trail Map
---
Also Read: The 10 Essentials You Need for Hiking
---
Wine Tasting at Balderdash Cellars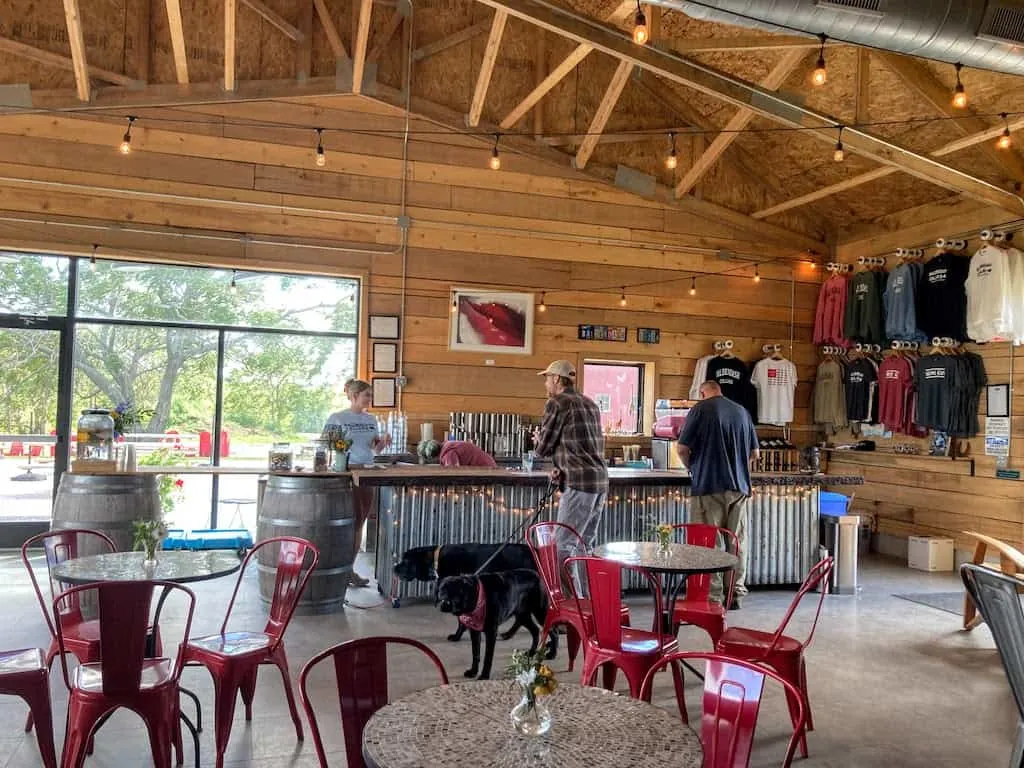 Balderdash Cellars is located in Richmond, just outside of Pittsfield, and it's a great spot to relax after your hike. Dogs are welcome at Balderdash, as are picnics and non-alcoholic beverages. If the weather cooperates, you'll want to sit on the patio or lawn so that you can take in the sprawling views of fields, forests, and mountains.
The grapes that go into the "wicked wines" produced at Balderdash Cellars are grown in California, but this boutique winery knows a thing or two about the winemaking process. Find out for yourself and pop in for a tasting, or skip the tasting and order a wine slushie, called a frozé. It's a fantastic post-hike beverage on a warm day. Promise!
Dinner: Trattoria Rustica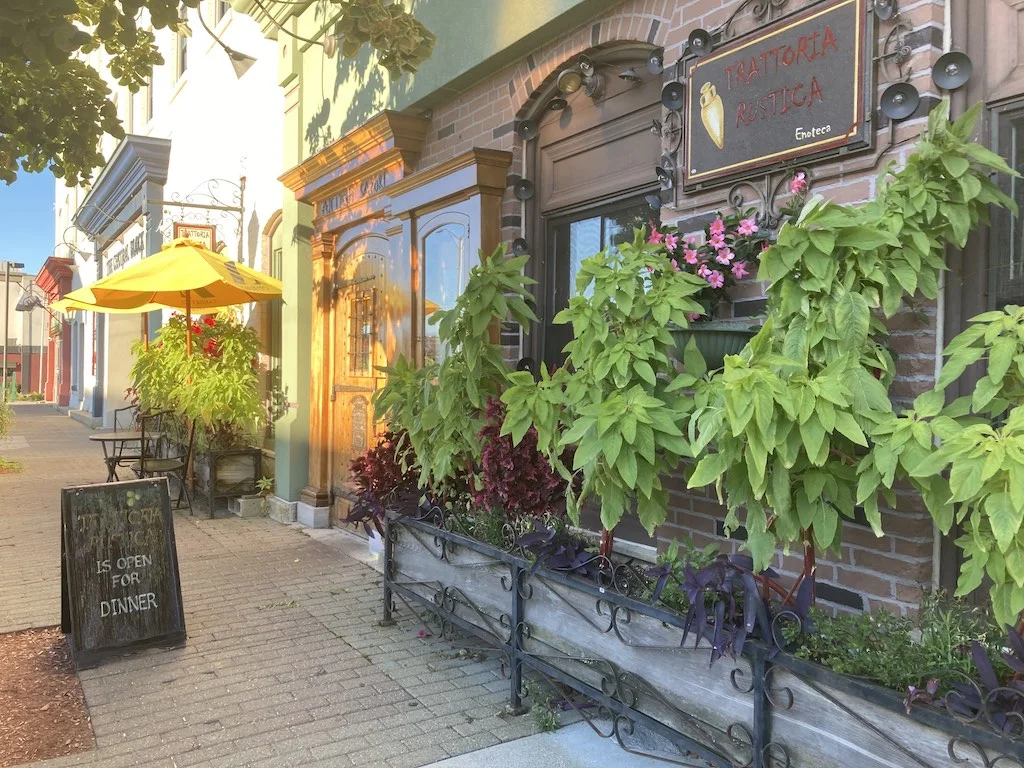 Not only is Trattoria Rustica one of the coziest eateries we've ever had the pleasure of visiting, but the service and food both exceeded our expectations. Cozy nooks indoors are surrounded by warm brick and stonework, and the outside patio is shrouded in greenery.
The whole place feels like it was transported directly from Italy to the Berkshires.
With an impressive wine list and a traditional Italian menu, Trattoria Rustica invites patrons to relax into a memorable sensory experience. We enjoyed stuffed sea bass and eggplant melenzane, both roasted in a wood-fired oven and cooked to perfection.
Our server was attentive, knowledgeable, and friendly, and our only complaint is that we didn't save room for dessert!
Trattoria Rustica in Pittsfield is open Thursday to Monday, starting at 5 pm. Reservations are suggested and dogs are permitted on the patio.
Live Music at Mission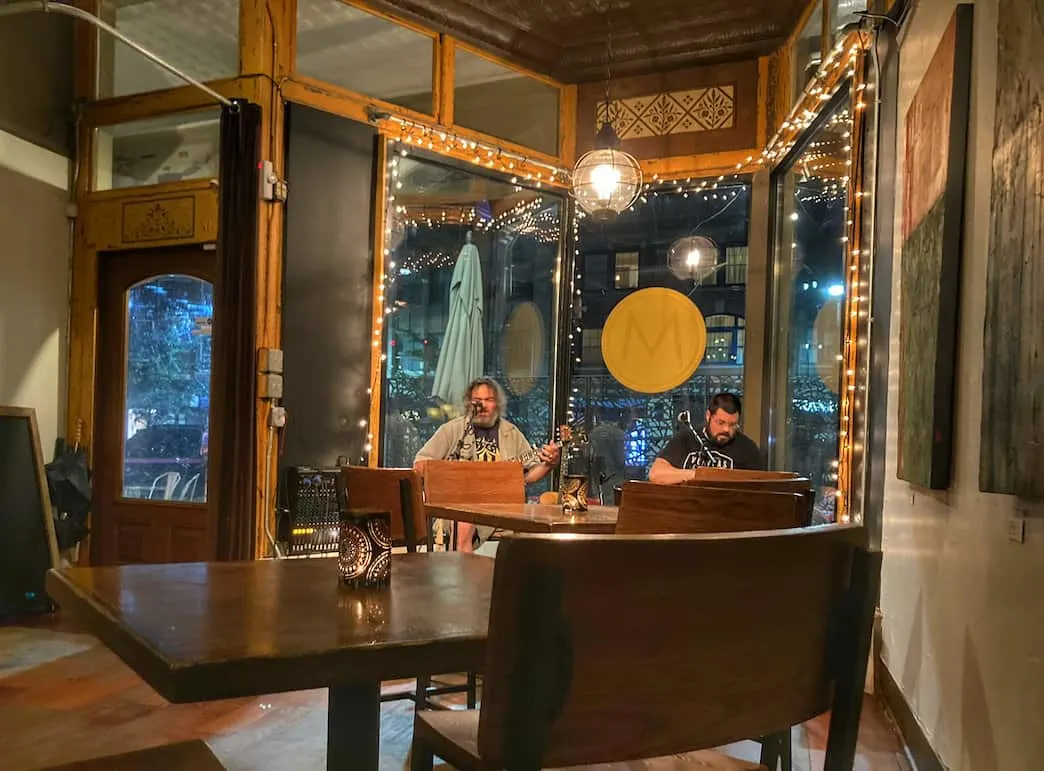 If you happen to be in Pittsfield on a Monday or Thursday, you won't want to miss an evening of live music at Mission. But even if the scheduling cards don't align, head over after dinner to enjoy a cocktail and a slice of homemade cheesecake. It's sure to elevate your evening in ways you can't yet comprehend.
Mission is open Thursday to Monday, 5 – 11 pm (kitchen closes at 10).
---
The Best Things to Do in Pittsfield MA: Day Three
Today starts with a hearty breakfast with the locals. Leave the dogs at Hotel on North, and walk over to Otto's Kitchen & Comfort for an endless cup of coffee, animated conversations, and massive three-egg omelets that will keep you full well past lunchtime.
Judging by our recent visit, Otto's is the busiest breakfast joint in Pittsfield. You'll walk out satisfied and ready to burn some calories!
Hike at Mahanna Cobble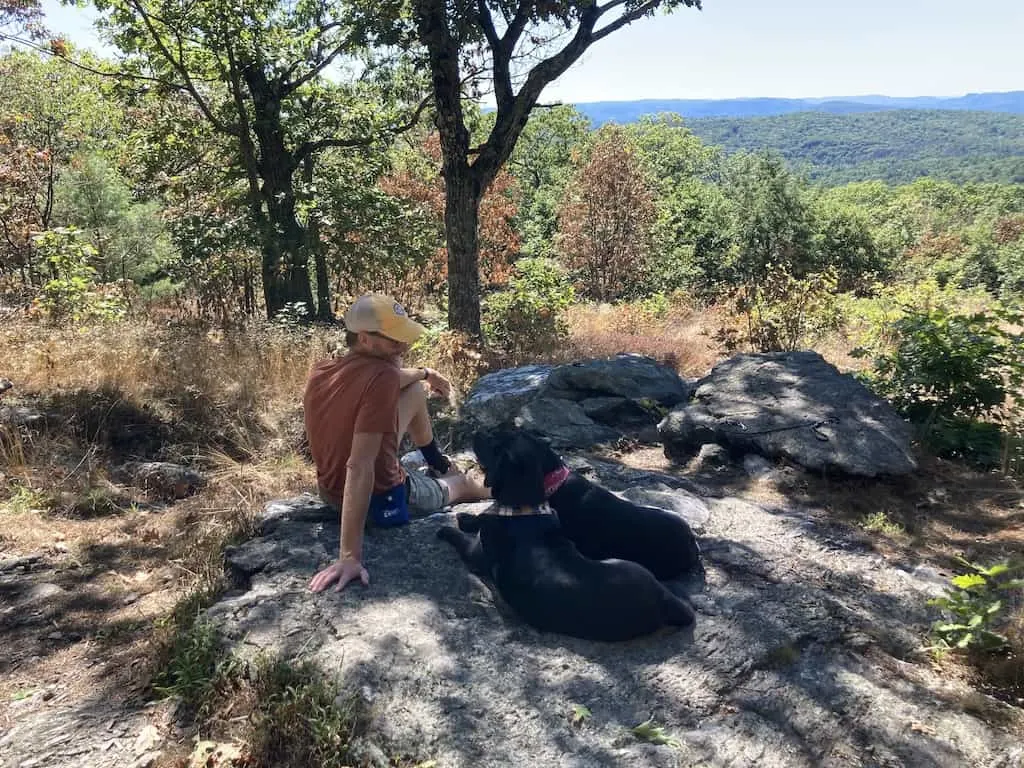 Located just outside of Pittsfield at Bousquet Mountain, the trail to Mahanna Cobble is short and steep, but not unbearably so. It's a 3.2-mile trek (round-trip) through an enchanting hardwood forest that leads to the northern summit of Lenox Mountain. Southern views are gorgeous on a clear day, and there's a well-placed bench where you can catch your breath and ponder the following quote engraved there.
If a person lost would conclude that after all he is not lost, he is not beside himself, but standing in his own old shoes on the very spot where he is, and that for the time being he will live there; but the places that have known him, they are lost, — how much anxiety and danger would vanish.

Henry David Thoreau
Download a trail map and guide for Mahanna Cobble or follow my tracks on Alltrails:
Lunch at Dottie's Coffee Lounge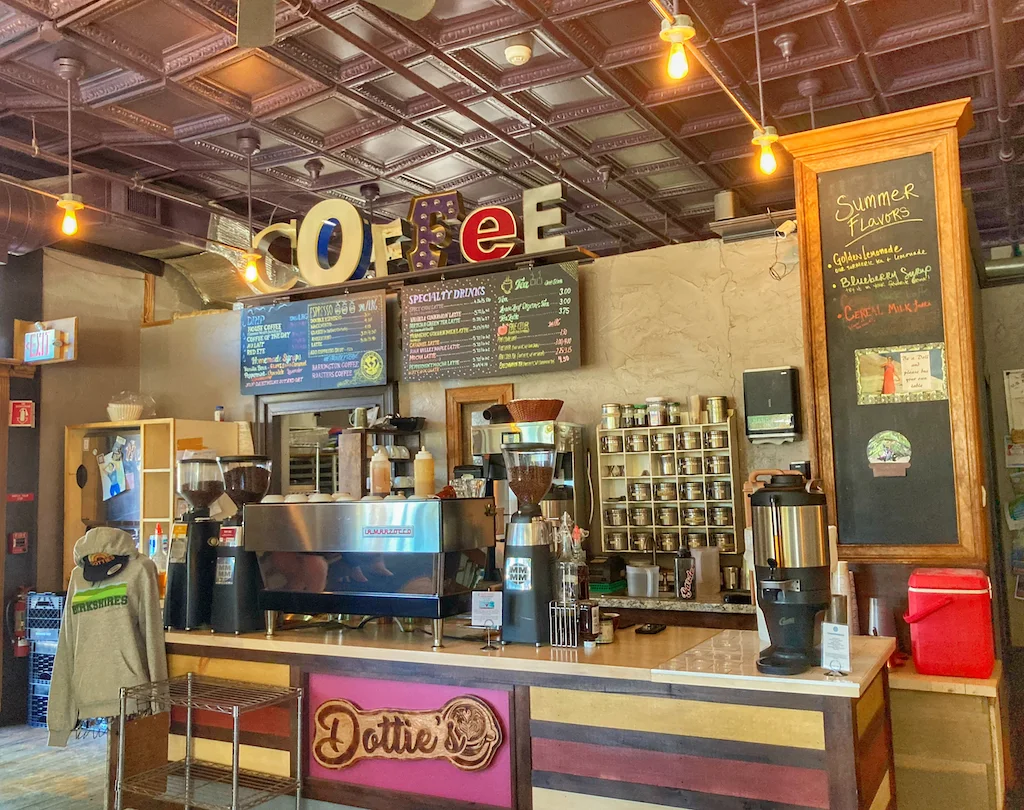 Dottie's dog-friendly patio is the best spot to wrap up your Pittsfield vacation. Order a vegan BLT or mocha latte, and be sure to check out the retail offerings that include bear butter and tasty dog treats for your well-behaved companions.
Dottie's Coffee Lounge is open every day, 7 am to 2 pm during the week and 8 am to 2 pm on weekends.
---
Did you know that the best things to do in Pittsfield, MA with dogs involve either eating or hiking? Next time we'll leave the dogs home so we can explore all the art and culture that canines just don't appreciate.
*Thanks to the City of Pittsfield, MA for hosting our stay!
---
Follow us on social media for more small-town travel inspiration!
Pin for Later?