What happens when you combine five state parks, five wineries, and 50+ amazing Finger Lakes waterfalls into a five-day road trip? A kind of crazy, but oh-so-fun Finger Lakes vacation in Western New York.
You already know that New York is home to one of the coolest cities in the world, but it also encompasses some seriously incredible landscapes for road tripping, and this Finger Lakes road trip itinerary is exactly what you've been looking for.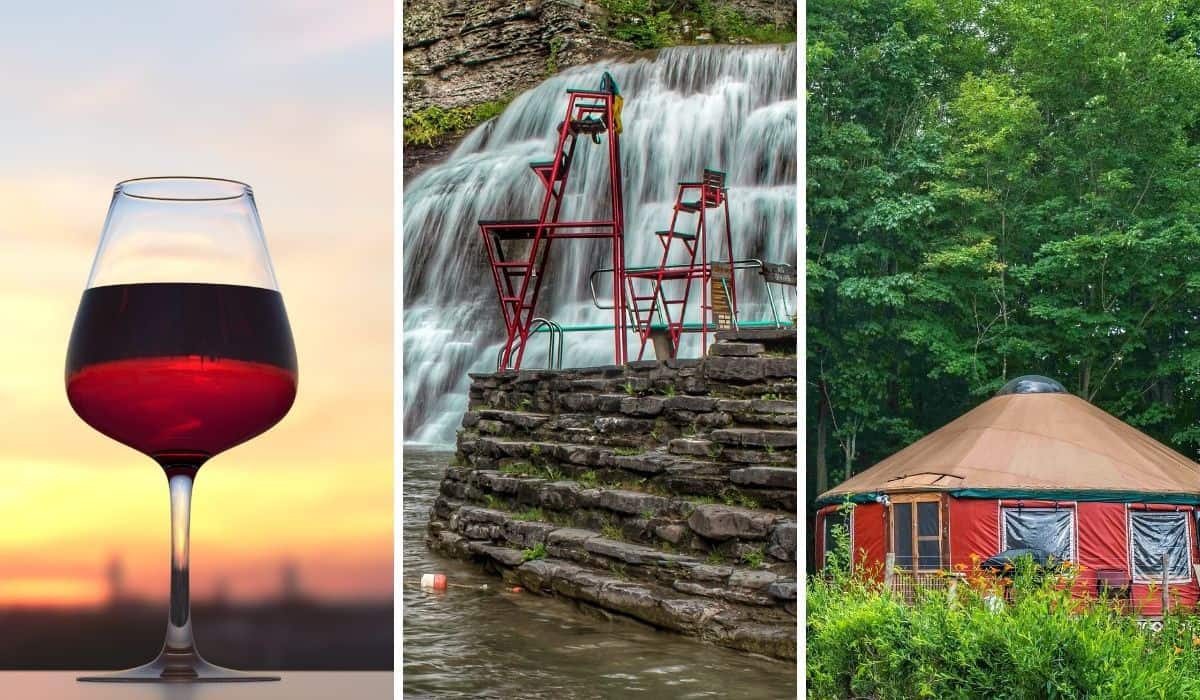 Spend your days hiking into deep gorges, photographing waterfalls, and cooling off in the river; your evenings sipping one at one of the dozens of wineries in the Finger Lakes region, and your nights relaxing at beautiful camping spots, vacation rentals, and glamping retreats.
The Finger Lakes region is just four hours from Manhattan, but you might as well be on another planet. No other area east of the Mississippi can boast of more wine sipping and gorge-hiking goodness than Western New York. Throw in more than 150 Finger Lakes waterfalls and a few perfect spots to spend the night, and you'll want to pack your bags before you finish reading.
Ready to embark on your own wine and waterfalls road trip through the Finger Lakes region of New York? We've created a perfect Finger Lakes road trip itinerary for five days of relaxing and adventuring on your next vacation.
Where are the Finger Lakes?
The Finger Lakes Region encompasses 9,000 square miles in western Upstate New York and includes 14 counties and 11 lakes. The area is approximately 5 hours from New York City, 3.5 hours from Boston, 3 hours from Albany, and 6 hours from Washington DC. The nearest airport is Syracuse Hancock International Airport (SYR), which is about an hour away from the heart of the Finger Lakes Region.
Psst… Have you seen those groovy campervans meandering around America? They're Escape Campervans and you can rent one for your Finger Lakes road trip.
There's an Escape Campervan rental center in Jersey City, just a short ferry ride from Manhattan, which is 5 hours from the Finger Lakes.
These iconic vans include everything you need (and a kitchen sink) for your van camping adventure. Talk about a memorable experience!
What are the 11 Finger Lakes?
When observed from above, the 11 Finger Lakes really do look like fingers stretching from north to south. From west to east, the 11 Finger Lakes are Conesus, Hemlock, Canadice, Honeoye, Canandaigua, Keuka Lake, Seneca, Cayuga, Owasco, Skaneateles, and Otisco. All of the Finger Lakes empty into rivers in the north as they make their way to Lake Ontario. The Finger Lakes are glacial lakes that were formed more than 100 million years ago.
When is the Best Time to Visit the Finger Lakes?
While the Finger Lakes Region is certainly a four-season destination, if you are road-tripping, we recommend visiting between May and October. The earlier in May you visit, the fuller those lovely Finger-Lake waterfalls will be.
If you want to swim and camp, then June and July are a better bet. You can find amazing swimming everywhere you go in the Finger Lakes. Finally, if you're hoping to do some leaf-peeping in the Finger Lakes, head to the area in late September or early October. We haven't visited the region for fall foliage, but we're hoping to plan a trip soon.
---
Road trip tip: We've created a free, printable version of this Finger Lakes Road Trip Itinerary! It's perfect for times when you find you find yourself GPS-free with no cell service. Be sure to download the itinerary so you know exactly what's next!
---
A Perfect Finger Lakes Road Trip Itinerary for Wine and Waterfalls
Finger Lakes Wine and Waterfalls on Roadtrippers
How you tackle this road trip is entirely up to you. We drove in from Vermont, so I created the itinerary to go from east to west in a very loose loop. This will also work well if you fly into Syracuse, as the first stop (Chittenango Falls State Park) is just 25 miles from the airport. The Roadtrippers map above includes travel to and from the airport.
Psst… Roadtrippers is one of our favorite apps for planning trips, and the premium version is 100% worth every penny. You can save $5 off the Roadtrippers app by using the code BTR5QTP. You're welcome!
---
Day 1: Chittenango Falls, Owera Vineyards, and a Farm Stay
Total Driving Time: 47 minutes (33.9 miles)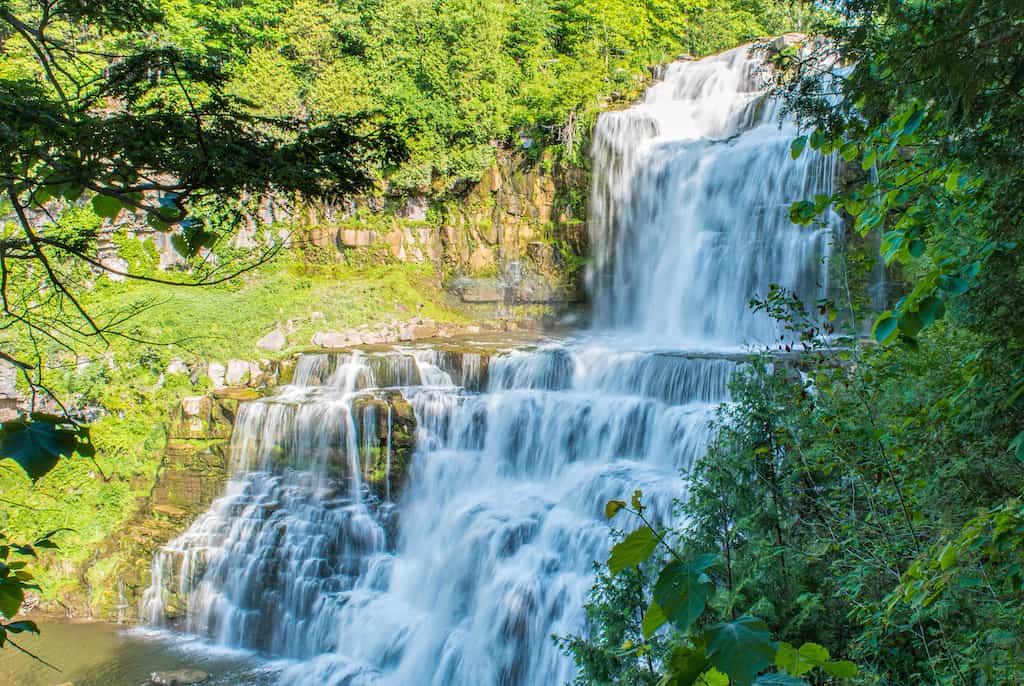 At first glance, Chittenango Falls State Park looks like a typical day-use area. There's a grassy picnic area with tables and grills, a row of port-a-potties, and some nice woodland trails. The highlight though, is Chittenango Falls, a 167-foot waterfall that cascades over a wide swath of sculpted bedrock.
The base of the falls is home to a rare snail that isn't found anywhere else on earth. We didn't actually see said snail, but it's cool knowing it exists. The gorge trail is a quick 1-mile loop (gotta ease into this road trip). Our first Finger Lakes waterfall, Chittenango Falls, was one of the prettiest on our journey.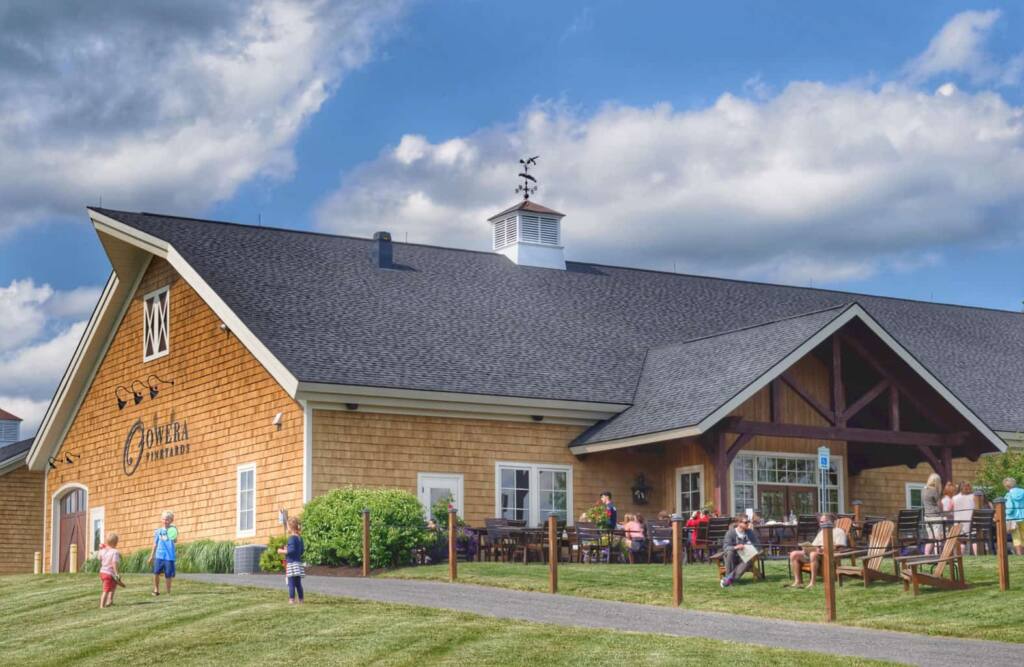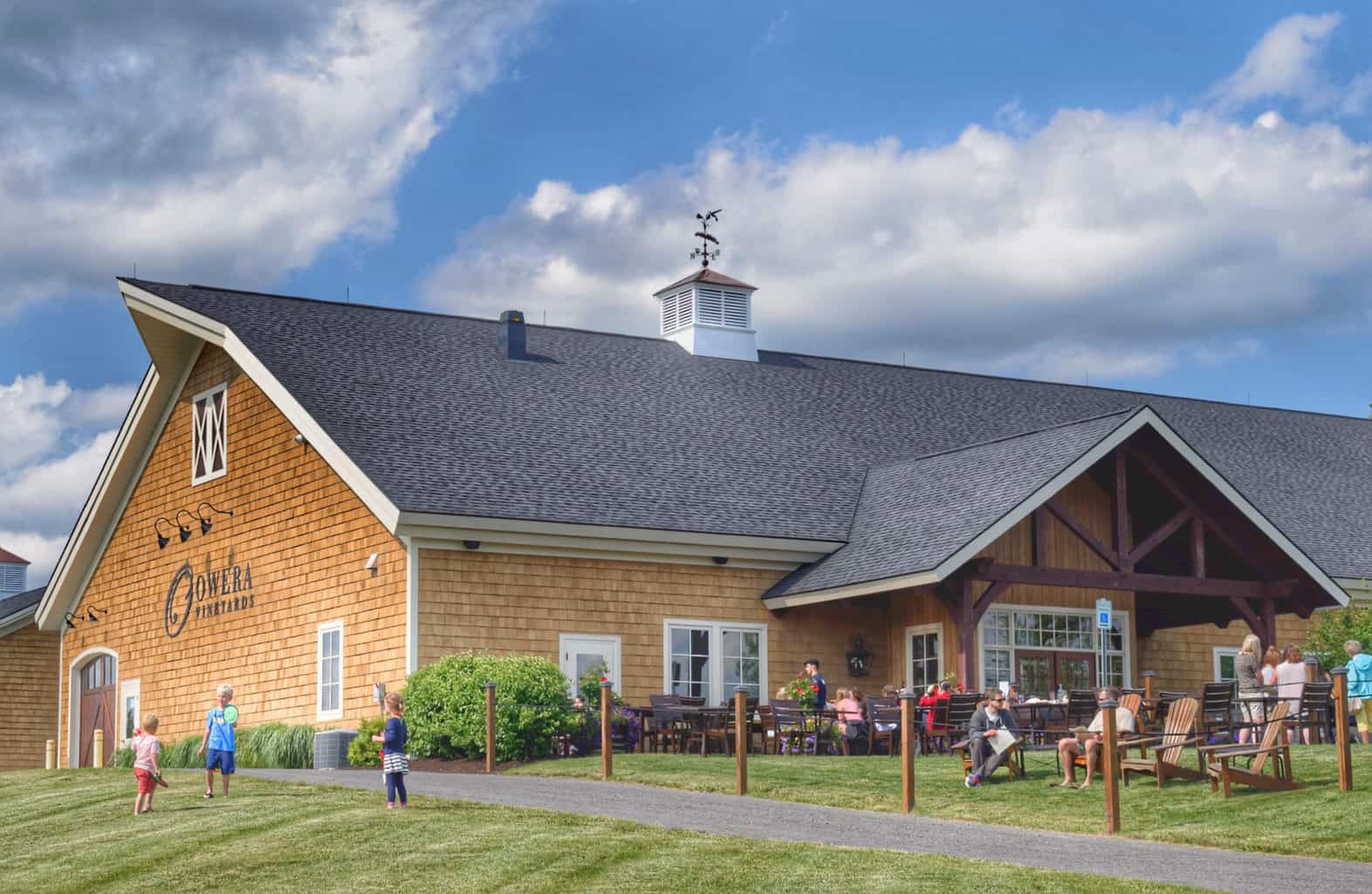 Next stop, Owera Vineyards, an award-winning Finger Lakes winery and cafe with some of the best local food you'll find anywhere. We devoured the Mediterranean board with a flight of whites, and then — locally crafted chocolates and a heavenly chocolate mousse. I highly recommend the semi-dry Riesling to have 'round your campfire later on. It's kind of a shame that Owera was our first stop on our Finger Lakes wine trail, because it was far-and-away our favorite stop, for both food and wine.
Day 1: Where to Stay
Plan A: Now that your belly is full of good things, head south to Heart's Desire Farm in Truxton, which you can book on Hipcamp. This is a 400-acre dairy farm with incredible views of the surrounding valley, and it's a great place for secluded, primitive camping. Pitch your tent in the woods or pasture — your hosts will happily transport your gear in the ATV, provide you with a portable fire pit and wood, and leave you to your stargazing.
Plan B: If you aren't traveling with camping gear or don't want to rough it, head into downtown Cazenovia and check into Lincklaen House, which is a lovely historic hotel that has been operating for more than 170 years. Cazenovia is a small town, but the architecture is beautiful, and there are several small eateries and shops that are worth visiting.
Day 2: Montezuma National Wildlife Refuge and Montezuma Winery
Total driving time: 1 hour, 25 minutes (63.6 miles)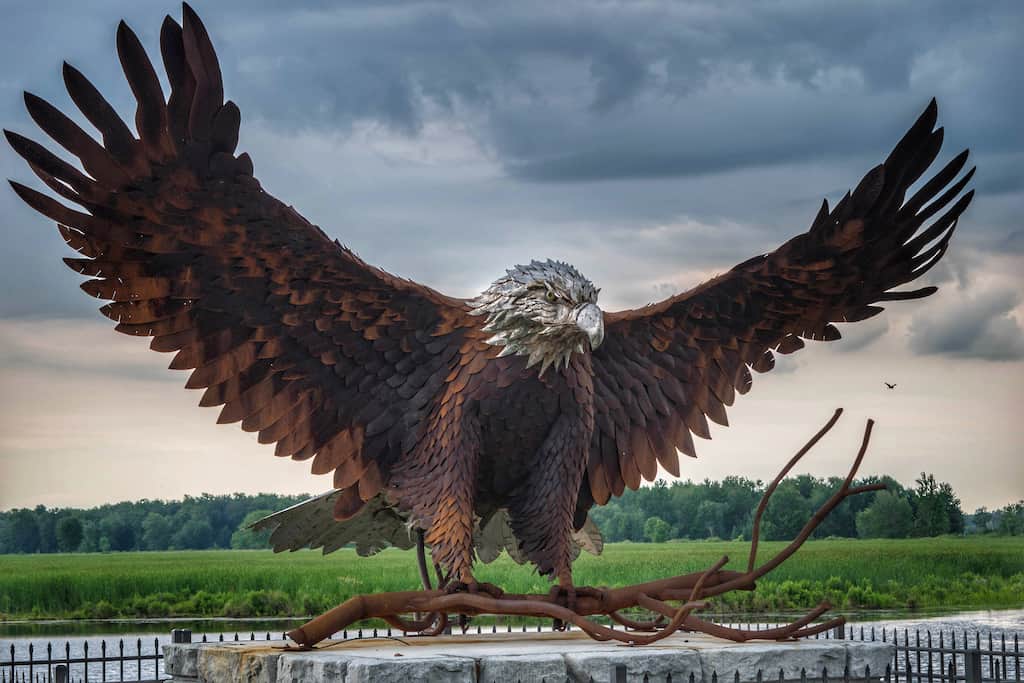 No waterfalls today, but if you need a stretch, you might want to meander around the 10,000-acre Montezuma National Refuge, which is a great spot for birdwatching. There are plenty of easy walking paths and awesome opportunities for birdwatching.
Alltrails has a great overview of the best trails in Montezuma National Wildlife Refuge.
Next, head into Seneca Falls and stop at Women's Rights National Historical Park, which tells the story of the first Women's Rights Convention held in Seneca Falls, NY on July 19-20,1848. Check out the visitor center, the historic homes, ad the Wesleyan Chapel. The grounds are open every day, but the visitor center is only open between Thursday and Sunday, 10 am – 4 pm. This national historic park is free to visit.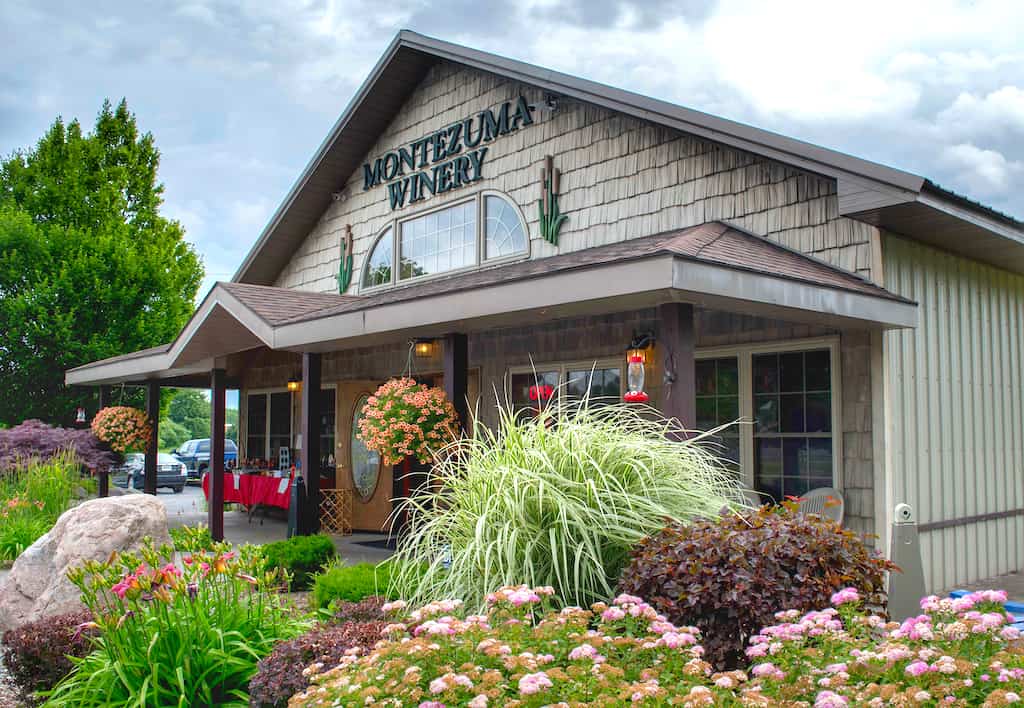 Next, a stop at Montezuma Winery and Marsh Distillery in Seneca Falls. This Finger Lakes winery is more of a quirky gift shop with a tasting counter, but the staff is friendly, and for a small fee, you can score a souvenir wine glass so you don't have to drink out of your camp mug when you get to your campsite. We walked away with the Dragonfly black currant and apple wine, which went well with our s'mores.
Day 2: Where to Stay
Want to spend some more time in historic Seneca Falls? The Gould Hotel is located right downtown and features chic furnishings and modern amenities. The Gould Hotel opened in 1920 to much fanfare, and it is still one of the best places to stay in the area! We love staying in boutique hotels that allow us to walk everywhere. A restaurant on the first floors serves up contemporary Italian cuisine, and dogs are permitted for an extra fee.
If you'd rather pitch your tent or park your RV, head to Cayuga Lake State Park. This expansive park is located at the northern tip of Cayuga Lake, just a few miles from Montezuma Winery. Campsites are spacious and private with electric hook-ups. There's a great playground for the kids and a nice swimming beach that everyone will enjoy.
Day 3: New York's Tallest Waterfall and a Yurt on a Forest Farm
Total driving time: 1 hour, 12 minutes (54.2 miles)
Today we're heading south between two of the biggest Finger Lakes, Cayuga and Seneca Lakes. The drive takes you through rolling hills, vineyards, and farmland to Taughannock Falls.
Taughannock Falls is the crown jewel of the Finger Lakes waterfall region — At 215 feet tall, it's the highest single-drop waterfall east of the Rocky Mountains. The gorge trail in Taughannock Falls State Park is a flat ¾ of a mile hike that meanders along the stream.
There are several places where you can walk right through the stream if you've got the right footwear, and the views of the gorge from the water are spectacular.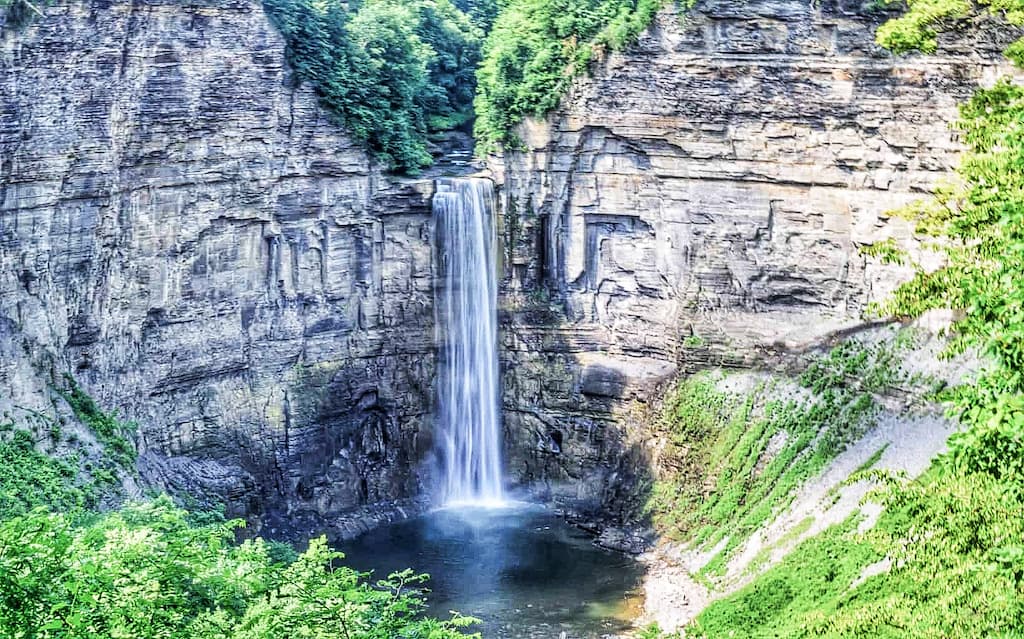 For a longer hike, start in the upper parking lot, hike the north rim trail down to the lower parking area (1 mile), and then head to the bottom of the falls on the gorge trail. The rim trails are fairly quiet, but you'll share the gorge trail with plenty of other hikers, no matter what time of year you visit. Once you get your first glimpse of Taughannock Falls, you'll understand why.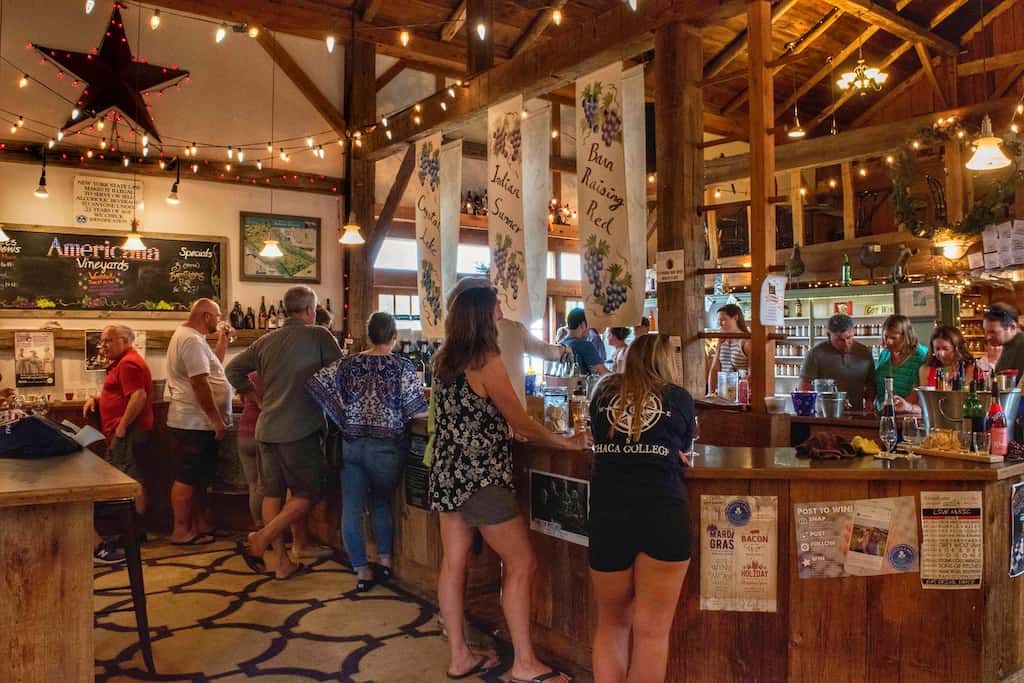 You're bound to need some refreshment after all that hiking. Americana Vineyards is just 5.5 miles north of the park. Fuel up with diner fare at the Crystal Lake Cafe, or head to the tasting room to get right to business. We had a lot of trouble choosing a wine here. There's a huge selection, but we went (again) with a semi-dry Riesling, and we weren't disappointed.
Day 3: Where to Stay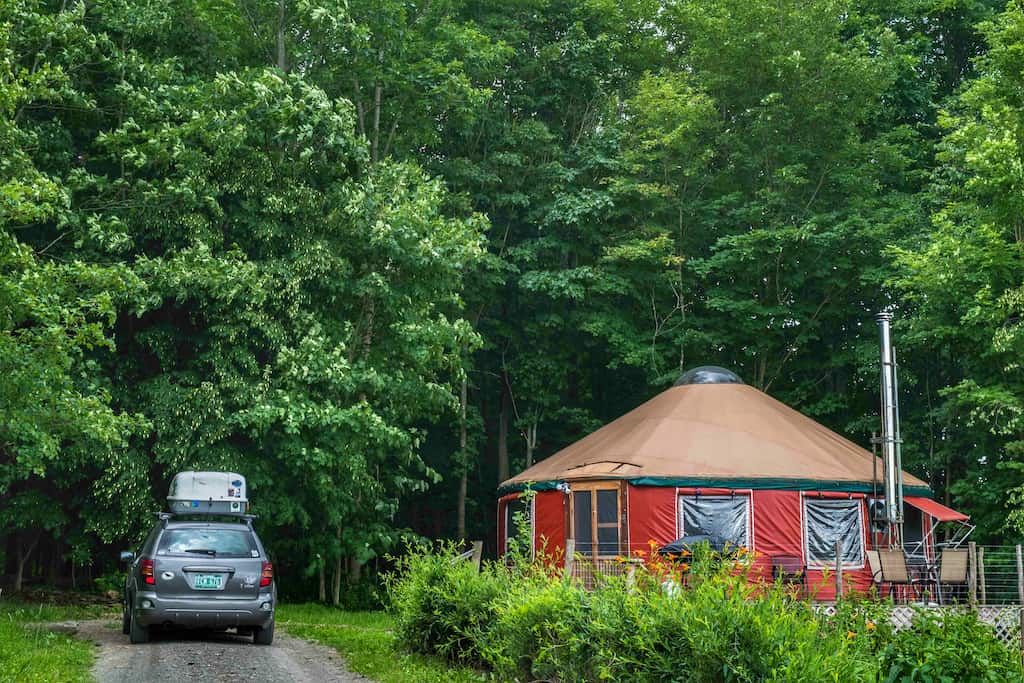 Ready to relax? Wellspring Forest Farm in Trumansburg has everything you're looking for in a Finger Lakes vacation — comfort, privacy, and farm-fresh goodies. It's way beyond camping or even glamping. In fact, if you're not into road-tripping (or camping) and just want to explore the parks around Ithaca, make this beautiful yurt your home base for all your adventures.
The yurt B&B is located on the edge of the forest and surrounded by gardens. Small touches make a big impact here — you can buy shiitake mushrooms from your hosts for breakfast, brew up some local coffee, and stroll along the many farm paths through fields and forests.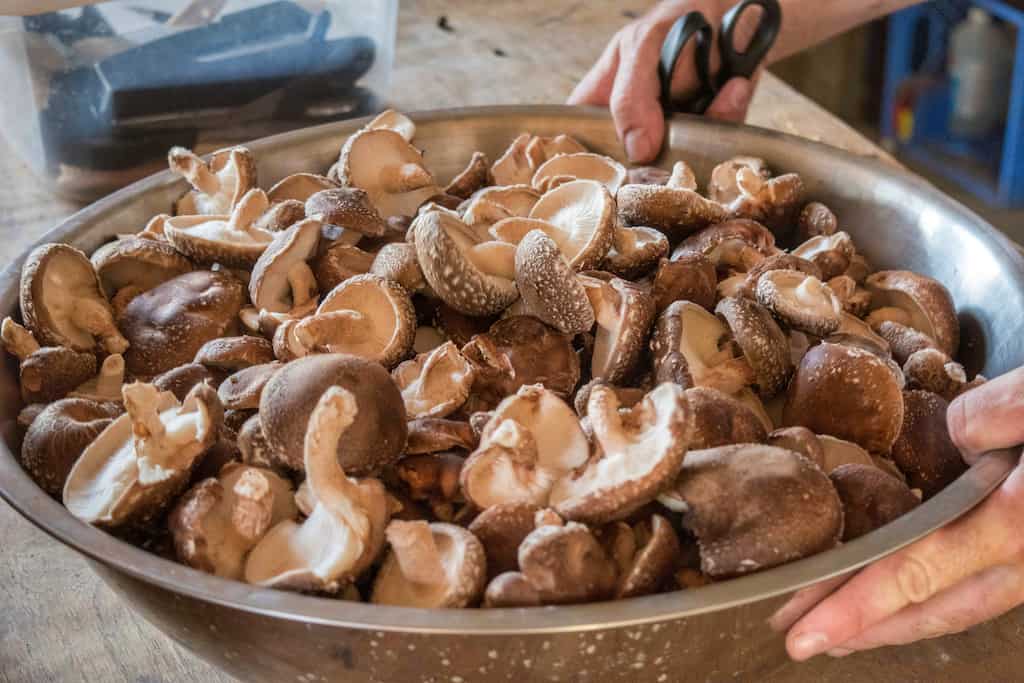 Day 4: Too Many Waterfalls to Count
Driving Time: 1 hour, 11 minutes (47.8 miles)
Not much driving today, but we're visiting two awesome state parks with dozens of Finger Lakes waterfalls, plus the chance to cool off twice in one day!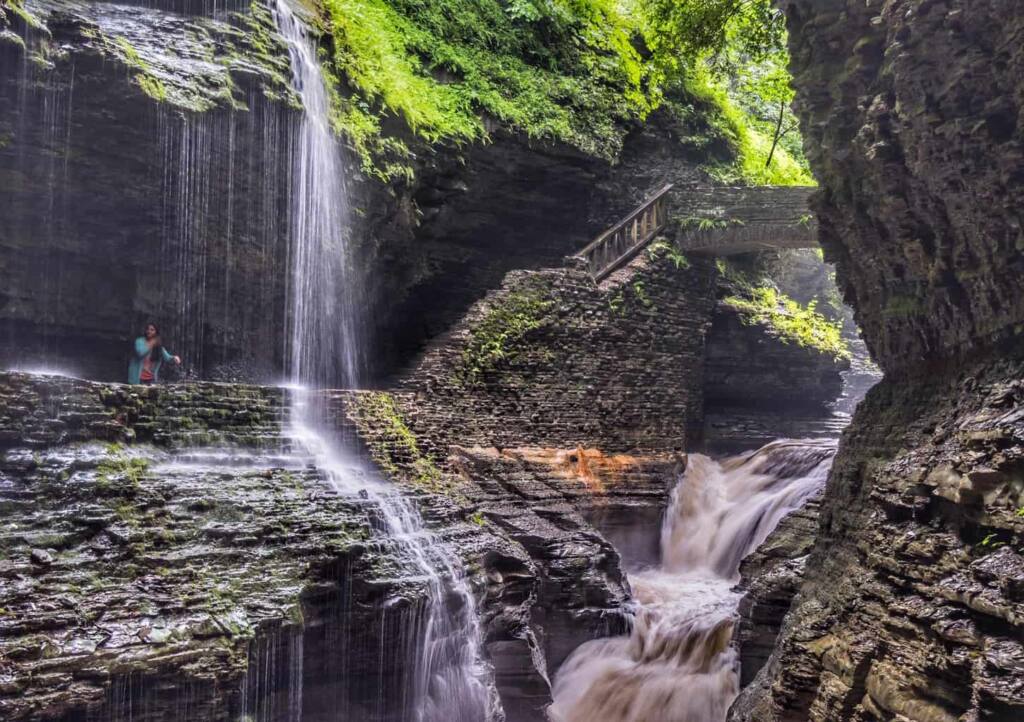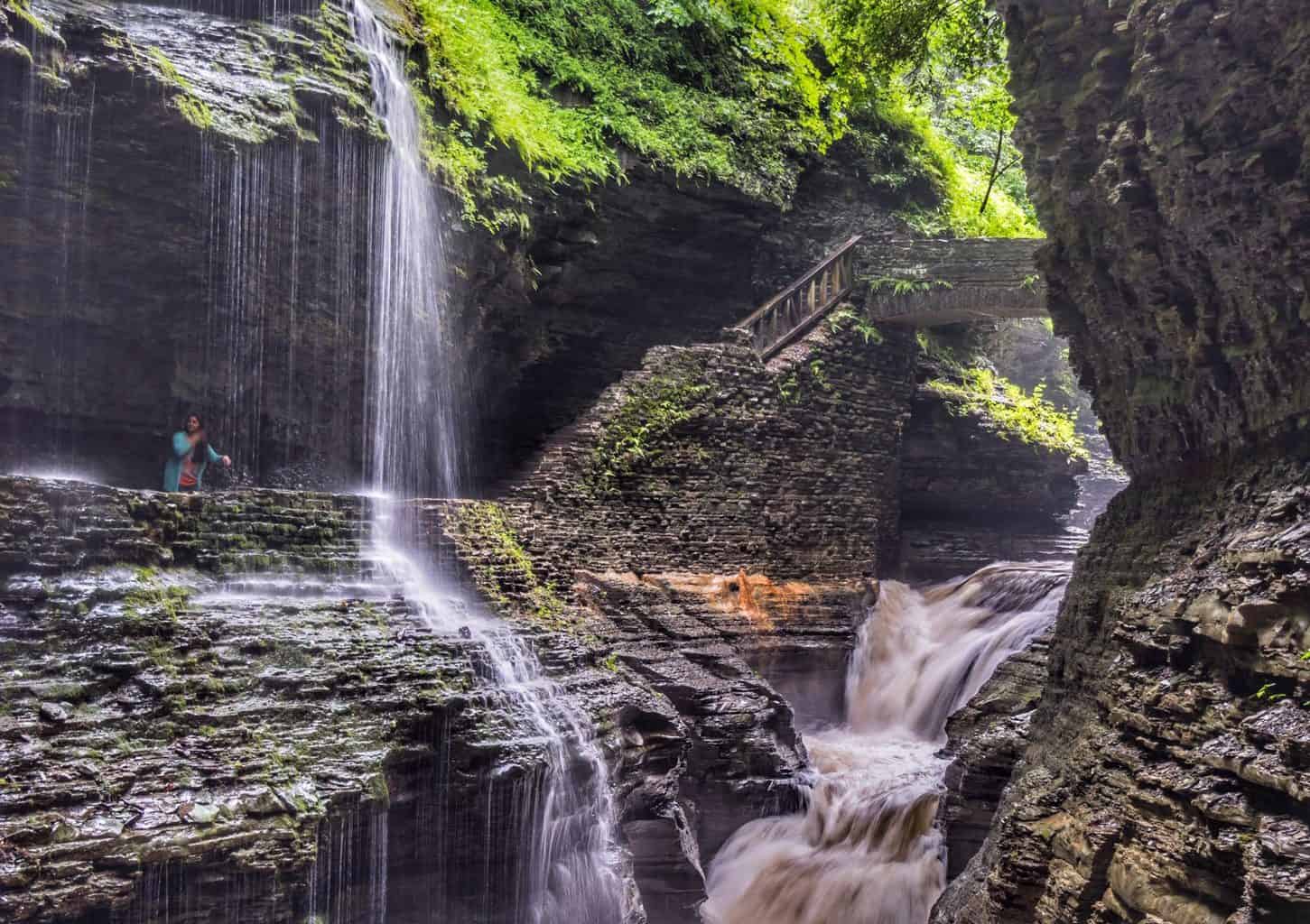 Watkins Glen State Park is the most famous of the Finger Lakes parks, taking visitors on a magical journey through caverns and tunnels, across bridges, and past 19 magnificent Finger Lakes waterfalls.
The park opened as a private tourist attraction in 1863 but has been run by the state since 1906. The CCC crafted the gorgeous walls, bridges, and walkways in the 1930s, most of which have been beautifully preserved. Wake up early for this one to beat the crowds, and after you've walked the gorge trail (3 miles round trip), consider taking a dip in the Olympic-size swimming pool.
Next, head east toward Ithaca and make a stop at Robert Treman State Park. I had never heard of this park before, and it totally blew me away. First of all, the swimming area is situated at the base of an incredible waterfall. Most visitors we encountered were lugging their picnics and beach bags to these lower falls. This is waterfall swimming at its very best!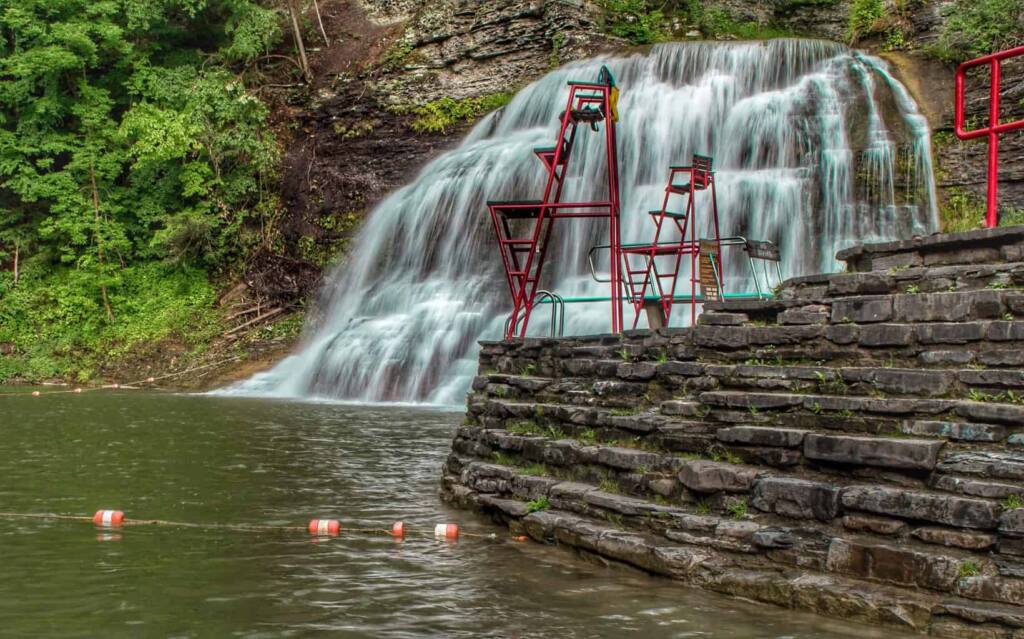 Like the other Finger Lakes State Parks that feature amazing waterfalls, this one allows you to head straight into the gorge on the gorge trail (2.05 miles) or combine it with the rim trail for a loop (total 4.3 miles). Either way, be prepared to climb up (or down) hundreds of stone steps as you make your way in and out of the gorge.
We recommend starting in the lower parking area, hiking the rim trail to the upper lot, and then descending through the gorge trail back to your car. On a hot day, it's very important to cool off below the falls before continuing on your journey. This makes for two refreshing dips in one day!
Day 4: Where to Stay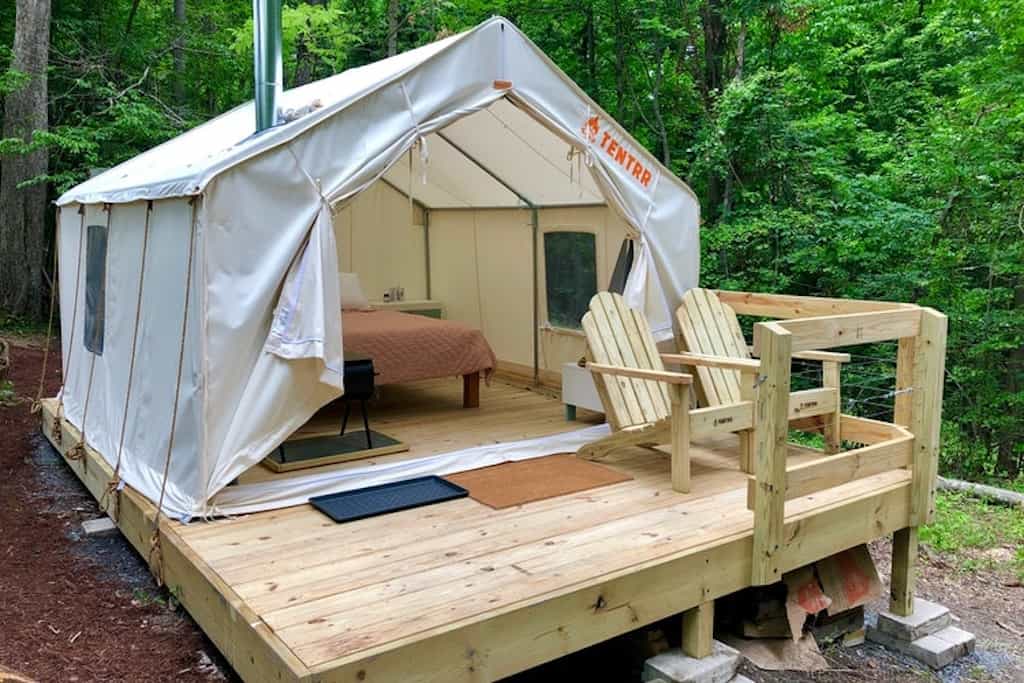 You can actually explore both Watkins Glen State Park and Robert Treman State Park from the yurt we recommend for day 3 without having to drive very far, but if you want to try something new, here are a few recommendations.
Plan A: Gorgeous Hideaway at Little Leaf Farm
Located just outside of Ithaca, this Tentrr Signature Site provides private glamping in the woods on a working farm. You get all the benefits of camping but still get to sleep in a real bed at night. This Finger Lakes glamping spot is very close to Buttermilk Falls State Park and there are beautiful trails leading to gorges and waterfalls from the property.
Plan B: Again, just because we love to camp on our road trip, doesn't mean you have to. If you need more room to spread out, or just want a few extra creature comforts on your Finger Lakes road trip, check out this beautiful (and affordable) little house in Ithaca, New York. This cozy vacation rental sleeps up to eight people in three bedrooms, and it's within walking distance of downtown. Dogs are not permitted.
Day 5: Buttermilk Falls, Ithaca, and Six Mile Creek
Driving Time: 1 hour, 25 minutes (43.7 miles)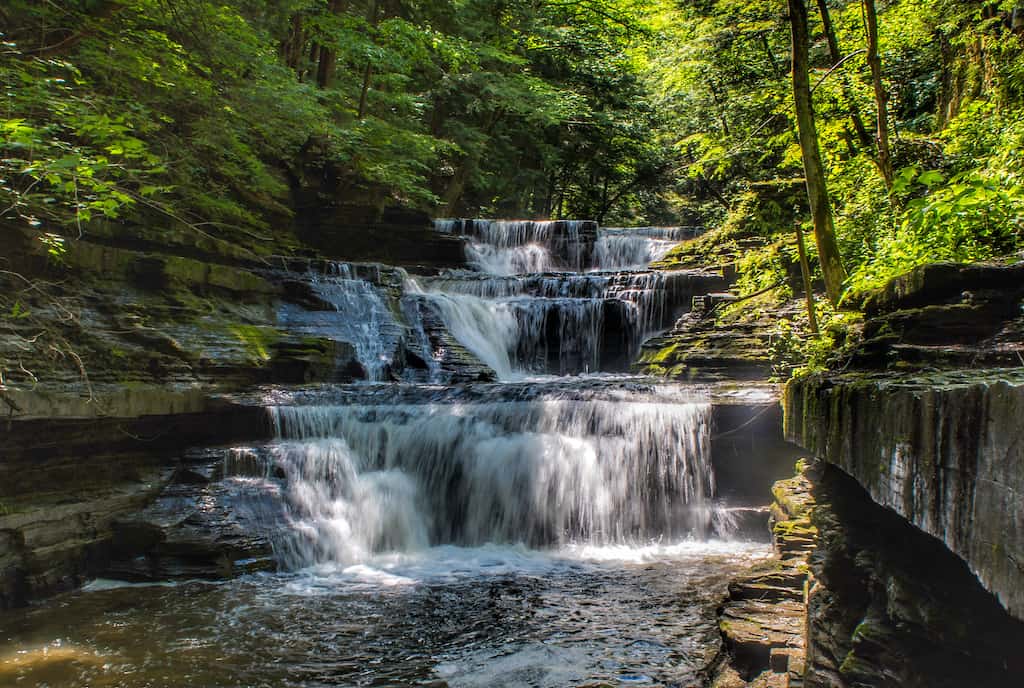 By now the Finger Lakes waterfalls are starting to all resemble one another, but truly, you could visit 50+ more today without leaving town. Since we had to narrow down your choices, we're recommending a few favorites. The first is Buttermilk Falls State Park, which is very close to downtown Ithaca.
The gorge trail in Buttermilk Falls State Park is a short .62 miles (one way). You can certainly combine it with other trails for a longer hike, but if you want to take it easy on the last day of your Finger Lakes road trip, this is an easy and beautiful choice.
Meander along the gorge trail, take a dip at the base of the lower falls, and head into Ithaca for lunch. For a quick, inexpensive, and delicious meal, I recommend Luna Street Food on North Aurora Street.
Early afternoon is a good time to meander around Ithaca Commons. Ithaca is a bustling college town, home to Cornell University and Ithaca College. It's worth spending an extra day or two in Ithaca if you have time.
If you're a shopper, you'll find all kinds of fun boutiques on State Street. If you love waterfalls (and you must if you're reading this), you should check out Ithaca Falls, which you can walk to from downtown.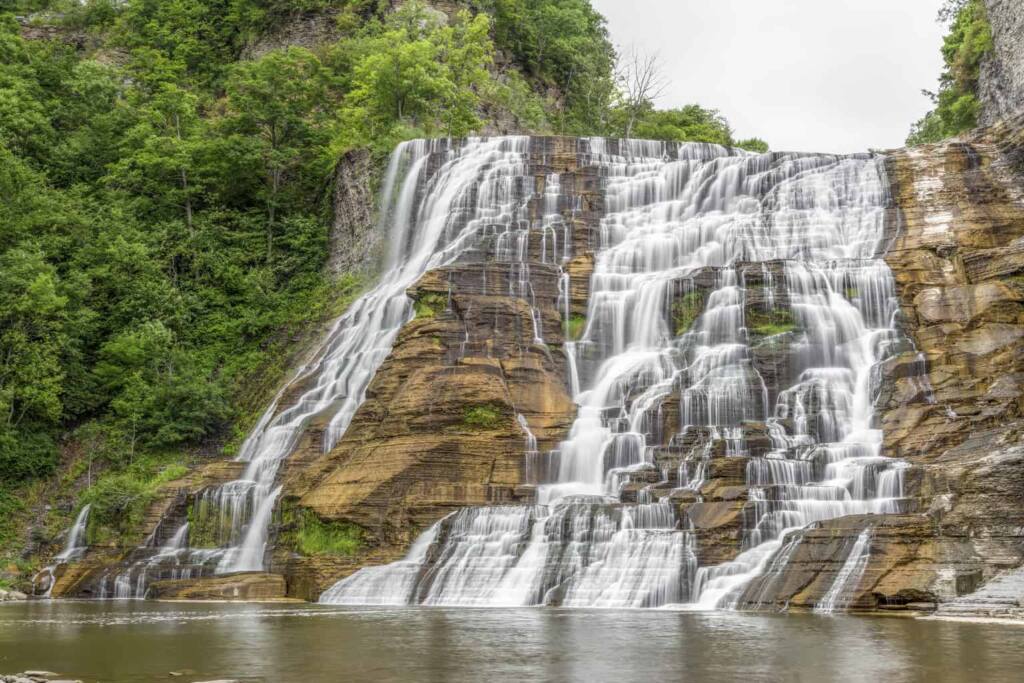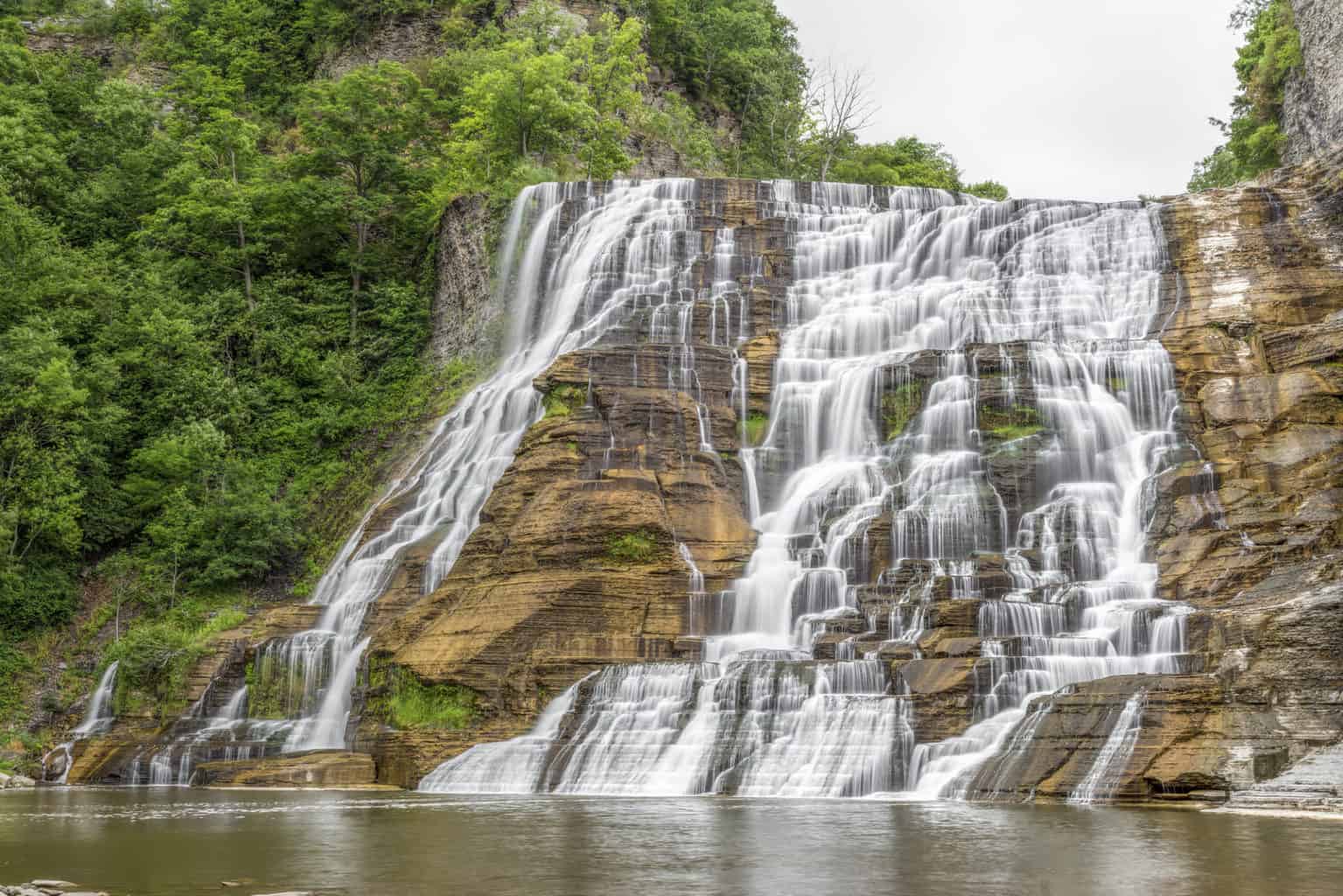 Fancy another wine tasting before leaving the Finger Lakes? Locals recommended Six Mile Creek Vineyards, just 3.5 miles from downtown Ithaca. What a beautiful setting! The sprawling vineyards are a perfect backdrop for wine sipping on the deck, and there is often live music to go with your gorgeous view. We bought our first red wine of the trip here, Ithaca Red, and packed it away for a long drive home.
Final thoughts on our Finger Lakes Itinerary
The Finger Lakes might not be a well-kept secret, but it certainly wasn't on our radar when we impulsively planned our summer road trip.
We have never seen so many incredible waterfalls in one area. In fact, we were so spoiled by amazing Finger Lakes waterfalls, that nothing has compared since then.
Hiking through fabulous gorges is up there with climbing peaks for me now, and I can't imagine why I didn't realize that sooner.
As for the Finger Lakes wine, it's world-famous for a reason. Those Cayuga white grapes create some pretty incredible flavors, and while I've never been a fan of white wine before, the Owera semi-dry Riesling has converted me.
Bottom line, a Finger Lakes road trip is the perfect combination of beauty, adventure, and relaxation. If you need more ideas for places to stay, check out our recent article on the best spots to go glamping in the Finger Lakes.
Time to hit the road and check out the Finger Lakes.
Finger Lakes Resources
---
Want more wine and waterfall goodness in New York? Check out this post on our wine and waterfall vacation in the Hudson Valley.
---
Follow us on social media for more road trip inspiration!
Pin for Later?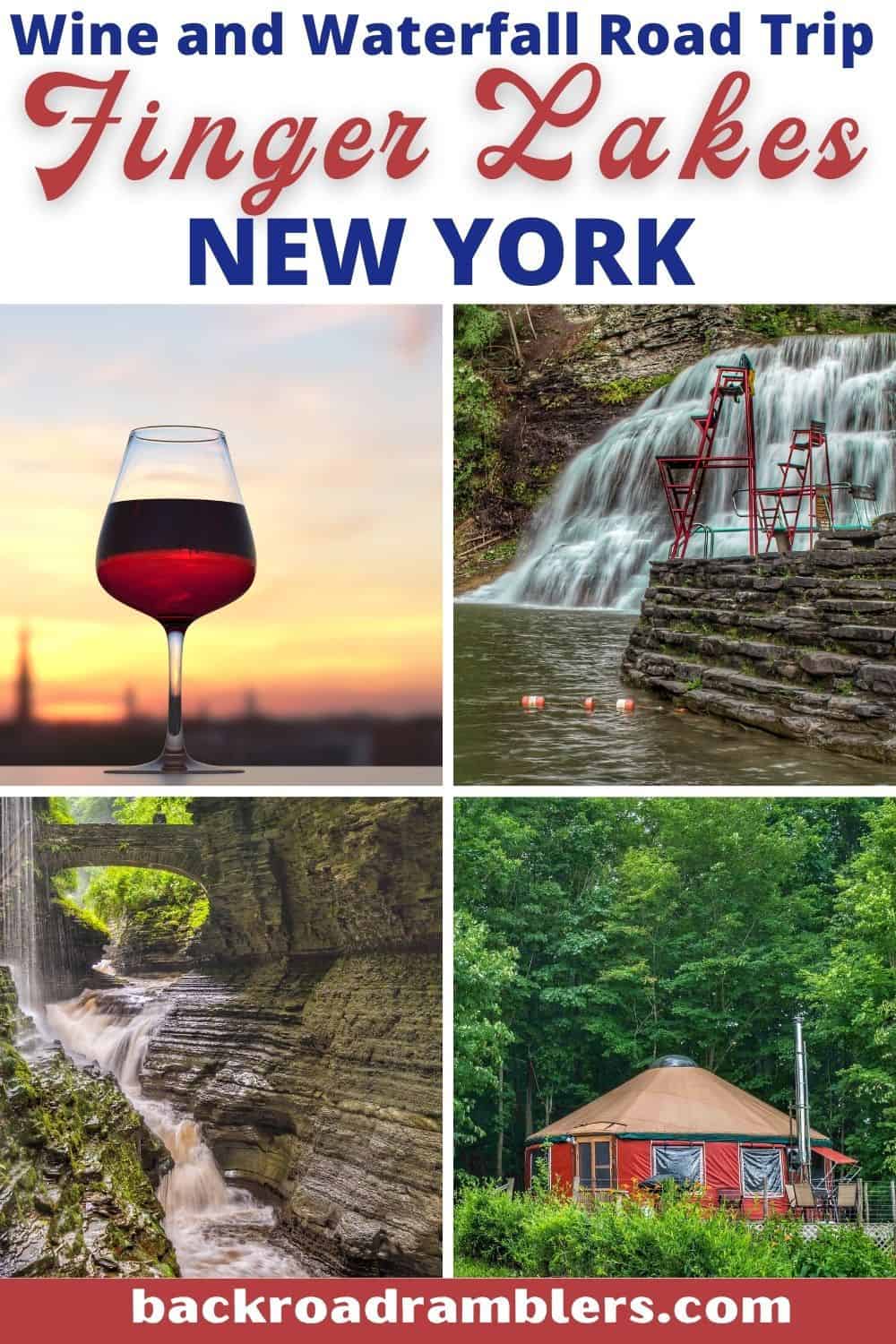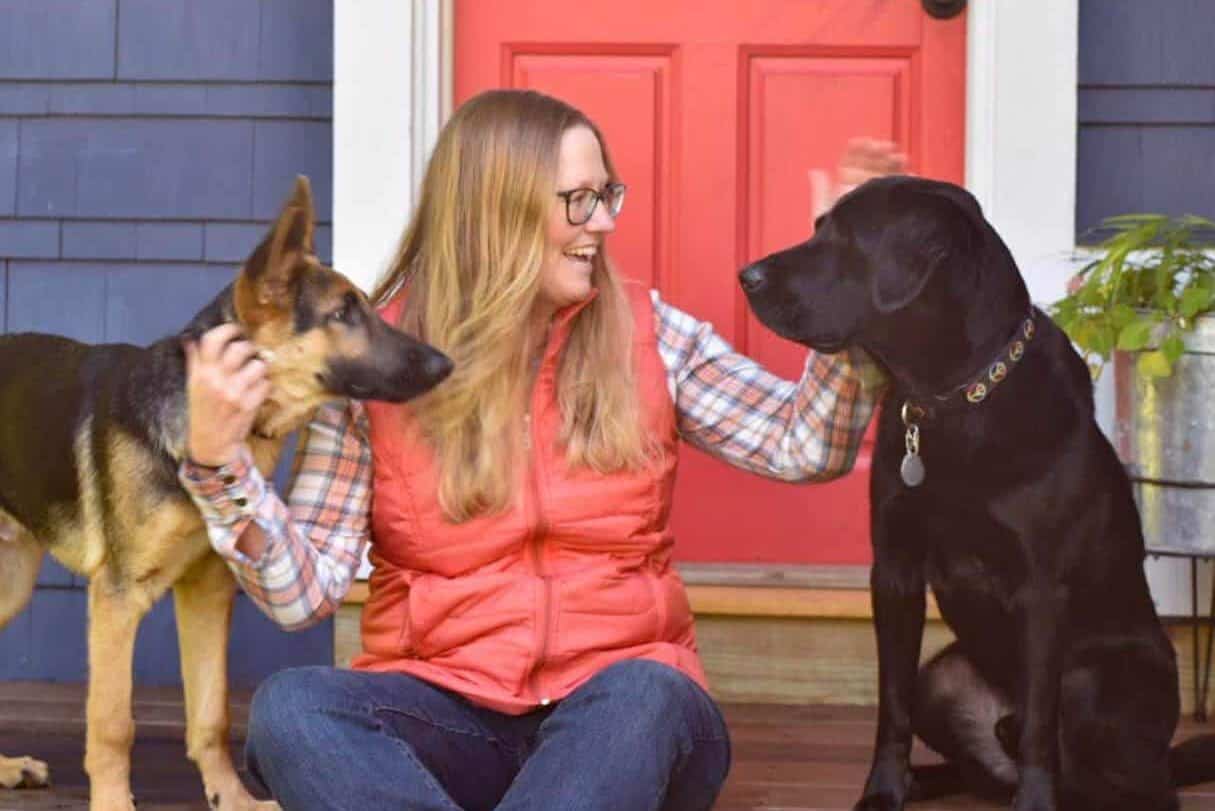 Tara is a freelance writer and travel blogger with a passion for outdoor adventures. She currently blogs at Back Road Ramblers and Vermont Explored, where she shares travel tips, adventure destinations, and vacation ideas for the wanderer in everyone.