Want to leave the city behind for a few days and explore one of the most lovely state parks in all of New York? Minnewaska State Park Preserve is located on the Shawangunk Mountain Ridge, making it a dramatic destination for hikers and rock climbers.
Because Minnewaska is only open for day use, we recommend pitching your tent at Robibero Winery in New Palz for the weekend.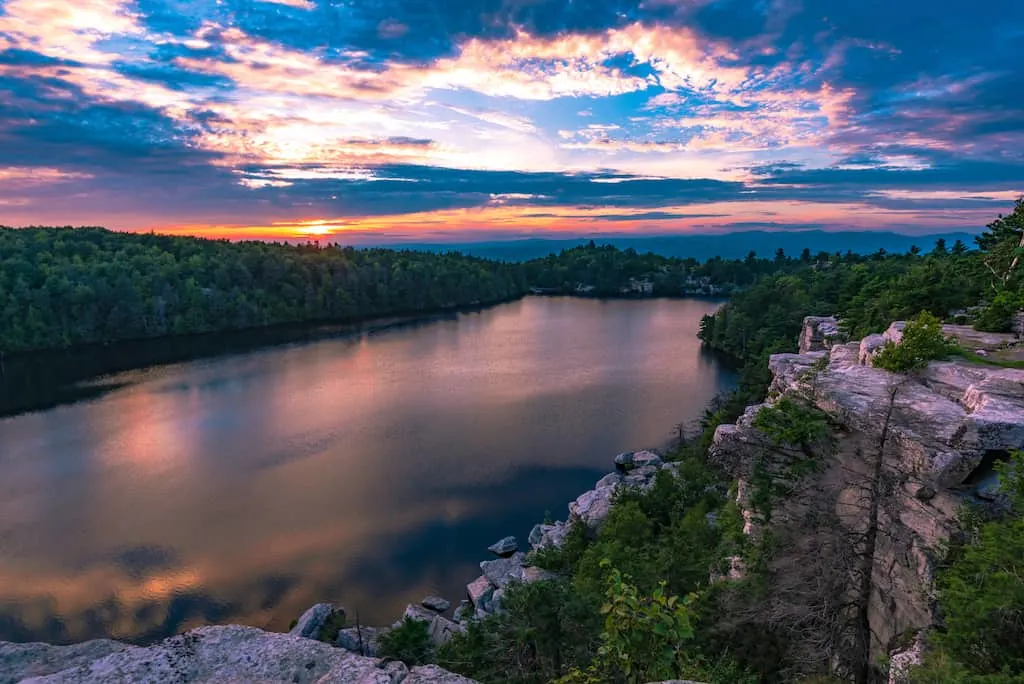 Ready for a weekend of meandering trails, gushing waterfalls, sipping wine, and sleeping under the stars? Let's explore Minnewaska State Park Preserve and Robibero Winery, both within an hour and a half of New York City!
Visiting Minnewaska State Park
Quick Facts:
Address: 5281 Route 44-55, Kerhonkson, NY 12446
Open: 9am-5pm during COVID
Fees: $10 per carload
Activities: Hiking, rock climbing, swimming, biking
Dogs: Yes, on-leash
Directions
Official Park Website
Minnewaska State Park Preserve is a day-use park with 50 miles of trails and 35 miles of carriage roads to explore. The park also features numerous waterfalls, three beautiful lakes, dense hardwood forests, and sheer cliffs and ledges with awesome views.
Minnewaska State Park encompasses more than 22,000 acres of the Shawangunk Mountains in Ulster County. It's a paradise for rock climbers, hikers, photographers, mountain bikers, and cross-country skiers. If you're looking for solitude, however, you may need to be creative when choosing the trails you hike on. Minnewaska isn't exactly a hidden gem.
On a beautiful weekend day in April, we shared the carriage roads with quite a few hikers and bikers, but some of the less popular trails were 100% deserted, and so breathtakingly beautiful! This trip makes a great weekend getaway during the summer and early fall when the days and nights are warm. Here are some highlights from our weekend explorations in Minnewaska State Park.
Awosting Falls: Minnewaska's Jewel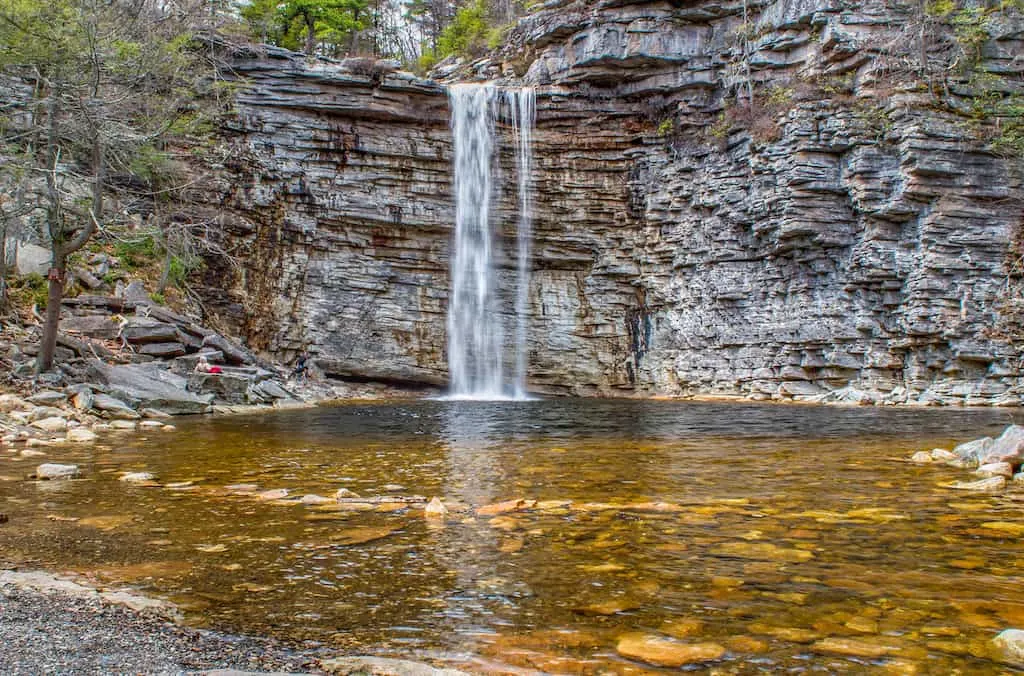 Awosting Falls are pretty famous and easy to get to, well worth the ¼ mile walk on a wide, gravel path. There are a few small cascades that make up the upper falls, but it's the lower Awosting Falls that look like they should be in a movie. They plunge over a beautiful rock outcropping 65 feet into a small, deep pool.
You can photograph Awosting Falls from all kinds of angles, but unfortunately, you can't swim in the pool below the falls. This rule is strictly enforced, and kind of annoying, but it also would have been really hard to get a good photo if there were people all over.
Depending on the time of year that you visit and the amount of recent rainfall, Awosting Falls can look dramatically different. In April, during our visit, there was a decent amount of water from the snow that was still melting away, but if you go later in the summer, Awosting falls may be more of a trickle.
Lake Minnewaska: A Lake in the Clouds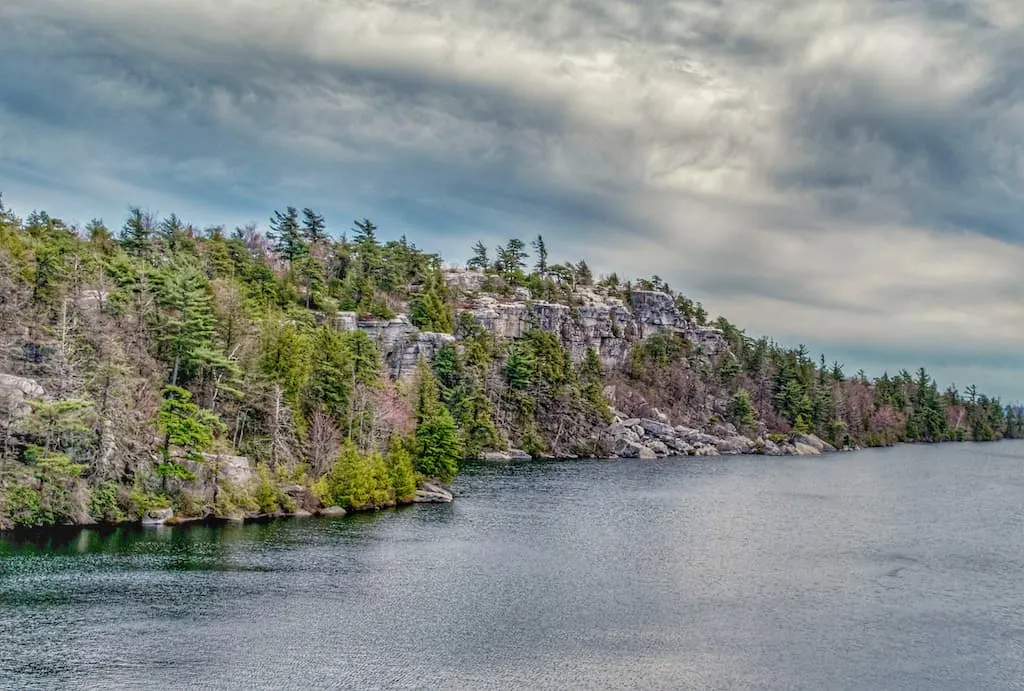 After enjoying Awosting Falls, head back the way you came and hop on the Sunset Carriage Road, and hike another .8 miles to Lake Minnewaska.
This gorgeous glacial lake is surrounded by steep white cliffs. It is one of five sky lakes on the Shawangunk Ridge, four of which lie within the preserve: Lake Minnewaska, Lake Awosting, Mud Pond (also known as Lake Haseco), and Lake Maratanza. Lake Minnewaska is a bit less than a half-mile (0.8 km) long by a one-eighth mile (0.2 km) wide at its widest point.
Swimming is permitted in Lake Minnewaska at a small, roped-off swimming area, but only when lifeguards are on duty. The Lake Minnewaska carriage road circles the lake, providing a nice two-mile walk with awesome views all the way around.
Gertrude's Nose: Minnewaska's Most Popular Hike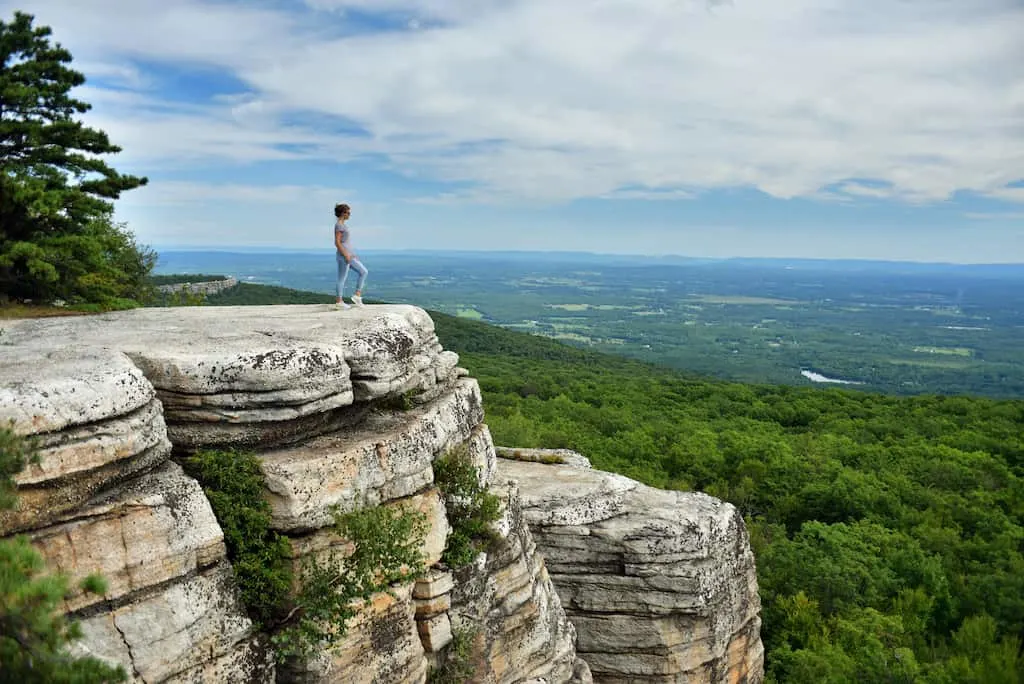 The hike to Gertrude's Nose has it all: Spectacular views, a heart-pumping climb, and enough diversity to keep things interesting. It's a 7.8-mile loop that gains about 1,190 feet of elevation. For us, it was doable as a full-day hike, but it was definitely a workout!
Be prepared to hike for 5-6 hours for this view. Follow the red blazes from the carriage road until you reach Millbrook Mountain Carriage Road, which has yellow blazes. Follow the yellow blazes until you hit the triple red blazes, which will bring you off the carriage road and onto a more narrow and steep footpath.
So far the path has been mellow and the views amazing. Now for a climb and even more incredible vistas! Be prepared for a bit of rock scrambling and sore muscles.
Upper Awosting and Castle Point Carriage Roads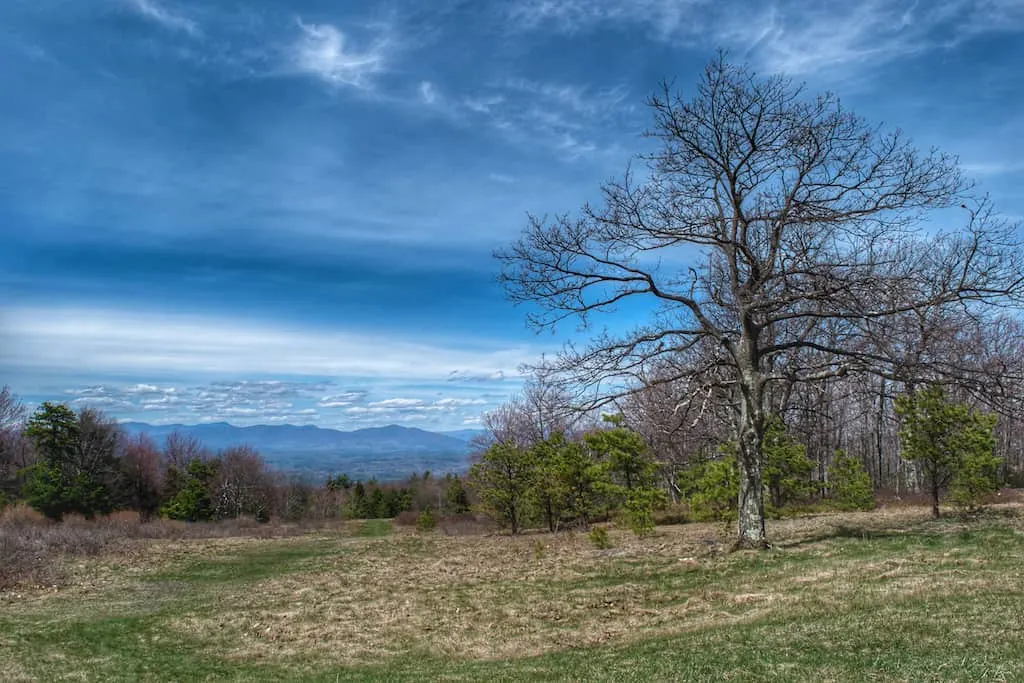 From the Lake Minnewaska carriage road, you can take either Upper Awosting or the Castle Point carriage Road and hike farther up for some really amazing views of the surrounding mountains. Both roads will bring you to Lake Awosting, another incredible glacial lake worth visiting. The shortest route to Lake Awosting is the Upper Awosting carriage road, which is 3.1 miles from lake to lake.
Lake Awosting is bigger than Lake Minnewaska, but because it's a bit harder to get to, you won't run into as many people. Another option is to take either of the two carriage roads to the nature trails just west of Lake Minnewaska.
The trails criss-cross all over the place, taking you through meadows, around ponds, and through acres and acres of high-bush blueberries. I can't wait to head back up in August and indulge!
Robibero Winery Camping Near Minnewaska State Park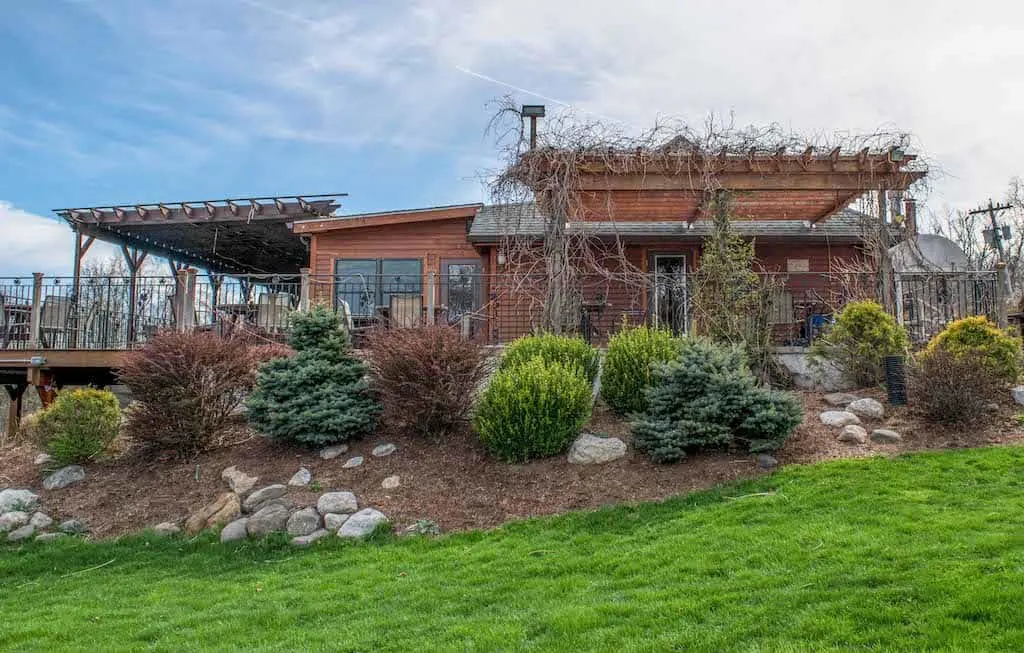 As I mentioned above, camping is not permitted in Minnewaska State Park.
Fortunately, we were able to pitch our tent at Robibero Winery in New Paltz, just a short drive from the park. The Robibero family has been running the vineyard and winery since 2007, creating outstanding whites and reds on 42 acres in the beautiful Hudson Valley.
Campers can visit for a wine tasting between Thursday and Sunday, and then pitch a tent in the field behind the winery for the ultimate in private camping. This experience was a first for us, but I'm thinking wine tastings and camping are a perfect match.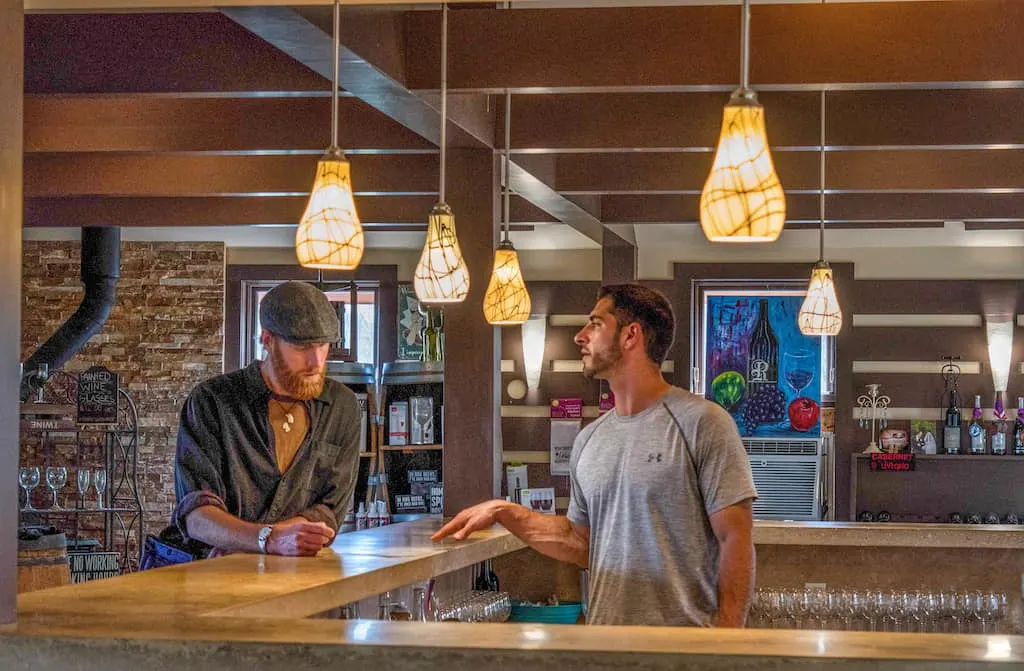 We booked our stay through Hipcamp, an online camping platform that matches landowners across the country with campers looking for unique experiences. You can pretty much choose your spot in the huge field behind the vineyard.
There's running water, bathrooms, and a communal fire ring at the winery. The best part? Well-behaved dogs are totally welcome. We took advantage of that and brought our German Shepherd, Flash.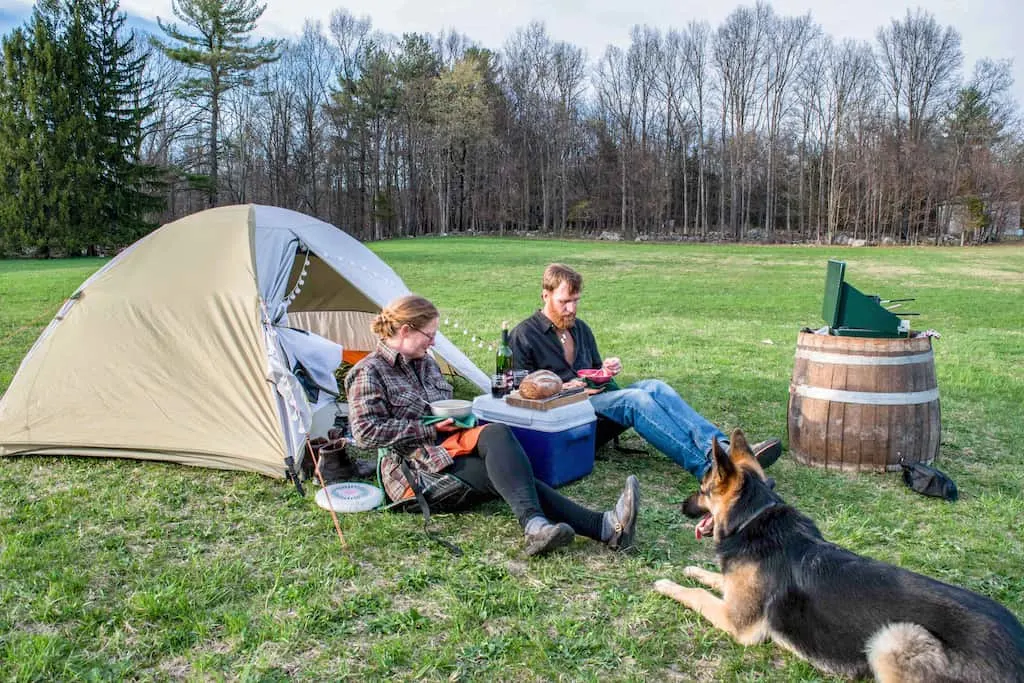 There's not much in this world that can compare to sipping wine in a field with your favorite person (and your favorite dog) as the sun kisses the world goodnight. We watched the stars appear one by one, played a little fetch with Flash, and Eric tuned his guitar for a little night music.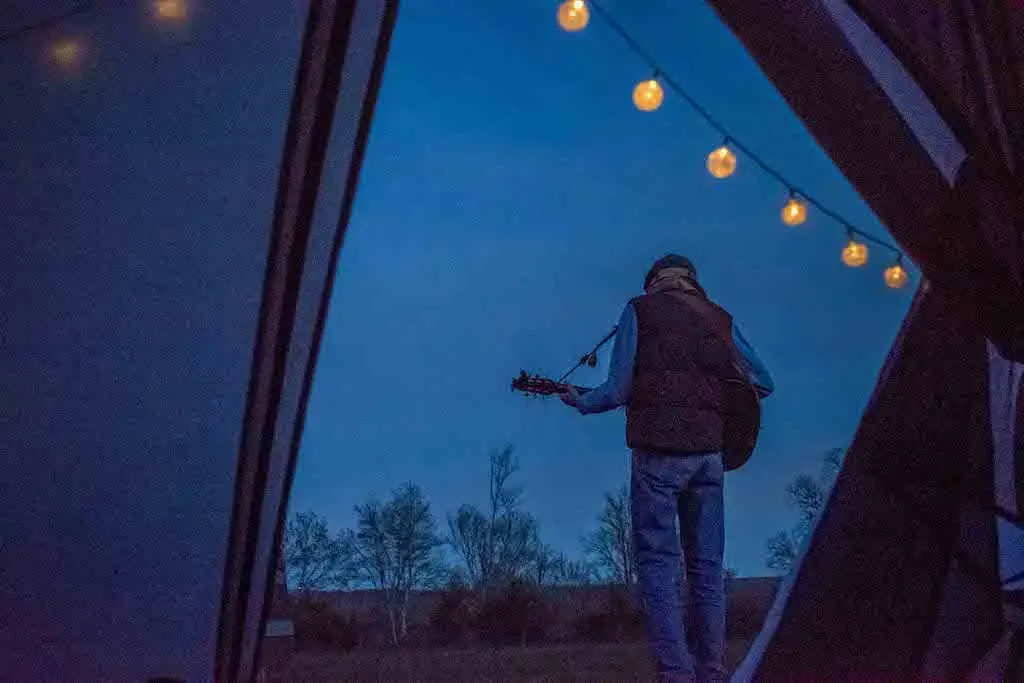 Tips for Camping at Robibero Winery in New Paltz
As far as I know, you can only book a night at Robibero Winery on Hipcamp, so that should be your first task. We camped in April, which was lovely, but we would have been happier with temperatures that were just a bit warmer. Also, the outdoor water wasn't turned on in April, so that's something to consider as well.
Here are some more tips for camping at Robibero Winery for your Hudson Valley weekend.
Do a wine tasting. If you visit between May and October, the winery is open seven days a week, 11 to 6. You can sample the wine offerings and buy a bottle to bring back to your campsite.
Wood-fired pizza is available on the weekends. One less meal that you have to cook!
Robibero Winery is dog-friendly! I know I already mentioned it, but I think it's important.
Bring a little table and some camp chairs. You will be camping in a field, which is lovely, but there are no picnic tables.
You can't have a fire at your campsite. But, you can make use of the fire pit at the winery, and the picnic tables too. It's about a 5-minute walk from where your tent is pitched.
Getting there: Robibero Family Vineyards is located at 714 Albany Post Rd. in New Paltz (exit 18 off of I-87). It's less than two hours north of New York City.
Cost: Camping at Robibero Winery is $60 per night. Wine tastings are $20 per person.
More Wineries Near Minnewaska State Park
If you take visiting wineries, breweries, and cideries seriously when you travel, here are a few more suggestions for your weekend adventure in the Hudson Valley:
Whitecliff Vineyard and Winery, Gardiner, New York: Open daily from June to October with a selection of award-winning reds and whites.
Kettleborough Cider House, New Paltz, New York: A small-batch cidery that uses Hudson Valley Apples.
Rough Cut Brewing Company, Kerhonkson, New York: Craft beer on tap and local comfort food for what ails you.
---
More places to stay near Minnewaska State Park
Camping not your thing? There are some great vacation rentals near Minnewaska State Park and some good hotels in the town of New Paltz. Here are some that we'd recommend.
Minnewaska Lodge: Enjoy watching the morning sun illuminate the sheer 1,200-foot cliff face of the Shawangunk Mountain range when you stay at Minnewaska Lodge. Splurge on a room with a balcony for incredible sunrise views!
Hampton Inn New Paltz: No-nonsense and affordable lodging right in New Paltz. This is a great choice for families. The rooms are clean and there's an indoor pool and fitness center.
Eleanor House at Woodrock: This beautiful vacation rental is located in Wallkill and features two bedrooms and two bathrooms with room for eight people. It's just a few minutes from Minnewaska State Park.
---
Want to read more about weekend adventuring in New York? Check out these posts:
---
Follow us on social media for more ideas to get outside!
Pin for Later?