Are you thinking about all the fun ways you can explore New York this year? Me too!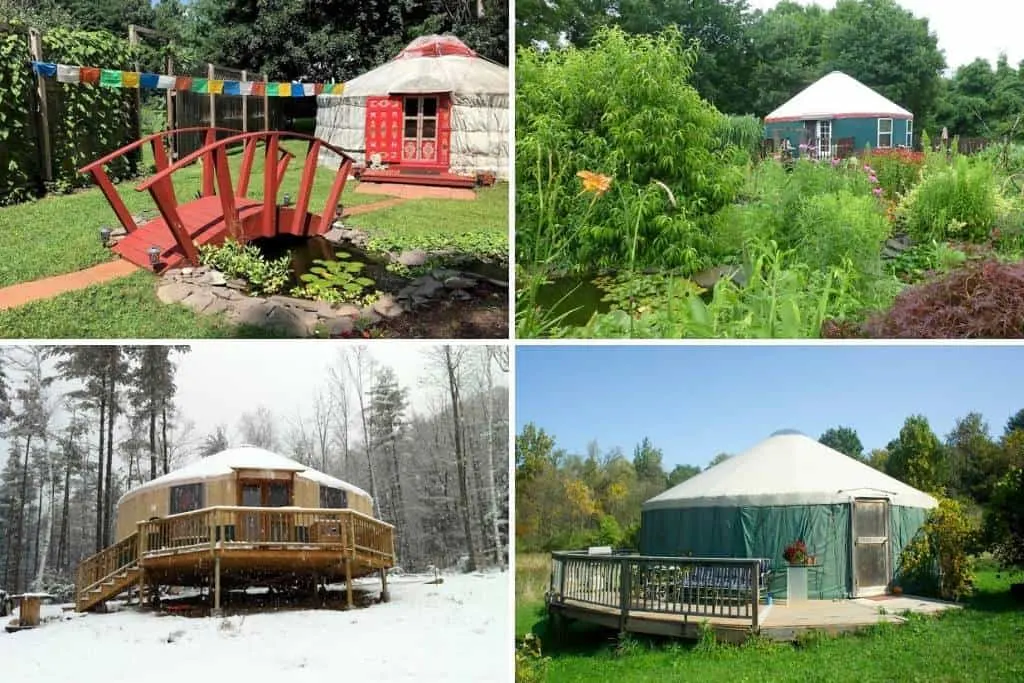 I'd like to take a moment to introduce the humble yurt as an option for your next vacation rental. There are dozens of yurts in New York for rent, from the tiny to the grandiose, and no matter which part of the state you want to visit, I guarantee that there's a yurt in New York with your name on it.
Traditional yurts are round, portable structures that are covered with skins or cloth. They have been used by nomadic peoples in Central Asia for hundreds of years.
Modern yurts maintain the traditional round shape, but they vary wildly from rustic to modern. Some yurts near me are incredibly luxurious — with full bathrooms, kitchens, and hardwood floors, and others are more like camping without having to pitch a tent.
We've stayed in every manner of yurt rental in New York, and I have to say, yurts are one of our favorite types of accommodations.
They're quirky and unique, which we love, plus yurts are a great lodging option for winter travel.
Where to Book Yurt Camping in New York
You've decided that you need a vacation, and you're trying to think outside the box when booking your getaway.
You want seclusion. Solitude. But you're not quite ready to sleep on the ground. Your first step? Ditch the hotel and try out glamping!
You will find hundreds of glamping properties in New York, including yurts, listed on the following websites.
VRBO – VRBO stands for Vacation Rental by Owner, and we've found so many cool properties on this platform. Service/cleaning fees tend to be less expensive than on other booking platforms, and most properties have a very generous cancelation policy.
Hipcamp – Hipcamp has lots of private campsites and glamping sites, but you can't specifically search for yurts, only glamping. It's still a worthwhile resource, though! If you are new to Hipcamp, you can save $10 on your first reservation by using our referral link.
Airbnb – To find yurts in New York on Airbnb, head to the Airbnb website, type in the location, and then choose an icon from across the top that best represents what you're looking for. There is an icon for tiny homes and camping, and we've found yurt camping in New York to fall under one of those two icons.
Glamping Hub – Glamping Hub specializes in luxurious glamping around the world. To find New York yurts for rent, navigate to the Glamping Hub website, add your location to the search bar, and under 'Types of Glamping', choose yurts.
In addition to the listing platforms mentioned above, you can find more rustic yurt camping in New York at some of the state's public and private campgrounds.
The Best Yurts in New York for Your Next Vacation
Ready to plan an awesome yurt vacation? Most of these yurts in New York are available in four seasons with lots of outdoor adventures nearby. Most of the yurt camping in campgrounds are open seasonally between May and October.
Here are some amazing yurts for your next New York getaway!
Wellspring Forest Farm: Stay on a Mushroom Farm in the Finger Lakes
Sleeps: 4
Dogs: No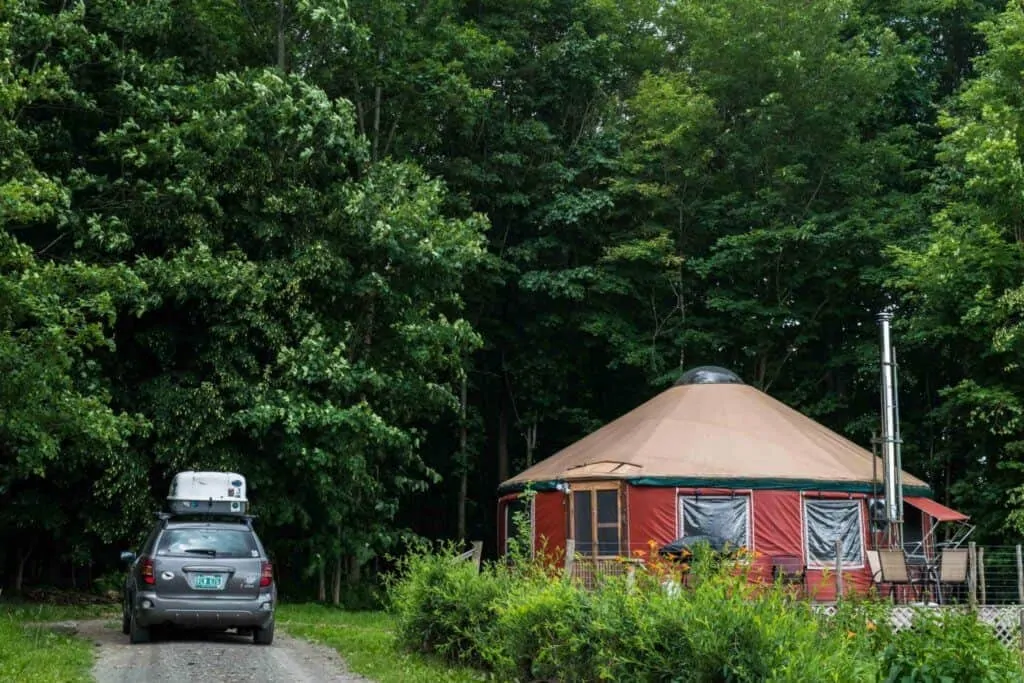 We had the pleasure of staying in this beautiful and well-appointed yurt during our wine and waterfall road trip through the Finger Lakes.
The yurt at Wellspring Forest Farm was our favorite stay of our whole trip! Located close to Ithaca, as well as an assortment of wineries, hiking trails, and waterfalls, this place is a fabulous home base for a summer getaway to the Finger Lakes. Plus, it's nestled on a working farm, where you can hang out with geese and goats, and buy local food, including mushrooms, for your dinner.
Inside is so cozy, with a full kitchen, bathroom, and loft bedroom. Outdoors, there is a full deck overlooking the woods and gardens, a hammock, and a fire pit. You will never want to leave this beautiful New York yurt!
Outdoor adventures near Trumansburg: There are too many cool adventures to list here, but definitely check out Taughannock Falls in Taughannock Falls State Park. It's an easy hike to one of the prettiest waterfalls in the Finger Lakes.
---
Secluded Yurt Surrounded by Waterfalls: Ulster Park, New York
Sleeps: 4
Dogs: Up to 2 dogs under 50 pounds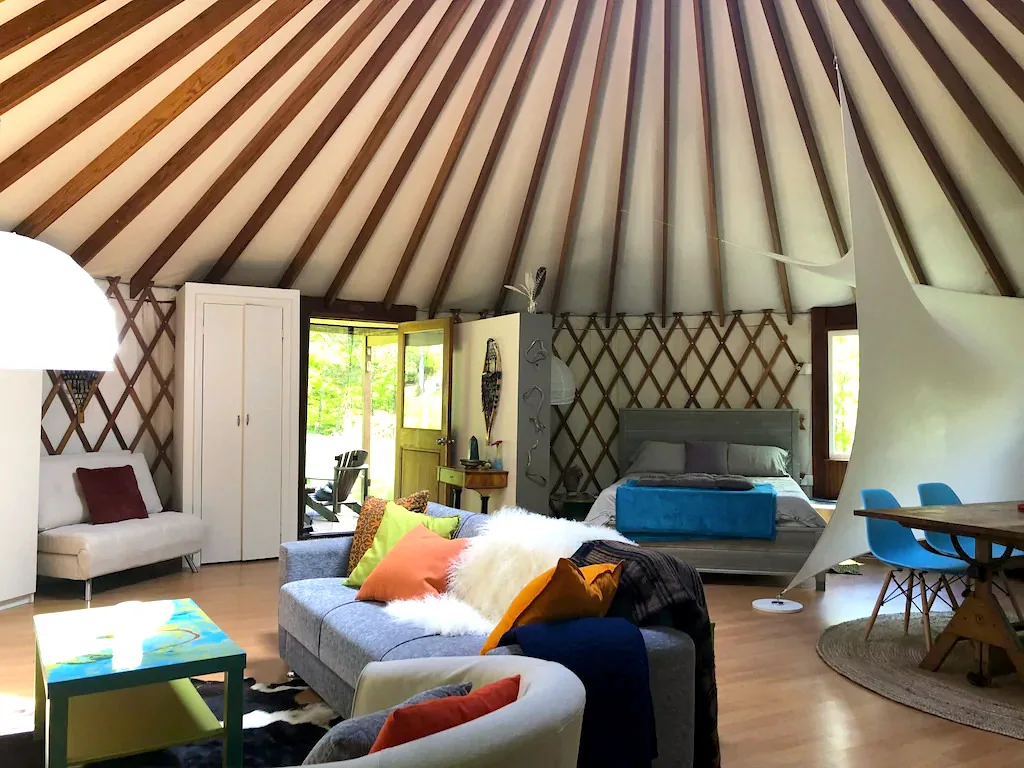 This incredibly private year-round yurt is surrounded by waterfalls, brooks, mossy cliffs, and beautiful woodlands.
The 30-foot diameter yurt includes all the comforts of home, including a full kitchen, bathroom with a shower, and covered outdoor patio. There is a queen-size bed, plus two twin-size sofa pull-outs, making it perfect for an unplugged getaway with the family.
Explore 120 acres of forest with hiking trails, babbling brooks, and lots of wildlife, and then return to your oasis for a barbecue on the deck or an evening around the campfire. The yurt itself is very modern and full of light, with a 14-foot high ceiling.
A woodstove is available inside so that the yurt can be rented in all four seasons. Pets are welcome too!
Outdoor adventures near Ulster Park: Ulster Park is located near lots of great spots for recreating. Definitely check out Shaupeneak Ridge Park in nearby Esopus. The trails here are gorgeous, and the views are hard to beat! New Paltz and Kingston are both about 15 minutes away and have lots of great restaurants and shopping.
---
Rustic, Two-Bedroom Yurt in the Adirondacks
Sleeps: 6
Dogs: Yes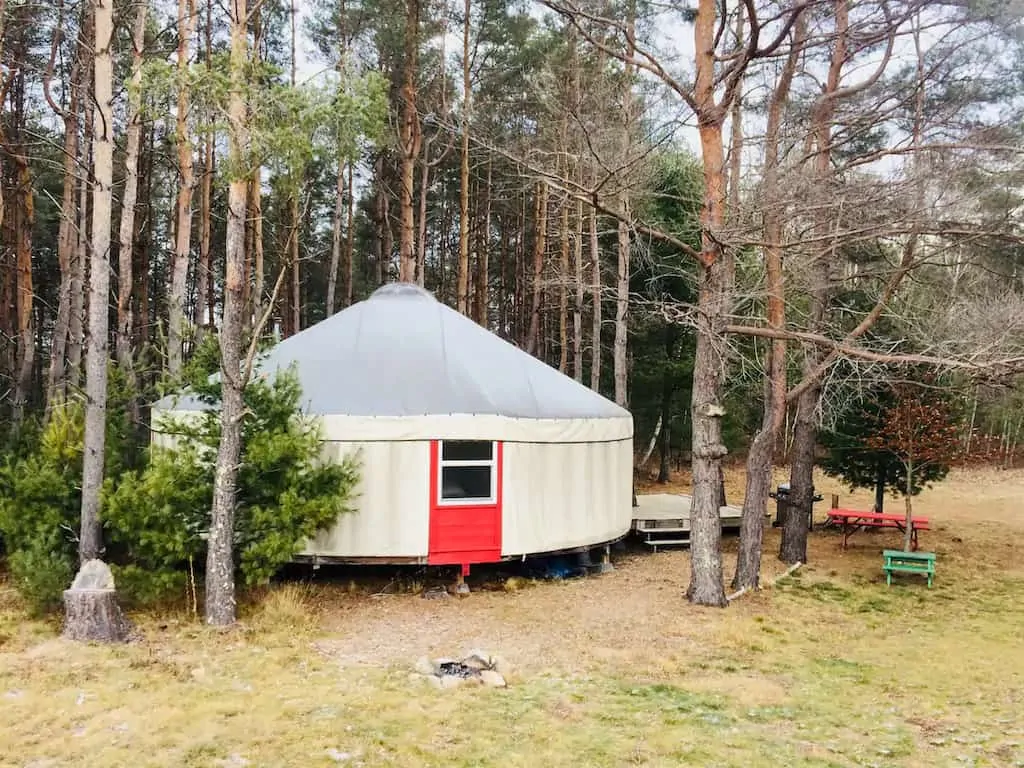 This secluded, 30-foot yurt is located at the top of a 25-acre sheep pasture with gorgeous views of Whiteface and the Adirondack Mountains in Jay, New York.
With two bedrooms and room for up to six people, this awesome yurt in upstate New York makes for a fun mountain adventure between September and June. While there is a wood stove to heat the yurt, it's still very much a camping experience, so plan accordingly.
There is electricity, a fridge, a cooktop, and a propane grill, plus a composting outhouse. There is no running water indoors, but you can fill up the seven-gallon water jug at the barn. You are free to wander the farm and woods, visit with the animals, and enjoy the pristine beauty of this amazing spot.
Outdoor adventures near Jay: The town of Jay is just a stone's throw from the High Peak Wilderness Area in the Adirondacks, as well as Au Sable Chasm and Lake Placid. This area is a hiker's paradise!
---
---
Luminous Yurt & Healing Retreat in Saratoga Springs
Sleeps: 2
Dogs: No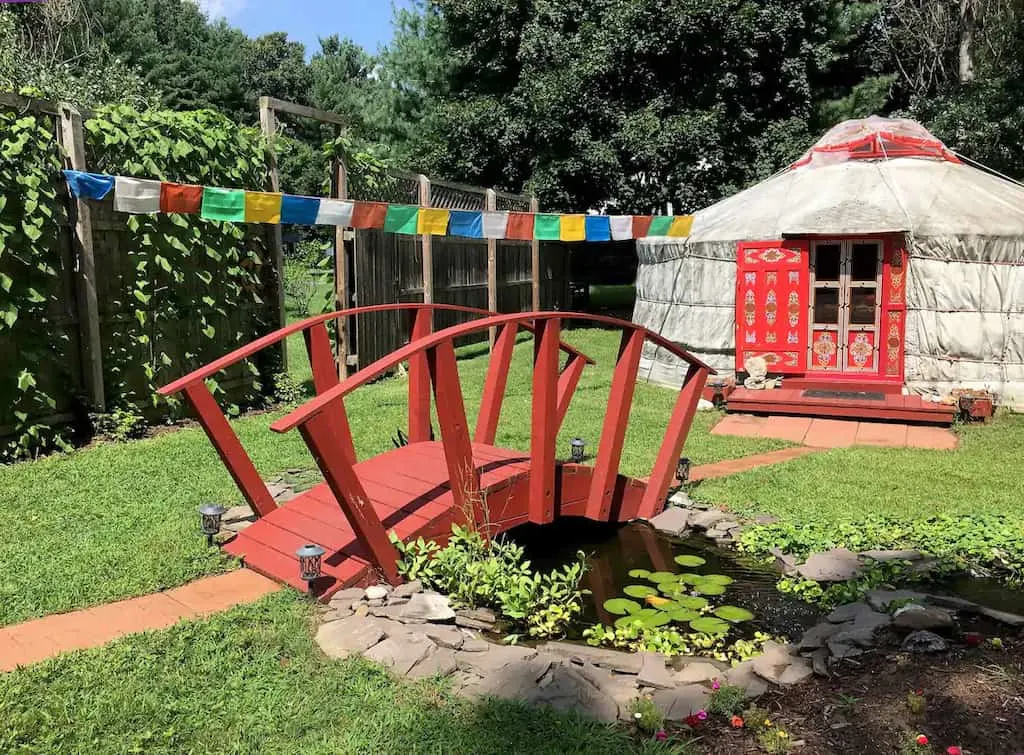 If you're looking for an authentic yurt experience in a beautiful location, you can't beat this cozy little yurt in Saratoga Springs, New York.
This incredible yurt rental is perfect for two people and features electricity, Wi-Fi, air conditioning, and a pellet stove.
Glampers have access to an outdoor shower, a half bathroom in the main house, and a furnished deck to relax on. The bustling and historic town of Saratoga Springs is a treat to visit in every season, and there are numerous state parks nearby for hiking, swimming, and adventuring.
Outdoor adventures near Saratoga Springs: Saratoga Spa State Park is a National Historic Landmark and is especially great for cross-country skiing and ice skating in the winter.
---
Spacious Skies Campground Adirondack Peaks in North Hudson
Sleeps: 3 or 6
Dogs: No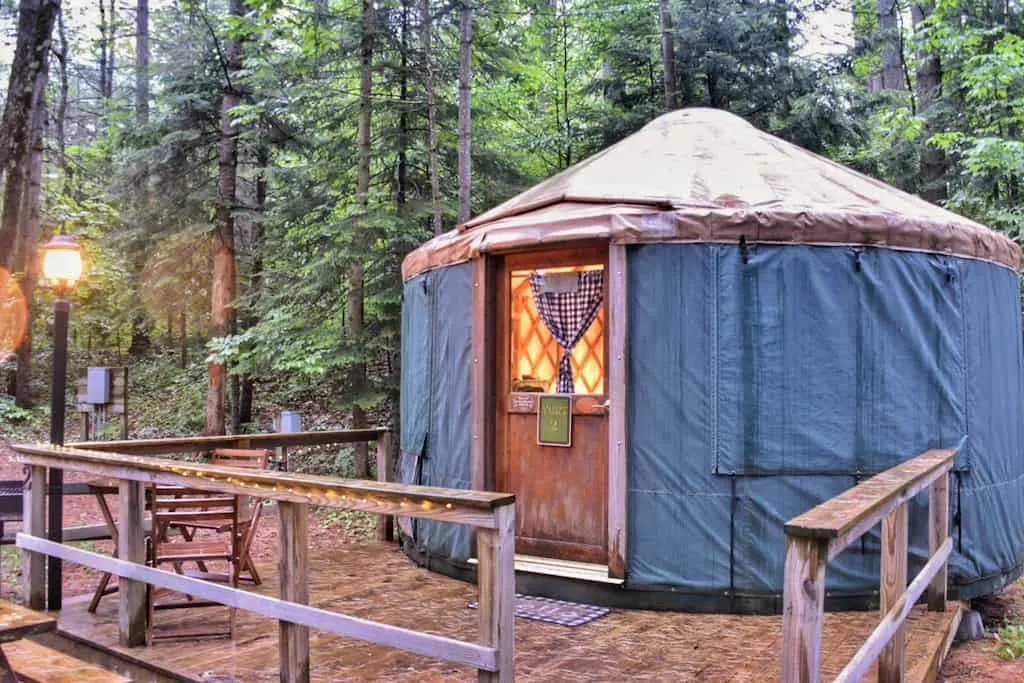 One of the newest additions to Spacious Skies Campgrounds, Adirondack Peaks is a lovely campground that is geared toward families with kiddos. With its two swimming pools, playground, arcade and game pavilion, and fully stocked snack bar, this is the ideal home base for families who want to explore more of the Adirondacks.
The yurts are rustic in the sense that they don't have bathrooms, but also luxurious with their comfy beds, electricity, heat, AC, fridge, microwave, and television. There are three yurts onsite at Spacious Skies Adirondack Peaks. Two are suitable for families of up to six people, and one is geared toward couples or small families.
All of the yurts have an outdoor fire pit and picnic table. The bathhouse with hot showers and flush toilets is just a short walk away. Dogs are not permitted in the yurts, but they are allowed in the campground and in some of the cabins.
Outdoor adventures near North Hudson: Fort Ticonderoga is about 30 minutes from North Hudson. This fascinating historic site includes a recreation of Fort Ticonderoga, which was built by the French in 1755, captured by the British in 1759, and then by the Americans in 1775 during the Revolutionary War.
You could spend a full day exploring Fort Ticonderoga. Be sure to explore the King's Gardens and Mount Defiance, and take the boat tour out on Lake Champlain.
---
High Peaks Yurt Rental in Elizabethtown
Sleeps: 4
Dogs: 1 dog under 50 pounds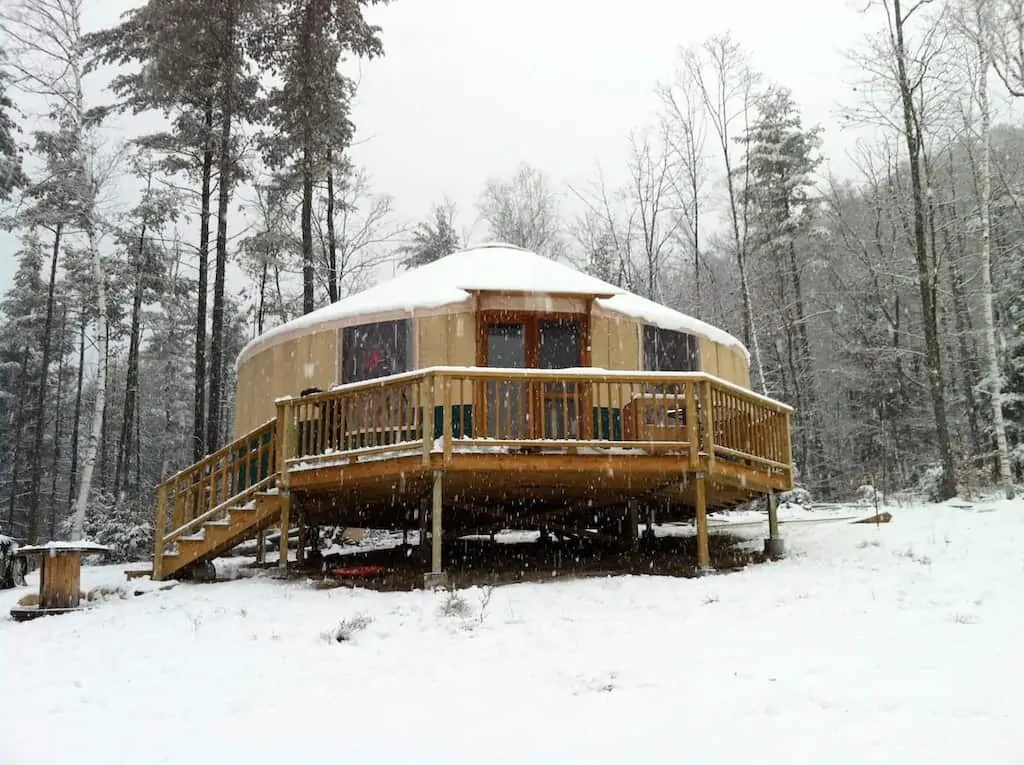 Totally modern and comfortable, this woodland yurt includes all the comforts of home, including a full kitchen and bathroom, a propane heater, a private bedroom, and a satellite TV. There is additional room for two adults and two children, and pets are welcome too!
The yurt is surrounded by 85 acres with hiking trails that are also great for skiing and snowshoeing. Elizabethtown is located in the High Peaks region, just 35 minutes from Lake Placid. Views are incredible and there is a fire pit to relax by at night.
Outdoor adventures near Elizabethtown: Definitely check out the Adirondack History Museum in town before heading out on your excursion. There are great views from Blueberry Cobbles, which is a 5.2-mile hike round-trip.
---
Elegant Garden Yurt in Newfield
Sleeps: 6
Dogs: With prior approval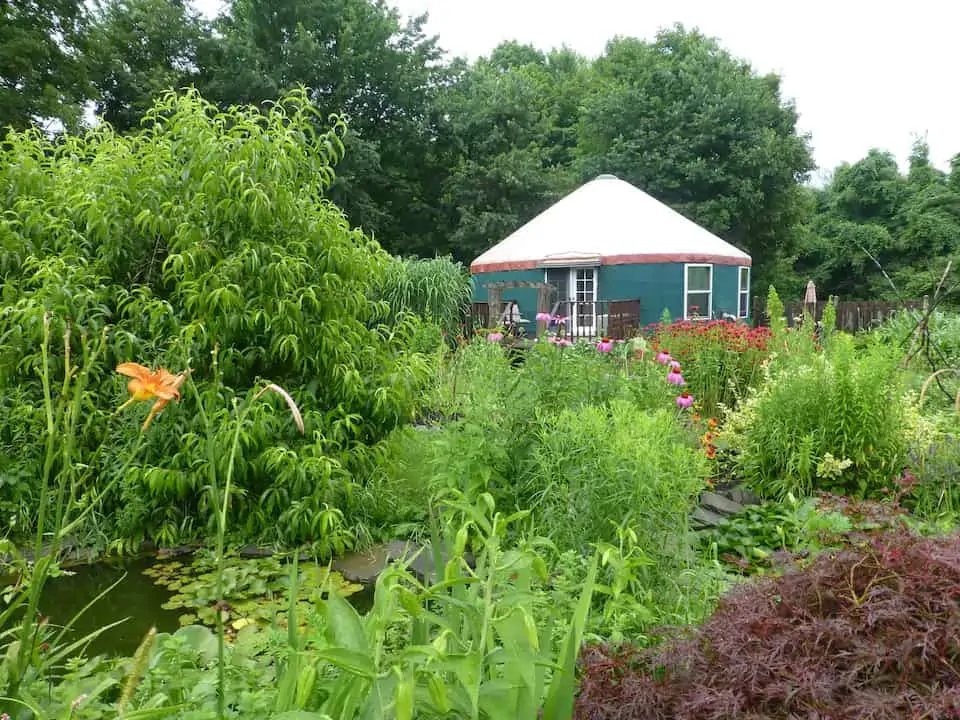 Here's another gem of a vacation rental in the beautiful Finger Lakes! This beautiful, custom-designed yurt is nestled amidst gardens, orchards, meadows, and forests, and includes a private stone patio with outdoor seating a fire pit, and a gas grill. There is a grassy lawn for the kiddos and a beautiful wildflower field that connects to a nature preserve with waterfalls and the Van Buskirk Gulf.
You don't have to go far to explore the beautiful Finger Lakes.
The yurt is 12 miles south of Ithaca, and very close to Little Tree Orchards, and Newfield's Historic Covered Bridge, not to mention dozens of state parks, waterfalls, and world-class wineries. This magical yurt has it all – a beautiful space in an awesome location.
Outdoor recreation near Newfield: We 100% recommend Robert H. Treman State Park in Ithaca. It's one of our favorite state parks with an awesome gorge hike, not to mention swimming under the most beautiful waterfall in the summer. Also, Buttermilk Falls State Park – more waterfall swimming, more amazing hiking!
---
Moon Lodge Yurt Rental in Lagrangeveille
Sleeps: 3
Dogs: Yes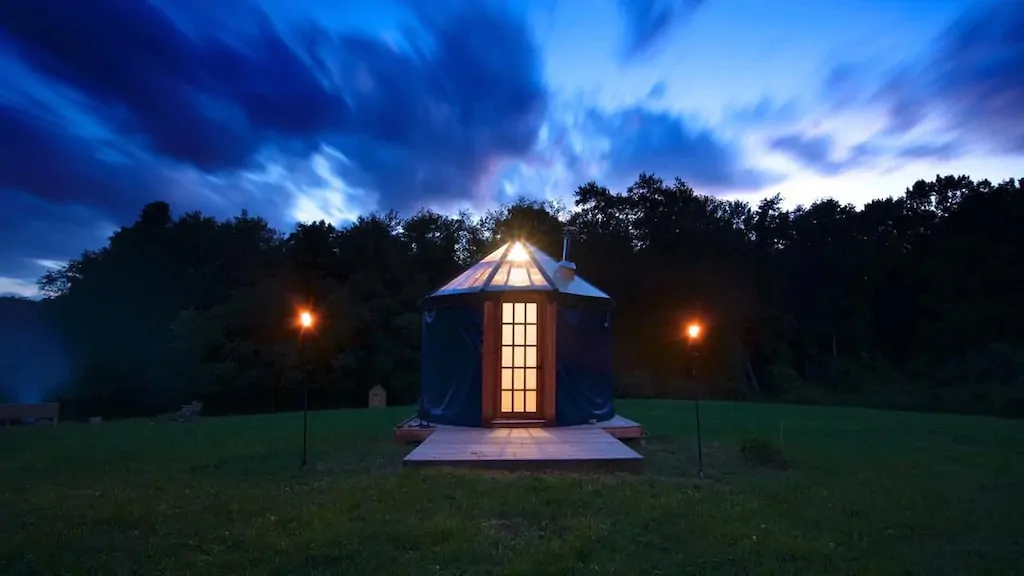 Gaze upon the stunning starry nights and fall asleep under the moonlight in this simple, but cozy yurt in Lagrangeville.
Experience the peace and tranquility on top of a hill in the middle of an open field surrounded by wildflowers and nature's bounty in complete privacy. This sweet little yurt includes a custom clear ceiling for a full view of the vast open skies.
The yurt includes a full-size bed, solar-powered lights, an outhouse, and an outdoor shower. 15-20 gallons of water are provided for guest use, but the yurt does not have running water. For cooking, there is an outdoor camp stove as well as a fire pit. This is a rustic experience, but so incredible if you don't mind roughing it!
Outdoor adventures near Lagrangeville: Head to Tymor Park for a swim, or hike on the world-famous Appalachian Trail in nearby Poughquag.
---
Private Yurt on 27-Acre Horse Farm in Accord (with a Hot Tub)
Sleeps: 8
Dogs: Yes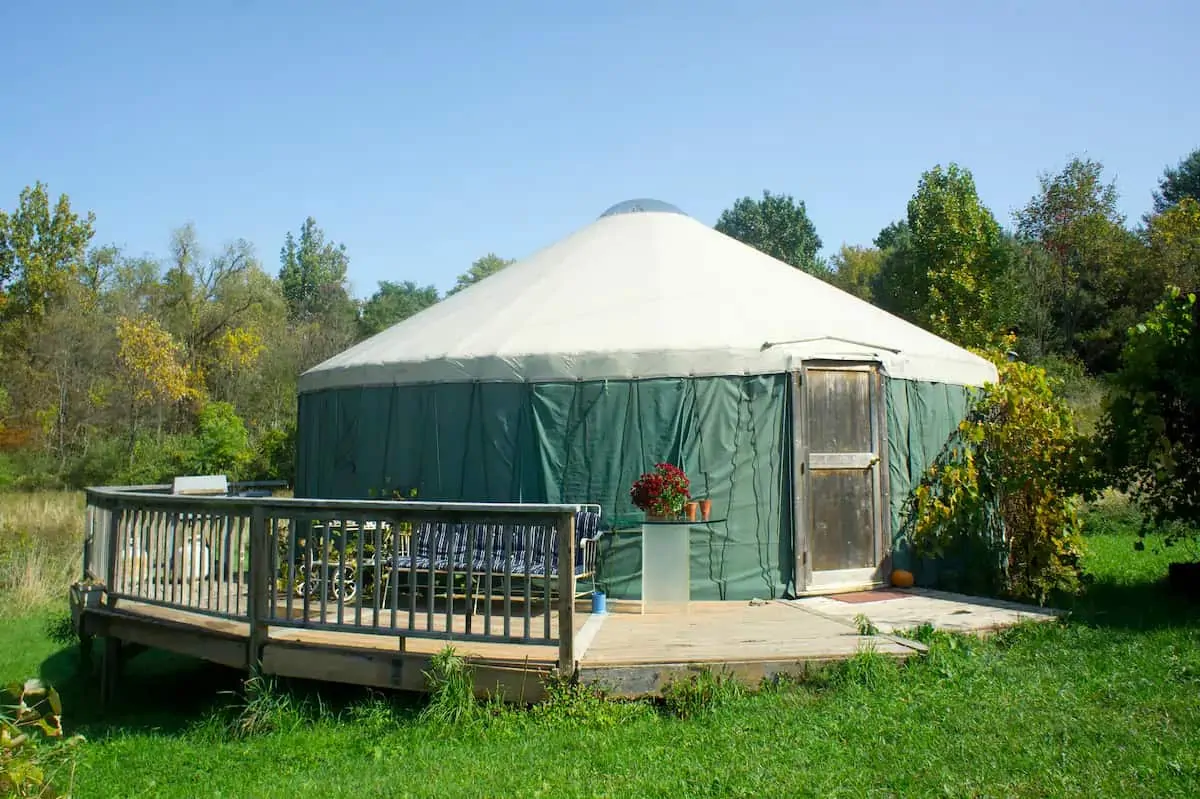 This amazing, 700-square-foot yurt is located on a private 27-acre farm with horses, chickens, goats, pigs, puppies, and kittens. The yurt is well insulated with a bedroom, living room, dining area, kitchen, and bathroom. It has baseboard heat and a gas fireplace, plus a private outdoor barbecue and a nearby fire pit.
Outdoors, you will find walking trails, a meandering creek, and a wood-fired pizza oven. The yurt is pet and child friendly! It's a four-season getaway that is heated in the winter and great for cross-country skiing and snowshoeing.
Outdoor recreation near Accord: The yurt is just 10 minutes from Minnewaska State Park, which is a hiker's paradise in all four seasons.
---
Private New York Yurt Rental on 80 Acres in Waterville
Sleeps: 2
Dogs: Up to 2 (any size)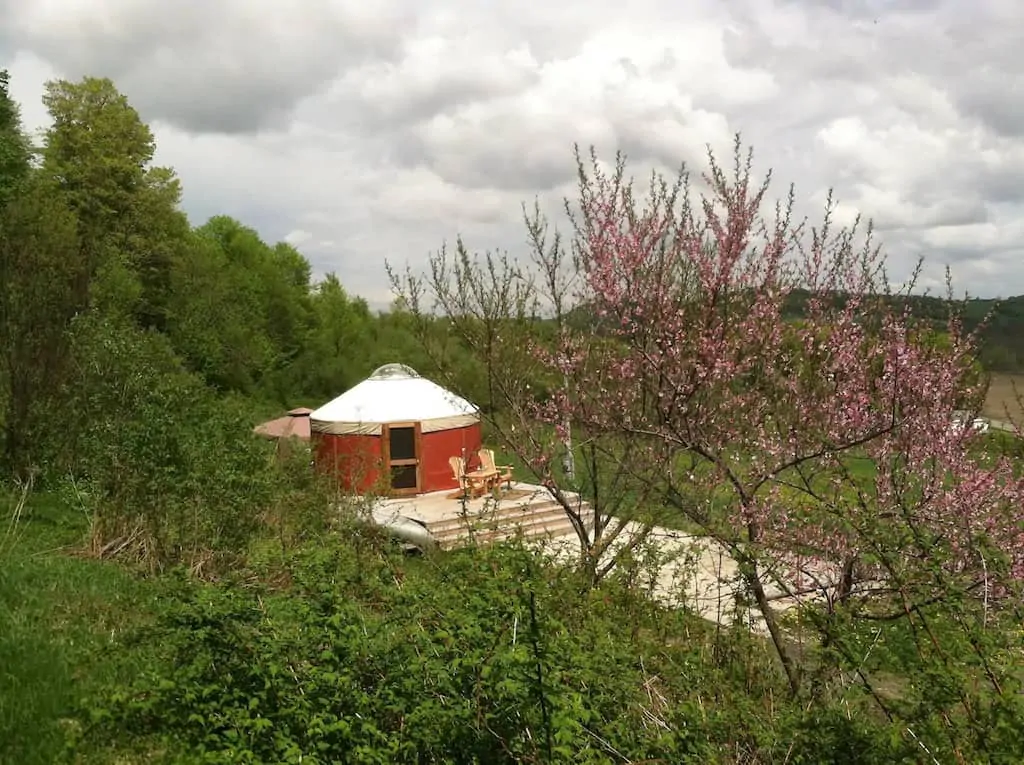 Here's another great yurt in New York that is completely private with more than 80 acres to explore.
Waterville is known for the notorious family of outlaws, the Loomis Gang, the largest organized crime family in 19th Century America. Loomis Lair is where the Loomis Homestead once stood before it was burned by a local vigilante Mob in 1866.
This beautiful yurt includes a wall furnace to keep the tent cozy in four seasons, a queen-size bed plus a pull-out futon, a two-burner electric stove, a small refrigerator, and a bathroom with a shower. There is a lovely deck to relax on and fantastic views.
Outdoor recreation near Waterville: Check out the trails in Utica at Roscoe Conkling Park. There's even a zoo!
---
New York Yurt Glamping at Plum Point Lodge in Himrod
Sleeps: 2
Dogs: Yes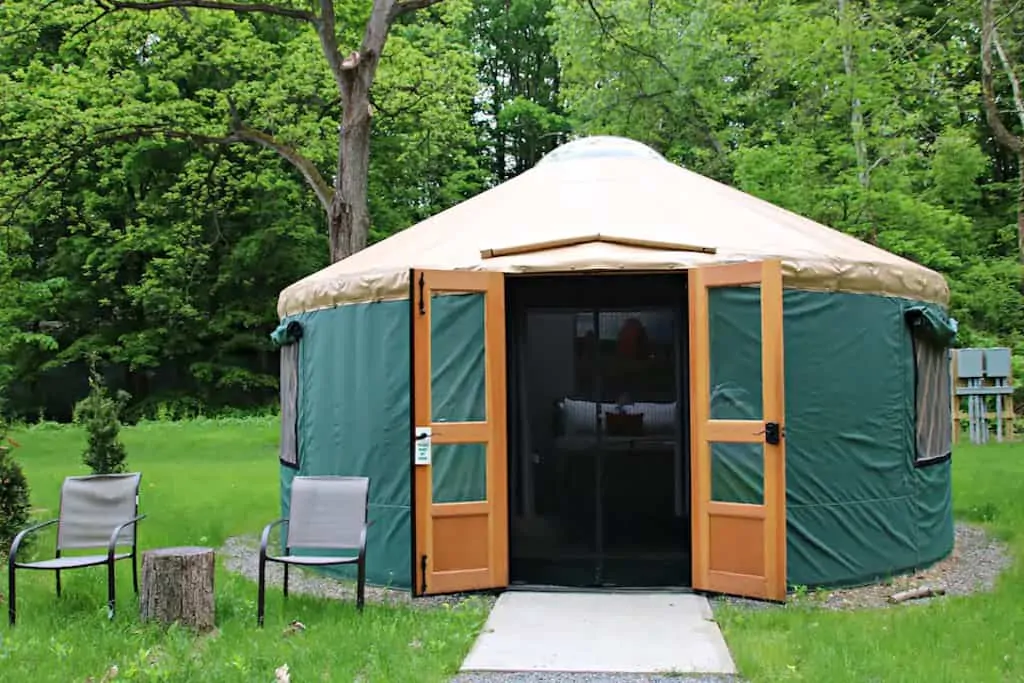 Plum Point Lodge is an expansive lakefront resort on the western shore of Seneca Lake in the heart of the Finger Lakes, steps from the Seneca Lake Wine Trail.
The main lodge offers 31 guest rooms, but you can also choose to stay in one of six well-appointed glamping yurts. Each yurt has a queen-size bed, a full bathroom, space heaters, a refrigerator, and cable TV. There is a restaurant and bar onsite.
Outside, guests have access to 300 feet of lakefront with stunning views, a lakeside fire pit, and a swimming pool. Kayak and canoe rentals are also available.
Outdoor adventures near Himrod: Explore the lake by kayak or head 20 minutes south to Watkins Glen State Park. We love Watkins Glen, but it gets really busy in the summer and fall, so get there early if you want to avoid crowds.
---
New York State Parks with Yurt Camping
Looking for an affordable way to try out rustic yurt camping in New York? A few New York State Parks have installed yurts for folks who want to rough it a little bit, but not too much. Check out the following parks for your yurt camping adventures in the Niagara region of New York.
Four Mile Creek State Park: Located just 15 miles from Niagara Falls, the six yurts at Four Mile Creek are close to Lake Ontario and perfect for up to six people. In addition to the yurts, there are 259 tent/RV sites.
Golden Hill State Park: Golden Hill State Park is located in Barker, New York on the shores of Lake Ontario. There are six yurts available with room for up to six people.
Evangola State Park: With a beautiful sandy beach on the shore of Lake Eerie, this beautiful park has six yurts, one cabin, and 77 additional campsites. The yurts sleep up to six people.
---
---
Are you ready for a little glamping vacation in New York? So are we! Which of these fantastic yurts in New York do you most want to visit? Drop us a comment below!
Looking for more New York glamping inspiration? Check out these posts, or jump straight into our glamping resource guide!
---
Follow us on social media for more outdoor inspiration!
Pin for Later?