Please check to make sure destinations are open to visitors before planning a trip and follow local guidelines. We earn a commission from affiliate links that may be included in this post.
Historic cottages with elaborate gardens, world-class museums, and mountain vistas with crazy views. Welcome to the Berkshires of Massachusetts. Not only is this area a haven for creatives – authors, painters, poets, and sculptors, but it also draws in lots of people from away, who come to explore the abundant culture and natural beauty and then find that they never want to leave!
Located in Western Massachusetts, the Berkshire Mountains are actually the southern terminus of Vermont's Green Mountains, a smaller portion of the ancient Appalachian Mountains. Are you confused yet? Hiking trails are abundant in the Berkshires, as are eclectic restaurants, fancy clothing boutiques, antique stores, historic homes, art museums, and lush gardens.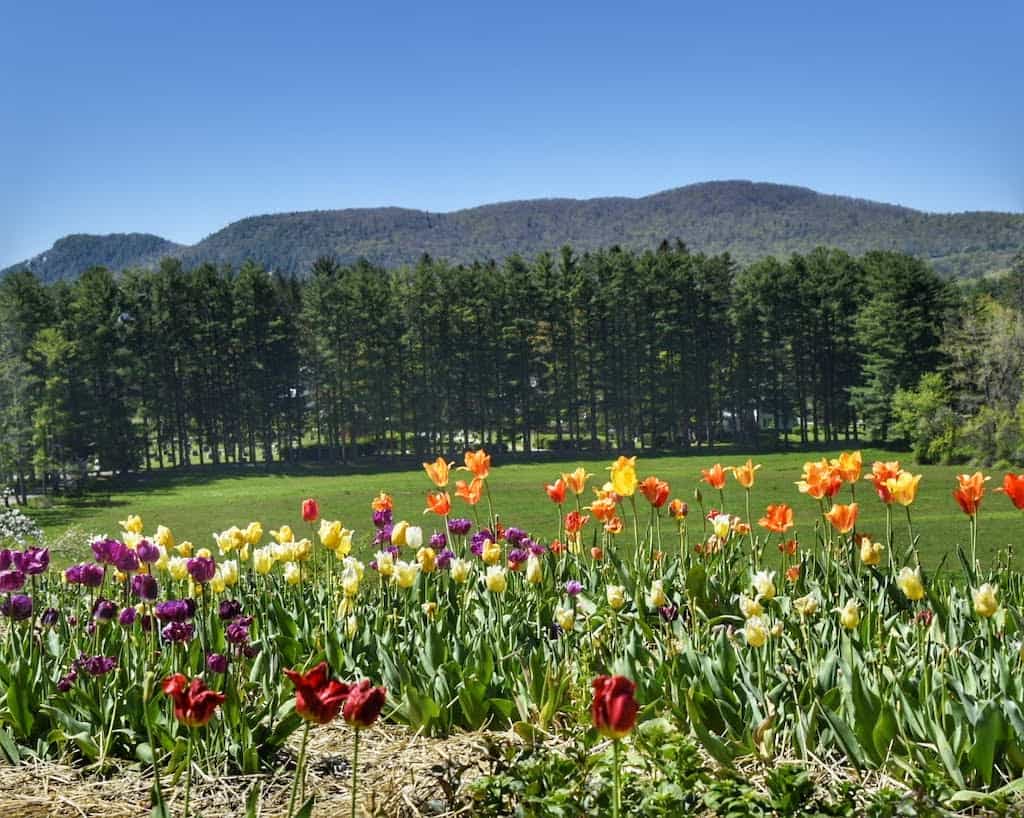 To sum it up, the Berkshires is a collection of beautiful and unique New England villages with cultural offerings normally reserved for big cities. And all of its charms are nestled in one of the most beautiful natural settings you'll ever lay eyes on.
A visit to the Berkshires is pretty much like visiting paradise, so if you find it difficult to leave at the end of your stay, don't say I didn't warn you. This guide will help you make the most of a Berkshires weekend getaway, especially if you're looking for all the best things to do in Stockbridge, Massachusetts, the area we're exploring in this guide.
And if you want to extend that getaway, say for a week, or even forever, you will find that all of the cities, towns, and villages in the Berkshires have their own secret spots and amazing highlights. You could explore the Berkshires for the rest of your life and still find unique places that you didn't know existed!
---
Insider Tip: We've created a free printable version of this 3-day itinerary for Stockbridge, Massachusetts. Download and/or print it to make planning your trip to the Berkshires easy! Sign up for our newsletter, and we'll send you the printable itinerary straight to your inbox.
When to Visit the Berkshires
Western Massachusetts is a four-season destination, and it's worthy of a weekend getaway just about anytime. I'm partial to spring when the apple trees are blooming, and just about everyone is shaking off the cobwebs and getting outside. There are so many public gardens and natural spaces to visit in the Berkshires, so I'm going to go out on a limb and recommend that you visit between the middle of May and early October. That's a huge window!
During our most recent visit to Stockbridge, our big goal was to check out the Daffodil and Tulip Festival at Naumkeag (more on that later), so we timed our visit to Stockbridge for mid-May. Outdoor patios were open. The smell of lilacs permeated the air, and the mood was festive after a long winter indoors.
Where to Stay in Stockbridge, Massachusetts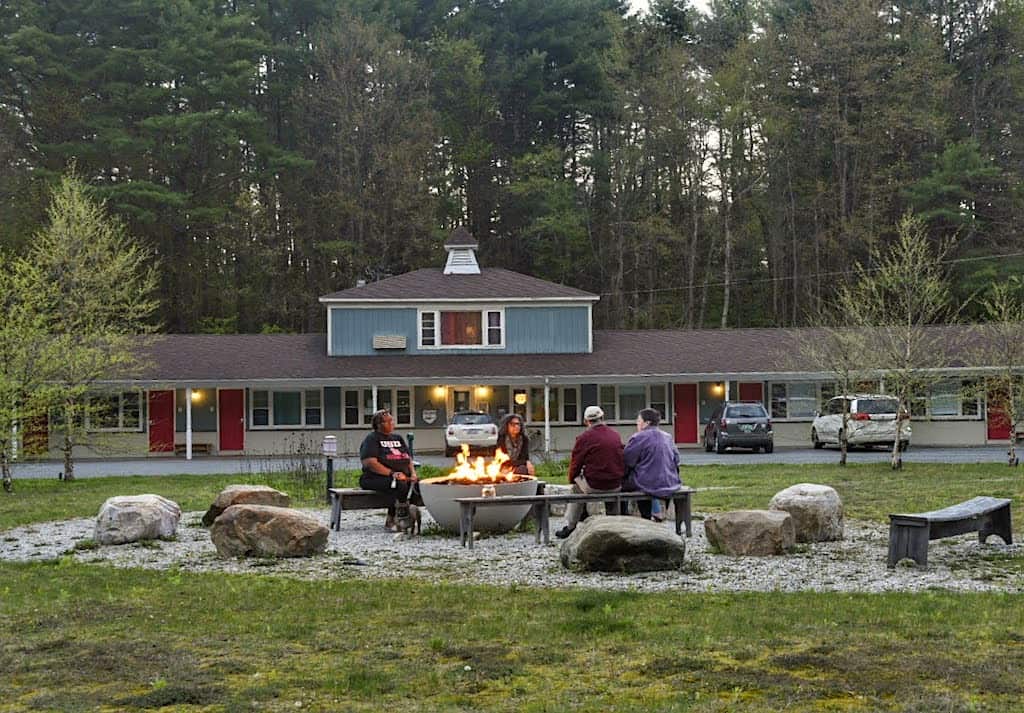 This Berkshires weekend itinerary is based in the small town of Stockbridge, Massachusetts (population 1,947). There's enough to do in Stockbridge to keep you busy for a full weekend or longer, and as much as we love a good road trip, we also don't want you to spend all your time in the car. That's why we're suggesting a centrally located, budget-friendly motel.
We seek out unique lodgings whenever we travel, so when I discovered the Briarcliff Motel during my online research, I immediately made reservations. . During our most recent trip, we made the Briarcliff Motel our home base, and we couldn't have asked for a better spot to relax each night.
Why You Have to Check Out the Briarcliff Motel
The Briarcliff Motel is located on a busy stretch of Route 7 between Stockdbridge and Great Barrington. It's a low-slung building reminiscent of every motor lodge you ever stayed in as a kid, at least if you're over the age of 40.
16 identical red doors face the parking lot with a well-worn welcome mat in front of each one. You would be forgiven for thinking that this was your run-of-the-mill, outdated motel, but several things set the Briarcliff Motel apart from the local competition.
The most notable, at least for a dog lover like me, is that the Briarcliff wears its dog-friendliness like a badge of honor. If you are traveling with a dog, choosing the Briarcliff is a no-brainer. And if you don't have a dog of your own, you can certainly enjoy the company of others!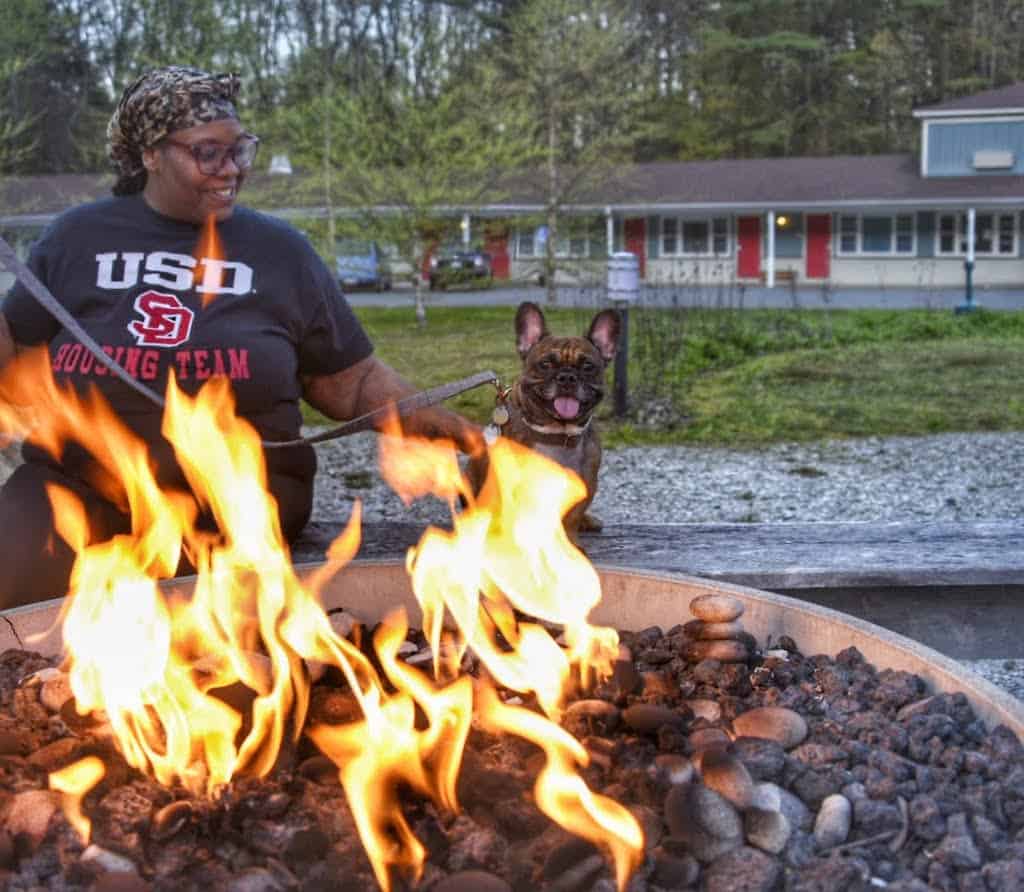 If you detest dogs or are severely allergic, the Briarcliff might not be the place for you.
Each room at the Briarcliff features mid-century modern furnishing and unique artwork, and no two rooms are alike. You will never feel like you are in a corporate hotel. The beds are comfy, and each room comes with a seating area, a desk, and a small fridge.
A few other perks of the Briarcliff Motel that are worth mentioning:
The Briarcliff Motel and the Red Lion Inn in downtown Stockbridge are sister properties, which means you can take advantage of the pool and hot tub at the Red Lion Inn, and you get a voucher to use at the Red Lion for $12 off your meal – breakfast, lunch, or dinner.
There is a cozy fire pit in front of the Briarcliff that is a great spot to congregate and meet other travelers. During our stay, Rhonda, the amazing innkeeper, provided s'mores fixings, and a handful of visitors hung out and chatted until a drizzle drove us all inside.
Monument Mountain Reserve is right across the road. This is a fabulous trail network run by The Trustees of Reservations (more on that later).
If you want high luxury or hate dogs, the Briarcliff Motel won't be for you, but if appreciate budget-friendly, unique lodging and friendly folks, I definitely recommend the Briarcliff. With more than 500 reviews on TripAdvisor, the Briarcliff averages 4.5 stars, and I hope I'm doing my part to up their average because they deserve it.
---
Another option: Did you know that we're kind of crazy about glamping? If you want to sleep in a real bed while immersing yourself in the outdoors, you may want to check out this sweet glamping tent in Richmond. It's very close to all of the attractions and restaurants that I'll be covering in this post, and it's also dog-friendly. This Berkshire mountain hideaway features an outdoor kitchen, hiking trails that start right at your campsite, a fire pit, a queen-size bed, and a solar shower.
---
How to Get to the Berkshires
By car, Stockbridge is two hours from Boston, 1.5 hours from Harford, and three hours from New York City. The closest major airport is Albany International Airport, which is about 60 miles away. While many of the towns and villages in the Berkshires can be accessed via public transportation, most of the attractions mentioned here are hard to get via bus.
I recommend bringing a car so that you can take full advantage of all the great spots during your Berkshires weekend getaway. Need to rent a car for your weekend in the Berkshires? Compare prices on Kayak before choosing a snazzy convertible that is perfect for Berkshires living.
Berkshires Weekend Itinerary: Day 1
We're going to assume that you're driving to the Berkshires, either from a nearby airport or somewhere else in the Northeast, so our itinerary begins in the afternoon when you get into town. Get ready for a fun weekend in the Berkshires!
Chesterwood: Summer Estate of Daniel Chester French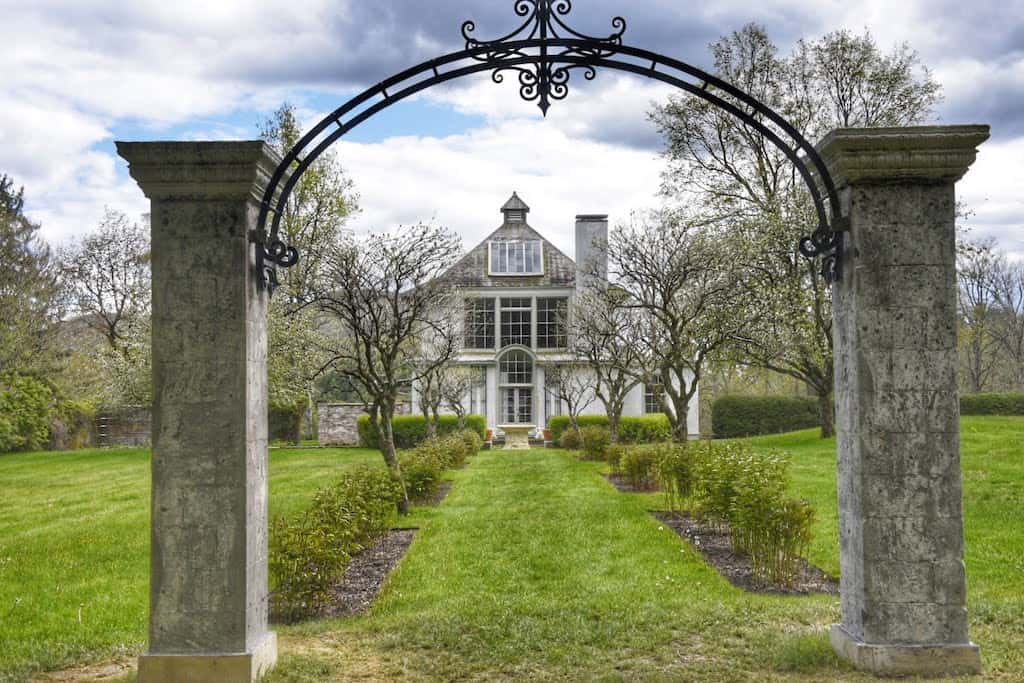 I'll admit that I didn't actually know who Daniel Chester French was when I started planning for things to do in Stockbridge, but I'm glad that I found out and made the trip to Chesterwood. Located on 122 acres of woods and meadows, Chesterwood was the summer estate of the esteemed sculptor Daniel Chester French.
French is best known as the sculptor who created the figure of Abraham Lincoln for the Lincoln Memorial in Washington D.C. and the Minute Man in Boston, but his portfolio of amazing works is huge, and he was considered an outstanding architectural and public sculptor during his lifetime and beyond. French is considered one of the most successful artists of the late 19th and early 20th centuries, producing more than 100 works of public sculpture for the world to enjoy.
Today, Chesterwood is a historic site of the National Trust for Historic Preservation that is open to the public. You can tour the historic home, the formal gardens, and the woodland trails in the summer and fall, and the grounds can also be toured in the off-season. Hundreds of French's preliminary models and final works are on view in the artist's studio, and the woodland walk is also a must-do, with far-reaching views of the Berkshire hills.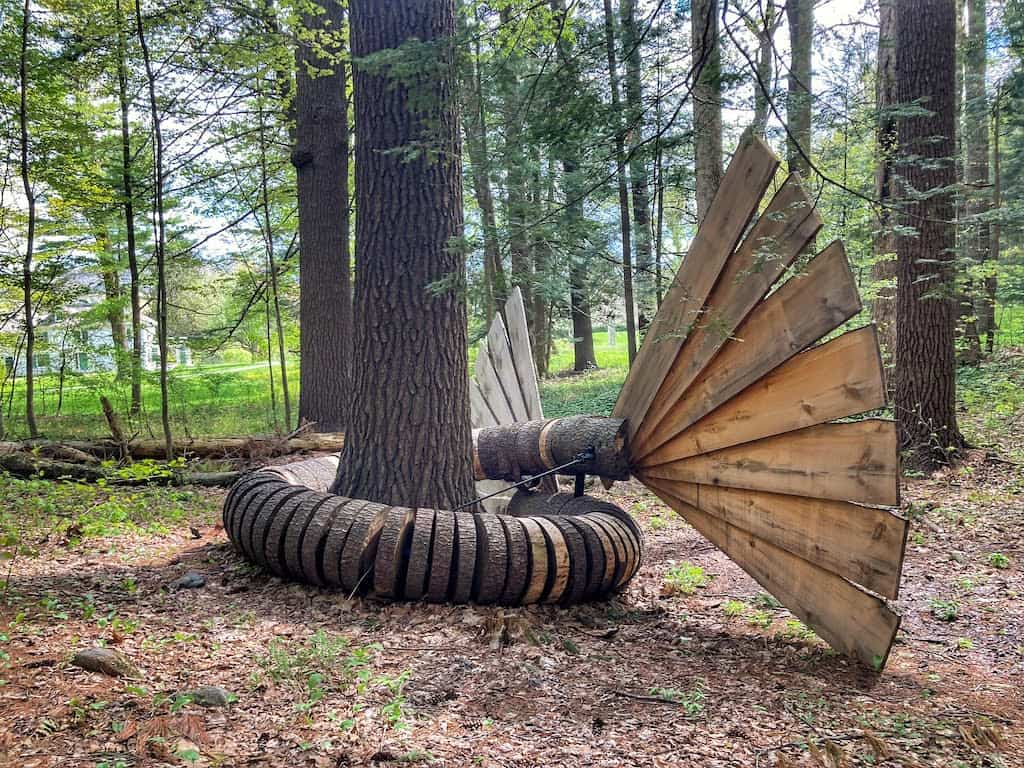 During my visit to the woodland trails behind Chesterwood, I explored the contemporary sculptures of Rick and Laura Brown in an outdoor show entitled One Impulse from a Vernal Wood. The large-scale art installations were created from felled trees at Chesterwood and harmonize beautifully with the wild surroundings and peaceful landscape.
I suggest setting aside two to three hours to explore the house and grounds at Chesterwood.
Visit Chesterwood in 2021: Details

Chesterwood is open from Thursday to Monday, 10am to 5pm. Because of COVID-19, tickets must be purchased online. The grounds are open year-round, but to tour the home, you must visit between May and October. Guided tours are available at 11am, 12pm, 1pm and 2pm. Self-Guided Tour tickets are available at 10am, and 3pm.

All the buildings are accessible to persons with limited mobility including the studio, barn gallery, and residence. Only service dogs are permitted on the property.
Chesterwood admission fees:
Adults: $20
Children under 13: Free
Members of the National Trust for Historic Preservation: $10
Seniors 65+: $18
Young Adults/College Students (age 13 to 21): $10
Military: $15
Dinner: Cafe Adam
Time to fuel up with some locally sourced and prepared dishes at Cafe Adam in nearby Great Barrington, which has been impressing guests since 2006. Cafe Adam is located just a few miles south of the Briarcliff Motel, so you've got time to pop in and freshen up before heading to dinner.
This is a popular spot for locals and visitors, so be sure to make reservations ahead of time. The seasonal dinner menu includes eclectic specialties that are as unique as they are delicious. Try the Rhode Island calamari with charred red pepper sauce or the Korean barbecue pork spare ribs. You will be full and happy, promise. The menu is always changing based on what's available locally, so if you can't get my recommendations, don't be too disappointed.
After dinner, head "home" to the Briarcliff Motel. Relax by the firepit, chat with your traveling neighbors, and tuck in early so you're ready for another day of exploring the Berkshires.
Berkshires Weekend Itinerary: Day 2
You'll be spending today exploring the outdoors in the Berkshires — first, another summer "cottage" tour with gorgeous gardens and then a cool sculpture park. Let the fun begin!
Breakfast: Red Lion Inn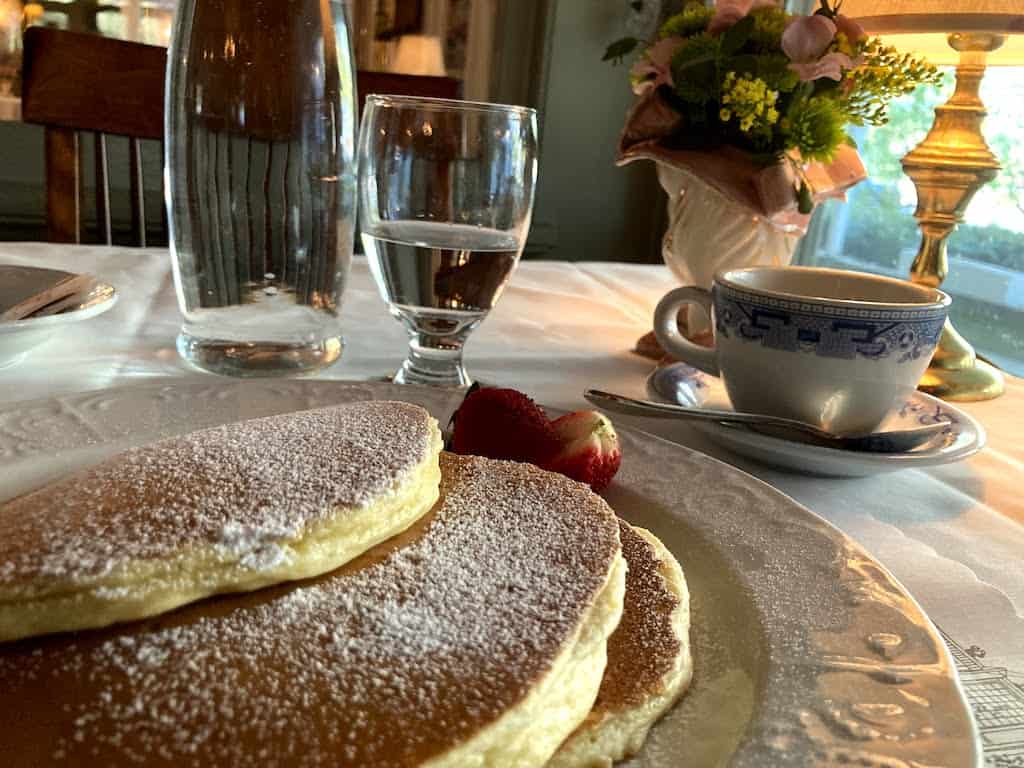 If you're staying at the Briarcliff Motel, you'll receive a voucher for $12 (per person) to spend at the Red Lion Inn in downtown Stockbridge. The formal dining room at the Red Lion is a lovely spot to relax and plan your day, but there's also outdoor seating when the weather cooperates, and the front sitting porch is a great spot to read the paper and watch the world go by.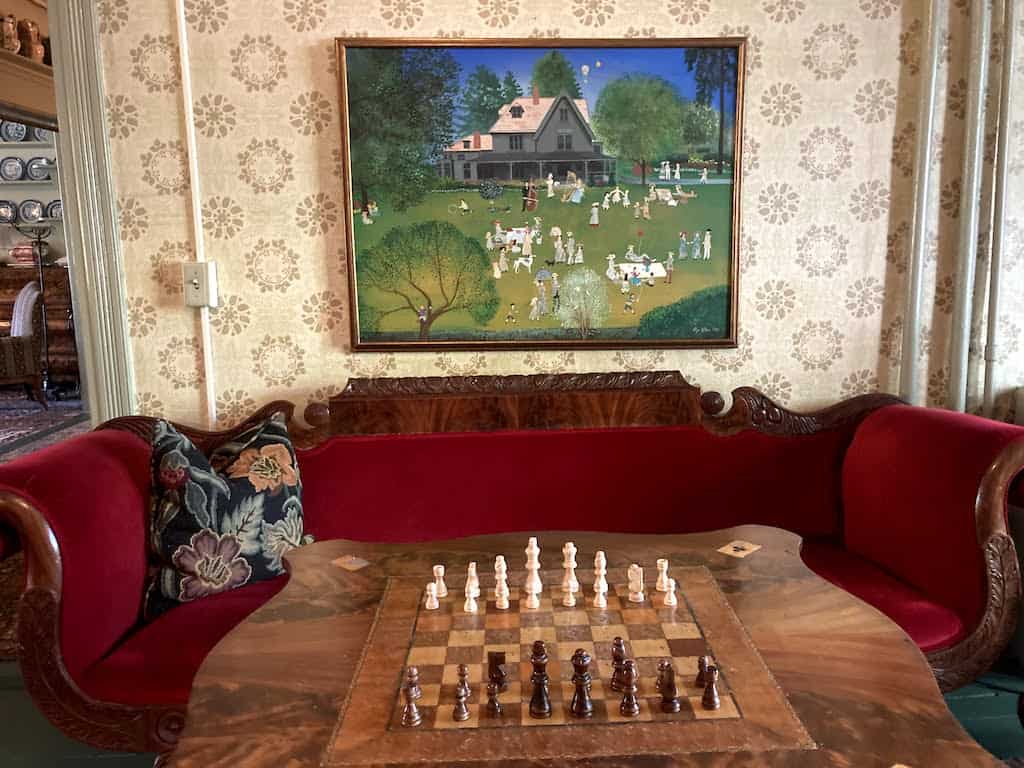 The breakfast fare at the Red Lion Inn is pretty standard. The pancakes are served with real maple syrup, which I can never resist (true Vermonter!) — can't go wrong with dessert for breakfast! They also serve more wholesome fare, like yogurt with granola, oatmeal, or poached eggs.
While you're there, give yourself a little tour of the inn. Every corner and piece of wall real estate is full of antiques and New England art. There's even a cool teapot collection!
Naumkeag: Formal Gardens Surrounding a 44-Room Cottage in Stockbridge, MA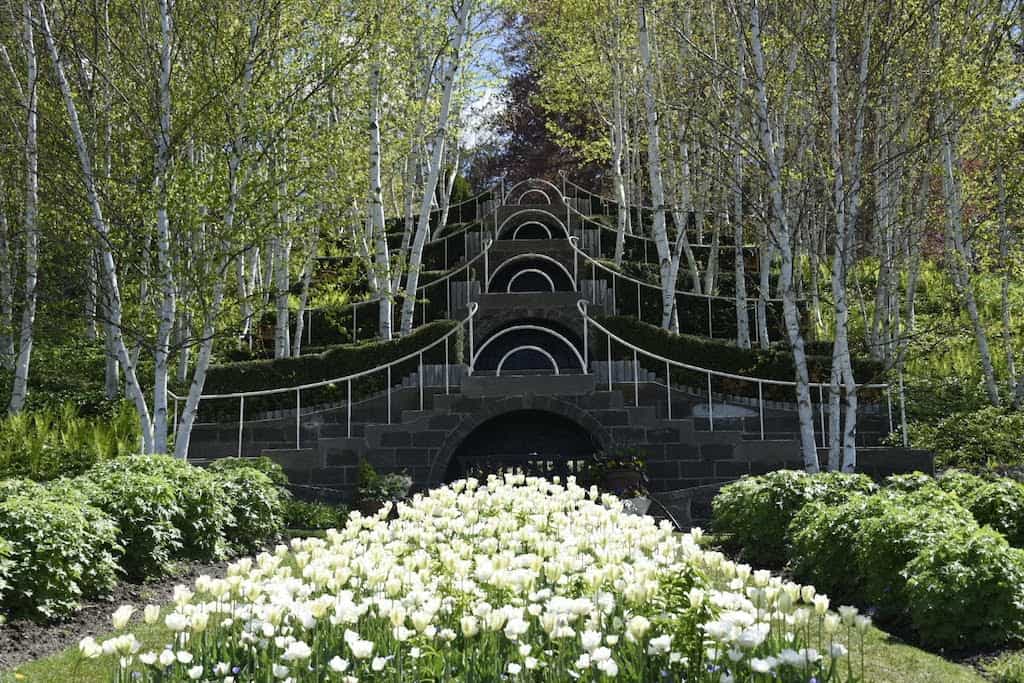 I did my tour of Stockbridge in mid-May, and I could have easily called this post Berkshires in Bloom because I was seeking out gardens to help me shake off the winter blues. My favorite stop of the whole trip was my tour of the elaborate gardens at Naumkeag. I toured during the Daffodil and Tulip Festival, which is a popular event, but the gardens are just as lovely in the summer and fall.
Naumkeag is another summer "cottage" in the Berkshires, created for the elite from Boston and New York City to get away to the country for some fresh air. I'm not going to hold it against them because their summer cottages have given us regular folk some beautiful spots to enjoy.
Naumkeag is managed by the Trustees for Reservations and features a lovely gilded-age home and a 48-acre property. The home was built for Joseph Choate and his family in 1884. Choate was a prominent lawyer in New York City, and the 44-room home was his summer retreat. His daughter, who never married, bequeathed the estate to the Trustees upon her death in 1958.
During her residence, Mabel Choate collaborated with esteemed landscape architect Fletcher Steele to create exquisite formal gardens. During your visit, be sure to visit the Blue Steps and grove of white birch trees, the Afternoon Garden, Tree Peony Terrace, Rose Garden, Chinese Garden, and of course, the home, which appears almost exactly as it was left in 1958.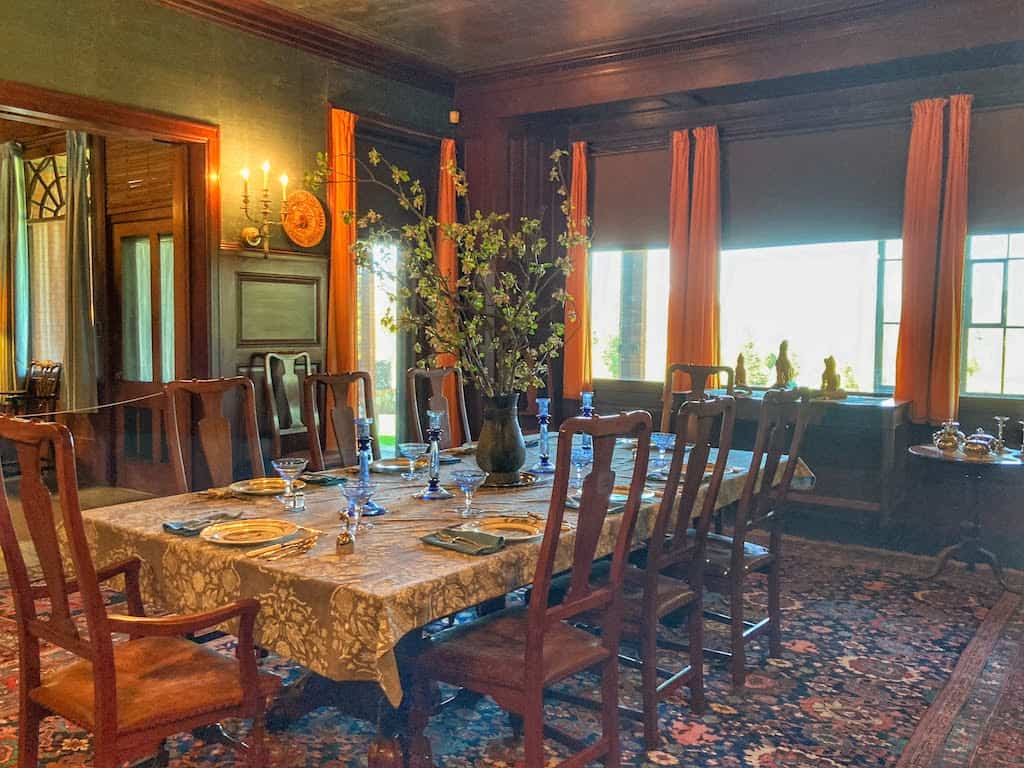 The Daffodil and Tulip Festival just finished up its third year with more than 130,000 spring bulbs on display across eight acres. You're too late to visit this event in 2021, but definitely make plans to check it out next year!
Visit Naumkeag in 2021: The Details

Naumkeag will reopen on May 27th for the summer season. Hours of operation are Thursday-Monday from 10am-4pm. Pre-registration is strongly encouraged, but it's possible to get on-site tickets if capacity allows. Unfortunately, due to its age, Naumkeag is not ADA compliant, but there is accessible parking in front of the main house, as well as an accessible bathroom.

Only service dogs are permitted on the property.
Non-members admission fees:
Trustees members receive free admission
Adults: $20
Seniors (65+): $15
Students (w/ID): $15
Children 12 & under: Free (registration/ticket required)
Lunch: Six Depot Coffee in West Stockbridge, MA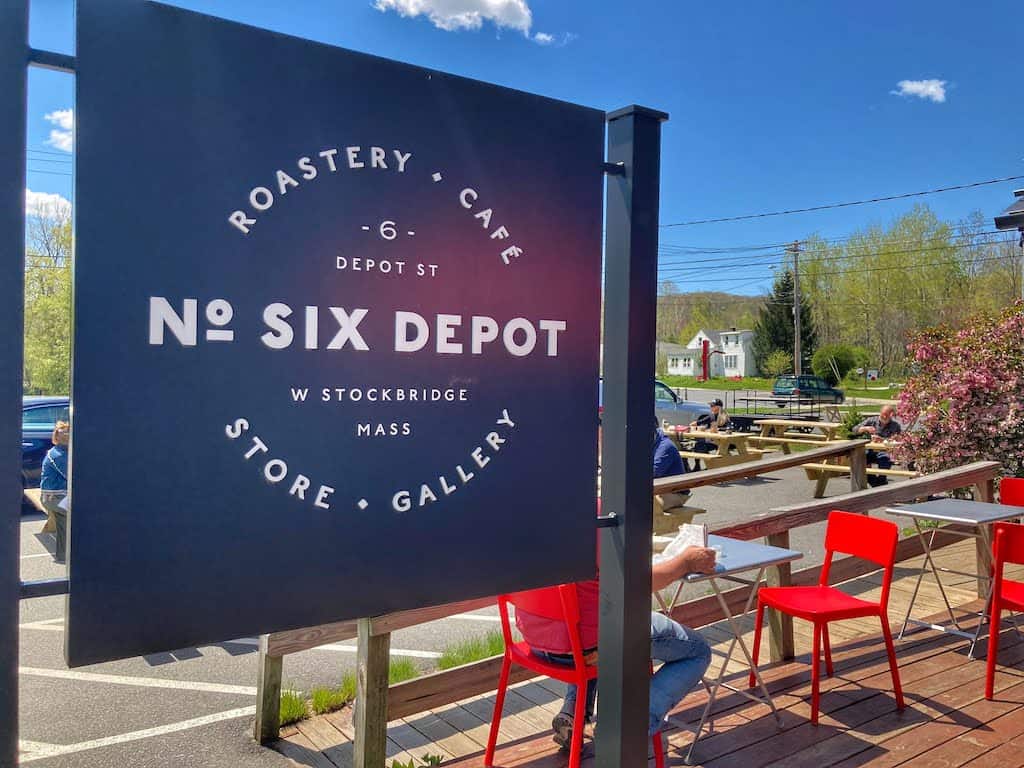 After a delightful morning at Naumkeag in Stockbridge, you'll be spending the afternoon in the tiny town of West Stockbridge, population 1,300. First stop, Six Depot Coffee, where you can sip a latte or cold-brew and indulge in paninis, wraps, soups, salads, or baked goods.
The first time I drove into West Stockbridge, the whole town smelled like roasting coffee. I parked in the small public parking lot across the street because the parking area in front of Six Deopt was already full. Despite the bustle, I was able to order my cold brew and food and find a shady outdoor spot to relax.
The coffee at Six Depot is awesome, and I'm kind of a coffee snob. Sounds like the team at Six Depot feels the same way. They spend a lot of time sourcing their coffee beans and look for coffee that is grown from Arabica trees cultivated at high elevations for delicate, flavorful coffee.
Six Depot coffee beans are purchased from farms or co-ops and are grown using organic and sustainable methods, so you can feel good about ever decadent sip.
TurnPark: Outdoor Sculptures Surrounding and Old Marble Quarry in West Stockbridge, MA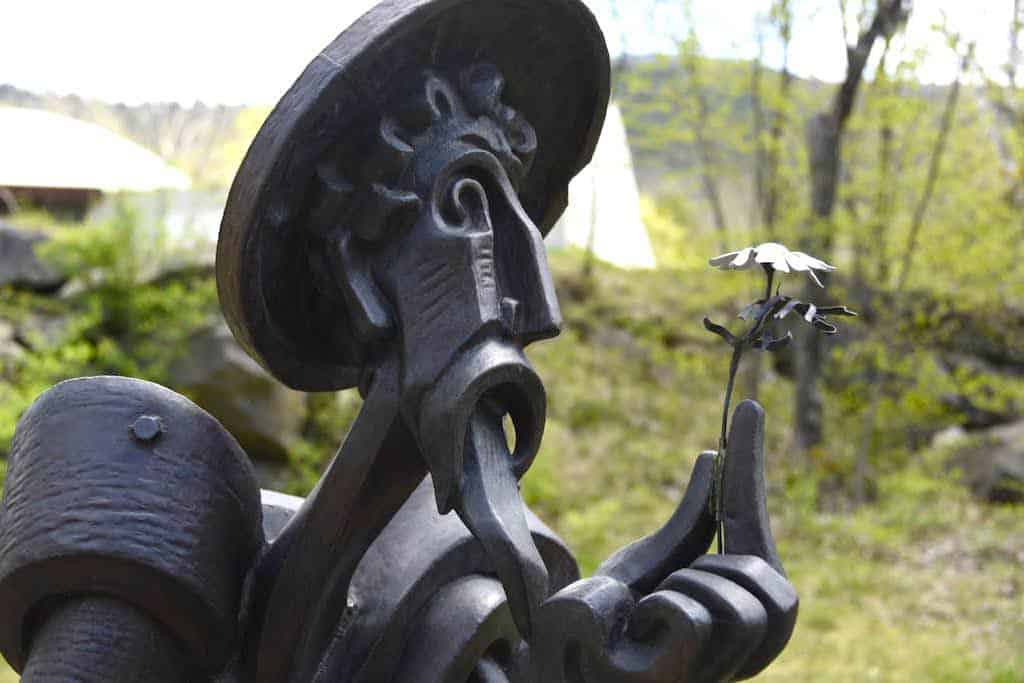 Time to work off lunch! Leave your car where it is and walk up Moscow Road a piece to TurnPark, a fun sculpture park and performance space that was created in 2017. I discovered Turn Park by accident and explored the grounds before they opened for the season.
TurnPark is convenient to downtown West Stockbridge and includes 16 acres of outdoor art installations and exhibitions. Paths meander through the woods, along the edge of the quarry, and across a small meadow with art everywhere you look.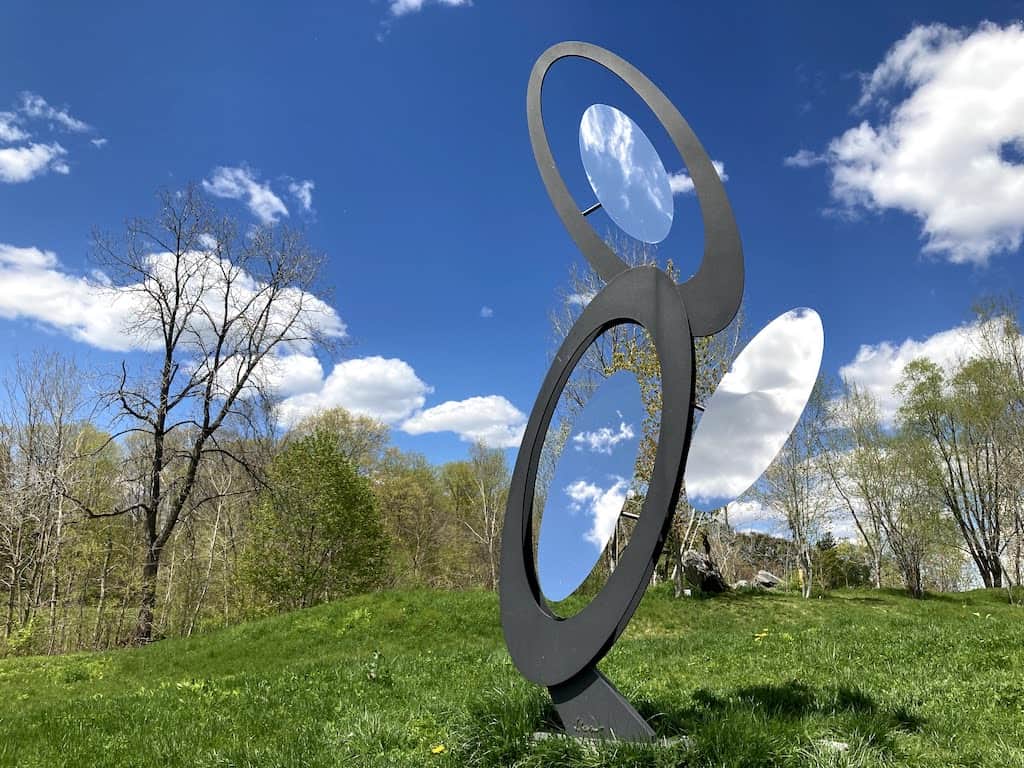 The walking paths are gentle and the scenery bucolic, and the larger-than-life sculptures that dot the landscape seem to have been created to interact with and pay homage to the beautiful Berkshire Hills. Many of the sculptures were created by Turn Park founders, Igor Gomberg and Katya Brezgunova, but many talented artists are represented.
Small seating areas are abundantly tucked in the trees, so be sure to stop and rest while taking in the art that surrounds you.
Visit TurnPark in 2021: The Details

The grounds at Turn Park are open from Wednesday to Monday, 10am-5pm (closed Tuesdays). General admission is $10, and kids under 12 are free. Leashed dogs are permitted.
Norman Rockwell Museum: Discover the Art of Stockbridge's Most Famous Resident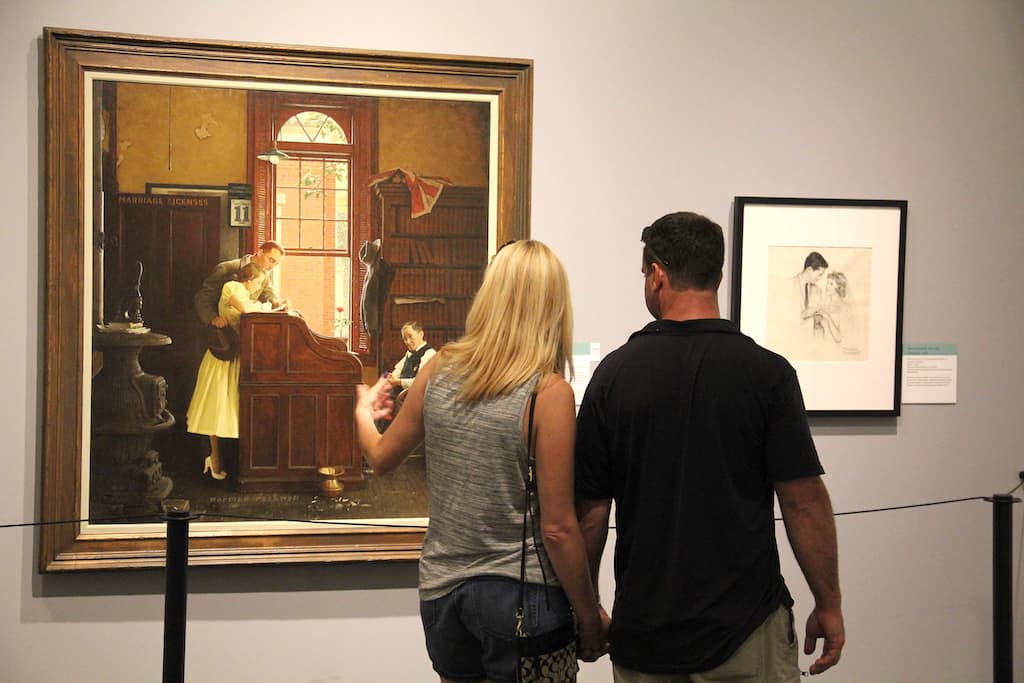 Did you know that Norman Rockwell is the official state artist of Massachusetts? He enjoyed a long and successful career as an illustrator, and lived in Stockbridge for the last 25 years of his life.
The Norman Rockwell Museum in Stockbridge features ten galleries of iconic American illustrations, including 998 of Rockwell's original works, the most significant collection on display anywhere.Yes, you will find his large-scale, original paintings featuring the quintessential New England scenes that you know and love. But there are also special exhibitions that change with the seasons, as well as educational programs, and a beautiful 36-acre campus.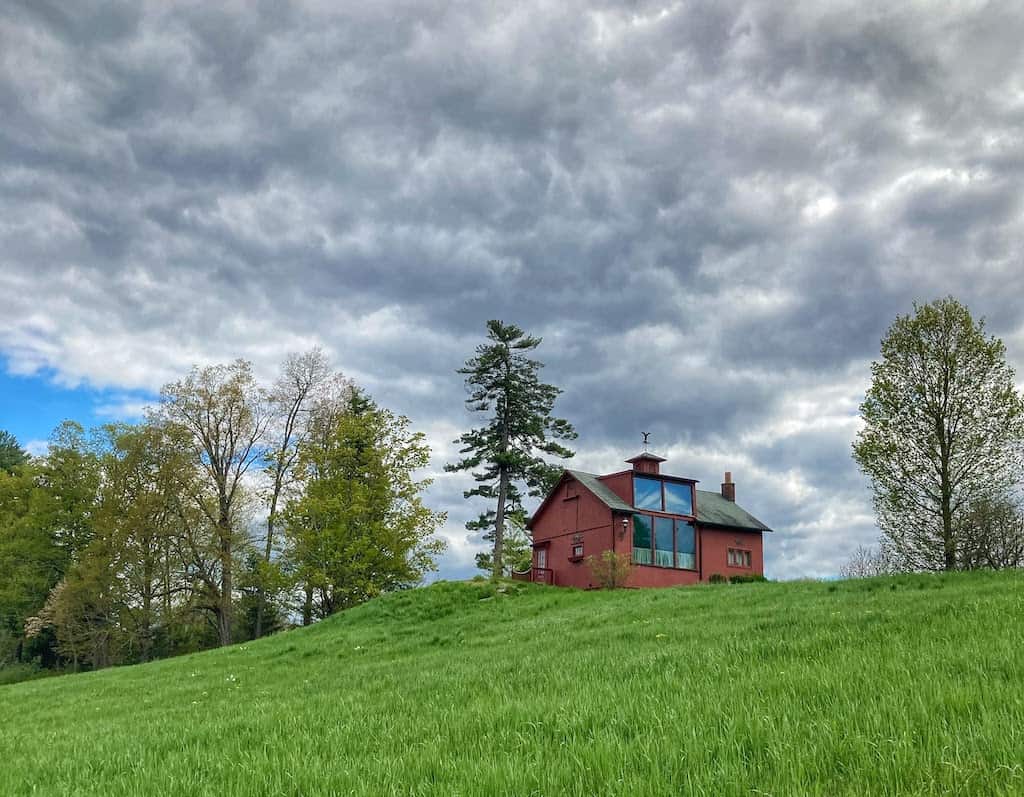 Norman and Molly Rockwell founded the Norman Rockwell Museum in 1969. It's considered the most popular year-round cultural attraction in the Berkshires. Rockwell's studio, which was moved to the museum property, can be toured between May and October, and there's a path down to the Housatonic River below.
Visit the Norman Rockwell Museum in 2021: The Details

Advance timed tickets to tour the Norman Rockwell Museum are currently required. The museum is open Monday, Thursday, and Friday from 10am-4pm, and Saturday and Sunday from 10am-5pm. Leashed dogs are permitted on the grounds, but not in the buildings.
Admission fees:
Members: Free
Adults:$20
Seniors, AAA, Retired Military: $18
College Students: $10
Children 18 years and under: Free
Active Military, EBT/SNAP/Connector Card, Free Teachers (MA, NY, CT, NH, VT), Front Line Medical Workers: Free
---
Read Next: The Best Family-Friendly Museums in the Berkshires
---
Dinner: Once Upon a Table in Stockbridge, MA
Once Upon a Table is a bistro-style restaurant in downtown Stockbridge, closed Tuesdays and Wednesdays. It's located down a small alleyway with cozy outdoor seating during the nice weather. It's a small restaurant, but what it lacks in size, it makes up for in flavor!
While the menu changes frequently, you can be sure to find a nice selection of New England dishes, included pecan-crusted rainbow trout, roasted pork tenderloin, or oven-roasted duck. As I'm not a meat-eater, I went with the grilled veggie ravioli, and was delighted! Save room for dessert too!
After Dinner Swim?
Wait, didn't our parents always say that we should never swim after a meal? We ignored that advice and popped back over to the Red Lion Inn for a dip in the pool. Remember, this is a free perk for those staying at the Briarcliff Motel.
The outdoor pool is heated to 82 degrees year-round, and the hot tub is even warmer. Alas, the hot tub was closed during our visit, but the pool was invigorating and just what we needed after a long day exploring the Berkshires.
Weekend in the Berkshires: Day 3
Good morning! Today, we're not wasting any time. Grab a granola bar and pack your daypack for a hike followed by pastries, and yes, another garden tour.
Morning Hike – Monument Mountain Reserve in Great Barrington, MA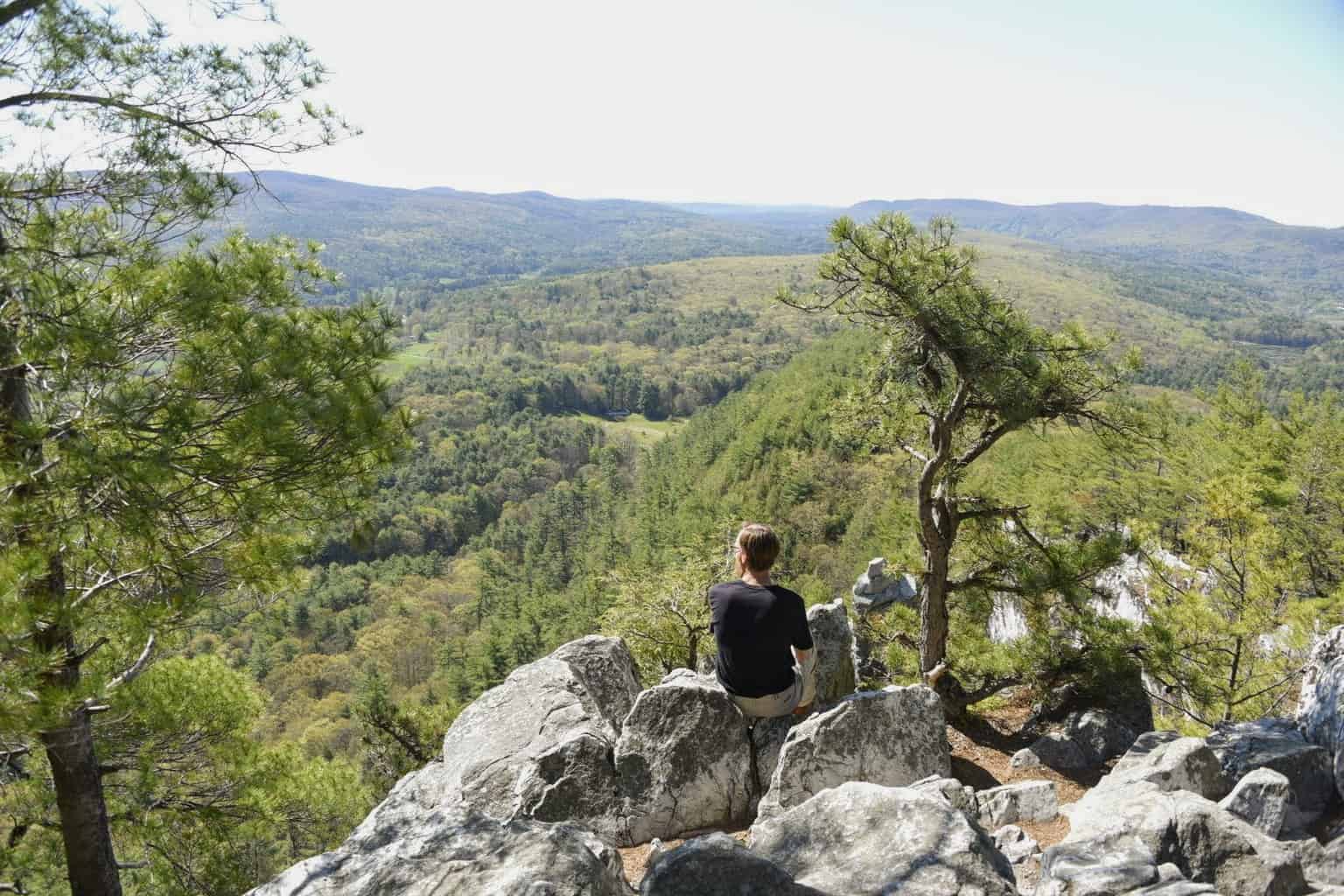 Monument Mountain Reserve is located directly across the street from the Briarcliff Motel, so get up early and leave your car behind. Be very careful crossing the road, as the cars are pretty speedy here.
Once you head into the woods, you can start ascending Monument Mountain, a 1,642 summit with far-reaching views. The reserve encompasses 503 acres with a few different trails so you can create loops of different lengths.
We hiked clockwise on Mohican Monument Trail, to Peeskawso Peak Trail, to Hickey Trail. Many people suggest hiking counter-clockwise to you can have a steep ascent and then a gradual ascent, but if you hike clockwise, you can let your dog cool off under the waterfalls in the Hickey Trail before heading back to the parking area or your motel.
The views from Peeskawso Peak are amazing, and we even saw a peregrine falcon from Devil's Pulpit. The whole hike took just over an hour, perfect for a pre-breakfast workout.
Here's a cool bit of literary history as documented by the Trustees, who manages to property:
On August 5, 1850, Nathaniel Hawthorne and Herman Melville enjoyed a well-chronicled picnic hike up Monument Mountain. It was their first meeting, and, when a thunderstorm forced them to seek refuge in a cave, their lengthy and vigorous discussion inspired powerful ideas for Melville's new book, Moby-Dick, which he dedicated to Hawthorne. Today, more than 20,000 hikers explore these pale boulders, cliffs, and ledges every year.
Hike Monument Mountain in 2021: The Details

There is a $6 parking fee at the base of the mountain on Route 7. Avoid the fee by walking from the Briarcliff Motel. There are a few picnic tables near the parking area, but no other facilities. Leashed dogs are permitted. Here's a Monument Mountain trail map that you can download.
---
Read Next: The Best Day-Hikes in the Berkshires
---
Late Breakfast: Lost Lamb Patisserie in Stockbridge, MA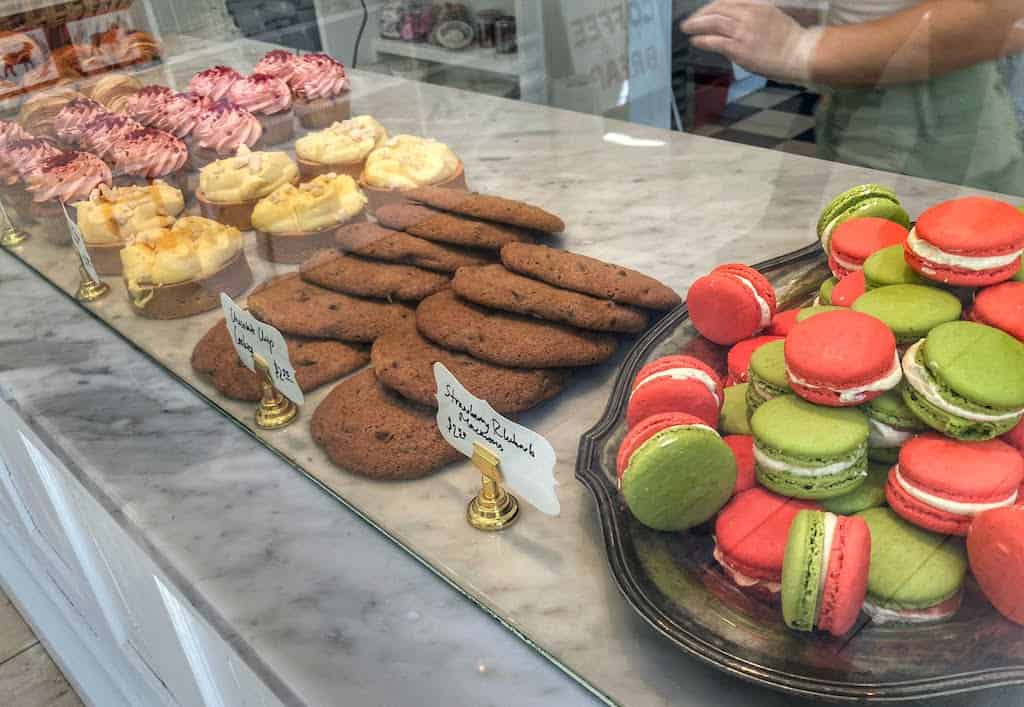 In researching my trip to Stockbridge, MA, I read about a young graduate of Cordon Bleu in Paris, who opened a patisserie in downtown Stockbridge. Owner Claire Raposo opened Lost Lamb Patisserie in 2019 when she was just 19 years old. Today, the patisserie serves classic french pastries with a local flare, as well as locally-roasted coffee and specialty drinks.
A visit to Lost Lamb is a huge treat! We got croissants, macarons for our lovely dog sitter, lattes, and a few sandwiches on homemade baguettes to enjoy later in the day. If I lived in Stockbridge, I would spend each day and most of my money at Lost Lamb Patisserie. I get the feeling that many locals do the same. Hours are Wednesday through Sunday, 10am-2pm.
Berkshire Botanical Garden in Stockbridge, MA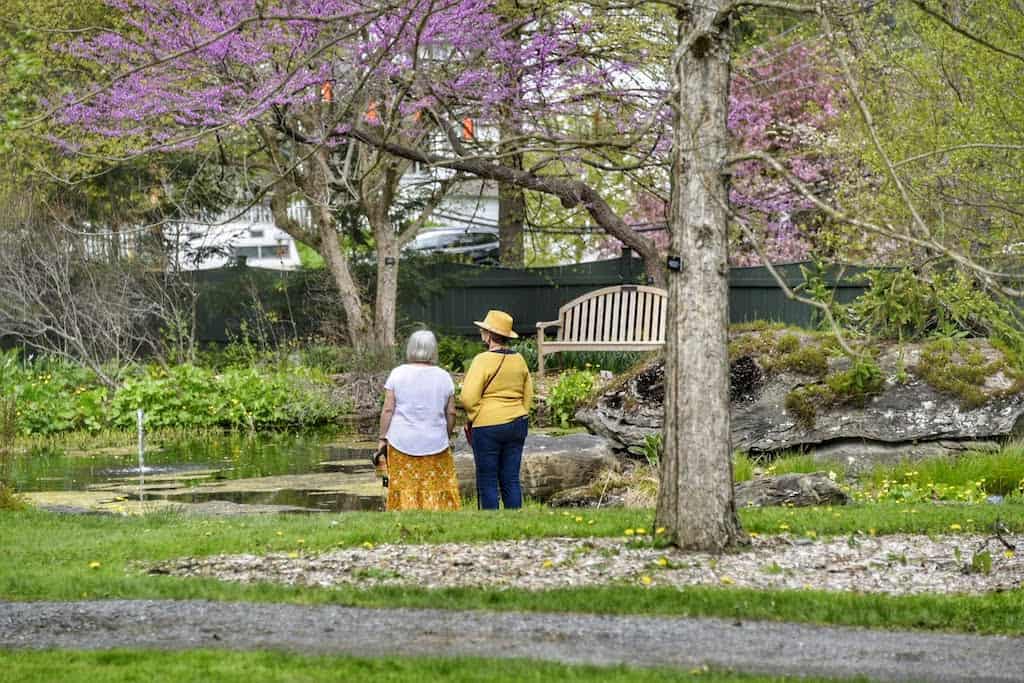 If you're not all gardened out by now, your next stop is the Berkshire Botanical Garden, one of the oldest public display gardens in the Northeast. It was established in 1934 and features dozens of display areas with an emphasis on plants that thrive in the Northeast. In addition to 24 acres of gardens, be sure to check out the galleries. You can also download an audio tour on your phone to help you navigate and explore.
I loved visiting the rock garden, perennial borders, and the new topiary garden, and the shade trees are gorgeous too! Give yourself at least an hour to meander the property while planning your own garden.
Visit Berkshire Botanical Garden in 2021: The Details

The gardens are open May 1 through October 31, from 9am – 5pm daily. Timed ticketing is currently required for all visitors and masks are mandatory while in BBG buildings.

Berkshire Botanical Garden's 24 acres are generally wheelchair friendly with paths through many parts of the Garden in addition to manicured lawns throughout many other areas.

Admission fees:
Members and children under 12: Free
General admission: $15
Seniors: $14
Tuesdays: Free
Library/Museum pass holders: Free
Lunch: Red Lion Inn in Stockbridge
You should still have your voucher for $12 off another meal at the Red Lion Inn, but you'd be forgiven for not being ready for lunch after all those treats from Lost Lamb. If you're a gluten for eating out when you're on vacation (looking in the mirror), head back to the Red Lion, where you can order a bowl of New England Clam Chowder and an RLI turkey sandwich. Check out the Red Lion Inn lunch menu here, and eat outdoors if you can.
If a full lunch feels like just too much… food, try the next best thing — ice cream! You can score a giant scoop at Stockbridge General Store/ Main Street Cafe — ginger and mocha chocolate chip are clear favorites. Prove me wrong!
I'm sure you've looked at your watch by now and realized that your time in the Berkshires is coming to an end, but now that you know how cool Stockbridge and West Stockbridge are, you'll be planning your next trip to the Berkshires before you even get home.
A weekend in the Berkshires never disappoints.
Berkshires Weekend Getaway to Stockbridge MA Summary
Here's a quick at-a-glance summary of our weekend itinerary for Stockbridge, Massachusetts! Bookmark this post so you can come back to it later.
Insider tip: If you're planning your Berkshire weekend itinerary in 2021, it will be important to make reservations to just about everything ahead of time. The restaurants book quickly on the weekends, and most of the attractions require, or at least suggest buying timed entry tickets online.
Day One
Day Two
Day Three
Pin for Later?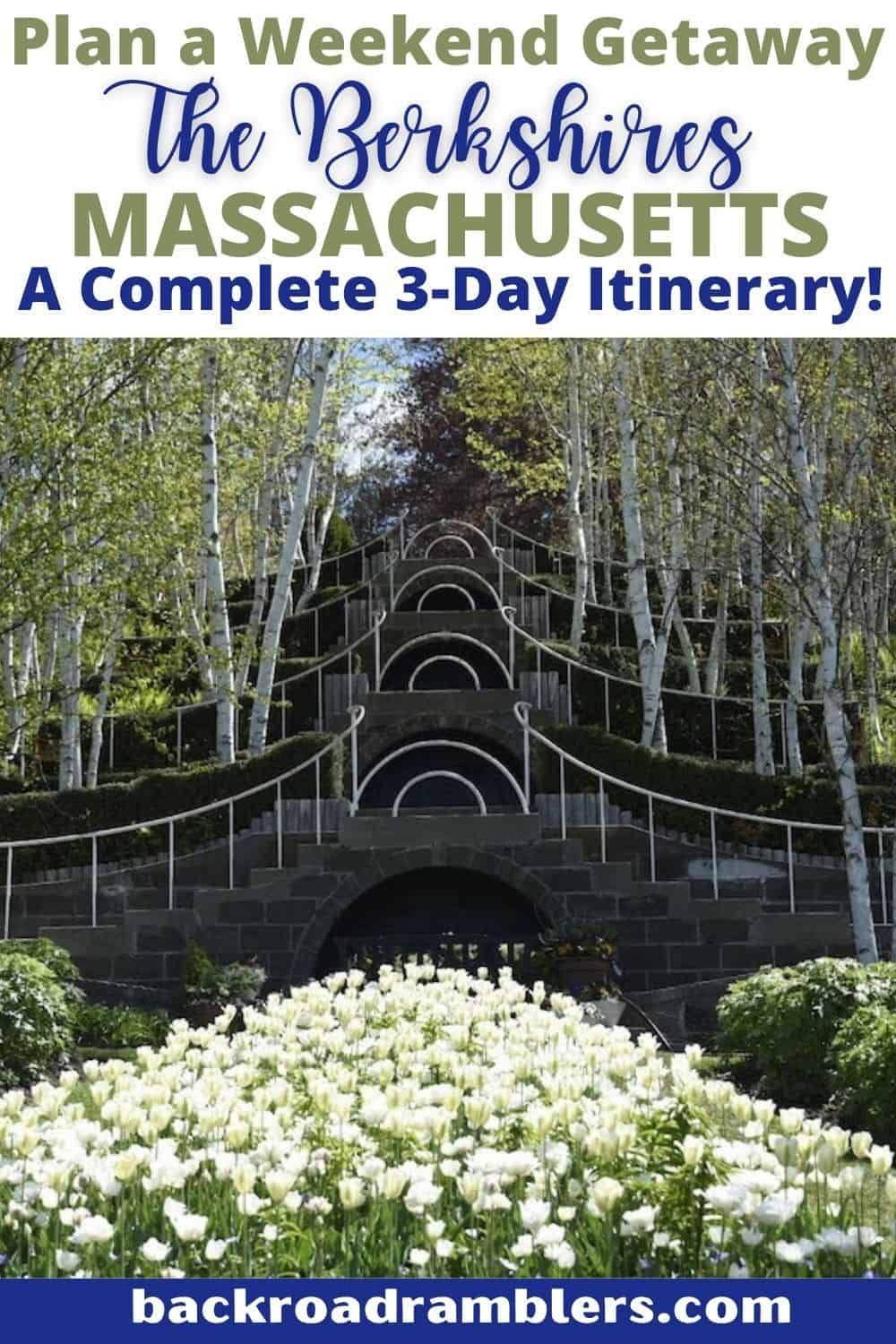 Our Favorite Resources for Road Trips and Outdoor Adventures

These are the resources we use for planning road trips, saving money while traveling, and shopping for outdoor gear.

Car Rentals: While we use our own car most often for road trips, we also enjoy flying into major airports and then renting a car for more regional road trips. We use Kayak to compare prices and find deals from dozens of car rental agencies at once.

Flights: We use Kayak or Skyscanner to search out flight deals. Money-saving tip: If you find yourself using the same airline over and over again (we are huge Southwest fans), consider joining their loyalty program and getting an airline credit card. With our Southwest Rewards Visa, we earn a few free flights each year.

Hotels: When it comes to lodging, we seek out small boutique hotels or quirky roadside motels. First, we search for hotels on TripAdvisor so we can read reviews from other travelers. Then, we use Booking.com to make reservations (they have the best prices, plus a flexible cancelation policy).

Camping: Camping is one of our favorite things to do on long road trips. It allows us to explore the outdoors, cook our own food, and save money. We use They Dyrt Pro to find campsites and read reviews before booking on Recreation.gov or state park websites.

Glamping and Vacation Rentals: For weekend getaways and shorter vacations, we love glamping (check out our glamping resource guide). We book glamping properties through Tentrr, Hipcamp, and Airbnb. For cabins and vacation rentals, we like to use VRBO (they have fewer fees and a better cancelation policy than Airbnb).

Guides and Maps: If we are visiting a new region, we usually invest in a Moon Travel Guide for the area. We pass them on to friends and family after our trip. If we are planning on hiking, we also purchase a Falcon guide in the Best Easy Day Hikes series.

Outdoor Gear: We are REI Co-Op members. It cost us $20 for a lifetime membership, but we get a yearly dividend based on our purchases, plus great deals and coupons throughout the year. REI also has a great return policy.

Check out our complete guide for planning a road trip on a budget