Imposing mountain peaks, pristine alpine lakes, and more wildlife than you may actually be comfortable with.
Grand Teton National Park in Wyoming is unimaginably beautiful, and literally breathtaking thanks to the altitude that sits at 6,500 feet in the valley and more than 12,000 feet on several mountain peaks. This is without a doubt one of the most dramatic landscapes in the United States, and one of the most pristine landscapes, especially if you get off the roads and onto the trails.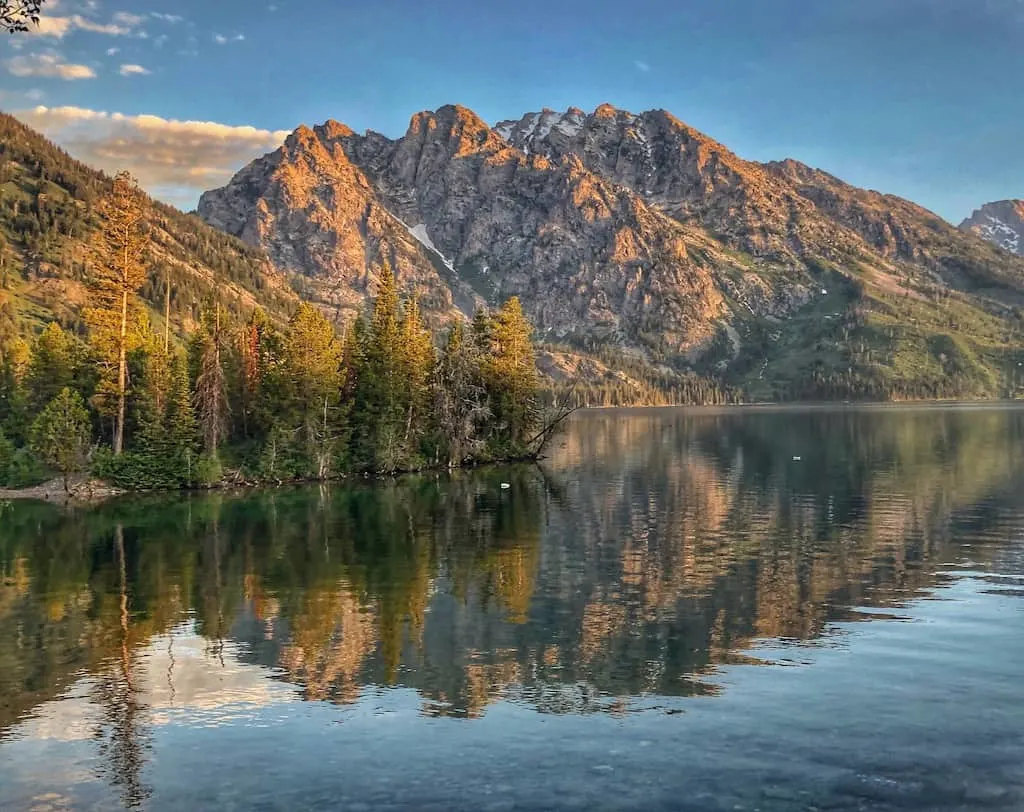 If you've never explored this amazing national park, we suggest you start planning your trip this very second!
We will always argue that the best way to experience a national park is to pitch your tent inside the park, but sometimes that's easier said than done! There are seven front-country campgrounds in Grand Teton National Park, and the summer camping season can be cut-throat.
Still, if you're able to plan ahead and camp within the park, we recommend pitching your tent at Jenny Lake Campground.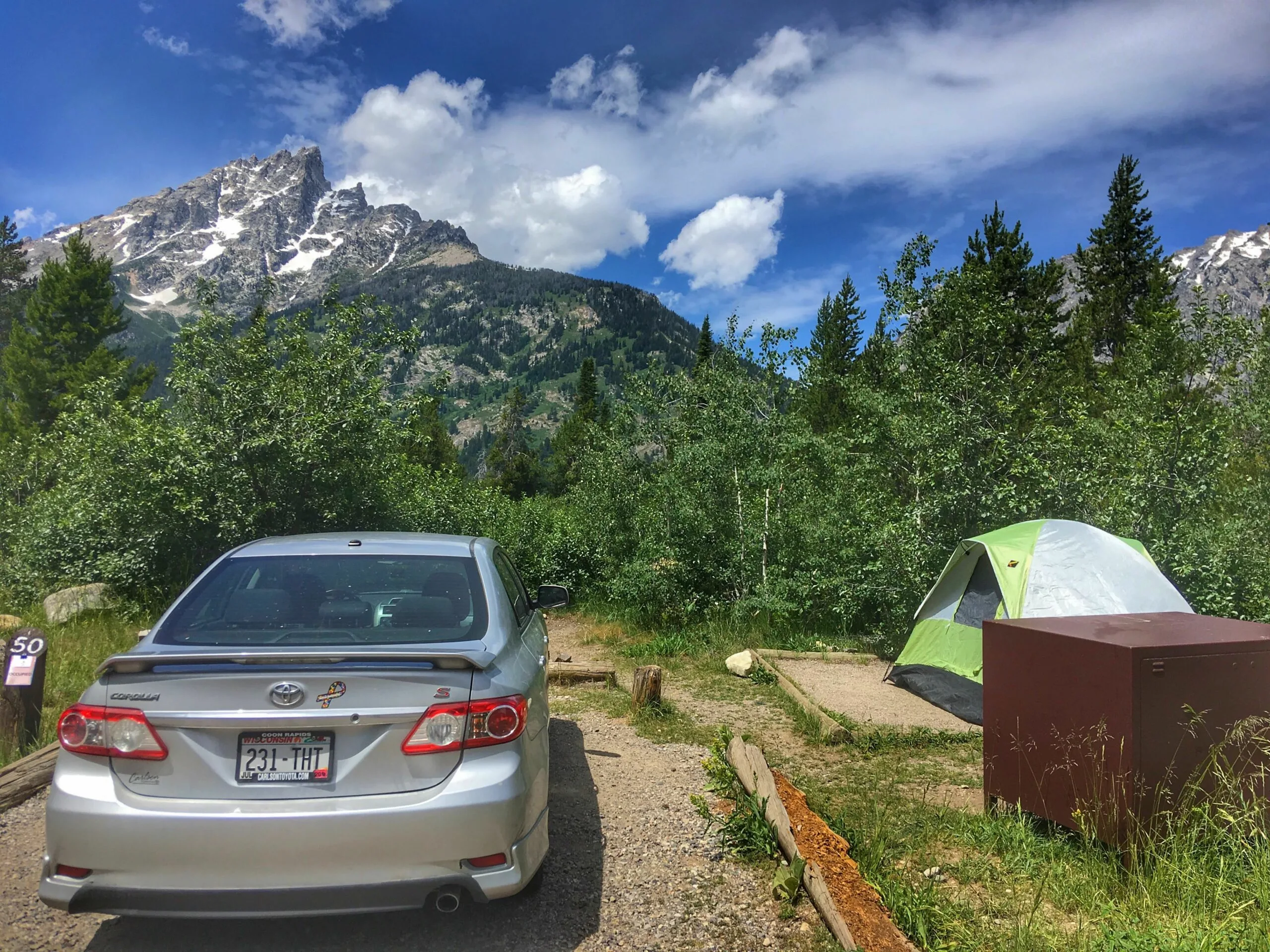 I'm going to share my all-time favorite spot for Grand Teton National Park camping with you, as well as some tips for getting the perfect spot.
Quick Facts: Jenny Lake Campground in Grand Teton National Park

Open dates: Early May to early October
Hookups: None
Fees: $41 for tent sites, $13 hiker/cyclist sites
Reservations: They are now required! Visit recreation.gov to book your site.
RVs: No
Showers: No
Dogs: On-leash. They are not permitted on trails or in buildings. Basically, your dog can go wherever your car can go.
Directions to the campground
In addition to the camping fees for Jenny Lake Campground, you will need to pay the entrance fee to get into Grand Teton National Park, which will set you back $35 for a carload and his good for seven days. It's well worth the cost, but if you plan on visiting more than two national parks in a calendar year, you can save some money by purchasing the America the Beautiful Pass for $80.
If you purchase your pass at REI, they will donate 10% of the proceeds to the National Park Foundation.
Why We Love Jenny Lake Campground
Our favorite place to camp in Grand Teton National Park is probably everyone else's favorite place to camp too, but there are a million reasons why we love it.
Jenny Lake Campground is a small campground with just 49 sites (and 10 more for hikers and cyclists). Not only is it within walking distance of the most gorgeous lake in the park, but it's also right on the Grand Teton National Park bike path.
Jenny Lake Campground isn't for everyone, but it may be just what you're looking for.
Here's why we adore camping at Jenny Lake Campground in Grand Teton National Park: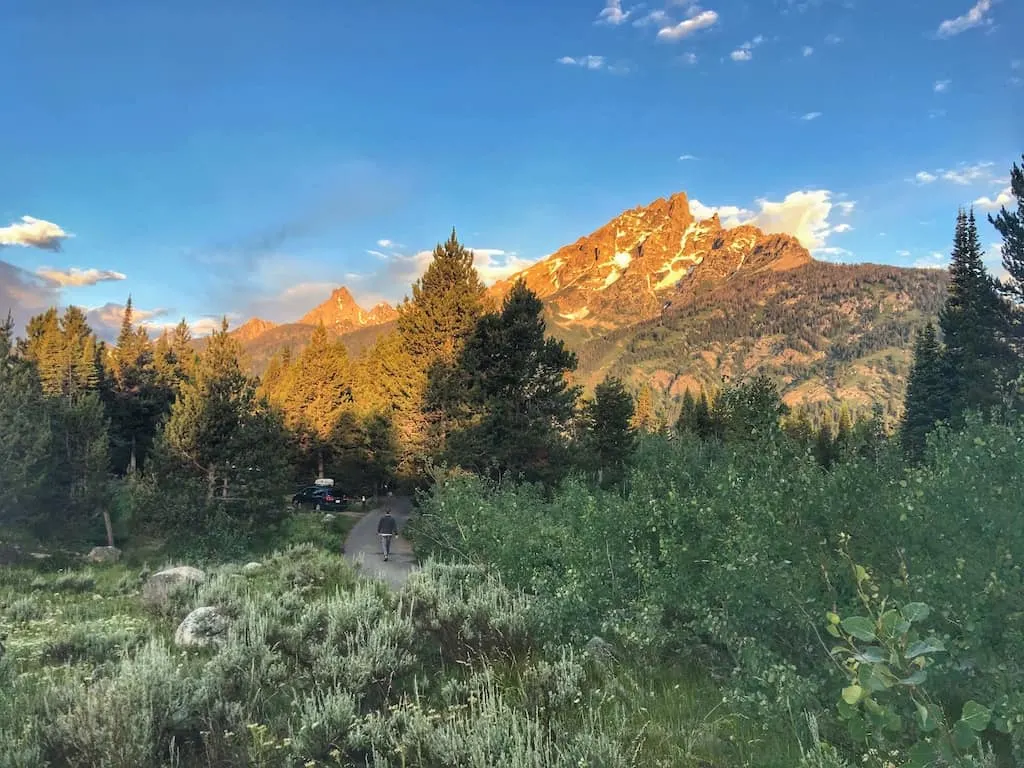 It's only for tent campers. If you are a #vanlifer or pulling a fifth-wheel, Jenny Lake Campground is not for you. The roads are narrow, the sites are small, and only tent campers are allowed. Why is this awesome? There are no generators allowed, making for an incredibly quiet camping experience.
It fills up quickly. Like really, really quickly! This is awesome if you're one of the lucky few to score a spot, but very unfortunate if you don't plan ahead. For the 2022 season, booking dates will open on March 10 at 10 am EST.
It's a dream for landscape photographers and wildlife lovers. During our recent three-night stay at Jenny Lake Campground, we saw several deer and a moose right in the campground. Less exciting were the bears that wandered around in the middle of the day looking for leftovers from careless hikers.
The hiking near Jenny Lake is AMAZING! Whether you're an all-out expert hiking machine or a total newbie to the world of hiking, there are incredible opportunities for hiking near Jenny Lake and you won't even have to get in your car to find them.
The campground is really quiet during the day. There is so much to do in Grand Teton National Park that Jenny Lake Campground pretty much empties out during the day. We spent an afternoon just chillin' out at the campground and admiring the views.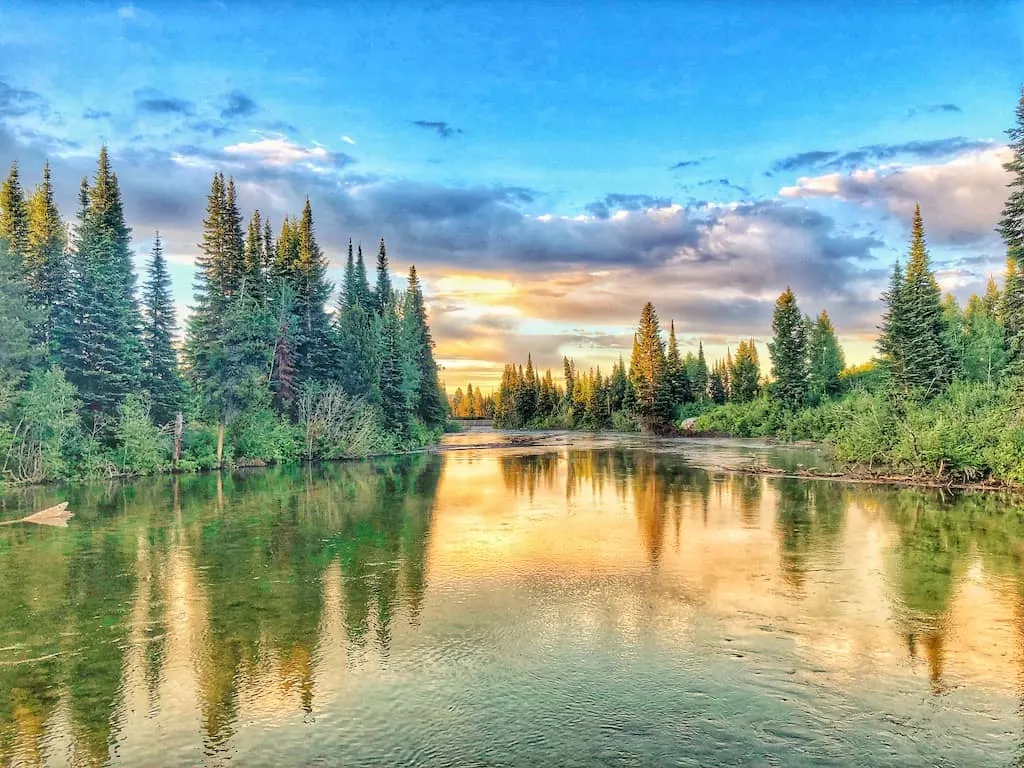 Hiking Near Jenny Lake Campground in Grand Teton National Park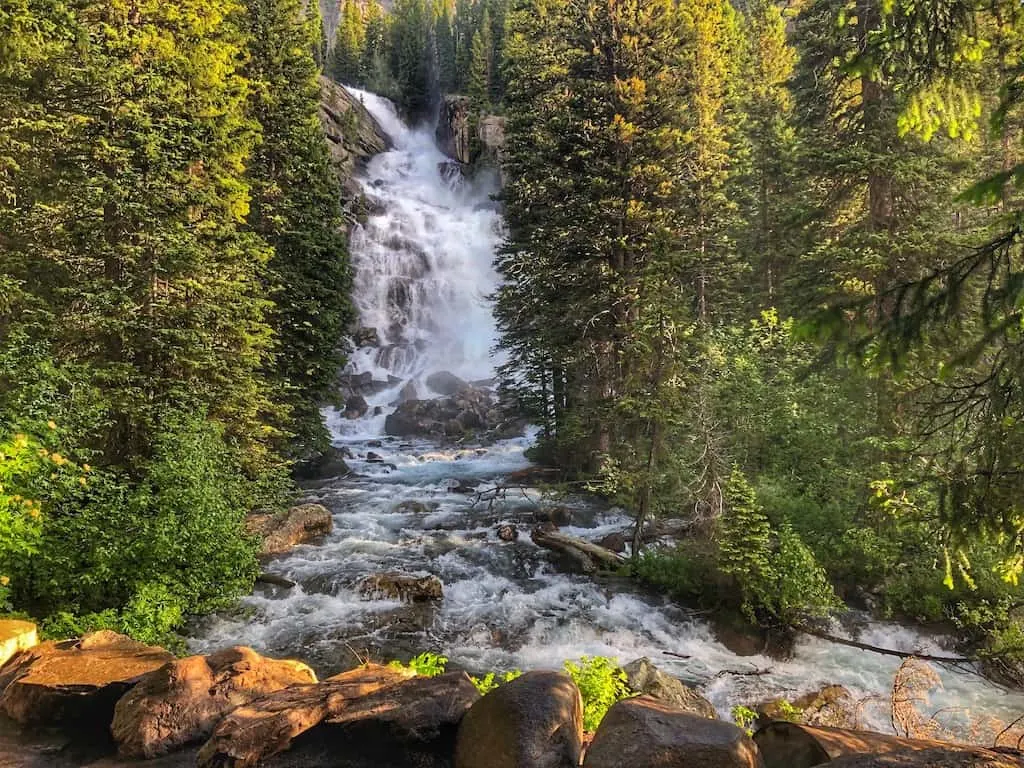 Jenny Lake Campground is pretty centrally located within Grand Teton National Park, so if you want to do some exploring, you're not far from some incredible sites. One of the other reasons we love Jenny Lake Campground is that there are some great trails nearby that you can access without having to get into your car. The trails around Jenny Lake are basically part of the same network, so you can mix and match depending on your time frame and ability level.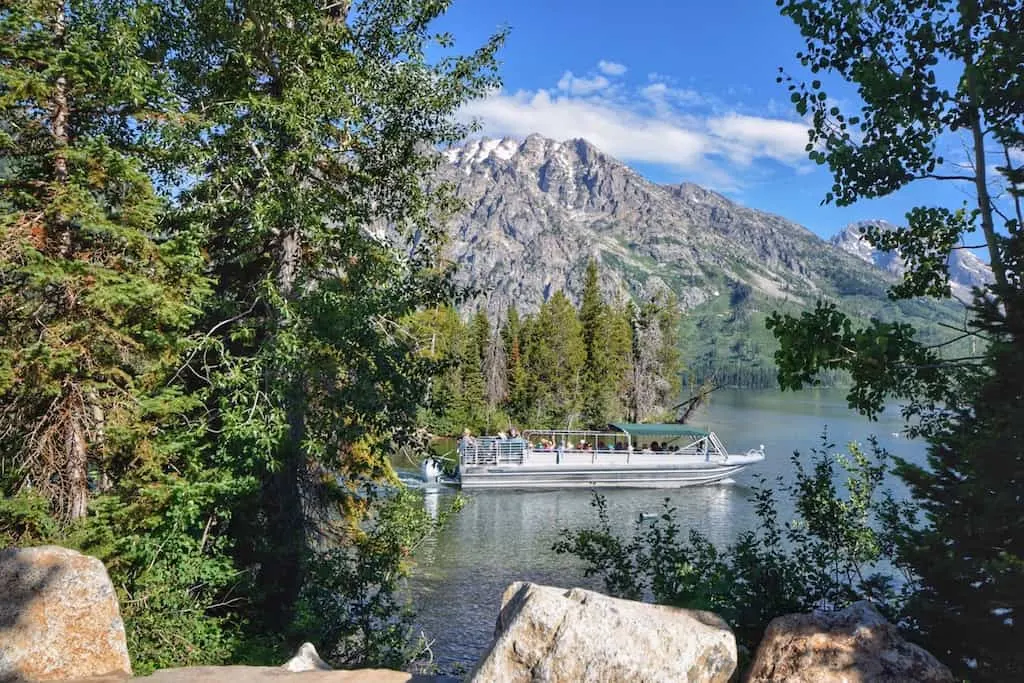 Hidden Falls – (4.8 miles or 1 mile) The Hidden Falls Trail is one of the most popular in Grand Teton National Park. Start at the Jenny Lake Visitor Center and hike clockwise on Jenny Lake Trail and then on to Hidden Falls. For a shorter hike, take the boat shuttle across Jenny Lake and hike a mile up to the falls.
Moose Ponds – (2 or 3 miles) Begin at the Jenny Lake Visitor Center and hike out and back to Moose Ponds or make it a loop to include the south shore of Jenny Lake for 3 miles. As the name implies, Moose Ponds feature frequent moose sightings, not to mention wildflowers galore!
Jenny Lake Loop – (7.6 miles or 5 miles) This is a spectacular loop around Jenny Lake that starts and ends at the Jenny Lake Visitor Center. If you can only do one hike on your visit to Grand Teton, it should be this one! If you take the shuttle across Jenny Lake, this hike can be shortened to 5 miles.
Cascade Canyon Trail – (14.6 miles or 8.8) The Cascade Canyon Trail can be accessed from the backside of Jenny Lake Loop Trail and then west along Cascade Creek into the canyon. This out-and-back hike allows you to get pretty deep into the backcountry without a huge elevation gain and you can turn back at any point. You can also take the boat shuttle across Jenny Lake to shorten the trail to 8.8 miles, round trip.
Important Tips for Grand Teton National Park Camping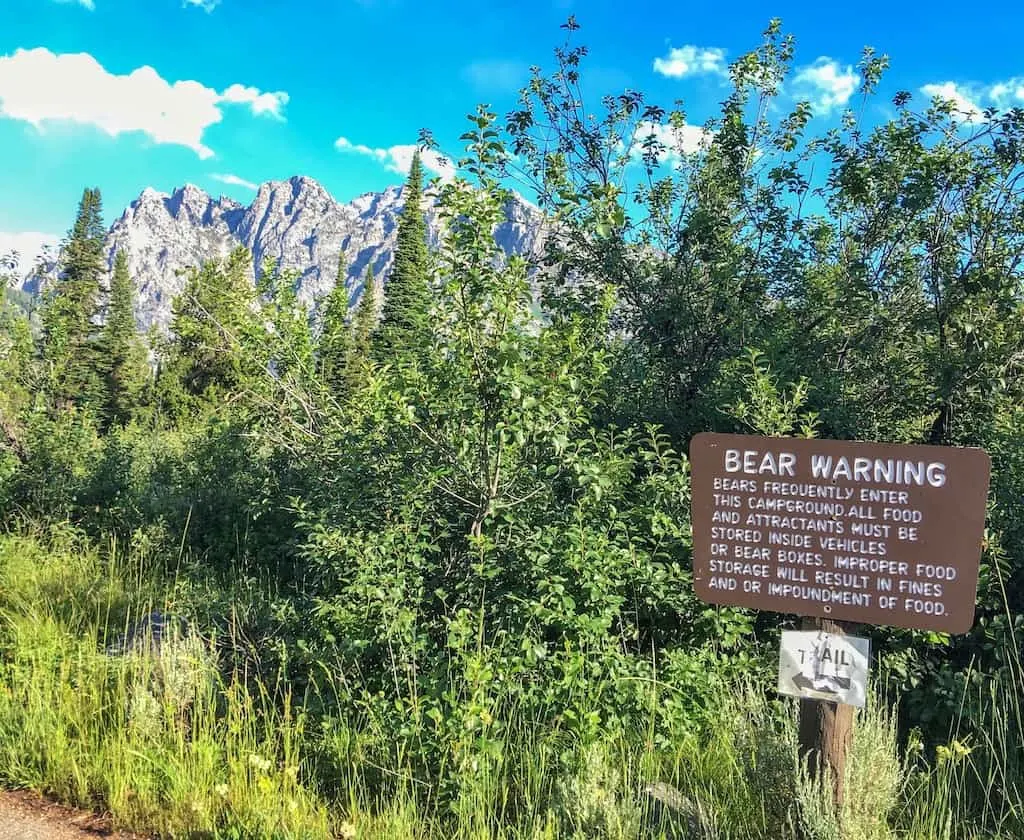 Like most national park campgrounds, Jenny Lake Campground is no-frills. Each campsite includes a picnic table, fire pit, and bear locker. There is a flat, level pad to pitch your tent on, which we always appreciate. Ours had room for two small tents.
The washrooms include toilets and sinks, but no showers, and there are water spigots sprinkled throughout the campground for filling up your bottles and for cooking. Here are a few tips for a successful camping trip at Jenny Lake Campground.
Be bear aware! There are both grizzlies and black bears in Grand Teton National Park. When camping at Jenny Lake Campground, it is super important that you never leave food or beverages unattended. When not eating, your campsite should be crumb-clean, and you can only have out camp chairs and a tent. The rangers and campground hosts are really good about patrolling to make sure campers keep their sites clean, and they will come around and tell you if a bear has been spotted in the campground.
Give wildlife space. It is very likely that you will run into wildlife in Jenny Lake Campground. Be sure to stay 100 yards away from bears and wolves, and 25 yards away from all other animals.
Don't pick wildflowers. Leave them for everyone to enjoy. Plus, collecting is prohibited by law.
Dogs are allowed at the campground. But honestly, Grand Teton National Park is not terribly dog-friendly. Dogs are not allowed on any of the trails.
Bring a swimsuit. Jenny Lake is cold and refreshing. If you're going to swim, be aware that you can't swim from the shoreline between the boat concession area and the north shore inlet, but there are plenty of other places to swim with awesome views of the mountains.
If you don't want to rough it, but still want to explore Grand Teton National Park, read this guide for exploring both Grand Teton and Yellowstone in one trip, complete with some great lodging opportunities for families.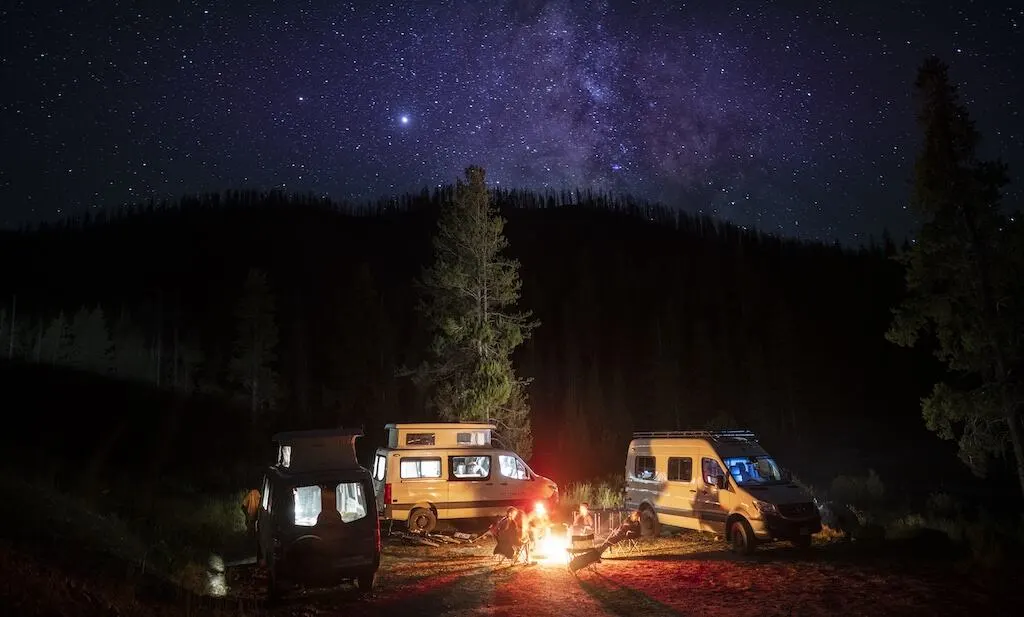 Elevate your adventure! Add a bit of luxury and intrigue to your vacation in Grand Teton National Park. Rent a Mercedes-Benz Sprinter campervan from Monterra Campervans.
There's a Moterra Campervan rental hub in Jackson, Wyoming, about 30 minutes from Jackson Hole Airport.
Your adventure mobile comes fully stocked with everything you need for a spectacular Wyoming adventure.
Do you love Jenny Lake Campground as much as we do? Or maybe you have another recommendation for camping in Grand Teton National Park. We'd love to hear what you think in the comments below!
---
Want to read more about planning a national park adventure? Check out our National Parks Hiking and Camping Guide or read some of these posts:
---
For more road trip ideas and easy outdoor adventures, follow us on social media!
Pin for Later?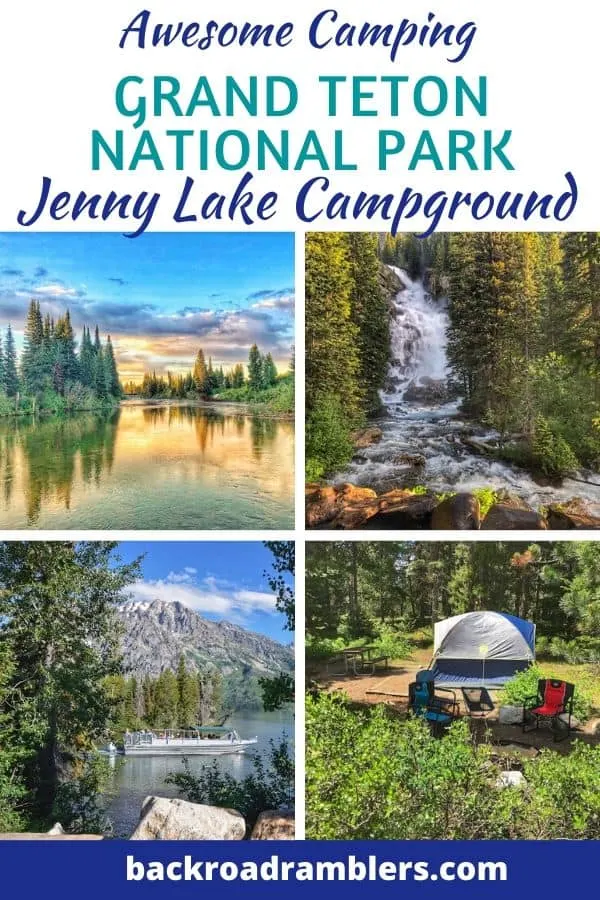 Check out the Jenny Lake Campground web story!