Are you looking for the most beautiful and affordable camping near Grand Teton National Park? A spot where you can pitch your tent near a prolific trout stream and lake with incredible views in every direction? Pinnacles Campground in Wyoming is the perfect camping destination near the Tetons. It's far enough away from the Tetons to feel secluded and remote, but close enough to take advantage of all the amazing recreation opportunities in the area.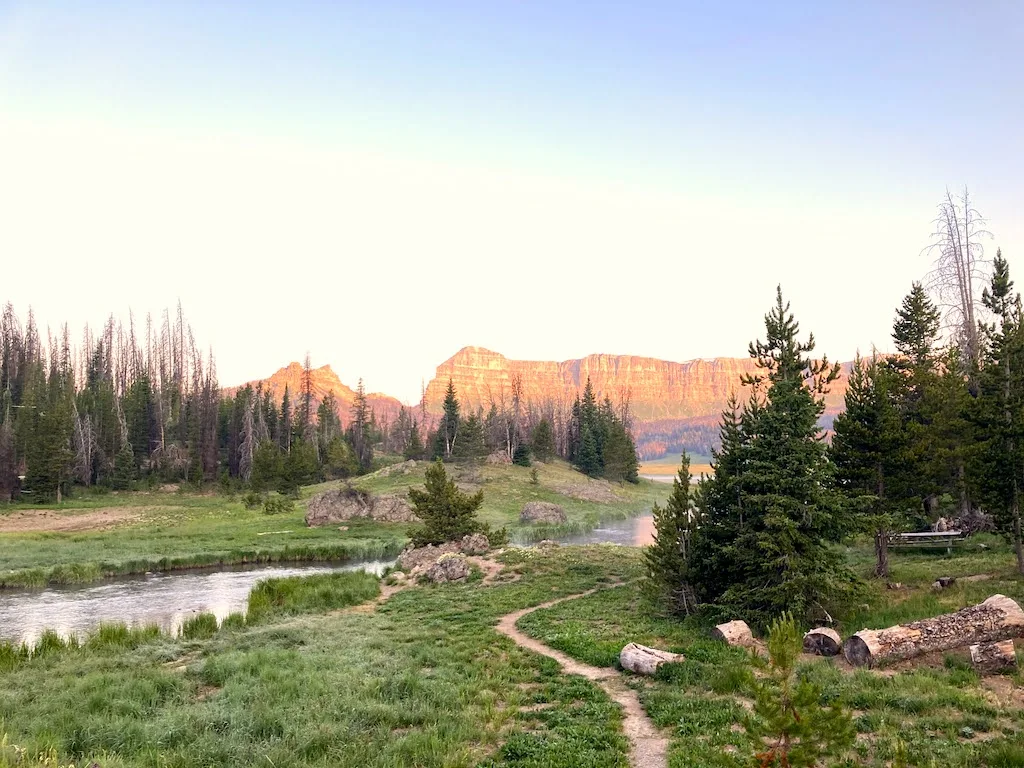 While Pinnacles Campground in Shoshone National Forest is not a hidden gem, it's small enough to feel like one. There are only 21 sites, and they can't be reserved ahead of time, which means that everyone has a chance to experience this awesome destination.
I have been fortunate enough to stay at Pinnacles Campground twice in the past two years, and even more fortunate to score a beautiful tent site each time. Of course, every spot is beautiful here, but there are a handful of lakeside sites, a few sites near the river, and the rest are tucked away in the woods.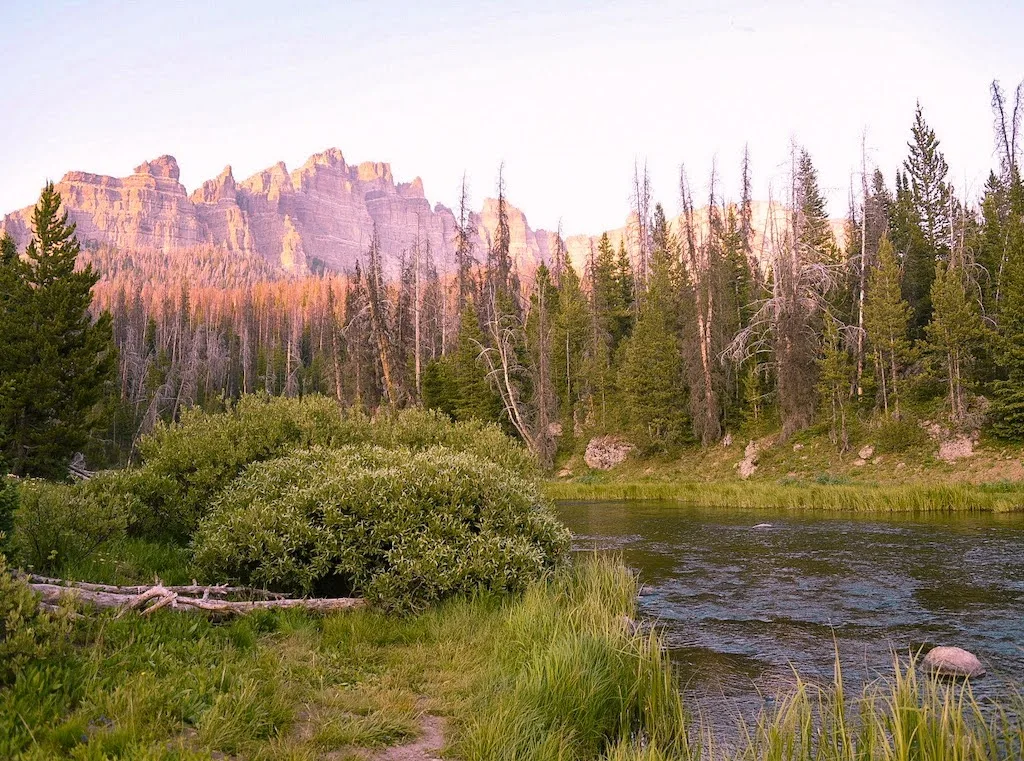 Pinnacles Campground is located in Shoshone National Forest, about 35 miles from the Moran Entrance Station to Grand Teton National Park on Route 26. It's a beautiful drive into the park, but there are also some great trails closer to the campground. This is honestly one of the most beautiful and laid-back campgrounds I've ever stayed at. It's the perfect spot for a road-trip layover on your national parks road trip.
Quick Facts: Pinnacles Campground Shoshone National Forest

Location: Brooks Lake Road, Dubois, Wyoming
Camping: 21 campsites suitable for tents or RVs up to 32′ long. with no hook-ups. Sites are first-come, first-served
Fees: $15 per site
Activities: Swimming, hiking, fishing
Dogs: Yes
Showers: No
Pros and Cons: Pinnacles Campground in Dubois, Wyoming
Here's a quick overview of what we loved about Pinnacles Campground and what we could do without. to help you decide if this is the perfect camping spot for your next adventure.
Pros: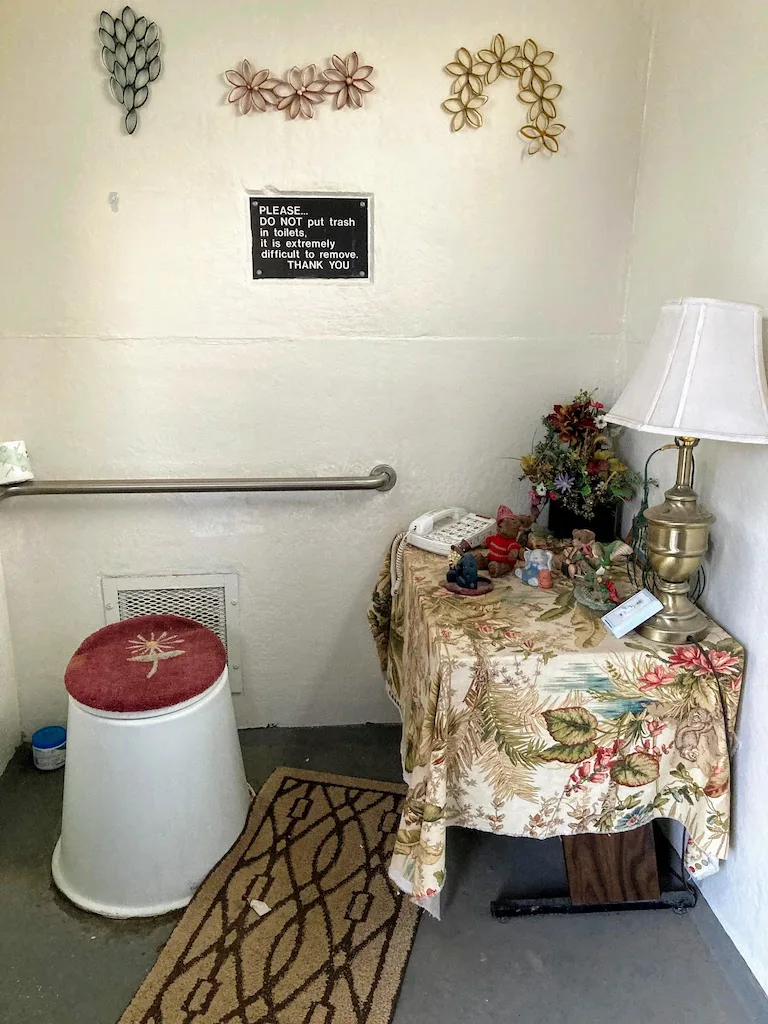 Friendly campground hosts: The same campground hosts have been staying here for several years. They are extremely helpful and friendly, and they even decorate the inside of the outhouse and provide magazines and a night light.
Beautiful views in every direction: The campground is perched above brooks lake with mountain views to the east from the campground. Brooks Lake Creek runs behind the campground with western views of Pinnacle Buttes.
Some waterfront campsites: There are two loops in Pinnacles campground, with several sites on the shore of Brooks Lake.
Great fishing: We do not usually bring fishing gear when we camp, but we watched anglers come and go during our stay. They were mostly fishing in Brooks Lake Creek, and the fish were definitely biting!
Best camping near Grand Teton National Park: Starting in 2021, campgrounds in Grand Teton National Park moved to reservation only. That means that anyone who hasn't planned months in advance will be out of luck. Camping in Shoshone National Forest outside the Moran Entrance Station is a great alternative, with Pinnacles Campground being our favorite. It's about 45 minutes from the campground to Grand Teton National Park.
Cons: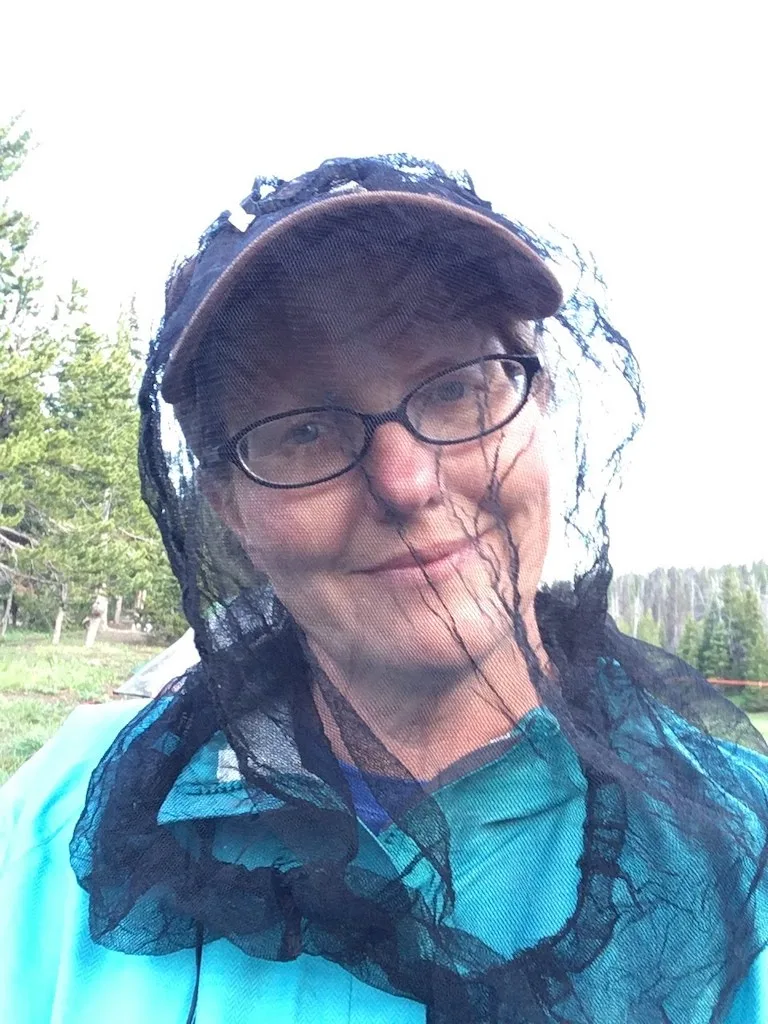 Mosquitoes are horrendous: Do you pack a mosquito head net when you go camping? You will absolutely need it at Pinnacles Campground. We have been here in June, July, and August, and the mosquitoes were terrible every time.
This is bear country: We have never seen a bear here, but the campground hosts say that they hang around. During our last visit, two trails were closed because there were deer carcasses nearby and the bears were very active. Fortunately, bear boxes are provided at each campsite.
You can't reserve sites ahead of time: I'm no expert, but from my experience, you will be able to score a site at Pinnacles Campground if you arrive before 4 pm. If for some reason, the campground is full, check out Brooks Lake Campground on the other side of the lake or Falls Campground, which is farther east on Route 26.
Pinnacles Campground at Brooks Lake Overview
Chances are, if you're hoping to stay at Pinnacles Campground, you're driving to or from Grand Teton National Park on Route 26, which is also known as the Wyoming Centennial Scenic Byway. This 163-mile stretch of pavement crosses through several diverse ecosystems and over the Continental Divide on Togwotee Pass (9,659′).
This beautifully mountainous region is part of Shoshone National Forest, which covers 2,466,577 acres throughout Wyoming.
Did you Know? Shoshone National Forest was America's first national forest, created in 1891. The forest is home to 335 different species of wildlife, including one of the few remaining grizzly bear populations, and the largest concentration of bighorn sheep.
Pinnacles Campground is one of five campgrounds that is part of the Wind River Ranger District in Shoshone National Forest.
The campground can be reached from Brooks Lake Road on the north side of US Highway 26 near Dubois, Wyoming. This is a well-maintained forest road, and our small car without four-wheel drive had no problem making the journey.
Pinnacles Campground is located at 9,000 feet in elevation, so be prepared for chilly nights, even in the summer. It was below freezing at night when we stayed here in July.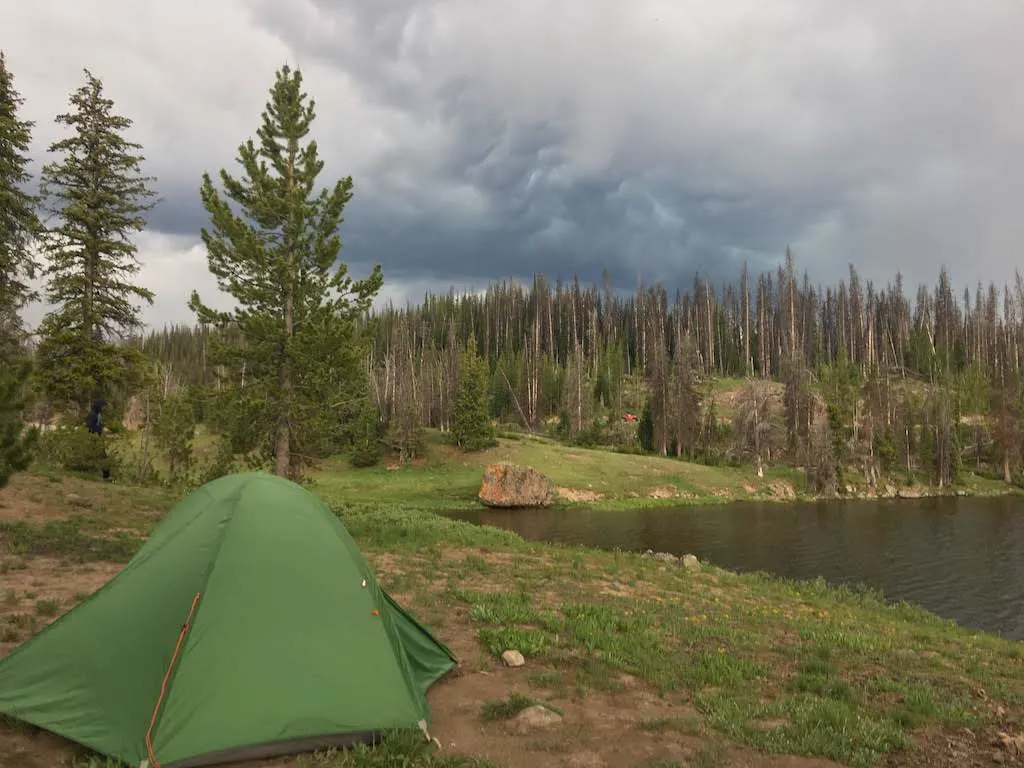 Each site comes with a picnic table, bear locker, and fire pit. The campground hosts will sell you firewood if you need it. There are a few water faucets in the campground and a few very clean vault toilets.
We scored a lakefront site during our first visit (#4) and a riverfront site during our second visit (#1). We were hoping to do some swimming during our stay, but the water was frigid and the mosquitoes encouraged us to keep our clothes on!
Be Bear Aware!
Both grizzly and black bears are active in this area, and it's important to keep your campsite clean so they aren't tempted into the campground. Here are a few tips to keep yourself safe in bear country:
Store food, toiletries, garbage, and stoves in bear lockers or in a closed and locked vehicle. Most coolers are not bear-resistant.
Never put food scraps in the campfire.
Change from the clothes you've cooked in before getting into your tent.
If you are going to hike in the area, bring bear spray and know how to use it.
Hiking Near Pinnacles Campground in Wyoming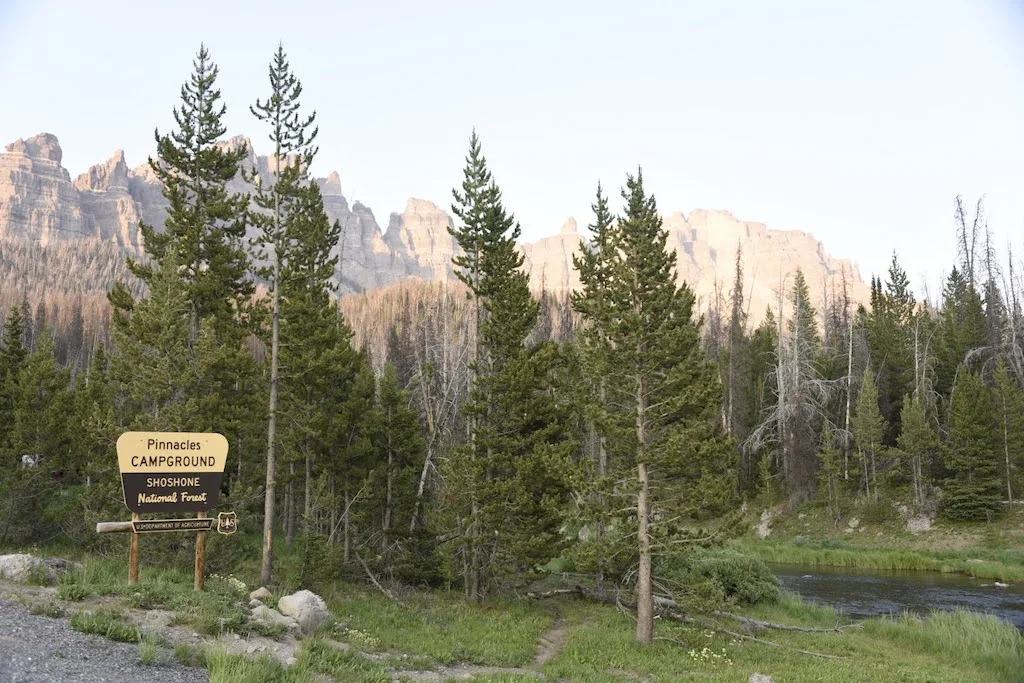 You don't have to drive all the way to Grand Teton National Park to hike. Shoshone National Forest has a few great day hikes that are very close to Pinnacles Campground. Here are some recommendations.
Jade Lakes Loop: Our favorite kind of hiking trail – one that begins in the campground so we don't have to get in the car! Cross over the bridge on the campground road and head toward Brooks Lake Campground at the other side of the lake. The trail follows the lake for a bit, before gaining in elevation and passing both Upper and Lower Jade Lakes before circling back around. This trail is 5.4 miles and gains 660 feet in elevation.
Bonneville Pass: For incredible views of Pinnacle Butte and all the amazing wildflowers that grow here, hike up to Bonneville Pass. This trail begins at Dunoir Trailhead off of Brooks Lake Road, past Pinnacles Campground. It's an out-and-back trail that gains about 700 feet and totals 5.2 miles.
Brooks Lake Falls: Drive south on US Highway 26 and follow signs to Falls Campground. From there, it's a short hike to the beautiful Brooks Lake Falls. Along that trail you can also get a nice view of the Upper Wind River Valley and Pinnacle Butte in the distance. This is a scenic spot that is very easy to walk to.
A weekend at Pinnacles Campground in Wyoming is the best way we can think of to go off-grid and experience a true wilderness setting. It's also one of the best camping spots near the Tetons if the national park campgrounds are full.
---
Planning a camping road trip? Here are some spots you won't want to miss:
---
Let's connect on social media –
Pin for Later?