Planning a camping trip to the Black Hills that includes a visit to the famous Mount Rushmore monument in South Dakota?
You've got lots of options for camping in the Black Hills, but if your looking for a small campground that is convenient to Mount Rushmore, is close to hiking trails, and has a lake for swimming, you should absolutely book your stay at Horsethief Lake Campground in Black Hills National Forest.
Not only is this the best camping near Mount Rushmore, but it's also the closest – just two miles from the monument.
Quick Facts: Horsethief Lake Campground
Location: Keystone, South Dakota
Camping: 36 campsites with no hook-ups can be reserved on Recreation.gov between mid-May and late September.
Fees: $26 per site
Activities: Swimming, hiking
Dogs: Yes for a $2 fee
Showers: No
I love exploring the Black Hills and am fortunate to have experienced the magic of this place numerous times over the years.
Every time we visit, we discover new trails, campgrounds, and towns that we want to keep coming back to! This summer, we discovered Horsethief Lake in the midst of a very crowded and rushed trip to Mount Rushmore.
This park-like oasis is the closest camping near Mount Rushmore, but it felt like it was on another planet.
If you want to visit the Black Hills, but don't enjoy throngs of people around every bend in the trail, consider Horsethief Lake Campground in Black Hills National Forest.
It's close enough to all the attractions (Mount Rushmore, Crazy Horse, and Custer State Park), but far enough away to feel like an escape.
Here's why we think you'll love Horsethief Lake Campground in Keystone, South Dakota.
---
Planning your South Dakota vacation? Here are our favorite outdoorsy things to do in the Black Hills. All of these things are a short drive from Horsethief Lake Campground!
---
Pros and Cons: Mount Rushmore Camping at Horsethief Lake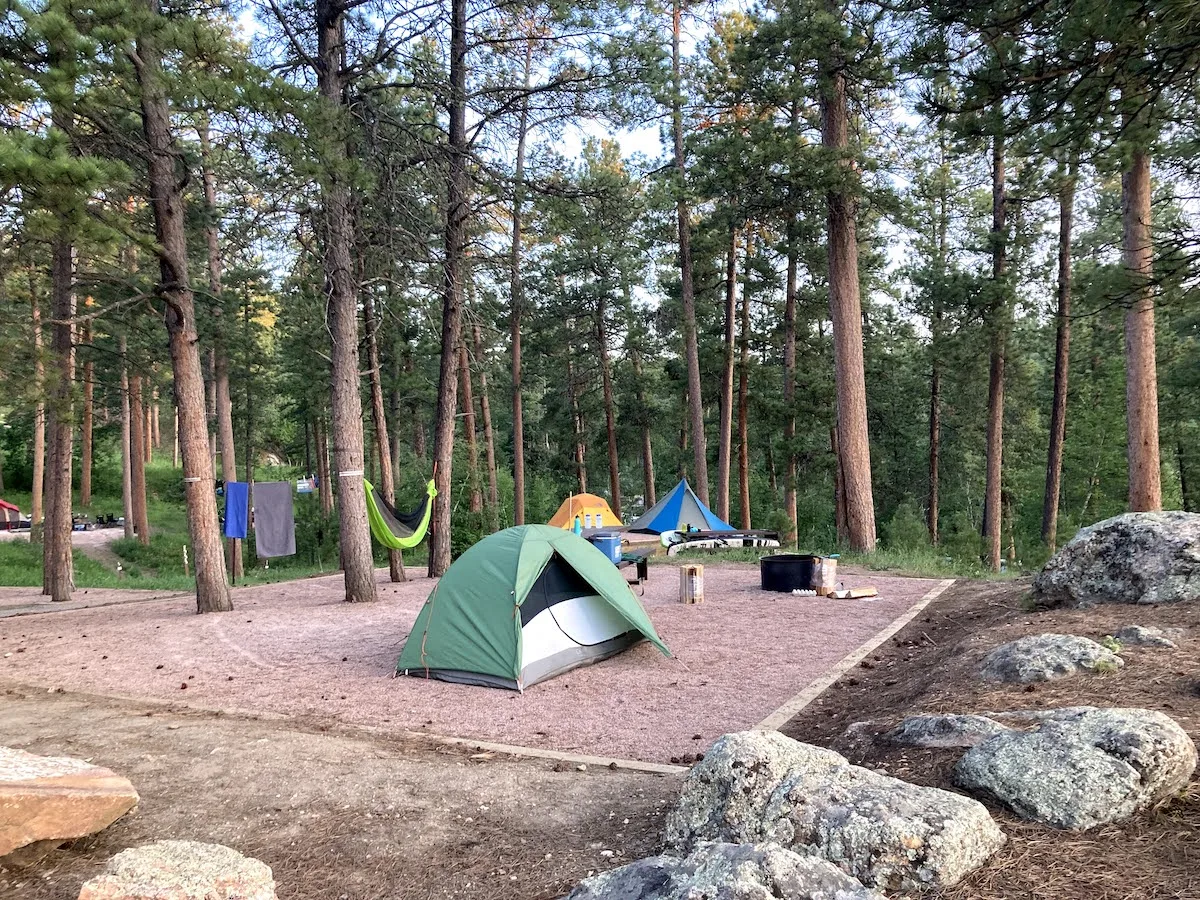 We don't want to leave you in suspense. Here's a quick overview of what we loved and didn't love about our stay in Horsethief Lake Campground to help you decide whether it's right for you.
Pros:
Quiet, beautiful, and clean. The setting was peaceful and park-like – a great spot to relax and recharge.
Affordable. $26 a night isn't bad for camping and is way better than the local hotels.
Trails that lead from the campground. We love finding hyper-local trails that we can tackle from our campsite, and we found a few good ones at Horsethief Lake.
Perfect location. Horsethief Lake Campground is three miles from Mount Rushmore, six miles from the start of the famous Needles Highway leading into Custer State Park, and 14 miles from Crazy Horse Memorial.
Great swimming. Horsethief Lake is small but perfect for cooling off in the summer. There are even cliffs for jumping if you're into that sort of thing.
Wheelchair-accessible fishing boardwalk. The boardwalk is right near the parking area and hugs one side of the lake. There are benches for picnicking or fishing.
Cons:
Road and Helicopter noise. Yes, you can take a helicopter tour of Mount Rushmore. If you're not actually in the helicopter, the constant whirring of propellers is pretty dang annoying. Because Horsethief Lake is very close to Mount Rushmore, the noise is constant during the day, but non-existent at night.
No cell service. Zero.
Not much privacy from camping neighbors. It's a very beautiful park-like setting with tall trees and very little underbrush. Many of the sites lack privacy.
Horsethief Lake Campground Overview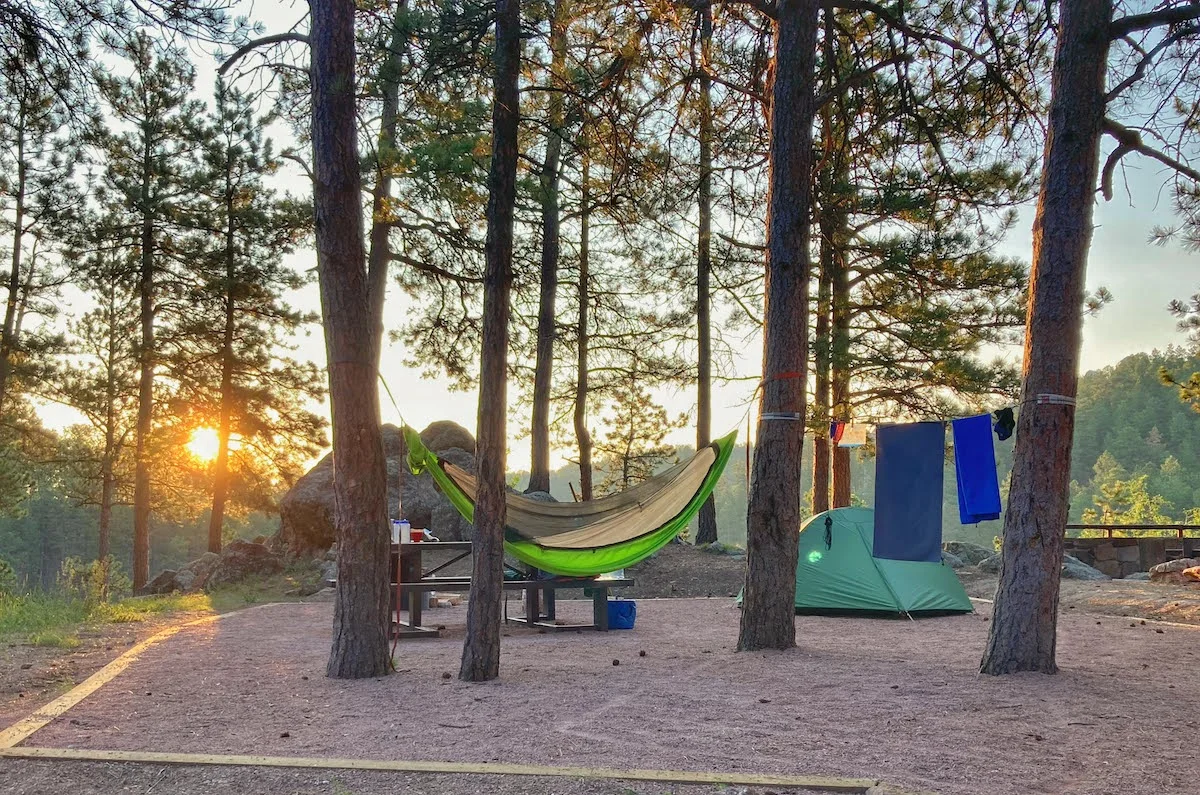 Horsethief Lake, along with many other conservation and tourism projects in the Black Hills, was created thanks to the vision of Peter Norbert. The former governor and US Senator wanted to create beautiful park-like environments around some of the smaller lakes around the Black Hills.
In addition to Horsethief Lake Campground, which was built by the Civilian Conservation Corps in the 1930s, Norbert also pushed for the development of Mount Rushmore, Iron Mountain Road, Sylvan Lake, Needles Highway, Badlands National Park, Custer State Park, and Wind Cave National Park.
Horsethief Lake is indeed park-like, with pristine tent sites that are completely level and covered with a layer of small pebbles. Picnic tables are sturdy and clean, and there are well-manicured paths everywhere.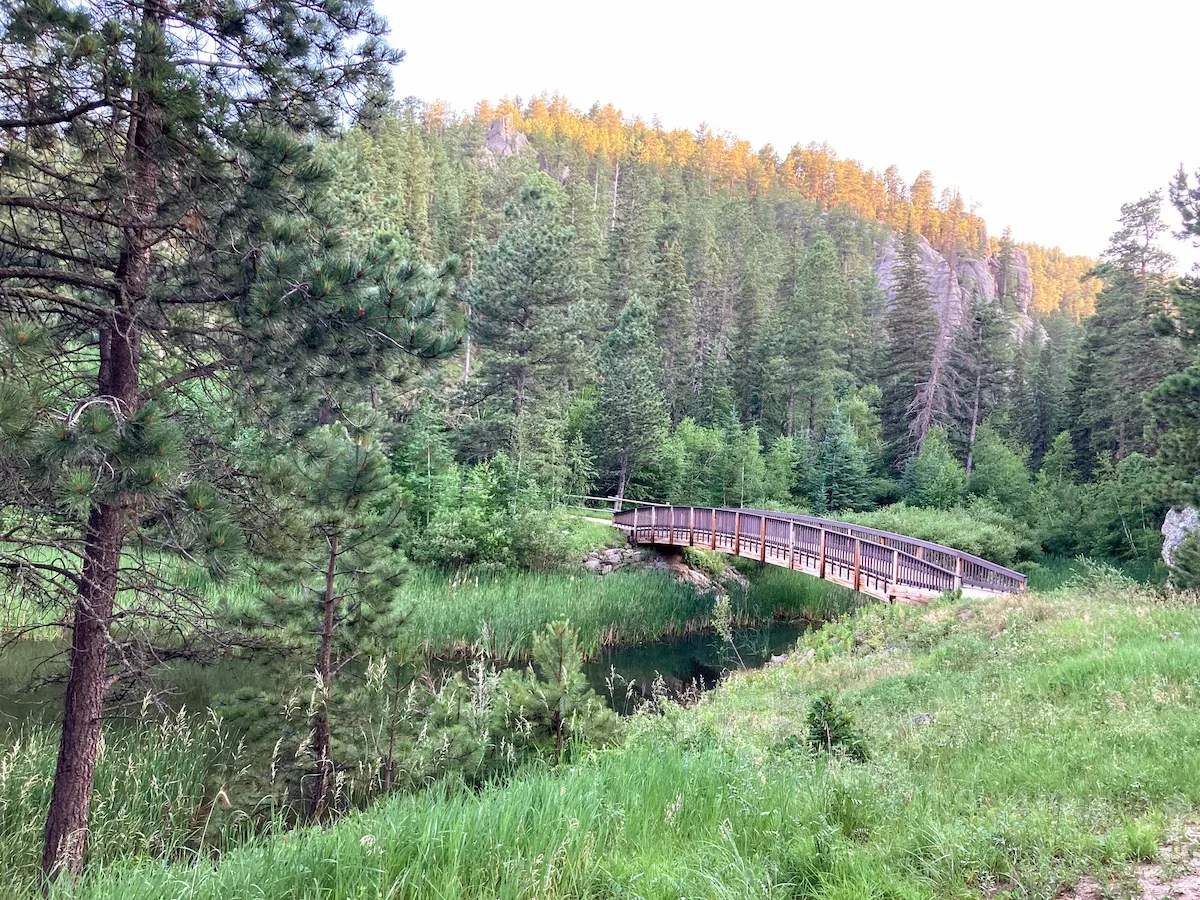 The campground is full of tall lodgepole pines, which add to the bucolic setting, but don't provide much in the way of privacy. If you are a tent camper and hoping to find a bit of privacy, site #36 is your best bet! This walk-in campsite is located down a private trail all on its own.
We stayed in site #32 and could watch the sunrise over the pinnacles from our tent, but we were also very close to our tenting neighbors in site #33.
All campsites are standard, non-electric sites with picnic tables and fire rings. There are basic pit toilets and water faucets for drinking and washing up. In addition to the standard tent/RV sites, there are a few tent-only sites, and a few walk-in sites (also only for tents).
Hiking Horsethief Lake Trail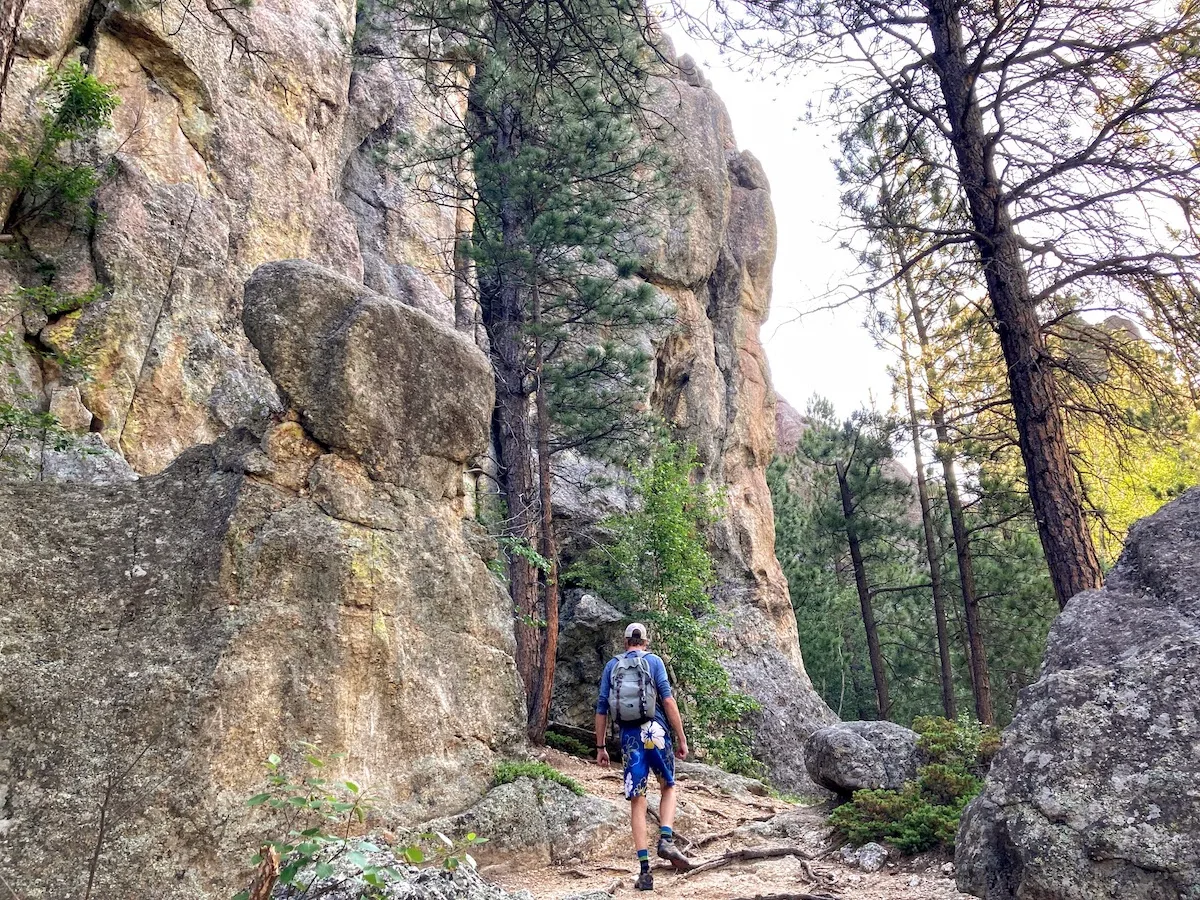 There are so many awesome trails nearby! If this is your first time visiting, definitely check out Sunday Gulch Trail l and the trail to Black Elk Peak (the highest point in South Dakota), both of which start at Sylvan Lake in Custer State Park.
If you've done both of those, or you just want a quiet, beautiful loop with great views, you can start at the Horsethief Lake Trailhead and hike a four-mile loop without even getting in your car.
Trail Overview
The trail begins on the road that leads to the fishing parking lot. If you're walking from the campground, follow the path to the footbridge and then walk up the road to the trailhead. Horsethief Lake Trail #14 travels for about a mile and then connects with the Centennial Trail #89, which loops around to connect with Route 244 just before the campground entrance.
The loop totals four miles, but you can also hike a mile on the Willow Creek Trail to some rock formations with 360-degree views of the surrounding mountains (definitely worth it). If you add Willow Creek, the total mileage becomes six miles.
The trail is characterized by grassy woodlands, raspberry bushes, wildflowers, and some awesome rock formations. They aren't as dramatic as the rock formations in Custer State Park, which means you also aren't likely to see any people. We didn't see another hiker until the very end!
Horsethief Lake Trail Map and Elevation Profile
Here's the loop we did that included Horsethief Lake Trail #14, Centennial Trail #89, and Willow Creek Trail. Instead of hiking out to Route 244 and walking on the road, we cut back into the campground through the woods. Our total trail time was about three hours, but there are numerous ways we could have made it longer or shorter.
If you plan to do a lot of hiking, pick up a Black Hills National Trail Map at the visitor center or online.
Your Weekend Itinerary for Camping Near Mount Rushmore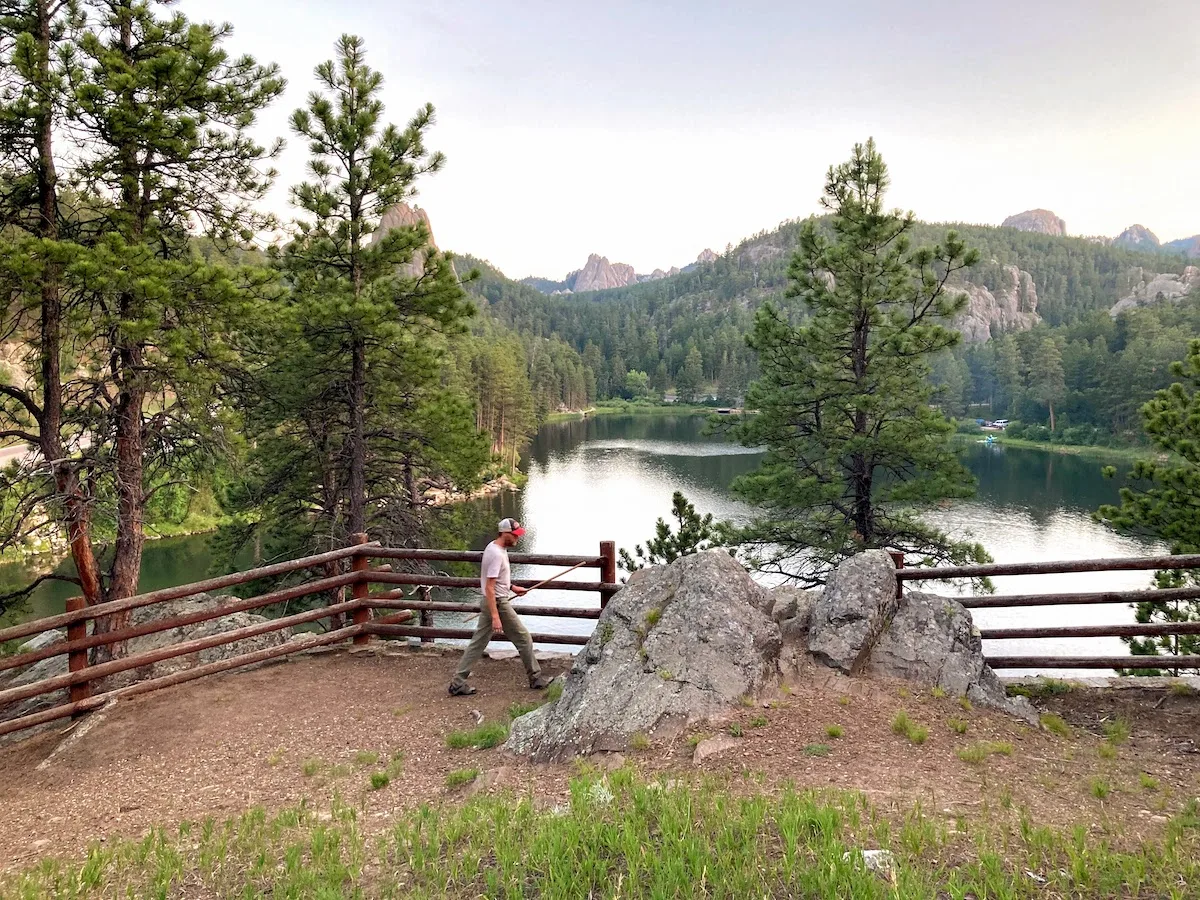 There's a lot to do in the Black Hills, and I could easily plan a trip that lasts two to three weeks and not run out of things to do.
Most of the trips we've taken to the area are between two and four days, though, so if that's what you've got to work with here are things we'd recommend doing while you're here.
*Disclaimer: When it comes to travel, camping, and road trips, we are not extremists, and we usually build in lots of time for relaxing into our itineraries. You may be able to cover more than this in your weekend, but we enjoy slow weekends, even when we're road tripping.
Day 1
Arrive at Horsethief Lake Campground and get set up. Spend the afternoon swimming, paddling, or fishing at the lake.
Day 2
Mount Rushmore – get there early as the monument gets crowded later in the day.
Lunch in Keystone and ice cream at Benky's
Horsethief Lake Trail (details above)
Dinner at camp and more swimming
Day 3
Where to next? How about exploring Badlands National Park? It's less than two hours from Mount Rushmore and Horsethief Lake Campground.
Pin for Later?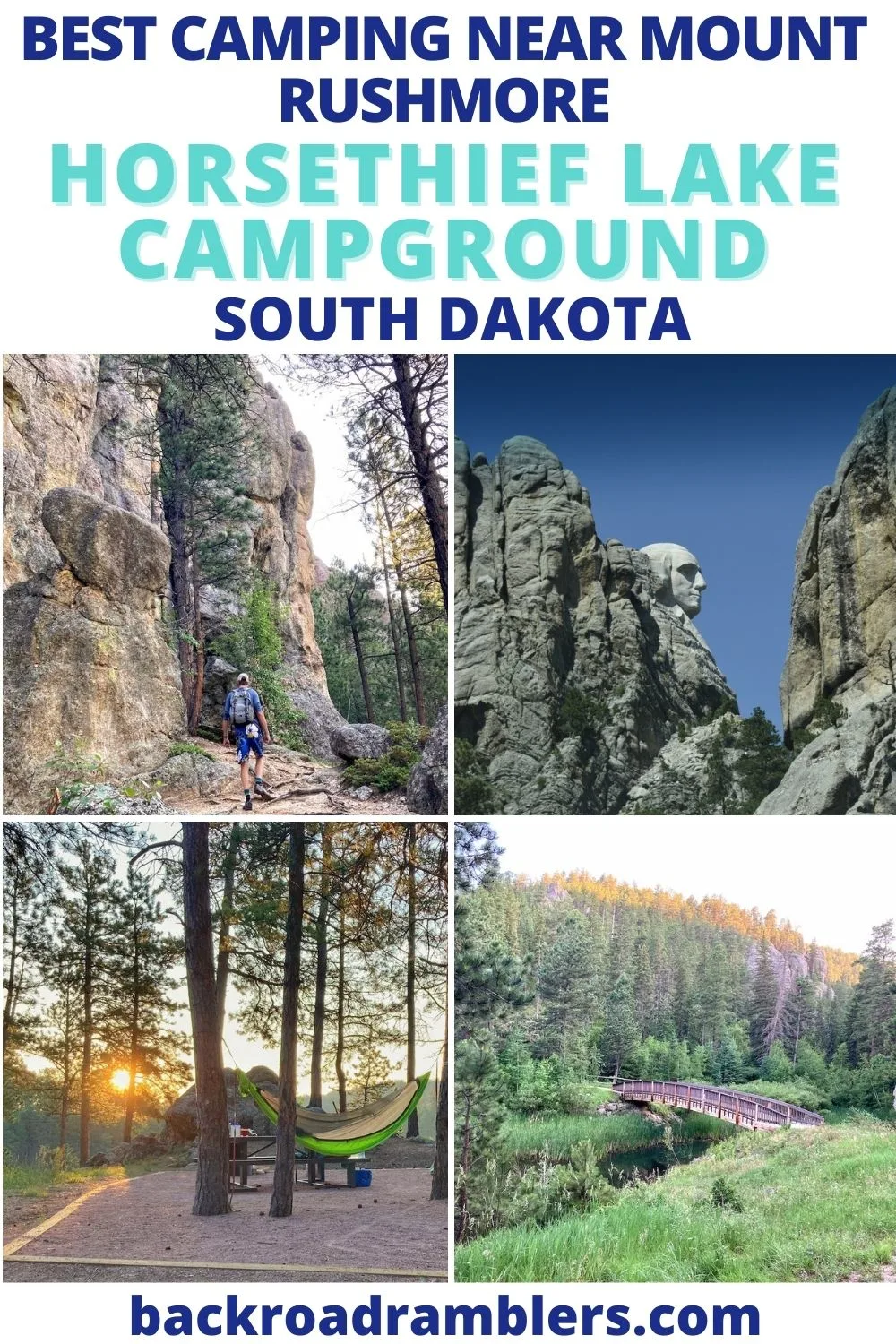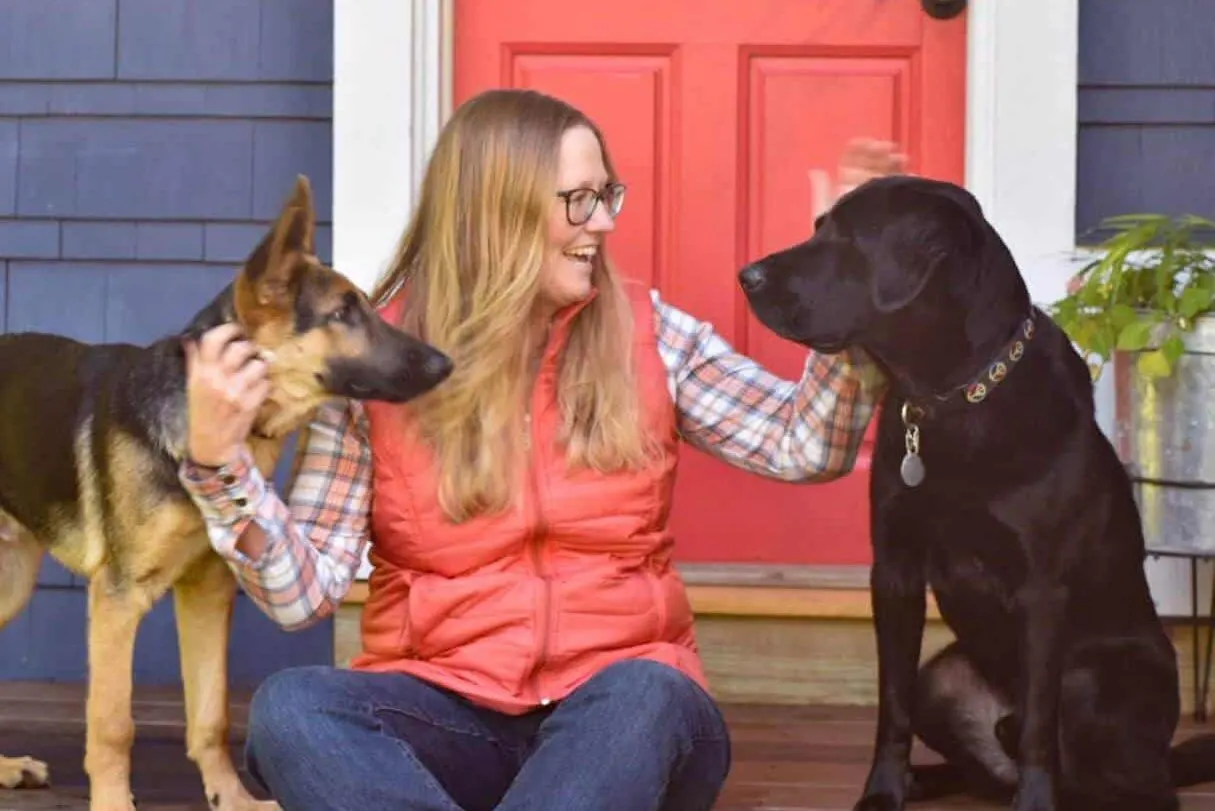 Our Favorite Resources for Road Trips and Outdoor Adventures

These are the resources we use to plan road trips, save money while traveling, and shop for outdoor gear.

Car Rentals: While we use our own car most often for road trips, we also enjoy flying into major airports and then renting a car for more regional road trips. We use Kayak to compare prices and find deals from dozens of car rental agencies at once.

Flights: We use Kayak to search out flight deals.
Money-saving tip: If you find yourself using the same airline repeatedly (we are huge Southwest fans), consider joining their loyalty program and getting an airline credit card. With our Southwest Rewards Visa, we earn a few free flights each year.

Hotels: When it comes to lodging, we seek out small boutique hotels or quirky roadside motels. First, we search for hotels on TripAdvisor so we can read reviews from other travelers. Then, we use Booking.com to make reservations (they have the best prices, plus a flexible cancelation policy).

Camping: Camping is one of our favorite things to do on long road trips. It allows us to explore the outdoors, cook our own food, and save money. We use They Dyrt Pro to find campsites and read reviews before booking on Recreation.gov or state park websites.

Glamping and Vacation Rentals: For weekend getaways and shorter vacations, we love glamping (check out our glamping resource guide). We book glamping properties through Tentrr, Hipcamp, and Airbnb. For cabins and vacation rentals, we like to use VRBO (they have fewer fees and a better cancelation policy than Airbnb).

Guides and Maps: If we are visiting a new region, we usually invest in a Moon Travel Guide for the area. We pass them on to friends and family after our trip. If we are planning on hiking, we also purchase a Falcon guide in the Best Easy Day Hikes series.

Outdoor Gear: We are REI Co-Op members. It cost us $20 for a lifetime membership, but we get a yearly dividend based on our purchases, plus great deals and coupons throughout the year. REI also has a great return policy.

Check out our complete guide for planning a road trip on a budget