Please check to make sure destinations are open to visitors before planning a trip and follow local guidelines. We earn a commission from affiliate links that may be included in this post.
The Black Hills in South Dakota is a fantastic spot for hiking, whether you are planning a weekend backpacking route or an easy day hike. During our recent visit to the Black Hills, we hiked the Sunday Gulch Trail in Custer State Park and loved every minute of it. In fact, I'd rate it as one of my favorite hikes from our 2019 cross-country road trip.
Length:
3-mile loop
Difficulty
: Strenuous
Elevation Range:
1705 ft. -1919 ft
Elevation Change:
214 ft
Dogs:
Yes, on leash
Cost:
$20 entrance fee is good for 7 days
Directions to Trailhead
Most of the 3-mile Sunday Gulch Loop is pretty easy, but the trail is rated as difficult because of one section where you scramble up (or down) boulders, hop across streams and small waterfalls, and pull yourself along on metal handrails. The strenuous section makes up about a quarter-mile of the whole trail. The rest of the trail travels past rock formations, and through open woods and meadows with expansive views of the Black Hills.
My nieces and I hiked Sunday Gulch Trail on a weekend in June. Although Sylvan Lake was jam-packed with people, once we started our trek, we saw very few hikers, and the farther we got from the lake, the quieter the trail became.
Getting to the Sunday Gulch Trailhead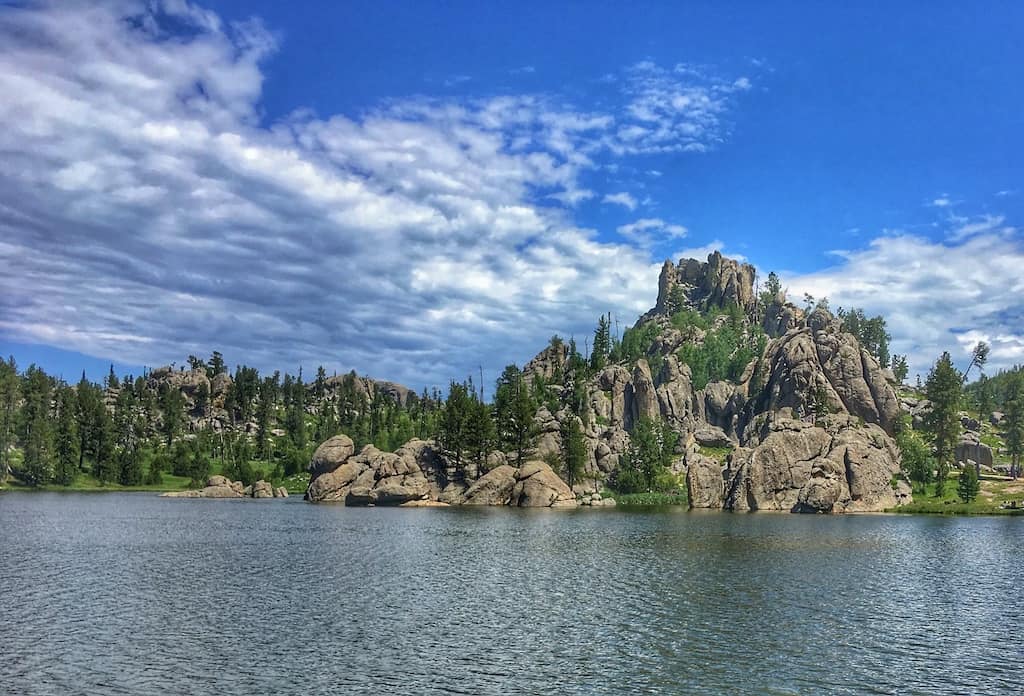 The Sunday Gulch Trail begins at the far end of Sylvan Lake, which is one of the more popular spots in Custer State Park. The Sylvan Lake General Store is located right next to the parking area and is a good spot to use the restroom, and buy necessities like bug spray and grocery items. The parking lot does feel up on summer weekends, so if you can, try and arrive early.
Hiking the Sunday Gulch Trail
From the Sylvan Lake parking area, you will have to walk to the far end of Sylvan Lake on the Sylvan Lake Shore Trail, which loops around the lake and is relatively flat. It is less than a half-mile from the parking area to the Sunday Gulch Trailhead, and the views of Sylvan Lake are stunning.
The Sunday Gulch Trailhead will be on your left. We recommend hiking this loop trail clockwise so that you will finish up with the steep climb among the boulders. The trail starts by entering a crack in the rocks and climbs steeply through the awesome rock spires and formations. This is a popular spot for rock climbers, so don't forget to look up.
There's a bit of up and down and then the trail levels out, meandering through open woods and brush, with lots of wildflowers in the summer. The views of the surrounding mountains are breathtaking and there are lots of good spots to stop for a snack or a picnic.
During the last 3/4 mile, things start to get interesting. First, you will cross some small streams and waterfalls. Then, you enter a cool, rocky glen with lots of water features. You will begin to see handrails stuck in the rocks because the trail climbs steeply and is hard to navigate in places. There are definitely spots where you will get your feet wet and you have to plan your steps carefully.
This is the hardest part of the hike. At one point, waterfall travels over the concrete stairs and you have no choice but to just walk through it. After this steep climb, the trail will level out as it heads back to Sylvan Lake. You will likely be hot and sweaty and ready for a swim. How fortunate!
If you are itching for more of a work-out, you can hike the 3.3-mile trail (one-way) to the top of Black Elk Peak. At 7,244 feet, this is the highest peak in South Dakota. The trailhead also begins at Sylvan Lake. For more trail information, download the Custer State Park Trail Guide.
Sunday Gulch Trail Map and Elevation Profile
The map below is courtesy of AllTrails. It includes the Sunday Gulch Trail and the entire Sylvan Lake Shore Trail, which accounts for much of the flat area in the elevation profile.
Resources for Hiking in the Black Hills
There are a few guides and maps that I always buy when I know I'm going to spend a significant amount of time in an area. These usually include a Moon Travel Guide, a Falcon Hiking Guide, and a National Geographic Trail Map. Here's what I bought for our explorations in the Black Hills.
Pin for Later?