Are you looking for a way to explore some of our most beautiful national parks without the crowds that congregate at the viewpoints, visitor centers, and on the trails? It's time to trade in your hiking boots for a paddle!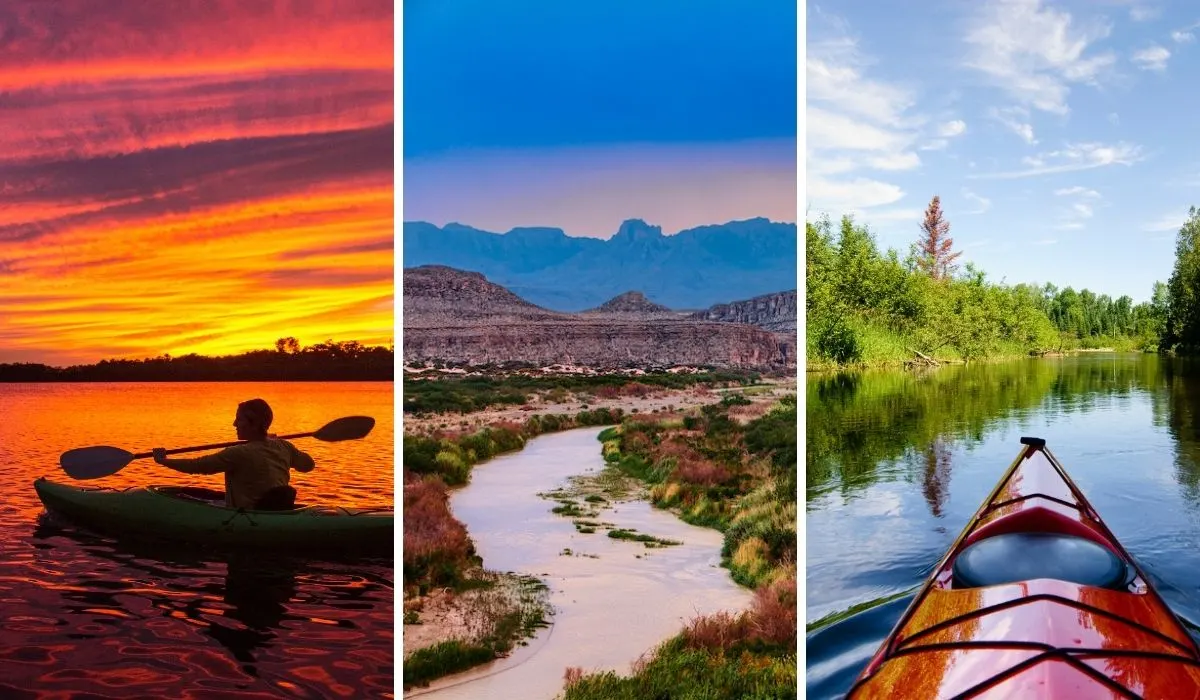 In the past, I've argued that the best way to avoid the crowds in the national parks is to simply lace up your hiking boots and hit the trails. While this advice still stands, it seems like people are actually following it. Lots of people.
This means that many of the hiking trails within the national parks are seeing record numbers of people.
Today, I've got an extra piece of advice. Bring your canoe or kayak with you on your next national park vacation, and experience the wilderness from a different perspective.
Of course, not all of our 63 national parks are conducive to paddling, but many of them are, and once you're out on the water, you'll find amazing views and a lot fewer people!
Here are the best national parks for kayaking and canoeing in the United States, followed by some tips for paddling the parks.
The Best National Parks for Kayaking and Canoeing
Ready for a paddling adventure in one of America's 63 national parks?
These national parks are amazing destinations for kayaking and canoeing. We've provided all the important information you will need, including whether you have to bring your own boat or if you can rent one when you get there.
Links to helpful resources are included to help you plan your trip.
Everglades National Park, Florida
Best time to paddle the Everglades: December through April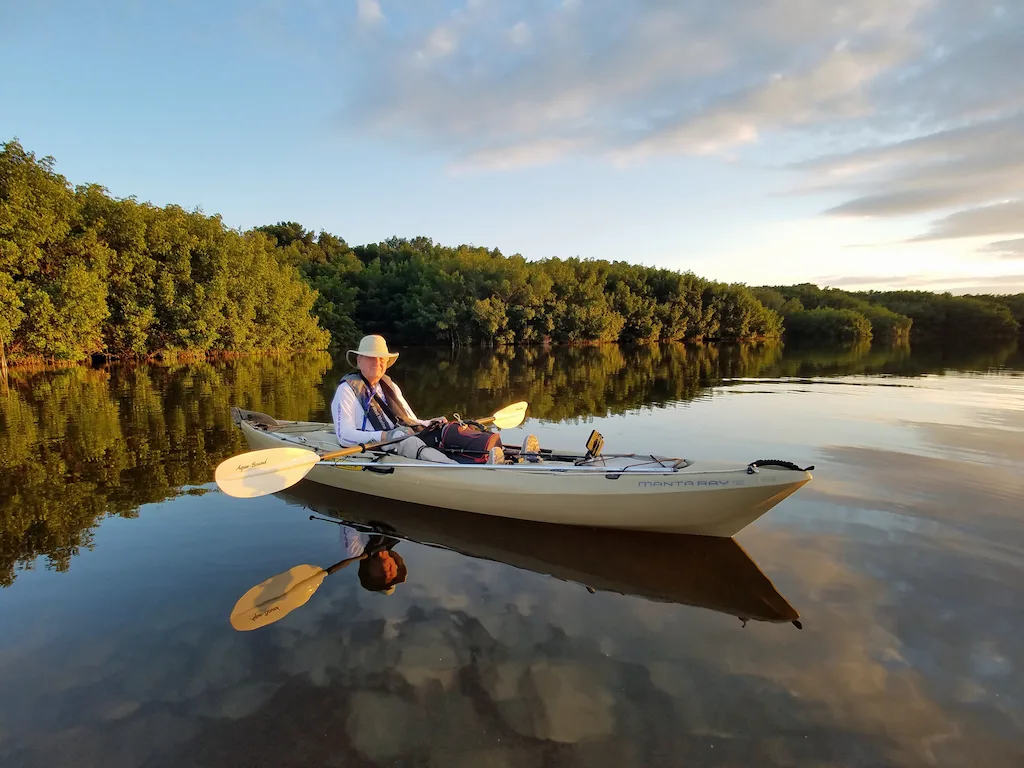 From freshwater marshes and mangrove forests to the open waters of Florida Bay, Everglades National Park offers paddling opportunities for everyone. Whether you want an easy afternoon paddle or a multi-day adventure, there's an Everglades paddling trail with your name on it.
You've got several options for getting out on the water in Everglades National Park. You can bring your own kayak or canoe and launch from several areas within the park, or you can rent boats for your adventure.
Flamingo Adventures rents single kayaks, tandem kayaks, and canoes for paddling in Coot Bay or Whitewater Bay near Flamingo.
To rent boats along the Gulf Coast, check out Everglades Florida Adventures, which has canoes and kayaks available for full-day or multi-day paddling adventures.
Everglades National Park is one of the best national parks for kayaking through the winter.
---
Where to Paddle in Everglades National Park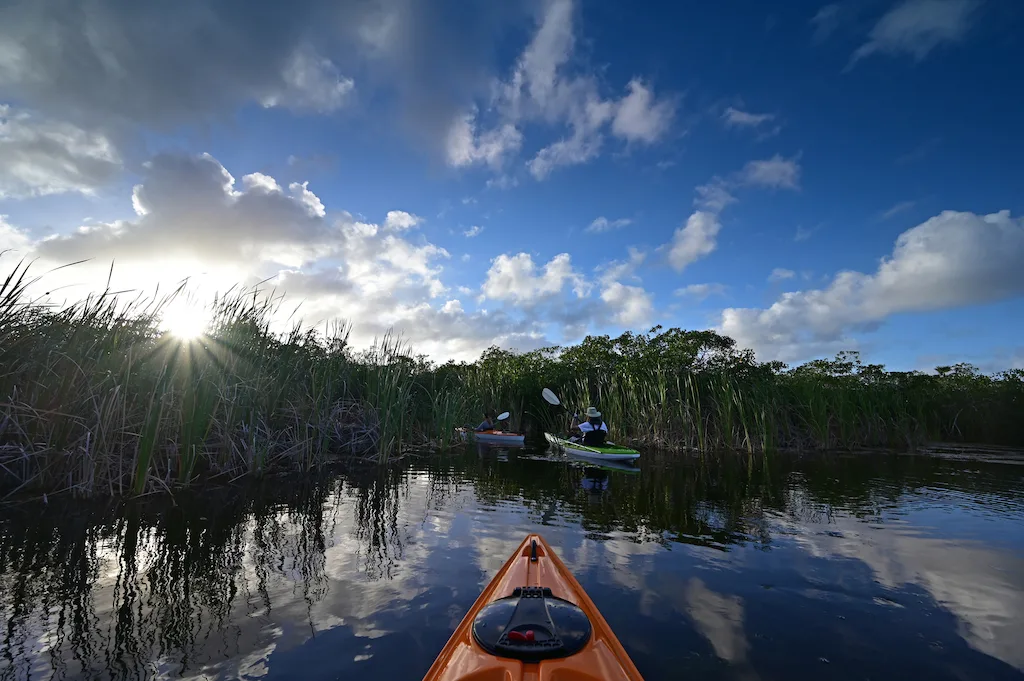 Your paddling adventure in Everglades National Park will more than likely begin near Flamingo or Everglades City. These two areas are almost three hours apart by car, so plan to visit them on different days or choose which area you want to paddle.
Here are the best kayaking trails in the Everglades for day trips. For suggestions for wilderness paddling, check out resources from the National Park Service.
Nine Mile Pond: Nine Mile Pond is a great paddling trip for beginners. This 5.2-mile kayak trail brings you through a wide, shallow marsh, as well as mangrove islands. This is a peaceful paddle with good birdwatching and wildlife. Located near the Flamingo entrance.
Hell's Bay Canoe Trail: Hell's Bay is notoriously difficult to navigate, hence the name. It's an out-and-back trail characterized by lots of twists and turns through beautiful mangrove creeks and ponds. Wear your sunscreen for this one because you won't find much shade. You can camp along this route too, but you will need to pick up a permit. Located near the Flamingo entrance.
Turner River: This is a great paddling trail because it's got a little bit of everything – mangroves, cypress swamps, and sawgrass prairies. This is a full-day out-and-back paddle with amazing scenery, but it can be crowded in winter and early spring. Arrive early to avoid the crowds and enjoy the serenity of this beautiful spot.
Sandfly Loop: This is a beautiful five-mile loop across the open water of Chokoloskee Bay to Sandfly Island. Once you dock on the island, you can hike the one-mile trail around the island, have a picnic, or continue paddling the bays and passageways around the island. Pay
For novice paddlers or anyone who wants a more in-depth experience out on the water, there are dozens of outfitters that offer canoe and kayak tours throughout the Everglades.
For more detailed trip guides, consider purchasing Paddling Everglades and Biscayne National Parks before your trip. This Falcon Guide is full of detailed information, as well as ideas for where to camp and how to string together routes for amazing multi-day trips.
Finally, be sure to check out Florida Rambler, where you'll find detailed trip guides for paddling in the Everglades.
---
Big Bend National Park, Texas
Best time to paddle in Big Bend National Park: September through February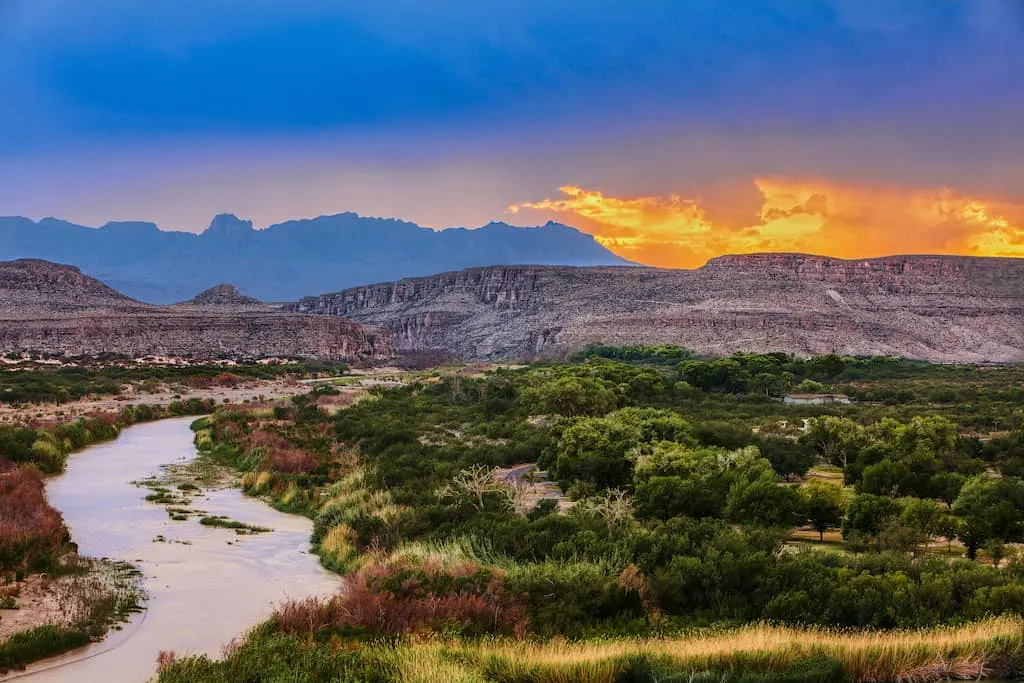 A visit to Big Bend National Park is like an expedition in the last frontier. It is wild and rugged, with a few great opportunities to get out on the water.
If you are looking for a multi-day adventure that doesn't require a lot of experience, we definitely recommend the 33-mile float trip through Boquillas Canyon. This is a two to four-day trip with rapids up to Class II.
Paddlers can camp along the Rio Grande where it divides the United States from Mexico.
The canyon walls are more than 1,200-feet high in some places, making it one of the most scenic river trips in the country. There are also lots of hiking opportunities along this stretch of the Rio Grande.
To paddle through Boquillas Canyon, you will need a wilderness permit. Read more about permits and regulations at the National Park Service.
This incredible paddle through Big Bend National Park is a one-way trip, so you will have to bring two cars or arrange for transportation back to your car.
Wild Adventure Outfitters can arrange a shuttle for you, and provide boat and/or gear rentals for your river trip.
---
Acadia National Park, Maine
Best time to paddle Acadia National Park: June through September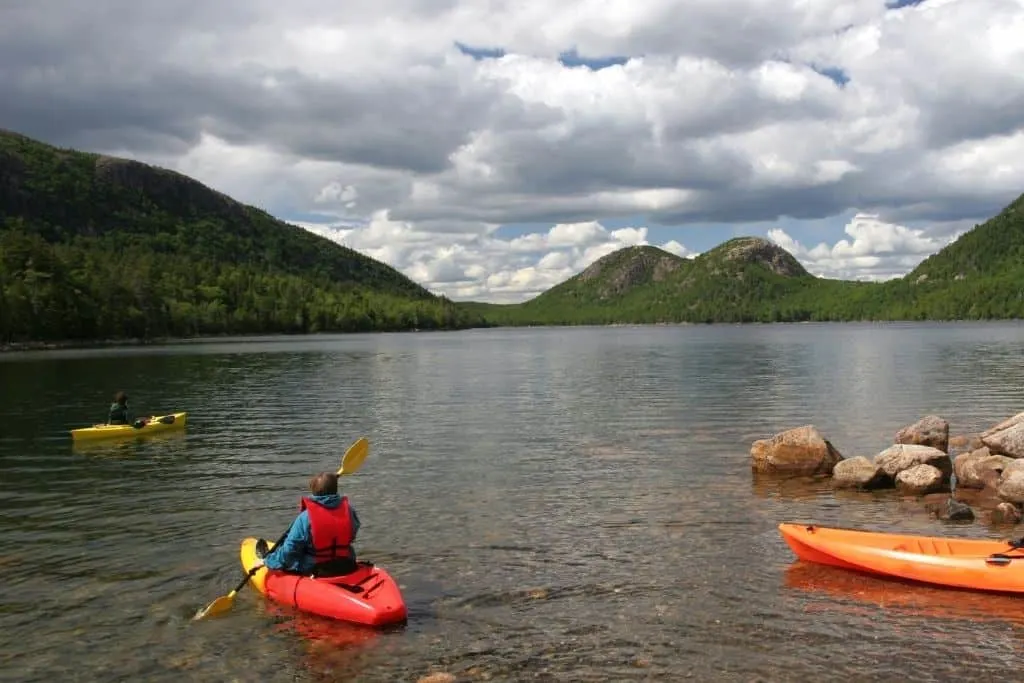 Acadia National Park is located on the Atlantic Coast in Downeast Maine. It's a popular national park for hiking, biking, and paddling, and hopping in a canoe or kayak is a great way to find solitude and wildlife.
You can easily explore some of the small lakes and ponds in Acadia in an afternoon, or if you have more time and experience, check out the small islands along the wild Atlantic Coast around Mount Desert Island.
If you don't have your own boat for kayaking in Acadia, you can rent sea kayaks, canoes, and even stand-up paddleboards in the communities surrounding Acadia National Park.
Guided tours are also available, which are particularly useful for navigating the tides of the Atlantic. Acadia Magic has an overview of local outfitters to help you find the right paddling opportunity.
Freshwater Paddling in Acadia National Park
Eagle Lake: A paddle on Eagle Lake will give you spectacular views of Cadillac Mountain, the tallest on the United States Atlantic coastline. This is the largest lake in Acadia National Park, covering 436 acres. A paddle on Eagle Lake is also a great opportunity to spot eagles and osprey circling overhead. Swimming is not permitted in Eagle Lake.

Jordan Pond: Jordan Pond is located on the east side of Mount Desert Island. Covering 187 acres, this is the second largest lake in Acadia National Park. Unfortunately, swimming isn't allowed in Jordon Pond, but if you have a Maine fishing license, you can drop a line for landlocked salmon, brook trout, and lake trout. Many visitors agree that this is the most beautiful pond in the park.

Echo Lake: Echo Lake is nestled beneath the cliffs of Beech Mountain, just outside of Southwest Harbor on Route 102. This is also a great spot for swimming and picnicking.

Great Long Pond: Located on Mount Desert Island, but not entirely within Acadia National Park, Great Long Pond is a great choice for visitors who need to rent kayaks for their adventure. National Park Canoe and Kayak Rentals provides canoes, single and tandem kayaks, and stand-up paddleboards for use on Great Long Pond. Motorboats are allowed on Great Long Pond and swimming is permitted.
Sea Kayaking in Acadia National Park
Sea kayaking is more challenging than freshwater kayaking, but if you're an experienced paddler (or you take a guided tour), you'll be amazed by the views and the wildlife surrounding Acadia National Park. Here are some great ideas for sea kayaking near Mount Desert Island.
Cranberry Islands: Cranberry Islands are made up of five distinct islands, Bear, Sutton, Great and Little Cranberry, and Baker. They are located just south of Mount Desert Island at the entrance to Somes Sound. This is a beautiful full-day trip for experienced paddlers.

Frenchman's Bay: A sea kayaking adventure around Frenchman's Bay is perfect for an afternoon or sunset paddle. Meander around Sheep Porcupine Island, look out for seals and shorebirds, and ride the tide back to Bar Harbor.

Seal Cove and Moose Island: The Seal Cove launch is located on the western side of Mount Desert Island off of route 102. Paddle north around Moose Island during high tide for a short, afternoon paddle.
---
Biscayne Bay National Park, Florida
Best time to paddle Biscayne National Park: December through April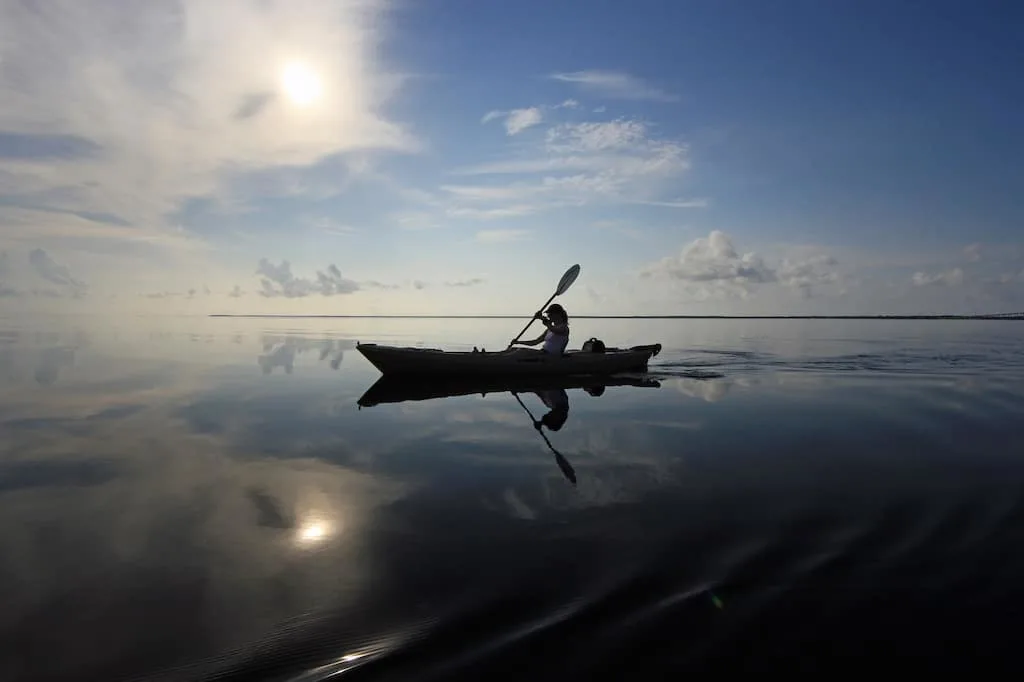 Biscayne National Park is located on the Atlantic Coast of South Florida within sight of the Miami metropolitan area.
This protected area encompasses coral reefs, beautiful islands, and incredible historic sites. It's also 95% water, which makes it a perfect destination for all types of paddling.
Note that canoe and kayak rentals aren't currently available in Biscayne National Park. If you have your own boat, you can park a car at the visitor center or at Black Point Marina.
Novice paddlers will love exploring the mangrove and the shallow bay of the park, and experienced paddlers will have no problem crossing Biscayne Bay to explore the islands.
Once you make the crossing, pitch your tent on either Boca Chita or Elliott Key for $25 per night. From here, you can explore the shallow lagoons, creeks, and islands that make this park so special. There are a few hiking trails on some of the keys too.
---
Canyonlands National Park, Utah
Best time to paddle in Canyonlands National Park: May through June, September through October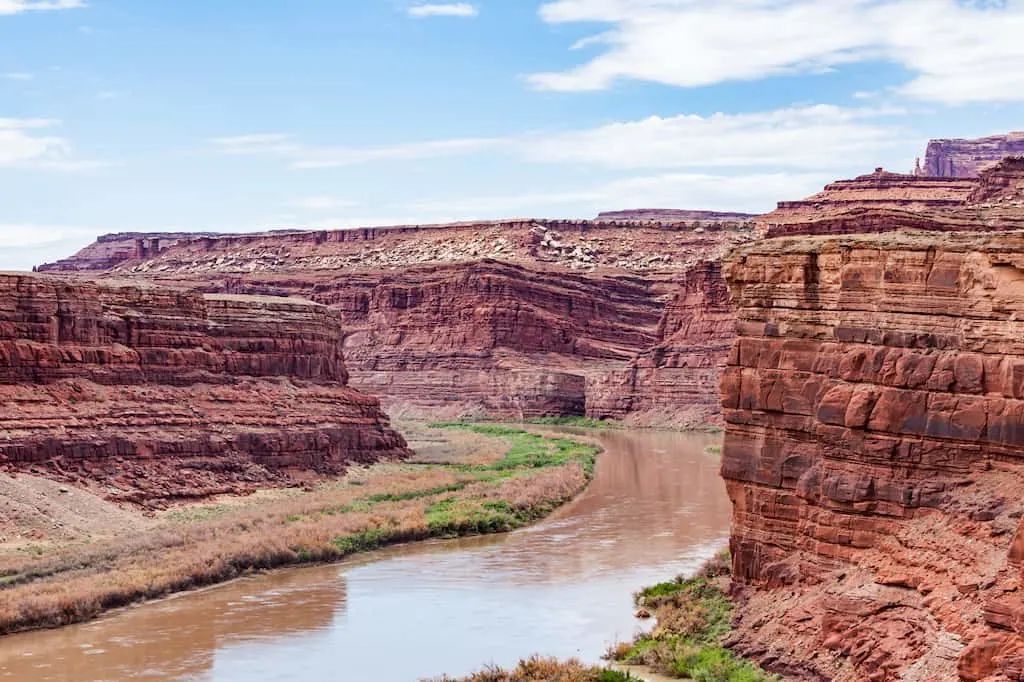 Canyonlands National Park is part of the high desert of the Colorado Plateau in southeastern Utah, and one of the best national parks for kayaking on the Colorado River.
This dramatic desert landscape has been carved into three distinct areas by the Green and Colorado Rivers. Two deep canyons rise up from the riverbank, and the landscape at the bottom of the canyon differs drastically from the arid climate above.
Paddling the flat waters of the Green or Colorado through Canyonlands National Park is a unique way to experience this gorgeous landscape.
Permits are required to float in the park, and access areas are located above the park, either in Moab for the Colorado River trips, or Green River State Park for the Green River trips.
The best way to tackle this easy float trip is to paddle downstream and then arrange for a jet boat shuttle back to the launch. Trips can be arranged for an afternoon or several days.
If you plan to camp, it's best to plan for a time when the water isn't at its highest so that you pitch your tent on the plentiful sandbars.
Read more about the paddling options in Canyonlands National Park.
---
North Cascades National Park, Washington
Best time to paddle North Cascades National Park: July and August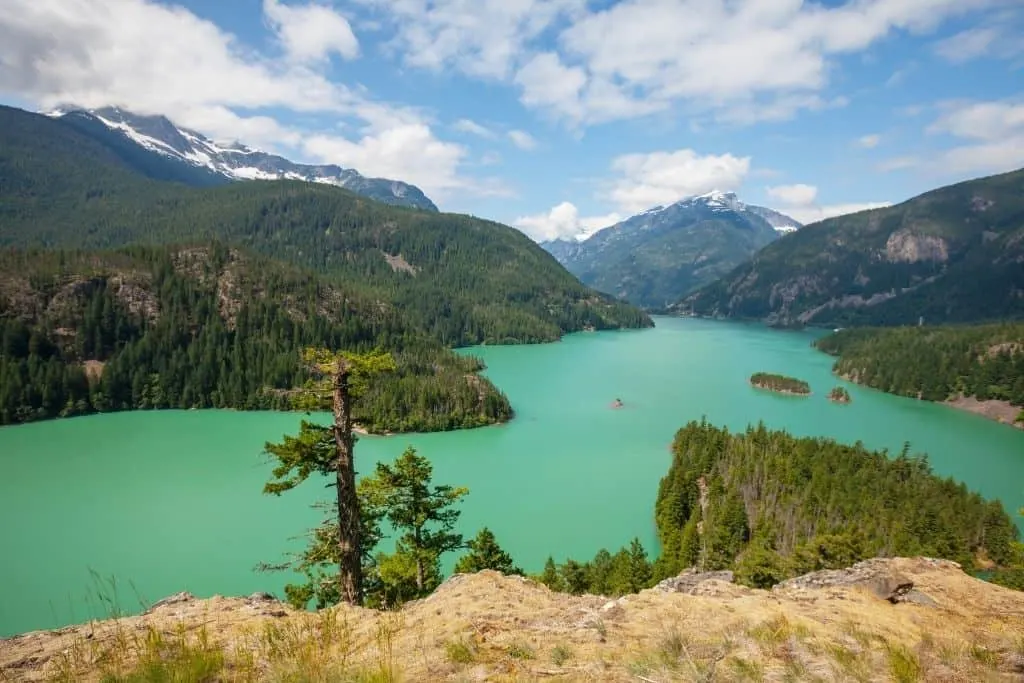 North Cascades National Park is a vast tract of wilderness in the Pacific Northwest of Washington State.
Not only does the park contain more than 300 glaciers, but it's also home to wild old-growth forests, countless waterfalls, and beautiful fjord-like lakes. It's one of the best national parks for kayaking in the western United States.
Paddling day trips on Diablo Lake launch from Colonial Creek Campground, but if you want to spend more than a day on the water, you have to check out either Ross Lake or Lake Chelan, which both have primitive campsites available (wilderness permit required).
Ross Lake is 23 miles long with 19 boat-in campsites. You can spend three to five days paddling the lake and hiking numerous trails along the shore and into the wilderness.
If you have your own boat, you can launch at Colonial Creek Campground, but you can also rent a kayak or canoe at Ross Lake Resort.
Lake Chelan is even more remote than Ross Lake, and at 55 miles in length, there are multiple opportunities for multi-day trips. 14 boat-in campsites are available around the lake, and you can also take advantage of a passenger ferry for drop-offs or returns.
A paddling trip on Lake Chelan requires careful planning, but the pristine wilderness area is surrounded by high mountain peaks, hiking trails, remote villages, and lots of wildlife.
Kayaking in North Cascades National Park is a magical experience, no matter which lake you choose for your adventure.
---
Read Next: Hiking and Camping in North Cascades National Park
---
Virgin Islands National Park, US Virgin Islands
Best Time to Paddle Virgin Islands National Park: December through April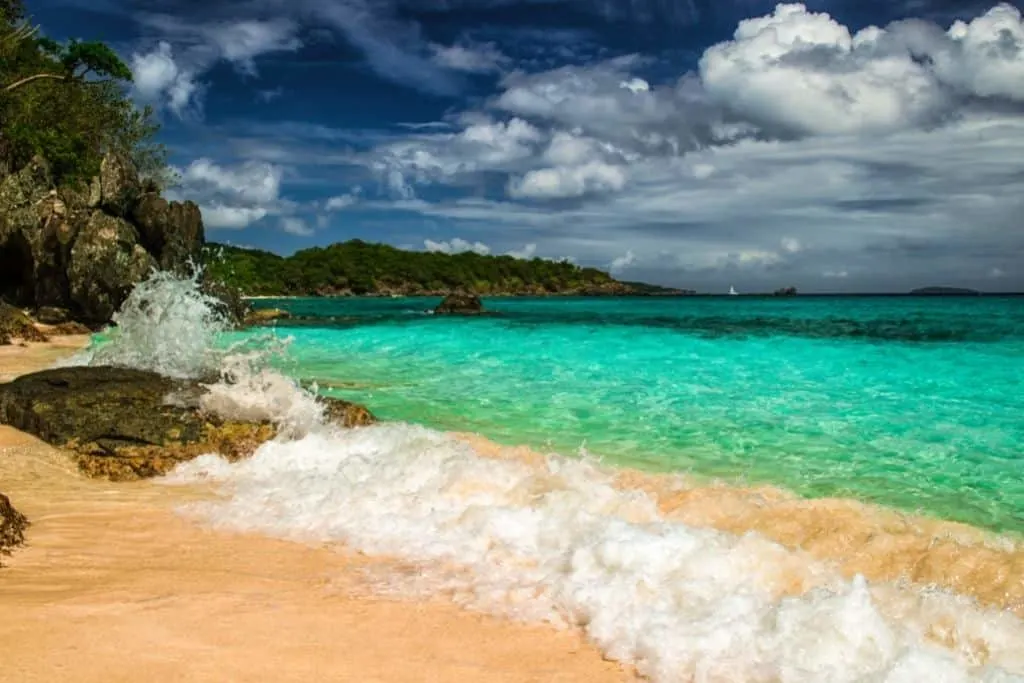 Welcome to St. John, the smallest of three US Virgin Islands and home to Virgin Islands National Park, which covers 60% of the island.
The endless stretches of sandy beaches on St. John and numerous coral reefs for snorkeling, make Virgin Islands National Park a perfect tropical vacation for adventure lovers.
To get here, you will have to fly into nearby St. Thomas and take a ferry to St. John. Bringing your own kayak probably isn't an option, so be prepared to rent a boat when you get to the island. You will find paddling opportunities all around the island, which encompasses numerous quiet coves, secluded cays, and smaller islands.
Virgin Island Eco Tours rent kayaks and stand-up paddleboards. They also provide a variety of different tours, including kayak tours, snorkeling tours, and hiking trips.
Arawak Expeditions is a great choice for multi-day kayaking and snorkeling expeditions. You can choose to kayak and camp or do an inn to inn tour. Either way, you'll have access to the best sandy beaches and calm waters surrounding St. John and Virgin Islands National Park.
Voyageurs National Park, Minnesota
Best time to paddle Voyageurs National Park: July through September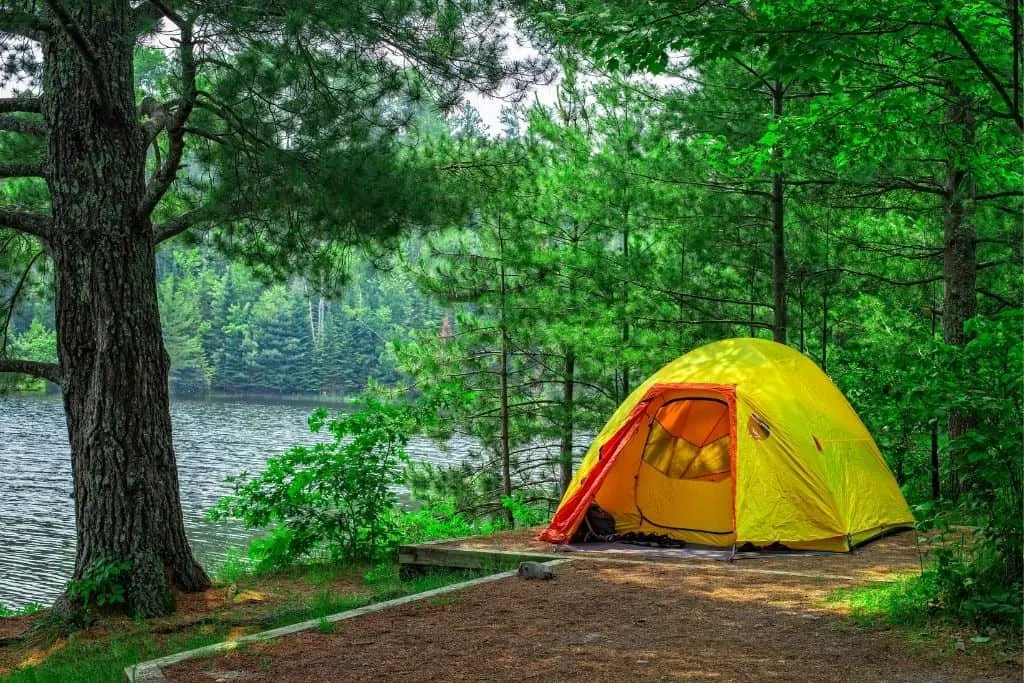 If you want to get away from the bustle of daily life, there's no better destination than Voyageurs National Park.
With 200,000 acres of ponds, lakes, and rivers, not to mention secluded, primitive camping, this is a paddler's dream vacation and one of the best national parks for canoe and kayak camping.
Explore the lakes and ponds in Voyageurs and you will chance sighting moose, bear, wolves, lynx, otter, and beavers, not to mention more than 240 species of birds.
You can bring your own boat or rent a canoe from the National Park Service for backcountry use. If you want to explore the larger lakes surrounding Voyageurs National Park (Kabetogama, Rainy, Namaken, or Sand Point), you will have to rent a canoe from a private outfitter.
There are water taxis and shuttles that can bring you directly to front-country campgrounds within the park. Backcountry campsites can only be accessed by canoe, and may also require hiking and/or portaging.
The Best Paddling Spots in Voyageurs National Park
If you are planning a multi-day paddling trip in Voyageurs National Park, a detailed guide and maps are important. We love the Voyageurs National Park and Paddle Routes map pack by National Geographic as well as this guide to paddling in Voyageurs, which also covers Boundary Waters Canoe Area.
Here are some great paddling spots in Voyageurs National Park:
Chain of Lakes: Hike to your backcountry canoe rental and then paddle Locater, War Club, Quill, and Loten Lakes. This route requires several portages, but the small lakes are beautiful and wildlife is plentiful.

Little Shoepack and Shoepack Lakes: Hike into your backcountry canoe and explore these wooded lakes and backcountry campsites. A short portage is required.

Cranberry Bay and Lost Bay: Located on Rainy Lake, both of these sheltered bays include numerous islands and campsites. You can even paddle down Cranberry Creek and portage to the Chain of Lakes.

Lost Bay: Part of Kabetogama Lake, Lost Bay has lots of quiet inlets and access to numerous hiking trails and campsites.
Ready to explore some of the best paddling routes in our national parks?
Whether you're an advanced or novice paddler, with your own boat or not, there's a national park paddling adventure with your name on it!
National Park Kayaking: Tips for Road Trippers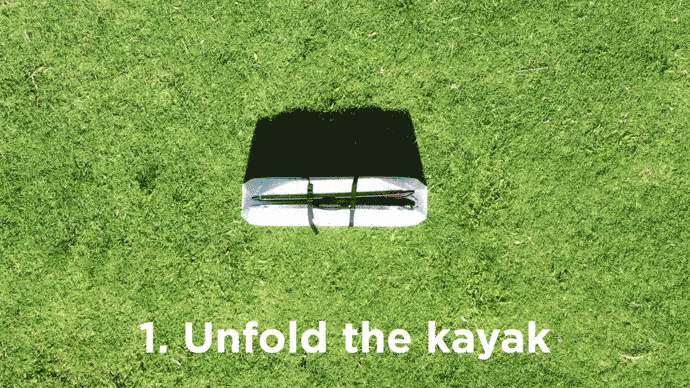 So, you want to do some kayaking or canoeing on your next national park road trip, but you don't know where to start.
Doesn't a paddling vacation require a lot of extra gear? Do you need a permit to plan a national park kayak trip? Are there guided trips available? Let's take a look at some of the logistics.
Here are some tips for planning your next paddling adventure in a national park:
Bring a portable boat. Since we first started road tripping to national parks in the 90s, options for portable kayaks have come a long way. Inflatable kayaks compress small enough to fit in a trunk or cargo carrier, and Oru Kayak makes a compact origami kayak that fits in a small box and weighs just 20 pounds.

Our top choice for an inflatable kayak is this one from Advanced Elements, which we borrowed from a friend for our last road trip. It weighs 36 pounds and is 30 x 17 x 10 inches when packed up. The downside to all inflatable kayaks is that they take a long time to dry out and shouldn't be stored when wet.

The Inlet Kayak from Oru is their lightest boat at 20 pounds, and it dries out really fast so you don't have to worry about it getting moldy during your road trip. * New for 2022, the Lake model will be even lighter and easier to stow than the Inlet. It might be the one we've been waiting for!

Rent a boat in or near your national park. Many of the national parks mentioned below partner with concession companies to rent canoes and kayaks within the national parks. While this might not be the most affordable option, it allows you to easily rent your boat, PFD, and paddle. If you are hoping to kayak in the more popular national parks, we'd recommend calling ahead so that you don't miss the boat!

Don't forget the necessities. In addition to your portable boat, you will need a personal floatation device for every person in your group, a dry bag to store your stuff, and paddles.
---
Want to explore more of our national parks? Check out our national park resource page where you'll find links to all of our national park posts.
---
Follow us on social media for more kayaking and canoeing ideas, and don't forget to check out the web story!
Pin for Later?