Sometimes I pack up the car and go camping just so I can cook and eat pancakes outside. I love pancakes at home too, but not nearly as much as I love camping pancakes!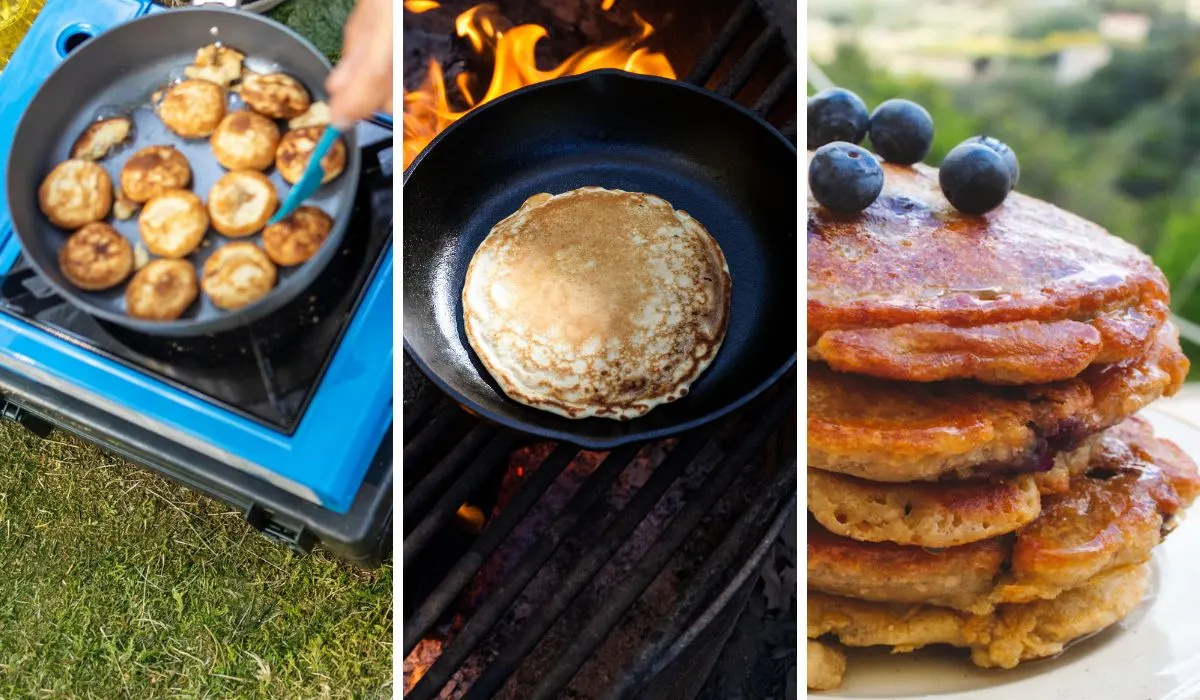 We live in the maple syrup capital of America (Vermont), which means that even when we're backpacking, we've got a stash of real maple in the bag. We enjoy it in tea, on granola, and in desserts, but there's still nothing like pancakes for indulging in maple love.
To celebrate spring, and the fact that we just bought a big old bottle of maple syrup, I'm going to share our favorite recipes for camping pancakes with you. They all start with the same basic camping pancake mix, but every recipe is different and amazing.
Am I advocating that you eat camp pancakes for breakfast every day for a week? Why, yes I am. You can work off those extra calories on the trail.
Can You Cook Camping Pancakes on a Campfire?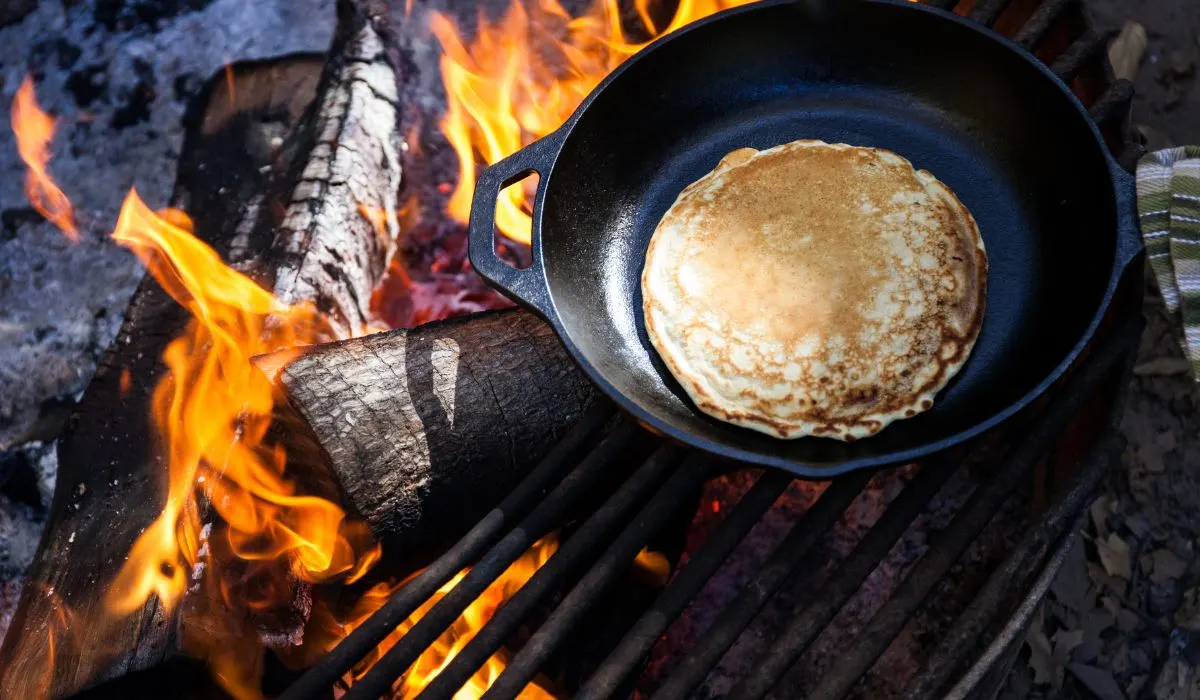 Yes! You can make your camping pancakes on a regular camp stove if you don't want to make a fire first thing in the morning, but if you get up early and don't mind the extra time it will take, certainly light a fire. Your pancakes will have that smoky flavor that you can only achieve with campfire cooking.
If you are making pancakes over a campfire, it's helpful to have a cast-iron skillet to keep them from cooking too fast and burning. We have a skillet that we use just for car camping, and even though it's heavy, we've made so many awesome meals in it that we wouldn't dream of leaving it at home.
First, A Basic Camping Pancake Mix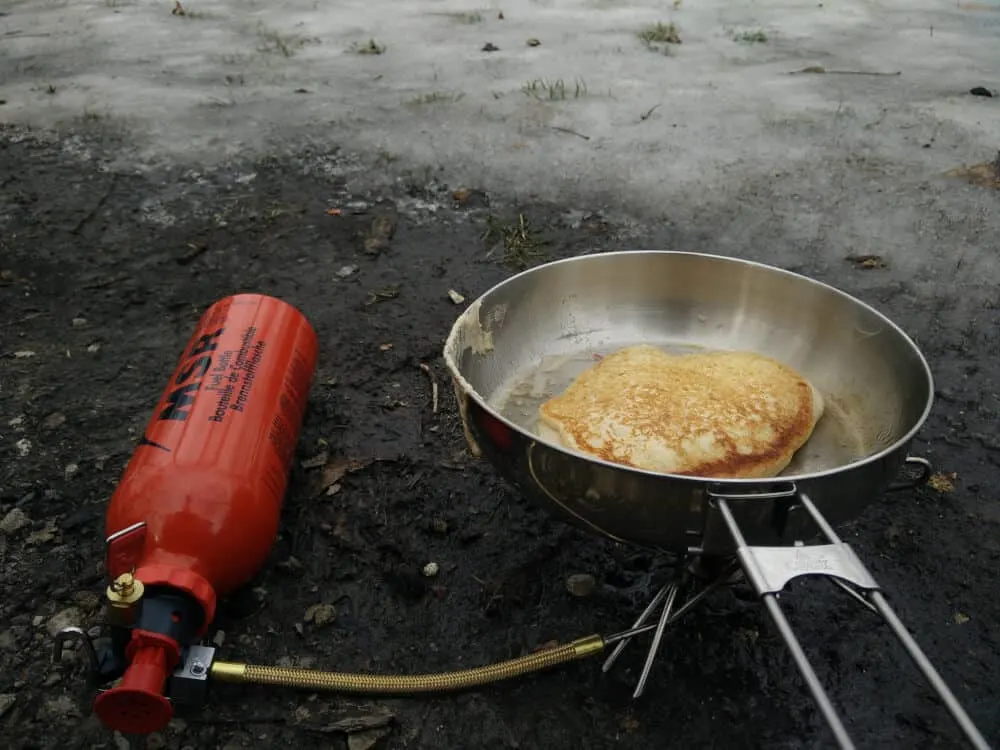 If like me, you've noticed that pancakes taste twice as good when eaten outdoors, you've come to the right place! It's the weirdest thing – I don't think my cooking methods change all that much when we're camping, but our camping pancakes are always better!
Here's our recipe for a basic camping pancake mix using dried milk powder and a combination of white flour, buckwheat flour, and almond flour. You can double or triple the recipe to suit your needs.
If you truly don't have time to make your own camping pancake mix, or if you just don't want one more thing to do, I highly recommend Kodiak Cakes Power Cakes Flapjack and Waffle Mix. We can get this at our local supermarket, but they also sell it on Amazon.
I like the Power Cakes because they're high in protein, which is useful when doing a lot of hiking or paddling while camping.
Now for the basic pancake mix recipe for camping (make it before you leave home):
2 cups white flour
1 cup buckwheat flour,
1 cup almond flour
½ cup of dried milk powder
1 tablespoon baking powder
1 tsp. baking soda
a pinch of salt
Pack your camping pancake mix in a zip-top plastic bag, and don't forget to pack the maple syrup!
This pancake mix is fabulous combined with enough water to make a batter-like consistency. You can also add one or two eggs if you have them, and a bit of oil if you want.
This make-ahead pancake mix for camping can now be combined with a few easy ingredients to make the following mouth-watering camping pancake recipes!
All of these recipes should serve a family of four easily (unless you have teenagers, then I recommend doubling everything).
Oatmeal Raisin Camping Pancakes
1 and 1/2 cups of basic camping pancake mix (recipe above)
1/2 cup rolled oats (instant or regular)
2 cups water
1 or 2 eggs (optional)
½ cup raisins
1 teaspoon cinnamon (from your awesome camp spice kit)
At camp: Put your basic camping pancake mix in a bowl and add the cinnamon. In another bowl, soak the raisins in 2 cups of water. Add optional eggs and beat with a mix or fork. Add the wet ingredients to the dry. Fry pancakes in a sizzling hot, oiled pan or iron skillet, and serve with maple syrup.
Banana Nut Pancakes for Camping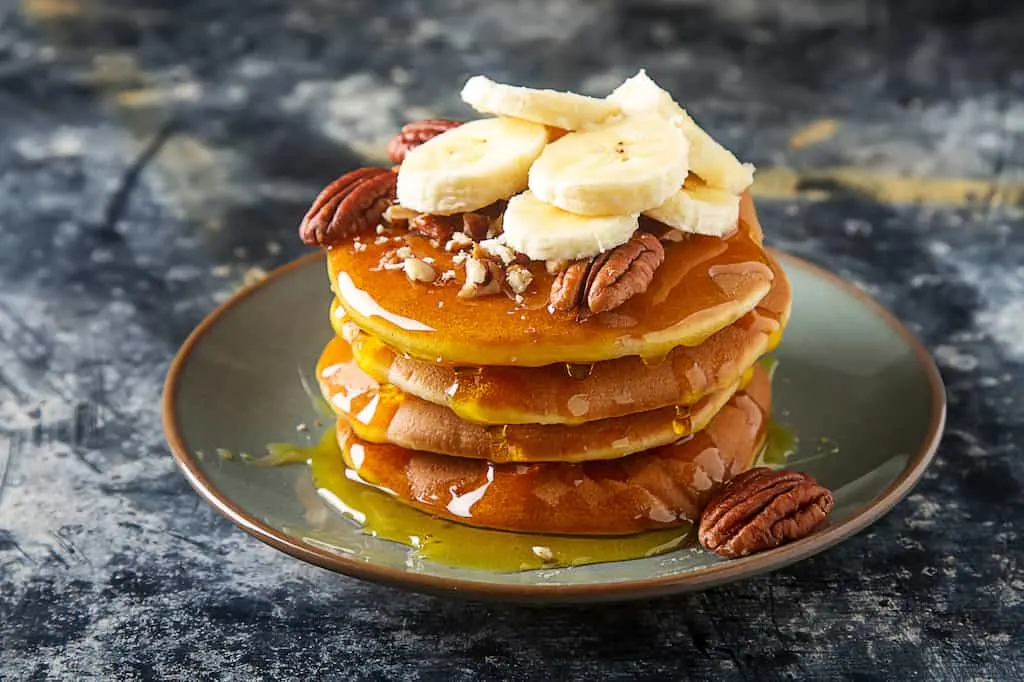 Disclaimer: Bananas aren't my favorite fruit to bring camping, but my kids love 'em, so we bring them along on short trips. They tend to smush and brown easily, and when that happens, we make these awesome banana camp pancakes:
2 cups basic camping pancake mix
2 cups liquid – water, milk, or juice
½ cup chopped nuts (we like pecans or walnuts)
2 eggs (optional)
1 ripe, mashed banana
At camp: Mix nuts into the dry ingredients. Combine eggs, liquid, and mashed banana. Add wet to dry and fry in a hot, oiled pan. Serve with maple syrup. If you don't have maple syrup, these pancakes are pretty fabulous topped with peanut butter or Nutella.
Apple Oat Camping Pancakes
Unlike bananas, apples are sturdy and perfect for camping! My kids love these camping pancakes, especially in the fall.
1 and 1/2 cups of basic camping pancake mix
1/2 cup oats
2 eggs
1 tsp. maple syrup
2 Tbs. oil
1 tsp. cinnamon
¼ tsp. nutmeg
¼ tsp. cardamom
2 cups water, milk, or apple juice
2 medium apples, cored and finely chopped
At camp: Whisk the eggs in a small bowl. Add liquid and chopped apples. Mix spices into the dry ingredients and add to the liquid. Stir just until combined. Fry pancakes in a hot pan greased with oil or butter. Serve with maple syrup.
---
More Awesome Recipes: The 10 Easiest Car Camping Meals for Families on the Go
---
Wild Berry Camping Pancakes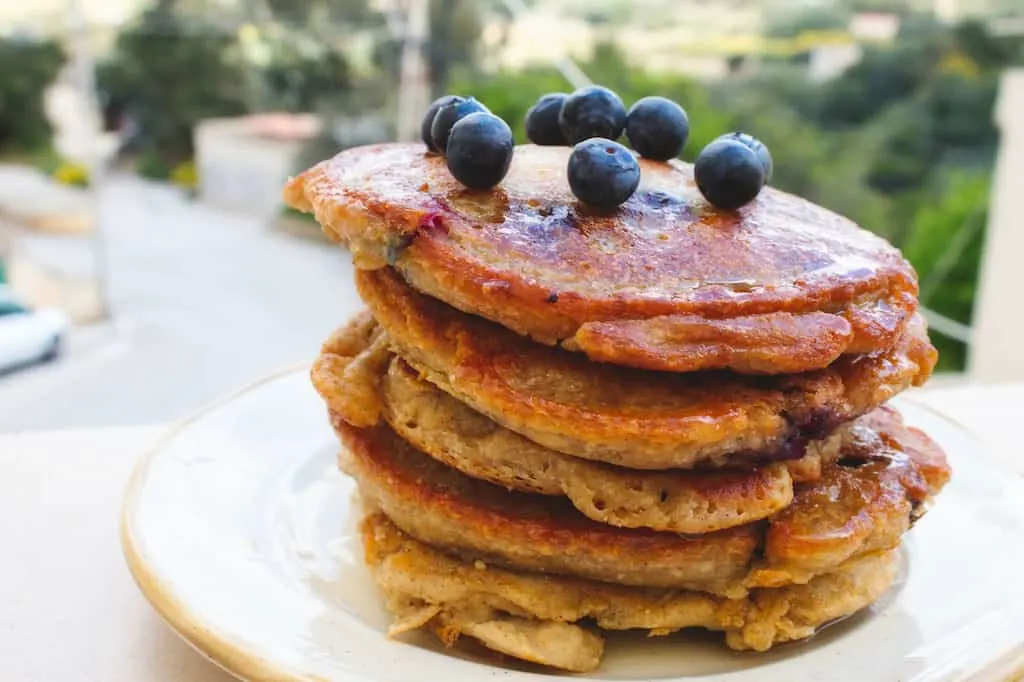 Camping during berry season is pretty awesome.
In the northeast, it's not uncommon to find ripe black caps in June and ripe raspberries, blackberries, and blueberries in July and August. Whole camping trips can be planned around berry season! Here's a great camping pancake recipe that incorporates any fresh berries you happen to find while camping.
2 cups basic camping pancake mix
1 cup mashed berries
1 tsp. cinnamon
Juice of 1 lemon
1 Tbs. maple syrup
1 ½ cups water
At camp: Mix dry and wet ingredients separately and then combine them. Fry batter in a hot, greased pan. Serve with maple syrup.
Peanut Butter Chocolate Chip Pancakes for Camping
This recipe is loosely based on a recipe I found in Country Living. It's basically dessert for breakfast, so make sure you have a good hike plan the day you make these delicious camping pancakes.
2 cups basic camping pancake mix
2 eggs
2 cups milk (milk is better than water in this recipe, but use water if you have to)
1 tsp. vanilla extract
½ cup peanut butter
1 cup chocolate chips
At camp: Whisk the eggs and peanut butter together in a bowl. Add milk and vanilla extract. Stir in pancake mix and chocolate chips. Fry pancakes in a hot, oiled pan. Maple syrup isn't necessary for these, but if you can't resist, go for it.
Gingerbread Camping Pancakes
To make these awesome pancakes, you need to pack ¼ cup of molasses in your camping spice kit. It's not something we usually have on hand when camping, but occasionally I'll remember, and my kids always thank me. These camp pancakes smell so good that your family will roll out of bed to eat them, and your campground neighbors may just pay you a visit, so be sure to make extra coffee to go with these spicy camping pancakes.
2 cups basic camping pancake mix
1 ½ tsp. ground ginger
1 ½ tsp. cinnamon
¼ tsp. ground cloves
¼ tsp. ground nutmeg
2 eggs
¼ cup molasses
2 cups almond milk or oat milk (buy a small, shelf-stable container before your trip)
At camp: Mix your camping pancake mix with spices. In a separate bowl, whisk the eggs with molasses and almond milk. Combine wet and dry and mix just until combined. Fry in a super hot, buttered pan, and serve with maple syrup.
Pineapple Coconut Pancakes
Saving the best for last. Try these little delicacies and let me know what you think – they're a new addition to our camp meal repertoire.
2 cups basic camping pancake mix
¼ cup shredded coconut
¼ tsp. nutmeg
1 egg
8 oz. can of pineapple
13 oz. can coconut milk
At camp: Mix the basic camping pancake mix with shredded coconut and nutmeg. In a separate bowl, beat the egg and mix with canned pineapple and coconut. Combine wet and dry ingredients. Depending on the moisture content in your canned pineapples, you may need to add a bit more pancake mix to give your batter the right consistency. Fry batter in a hot, buttered pan, and serve with maple syrup.
In my opinion, pancakes are one of the best things about camping. I hope these easing camping pancake recipes encourage you to roll out of your sleeping bag each morning to greet the day. If you have a favorite camp breakfast, I'd love to hear about it in the comments.
---
Want more ideas for making the best camp meals ever? Check out these posts!
---
Follow us on social media for more camping recipes!
Pin for Later?