Are you a daily coffee drinker? Want to continue to drink your favorite cup of morning coffee when you go camping? Me too! Fortunately, it's not that hard to make a perfect cup of camping coffee, provided you have the right gear.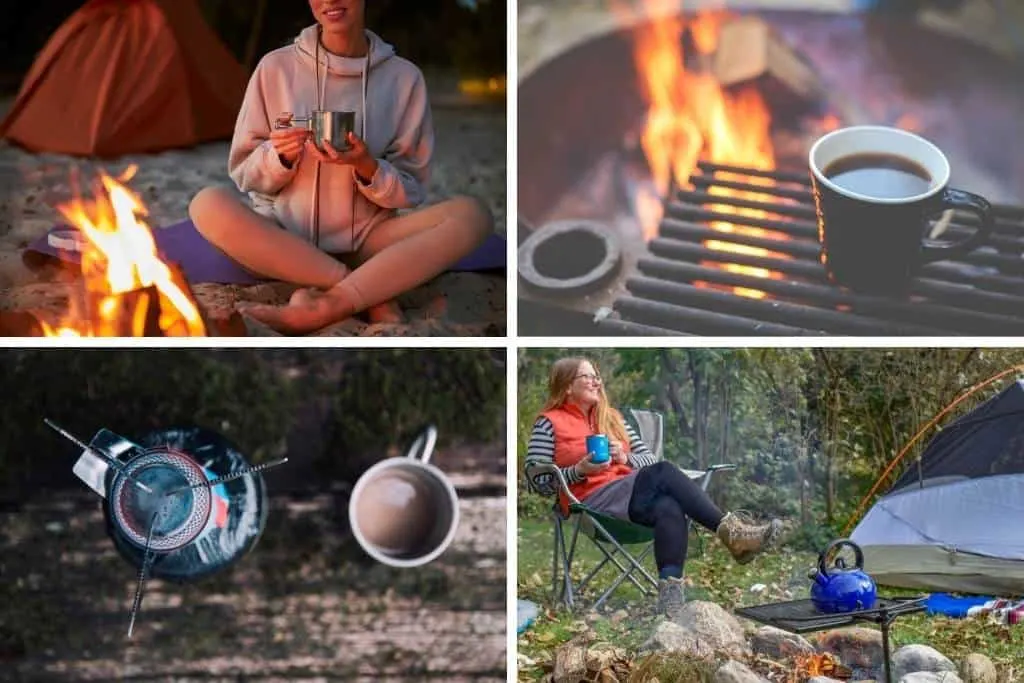 Don't worry, you don't need anything too fancy to make coffee while camping, although there are plenty of fancy gadgets out there. We're going to make our camping coffee the easiest and most delicious way possible. Ready for a little caffeine boost to go with your wilderness sunrise?
Is There Such a Thing as Perfect Camping Coffee?
Like most coffee lovers, I have a very hard time going without, even when I'm paddling remote waters or backpacking far from the nearest Starbucks. At home, I'm a two-cups-a-day girl, and when I'm living it up in the woods, I usually settle for one insulated mug full of camping coffee to go with my sunrise.
Over the years, we've tried all kinds of equipment and techniques to make the perfect cup of camping coffee. My husband tried to sell me on cowboy coffee once, showing me how easy it is to just mix ground coffee and water together, bring it to a boil, and drink. Well, one mouthful of that was enough to convince me that there had to be a better way of making coffee while camping.
Next, I tried fancy french press coffee with an Aeropress that's designed especially for campers, backpackers, and travelers. The coffee was fantastic – dark, rich, and strong, and I still bring my Aeropress with me occasionally.
My biggest beef with the Aeropress is that it's a pain to clean in the woods and has a bunch of different components. There are people who swear by Aeropress coffee, and I won't turn down a cup if that's what you're brewing, but I was still searching for an easier way.
Finally, I decided to make my camping coffee exactly the way I make coffee at home, using a simple pour-over method that requires three small pieces of gear and ground coffee. It's easy. It tastes fantastic. It's easy to clean up afterward. I just wish I had thought of it sooner!
If you're a coffee lover, I think you will love this camping coffee best. Add a beautiful walk, the song of a hundred birds, and a cool mist rising off of your favorite mountain lake, and you'll be good for the whole day!
How to Make Coffee While Camping: The Perfect Cup!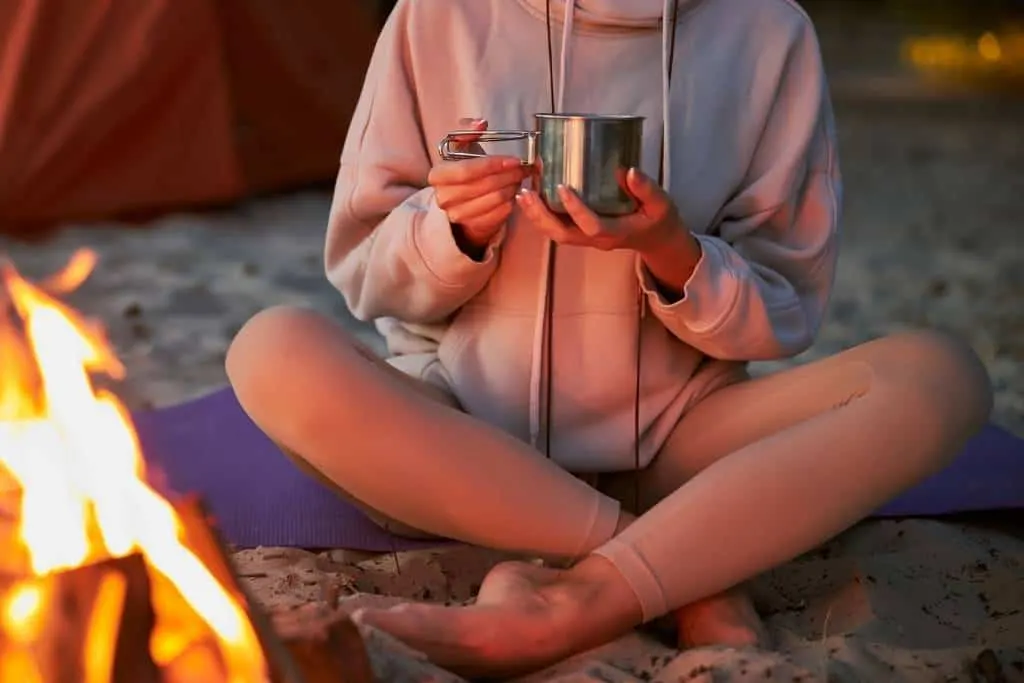 Your camping coffee is only as good as the freshly roasted coffee beans in your camping kitchen, so don't be cheap with your beans. If you don't already have a favorite coffee roaster, that should be your first step. I order whole-bean coffee from Dean's Beans, but every locale has great coffee roasters these days, even if you have to have it shipped to you.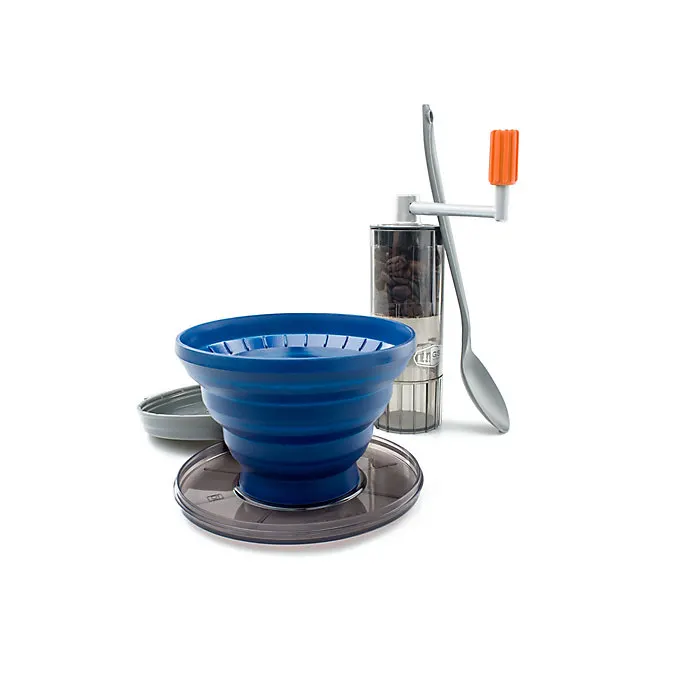 We won't go so far as to say that you need to grind your coffee each morning while camping, but we won't stop you either. If you do want to grind your own beans at camp, consider this coffee-making kit from GSI Outdoors. It includes a small hand-held coffee grinder, and a collapsible drip cone (to hold a #4 cone filter). Otherwise, grind your coffee beans right before your camping trip and you'll be fine.
Simple Gear for Making Coffee While Camping
Here's all you need to make the best damn cup of camping coffee in the outdoors:
A filter cone – I use a ceramic filter cone at home, which would never work on a camping trip. When camping, we use a metal filter holder that folds up and fits easily into our food box. I also use this whenever I'm traveling. The silicone drip cone above would also work perfectly.
Cone filter papers – Filter papers are an important element, but they do add a bit of extra trash to your camping trip. We pack #4 paper filters into our camping kit. If I'm camping solo, I use #2 filters.
Hydro Flask Mugs – If you want your coffee to stay hot while you prepare breakfast, walk down to the lake, or start a campfire, use an insulated mug. We love these 12-ounce insulated mugs from Hydro Flask. They come in bright colors and feel good in the hands (very important). There are 6-ounce and 24-ounce mugs as well.
Optional carafe – An insulated carafe is useful if you're making coffee for more than two people and want to keep it warm. Otherwise, we just brew right into our camping mugs.
And the coffee, of course
The Camping Coffee Details
This camping coffee is just about as easy to make as boiling water, but I'm going to do my due diligence here and give you all the juicy details.
Roll out of bed and fill a camping pot with water and bring it to a boil over your camp stove while your family sleeps.
Add two tablespoons of coffee grounds per person to a paper filter set inside a drip cone. I don't bring a tablespoon camping – just guess.
Place the coffee set up over the top of an insulated mug or your carafe.
Pour boiling water over the top of the coffee and let it drip into the mug. If you are making two cups, you can move the drip cone between the two so that both coffees are strong and flavorful.
Enjoy with your favorite outdoor view or inside your sleeping bag.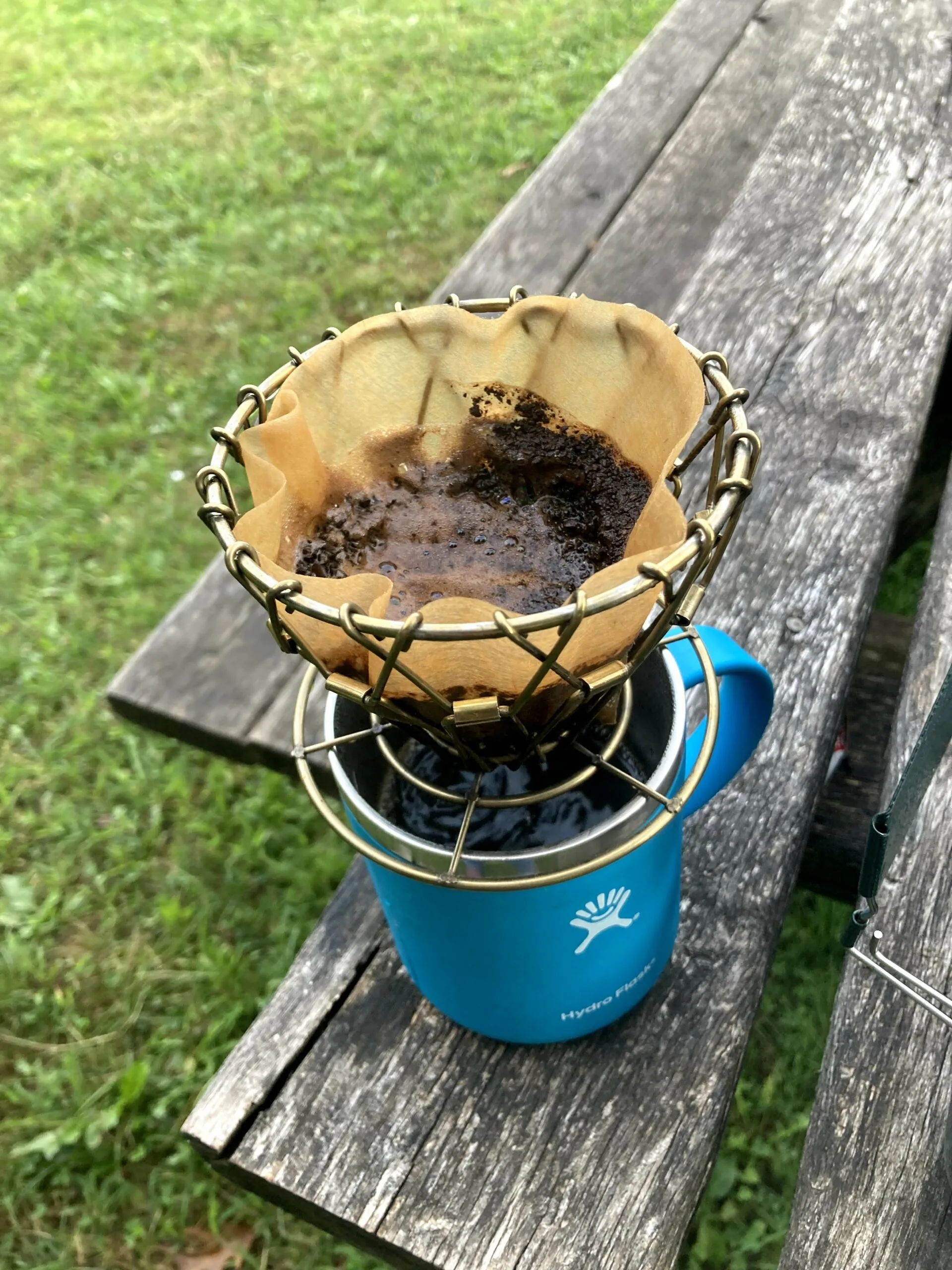 What to Put in Your Camping Coffee?
Do you need a little something extra in your morning coffee? I keep sugar and maple syrup in my camping spice kit. Maple syrup in my coffee is the absolute best, but I'm good with a teaspoon of sugar as well.
Cream is another beast altogether. At home, I love a bit of half-and-half in my coffee, but in my camping coffee? That's a tough one. I've been known to sneak the real deal into my cooler for short camping trips, but it isn't always practical on longer trips.
I've tried non-fat dried milk powder, which tastes awful and ruins most coffee. I've also tried CoffeeMate, which hurts even worse. My favorite options so far are to a) go without creamer altogether, or b) use organic whole milk powder, which I haven't been able to find locally.
If you go with the powdered milk, mix it with a bit of hot water first and stir it, so you don't get lumps in your camping coffee.
---
---
Making a Case for Instant Camping Coffee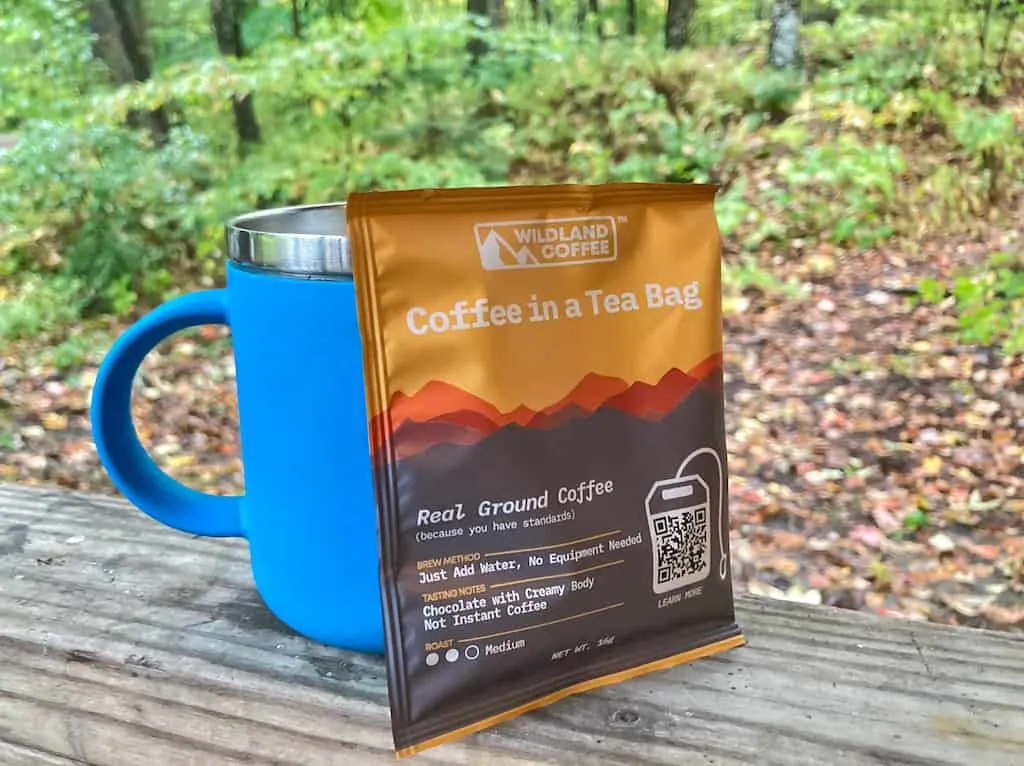 When I first wrote this post, I was a bit of a camping coffee purist. Only the prospect of a fresh, strong cup of camping coffee would get me out of bed. I'm happy, and maybe a bit reluctant to say, that I've changed my ways.
Instant coffee and espresso packets for camping have really improved since my early days of sleeping outside – so much so, that I whole-heartedly support camping coffee packets and tea bags in a pinch. The caveat is that all of the best instant coffee and coffee "tea" bags are incredibly expensive, and they aren't much more convenient than the pour-over coffee you can make with freshly roasted beans.
Still, if you're really trying to pack light, check out Wildland Coffee bags, which have a rich, almost chocolatey flavor that I love. I actually prefer Wildland Coffee in the afternoon after a long hike. If you don't mind the price, these are very convenient.
---
---
How do you make coffee when you're camping? Drop us a comment and let us know your favorite method!
Keep in touch with us on social media!
Pin for Later?