Please check to make sure destinations are open to visitors before planning a trip and follow local guidelines. We earn a commission from affiliate links that may be included in this post.
Today I'm excited to welcome guest authors Logan and Morgan Greenhaw from Trail Mix for Newlyweds. Logan and Morgan have taken a little break from planning a big Appalachian Trail thru-hike to share their favorite adventures from Glacier National Park and Whitefish, Montana. To read more about national parks, visit our national park hiking and camping page.
---
Discover Whitefish, Montana and Glacier National Park
-by Logan and Morgan Greenhaw
We are Logan and Morgan Greenhaw, two adventure-crazed individuals that got married on June 11th, 2016, and we are about to set out on a crazy big adventure: a thru-hike of the Appalachian Trail. What better thing to do as newlyweds, right?
Most ask if the AT is counting as our honeymoon, and while we do sometimes refer to it as our "belated honeymoon", we actually had one of the greatest honeymoons of all time – Whitefish, Montana!
We spent a whopping 10 days exploring Whitefish and Glacier National Park and even that wasn't close to enough time! Whitefish is such an interesting little town with tons to explore, and it is really close to Glacier National Park, so we spent a lot of days commuting between the two.
As you can imagine, we filled the time with as much adventuring as we could and have so many stories from it all! So we have put together a list of our favorites – or a "How to Vacation to Whitefish, MT" list of sorts – if you are to ever visit this incredible place!
Adventuring in Glacier National Park
Favorite hike: Upper Grinnell Glacier Lake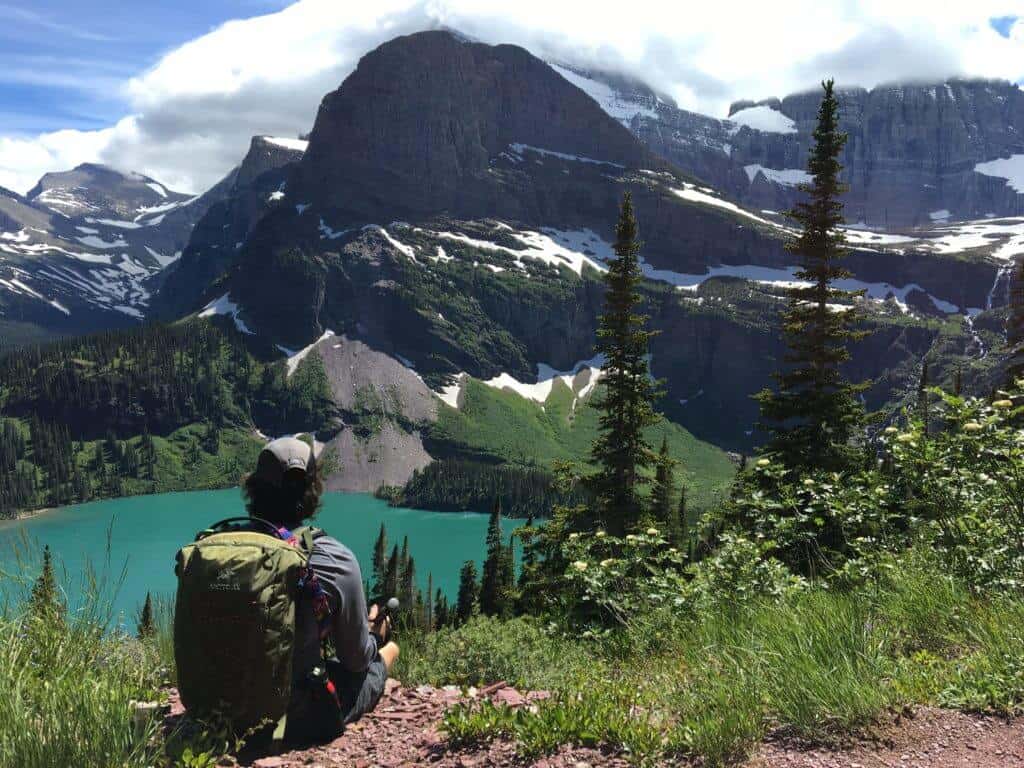 This was truly the highlight of our entire trip. It is so hard to communicate through photographs, but the hike up to this beautiful glacier lake and mountain-filled vista was undoubtedly the best hike we've ever done–together and as individuals. The end view was absolutely breathtaking and has forever stolen our hearts.
The hike was roughly 12.2 miles round-trip and it was fairly challenging in the latter part of the incline – you gain a good bit of elevation. The trail is lined with so many different types of wildflowers and trees, there are a few waterfalls you get to trek through, and beware: it falls in bear country so hike prepared to see some grizzlies!
Favorite spot: Avalanche Lake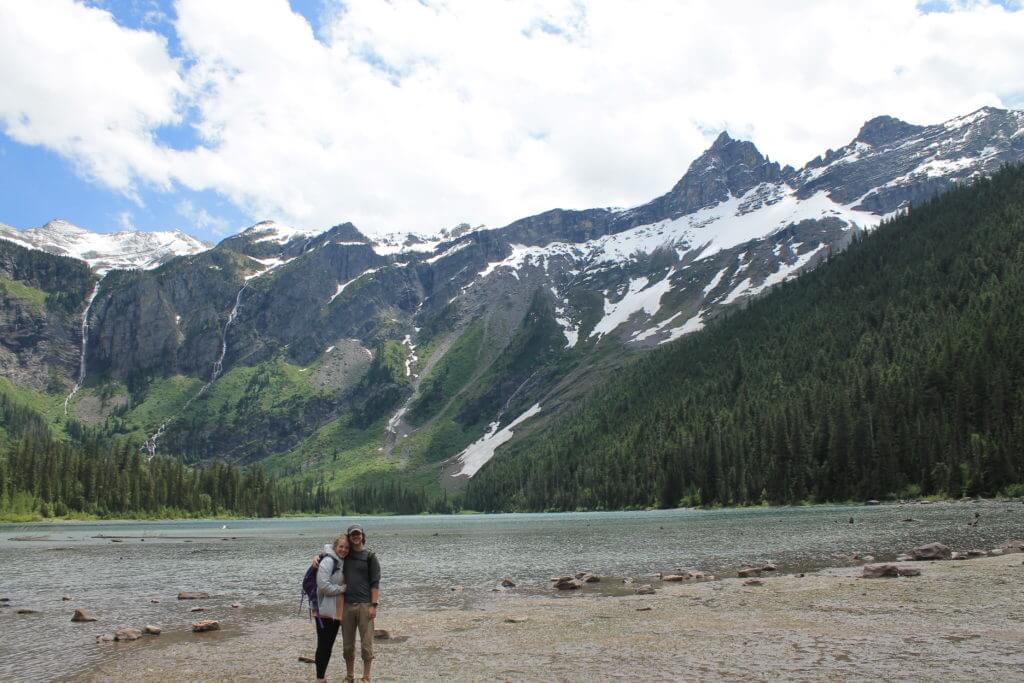 There are no words to express the peace and calmness that floods your mind, body, soul, and spirit as you sit on a log and overlook Avalanche Lake. The best part is – it is a short 2.2-mile hike to get here! That makes it obtainable for everyone!!! This hike is a MUST!
Favorite 'Journey': Logan Pass/Hidden Lake
This. Hike.
Probably one of the most difficult things we have ever done or tried to do in our lifetimes. It was a short hike, but the snow made it nearly impossible and the sun reflecting off of the snow gave us both sock tans that are still present to this day (crazy right??)!
I think that we laughed more on this hike than at any other isolated point of the trip though. We ran through the snow together, knocked one another over with snowballs and had almost everyone staring at us by the end. What a blast!!!
But in all seriousness, the view from the top of this hike, where you can decide to hike down to Hidden Lake if the snow permits, is absolutely stunning! One of the best that we got to see the whole trip.
Favorite restaurant: Northern Lights Saloon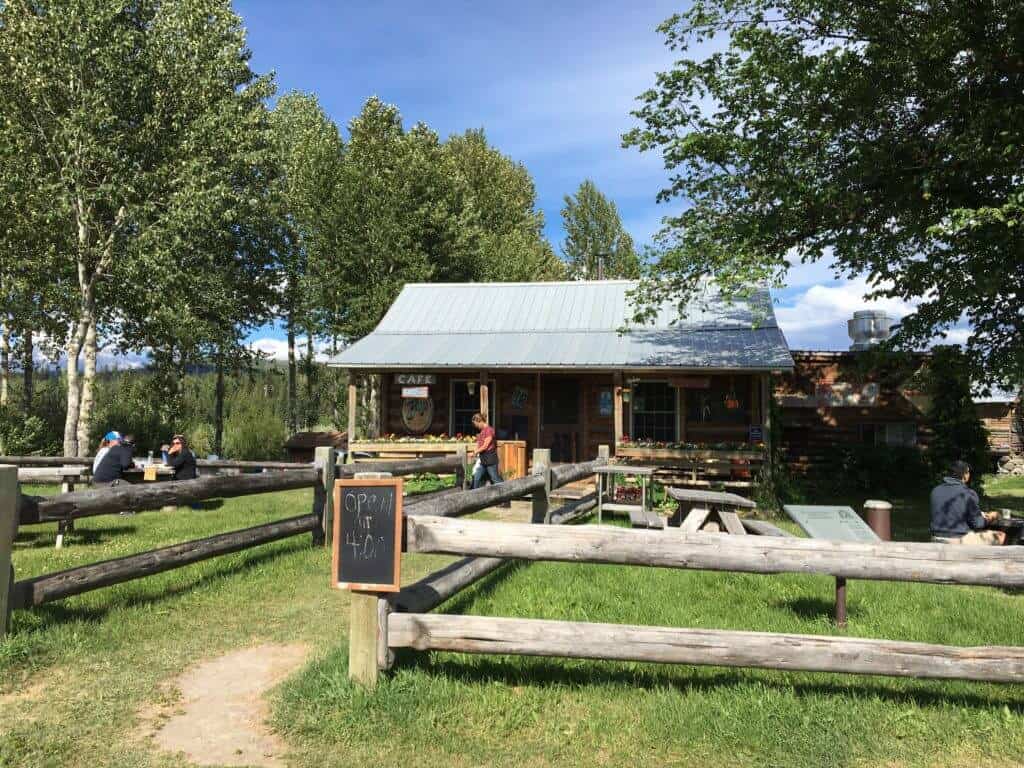 This dreamy and delicious place is nestled in the tiniest town in the park (Polbridge) and it is absolutely a hidden gem! We sat outside on the picnic tables, enjoying the 360-degree mountain view, and ate dinner with dogs running around and with people sharing laughter with one another freely.
Even if the food would have been bad, we probably would still say it was our favorite place because it truly captures you in the experience, but the food is entirely fantastic!! Logan had an elk burger and I had a bison burger – both were to-die-for!
We went to this little restaurant four out of the nine days we ate breakfast in Montana and man-oh-man. There just aren't sufficient words!! Much like the Northern Lights Saloon, this gem captures your heart in the experience of it all, but the food is just spectacular. You walk out each time feeling like a local – and that is what it is all about!
Favorite Dish: Sautéed Mushrooms
This was an appetizer at the Tupelo Grille in downtown Whitefish. We decided on a whim one night to eat there for dinner and, unbeknownst to us, you are supposed to have a reservation. Even though we were entirely underdressed for the atmosphere, the hostess let us sit at the bar and I am so glad she did!
Every part of the meal there was incredible, but we definitely have to give the sautéed mushrooms a special shout-out! It was a plate of two slices of grilled baguette, each smothered in goat cheese, topped with mushrooms, and finished with the most decadent red wine reduction sauce.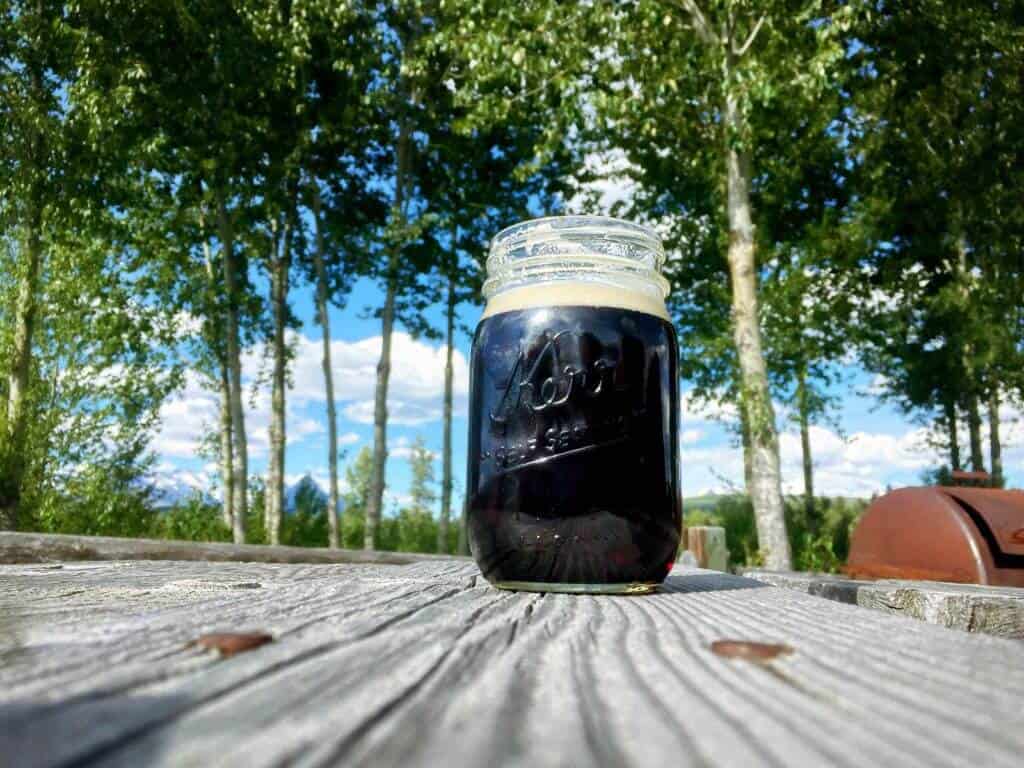 If you ever have a chance to sip on this goodness, we more than encourage it. It is literally liquid gold!!!!! Unfortunately, it cannot be found anywhere BUT Montana…so now you have to go!!
Favorite coffee shop: The Red Caboose – Whitefish, Montana
WOW. We are coffee-of-any-kind, in-any-form addicts so of course, we had to find a good shop to visit while we were in town! And y'all – the Red Caboose has no competition. I've yet to find a more delicious Chai Latte and Log is simply smitten over their Americano! We literally went all but one day of our time in Whitefish and we miss it now that we are gone!
Favorite place we stayed: Moonridge Retreat – AirBnB Cabin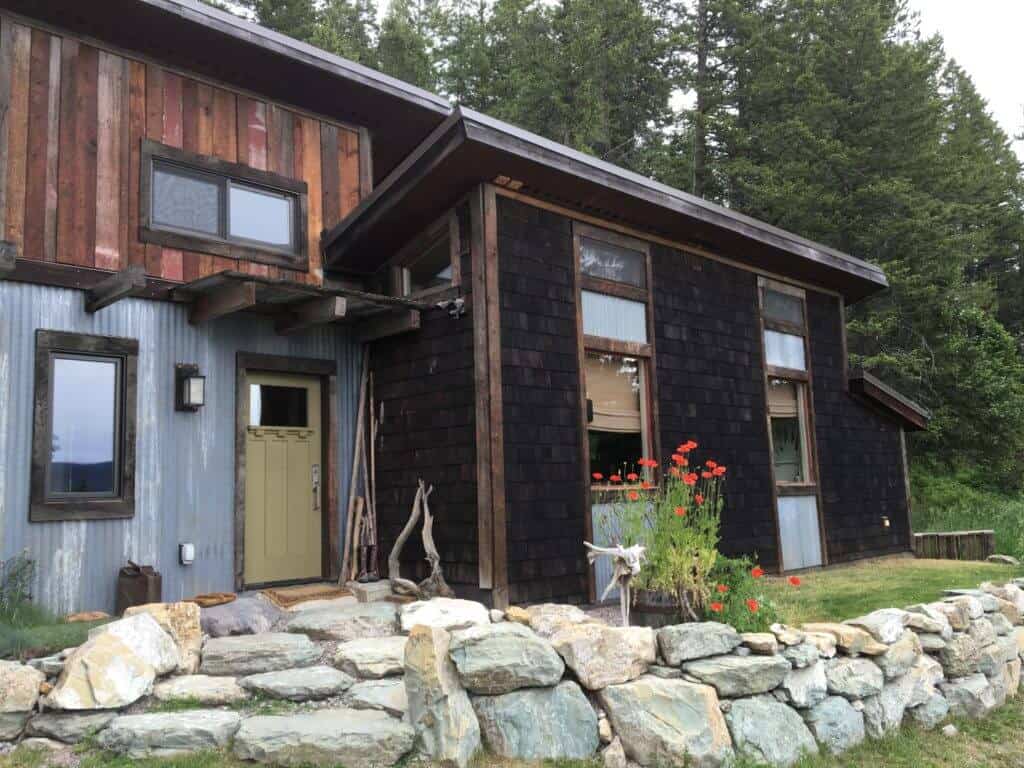 We don't have sufficient words for this amazing place or the even more amazing people that owned (AND built) it! It was the perfect place in Whitefish, Montana to kick off our honeymoon – so quaint, eclectic, and secluded! If you guys haven't tried AirBnB…you should. It is the best!
---
Visiting Whitefish, Montana and Glacier National Park: The Details
We hope we were able to pique your interest in traveling to Glacier National Park and Whitefish, Montana – it is far too under-visited! Here are some helpful tidbits to help you get there:
Transportation: The closest airport is Glacier Park International Airport, which serves major western airports via Delta, Allegiant, and United Airlines. Flights to Glacier can be pricey, though, so start watching fares on Skyscanner
early for the best rate.
Renting a car is probably the best way to get around, especially if you're driving the Going-to-the-Sun-Road, which shouldn't be missed.
Lodging: The property mentioned above can be reserved via Airbnb.
There are also some amazing campgrounds in Glacier National Park if you want a more rustic experience. TripAdvisor is our favorite website for reading reviews and finding deals on hotels, and they have some great listings for options in Whitefish and West Glacier.
Helpful Websites: The Glacier National Park official website has all the information you'll need for exploring within the park. Explore Whitefish can provide you with visitor information, including more dining options, activities, and shopping ideas.
Want to learn more about visiting Montana? Read this next:
Exploring the Outdoors in Bozeman, Montana
Pin this post for later – you won't regret it!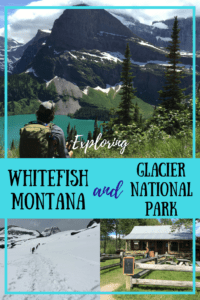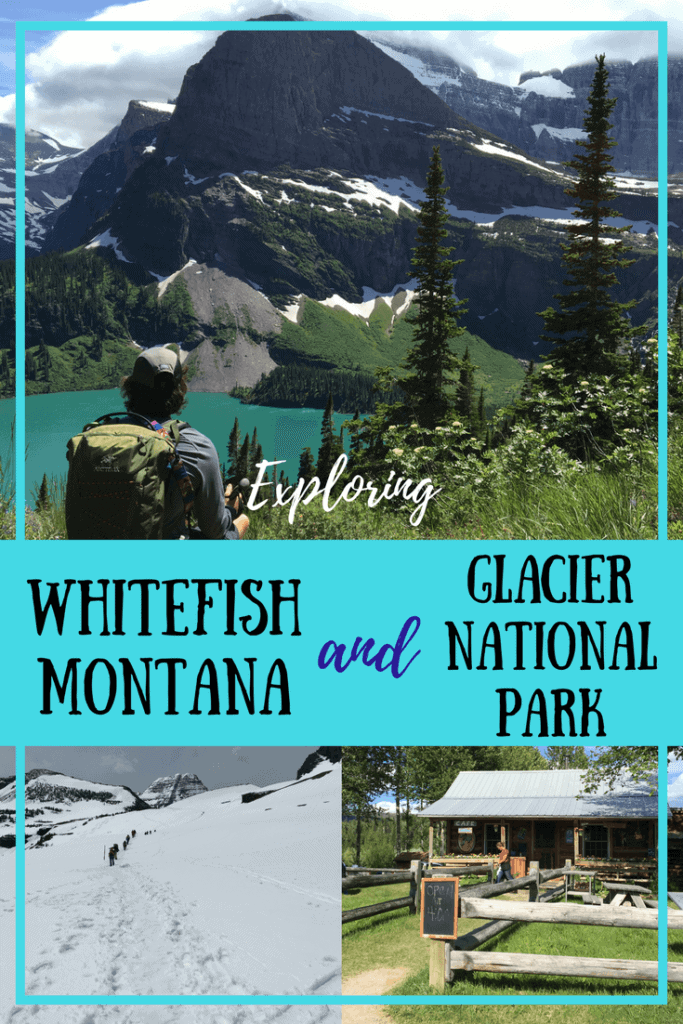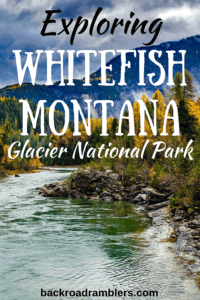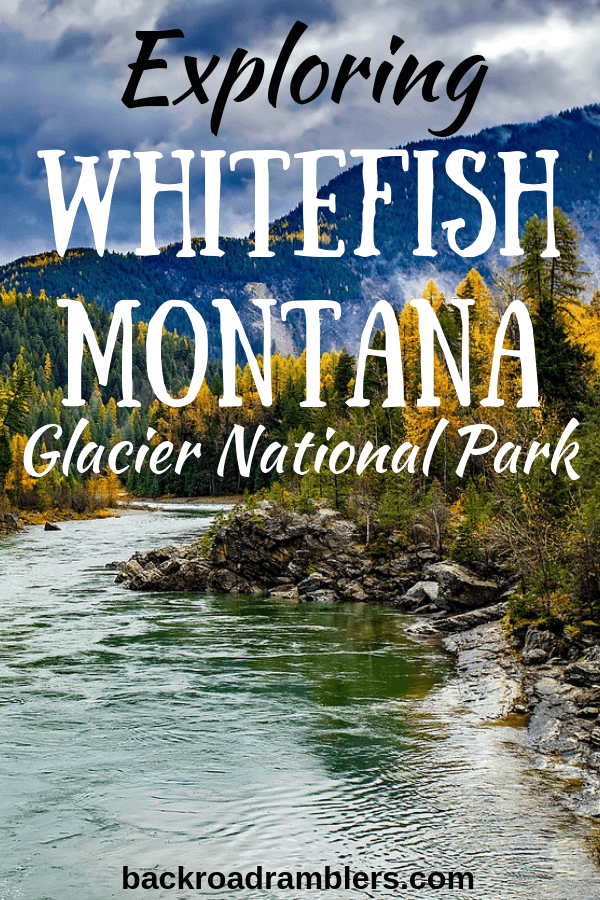 Morgan and Logan are an eccentric couple thru-hiking the 
Appalachian Trail while writing a book in 2017. They enjoy 
backpacking, hiking, writing, and enjoying moments as they 
arrive.

Instagram: @trailmixfornewlyweds
 Twitter: @trailmixcouple
 Facebook: @trailmixfornewlyweds