Is this the year that you plan your adventure in Glacier National Park and the Rocky Mountains near Whitefish, Montana?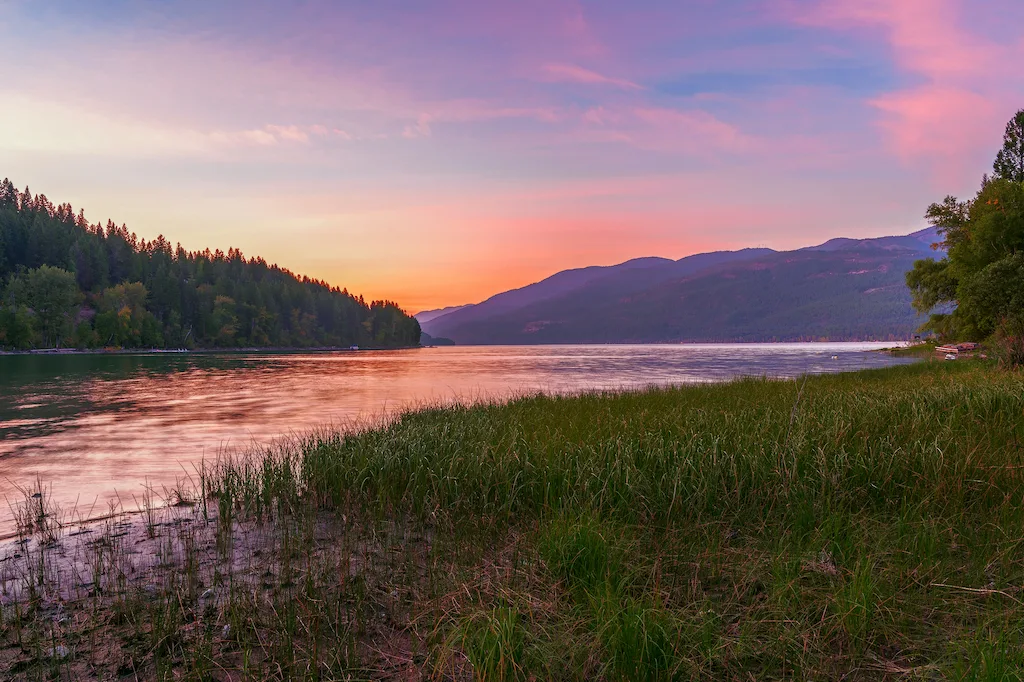 This pristine wilderness includes more than 700 miles of trails, beautiful alpine lakes, incredible wildlife, and unique mountain towns that attract outdoor lovers in every season.
One of our favorite mountain towns is Whitefish, Montana, which is located 26 miles from Apgar Visitor Center in Glacier National Park.
Whitefish makes a perfect home base for all of your outdoor adventures, whether you want to ski at the iconic Whitefish Mountain Resort, hike the mountain trails in Flathead National Forest, or head into Glacier National Park each day.
We've rounded up the best things to do in Whitefish, Montana, as well as some of our favorite nearby excursions and hikes in Glacier National Park.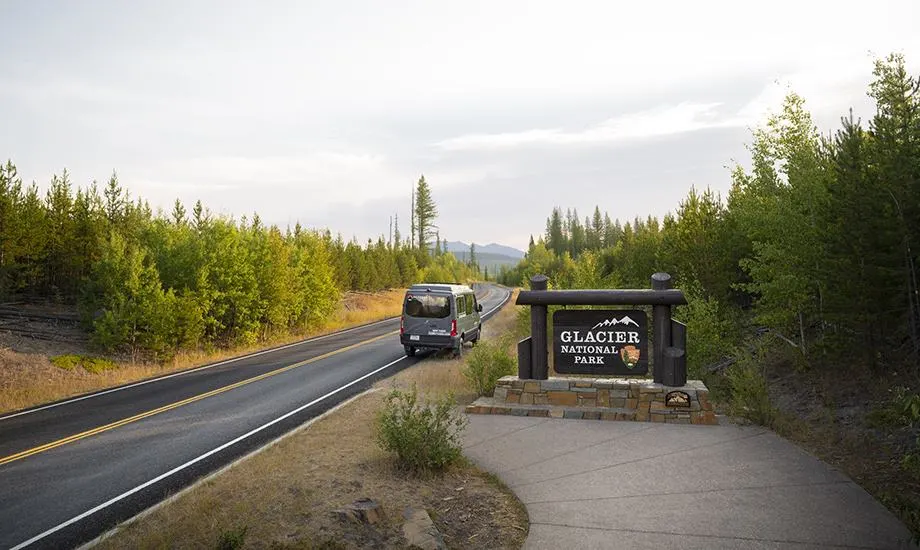 Elevate your adventure! Add a bit of luxury and intrigue to your Whitefish vacation. Rent a Mercedes-Benz Sprinter campervan from Monterra Campervans.
There's a Moterra Campervan rental hub in Whitefish, less than 10 miles from Glacier National Park.
Your adventure mobile comes fully stocked with everything you need for a spectacular Montana adventure.
The Best Things to do in Whitefish, Montana
You'd be forgiven for thinking, upon first inspection, that Whitefish is a typical mountain resort town.
Whitefish Mountain Resort is just north of town, and Big Mountain is a looming backdrop from every vantage point. The streets are lined with colorful shops and bustling restaurants, and it's very obvious that tourist dollars play a crucial role in the town's success.
We urge you to dig a little deeper into the community of Whitefish. While it's got a great infrastructure to support a thriving tourism industry, there's more here than you might expect, especially if you love outdoor adventures.
Get Acquainted with Downtown Whitefish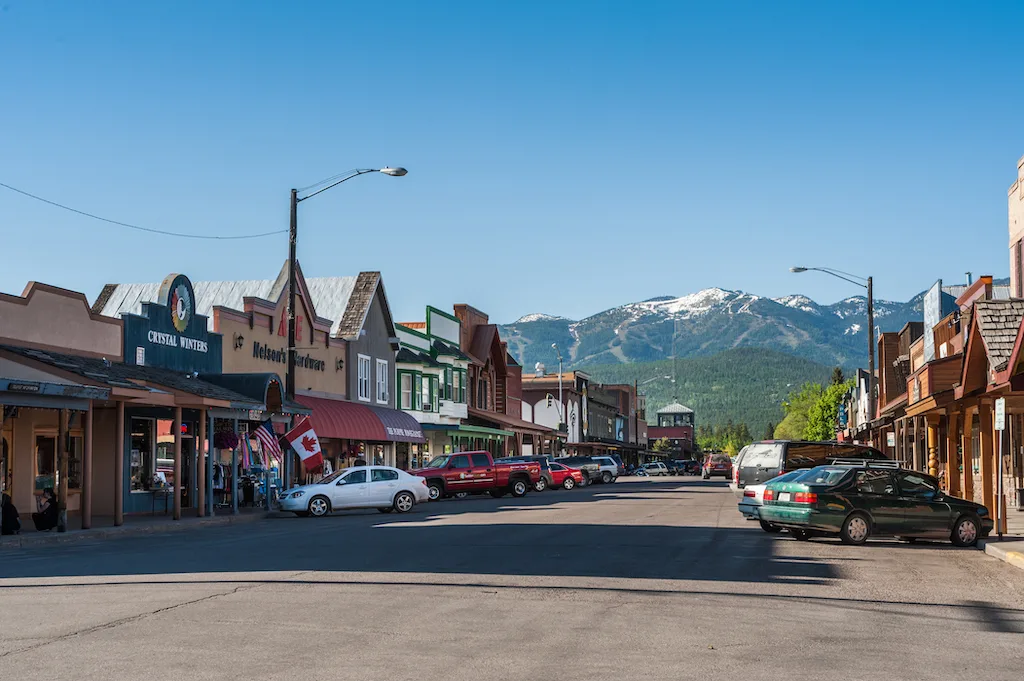 Checking out the downtown district in Whitefish will help you orient yourself to all of the adventures to come. In Whitefish, you have access to local outfitters, restaurants for every type of diner, breweries, distilleries, and even the Whitefish Theatre Company.
You can easily meander downtown Whitefish in an afternoon, but chances are, you'll find yourself coming back here again and again during your getaway. Here are some of the spots you won't want to miss.
Shopping in Whitefish
The Toggery: A beautiful clothing store and outfitter on Central Avenue in downtown Whitefish. The Toggery is part upscale boutique, part rustic department store. If you want to bring a bit of Montana home with you, this is the spot.
Whitefish Farmers' Market: The downtown Whitefish Farmers Market is open every Tuesday evening in the summer from 5 – 7:30 pm. Stock up on produce, indulge in freshly prepared meals and goodies, and listen to live music. Note that dogs are not permitted.
Going to the Sun Gallery: A nice selection of unique local art, including beaded and turquoise jewelry, paintings, and beautiful sculptures.
Where to Eat in Whitefish
Latitude 48: For unique culinary offerings that are prepared artistically, fantastic special events, and delightful cocktails, definitely reserve a table at Latitude 48. The pasta is made in-house. Also, am I the only one that can't resist fried Brussels sprouts?
the Wich Haus: If you're looking for creative sandwiches, you won't find any better than at the Witch Haus. Everything is prepared from scratch, and each creation is delicious. Plenty of vegetarian options, homemade potato chips, pickled veggies, and homemade sorbet. I'm ready to hop on a plane just thinking about a Wich Haus lunch!
Tupelo Grille: This is the perfect spot for a special dinner. At Tupelo Grille, you'll find a cozy atmosphere and the fanciest comfort food you'll ever eat! Be sure to make reservations. Oh, and you might want to skip lunch so you can really indulge! The only downside – it's not the best choice for vegetarians.
Where to Drink in Whitefish
Let's talk about some of our favorite things -namely, where to get a locally-crafted beer or a fresh, strong cup of coffee in Whitefish.
Bonsai Brewing Project: This brewery and grill is the perfect spot to chill on an outdoor patio and enjoy a few unique brews. The beer selection is always changing, but you can expect fresh IPAs and excellent seasonal ales, not to mention a small, but delightful, food menu.
Spotted Bear Spirits: For something a little stronger, head over to Spotted Bear Spirits, where you can taste a selection of mountain-inspired liqueurs, vodka, gin, and more. While I usually don't stray far past a cold beer, I'm a sucker for the Limoncello at Spotted Bear. At the tasting room, you can choose from distillery flights or cocktails. Enjoy!
Big Sky Brews Cruise: Not sure where to begin? How about on a Big Sky Brews Cruise tour? These fine folks will do the driving, so you can sample some of the area's best craft beers, or perhaps even some whiskey and wine, depending on your preferences. Choose from three different tours that last about four hours each.
Awesome Coffee: Whitefish has more awesome coffee than we could have hoped for! Looking for a perfect Honey Cinnamon latte or pour-over french roast? Check out Wild Coffee on Central Avenue in Whitefish. It's a beautiful space too, and it's open from 7 to 4:30 every day. For bright, strong, single-origin coffee from expert roasters, try Folklore Coffee on East Second Street.
Cultural Attractions and Unique Experiences in Whitefish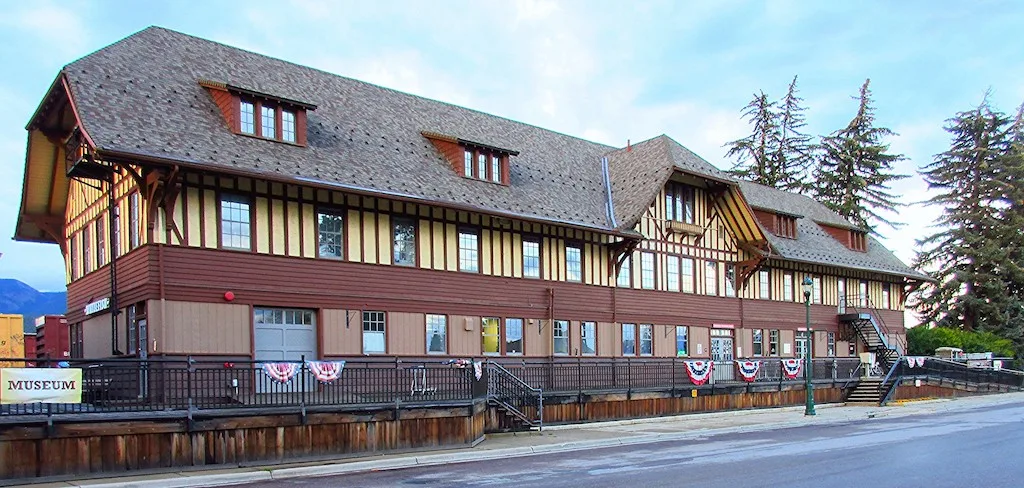 Whitefish Depot: Yes, it's a train station, but historic Whitefish Depot is a gem of a building, whether you arrive via Amtrak or just want to check it out during your visit.
Whitefish Depot was originally built by the Great Northern Railway in 1928. Noted for its beautiful half-timbered, the Whitefish depot was restored in the 1990s. The Stumptown Historical Society. There's a small museum adjacent to the waiting room.
This is one of the busiest train depots between Seattle and Minneapolis.
Stumptown Art Studio: Stumptown Art Studio is a nonprofit organization in downtown Whitefish, offering classes for adults and kids, rotating exhibitions, and drop-in open studio times for everyone to paint pottery or fuse glass with other creatives.
Hank's Hatchets: The ax-throwing craze has come to Whitefish, and it's the perfect date night activity or indoor adventure for the evening crowd. Booking a lane online is highly recommended.
Whitefish Theatre Company: The Whitefish Theatre Company has been putting on critically acclaimed shows for more than 40 years. Performances are held at the fully accessible O'Shaughnessy Center's 328-seat theater. Be sure to check their calendar of events when planning your trip.
Four Seasons of Adventure at Whitefish Mountain Resort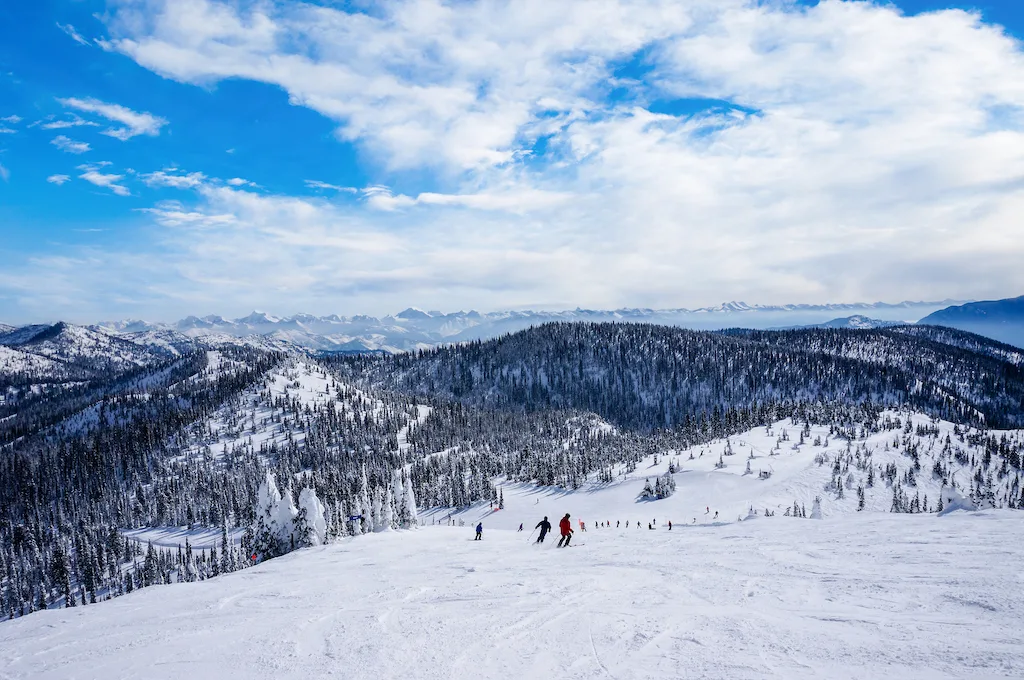 Skiiers and snowboarders are already in the know about how awesome this mountain town is. It's time to get in on the fun. The mountain at Whitefish Mountain Resort sees more than 320 inches of snow every winter, and there are 111 trails spread across 3,000 acres. For an affordable skiing or riding experience, try night skiing on the weekends for just $27.
The fun doesn't end when the snow starts to melt either. In the summer, you have even more options! Take a zipline tour, try lift-serviced mountain biking, ride the alpine slides, or check out the aerial adventure park. No matter what season you choose to explore Whitefish Mountain Resort, you will never run out of adventures.
If you're staying in downtown Whitefish in the winter, you can easily hop on the SNOW (Shuttle Network of Whitefish) to get to and from the mountain. It's free and easy!
Explore the Best Hikes Near Whitefish Montana
There are so many great hiking trails in the Whitefish area that we could write an entire book about them. Instead, we're going to focus on day hikes that are located close to the downtown area. This way, you can spend more time on the trails and less time in your car! We'll cover a few Glacier National Park hikes in the section below.
The links below lead to AllTrails, our preferred platform for finding and exploring trails. If you sign up to AllTrails+, you can download maps for offline use, which is awesome when cell service is spotty!
Lion Mountain Loop: This is an easier trail with about 350 feet of elevation gain. For such an easy hike, the views are phenomenal. If you hike this trail in the summer, be prepared to share it with lots of outdoor lovers. It's quite popular with families, and people with dogs. The trailhead is about 2.5 miles west of downtown on Route 93.
Valley Overlook: Park at the Reservoir Trailhead and hike into Haskill Basin. this 3-mile hike brings you to Valley Overlook, climbing 720 feet. There's a bench at the top and great views. This is the City of Whitefish Property and dogs must be on a leash. The trailhead is plowed for winter access.
Beaver Lake Loop: The Beaver Lake area has more than 20 miles of trails, giving you ample opportunities for solitude and recreation (hiking and biking). The Beaver Lake Loop is an easy 4-mile loop, climbing 500 feet in elevation. If you add an extra mile, you can hike to the lake and take a dip. The trailhead is about 9 miles west of town.
Relax by the Water at Whitefish City Beach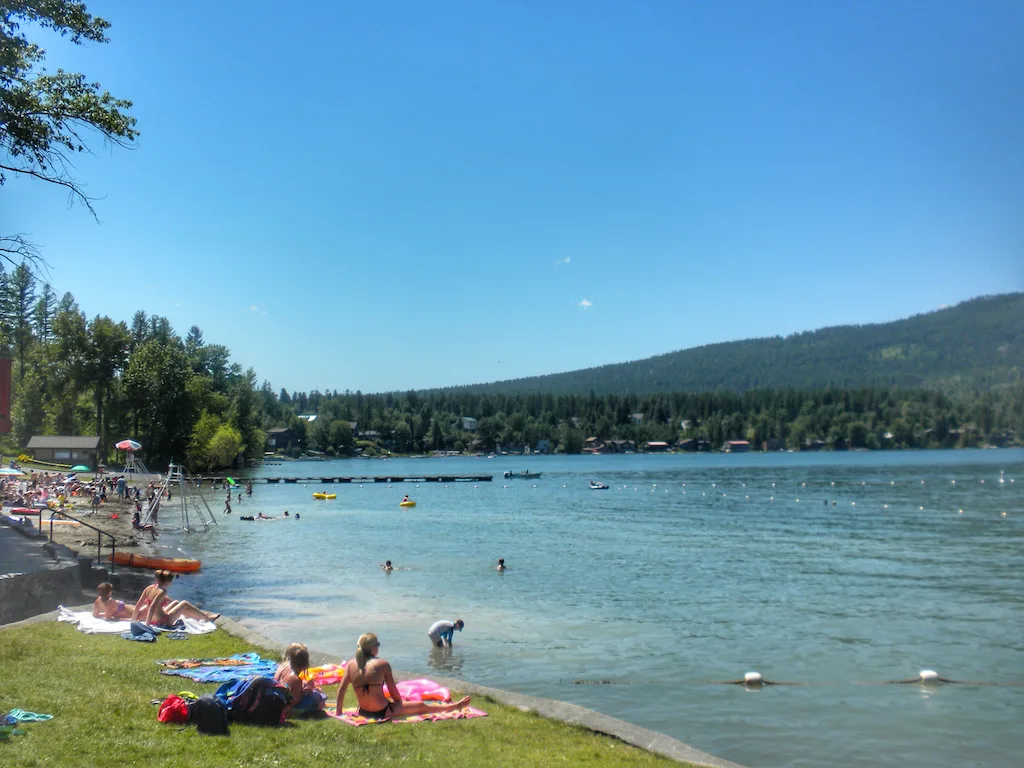 Whitefish Lake is a gorgeous glacial lake that can be accessed from various points in Whitefish and the surrounding communities.
The easiest access point is Whitefish City Beach, where you can swim, picnic, rent kayaks, or launch a boat without leaving town. This lovely beach is within walking distance of downtown and lifeguards are on duty during the summer.
Pitch your Tent at Whitefish State Park
If you want to pitch your tent or park your RV somewhere as a home base, but still want all the benefits of staying close to Whitefish, check out Whitefish Lake State Park. It's a small park right on Whitefish Lake.
From the park, you can easily access the Whitefish Trail system for both hiking and biking. Kayaks and stand-up paddleboards are available to rent for use on the lake. There are 25 campsites that are suitable for tents or RVs up to 40 feet in length. Some of the sites are open year-round. Reservations can be made ahead of time for summer camping.
Exploring Glacier National Park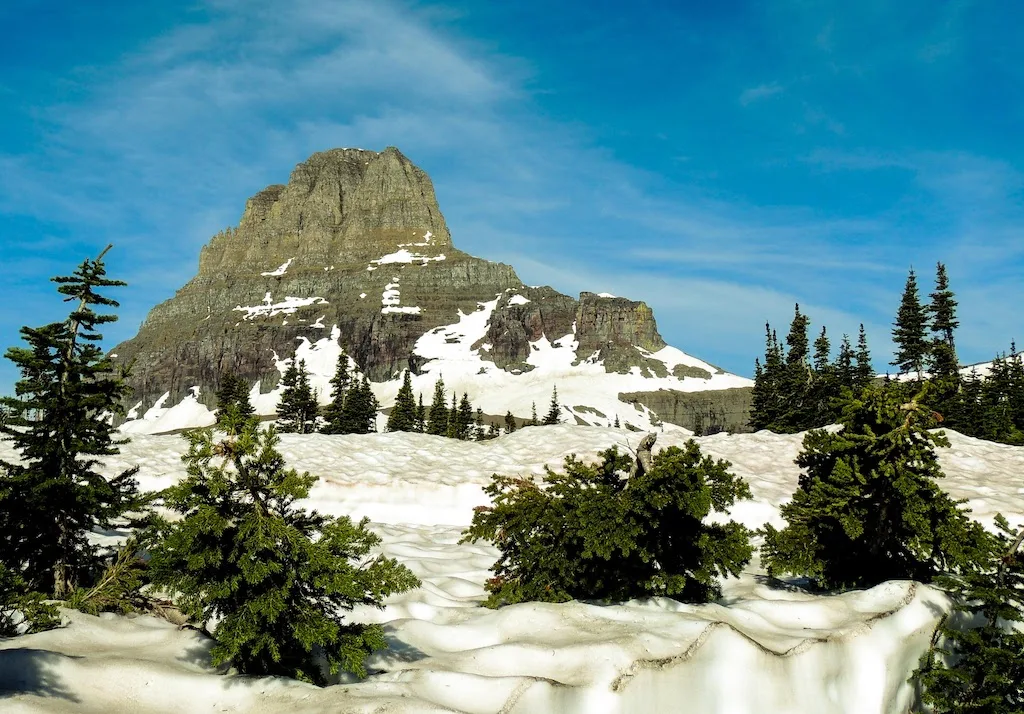 As we've already mentioned, the town of Whitefish is just 26 miles from the west entrance to Glacier National Park, a 1,583-square-mile wilderness with endless opportunities for hiking, photography, and wildlife viewing.
The entrance fee into Glacier National Park is $35 a carload ($25 between November 1 and April 30) and is good for 7 consecutive days.
If you plan on visiting more than three national parks in a calendar year, you can save a bit of money by purchasing the America the Beautiful Pass for $80. If you buy it from REI, they will donate 10% of the proceeds to the National Park Foundation.
As for where to go and what to see in Glacier National Park, here are some suggestions, with an emphasis on trails and natural attractions in the western half of the park, closer to Whitefish.
---
Read Next: Exploring Our National Parks – Camping and Hiking Guide
---
Drive Going-to-the-Sun Road
A road that every traveler should drive at least once, Going-to-the-Sun Road is a 50-mile scenic traverse of the Rocky Mountains, heading up and over Logan Pass at 6,646 feet and past too many waterfalls to count. There are numerous pull-offs where you can get out and stretch your legs and look for wildlife.
On our summer road trip, we saw lots of bighorn sheep and a few mountain goats. We were on the lookout for the elusive grizzly bear but never spotted one.
In 2021, Glacier National Park implemented a ticketed timed entry system for Going-to-the-Sun Road to reduce congestion. If you will be visiting Glacier between May and September, read more about the ticketing system here.
Visit Lake McDonald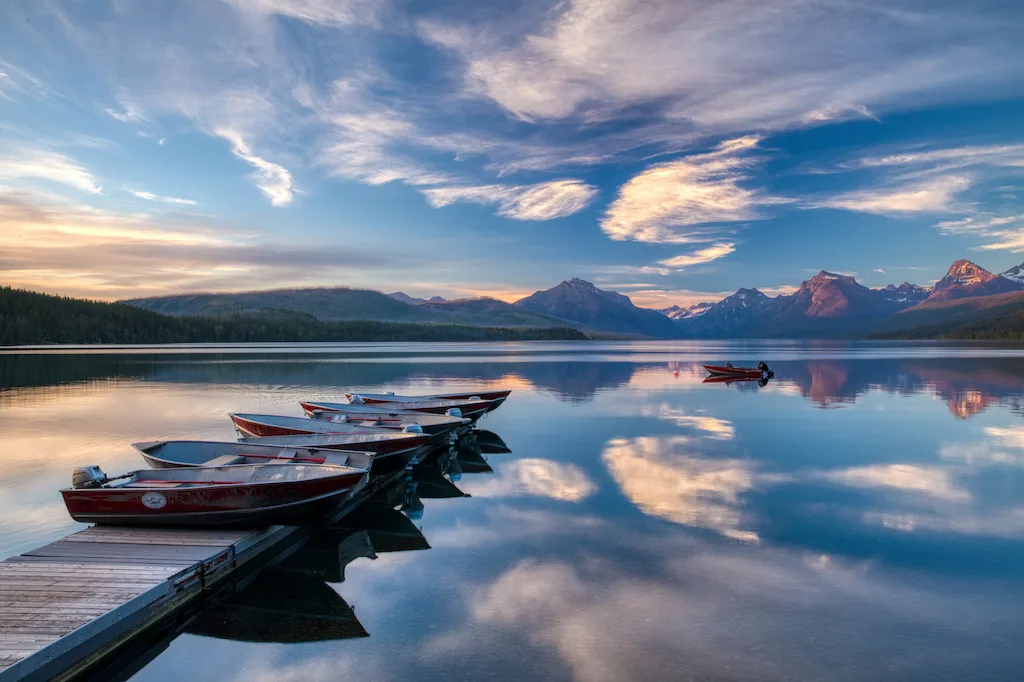 When you enter Glacier National Park at the Apgar Visitor Center, you'll be at the western tip of Lake McDonald. This beautiful glacial lake is 10 miles long and 472 feet deep at its deepest point. This is a hub of activity on the west side of Glacier National Park and there are lots of opportunities for hiking.
Take a boat tour out on the lake, which gives you a whole different view of the surrounding mountains. Tours are operated by Glacier Park Boat Company on the historic DeSmet, built in 1930. Tours run between May and September and should be booked ahead of time.
Glacier Park Boat Company also rents personal watercraft so you can go where you'd like. Single kayaks, double kayaks, stand-up paddleboards, rowboats, and 8hp motorboats are all available. Reservations are required.
Day Hiking Near Lake McDonald in Glacier National Park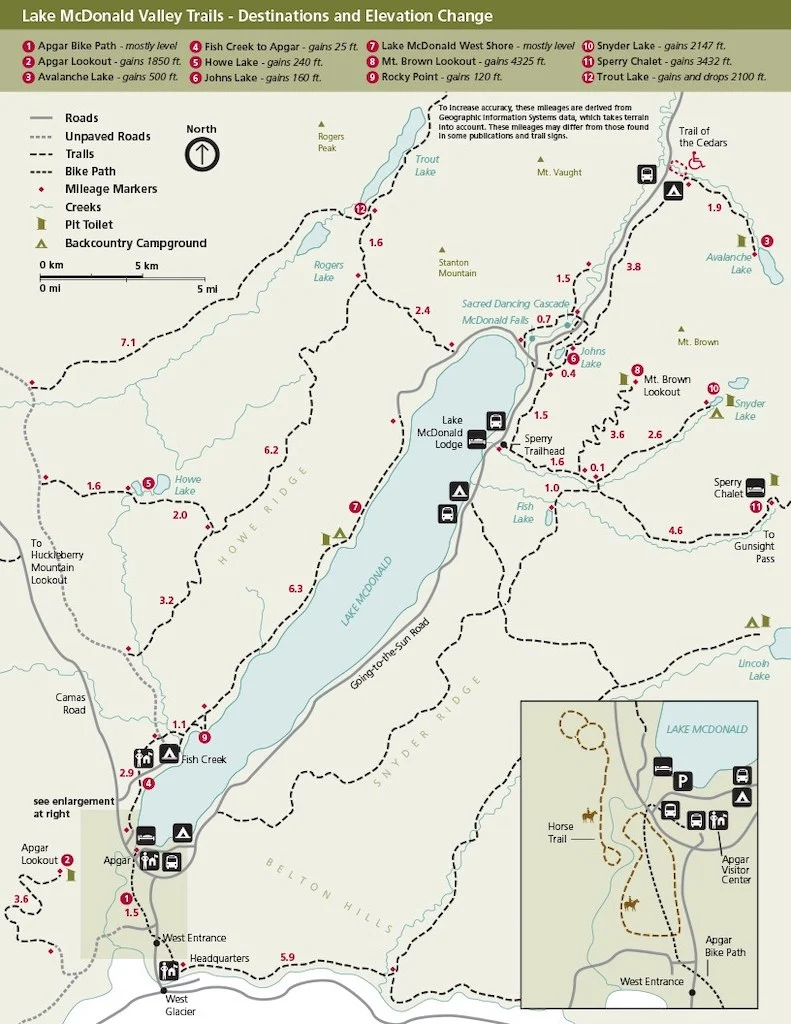 The National Parks Service lists 18 day-hikes just in the Lake McDonald Valley. There's a nice variety of hikes here, so no matter your skill level, your feet can take you somewhere spectacular. Here are a few of our favorites.
Rocky Point via Lake McDonald Trail: This 2.2-mile hike is an easy one for families and the views across the lake are stunning. The trailhead is just past Fish Creek Campground.
Trail of the Cedars and Avalanche Lake: Trail of the Cedars is an easy and accessible loop off of Going-to-the-Sun Road just north of Lake McDonald. There's a nice picnic area here too. Once you complete the Trail of the Cedars, climb up to Avalanche Lake for a hike that totals 5.9 miles. There are gorgeous lake and mountain views, and it climbs about 800 feet.
Upper McDonald Creek Trail: Visit the gorgeous McDonald Falls, look for moose, and walk through lush, old-growth forest. Combine this with John's Lake Loop to create a 6.3 hike that is fairly flat, and incredibly beautiful.
For a full list of all the amazing hikes in the reason, consider purchasing a Falcon Guide – Easy Day Hikes in Glacier and Waterton Lakes National Parks. A National Geographic trail map is included in the bundle.
Where to Stay in Whitefish, Montana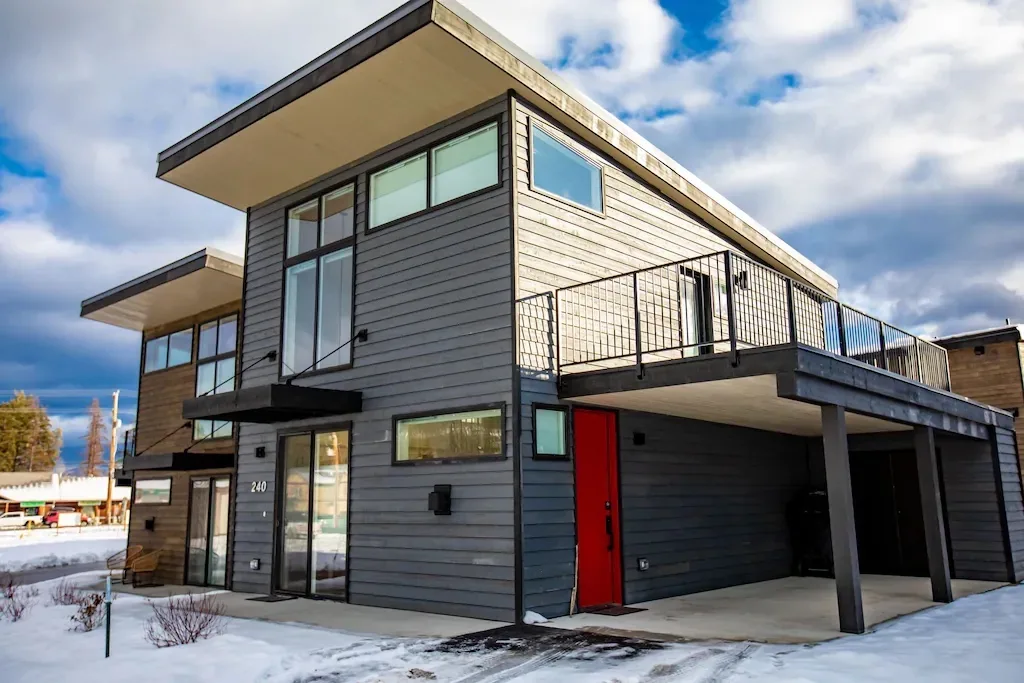 When it comes to lodging and hotels in Whitefish, you've got a lot of choices. We often prefer to pitch our tent, and for that, we recommend Whitefish Lake State Park. You can also camp inside Glacier National Park, but while the scenery is beyond compare, the sites are small and lack privacy. They also fill up very quickly, whether you book online, or try the first-come, first-served route.
Obviously, camping isn't for everyone, especially if you are flying into the area. Here are some suggestions for lodging in Whitefish.
Grouse Mountain Lodge: Located near the Whitefish Lake Golf Club, Grouse Mountain Lodge provides a free shuttle to downtown so you can leave your car behind and explore. Each room has a small kitchenette, and extra amenities include an idoor pool, outdoor hot tub, fire pit, and dry sauna. There's an espresso bar and restaurant onsite too.
Firebrand Hotel: If you want to be within walking distance of downtown Whitefish, you have to check out Firebrand Hotel. Not only is every space beautifully decorated, but they also have a rooftop patio and hot tub, a fitness center, bicycles and snowshoes for guests to use, and free ski storage. Oh, and did I mention that some of the rooms are pet-friendly?
The Quarry: Need more space? The Quarry is a beautifully designed and decorated house for rent between downtown Whitefish and Whitefish Mountain Resort. It includes a full kitchen, living room, and balcony, with room for six guests. Guests have access to the community clubhouse, outdoor pool, hot tub, exercise room, trails, and fire pit.
If you've never explored the Rocky Mountains in Montana, it's time to plan your adventure. There are so many things to do in Whitefish Montana. This little resort town makes a perfect home base for all of your mountain and lake explorations!
---
Follow us on social media for more outdoor travel ideas!
Pin for Later?