Please check to make sure destinations are open to visitors before planning a trip and follow local guidelines. We earn a commission from affiliate links that may be included in this post.
Looking for a desert playground where you can explore parts of the wild and warm southwest this winter? Joshua Tree National Park is home to those iconic namesake trees, of course, but also far-reaching vistas, giant climbable boulders, strange historical sites, and some of the best sunrises and sunsets you'll ever set eyes on.
If you're looking for a unique getaway that will enable you to explore the national park by day and embrace the outdoors in comfort by night, then Joshua Tree glamping is what you need! There are lots of small towns around Joshua Tree National Park, and many of them are also thriving artist communities where you'll find galleries, cool restaurants street art, and incredibly unique accommodations that include magical glamping properties.
While Joshua Tree is a vast and wild landscape, it is far from desolate. This expansive park in Southern California receives more than 3-million visitors a year.
Ready to plan the perfect getaway to this unique desert destination? First, you need a place to stay! The areas around Joshua Tree National Park have a higher concentration of glamping properties than anywhere I've ever been. These places are so unique, you'll want to book them all.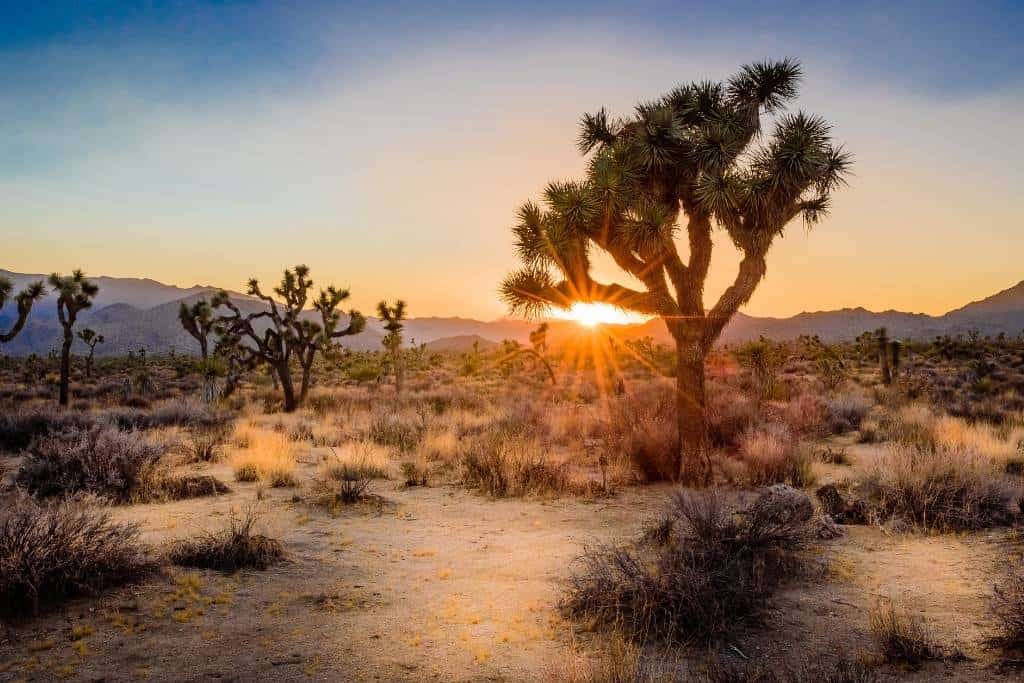 Why Glamping?
Why not? Glamping is way more fun than staying in a hotel and way more comfortable than sleeping on the ground! We are hooked on finding cool glamping spots all over the United States and have made it our mission to turn others onto it as well. If you are traveling to Joshua Tree via airplane, then you won't have to pack all that camping gear for your trip. You can still have a fun, outdoor experience and sleep in a real bed at night!
Glamping is admittedly more expensive than camping, but you can save money by cooking your own food and making your own fun! We use a few different booking platforms when looking for the perfect glamping spot, but we definitely have the best luck with Airbnb, which has dozens of awesome Joshua Tree glamping properties. New to Airbnb? Use our referral link for up to $50 off your first stay!
When to go Glamping Near Joshua Tree
The best time to visit Joshua Tree National Park is between October and April. It's insanely hot in the summer and not great for anything but lounging in a shaded hammock with an ice-cold beverage, and you won't find much shade in the desert. Winter, on the other hand, is great for exploring the desert!
Our most recent trip to Joshua Tree was in January, and it was mild during the day, but below freezing at night. It even snowed! Unfortunately for us, we were camping without a lot of gear, and we froze our tooshes off. The next night we got a hotel room. Lame, I know! We know better now, and if we visit Joshua Tree in the winter, we're all about glamping!
With glamping, you can handle a few temperature extremes because you'll be sleeping in a real bed, and you'll have the comfort of four walls, and maybe even a source of heat. If you want to see wildflowers blooming all over the desert, head to Joshua Tree between February and April. If you want to see tarantulas (who doesn't?), visit in October!
A Few Tips for Glamping Near Joshua Tree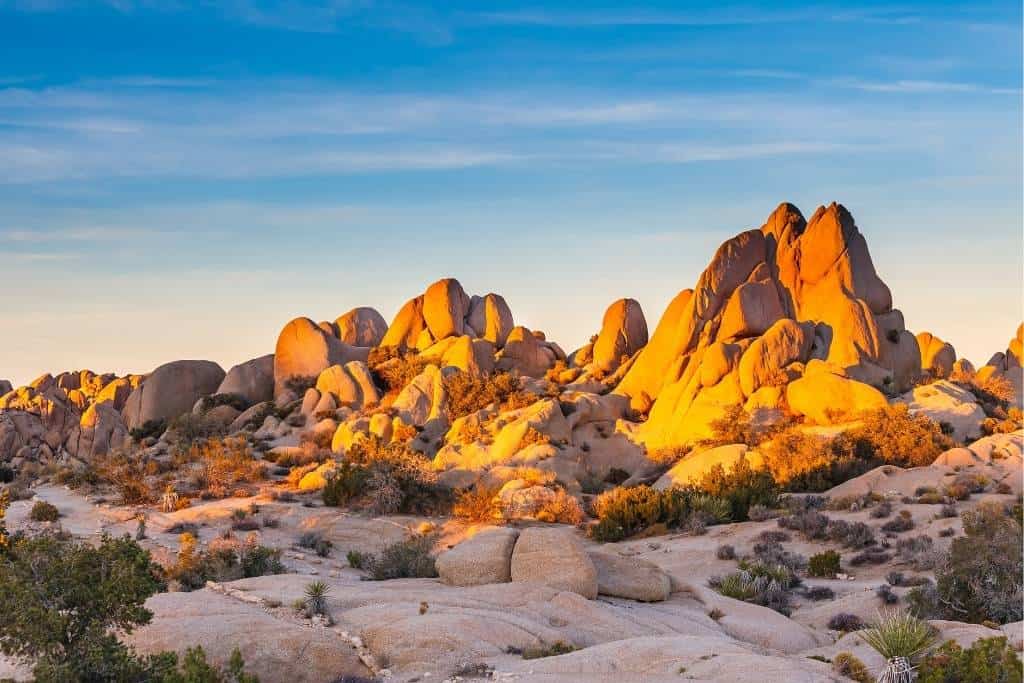 To make the most of your glamping trip, it's important to pack appropriately and do your research so that you can minimize risk and maximize fun.
Glamping is way more luxurious than camping, and there's a good chance you won't need any camping gear, but be sure to read the listing carefully so there aren't any unpleasant surprises. Does your glamping spot have a bed with linens? A shower? A kitchen? A fancy espresso maker? Be sure to plan accordingly.
Hook yourself up with an America the Beautiful Pass! If you're planning to visit several national parks this year, we recommend getting an America is Beautiful National Parks Pass. You can use your pass at more than 2,000 National Park sites and 10% of the proceeds are donated to the National Park Foundation, helping to protect our parks. The average cost of admission to a single national park is $35, so the $80 park pass will pay for itself very quickly.
Watch where you're walking. Not only are there pokey Joshua Trees and cactuses (cacti?), but rattlesnakes, scorpions, and black widow spiders are also active in this desert. Boots are best for most adventures, and always be mindful of where you put your hands and feet.
Drink a lot of water. There is very little water available in Joshua Tree National Park, so bring your own when you head out on adventures. A gallon of water per day per person is recommended for adults.
Respect the Sun. Wear sunglasses, hats with brims, and a high-SPF sunblock, even in the winter. The desert sun is quite unforgiving!
Pack lots of layers. The weather in Joshua Tree is unpredictable – unless you're visiting in the summer when it's just hot. I recommend three solid layers – a long-sleeve wool shirt, an insulating layer, and a water/windproof layer. (Click on the individual links to see what I always pack.)
The Best Joshua Tree Glamping for Your Next Adventure
There are three entrances into Joshua Tree National Park, but most of the glamping properties in our list are closest to the North Entrance in Twentynine Palms or the West Entrance in Joshua Tree. The South Entrance is much more remote with no amenities. The park is massive, encompassing 1,235.4 square miles, so it's important to plan a loose itinerary ahead of time so you don't spend all your time driving between attractions. We recommend the Moon Guide to Palm Springs & Joshua Tree as well as the National Geographic trail map to Joshua Tree National Park.
Glamping in Twentynine Palms near the North Entrance to Joshua Tree
The town of Twentynine Palms is just minutes from the north entrance to Joshua Tree National Park and the Oasis Visitor Center. It's also a great home base for exploring the Mojave National Preserve, Mojave Trails National Monument, and the Amboy Crater. There are more than 29 murals and 40 art installations in Twentynine Palms, not to mention a handful of art galleries, a community theater, and a renowned observatory. This is a bustling community with lots of restaurants and shopping (both chain stores and boutiques).
As for exploring Joshua Tree National Park from Twentynine Palms, the north entrance is the best entrance for exploring Skull Rock, Jumbo Rocks, 49 Palms Oasis Trail, the Cholla Cactus Garden, and the Geology Tour Road.
---
Secluded Cabin Rental at Starlight Ranch in Twentynine Palms
Welcome to Starlight Ranch! This beautiful and well-appointed cabin is located in Wonder Valley, just 15 minutes from the north entrance to Joshua Tree National Park. With all the comforts of home, this may be a step even above glamping, but we're not complaining. Not only is the stargazing phenomenal, but you can do it from your own outdoor bathtub!
Located on 2.5 acres of secluded wilderness, this awesome cabin rental features air conditioning, a TV with Roku, Wi-Fi, a full kitchen, washer and dryer, record player, and plenty of room to spread out inside. Outdoors, you have access to a fire pit, games, a cowboy pool, and 360-degree mountain views. This high-desert property is the perfect place to unwind after a day exploring the park.
What we love about this Joshua Tree glamping property: So much to love! The outdoor bath is incredible!
---
The Aquarius Tent at Purple Peaks in Twentynine Palms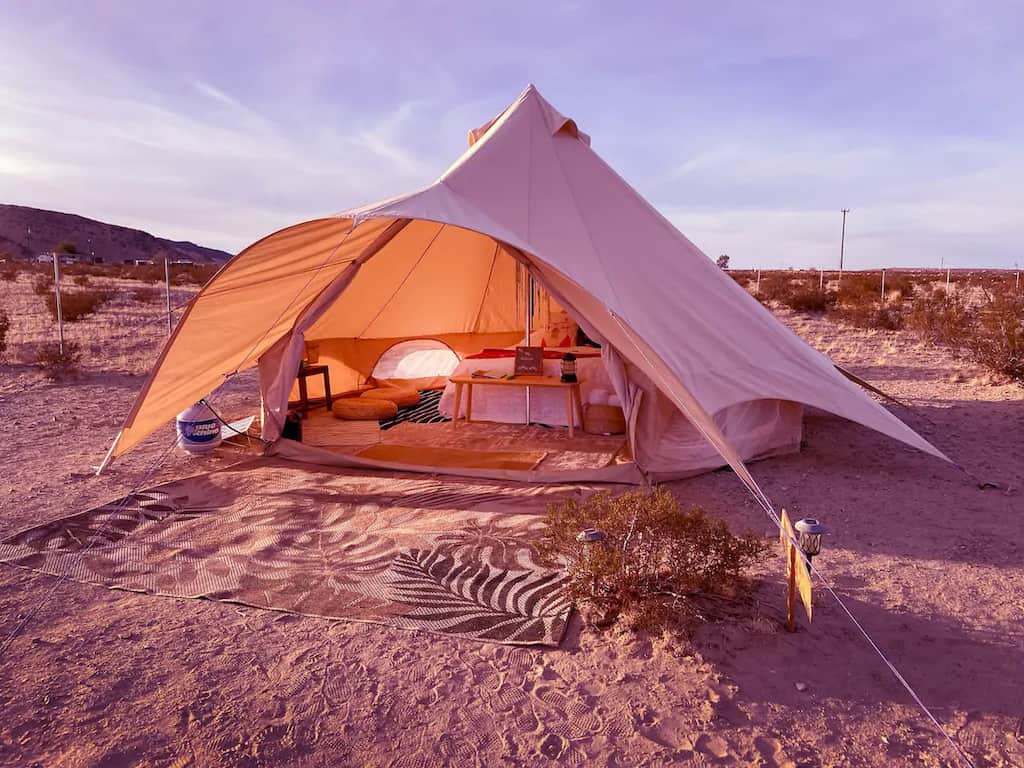 The Aquarius Tent at Purple Peaks is a fully-outfitted glamping experience near the entrance of Joshua Tree National Park. It's a comfortable and modern glamping site that is perfect for times when you need to unplug in luxury. Located a short drive from the park's north, this awesome spot offers panoramic views and a convenient location.
This awesome glamping tent near Joshua Tree is located on 5 acres inside a gated fence, which is shared with only one other vintage RV rental. The tent is equipped with everything you need for a comfortable glamping experience, including a queen-size memory-foam bed, a safe propane space heater, a propane fire pit, a cooler, solar energy for lights and charging, and an outdoor shower.
A port-a-potty is located nearby, along with a hammock to relax in, and a fully-stocked coffee station.
What we love about this Joshua Tree glamping experience: Very unique accommodations and close to the park.
Something to consider: The Aquarius tent is located next to a cannabis grow operation, which may actually be a perk!
---
Glamping in Joshua Tree near the West Entrance to Joshua Tree National Park
The town of Joshua Tree is a small community just west of Twentynine Palms. It's a stark contrast to Twentynine Palms, with no chain restaurants and no attractions begging for your tourist dollars. Instead, you'll find a unique desert town with a handful of restaurants and cafes and a decidedly desert-hippie vibe.
While staying in Joshua Tree puts you pretty close to the west entrance of Joshua Tree National Park, don't neglect the town itself. Be sure to check out the world-famous Crochet Museum, the Joshua Tree Outdoor Museum, and Crossroads Cafe, which has the BEST breakfast in the Mojave Desert.
The west entrance to Joshua Tree National Park is closest to Hidden Valley, Keys Ranch, Barker Dam, and Keys View.
---
Area 55 Futuro House: A One-of-a-Kind Spaceship Rental in Joshua Tree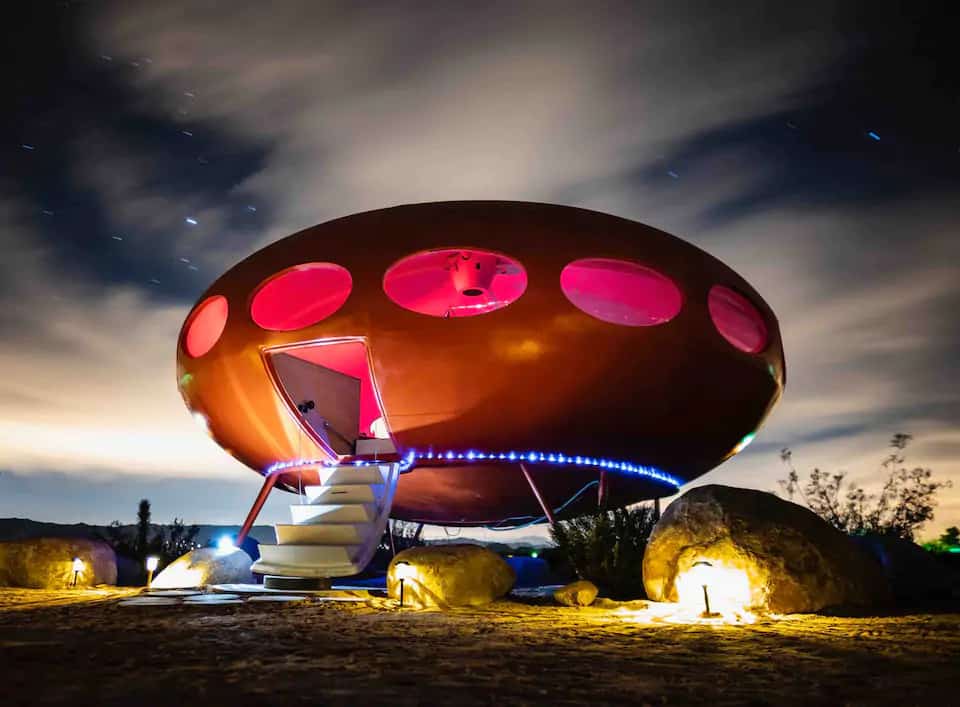 This original Futuro House has been totally restored for the ultimate Joshua Tree glamping experience. There are only 85 Futuro Houses in the world, 19 in the USA, and only one that you can spend a night in. A night in this spaceship-themed abode provides a completely off-grid glamping experience.
There is solar power for small electronic devices, an in-house Bluetooth sound system, a propane heater, and a coffee maker. Outdoors, you will find hot showers and private restrooms, and a kitchen area with a propane grill. This is a one-of-a-kind glamping experience, but it's still rustic, so plan accordingly.
What we love about this Joshua Tree glamping experience: That is really is an EXPERIENCE!
---
Color Trip Glamping Trailer in Joshua Tree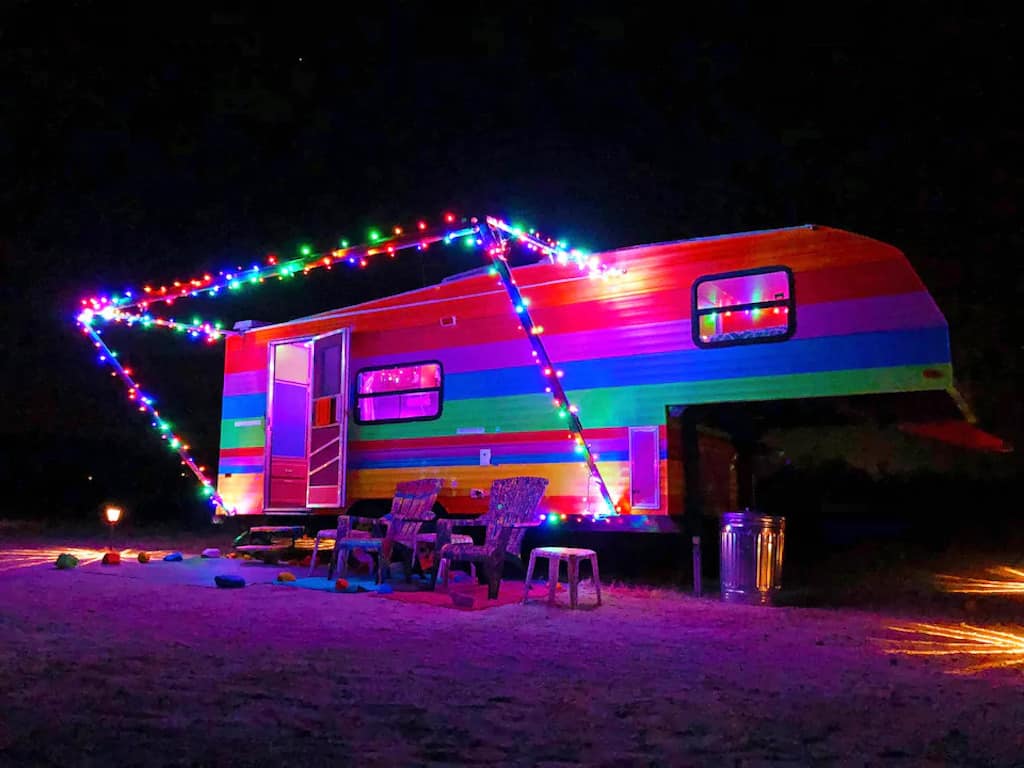 Located four miles east of downtown Joshua Tree, the Color Trip Trailer is a fun desert retreat that maximizes color and comfort for a fun couple's getaway. The Color Trip Trailer sits on a three-acre property with one other glamping retreat and offers 360-degree views of the Mojave Desert, Joshua Tree National Park, and Copper Mountain. This is a custom 5th wheel RV decorated with one-of-a-kind artwork by Patrick Hasson. Inside, you'll find a cozy bedroom, a bathroom with a shower, and a fully-functioning kitchen.
Outdoors, there's a charcoal grill, a patio with table and chairs, and a cowboy pool, perfect for watching one of the Mojave Desert's famous sunsets. There is electricity and heat, but no Wi-Fi, so you can unplug and enjoy the unique space.
What we love about this Joshua Tree glamping experience: The Color Trip Trailer is directly across the street from Joshua Tree National Park. And the price is right!
---
Glamping Airstream with E-bikes in Joshua Tree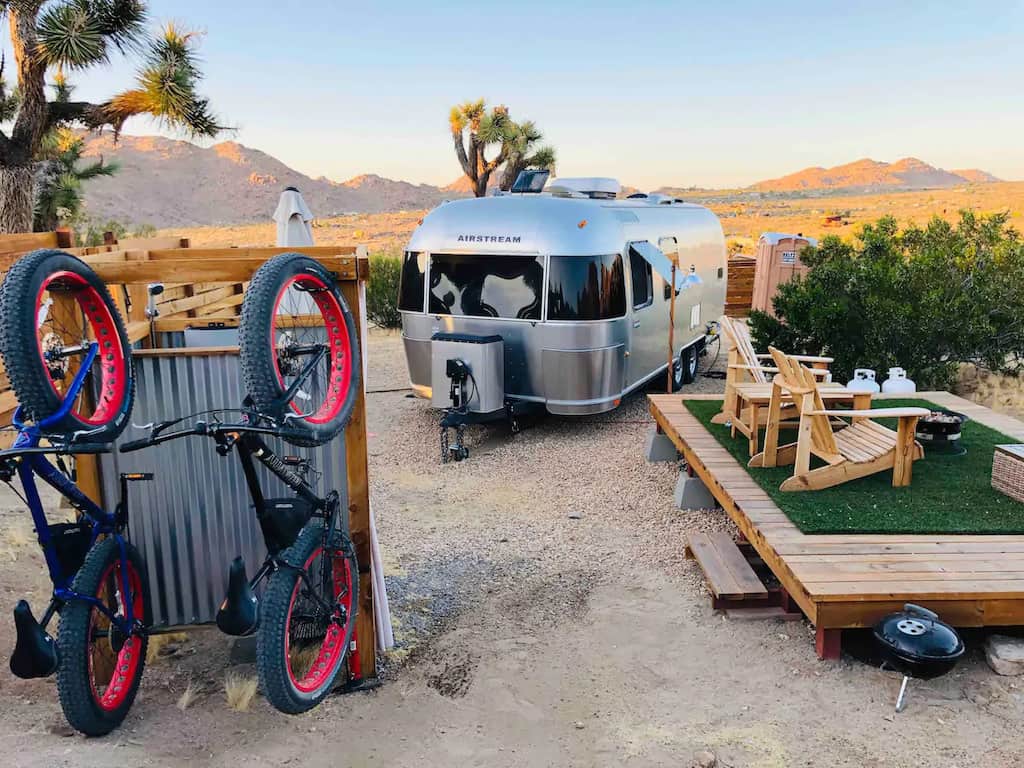 This beautiful, minimalist Airstream in Joshua Tree has direct local access to Joshua Tree National Park via a neighborhood trail, so you can hike or bike right in without the crowds. E-bikes are available to rent so you can explore farther and really get off the beaten path. The Airstream includes water, heat, A/C, a full kitchen, a comfy bed, a sink, and a shower.
Outside, there is a small deck with Adirondack chairs, a gas grill, and a gas fire pit. The Airstream is on a shared 2.5-acre lot with a rental house, but no amenities are shared.

What we love about this Joshua Tree glamping property: Easy access to Joshua Tree National Park.
Something to consider: E-bike rentals are $30 a day and not guaranteed.
---
Glamping Dome in Joshua Tree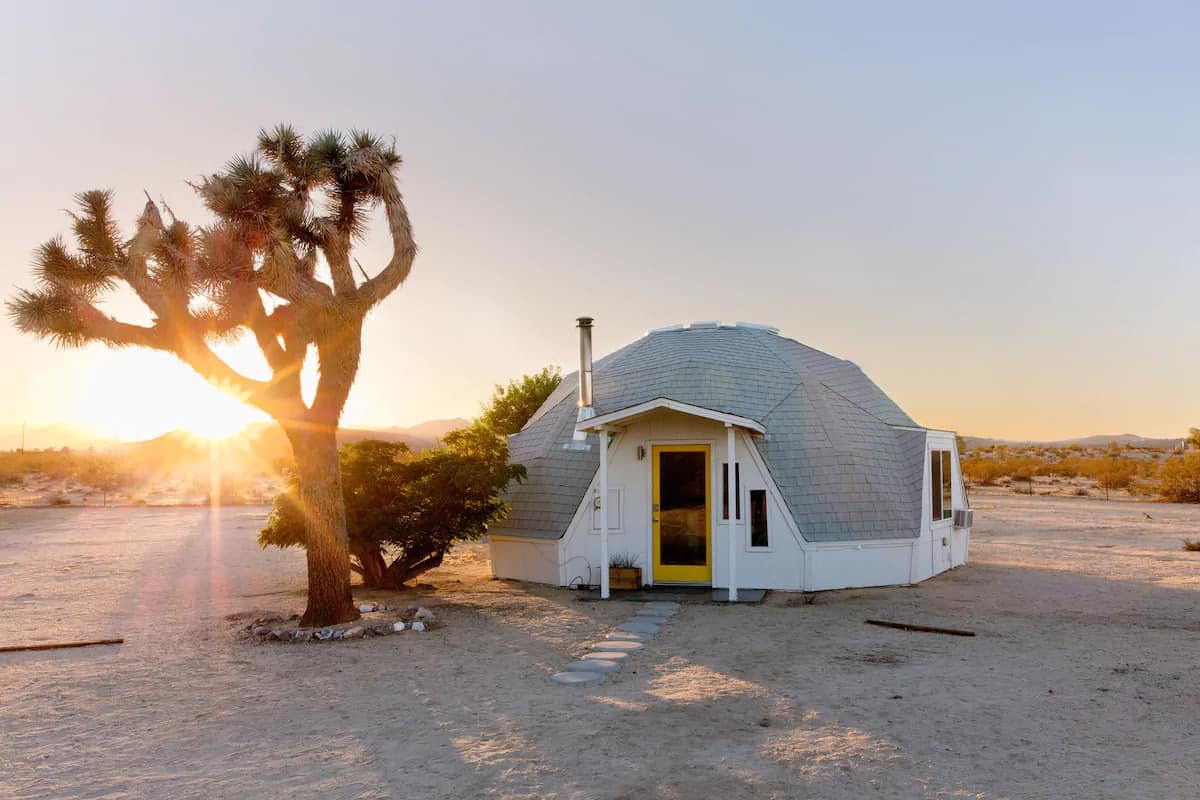 This modern-bohemian dome in the desert features beautiful decor and many personally designed and handcrafted items. With two bedrooms that comfortably sleep up to four guests, this magical retreat is definitely a step above glamping. A natural wood-burning stove and space heaters warm the dome on chilly evenings, and AC keeps the dome cool when the outdoor temperatures soar. Other amenities include Wi-Fi, a full kitchen, and easy self-check-in.
Dome in the Desert is located on several secluded acres and is just a few minute's drive from downtown Joshua Tree and the west entrance to Joshua Tree National Park. This beautiful vacation rental has been featured in many magazines, including Condé Nast Traveler, Esquire Magazine, Goop, Refinery29, and Apartment Therapy.
What we love about this Joshua Tree glamping property: The interior decor is simple, sophisticated, and comfortable.
---
Joshua Tree Camping Cabin for up to Four People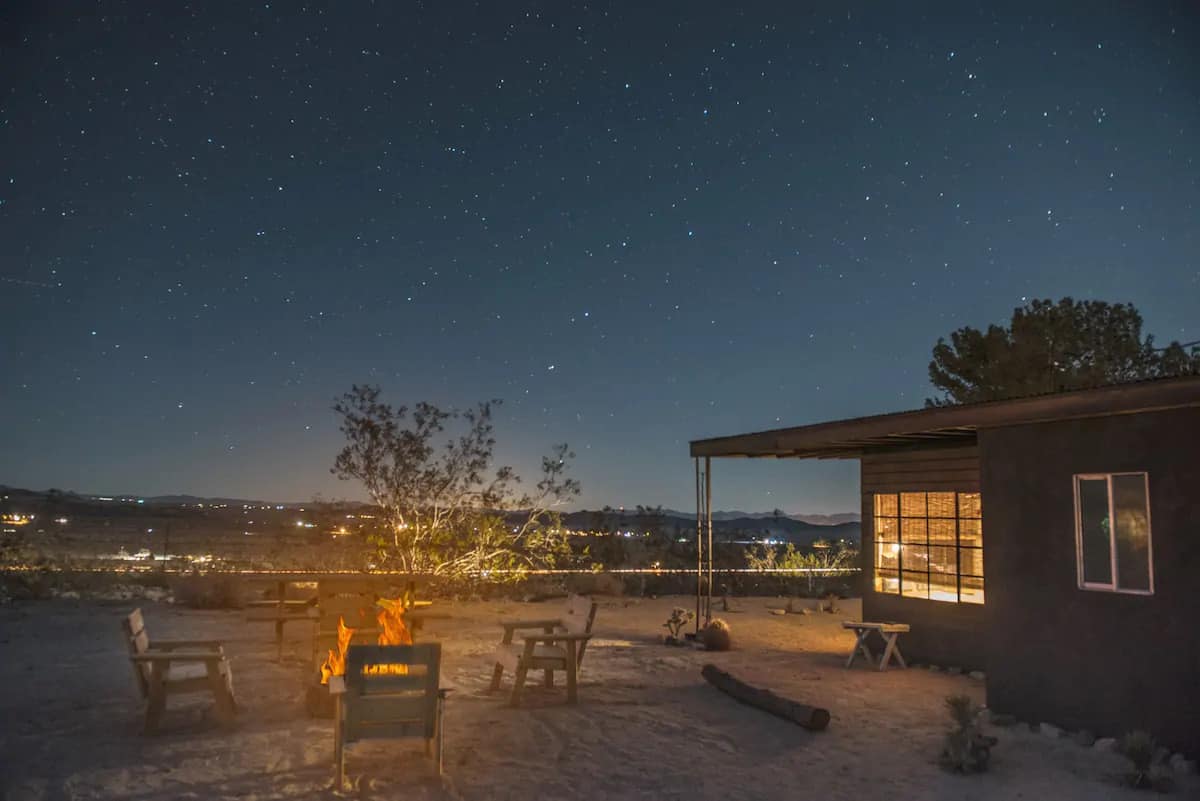 This rustic, but stylish mid-century camping cabin is located on five private acres, high on a hill with terrific views across the desert. This original Jackrabbit homestead was built in 1956 and includes two full-size beds, a small kitchenette, a bathroom with a shower, a wood-burning stove, Wi-Fi, and air conditioning. There is also a small 1960s travel trailer on the property, which is great for hanging out in, but not suitable for sleeping.
Enjoy the secluded starry nights outdoors next to the propane fire pit, and use the cabin as your hiking home base for exploring Joshua Tree National Park. The cabin is within hiking distance of some great trails that lead into the park.
What we love about this Joshua Tree glamping property: The night-time views are unreal!
---
Magical Airstream with Stunning Views in Joshua Tree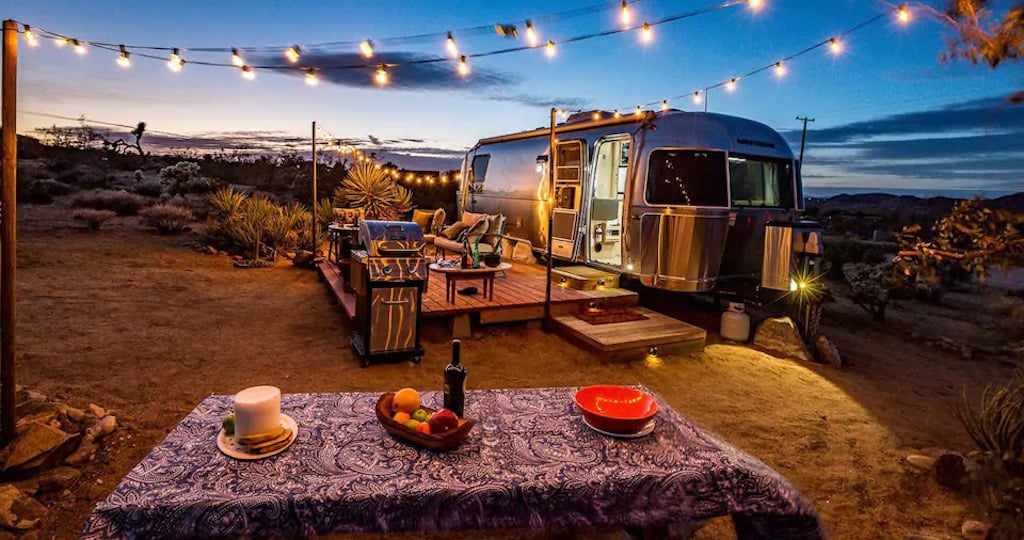 Ready for a pristine desert getaway just 10 minutes from the west entrance to Joshua Tree National Park? This 25-foot, 2018 Flying Cloud Airstream is nestled on 1.5 secluded acres with stunning desert and mountain views. The Airstream is perfect for both singles and couples. There are lots of great hiking trails nearby, and there's even a stock-tank dipping pool.
Airstream amenities include a roomy refrigerator with an inside freezer, three burner gas stove-top, oven, microwave, furnace, AC, hot water, separate shower and toilet, and two sinks. For entertainment, there's a Clarion stereo with AM/FM/Satellite radio, a CD player, Bluetooth®, 2 HD TVs with surround sound, a Blu-Ray™ DVD player, plus USB and 110V outlets throughout.
Outside, you'll find a gas grill, a picnic table and umbrella, a couch, and two patio chairs. This magical Airstream makes for a lovely romantic getaway!
What we love about this Joshua Tree glamping property: High-tech amenities and a beautiful outdoor space.
---
Glamping in Yucca Valley and Farther West
If you travel southwest from the town of Joshua Tree on Route 62, you run right into Interstate 10, which loops around the southern boundary of Joshua Tree National Park. Palm Springs and Coachella are both located west of the park, but you will also find small, unique communities like Yucca Valley, Morongo Valley, and Whitewater. These towns are a little farther from the west entrance but offer a unique appeal of their own.
Glamping properties in the small towns farther west tend to be less expensive, but the tradeoff is that you have to drive a bit to get into the park. Here's an overview of distances to help you decide if glamping our here is for you.
Distance from the West Entrance:
Yucca Valley: 7-10 miles
Morongo Valley: 17 miles
Whitewater: 30 miles
---
No Regrets Coyote: Glamping Cabins in Yucca Valley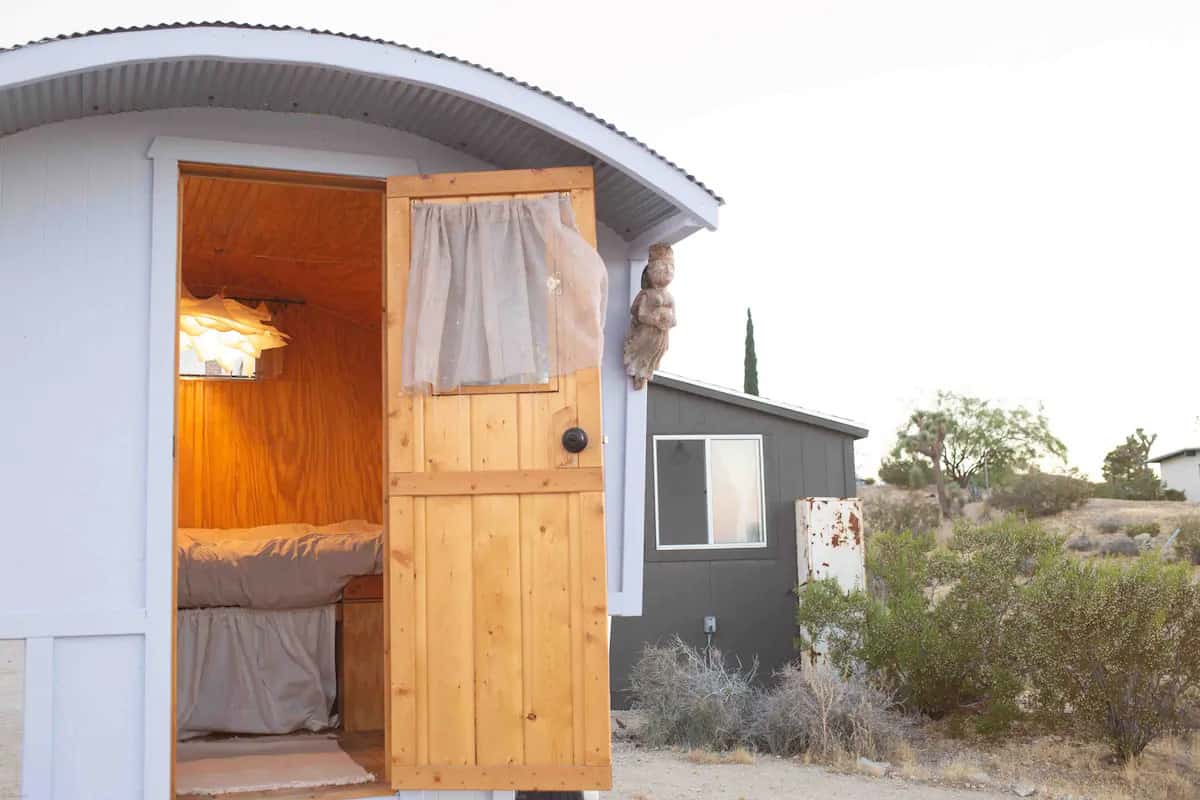 No Regrets Coyote is a small group of unique glamping cabins tucked into 2.5 acres of the Yucca Mesa, making it. a great destination for small groups. You can book the newly renovated Coyote Cabin, which is equipped with a fully-stocked kitchen, bathroom, a full-size bed, a writing desk, air conditioning, and heat. The other cabins will remain empty during your stay. Cell service is decent here, but there is no Wi-Fi.
If you are traveling with a group, you can also book the Sleeping Hut with two twin beds, and the Sky Wagon with. a full-size bed. Both are equipped with electricity, fans, and space heaters. The cedar-lined modern outhouse has a flushing toilet and a sink for guests staying in the Sleeping Hut or Sky Wagon, and all guests can take advantage of the outdoor shower with full views of the desert during the day, and illuminated by stars at night.
No Regrets Coyote is 10 minutes from Joshua Tree in the open desert. Here you can sit around the fire, soak in the hot tub, or watch the sunrise from the desert deck. There's even an outdoor pizza oven!
What we love about this Yucca Valley glamping property: Private sleeping areas for small groups traveling together.
---
Minimalist Glamping Cabin in Morongo Valley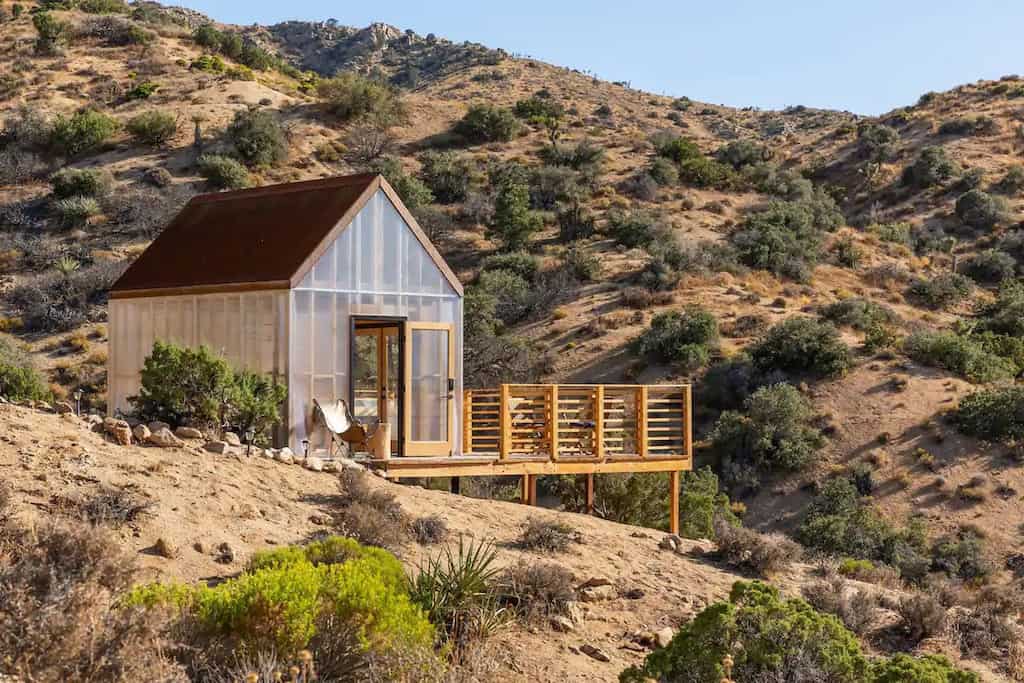 This completely off-grid glamping cabin is situated on 100 acres with some of the best views in the high desert. Its clear walls blur the lines between indoors and out, making this a unique desert getaway that you won't soon forget. The cabin includes a queen-size bed, a wrap-around deck, and a propane fire pit. There is a detached kitchen with a propane stove and a full bathroom just yards away. It is one of two other vacation rentals on the property. There is power for lights and heating, but not for a full-time refrigerator. A cooler is available for storing food, but you will have to bring your own ice.
There are plenty of hiking trails on the property, so you can spend your entire getaway relaxing and enjoying the property. It's about 15 minutes from Joshua Tree National Park.
What we love about this Morongo Valley glamping property: 100 acres to explore and awesome views!
---
Wildflower Cabin in Whitewater, California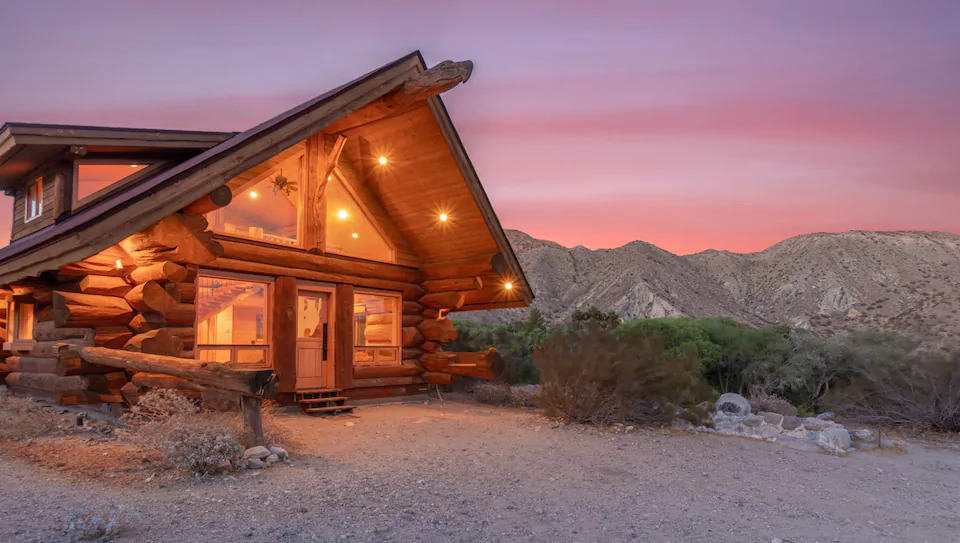 Located on a beautiful five-acre property in Whitewater Canyon, this unique and authentic log cabin is flooded with natural light, a cozy design, and all the comforts of home. With stunning views in every direction, fresh, modern decor, and thoughtful touches throughout, this gorgeous spot makes for a relaxing getaway any time of year. Amenities include a full kitchen, a bathroom with a clawfoot tub, a vintage record player, a fire pit, and an outdoor hot tub.
You can step outside the front door and follow the sound of flowing water to the river at the base of the canyon 100 feet below. Venture to Whitewater Preserve, 3000 acres of parkland just 1.5 miles down the road. For a full-day adventure, the famed Joshua Tree National Park is only 45 minutes away. Springtime wildflower hikes throughout the area are spectacular. A stay at the Wildflower Cabin is ideal for couples seeking a rejuvenating and romantic getaway.
What we love about this Whitewater glamping property: It's very private and romantic.
---
Ready to explore this beautiful part of Southern California? Do it in style at one of these beautiful Joshua Tree glamping retreats! And if you envision more glamping in your future, check out our glamping resource guide or read these posts:
---
Pin for Later?