Looking for a perfect escape without leaving home? A way to reconnect with nature and the outdoors in comfort? A unique slumber party idea for the kiddos? I implore you to give backyard glamping a try!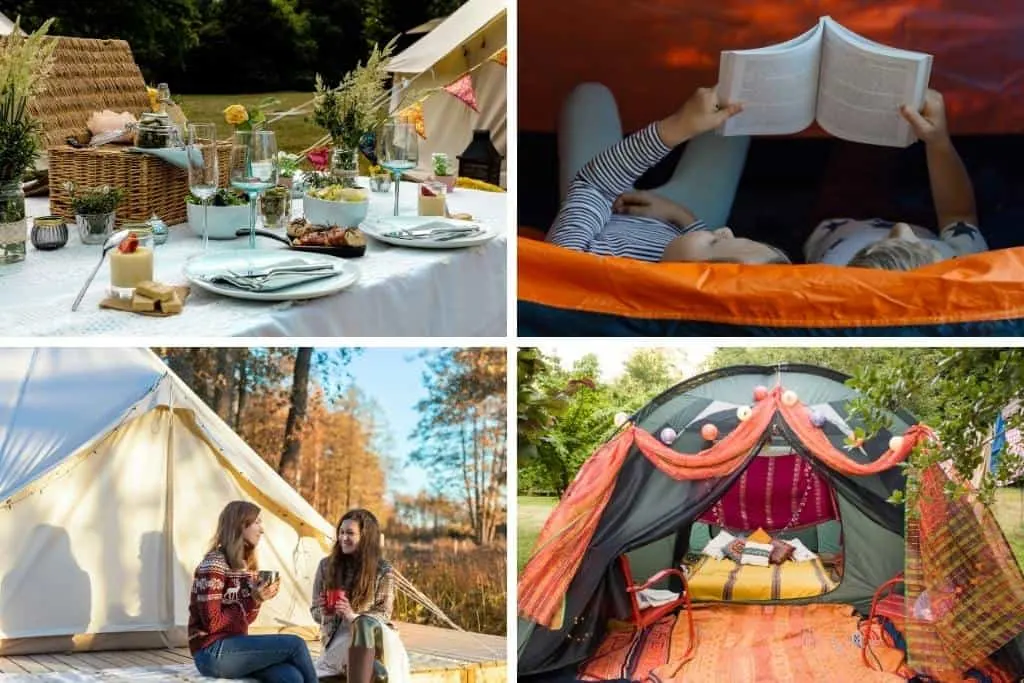 It's no secret that we love camping — even sleeping on the ground isn't bad if you're in the right spot. But, if you've been visiting this site over the past few years, you may have noticed our subtle shift toward glamping during our road trips and vacations. Wondering why? Read on to find out!
The Difference Between Camping and Glamping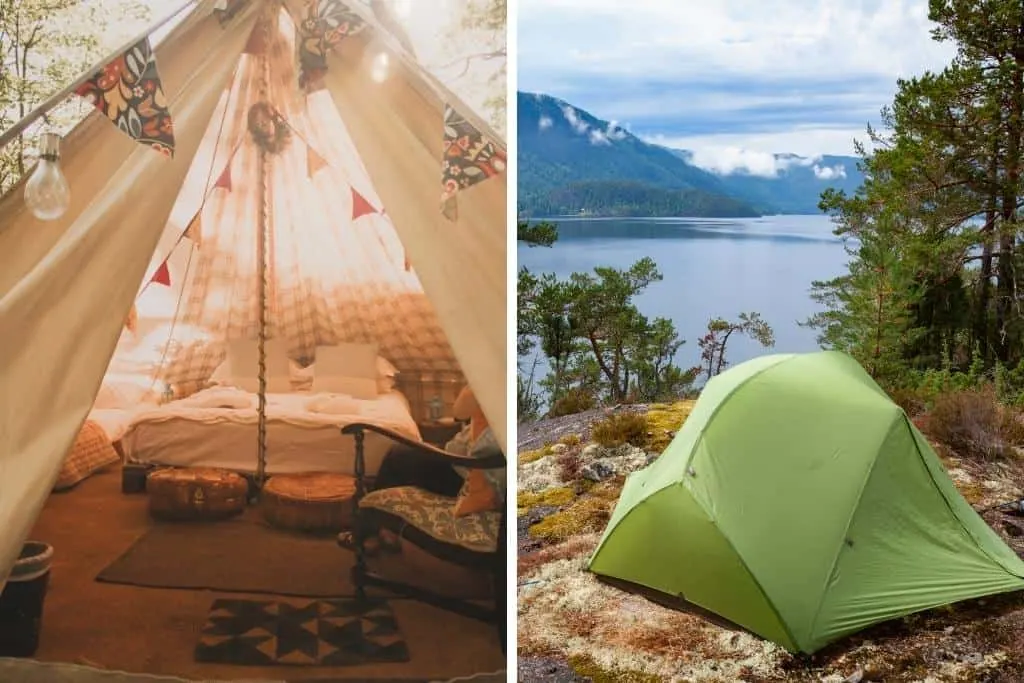 First, let's discuss the difference between camping, which is awesome, and glamping, which is also awesome. Both focus on outdoor immersion — getting out, and sleeping outdoors to better embrace and connect with the natural world.
The main difference is that glamping, which is a shortened version of glamorous camping, is a bit more luxurious than standard tent camping. Instead of a sleeping bag and pad on the ground, glamping usually involves sleeping in a real bed with real bed linens. It's like bringing your bedroom outside.
Glamping usually involves a few luxurious extras too, like twinkling lights, plush pillows, rugs, and tent accessories that make your glamping retreat feel more like home and less like roughing it.
Even the tent itself is a step above what you would normally bring camping. Glamping tents are bigger and sturdier so that they can withstand the elements and be used as a blank canvas for those luxurious touches that make glamping special.
Of course, the difference between camping and glamping also depends on you and what feels luxurious. It could be sleeping in a cabin, an RV, or a hammock. Take your standard camping setup and kick it up a notch. Now it's glamping!
Getting Started with Backyard Glamping: The Basics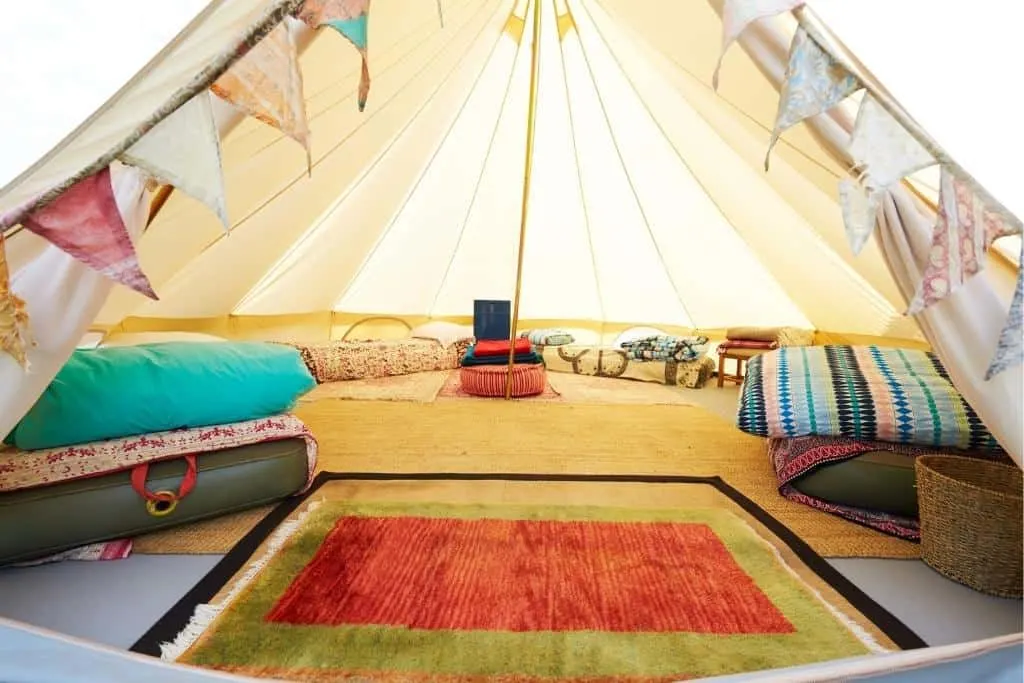 If you want to head out on a glamping vacation, we've got plenty of resources for you to find the perfect home away from home, especially if you're glamping in the Northeast. But, what if you want to create your own glamping retreat right in your backyard?
Backyard glamping is the perfect family vacation for overworked and underpaid parents. While glamping gear does require an initial investment, it's a one-time investment that lasts for years and years. Everything else about backyard glamping is affordable. You're cooking at home. You aren't putting gas in the car, and most importantly, you're not spending hundreds of dollars on a hotel or fancy glamping retreat.
As a bonus, your backyard glamping setup can double as a guest room for visitors during nice weather, and a lot of your glamping gear will work as luxurious camping gear when you do want to travel in style. It's a win-win, and whether or not you actually want to sleep in your backyard, I recommend investing in some of the glamping gear mentioned below to fuel your road trip dreams.
So, what do you need to get started with DIY glamping? A tent, a bed, a kitchen set up, and some basic accessories. I recommend getting the best glamping gear you can afford so that it doesn't have to be replaced often.
The Best Tents for Backyard Glamping
The most important piece of glamping gear to add to your stash, your glamping tent should be roomy and rugged. You want to be able to keep it set up for weeks at a time without worrying that it will be destroyed by wind and rain. You also want to know that your bedding won't get wet, dirty, and ruined. My personal preference for a decent glamping tent is that it is heavy canvas and light-colored. I don't want to feel like I am sleeping in a cave.
So, do I have any recommendations for glamping tents? A few! These are based on personal experience staying at numerous glamping retreats and always asking what they use for a tent. We are in the market for our perfect glamping tent for backyard staycations, but we haven't decided what to get yet. Here are the ones that we're looking at:
Whiteduck Regatta Canvas Bell Tent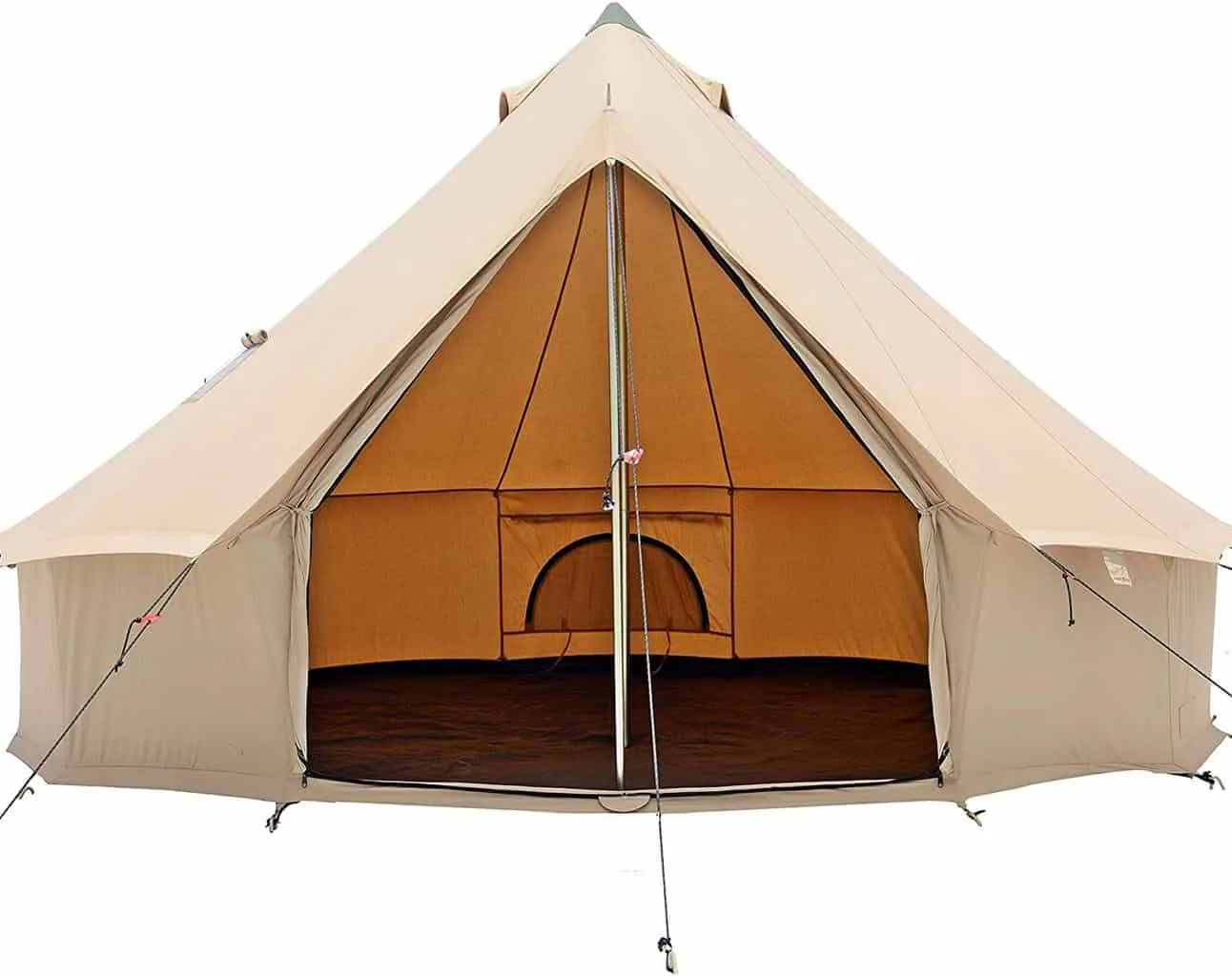 The Whiteduck Regatta Canvas Bell Tent is a 100% cotton, four-season, waterproof bell tent that comes in three sizes, sleeping 3, 6, or 8 people. All of the reviews are positive and the customer service staff are attentive to any concerns by customers. This is very important to us, especially when we are making a substantial investment.
I love that the Whiteduck tent is tall enough to stand up in and that it includes a waterproof ground cloth. We have seen ground cloths that are sewn in or can be zipped off. I can see the pros and cons of each, but it does seem like the zippered versions are much quicker to break and hard to repair. The Whiteduck ground cloth is sewn-in, which makes for a better seal and a warmer night's sleep.
This tent includes three windows with screens, plus a screen for the door to prevent bugs from coming in. There is a 5" fire-proof stove jack for inserting a woodstove for winter camping, and all of the seams are double-stitched for durability.
While the Witeduck Regatta is definitely an investment, it's a great option for those of you who are looking to make glamping a regular part of your family vacations.
Eureka Desert Canyon Tent for 4 People
The REI Co-op Skyward 6 Tent is ruggedly built for camping trips but is also perfect for backyard glamping. Vertical walls and high ceilings are great for standing up in, and there are several pockets for gear storage.
A large door and large mesh windows provide plenty of ventilation, and the fly extends over the door for extra weather protection.
While we do not own this particular tent, we have owned several REI tents and are always impressed with both the quality and the customer service. The Skyward 6 Tent gets a 4.4 out of 5-star rating on REI, and if you do decide to make your purchase from REI, you have a full year to return it for a complete refund if you aren't 100% satisfied.
Use Your Own Tent
Yes, a tent is a necessary piece of equipment for most backyard glamping adventures, but don't feel like you have to go out and buy something fancy to get started. If you already have a tent, use that, and see how you like glamping before investing in something more expensive.
Glamping Bed Set-Ups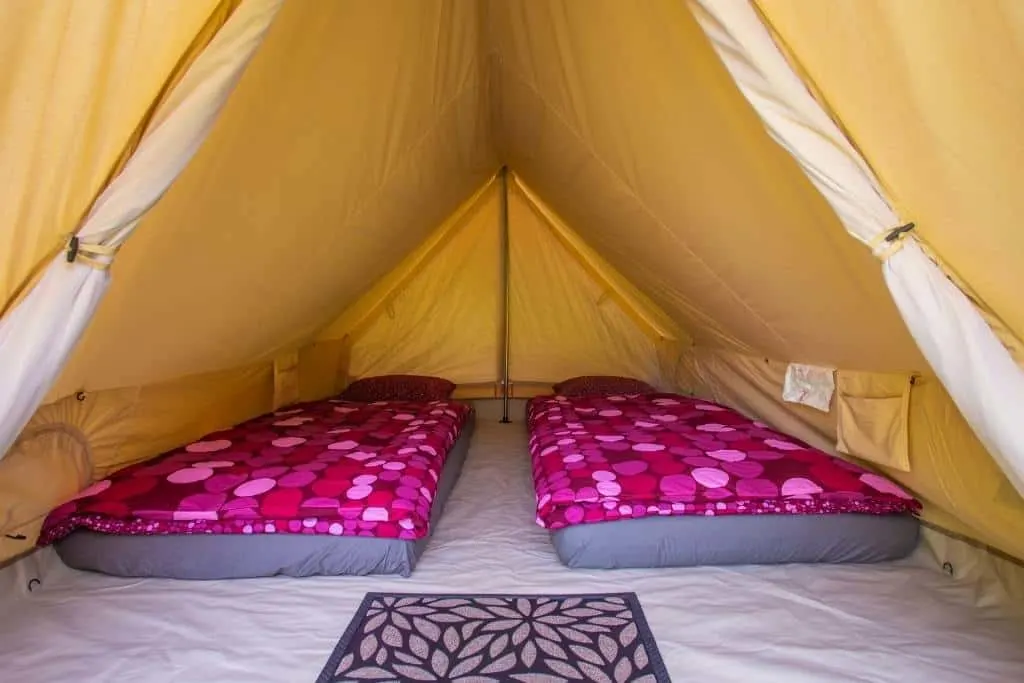 You can't just toss a pad and a mat into your tent and hope for the best when you're glamping because there's nothing glamorous about that! At the very least, you need a good air mattress that will make you feel like you're sleeping in a real bed. Look for a mattress with excellent reviews, good customer service, and a decent warranty. Otherwise, you'll find yourself replacing your mattress every single year.
Even better than an air mattress is a tri-folding foam mattress. This queen-size mattress from Milliard is incredibly durable and is perfect for glamping with kids and with pets. This one is extremely comfortable if you like your mattress on the firm side and it doubles as a guest bed in your home. I think the 4-inch version is great, but there's a 6-inch version if you want to up cushiness. Milliard offers free returns if you're not 100% satisfied.
Once you've got the mattress, you can add whatever bed linens you have on hand. We use regular cotton sheets, a cozy wool layer — this one is made from Alpaca, and then a lofty down layer. Comfort is key here! Pillows are usually from our beds at home, because they are always the most comfortable!
Your Glamping Kitchen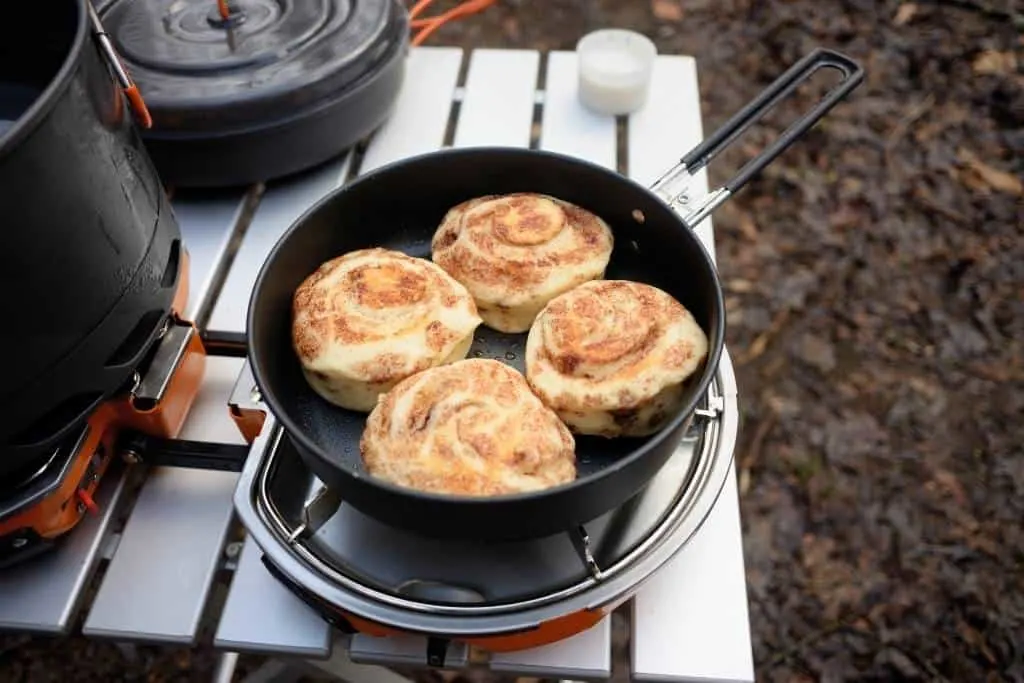 Moving on to kitchen gear. When camping, we have a dedicated camp kitchen that we bring with us on trips. We use it for glamping as well, adding a sturdy folding table with a waterproof tablecloth.
If you don't have a backyard firepit, try a Solo Stove! These things are amazing – smokeless, portable, and so easy to use. It burns wood efficiently and is perfect for campfire lovers who live in small spaces or travel a lot.
Need some meal ideas for your backyard glamping staycation?
Check out our favorite ideas for easy camping meals. Finally, nothing says luxury like a snazzy hot drink to go with your campfire. We've got special drink recipes for both kiddos and adults.
Glamping Gear and Accessories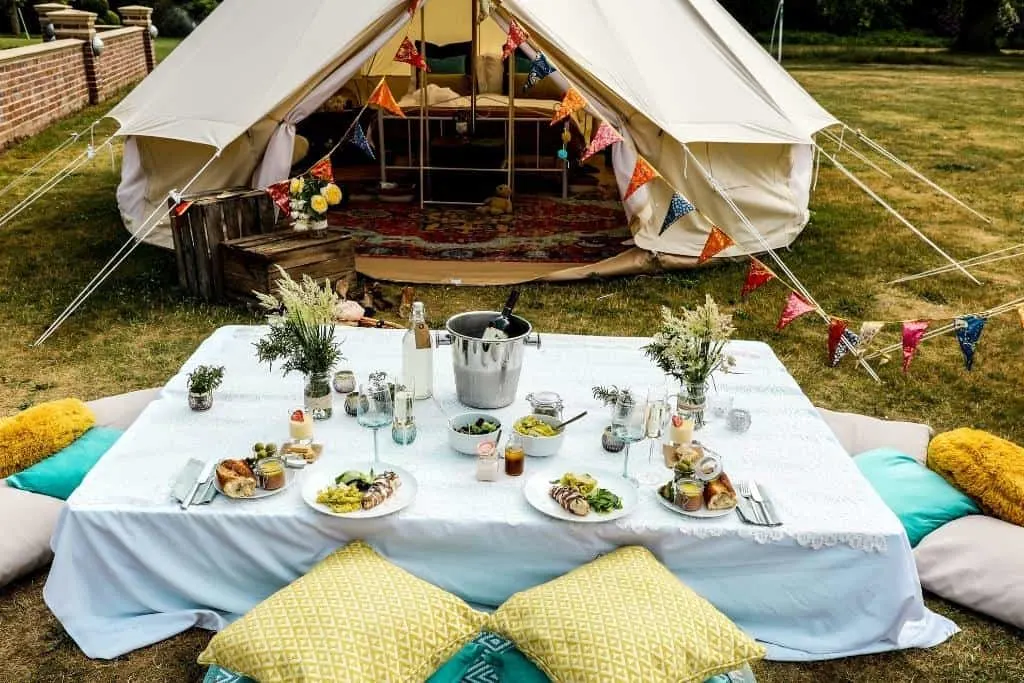 We've got the absolute necessities out of the way, but a few cozy touches wouldn't hurt. Here are a few ideas for kicking your glamping game up a notch.
A hammock (or two) – The book nook of the outdoors, a hammock makes your backyard more inviting and cozy. Choose from a dedicated backyard hammock or a camping hammock that's light enough to take anywhere.
An indoor/outdoor rug for inside your tent – If you have enough room, add a sturdy, but soft rug under your mattress or near the door to the tent to up the cozy factor.
Twinkly lights – A necessity! We love these solar lights for hanging outside the tent. For inside, we use these (also solar) smaller fairy lights.
Solar path lights or tiki torches – These solar path lights are close to the ground so the dogs and kids don't trip on them or break them. We pull them out when we're not glamping to keep them safe. Tiki torches are great too!
A rugged cooler – Just because it's glamping in the backyard, doesn't mean you want to be running in and out for drinks and snacks. Pack a cooler with ice so that you can relax with a cold one. Any cooler will work, but we're in love with these coolers from RovR, which come in cool colors and retain ice for up to 9 days. RovR coolers are pricey, but the sturdy design and rugged wheels make them worth their weight in gold. The only cooler you'll ever need. Wait, scratch that — I'm saving up for a smaller version for picnics.
The comfiest camp chairs – I have no brand to recommend, but I am searching for the comfiest camp chairs around. The ones we have tried do not last more than a few seasons, and I hate sending them to the landfill. I am eyeing these camp chairs, which look pretty strong and comfy, and they're affordable.
Picnic blankets – Pile rolled-up picnic blankets into a large basket near your tent so campers can help themselves.
Bean bag chairs – We keep these small bean bag chairs inside the tent for lounging. If it's dry, we bring them out for outdoor movies.
Outdoor movie screen and projector – And speaking of outdoor movies, screening a family-friendly film outdoors after dark is pretty darn awesome. We hang a sheet up on our clothesline for this, but there are outdoor screens you can purchase. You will also need a power source, a computer, a portable projector, and speakers.
Citronella candles – Full disclosure: I have no idea if citronella candles actually deter mosquitoes, but I do love the way they smell.
Throw pillows – These adventure-themed pillow covers are just cute, but you have to buy the pillows separately.
Yard games – Glamping at home is more than lounging around in your tent and roasting marshmallows, especially if you have kids. Whether you're looking for a sedentary game, like Yahtzee (Yardzee), or something to get you moving like Spikeball, be sure to have a few to keep you active and enjoying the outdoors.
Planning a Glamping Party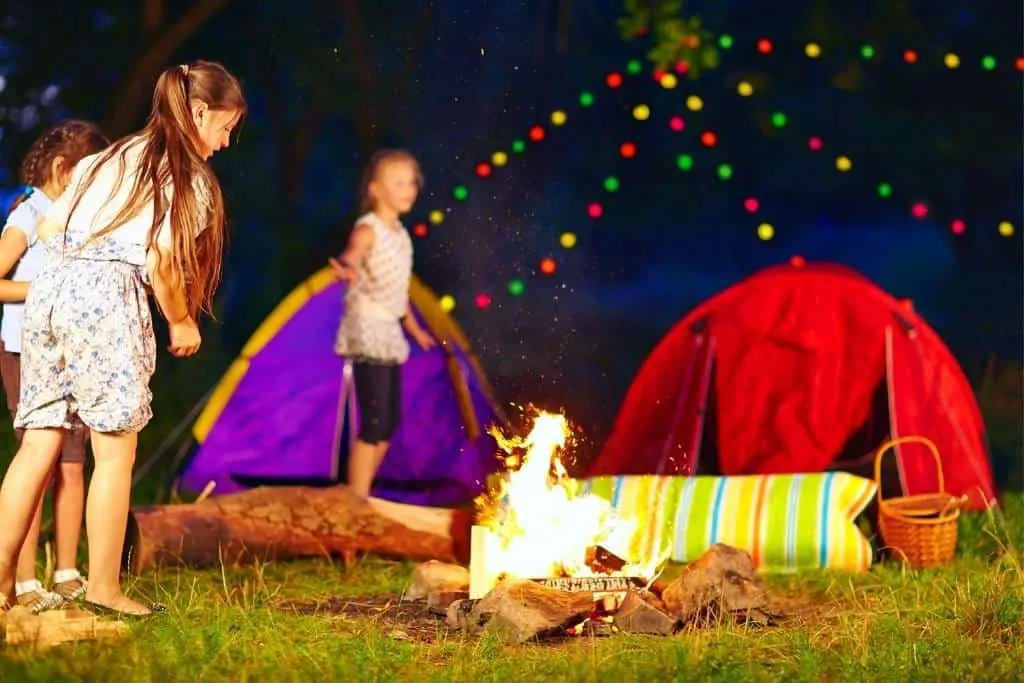 So, you've got the basic glamping gear, plus some fun accessories and games. Now you just need to choose a weekend and prepare yourself for relaxing outdoors. Whether you make this a relaxing family staycation or a slumber party for the kids, here are some tips for planning your perfect backyard glamping party.
Backyard Glamping Food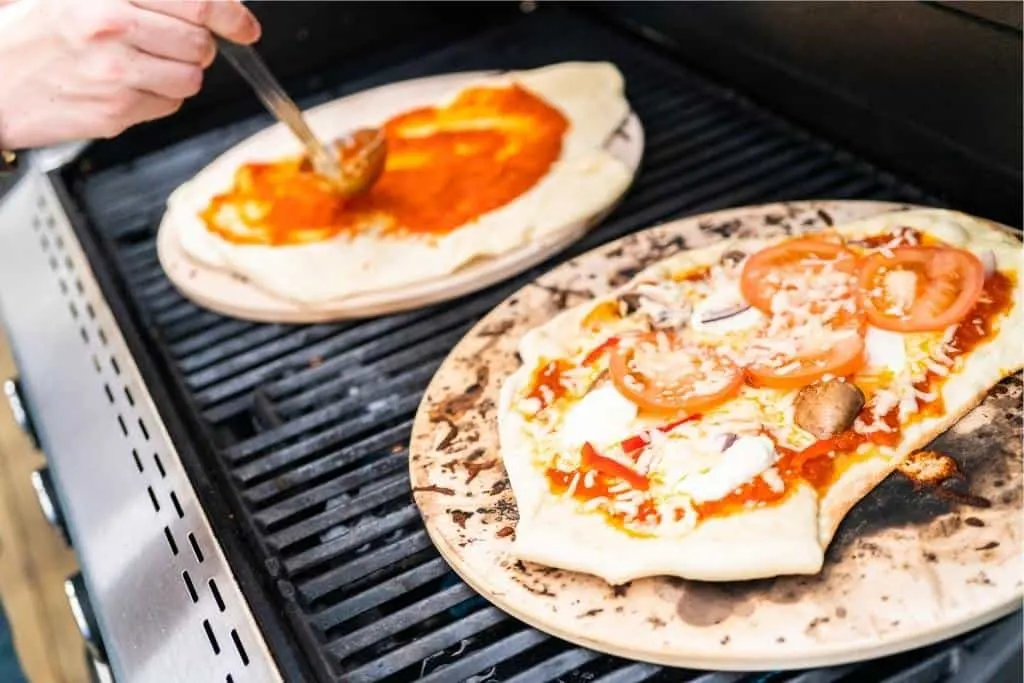 We've already touched on the food a bit, but here are some additional ideas for creating easy glamping food for your backyard party. The goal is to minimize the work and maximize the fun.
Create a hot dog "bar" – Set up a fire pit, make (or buy) some roasting sticks, and prepare a buffet-style topping bar for hot dogs. Include different mustards, relishes, pickled veggies, sauerkraut, and caramelized onions. Add a few side salads and you'll be good to go.
Make grilled pizza – Who doesn't love a good pizza with their outdoor movie? Sure, you can get take-out, but it's much more fun to make your own. We've had good luck with this grilled pizza recipe from Tastes Better from Scratch.
Make foil-wrapped burritos – This is a nice option because you can do most of the work in your kitchen — Precook burritos with ground beef, chicken, or refried beans. Wrap them in foil, and then reheat them over a fire.
Fun Camping Games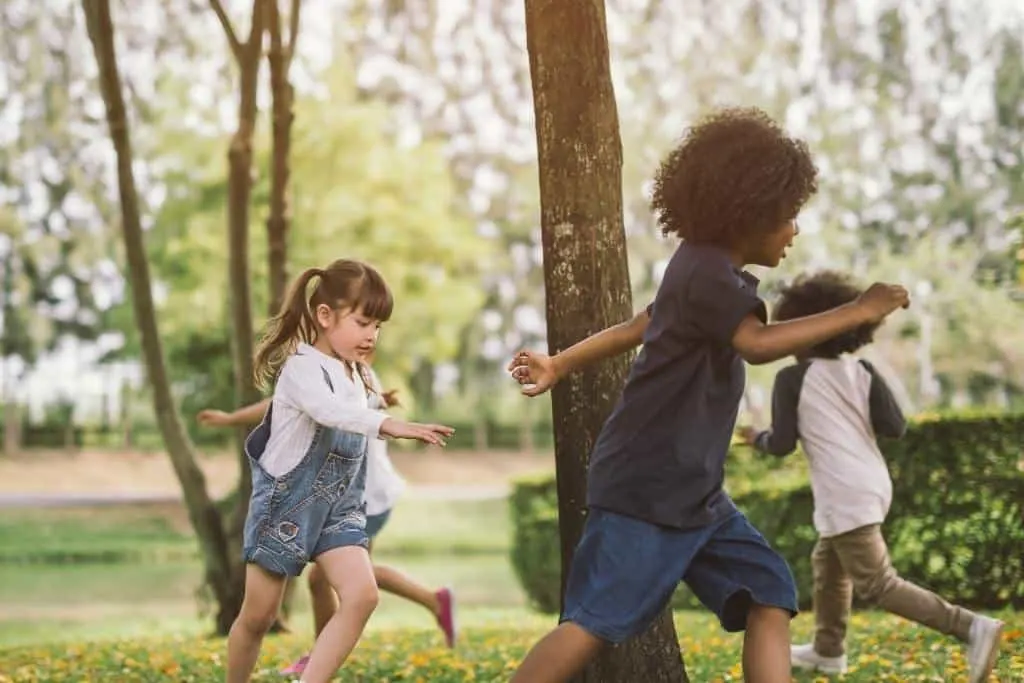 There are so many fun backyard games you can play during your camping staycation, even if you don't have a cornhole board or can jam. You may even remember some of these games from your childhood. Kids will love these!
Flashlight Tag – More like hide-and-seek, flashlight tag involves the person who is "it" being able to "tag" the people he/she finds simply by shining a light on them and shouting out their names. The game ends when everyone has been tagged with the flashlight.
Ghost in the Graveyard – This spooky game is like reverse hide-and-seek. The " it " person is the ghost and the only one that hides. The remaining players search for the ghost. If someone finds the ghost, they yell "ghost in the graveyard". The ghost comes out of hiding and proceeds to chase and tag the remaining players as they run to a designated base. The first person to be tagged by the ghost is it.
Kick the Can – One person is "it" and stands next to an empty can in an open playing field or yard while counting to an agreed-upon number. Everyone else runs and hides. It tags people and sends them to "jail" while the rest of the players try and kick the can before they are tagged. If the can is kicked, then everyone in jail is free.
Wink Murder – This one is great for kids and adults to play around the campfire, especially if you've got a large group. One person is "it" and has to leave the circle while the rest of the group picks a "murderer". When the person who is it rejoins the circle, the game begins. The murderer winks at someone in the group, who proceeds to dramatically die. This continues until "it" decides to guess who the murderer is. They get one guess, and then the murderer is "it".
Two Truths and a Lie – Another fun one for around the campfire! One player shares three 'facts' about themself, two which are true and one which isn't. Example: I lived in Florida as a child, I was a concert pianist, and last week I ate a whole apple pie. The other players try to guess which statement is the lie. The player who guesses correctly is allocated one point. Once every player has had a turn at sharing their 'facts,' the player with the most points wins.
Great Family-Friendly Movies for Backyard Glamping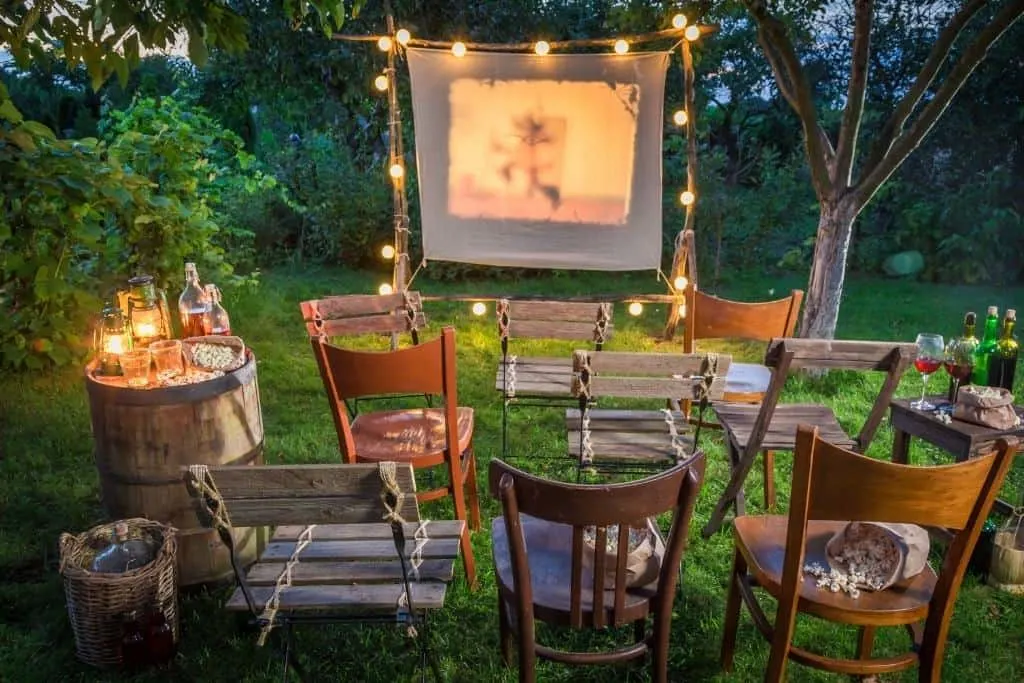 An outdoor projector and screen (or a sheet or white wall), along with a set of speakers and a laptop, are the basics that you need for an outdoor movie night. This campfire popcorn maker doesn't hurt either! Here are 10 great family-friendly movies that would be awesome for your night under the stars.
Guardians of the Galaxy – This was the first outdoor movie we ever watched in our backyard, and it's a gem!
Jurassic Park
Back to the Future
National Treasure
Willy Wonka and the Chocolate Factory
The Parent Trap
Harry Potter
Toy Story
The Princess Bride
Coco
---
Hopefully, you've found some useful and fun ideas for planning your own backyard glamping staycation or party. Want even more ideas? Check out these posts!
Check out our backyard glamping web story next!
---
Follow us on social media for more backyard glamping ideas!
Pin for Later?