Please check to make sure destinations are open to visitors before planning a trip and follow local guidelines. We earn a commission from affiliate links that may be included in this post.
I'm an east coast girl at heart, but I've never been in love with east coast beaches. All that sun and sand, and all those people trying to inch onto your blanket space. I may have enjoyed it when I was in high school, but those days are long gone. Luckily we had a chance to take an Oregon Coast road trip not too long ago, and that changed everything for me.
I'm a convert — totally in love with the rugged cliffs and pounding waves of the Pacific Northwest. One of our all-time favorite road trips is on Oregon Coast Highway 101, also known as the Pacific Coast Scenic Byway. It's the perfect road trips for outdoor lovers, as there are ample spots to stop along the route for hiking and camping. Here are some of our favorite outdoor adventures from our Oregon Coast Road Trip.
Lewis and Clark National Historic Park
We started our Oregon Coast Road Trip on Highway 101 in Washington, headed south, and our first stop was the Lewis and Clark National Historic Park in Astoria. Our family had spent the previous year learning about the journey of Lewis and Clark and their perilous trek across the west from 1804 to 1806. We were on our own monumental journey, traveling 10,000 miles by car in just two months, but I guess that's where the comparison ended. We faced none of the hardships that this crew faced, but we did enjoy walking in their footsteps for a brief time. In Montana, we stopped at the Lewis and Clark Interpretive Center, which focused on their month-long portage around the massive falls, but that's a story for another day.
The Lewis and Clark National Historic Park in Oregon celebrates the end of Lewis and Clark's journey. How exciting that must have been for them catch their first glimpse of the Pacific Ocean after two years of roughing it in the wild west. We visited Fort Clatstop, a replica of the winter encampment built by the Corps of Discovery in 1805. We visited during the peak season, and the reenactors put on quite a show for us, showing us how to make candles, play traditional games, and tan buckskin.
Tips for Visiting the Lewis and Clark National Historic Park: The park is open every day except Christmas Day, but you'll only find costumed reenactors during the summer months. I recommend hiking the Fort to Sea Trail, which takes you on a gentle hike through deep woods and sandy dunes to the very beach where Lewis and Clark found the Pacific Ocean they had been searching for. The hike is a little over six miles, one-way, but it's quite easy to call a cab that will meet you at the beach and bring you back to your car.
Camping Near Astoria, OR: Fort Stevens State Park is just north of Fort Clatsop, right off of Oregon Coast Highway 101. It's a huge park with 170 campsites, yurts, cabins, bike rentals, and freshwater swimming. A highlight was visiting the wreckage of the Peter Iredale, a steel barque that went down off the coast in 1906. If I could go back and do this trip again, I would spend two or three nights in the park. There's so much to explore.
Oregon Coast Road Trip: Pacific Coast Highway 101
There is so much talk about the Pacific Coast Highway in California, but the Pacific Coast Scenic Byway on the Oregon Coast is just as amazing. For us, the hardest part was trying to decide where to stop, because every mile or so there's an awesome beach, hiking trail, or vista to get lost in. We explored sea caves, tide pools, lighthouses, and deserted beaches on our journey. It was a long drive with quite a bit of traffic, but we had nothing but time, which is always a good thing when you're traveling. Here are some of our favorite spots on Oregon Coast Highway 101:
Rockaway Beach – This is a quiet little beach, more of a wayside, actually, but the views are pretty magical, and even in the summer, there were hardly any people exploring the shore.
Lookout State Park – Another awesome beach with fabulous hiking trails, and luxurious camping cabins if you're not into roughing it.
Devil's Punchbowl – It's a naturally carved rock bowl that's partially open to the Pacific Ocean. You can hike to the bowl, climb around the rocks, and visit the nearby tidepools.
Driftwood Beach State Recreation Site – Another quiet, flat, and sandy beach, this is the perfect spot to watch the sunset over a picnic dinner.
Cape Perpetua Scenic Area – We loved visiting the rocky headlands here, and in some places, the forest comes right down to the sea.
Oregon Coast Camping: Oregon Dunes National Recreation Area
These incredible dunes were amazing to behold. We saw them on the map and decided to check them out, but we had no idea at the time how massive and sprawling they would be. We stayed in a little federal campground with great amenities. I wish I could remember the name of it, but it was right at the base of the dunes. As we were setting up camp, we still had no idea as to the scope of the ever-changing landscape we would discover.
A steep trail led from our campsite to the top of the first dune, and once we cleared that one, it was just miles and miles of mountainous sand, as far as we could see. There were no trails, and the wind quickly wiped away our footprints, so we had to be really careful not to get lost. We kept thinking we would find the ocean if we kept walking west, but we never did. Instead we felt like we were that "bear went over the mountain" song. We'd climb one dune and there would be miles and miles more in front of us.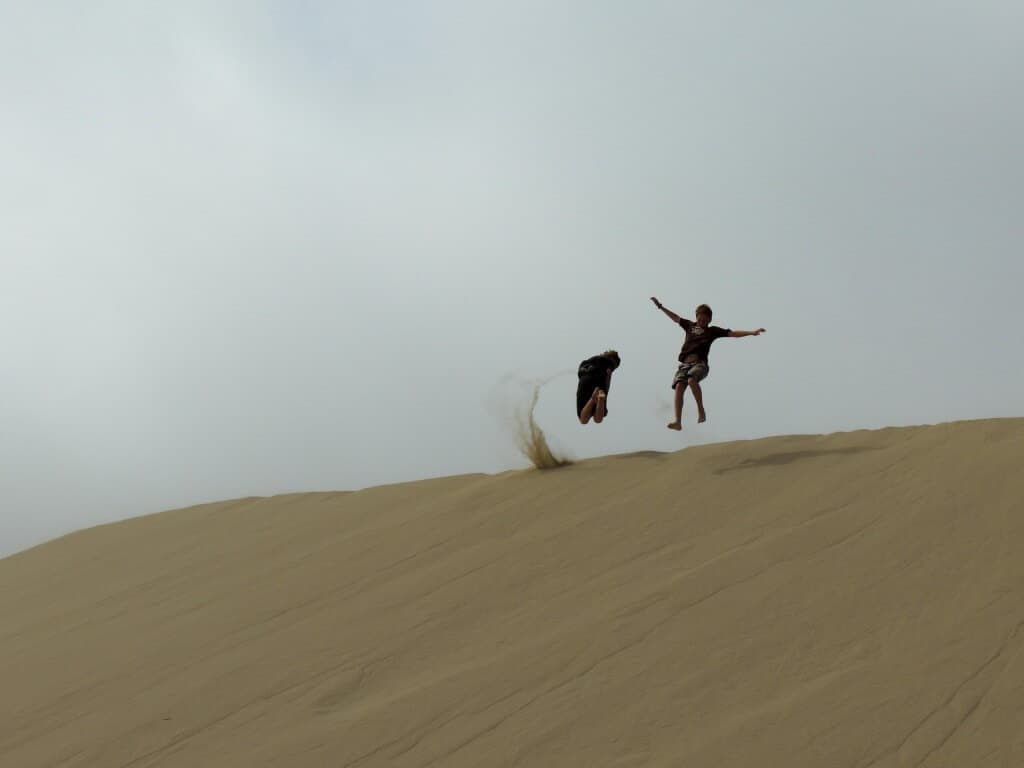 Tips for visiting Oregon Sand Dunes: Just like going to the beach, you should be prepared for sand in everything – pockets, sleeping bags, shoes, and meals. There are sandboard rental shops all over the place here, but we never gave it a go. It looks like a lot of fun. Also, there were whole sections of the park dedicated to dune-buggies, and that part of the park was really busy and really noisy. We stayed in a more serene area. This place was definitely one of the highlights of our Oregon Coast road trip.
Resources for Embarking on an Oregon Coast Road Trip
Oregon Coast Visitor's Association – This is a great resource for starting your research. The Visit the Oregon Coast website has lots of info on what to do and where to stay, as well as an overview of cities you might want to check out.
Oregon Coast Camping – Camping is almost always our preferred way to travel. We definitely recommend the campgrounds mentioned in the above post, but we obviously couldn't visit all of the cool places we saw to camp. That Oregon Life has some great recommendations for Oregon Coast Campgrounds that we've never been to. Time for another road trip?
Oregon Coast Vacation Rentals – AirBnB is our booking platform of choice for vacation rentals, and they have some drool-worthy options on the coast, starting at $49 per night!
Oregon Coast Hotels – Sometimes hotels are the way to go, especially if you're looking for something last minute. We have great luck finding good deals on Trivago, and we were excited to see rooms for under $60, although the waterfront hotels are significantly higher.
Oregon Coast Hiking – If you're anything like me, you're going to want to break up car time with trail time. Outdoor Project has some awesome ideas for hikes on the Oregon Coast.
Looking for a guided tour of the Oregon Coast? Check these out:
Books about Exploring the Oregon Coast (click on the photo for more info):
The Pacific Northwest is definitely one of our favorite places in all the world. Here are a few more PNW spots that we love:
And if you're visiting Oregon with kids, Portland is a fabulous destination. Check out Things to do in Portland, Oregon with Kids by our friends, Photo Jeepers.
Have you ever taken an Oregon Coast road trip? What are your favorite spots? We'd love for you to share them with our readers!