The Pacific Coast in Oregon is known for its wild shoreline, gravity-defying cliffs, and quirky coastal towns.
A meandering road trip on Highway 101 is the best way to discover its charms. In fact, five days on the Oregon Coast Highway may convince you that it's one of the most beautiful road trips in the entire world.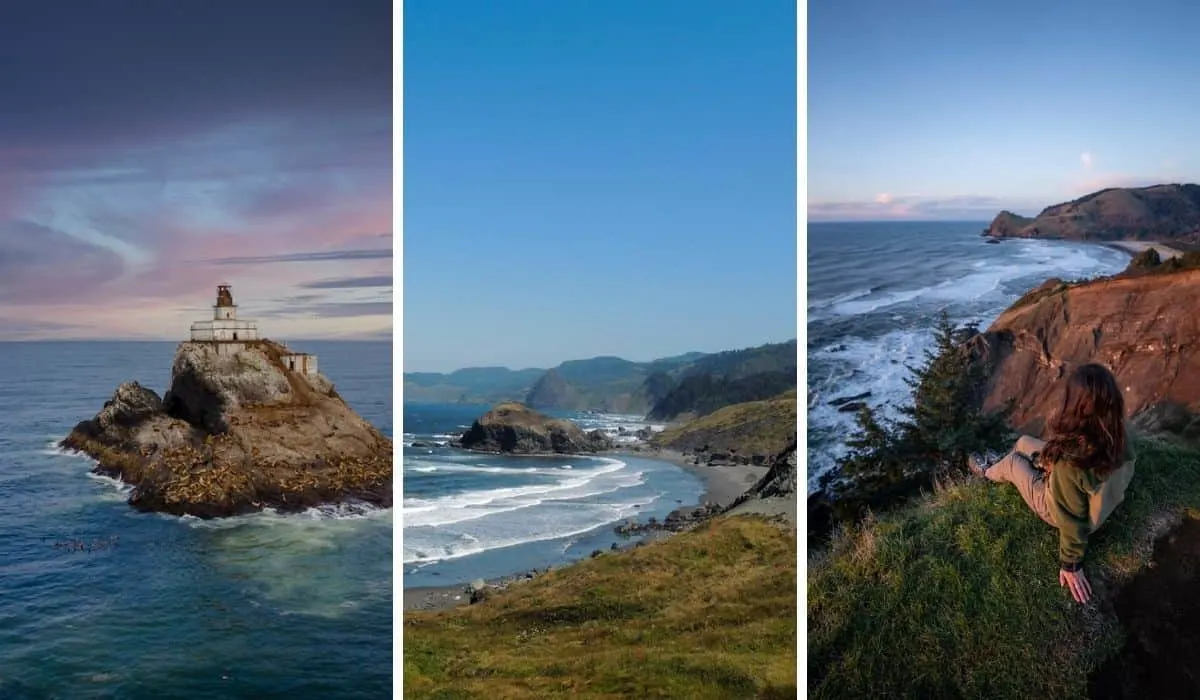 I'm an east coast girl at heart, but I've never been in love with east coast beaches – all that sun and sand, and all those people trying to inch onto your blanket space. I may have enjoyed it when I was in high school, but those days are long gone.
Fortunately, we had a chance to take a magical Oregon Coast road trip not too long ago, and that changed everything.
The hardest part is trying to decide where to stop because every mile or so there's an awesome beach, hiking trail, or vista to get lost in. Fortunately, we've explored quite a bit of this beautiful coast, and we've rounded up the best spots for you to explore.
We've taken our undying love for the Pacific Coast Scenic Byway and turned it into a five-day road trip itinerary so you can submit to the charms of the Oregon Coast.
Discover sea caves, tide pools, lighthouses, and deserted beaches on your journey.
This is the perfect road trip for outdoor lovers, as there are ample spots to stop along the route for hiking and camping. Kids and dogs will love it too!
We recommend flying into Portland International Airport (PDX), renting a car, and driving down the coast from north to south.
Insider tip: Did you know that you can rent an Escape Campervan in Portland and cruise the coast in style? There are hundreds of amazing camping spots with ocean views, tidepooling, and hiking!
While we almost always choose to camp when we're road tripping, we'll include a few lodging choices along the way for those who don't want to rough it.
Let's get started!
Day 1: Astoria
Today you'll be driving from the airport north through the Columbia River Valley and into the coastal town of Astoria, Oregon.
Driving time: about two hours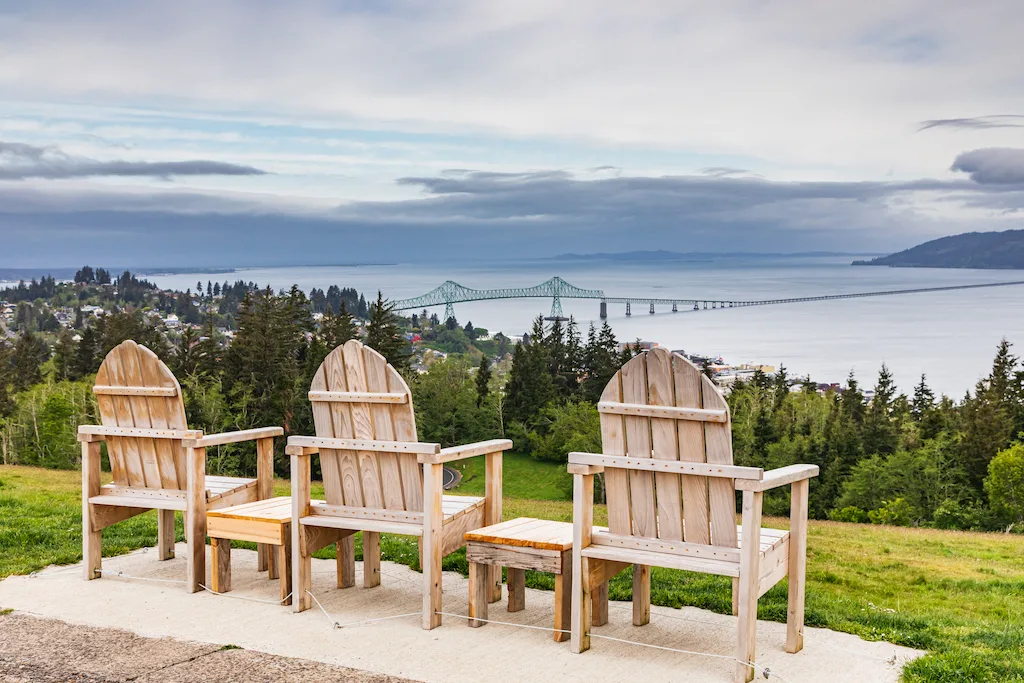 The case could be made for taking your time and exploring the region between Portland and Astoria, but as this is a coastal road trip, we're going to recommend hopping right on the Interstate and following the sea breezes northwest into Astoria.
If you have more days built into your schedule, by all means, explore the Portland area on either end of your trip. It's delightfully weird, with great restaurants, quirky side streets, and lots of art, music, and culture.
Three rivers converge with the Pacific Ocean in Astoria, which is the oldest settlement east of the Rocky Mountains. This is where Lewis and Clark ended their famous westward expedition more than 200 years ago, where hundreds of Victorian homes were built on the hillside and then lovingly restored, and where craft breweries grow like flowers for all to enjoy.
Here are a few gems in Astoria to help you kick off your Oregon Coast road trip.
Lewis and Clark National Historic Park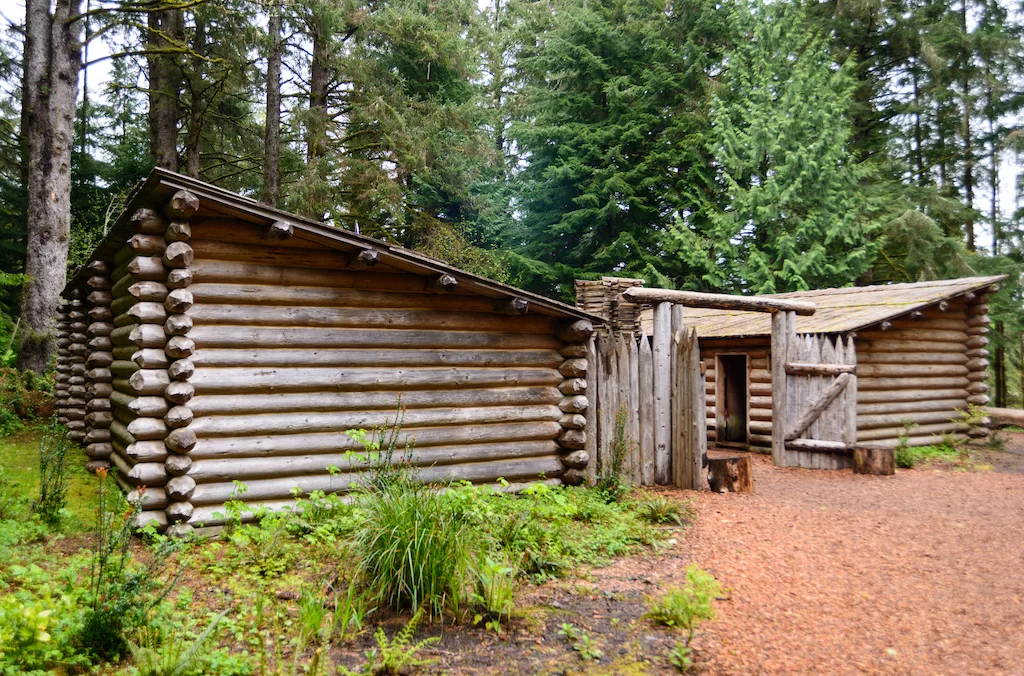 What do you know about the journey of Lewis and Clark and their perilous trek across the west from 1804 to 1806?
The Lewis and Clark National Historic Park in Oregon celebrates the end of Lewis and Clark's tumultuous journey across the fledgling country. How exciting that must have been for them to catch their first glimpse of the Pacific Ocean after two years of roughing it in the wild west.
Learn more about Lewis and Clark at Fort Clatsop, a replica of the winter encampment built by the Corps of Discovery in 1805. If you visit in the summer, costumed rangers will answer your questions, and teach you historical games and crafts from the 1800s.
Tips for Visiting the Lewis and Clark National Historic Park: The park is open every day except Christmas Day, but you'll only find costumed reenactors during the summer months. The entrance fee is $10 for adults. Children under 15 are admitted free.
Visit Oregon Film Museum: Goonies Fans Take Note
Much of the 1980s cult classic, the Goonies was filmed in Astoria. Buildings and locations featured in the film still exist and are visited by fans from across the globe. I will admit to watching the Goonies dozens of times as a kid, and I immediately recognized some of the film locations during our visit.
Most notable is the jail cell from the first scene of the movie, which you can visit at the Oregon Film Museum, housed in the old Clatsop County Jail. Be sure and get your own souvenir mug shot so you never forget your visit!
Check out The Astoria Column on Coxcomb Hill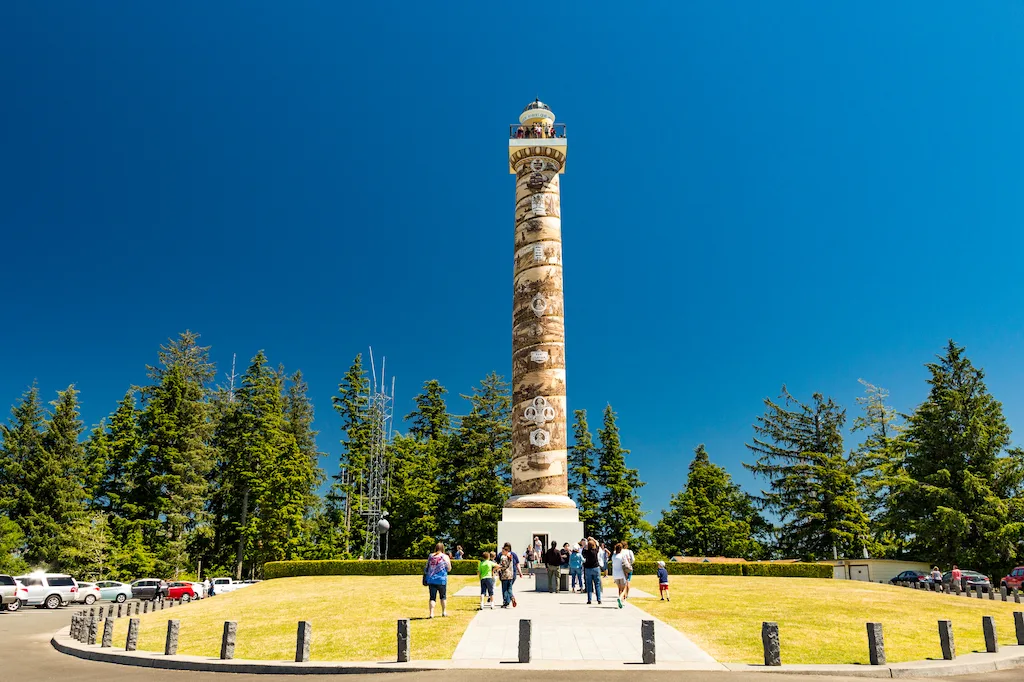 For amazing views of Astoria and beyond, head up to Coxcomb Hill and the 126-foot tall Astoria Column that pays tribute to the first settlers in the region. The column was built in 1926 by the Great Northern Railway and features a mural detailing the area's settlement up until the arrival of the railroad.
The Astoria Column is open from dawn until dusk each day. Parking is $5 per vehicle, but climbing the 164 steps to the top is free.
Take a Brewery Tour in Downtown Astoria
Beer lovers take note – Astoria, Oregon has more than its fair share of craft breweries, so make time to indulge while you're here. Might as well grab some grub while you're at it! Here are some of the fantastic Astoria Breweries that you won't want to miss before heading south.
Where to Stay in Astoria, Oregon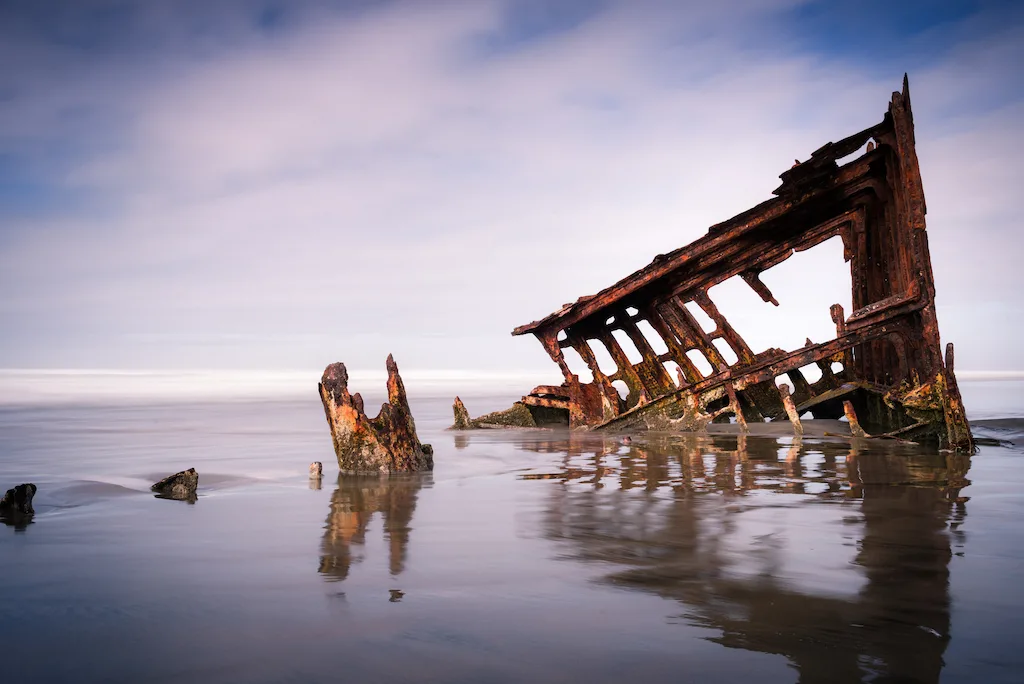 There are lots of lodging choices in Astoria. Choose from a posh hotel, a Victorian B & B, or your own tent. Here's what we'd recommend.
Camping: Fort Stevens State Park is just north of Fort Clatsop, right off of Oregon Coast Highway 101. It's a huge park with 170 campsites, yurts, cabins, bike rentals, and freshwater swimming. A highlight was visiting the wreckage of the Peter Iredale, a steel ship that went down off the coast in 1906. If I could go back and do this trip again, I would spend two or three nights in the park. There's so much to explore.
Downtown hotel: Norbland Hotel is within walking distance of Astoria's best restaurants, breweries, and attractions, and is housed in a beautiful historic building. The hotel is independently owned, pet-friendly, and beautifully decorated.
Victorian B & B: Clementine's Bed & Breakfast is an 1888 restored Italianate home that is now a well-appointed European-style bed and breakfast within walking distance of the downtown area. Family and pet-friendly with beautiful rooms and common areas.
---
Day 2: Astoria to Manzanita
Time to head south! Today you'll discover beautiful beaches, view a lonely lighthouse, and take your first coastal hike.
Driving time: about two hours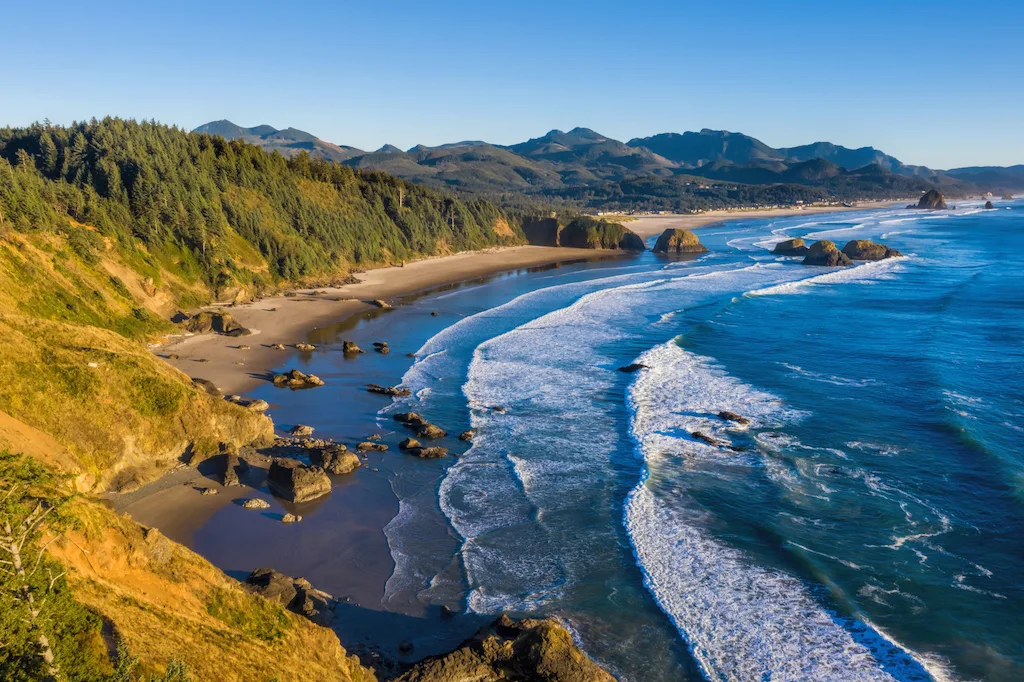 Feed the Seals at Seaside Aquarium
Founded in 1937, Seaside Aquarium is one of the oldest aquariums on the West Coast. This small aquarium is home to a family of famous harbor seals, as well as a touch tank with native sea critters, and several underwater tanks. beachfront aquarium and
Grab breakfast at Osprey Cafe before heading to the shore. At Seaside Aquarium you can feed the seals and learn about the animals that call the Pacific Ocean home. $10 admission.
Before hopping back in the car, we recommend a stop at Funland Arcade in Seaside, where you can play Fascination Ball against everyone in the room for just a quarter. This cool parlor game is addictive and will remind you what it was like to be a kid in an arcade!
Take a Hike at Ecola State Park
Now for a little exercise! The nine miles of coastline between Seaside and Cannon Beach is part of Ecola State Park, where there are trails suitable for every type of hiker, tidepools to explore, and incredible views in every direction.
*2022 update: Ecola State Park is currently closed due to a landslide that caused damage to the entrance road.
Explore Cannon Beach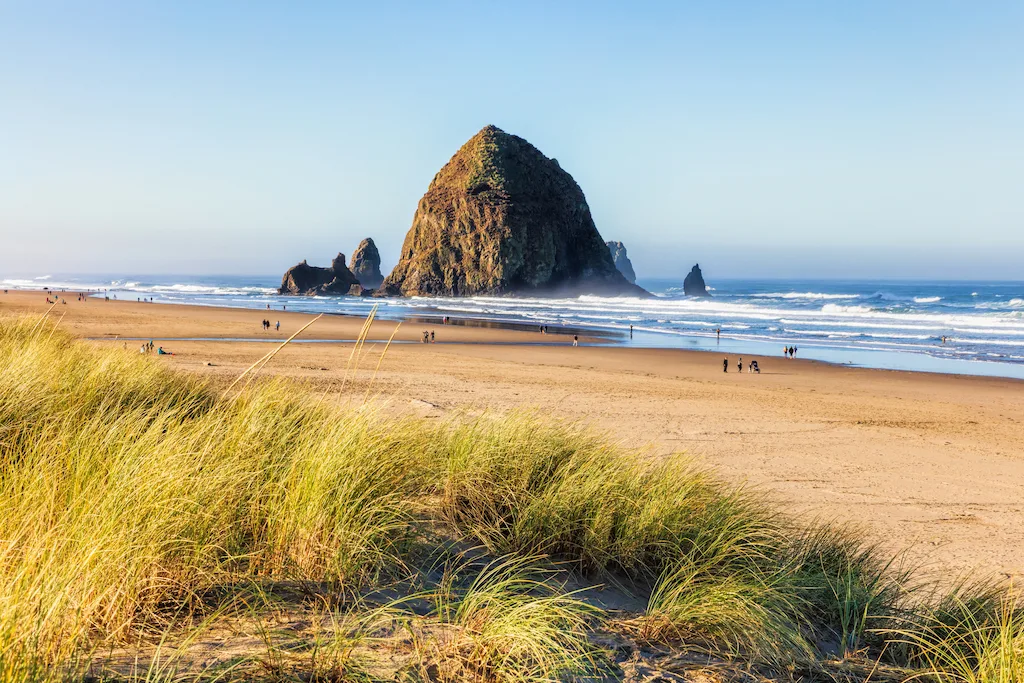 Cannon Beach is a popular spot for tourists, who come mainly to view the impressive Haystack Rock and other sea stacks along this stretch of the Pacific Coast. Not only is Haystack Rock the very spot where One-Eyed Willie set sail in the Goonies, it's also a haven for tufted puffins, so bring your binoculars.
After meandering along the shore at Cannon Beach, head into town to browse the galleries and enjoy a relaxing lunch.
We recommend Public Coast Brewing, and not just because we fancy ourselves beer connoisseurs. The root beer floats here actually rival the best beers, but use your judgment. The fish tacos and the onion rings will make you smile too.
Devil's Cauldron
After those amazing root beer floats, you're going to need a little walk. Take the half-mile hike to Devil's Cauldron and treat yourself to gorgeous views, as well as the thundering sound of the crashing waves pounding against the cliffs more than 800 feet below. Yes, the devil has been at it again!
The parking area for Devil's Cauldron is just south of the turn-off for Short Sands Beach, so be on the lookout.
Manzanita, Oregon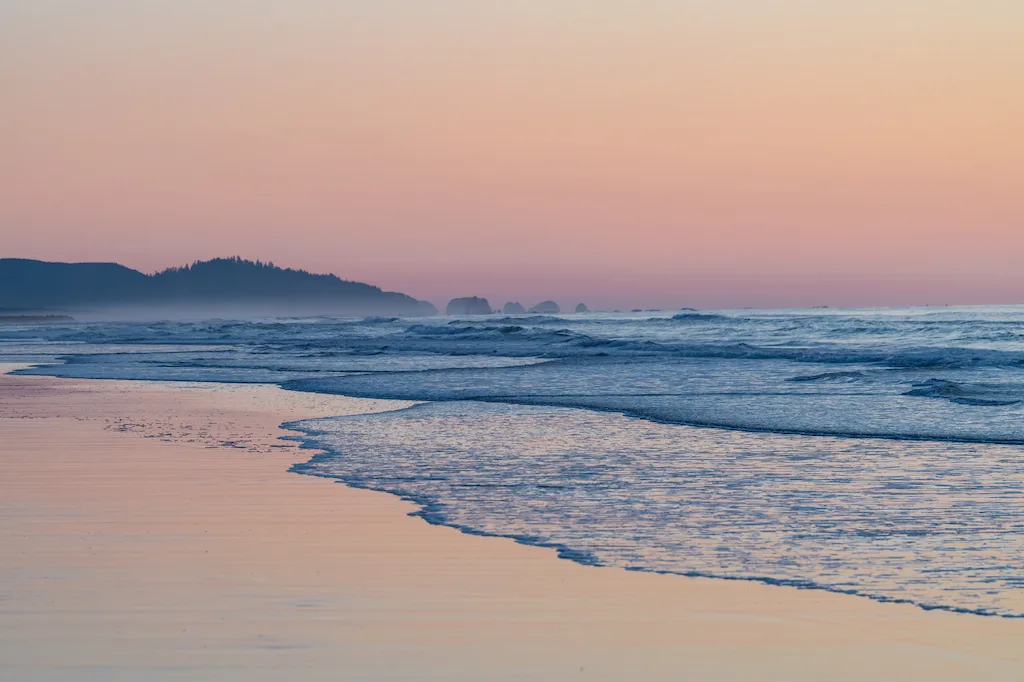 Your last stop for day two of your Oregon Coast road trip is the small, but vibrant community of Manzanita. This small beach community is such a gem. There are numerous galleries, boutique shops, and restaurants to check out, and hidden gardens all over town.
If you happen to be visiting Manzanita on a Friday evening between June and September, be sure to visit the Manzanita Farmers Market, where you can chat with the locals, listen to live music, and indulge in all kinds of farm-fresh goodies.
For dinner, we recommend Big Wave Cafe for the freshest seafood around.
Where to Stay in Manzanita
There are few hotels in Manzanita, but plenty of adorable vacation rentals. If you have extra time, this would be a good spot to book a few nights so you can explore more of the area.
Lil' Love Shack Cottage: This adorable cottage is perfect for a couple or a small family. It features a bright and cheerful interior, a cozy deck with an outdoor dining area, and just a block from the beach!
The Yellow Abode: A downtown cottage that sleeps seven comfortably, the Yellow Abode is pet-friendly with beautiful indoor and outdoor spaces.
Dog-friendly house with a hot tub: Need total relaxation? This house is roomy enough for eight, has a cook's kitchen, and an outdoor hot tub. It's just a short walk from downtown and the beach.
---
Day 3: Manzanita to Cape Lookout
Another day of coastal explorations, cheese tasting, and beautiful scenery. We could get used to this!
Driving time: about two hours
Rockaway Big Tree Boardwalk
Start the morning off with an easy walk into a beautiful old-growth cedar grove. The Rockaway Big Tree Boardwalk circles around the namesake tree, and yes, it's big! The trail totals 1.2 miles and is a boardwalk the whole way. Give yourself at least an hour to explore this primordial forest.
Tillamook Creamery
Is that your belly I hear growling? It must be time for a self-guided tour of Tillamook Creamery. Learn about what it takes to make the West Coast's most famous cheese and ice cream.
At Tillamook Creamery, not only will you learn about the 100-year-old tradition of crafting delicious dairy products, but you'll get to do a lot of tasting. When you're finished with your tour, be sure to pop into the shop for some ice cream!
Cape Meares State Scenic Viewpoint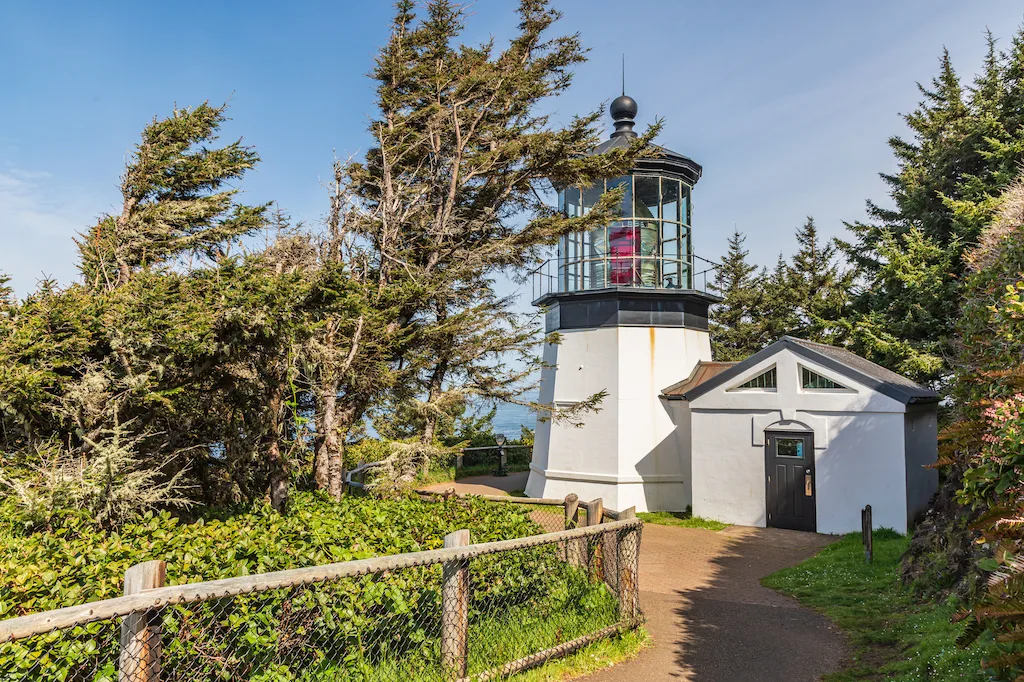 From Tillamook Creamery, you'll be hopping off 101 to drive around Tillamook Bay and check out Cape Meares State Scenic Viewpoint. This popular spot is known for Oregon's shortest lighthouse, coastal views, and the beautiful forest of Sitka spruce.
If you happen to visit during the spring or fall whale migration, bring your binoculars so you can peer out to sea and scope the waters for grey whales.
A .25-mile spur trail will bring you to the largest Sitka spruce tree in Oregon, and you can tour the Cape Meares Lighthouse to get a close-up view of the Fresnal lens (closed in 2022 due to the pandemic).
Cape Lookout State Park
If you are camping on your road trip down the Oregon Coast Highway, we recommend spending the night at Cape Lookout State Park. If you prefer more luxurious amenities, choose from the yurts or deluxe cabins available in the park.
Cape Lookout State Park is located on a sand spit between Netarts Bay and the ocean. This is a fabulous destination for coastal views, beachcombing, and hiking. We loved the five-mile Cape Trail that follows the ridge of the peninsula with sweeping views of the ocean, with more opportunities to see whales.
This makes a great sunset hike – just bring a headlamp with you for the return journey back to your tent, cabin, or yurt.
---
Day 4: Cape Lookout to Oregon Dunes National Recreation Area
Today the landscapes make a notable shift from sandy beaches to rocky cliffs, until you get to the dunes, that is.
Driving time: approximately 3.5 hours
Road's End State Recreation Site
Located near Lincoln City, it's time to explore the hidden cove and headlands of Road's End State Park. Before heading to the beach, pick up breakfast in Pacific City. We love the Grateful Bread Bakery for indulgent pastries and great coffee.
Continue south to the beach at Road's End State Park. This lovely secluded beach is located between Logan Creek and Roads End Point at the north end of Lincoln City is great for a meandering morning walk. Coastal views are a given, but you can also explore the tide pools and find a secret beach if you visit during low tide.
Devil's Punchbowl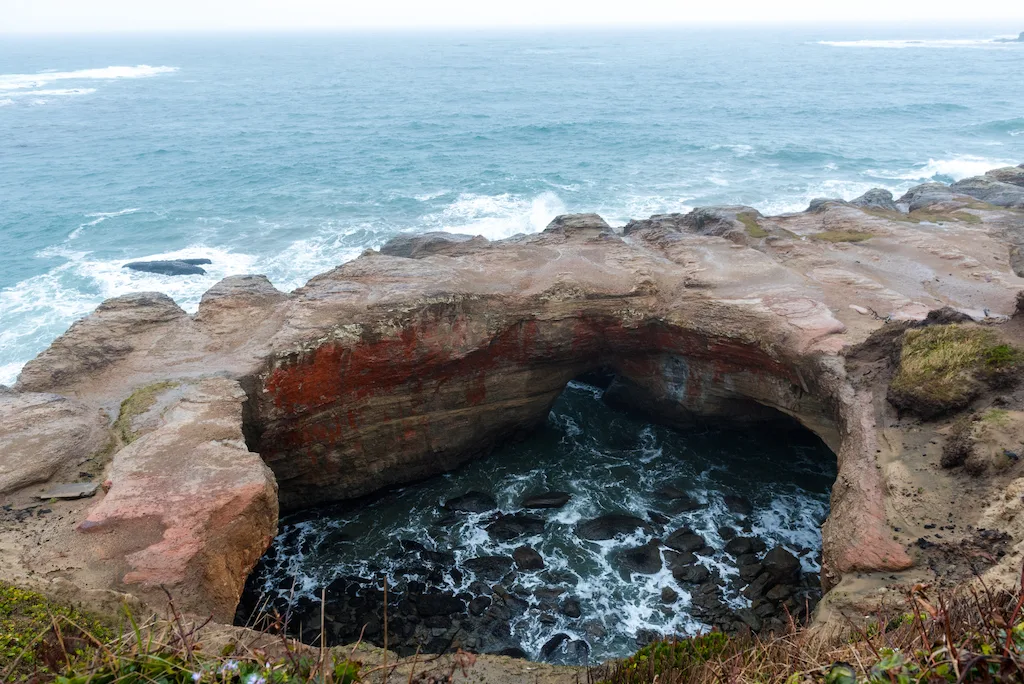 The devil seems to have its hands in all kinds of natural features on the Oregon Coast. Devil's Punchbowl is a cool natural attraction where, during low tide, you can hop right underground and explore. During high tide, the waves come crashing in, so be sure you're always aware of your surrounding!
This small park is also a great spot to explore tide pools and watch for whales.
Yaquina Head Lighthouse
The tallest lighthouse in Oregon is surrounded by protected public land where you can hike several beautiful trails, go tide pooling, on the beach, and learn about local wildlife.
Yaquina Head Outstanding Natural Area is managed by the Bureau of Land Management. The area extends out from the Oregon coast, one mile into the Pacific Ocean. Standing 93 feet tall at the westernmost point of the basalt headland, the Yaquina Head Lighthouse was first lit on August 20, 1873.
From the lighthouse parking area, hike up to Salal Hill with your binoculars and look out to the ocean for shorebirds, whales, and seals. Next, head down to Cobble Beach to look for critters in the tide pools. If the wind isn't too strong, this is a great spot for a picnic.
Oregon Dunes National Recreation Area
Welcome to one of the largest expanses of temperate coastal sand dunes in the world. Oregon Dunes National Recreation Area encompasses a 31,500-acre portion of the Siuslaw National Forest.
These massive and sprawling dunes are home to an ever-changing landscape over miles of mountains of sand as far as you can see. Designated trails are non-existent, and the wind will quickly sweep away your footprints making it tricky to know exactly where you are.
We saw plenty of off-road vehicles during our stay, as well as kids and adults sandboarding on the dunes. We were content just playing in the sand, but you can rent sandboards and take lessons in nearby Florence.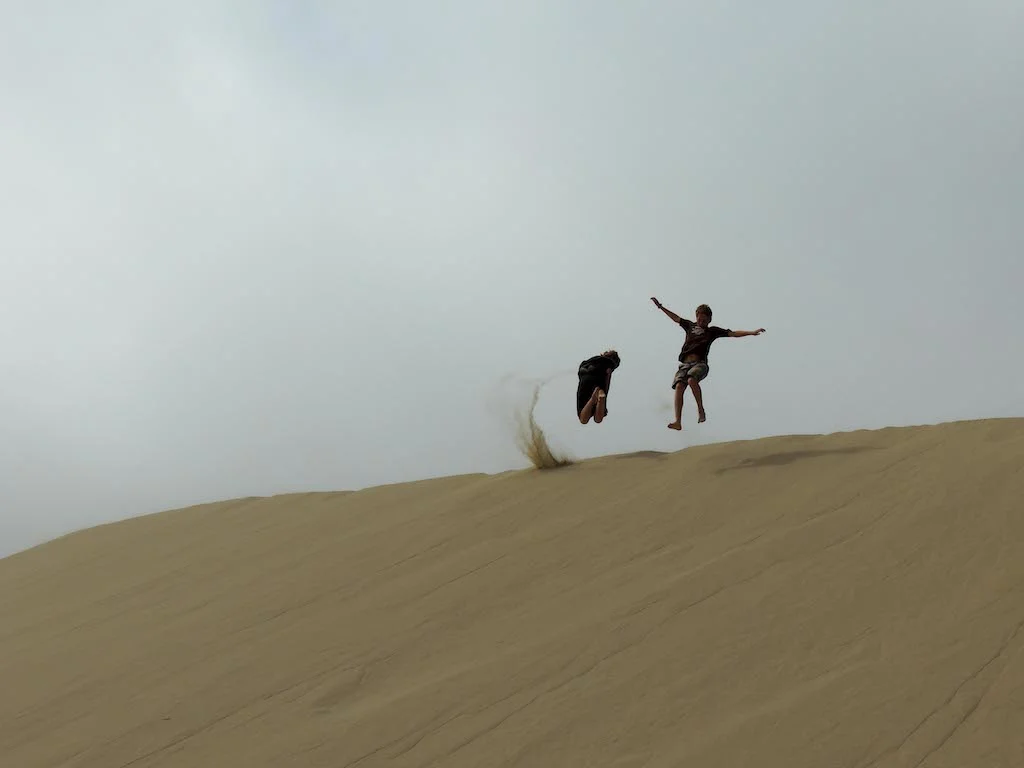 There are several great campgrounds in Oregon Dunes National Recreation Area. Many are busy with OHV traffic. If you want a quiet camping experience, reserve a spot at Eel Creek Campground, which maintains a trail to the beach.
If you don't want to pitch a tent, check into the Landmark Inn, which is located in Florence, within walking distance of Old Town and eight minutes from the dunes.
---
Day 5: Florence to Brookings
As you drive farther south, the climate becomes warmer, but the views are still incredible. This is the last day of your road trip on the Oregon Coast Highway.
Driving time: about 3.5 hours
Coos Bay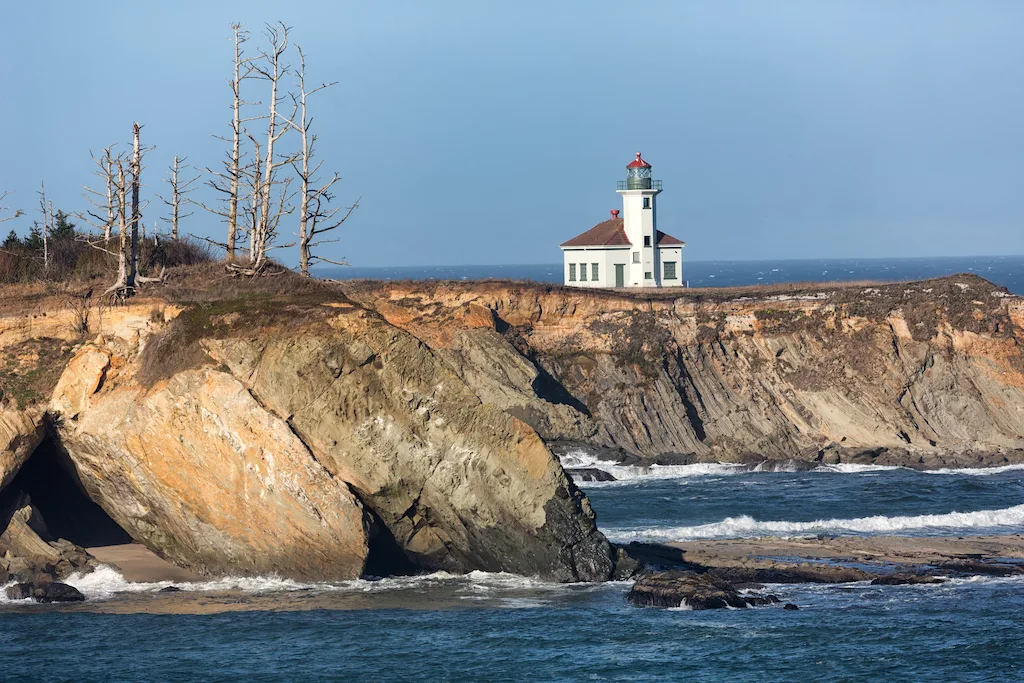 Coos Bay is the largest city on the Oregon Coast with just under 17,000 residents. This is a peaceful, protected bay with lots of amenities, perfect if you need to do laundry, buy groceries, or get your oil changed (road trip necessities).
Here are some things to do in Coos Bay:
Shore Acres State Park: Perched on craggy sandstone cliffs high above the ocean, Shore Acres State Park features a Japanese-style garden with a lily pond and two carefully curated rose gardens that include All-American Rose Selections. From the garden, a trail leads to a secluded ocean cove at Simpson Beach.
Cape Arago Lighthouse Viewpoint: Built in 1907, Cape Arago Lighthouse can be viewed from a pullout near Sunset Bay State Park.
7 Devil's Brewery: There's that devil again! 7 Devil's features northwest-style ales in two locations. The menu features typical pub fare, and of course, seafood entrees.
Cape Blanco State Park and Lighthouse
Cape Blanco State Park is located on the Pacific Ocean near Port Orford. Explore eight miles of hiking trails, a 19th Century lighthouse, and beautiful views.
The hike out to the Cape Blanco Lighthouse is less than a half-mile. Cape Blanco Heritage Society opens the lighthouse for tours from 10 a.m. to 3:30 p.m., Wednesday through Monday starting on April 1 and running through October.
From the lighthouse, take the beach trail another mile down to the ocean.
Samuel H. Boardman State Scenic Corridor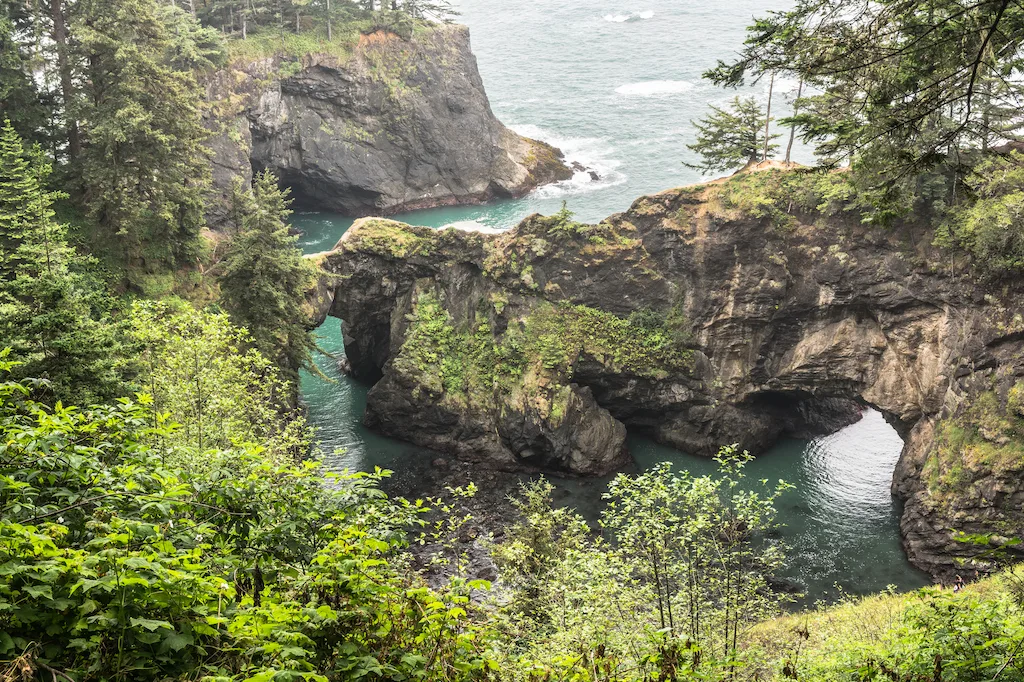 You've already experienced some of the best Pacific Coast views, but as you head south toward Brookings, you will be treated to 12 miles of exquisite beauty as the road hugs the coast. The Samual H. Boardman State Scenic Corridor has lots of cool natural features, hiking trails, and views, so spend some time exploring if you can.
There are numerous trailheads along the route, but you can also simply drive, stop at pull-offs and take in the views. Here are a few we'd recommend.
Arch Rock: An overlook where you can view a series of offshore sea stacks and islands.
Natural Bridge: A short trail leads to views of the seven iconic arch rocks and blowholes known as Natural Bridges.
Whaleshead Beach Picnic Area: Yes, it's a great spot for a picnic. The trail to the beach is level and the views are lovely.
House Rock Viewpoint: The 4-mile trail between Cape Ferrelo and House Rock offers many side trails to secluded beaches and views.
Cape Ferrelo Viewpoint: A mile-long hike leads to far-reaching views of the coastline and opportunities to see whales in spring and fall. Watch the sunset here before heading into Brookings for your last night.
Where to Stay near Brookings, Oregon
For simple lodging near the beach, check into Westward Inn in Brookings. The rooms are not fancy, but they are clean and comfortable.
From Brookings, we recommend driving to Grant Pass and picking up Interstate 5 north to Portland to catch a flight back home.
Oregon Coast Highway FAQs
Do you have a burning question about driving the Oregon Coast Highway? Drop us a comment! Here are the questions we are asked the most.
When should I take an Oregon Coast Highway Road Trip?

A summer road trip on the Oregon Coast Highway is classic and not to be missed. There are numerous options for camping and hiking, but don't be fooled into thinking you can sunbathe on the beach or swim in the ocean off the Oregon Coast. The water never gets warmer than 55 degrees Fahrenheit.

While summer is the most pleasant time to embark on this journey, it's also the most popular. If you want a less crowded experience, opt for mid-September, when the kids are back in school. Campgrounds will still be open, the weather will be cooler, and you won't have to deal with as much traffic.

Should I drive the Oregon Coast Highway from south to north or north to south?

We recommend flying into Portland International Airport (PDX), renting a car, and then driving approximately two hours north to the coastal city of Astoria before heading south down the Oregon Coast Highway. The trip down the coast is about 340 miles, which we're doing in five days.

You can certainly tack on days for a more leisurely road trip, but give yourself at least a full day to drive from the Oregon-California border back to PDX, which is about six hours.

Besides the obvious, what should I pack for my Oregon Coast road trip?

Even in the summer, it will be chillier than you think. Pack your merino wool base layers, a good raincoat, and sturdy footwear. A lightweight pair of binoculars are fabulous for whale watching!

Can I swim in the Pacific Ocean in Oregon?

What are you crazy? It's too darn cold for swimming and rip currents make it dangerous. But, if you have a death wish and a wet suit, be my guest…

Are there guidebooks or maps that you recommend?

I'm so glad you asked! If you love to hike, this day-hiking guide has lots of trail ideas so that you can extend your trip. There's a paperback and Kindle version available. We also found the Moon Guide to Coastal Oregon useful when planning our own trip.
Oregon Coast Road Trip Interactive Map
The Pacific Northwest is definitely one of our favorite places in the world. Here are a few more PNW spots that we love:
And if you're visiting Oregon with kids, Portland is a fabulous destination. Check out Things to do in Portland, Oregon with Kids by our friends, Photo Jeepers.
Have you ever taken an Oregon Coast road trip? What are your favorite spots? We'd love for you to share them with our readers!
Check out the Oregon Coast Highway web story next!
---
Follow us on social media for more road trip ideas!
Pin for Later?