Please be sure to check with each state/destination for its current COVID-19 guidelines before planning a visit. This post may contain links from which we earn a small commission at no extra cost to you.
Camping season is almost here, and like many outdoor lovers, we've been busy going through our gear, reserving sites at our favorite campgrounds, and perfecting some of our favorite outdoor recipes. We love just about everything about camping – late nights around a campfire, falling asleep to the sounds of the night, and listening from our sleeping bags as the birds sing their first morning songs.
There are a few things that can ruin a good camping trip, though, and rude and disrespectful camping neighbors are at the top of the list. All that relaxing and connecting with nature that I just mentioned? It all flies out the window when you can't fall asleep because the neighbors are partying in the next campsite over. Or you are constantly accosted by the "friendly" loose dog trying to steal your camp food.
Camping can be a fun outdoor adventure for families, but only if everyone plays by the same rules. Yes, there are rules. The good news is that the rules of camping etiquette aren't hard to follow, and everyone appreciates a good camping neighbor.
Want to ensure that you get what you need from your adventure while still making friends in the woods? Follow these simple tips for camping etiquette, and everyone will have a good time.
Camping Etiquette: The Absolute Basics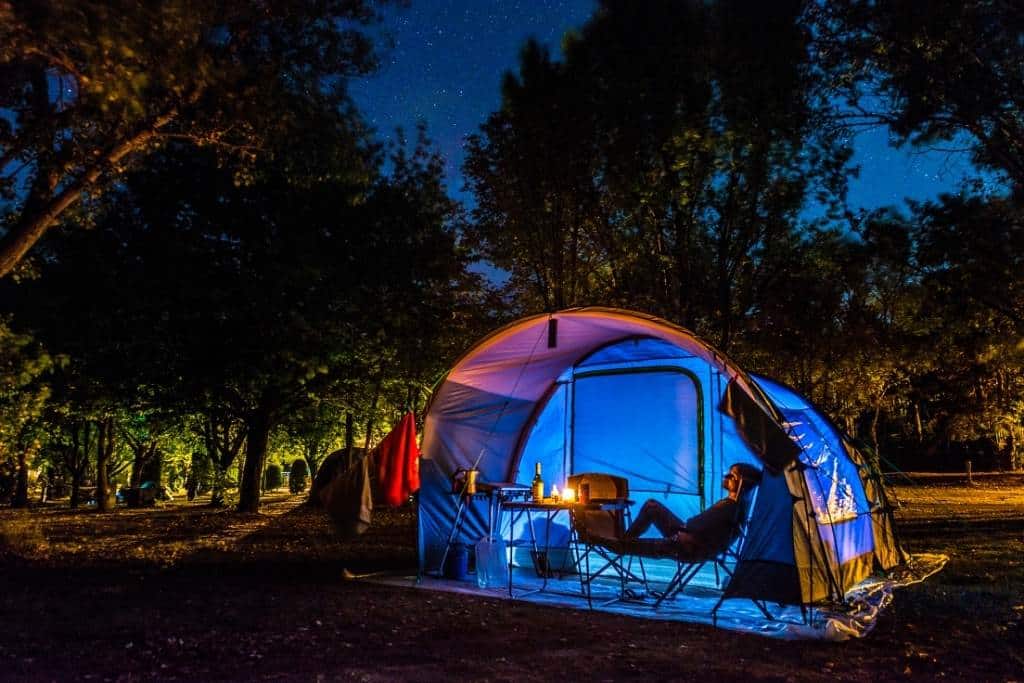 Abide By Quiet Time at Your Campground
I know. You're on vacation. You don't want to go to bed at 10 pm. As long as you're keeping things mellow, you can stay up as late as you want, but please for the sake of your camping neighbors — no radios, loud talking, or generators during campground quiet hours, which vary depending on the campground.
And speaking of generators, many campgrounds mandate specific daytime hours for generator use. That's because generators are ridiculously loud, especially for tent campers.
The more people in your camping group, the more difficult it will be to keep your voices down, and imbibing in adult beverages makes it even more difficult. If you are planning a weekend camping party, consider camping somewhere private, where you won't have to disturb your camping neighbors. I recommend using Tentrr to find campsites that are totally private, so you can turn up the volume a bit.
Respect Your Camping Neighbor's Space
Your campsite is your own for as long as you've reserved it, and I'm sure the last thing you want is uninvited guests walking through your patch of privacy. Don't cut through occupied campsites for a quicker trip to the beach or the bathroom, and be mindful of your neighbor's privacy. If you're camping with kids, make sure they follow this important camping etiquette rule as well!
Keep Your Campsite Clean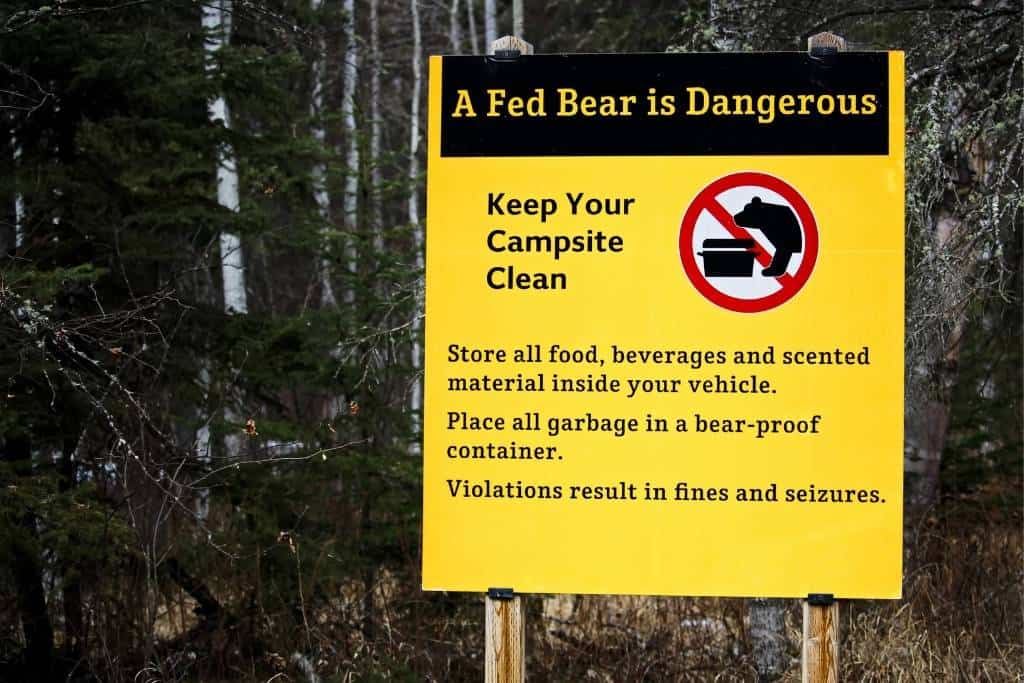 This is a big one! I can't tell you how many times we have witnessed wild animals tearing around in someone's campsite because they didn't put their food away or left their garbage out for others to find. Rodents, birds, and bigger critters are just waiting for the opportunity to vandalize your site and steal your food.
Every chance a wild animal gets to devour people-food makes it more habituated to those people. Birds become a nuisance, but larger animals like bears, coyotes, and even raccoons will sometimes have to be euthanized because they lose their natural fear of humans.
I know how easy it can be to accidentally leave food out at your campsite when you head to bed late and it's dark. My advice is to assign someone the task of putting everything away before turning in for the night. In our family, my husband stays up longer than the rest of us, so he's the chosen one.
Of course, there are other reasons to keep your campsite clean. Wind and rain can quickly ruin stuff that's been left out through the night, and who wants to wake up to a soggy mess before breakfast?
Follow Leave No Trace Principles while Camping
As a lover of the outdoors, you want to create as little impact on the ecosystem as possible. This means being respectful of wildlife, disposing of waste properly, and minimizing your camping footprint. One way to reduce your impact on the land you camp on is to follow Leave No Trace principles when you recreate. You can read more about Leave No Trace principles here.
As our population and love of the outdoors increases, Leave no Trace principles will become even more important, allowing us to coexist with wildlife and maintain natural landscapes while still enjoying trails, campgrounds, and wild spaces. We get into specifics throughout this article, but here basics of Leave No Trace:
Plan ahead and prepare
Travel and camp on durable surfaces
Dispose of waste properly
Leave what you find
Minimize campfire impacts
Respect wildlife
Be considerate of other visitors.
Don't Move Firewood!
Invasive insect species and other parasites are decimating our forests at an alarming rate. These critters don't discriminate and will hitch a ride on your firewood as they search for their next victims. New infestations often begin in campgrounds and parks, so it's really crucial that campers respect these regulations. Here's a great overview of state-by-state information about moving firewood.
Practice Campfire Safety
We don't see much of Smokey the Bear these days, but he's still out there, reminding campers of all ages to keep their campfires a manageable size and extinguish them completely when the fun is over. When building your campfire, be sure to remove dry leaves and other debris from the fire ring, and only build fires in designated spots. Watch your campfire carefully, and when you turn in for the night, douse it with water so it is entirely out. Yes, it's still true — only you can prevent forest fires!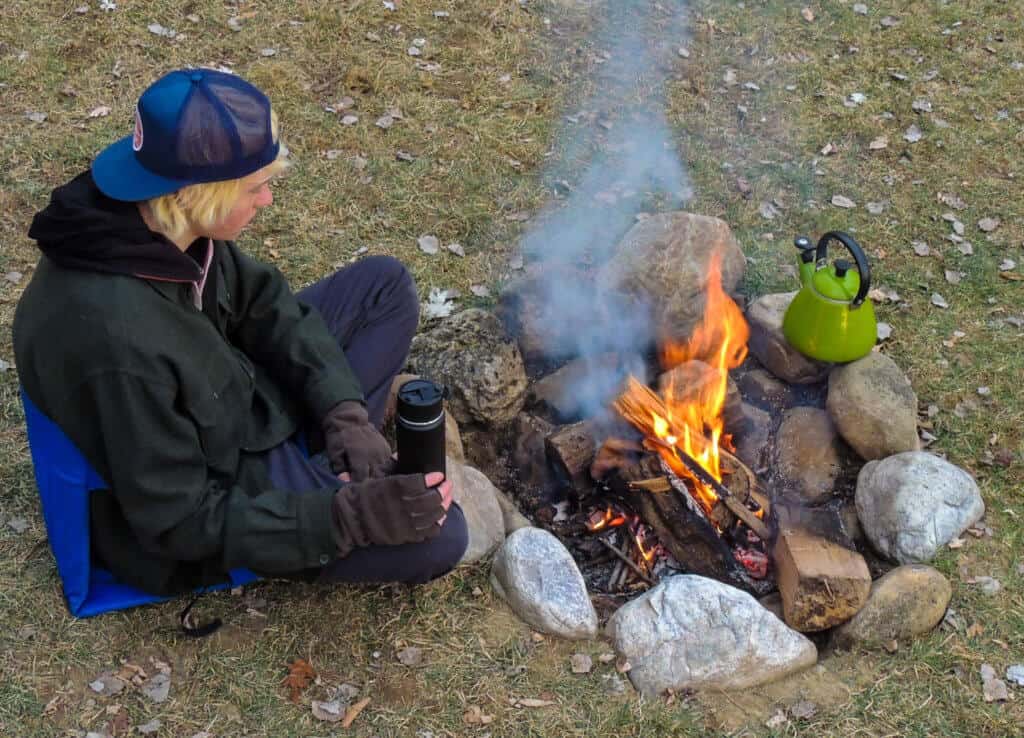 Don't Arrive to your Campsite too Late or Leave too Early
The last thing that happy campers want is a noisy vehicle and bright headlights waking them up in the middle of the night. If you can help it, arrive at your campground before dark to set up, and don't pack up and leave before 7 am. There may be times when you have no choice but to break this unwritten rule. If you do have to be setting up or breaking down in the dark, try and keep noise and lights to a minimum.
Camping Etiquette: Camping with Dogs
Camping with dogs can be either awesome or difficult, depending on the dog. Our pups have such an exuberant zest for adventure, and they help me appreciate the magic of being outdoors. Following some basic dog etiquette while camping will make you more popular with your neighbors and help keep your dog safe. As a general rule, I find that outdoor lovers are usually dog lovers, but not always. To keep the peace and become an ambassador for well-behaved dogs across the world, follow these camping etiquette tips:
Clean up After Your Pooch when Camping
You're camping neighbors will not appreciate smelling (or stepping in) any gifts your dog leaves laying around the campground, and not cleaning up after your dog is a good way to make enemies of your neighbors! These biodegradable poop bags are vegetable-based and leak-proof so you can feel better about using them when you're trying to leave no trace.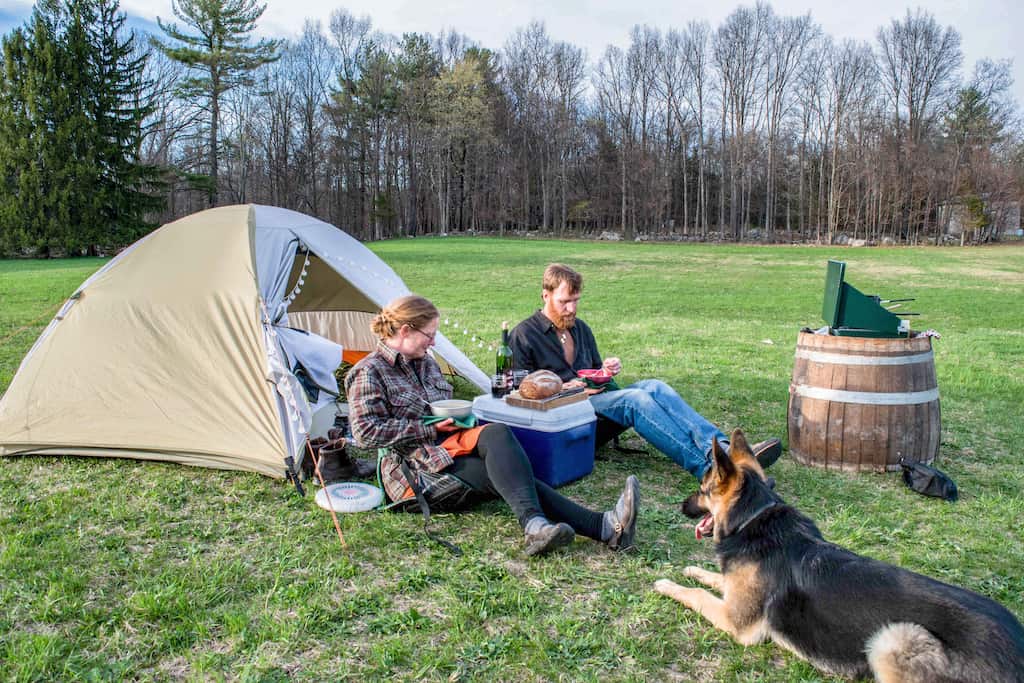 Keep Your Dog Quiet When Camping in a Campground
Does your dog bark at every single person, squirrel, or dog he meets? You're probably desensitized to the noise, but your camping neighbors don't want to hear it. Consider looking for an out-of-the-way campsite to minimize distractions and pacify your camping neighbors. If you really don't think you can keep your dog quiet while camping, please consider leaving him or her with a friend or dog sitter.
Don't Leave Your Dog Alone at the Campsite
Most campgrounds have rules about leaving your pooch unattended. To avoid problems, be sure you supervise your dog at all times.
Keep Social Interactions to a Minimum
Just because your dog is the friendliest pup on earth, doesn't mean he has to meet and greet everyone he comes across. While many people are enthusiastic about loving up other people's dogs, others would prefer to keep their distance. If your neighbors are dog-lovers, they will be the first to let you (and your dog) know that they want to say hi, otherwise, keep interactions to a minimum.
---
---
What to do About Rude Camping Neighbors
Up until now, we've focused on good camping etiquette that you can follow for a fabulous camping experience, but we've all had experience with loud and disrespectful neighbors. Here are some tips for making the most of unpleasant camping neighbors.
Step 1: Introduce yourself and gently call attention to the problem. Be friendly and non-confrontational, but also get to the point. "The sound really carries here, and we had trouble falling asleep last night. Would you mind keeping it down during quiet hours?" Sometimes people really don't know that they're being loud, so start by giving them the benefit of the doubt.
Step 2: Tell the campground hosts. It's always nice to approach people directly if it's a minor issue that can be easily solved, but if your neighbors are really disrespectful and you've tried step 1, then definitely let the authorities know about the problem.
Step 3: Ask to move to a different campsite. This doesn't solve the problem, but it might give you a reprieve.
A Few Tips for Making Friends While Camping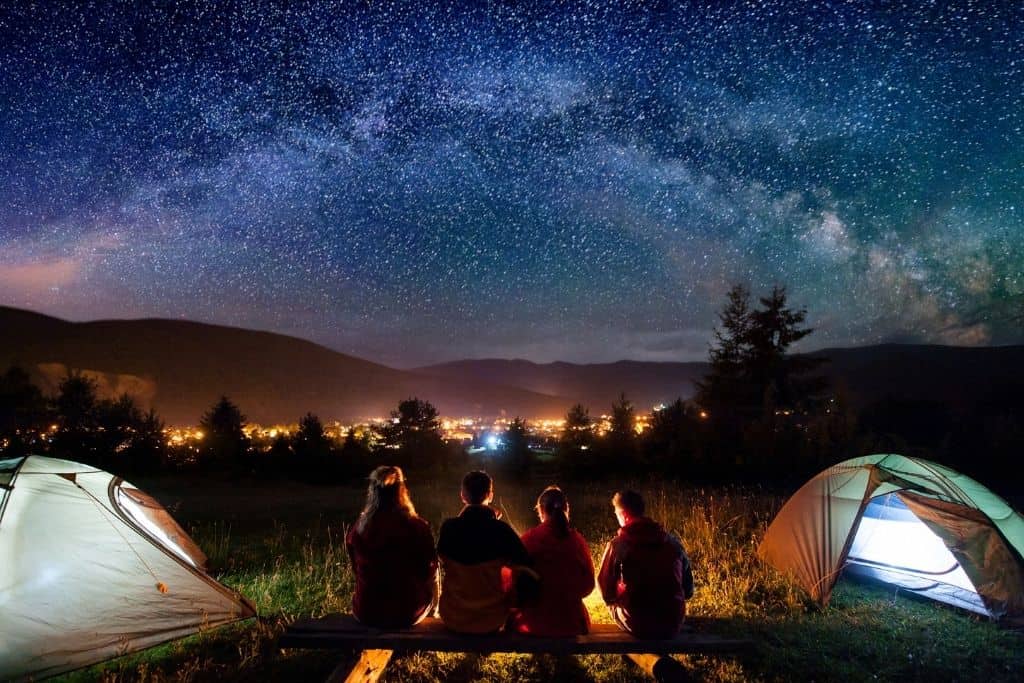 Now that you're up-to-date on the finer points of camping etiquette, here are a few extra tips for making friends with your campground neighbors:
Bring along some instruments. Guitars and campfires go together like cookies and milk, and a little night music will set the mood for a lively evening under the stars. As long as you're not too rowdy and abide by quiet times, your neighbors will probably appreciate the music.
Don't forget the beverages. Whether you prepare the best camp coffee around, or you've got some extra homebrews in the cooler, sharing your beverage of choice with your neighbors is a great way to make friends.
Roll out the welcome mat. Creating a campsite that doubles as a cozy retreat will encourage visitors. If you've got the room, why not bring a few extra chairs, some solar-powered twinkly lights, and a colorful tablecloth? This camping thing could turn into a whole lifestyle!
---
---
You don't have to be a hard-core trekker to enjoy a night or two under the stars. Follow the above guidelines for proper camping etiquette to become an ambassador for outdoor recreation and wild spaces everywhere.
Want to read more about planning and prepping for your next camping trip? Check out these posts:
Pin for later?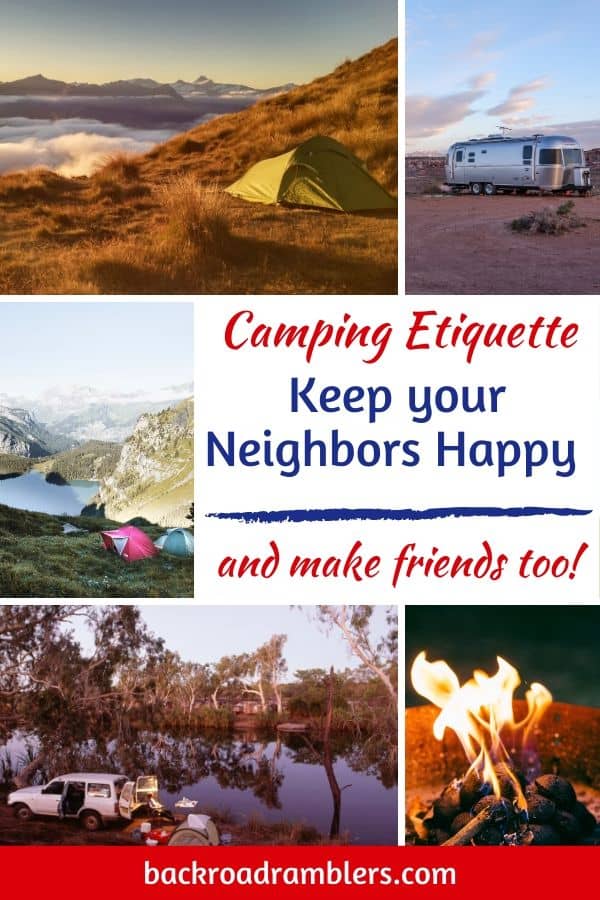 Add title
The Green Mountain State shines in just about every season, but Vermont in the fall is special. Autumn is when people travel from near and far to get a glimpse of the thrilling carpet of colors that blanket the mountains, forests, and fields starting in late September. Autumn is the best time to head to New England for a Vermont vacation.
Our family is so lucky to call this beautiful place home. Those beautiful fall colors sustain me through a winter that is always long and cold and often bleak and grey. So every year in the fall I make it my mission to drop everything and explore this beautiful state I call home.
I'd love to share some of our favorite places to explore during the Vermont fall foliage season before winter opens up a whole new set of opportunities. We're based in Southern Vermont, which is a road-trippers paradise, but the whole state deserves some serious explorations.
This guide explores quintessential Vermont fall foliage activities that visitors won't want to miss, but first I'd like to answer a few questions about Vermont fall foliage that I receive in multitudes via email or Facebook starting in August.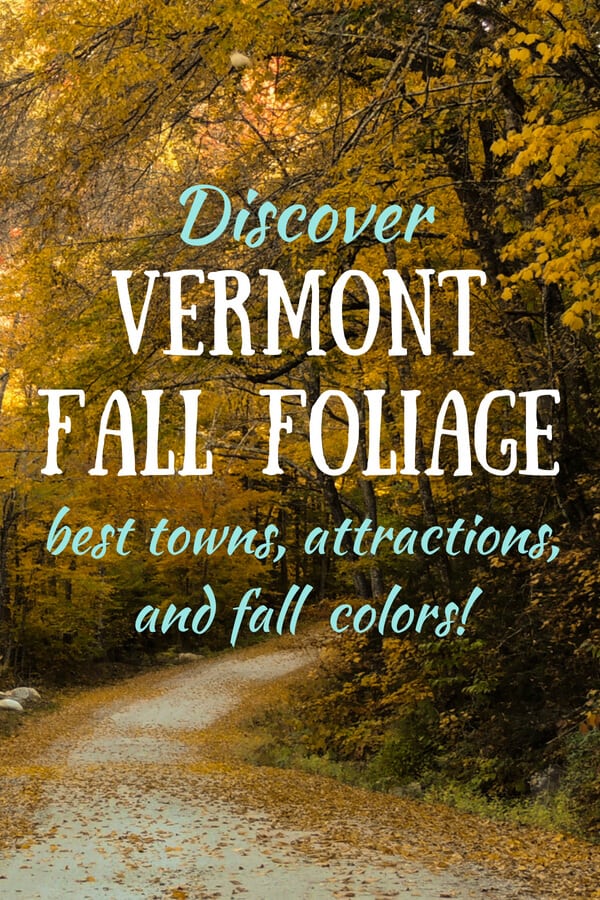 Table of Contents[Show]
When is Peak Foliage in Vermont?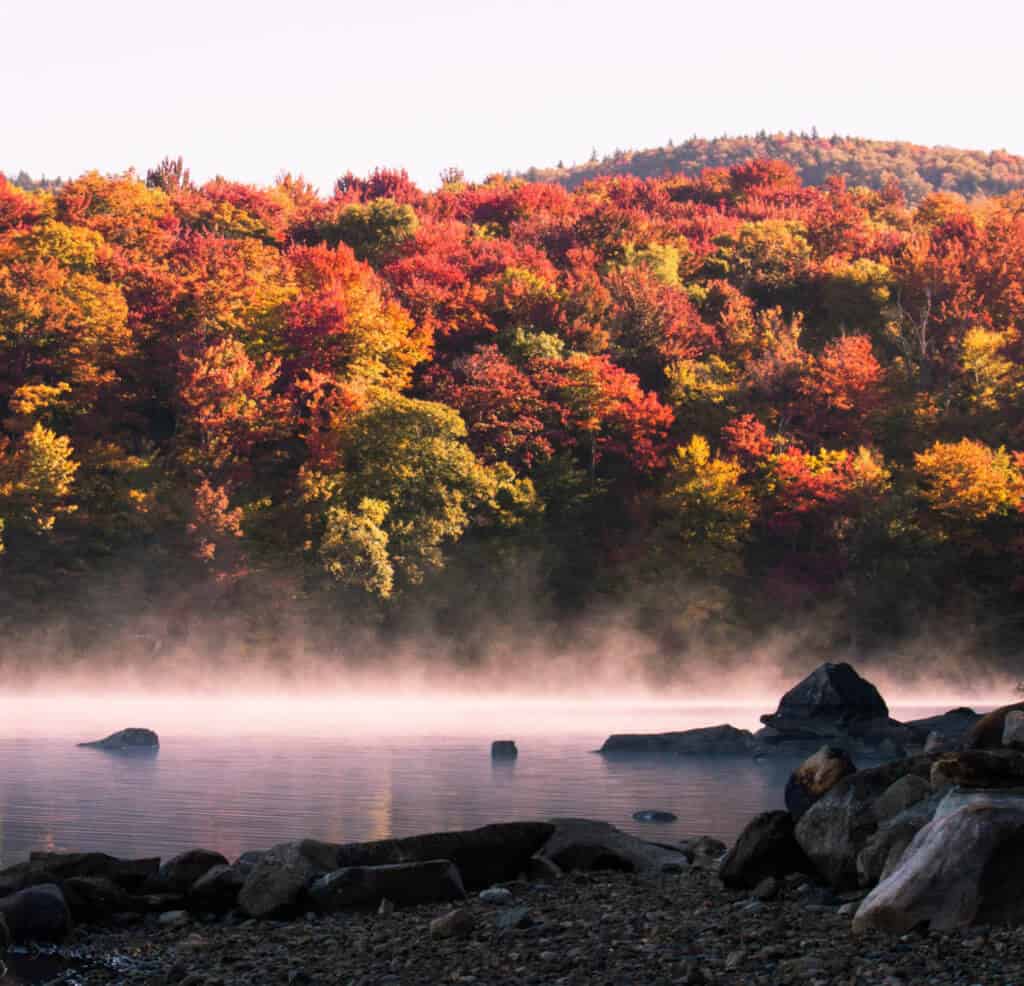 This is the million-dollar question! If you are planning your Vermont fall foliage vacation in the summer, you want to know when to book your flight or hotel room so that you don't miss the prime leaf-peeping season.
In my opinion, it's better to be a bit early for the season because you can always go up in elevation to experience more Vermont foliage. If you are visiting the mountains, which run north to south through the middle of Vermont, I suggest visiting in late September or early October, especially if you are traveling to the Northeast Kingdom or Stowe.
If you are visiting southern Vermont, the Lake Champlain Valley, or the Connecticut River Valley for Vermont foliage, I would suggest coming during the first or second week of October. Mother Nature doesn't follow a strict calendar, so there are variations in Vermont fall foliage colors that will depend on temperatures and rainfall.
Where are the Best Places to See Vermont Fall Foliage?
Another question that I am asked over and over again, is where the best places are to experience Vermont Fall Foliage. There are so many beautiful back roads in the state, and I guess my first suggestion would be to ditch the GPS and pick up a Delorme Gazetteer for Vermont and New Hampshire. Some of my favorite back roads to explore are in the Cambridge/Jeffersonville/Underhill area, the Northeast Kingdom, and Bennington County.
---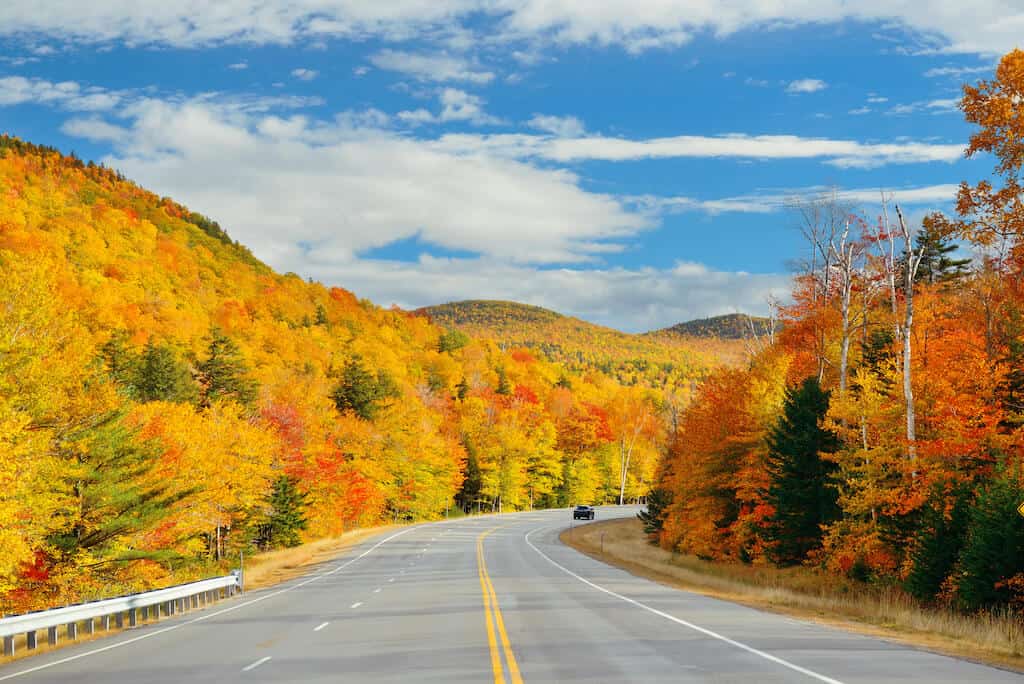 Read Next: 5 Days on Route 100 – The Ultimate Vermont Road Trip
---
If you are interested, I also have a few posts about the best places in Vermont to take fall foliage photos in southern Vermont. My all-time favorite back road to travel on during fall foliage in Vermont is Kelly Stand Road from Arlington to Stratton. I do it every year, stopping at Grout Pond to hike around the lake and capture the fall foliage reflections with my camera.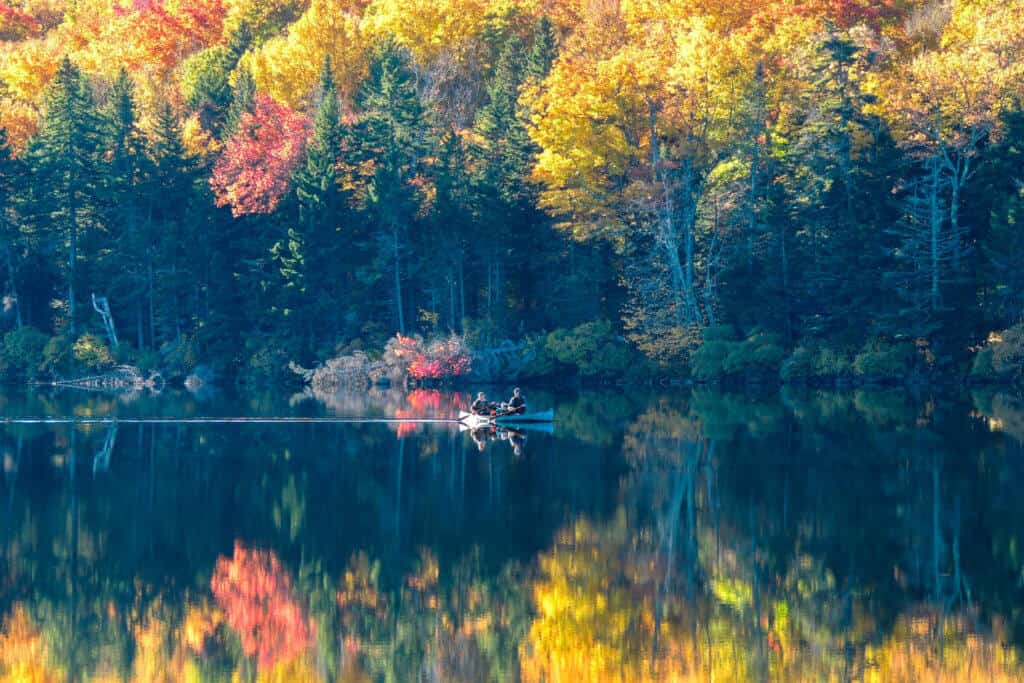 No matter where you travel in Vermont, you will find fall foliage that will take your breath away, I promise!
The Best Things to do in Vermont in the Fall
The fall foliage season is the most popular time to visit Vermont. It's a mixed blessing for travelers. On the one hand, Vermont foliage is incredibly beautiful, and every town and village wants you to visit. There are festivals, sidewalk sales, and special events all over the state to celebrate autumn in Vermont, and you, the traveler who is coming to spend money at local Vermont businesses. On the other hand, visiting Vermont in the fall means more traffic on back roads, not to mention a harder time booking rooms and making dinner reservations.
Is it worth it? Absolutely! I urge you to immerse yourself in Vermont's most colorful season and try the following excursions – the best things to do and the best places to visit in Vermont in the fall.
Hike Mount Mansfield, Vermont's Highest Peak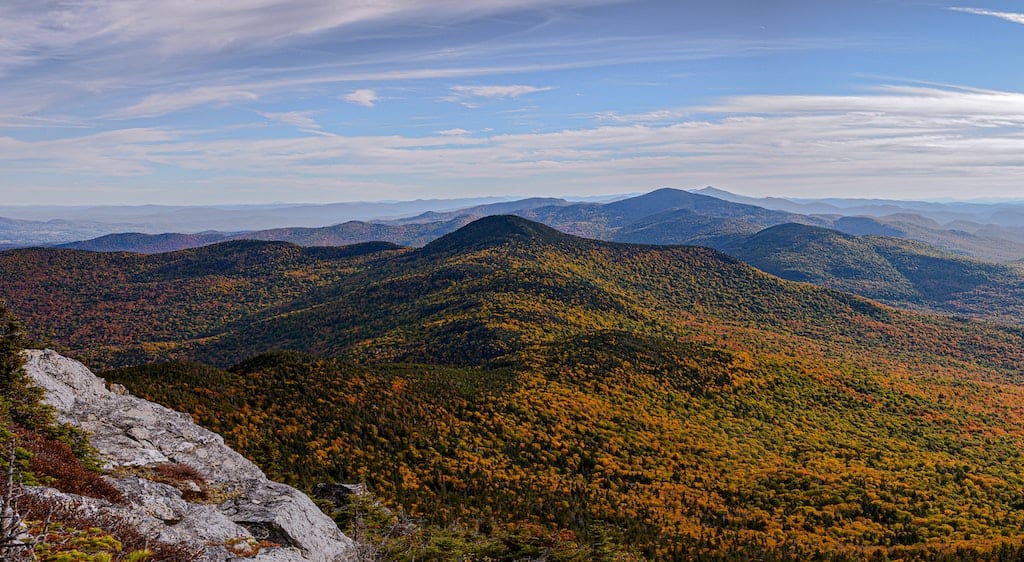 Mount Mansfield got its name because, when viewed from the east, it resembles the profile of a giant, sleeping face. It could just as easily be a woman, but Mount Womansfield just doesn't have the same ring to it.
Reaching 4,394 feet at the chin, this is one of only two places in Vermont where you'll find an arctic-alpine tundra ecosystem, complete with a plethora of tiny, rare plants that can only be found in such high, windswept climates as this, unless of course, you want to travel to the far reaches of our continent's northern borders.
More than 40,000 visitors flock to the top of Mount Mansfield each year, and that's because you can drive to the top on the auto toll road from Stowe Mountain Resort. This is a fun option if hiking isn't your thing or you're in a hurry, but it doesn't hold a candle to leaves crunching under your boots, and the mesmerizing silence of the forest, blazing with autumn splendor.
There are a few trails up to the top of Mount Mansfield, but I recommend starting in Underhill State Park and hiking the Sunset Ridge Trail. It's a 3.3-mile climb to the summit and quite strenuous. You can make a loop by combining Sunset Ridge with the Laura Cowles Trail. Mount Mansfield is a true gem, and one of the most beautiful places to hike during the Vermont fall foliage season.
Home of Mt. Mansfield: Stowe and Waterbury, Vermont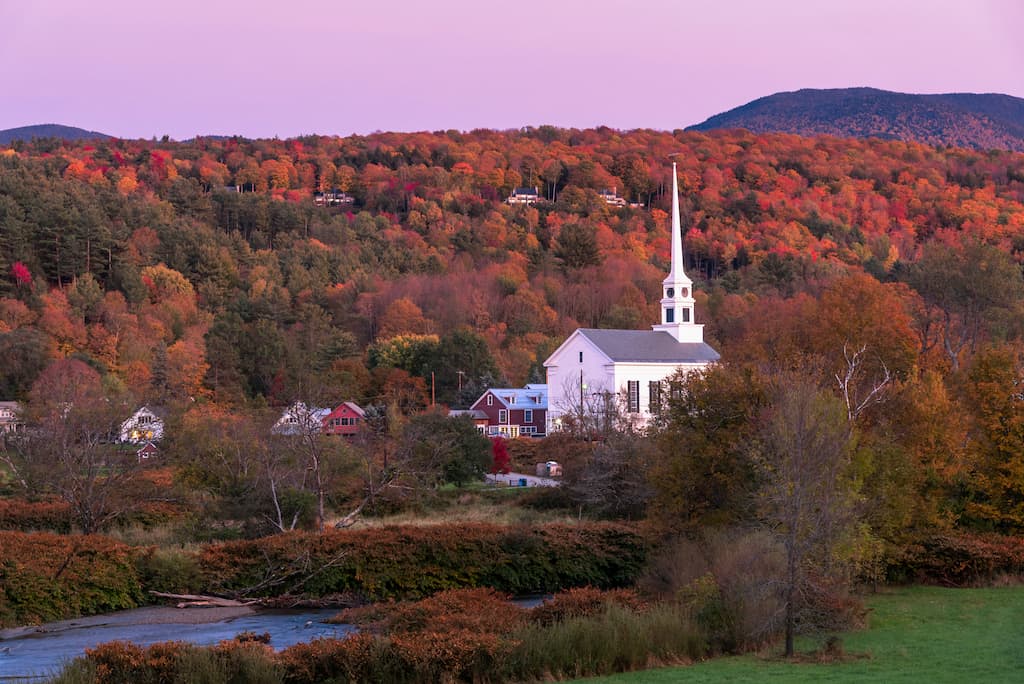 While you're in the area, be sure to check out the mountain towns and villages that make this part of Vermont so special. Here's what you won't want to miss on your visit to Mount Mansfield:
The beautiful village of Stowe, Vermont. Quaint shops, breweries, and restaurants — all with a gorgeous mountain backdrop. Stowe is one of the most popular towns to visit in Vermont, and the most beautiful.
The Trapp Family Lodge. The Trapp Family, fictionalized in The Sound of Music, fled Austria during World War II and landed in this beautiful Vermont town. The Trapp Family Lodge that you can visit today isn't the original lodge, but it's still a beautiful and historic landmark, with hiking and mountain-biking trails, and lovely accommodations. It's a perfect jumping-off point for your Vermont vacation.
The Cold Hollow Cider Mill. Not far from Stowe, in the town of Waterbury, you'll find the best cider donuts, plus hard and soft cider in a gorgeous setting. Do not miss your chance to indulge.
Ben & Jerry's Factory. And while we're on the topic of indulging, be sure to tour the famous Bean & Jerry's Ice Cream Factory and dig into some free samples. Be sure to visit the Flavor Graveyard, where you can pay homage to your long-lost ice-cream loves.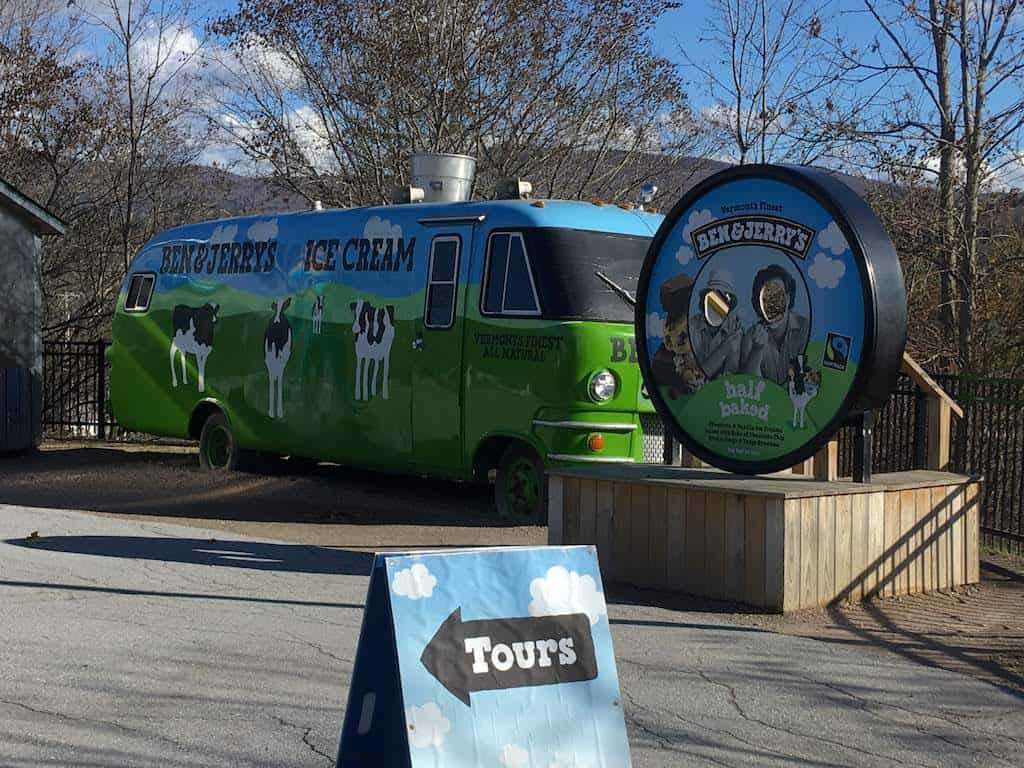 Ride Your Bike Along Burlington's Waterfront
Burlington, Vermont is about 45 minutes west of Stowe, and another must-visit stop on your fall foliage road trip through Vermont.
A Lake Champlain sunset is just about the most stunning thing I've ever seen. No matter how many times I watch the sun sink behind the Adirondacks, turning my favorite lake incredible shades of orange and red, I still catch my breath to glimpse such beauty.
There are lots of places to watch the sunset in Burlington, especially if you're riding the Burlington Bike Path. The paved trail hugs the water for most of its eight miles, connecting riders to several lovely parks and beaches. Start in the south end at Oakledge Park, and work your way to North Beach or the mouth of the Winooski River.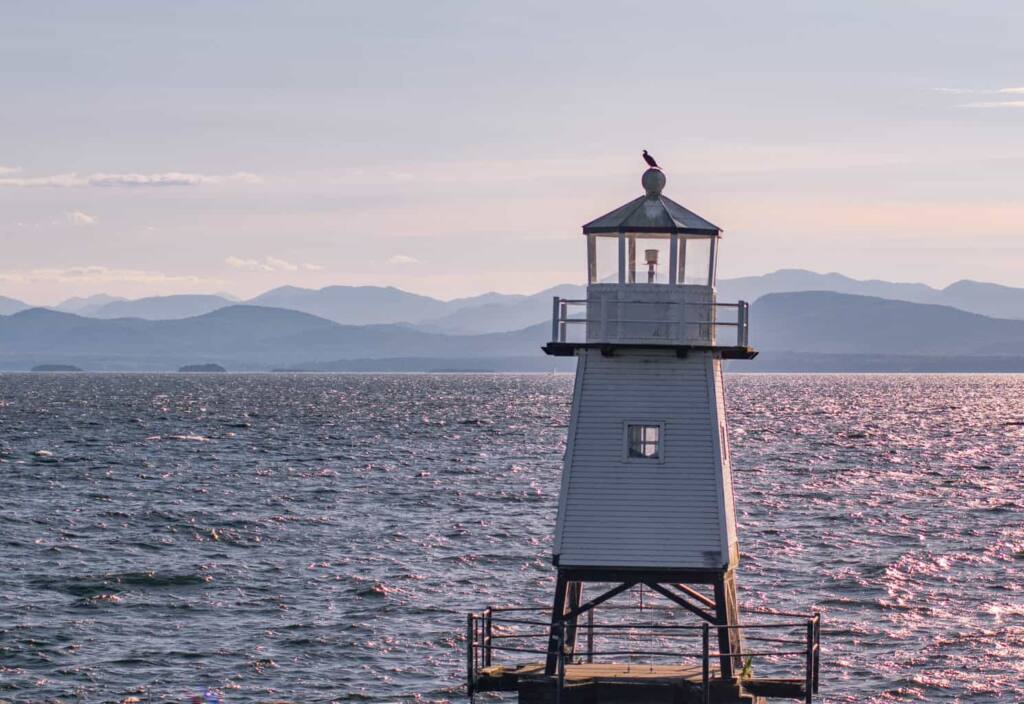 Speaking of Burlington — with just under 43,000 people, this is Vermont's biggest city. It's home to the University of Vermont, the bustling Church Street Marketplace, and an incredible number of shops, restaurants, and breweries. It's a city I called home for many years, and still one of my favorite places on earth.
---
Read Next: 7 Family-Friendly Things to do in Burlington this Summer
---
More Places to Visit in Burlington During the Vermont Foliage Season
The Burlington Farmers' Market. Every Saturday from 9 to 1. With over 90 vendors and awesome live entertainment, this hoppin' market is consistently rated as one of the best farmers' markets in the country. The market is located on 345 Pine Street in the South End.
The Spirit of Ethan Allen. Get out on Vermont's biggest lake with a sunset or dinner cruise on the Spirit of Ethan Allen. Cruises depart several times a day from the Burlington Boathouse at the bottom of College Street.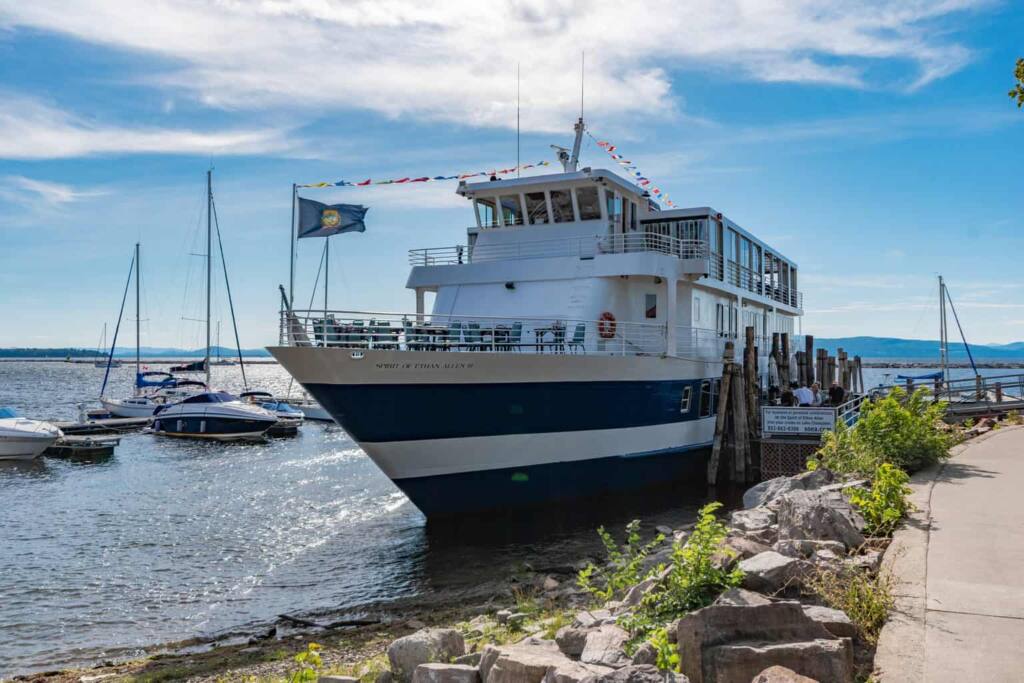 The ECHO Lake Aquarium and Science Center. This a must if you have kids, but it's pretty awesome no matter how old you are. Get up-close-and-personal with some of Lake Champlain's coolest critters, learn about the forces that shaped this beautiful landscape, and check out the awesome traveling exhibits.
Where to Stay in Burlington, Vermont
Burlington is a thriving and walkable city, and when it's in the budget, I always try to reserve a hotel room right downtown so I can walk everywhere. There's nothing like stepping out of your door in the morning for a brisk waterfront walk or a saunter to the nearest coffee shop.
Hotel Vermont, while on the pricey side, gets five stars for its location. This boutique hotel is a stone's throw from Lake Champlain and close to all of the best downtown shopping and dining. So far, this is our favorite downtown hotel. You will need to reserve a room far in advance during the fall foliage season.
If you are visiting Burlington with a family or want something that won't hit your wallet quite so hard, you may want to reserve a vacation rental on VRBO. We have stayed at three downtown apartment rentals in Burlington so far, and have been impressed with all of them. Here's a quick overview of our favorite Burlington apartment rentals:
One-Bedroom Lakeview Apartment with Huge Deck – This small apartment is full of natural light and is perfect for couples. The best part is the view of Lake Champlain and the amazing deck for relaxing on in the warmer weather. Walk to everything!
One-Bedroom Downtown Apartment- This one-bedroom apartment has room for three guests and is just steps from Church Street and within walking distance of Lake Champlain.
Mid Century Lake Side Apartment: Located on the 2nd floor above Billie Jean Vintage, this gorgeous apartment is close to the lake and downtown. It's got 1 full bedroom and a sofa bed, plus a great little kitchen with free coffee and a french press. We loved all the little details in this place – available on Airbnb.
Finally, I have to share one quirky gem with you. The Starlight Inn in Colchester is a movie-themed motel located right next to the iconic Sunset Drive-In Theater. I've been catching flicks at the Sunset Drive-Inn since I could walk, and Starlight Inn guests receive complimentary tickets for one car and all its occupants.
Another thing to love about the Starlight Inn? Every room is unique and all of them feature a different movie theme. This is a super fun lodging experience for movie buffs and kids. Colchester is located about 15 minutes from Burlington.
Tour the Rock of Ages Quarry in Barre, Vermont
Rock of Ages opened for business quarrying granite in 1881 and is still going strong today. The highlight is a cavernous pit surrounded by sheer walls of granite and filled with turquoise water. It's 600 feet deep and covers more than 50 acres, the largest quarry of its kind in the world. Visitors can tour the quarry and the factory, bowl on the world's only outdoor granite bowling lane, and sandblast their own granite souvenir. Serious fun for everyone.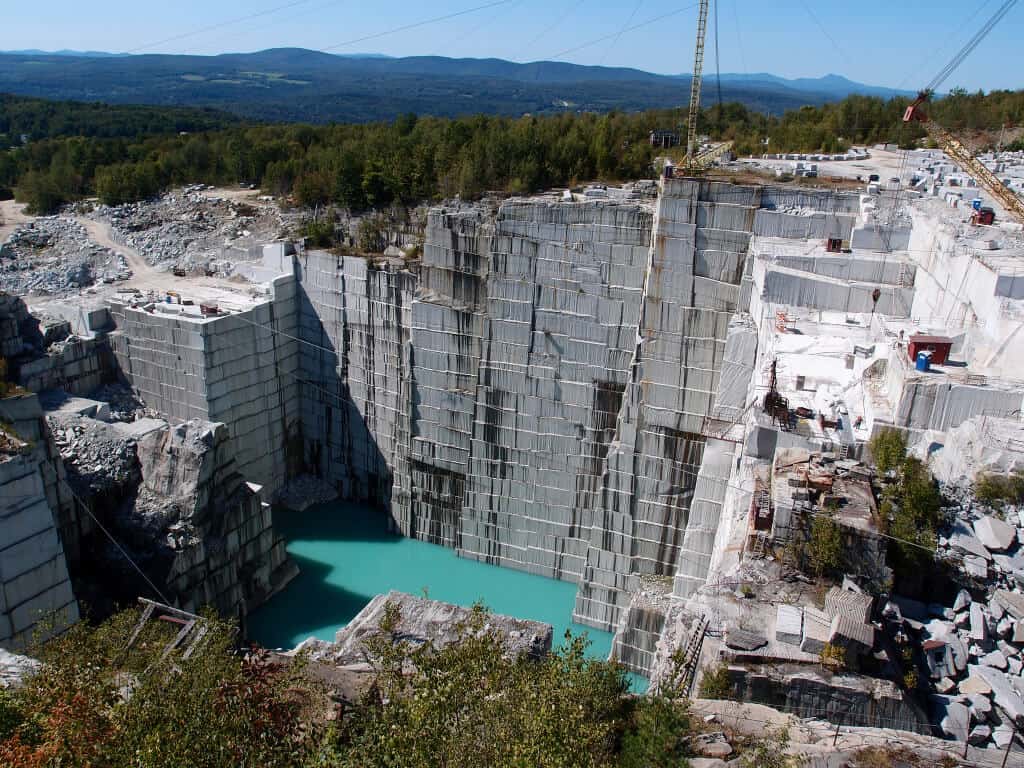 While you're in the neighborhood of this Granite Capital of the World, be sure to stop and meander around the Hope Cemetery, also in Barre. It pays homage to memorial art with fantastic examples of the work of master Italian artisans from the 19th and 20th centuries. You'll find some cool contemporary pieces too, and all of the sculptures are made from the same "Barre Gray" granite.
Visit the Covered Bridges in Bennington County, Vermont
Vermont boasts more than 100 covered bridges, the highest number per square mile in the United States. Bennington County, in the southwest corner of Vermont, is home to five, all relatively close to each other.
You'll find three covered bridges in Bennington/North Bennington and two more in Arlington. They all feature authentic construction, but some have been rebuilt over the years. The Arlington bridges are both perched above fabulous swimming holes if you happen to be meandering on a hot, summer day.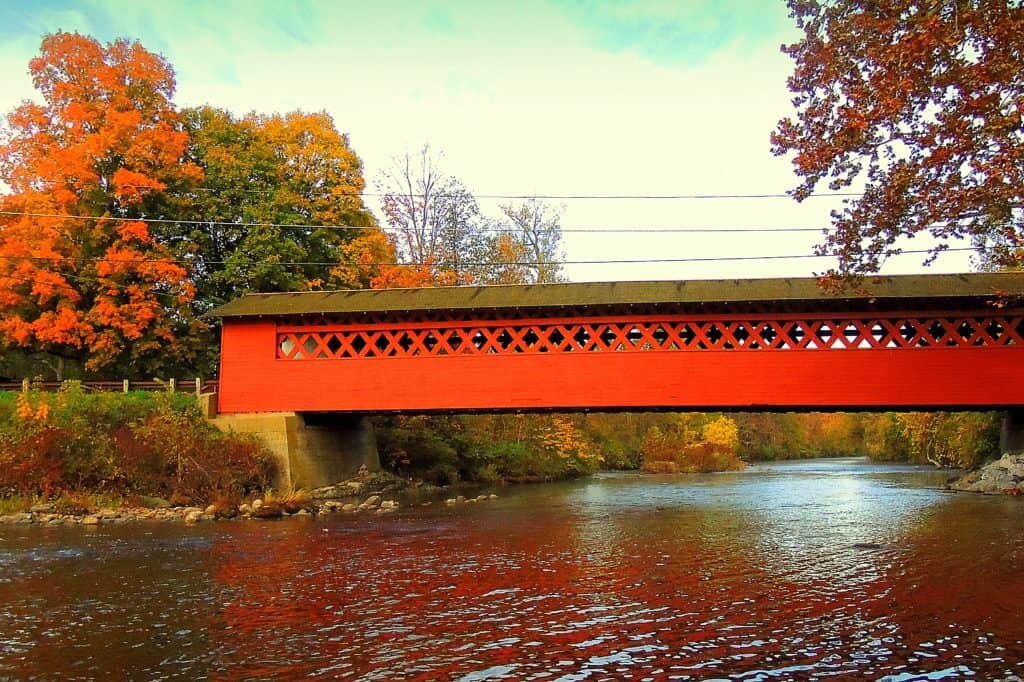 Even if covered bridges aren't your thing, I urge you to visit this corner of Vermont in the fall, where you'll find rolling hills, bustling farm stands, art galleries, museums, and shopping opportunities. The Appalachian and Long Trails share a single path through these mountains, and both Robert Frost and Norman Rockwell called Bennington County Home at one time. You can even visit Robert Frost's grave behind the Old First Church in Old Bennington.
More Vermont Fall Foliage Sites in Bennington County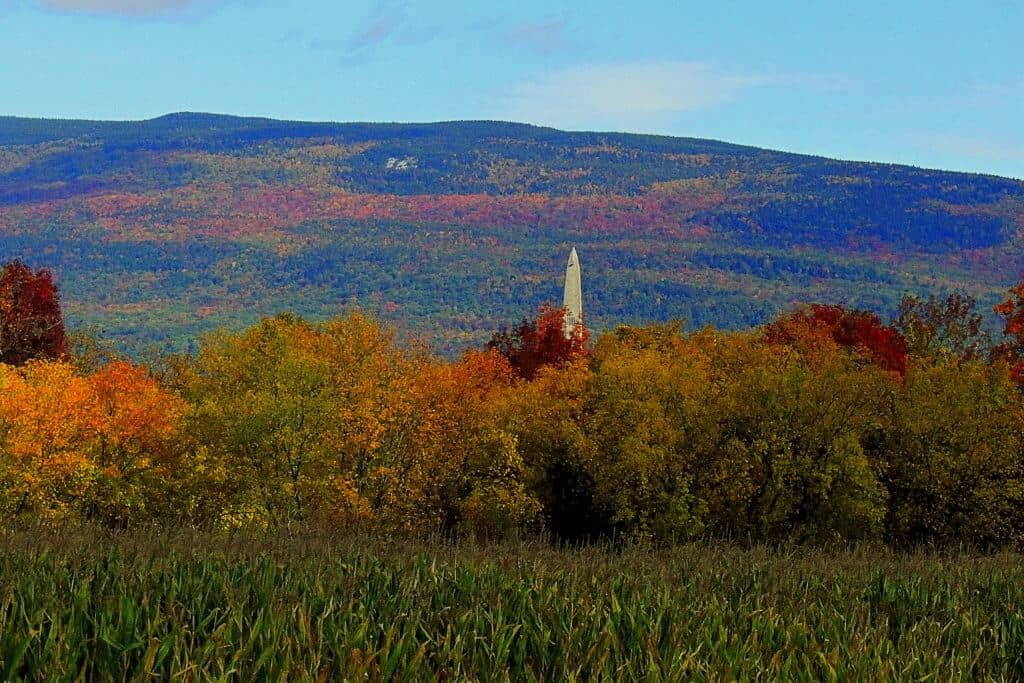 Woodford State Park. It's true — we're attracted to out-of-the-way corners, and this is one of our favorite spots for quiet hiking, kayaking, and swimming. Woodford State Park is tucked away in the mountains and sees very few visitors. A quiet lake surrounded by lush forest is the main attraction, but you'll also find hiking trails and a quiet campground within the park. On really quiet evenings we've seen moose and otters, and we hear the fishing is pretty good too.
Bennington Battle Monument. This is Vermont's most popular historic site, but we've never encountered a full parking lot. Finished in 1891 to commemorate the Battle of Bennington (August 16, 1777), the monument towers 306 feet over the town and is the tallest building in the state. Take a quick elevator ride to the top and enjoy the panoramic views of the town, valleys, and mountains that make this place so special. Don't forget your camera.
Lye Brook Falls. An easy 2.3-mile hike on a beautiful, forested trail will take you to a lovely waterfall in the Green Mountains. The trail is dog and kid-friendly, and the woods are especially spectacular during fall foliage.
Lye Brook Falls is a single cascade plummeting more than 125' into a rocky streambed. It's not deep enough to swim at the falls, but there's a nice swimming hole on the dirt road that leads to the Lye Brook Falls Trailhead. I know, this list is for fall visitors, but any beautiful day is a good day for swimming, even in October!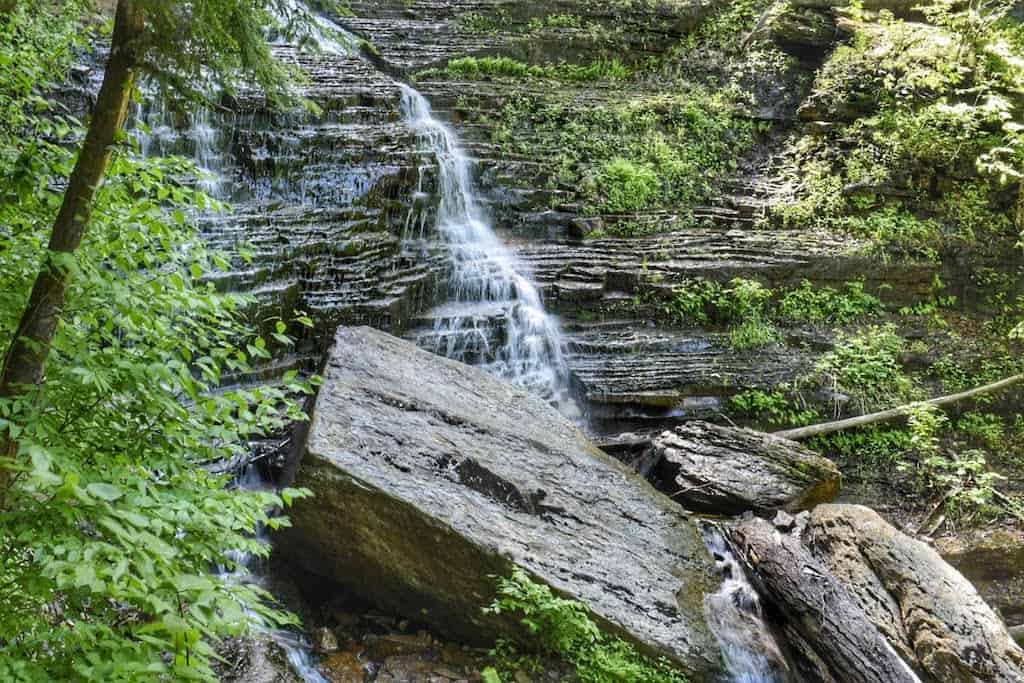 Read Next: Hiking to Lye Brook Falls in Manchester, Vermont
Where to Stay in Bennington County, Vermont
Bennington County has two shires, Manchester in the north and Bennington in the south. It's about a half-hour drive between the two, so you don't necessarily want to be hopping between them constantly during your visit. There are lots of lodging choices in both towns.
In Bennington, the Four Chimneys Inn is an iconic New England Inn that will perfectly complement your Vermont fall vacation. Each room is beautifully decorated, breakfast is beyond incredible, and you can walk to historic attractions in Old Bennington.
If you want to hang your hat in Manchester, check out the sprawling Kimpton Taconic Hotel, which is dog-friendly and within walking distance of shopping, dining, and hiking trails in Manchester Village.
Finally, if you are looking for a secluded getaway, check out this secluded cabin on 15 acres in North Bennington/Bennington. It's pet-friendly, sleeps four, and has all the modern amenities you would expect.
Resources for Visiting Vermont in the Fall
As I mentioned earlier, the whole state becomes a tourist attraction during the Vermont fall foliage season. If you are planning to visit on a weekend in October, make your reservations as early as possible. The Road is Calling has a great post with specific Vermont road trips for viewing fall colors. Here are some more resources for planning your Vermont fall foliage vacation, and I'd also recommend driving Route 100 through the mountains.
Airports: Burlington International Airport is closest to the Champlain Valley, Stowe, and the Northeast Kingdom. If you are traveling to southern Vermont, your best bet is flying into the Albany International Airport in New York.
Where to Stay: There are so many cute inns and hotels in Vermont! We find the best prices on Booking.com, which also lists some nice vacation rentals. If you know you want more room to spread out, look for vacation rentals on VRBO or Airbnb.
Vermont Peak Foliage Reports: You can get Vermont fall foliage reports delivered to your inbox by signing up at the Vermont Vacation website.
---
Planning that epic Vermont vacation? We're proud and excited to introduce our new website, Vermont Explored, featuring all Vermont, all the time! We'd be honored if you would check it out!
---
Our Favorite Resources for Road Trips and Outdoor Adventures

These are the resources we use for planning road trips, saving money while traveling, and outdoor gear.

Car Rentals: While we use our own car most often for road trips, we also enjoy flying into major airports and then renting a car for more regional road trips. We use Kayak to compare prices and find deals from dozens of car rental agencies at once.

Flights: We use Kayak or Skyscanner to search out flight deals. Money-saving tip: If you find yourself using the same airline over and over again (we are huge Southwest fans), consider joining their loyalty program and getting an airline credit card. With our Southwest Rewards Visa, we earn a few free flights each year.

Hotels: When it comes to lodging, we seek out small boutique hotels or quirky roadside motels. First, we search for hotels on TripAdvisor so we can read reviews from other travelers. Then, we use Booking.com to make reservations (they have the best prices, plus a flexible cancelation policy).

Camping: Camping is one of our favorite things to do on long road trips. It allows us to explore the outdoors, cook our own food, and save money. We use They Dyrt Pro to find campsites and read reviews before booking on Recreation.gov or state park websites.

Glamping and Vacation Rentals: For weekend getaways and shorter vacations, we love glamping (check out our glamping resource guide). We book glamping properties through Tentrr, Hipcamp, and Airbnb. For cabins and vacation rentals, we like to use VRBO (they have fewer fees and a better cancelation policy than Airbnb).

Guides and Maps: If we are visiting a new region, we usually invest in a Moon Travel Guide for the area. We pass them on to friends and family after our trip. If we are planning on hiking, we also purchase a Falcon guide in the Best Easy Day Hikes series.

Outdoor Gear: We are REI Co-Op members. It cost us $20 for a lifetime membership, but we get a yearly dividend based on our purchases, plus great deals and coupons throughout the year. REI also has a great return policy.

Check out our complete guide for planning a road trip on a budget