Camping season is almost here, and like many outdoor lovers, we've been busy going through our gear, reserving sites at our favorite campgrounds, and perfecting some of our favorite outdoor recipes. We love just about everything about camping – late nights around a campfire, falling asleep to the sounds of the night, and listening from our sleeping bags as the birds sing their first morning songs.
There are a few things that can ruin a good camping trip, though, and rude and disrespectful camping neighbors are at the top of the list. All that relaxing and connecting with nature that I just mentioned? It all flies out the window when you can't fall asleep because the neighbors are partying in the next campsite over. Or you are constantly accosted by the "friendly" loose dog trying to steal your camp food.
Camping can be a fun outdoor adventure for families, but only if everyone plays by the same rules. Yes, there are rules. The good news is that the rules of camping etiquette aren't hard to follow, and everyone appreciates a good camping neighbor.
Want to ensure that you get what you need from your adventure while still making friends in the woods? Follow these simple tips for camping etiquette, and everyone will have a good time.
Camping Etiquette: The Absolute Basics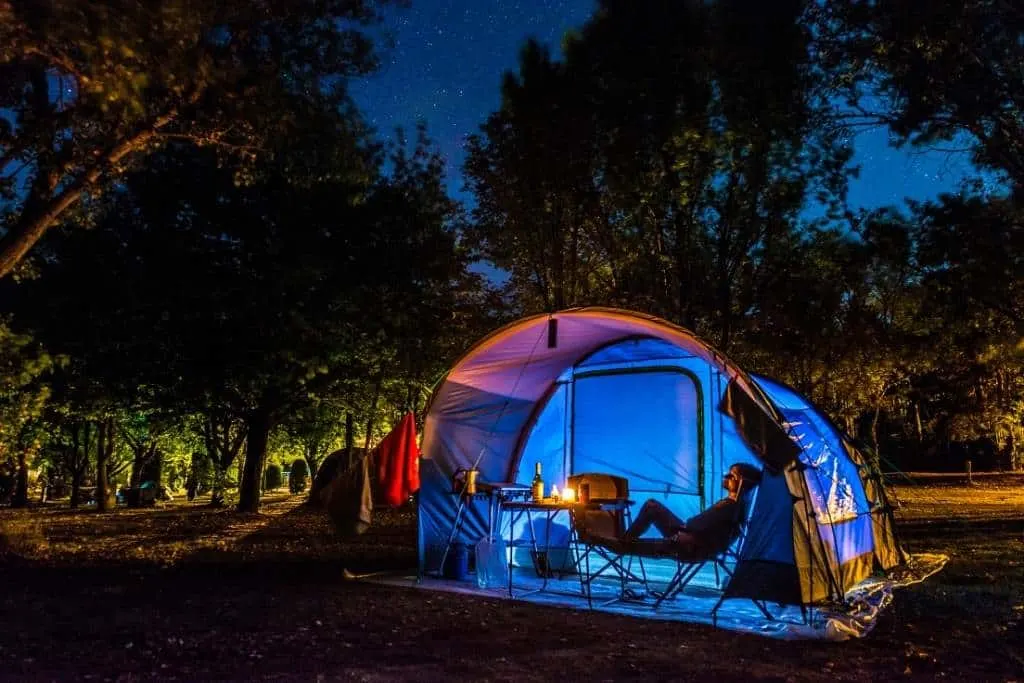 Abide By Quiet Time at Your Campground
I know. You're on vacation. You don't want to go to bed at 10 pm. As long as you're keeping things mellow, you can stay up as late as you want, but please for the sake of your camping neighbors — no radios, loud talking, or generators during campground quiet hours, which vary depending on the campground.
And speaking of generators, many campgrounds mandate specific daytime hours for generator use. That's because generators are ridiculously loud, especially for tent campers.
The more people in your camping group, the more difficult it will be to keep your voices down, and imbibing in adult beverages makes it even more difficult. If you are planning a weekend camping party, consider camping somewhere private, where you won't have to disturb your camping neighbors. I recommend using Tentrr to find campsites that are totally private, so you can turn up the volume a bit.
Respect Your Camping Neighbor's Space
Your campsite is your own for as long as you've reserved it, and I'm sure the last thing you want is uninvited guests walking through your patch of privacy. Don't cut through occupied campsites for a quicker trip to the beach or the bathroom, and be mindful of your neighbor's privacy. If you're camping with kids, make sure they follow this important camping etiquette rule as well!
Keep Your Campsite Clean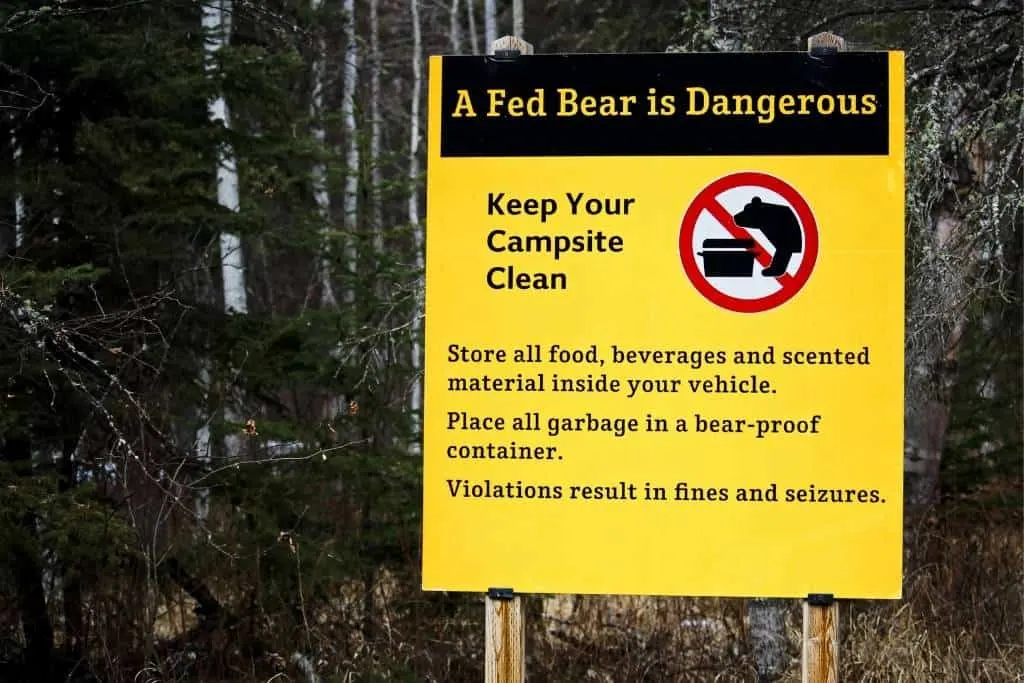 This is a big one! I can't tell you how many times we have witnessed wild animals tearing around in someone's campsite because they didn't put their food away or left their garbage out for others to find. Rodents, birds, and bigger critters are just waiting for the opportunity to vandalize your site and steal your food.
Every chance a wild animal gets to devour people-food makes it more habituated to those people. Birds become a nuisance, but larger animals like bears, coyotes, and even raccoons will sometimes have to be euthanized because they lose their natural fear of humans.
I know how easy it can be to accidentally leave food out at your campsite when you head to bed late and it's dark. My advice is to assign someone the task of putting everything away before turning in for the night. In our family, my husband stays up longer than the rest of us, so he's the chosen one.
Of course, there are other reasons to keep your campsite clean. Wind and rain can quickly ruin stuff that's been left out through the night, and who wants to wake up to a soggy mess before breakfast?
Follow Leave No Trace Principles while Camping
As a lover of the outdoors, you want to create as little impact on the ecosystem as possible. This means being respectful of wildlife, disposing of waste properly, and minimizing your camping footprint. One way to reduce your impact on the land you camp on is to follow Leave No Trace principles when you recreate. You can read more about Leave No Trace principles here.
As our population and love of the outdoors increases, Leave no Trace principles will become even more important, allowing us to coexist with wildlife and maintain natural landscapes while still enjoying trails, campgrounds, and wild spaces. We get into specifics throughout this article, but here basics of Leave No Trace:
Plan ahead and prepare
Travel and camp on durable surfaces
Dispose of waste properly
Leave what you find
Minimize campfire impacts
Respect wildlife
Be considerate of other visitors.
Don't Move Firewood!
Invasive insect species and other parasites are decimating our forests at an alarming rate. These critters don't discriminate and will hitch a ride on your firewood as they search for their next victims. New infestations often begin in campgrounds and parks, so it's really crucial that campers respect these regulations. Here's a great overview of state-by-state information about moving firewood.
Practice Campfire Safety
We don't see much of Smokey the Bear these days, but he's still out there, reminding campers of all ages to keep their campfires a manageable size and extinguish them completely when the fun is over. When building your campfire, be sure to remove dry leaves and other debris from the fire ring, and only build fires in designated spots. Watch your campfire carefully, and when you turn in for the night, douse it with water so it is entirely out. Yes, it's still true — only you can prevent forest fires!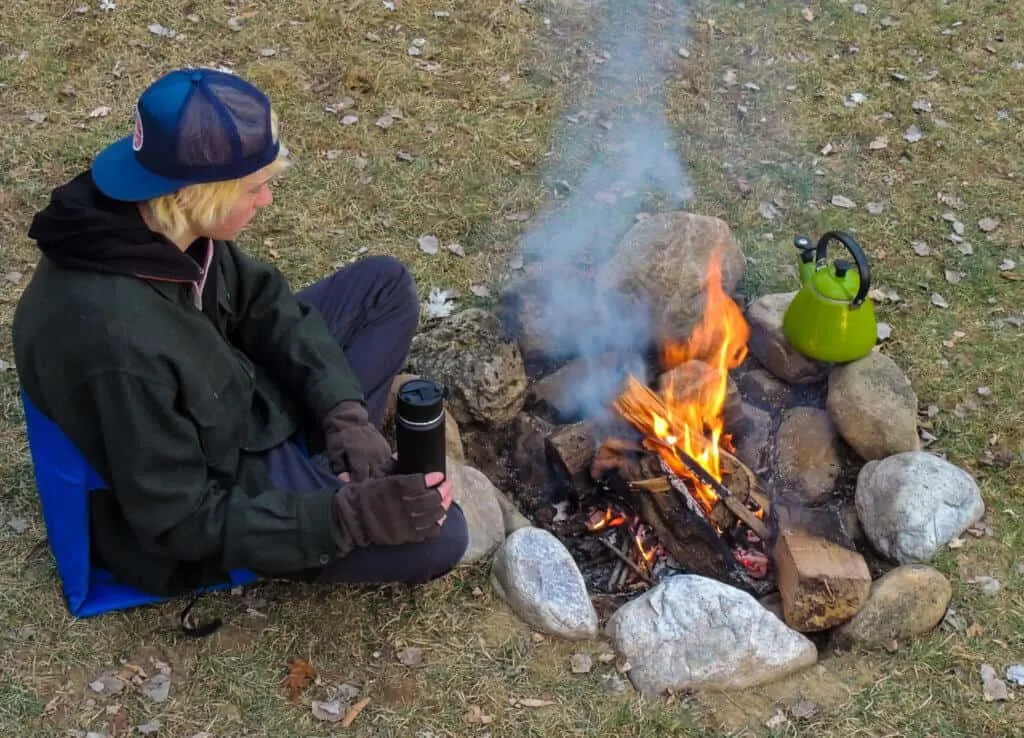 Don't Arrive to your Campsite too Late or Leave too Early
The last thing that happy campers want is a noisy vehicle and bright headlights waking them up in the middle of the night. If you can help it, arrive at your campground before dark to set up, and don't pack up and leave before 7 am. There may be times when you have no choice but to break this unwritten rule. If you do have to be setting up or breaking down in the dark, try and keep noise and lights to a minimum.
Camping Etiquette: Camping with Dogs
Camping with dogs can be either awesome or difficult, depending on the dog. Our pups have such an exuberant zest for adventure, and they help me appreciate the magic of being outdoors. Following some basic dog etiquette while camping will make you more popular with your neighbors and help keep your dog safe. As a general rule, I find that outdoor lovers are usually dog lovers, but not always. To keep the peace and become an ambassador for well-behaved dogs across the world, follow these camping etiquette tips:
Clean up After Your Pooch when Camping
You're camping neighbors will not appreciate smelling (or stepping in) any gifts your dog leaves laying around the campground, and not cleaning up after your dog is a good way to make enemies of your neighbors! These biodegradable poop bags are vegetable-based and leak-proof so you can feel better about using them when you're trying to leave no trace.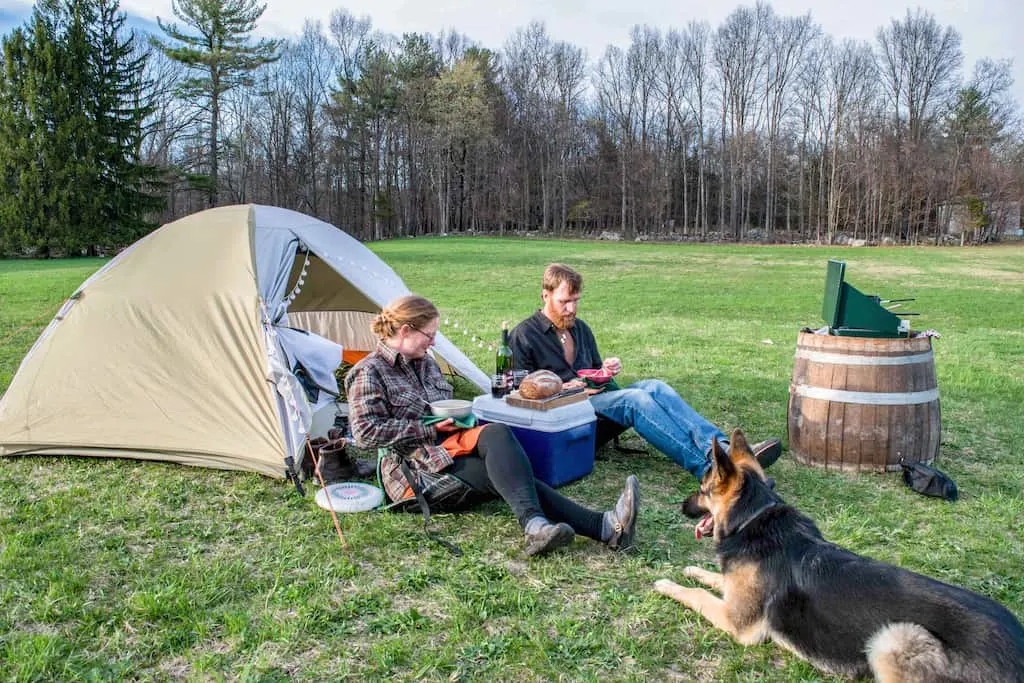 Keep Your Dog Quiet When Camping in a Campground
Does your dog bark at every single person, squirrel, or dog he meets? You're probably desensitized to the noise, but your camping neighbors don't want to hear it. Consider looking for an out-of-the-way campsite to minimize distractions and pacify your camping neighbors. If you really don't think you can keep your dog quiet while camping, please consider leaving him or her with a friend or dog sitter.
Don't Leave Your Dog Alone at the Campsite
Most campgrounds have rules about leaving your pooch unattended. To avoid problems, be sure you supervise your dog at all times.
Keep Social Interactions to a Minimum
Just because your dog is the friendliest pup on earth, doesn't mean he has to meet and greet everyone he comes across. While many people are enthusiastic about loving up other people's dogs, others would prefer to keep their distance. If your neighbors are dog-lovers, they will be the first to let you (and your dog) know that they want to say hi, otherwise, keep interactions to a minimum.
---
---
What to do About Rude Camping Neighbors
Up until now, we've focused on good camping etiquette that you can follow for a fabulous camping experience, but we've all had experiences with loud and disrespectful neighbors. Here are some tips for making the most of unpleasant camping neighbors.
Step 1: Introduce yourself and gently call attention to the problem. Be friendly and non-confrontational, but also get to the point. "The sound really carries here, and we had trouble falling asleep last night. Would you mind keeping it down during quiet hours?" Sometimes people really don't know that they're being loud, so start by giving them the benefit of the doubt.
Step 2: Tell the campground hosts. It's always nice to approach people directly if it's a minor issue that can be easily solved, but if your neighbors are really disrespectful and you've tried step 1, then definitely let the authorities know about the problem.
Step 3: Ask to move to a different campsite. This doesn't solve the problem, but it might give you a reprieve.
A Few Tips for Making Friends While Camping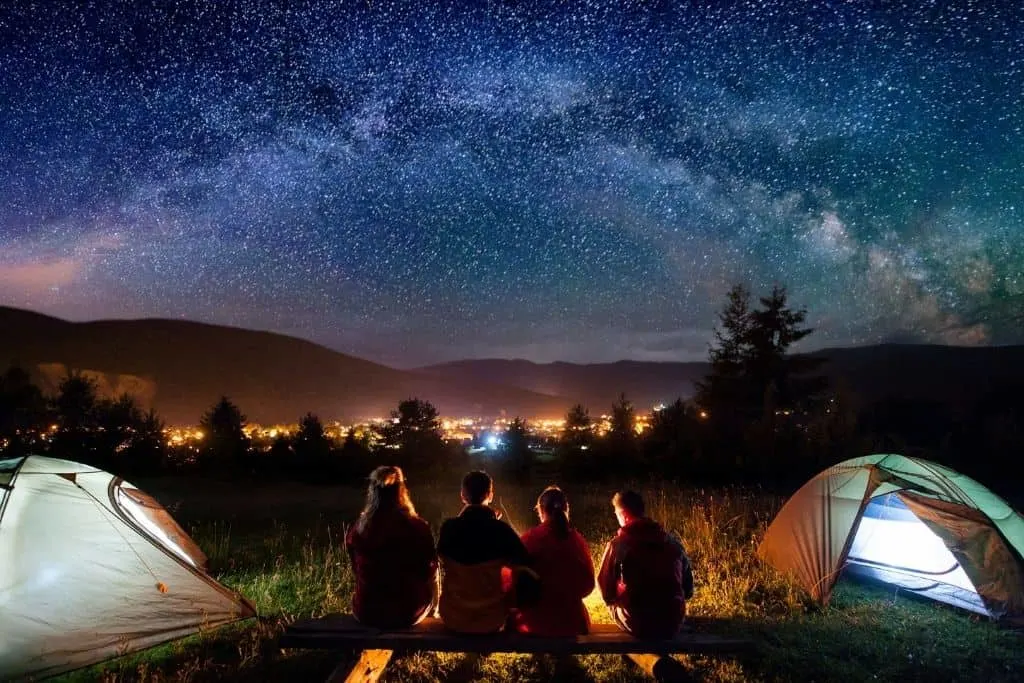 Now that you're up-to-date on the finer points of camping etiquette, here are a few extra tips for making friends with your campground neighbors:
Bring along some instruments. Guitars and campfires go together like cookies and milk, and a little night music will set the mood for a lively evening under the stars. As long as you're not too rowdy and abide by quiet times, your neighbors will probably appreciate the music.
Don't forget the beverages. Whether you prepare the best camp coffee around, or you've got some extra homebrews in the cooler, sharing your beverage of choice with your neighbors is a great way to make friends.
Roll out the welcome mat. Creating a campsite that doubles as a cozy retreat will encourage visitors. If you've got the room, why not bring a few extra chairs, some solar-powered twinkly lights, and a colorful tablecloth? This camping thing could turn into a whole lifestyle!
---
---
You don't have to be a hard-core trekker to enjoy a night or two under the stars. Follow the above guidelines for proper camping etiquette to become an ambassador for outdoor recreation and wild spaces everywhere.
Want to read more about planning and prepping for your next camping trip? Check out these posts:
Pin for later?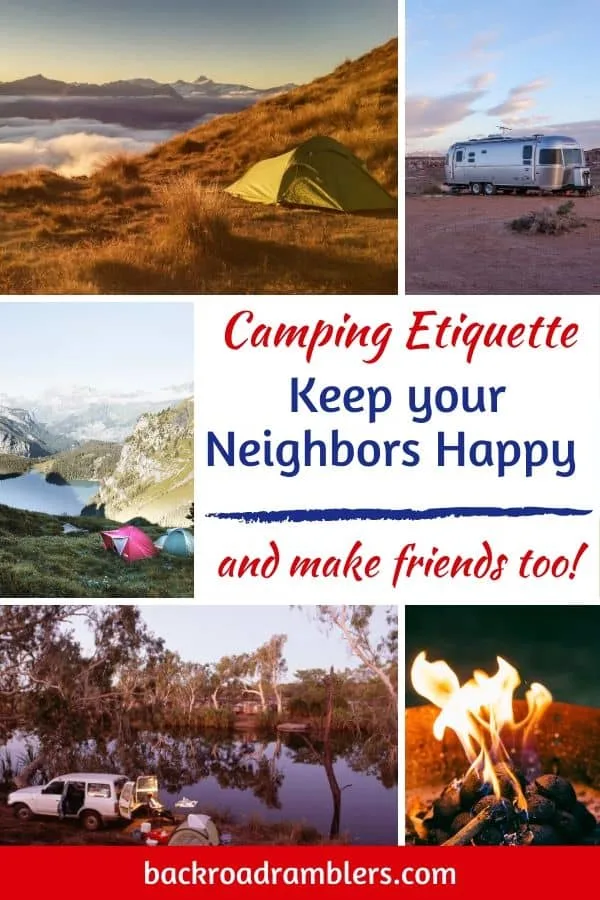 ---
Our Favorite Resources for Road Trips and Outdoor Adventures

These are the resources we use to plan road trips, save money while traveling, and shop for outdoor gear.

Car Rentals: While we use our own car most often for road trips, we also enjoy flying into major airports and then renting a car for more regional road trips. We use Kayak to compare prices and find deals from dozens of car rental agencies at once.

Flights: We use Kayak to search out flight deals.
Money-saving tip: If you find yourself using the same airline repeatedly (we are huge Southwest fans), consider joining their loyalty program and getting an airline credit card. With our Southwest Rewards Visa, we earn a few free flights each year.

Hotels: When it comes to lodging, we seek out small boutique hotels or quirky roadside motels. First, we search for hotels on TripAdvisor so we can read reviews from other travelers. Then, we use Booking.com to make reservations (they have the best prices, plus a flexible cancelation policy).

Camping: Camping is one of our favorite things to do on long road trips. It allows us to explore the outdoors, cook our own food, and save money. We use They Dyrt Pro to find campsites and read reviews before booking on Recreation.gov or state park websites.

Glamping and Vacation Rentals: For weekend getaways and shorter vacations, we love glamping (check out our glamping resource guide). We book glamping properties through Tentrr, Hipcamp, and Airbnb. For cabins and vacation rentals, we like to use VRBO (they have fewer fees and a better cancelation policy than Airbnb).

Guides and Maps: If we are visiting a new region, we usually invest in a Moon Travel Guide for the area. We pass them on to friends and family after our trip. If we are planning on hiking, we also purchase a Falcon guide in the Best Easy Day Hikes series.

Outdoor Gear: We are REI Co-Op members. It cost us $20 for a lifetime membership, but we get a yearly dividend based on our purchases, plus great deals and coupons throughout the year. REI also has a great return policy.

Check out our complete guide for planning a road trip on a budget