Please check to make sure destinations are open to visitors before planning a trip and follow local guidelines. We earn a commission from affiliate links that may be included in this post.
Is there anything in the world better than a family lake vacation to get you in the mood for summer?
Lake vacations combine the best elements of a summer holiday – not just swimming, fishing, and boating, but also lazy days on the beach, chasing fireflies, and the constant smell of sunscreen and wet bathing suits. There are thousands of lakes in the United States, many of them great retreats for families, but a few lakes stand out from the crowd for their family-friendly atmosphere, variety of recreation opportunities, and laid-back vibe.
Here are our absolute favorite family-friendly lakes in the United States that are perfect for your next summer vacation.
Pictured Rocks National Lakeshore on Lake Superior, Michigan
Lake Superior is the largest lake by surface area in the entire world. The shores of Lake Superior border Michigan, Wisconsin, Minnesota, and Ontario, and Canada, so I can't just recommend that you head to some random spot on this massive lake. Instead, I would urge you to plan a vacation to one of our all-time favorite parks on Lake Superior – Pictured Rocks National Lakeshore.
At Pictured Rocks, you will find dramatic vistas, lakeside campgrounds, and an incredible diversity of wildlife. Although there are plenty of rustic cabins, campgrounds, and RV parks that you can call home for your lake vacation, you won't find many upscale resorts. The rustic charm and laid-back vibe of the area are part of its charm.
Best Things to do at Pictured Rocks National Lakeshore on Lake Superior
Anglers take note: Lake Superior is known throughout the world as a fishing hot spot. Anglers come from all over to catch salmon, trout, walleye, and more.
Where to Stay Near Pictured Rocks National Lakeshore
If you plan on camping, we highly recommend making reservations at Twelvemile Beach, but you don't have to pitch a tent to enjoy a family lake vacation on Lake Superior. Here are a few more options for great places to stay that are very close to Pictured Rocks National Lakeshore:
---
North Lake Tahoe, California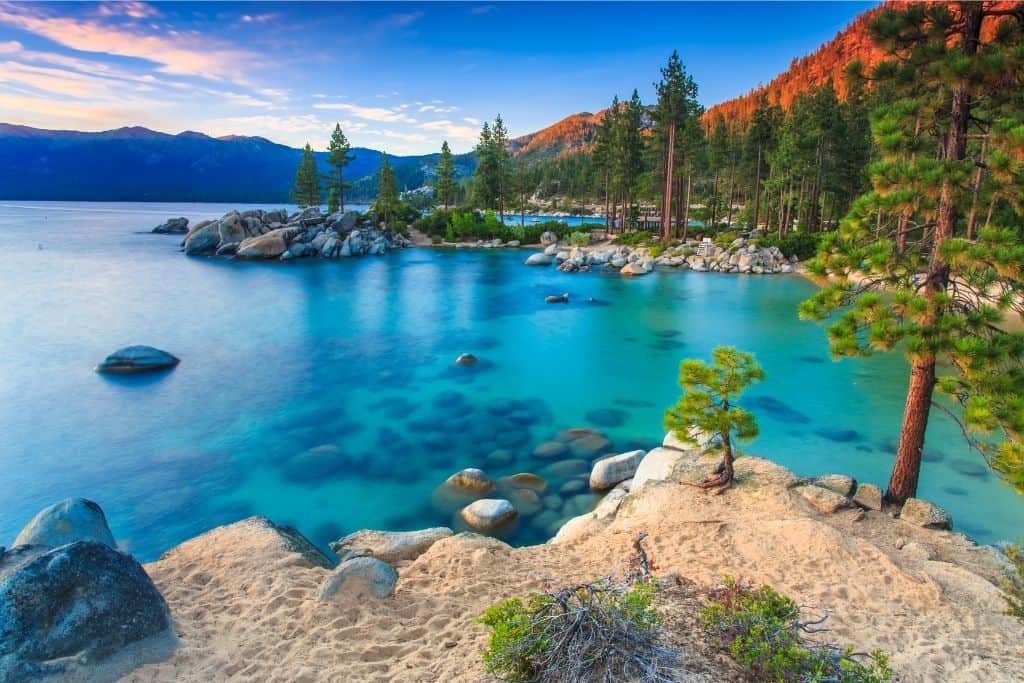 The first time I laid eyes on Lake Tahoe, I thought I was dreaming. Could the water really be that clear and blue? Lake Tahoe is unbelievably beautiful, and it's also a fabulous spot for your next family lake vacation. As with most of the lakes mentioned here, the best way to experience Lake Tahoe during the summer is outdoors – on a boat, relaxing on the beach, or hiking a trail. Explore the shores to discover sheer granite cliffs next to white sandy beaches, or meander inland through fragrant pine forests.
Lake Tahoe is deep and cold, even in the summer. Popular activities include kayaking, paddleboarding, and even nude sunbathing if you're feeling adventurous. Because the waters are so clear, divers frequently explore the many boats and barges that have come to rest on the lake's bottom. On land, hiking opportunities are plentiful, from leisurely strolls to extreme mountain climbing.
If you want to get off the beaten path and explore the surrounding mountains, complete with unsurpassed views of the Tahoe Basin, consider hiking a section of the 165-mile Tahoe Rim Trail.
Lake Tahoe is 22 miles long and 12 miles wide, so before you pack your beach bag, you might want to choose your destination. On the California side of the lake, there's North Lake Tahoe and South Lake Tahoe – both are beautiful, but we found North Lake Tahoe to have a more family-friendly feel. You can't go wrong with any of the towns in North Lake Tahoe.
Truckee is about 10 minutes away from the lake, but it's so cute and on my short list of places to live someday! King's Beach is right on the water, and because it's on the shallow side here, it's actually pretty warm for swimming. Finally, if you are looking for the perfect vacation rental, I'd recommend check out out Tahoe City.
Where to Stay on Lake Tahoe
North Lake Tahoe vacation rentals include every price-point imaginable, from hostels and primitive campgrounds to lakeside cabins and luxury resorts. Here are some places we'd recommend.
---
Lake Champlain, Vermont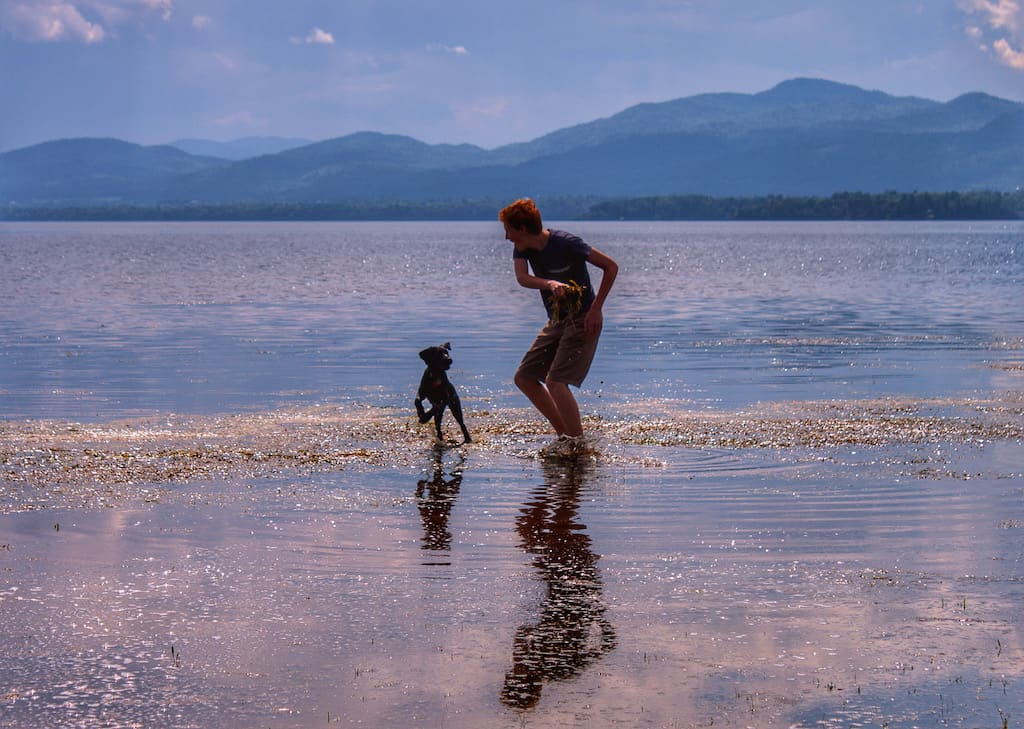 I grew up near the shores of Lake Champlain in Vermont, so yes, I'm partial, but I do think it's a great destination for all kinds of fun family adventures. Lake Champlain has been called America's sixth Great Lake. Stretching 125 miles south from the Canadian border, and straddling the states of Vermont and New York, Lake Champlain and the surrounding communities seamlessly blend rural charm with urban influences.
Lake Champlain played an important role in the French and Indian War, the American Revolution, and the War of 1812, making it a fabulous destination for history buffs. It also has its own lake monster, so be on the lookout when you visit.
There are plenty of cool spots along the eastern shores of Lake Champlain in Vermont for a family vacation. Our favorite spots are either just south or just north of Burlington. Of course, if you are interested in more of an urban lake vacation, Burlington is such a great destination for families with kids.
---
Read Next: The Best Things to do in Burlington with Kids this Summer
---
About 45 minutes south of Burlington is Button Bay State Park for camping, and they have cabins too if you don't want to rough it. We like to use Button Bay as our home base, and then explore the other parks and natural areas nearby.
Mount Philo State Park was Vermont's very first state park and is one of the best places to watch the sunset in the whole state. Hiking up Mount Philo is easy enough for kids, but you can also drive to the top, which is nice after a long day at the lake.
As for swimming, we love Kingsland Bay State Park, which is a beautiful day-use area. We cover all three state parks in our guide to camping near Burlington, Vermont.
Explore the Lake Champlain Islands
Your other option is to drive north of Burlington and vacation on the Lake Champlain Islands. This collection of Islands used to be part of Vermont's inland sea and you can still find ancient fossils of the sea life if you know where to look. This area is very close to the border with Quebec, Canada, so plan on running into lots of French speakers.
This part of Lake Champlain is great for kayaking and canoeing, fishing, and biking. It's pretty flat and there are bike routes all over the islands. There are also numerous Vermont State Parks up here, including our all-time favorite, Burton Island State Park, which you can only get to by passenger ferry or personal watercraft.
Where to Stay in the Lake Champlain Islands
---
Lake Havasu, Arizona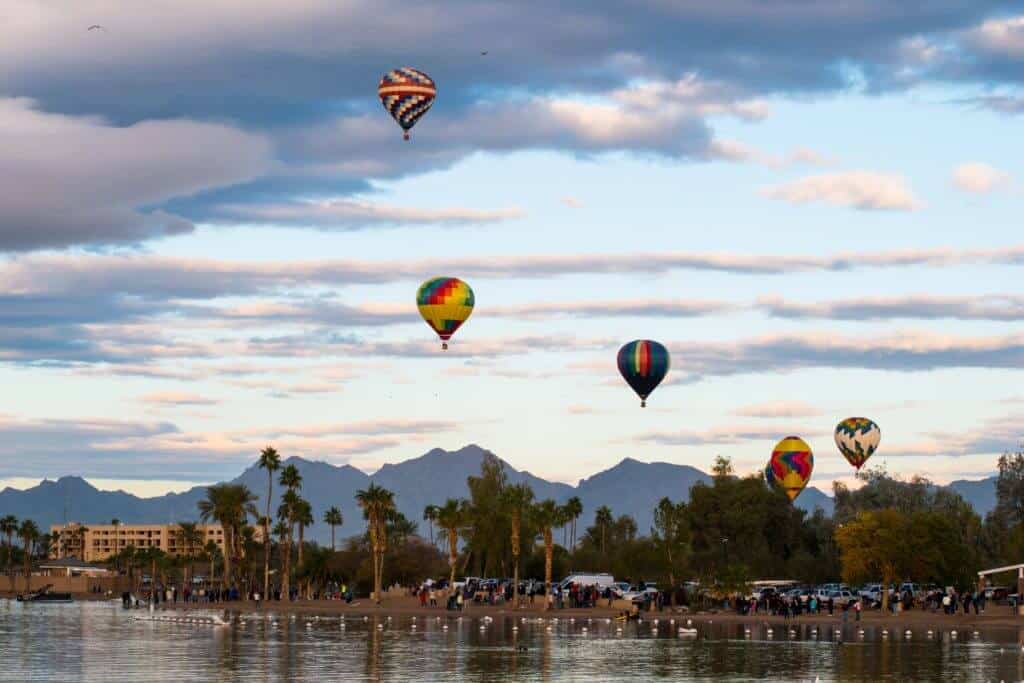 Lake Havasu is a known vacation spot for college kids that like to party for spring break, but this desert oasis has a wholesome side to it too. Families who enjoy staying busy will love the shopping, restaurants and nightlife that surrounds the lake in all seasons. Hotels are plentiful, and kids will love the miles of sandy beaches, the warm water, and the perfect weather, nearly every day. Be sure to visit SARA park, which encompasses miles of hiking trail and mountain biking trails, and Rotary Park, which has the coolest skate park we've ever seen, plus a great sandy beach.
Read more about Lake Havasu City Vacations Here.