Please be sure to check with each state/destination for its current COVID-19 guidelines before planning a visit. This post may contain links from which we earn a small commission at no extra cost to you.
You probably already know that Lake Havasu City is an amazing spring vacation destination for families. Actually, we love visiting this Arizona oasis in just about every season! Planning a vacation to Lake Havasu City is easy, and there's so much to do, especially if you love spending time on the water and exploring the outdoors.
Because my dad lived in Lake Havasu City for many years, we've had the opportunity to explore lots of different lodging options, from camping to posh hotels, and everything in between. If you are looking for places to stay in Lake Havasu City with kids, we'd recommend checking out Airbnb, especially if you're planning on staying more than a few days.
We've got absolutely nothing against Lake Havasu City Hotels, and we've even got some awesome hotel recommendations, but Airbnb wins for family-friendly lodging in just about every case.
Why Airbnb is Great for Family-Friendly Lodging in Lake Havasu City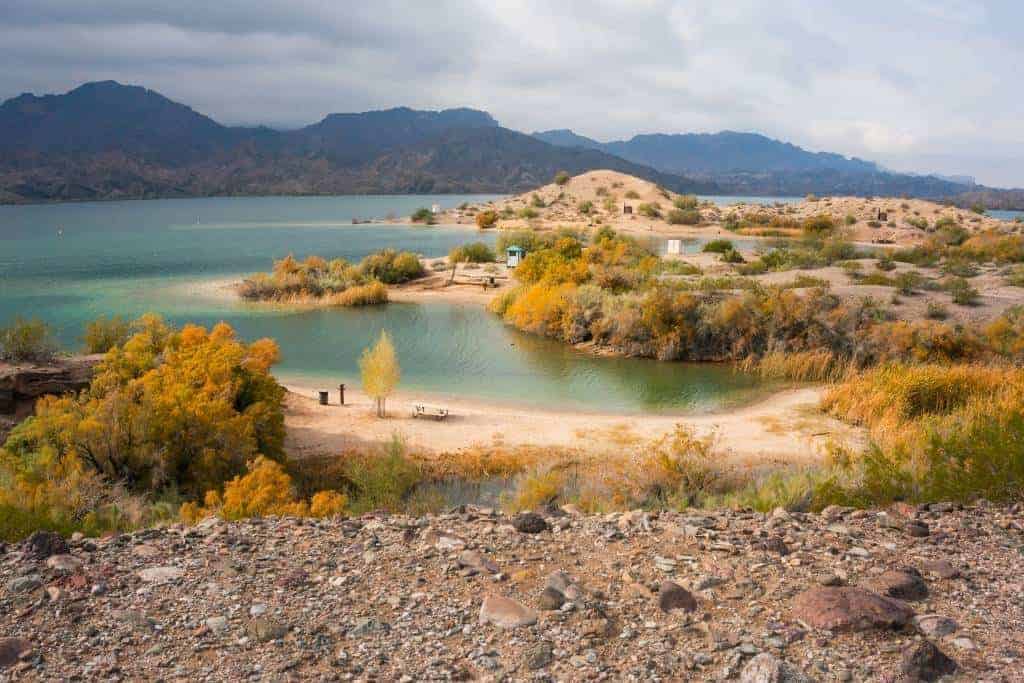 When we visit Lake Havasu City with kids, we really appreciate having a kitchen to cook our meals in, and separate bedrooms so we can all have a little privacy at the end of the day. Many of the Lake Havasu Airbnbs that we've stayed in even have outdoor pools, or other fun amenities that are especially awesome for kids.
The downside to renting an Airbnb instead of staying in a hotel is location. Some of the best Lake Havasu City hotels that we've stayed in are right on the water, making it easy to take advantage of swimming, paddling, and boating, not to mention all of the waterfront restaurants.
Airbnbs, by contrast, are mostly up the hill in the residential parts of the city. It's a short drive to the water from just about anywhere in town, but you probably won't be where the action is!
For us, staying in an Airbnb is a nice way to escape from the hubbub of the waterfront. We spend our days on the beach, at the park, or hiking, and then our quiet vacation rental is like a lovely respite from the busyness of the day.
Check out these awesome places to stay with (or without) kids in Lake Havasu City, and you'll be sold!
The Best Airbnbs for Families in Lake Havasu City
We chose these lovely Lake Havasu vacation rentals because of their kid-friendliness, so you can expect a full kitchen, separate bedrooms, and a nice location – everything you need for a memorable family vacation in Lake Havasu City!
Vacation Home for 12 Guests with a Pool and Boat Rental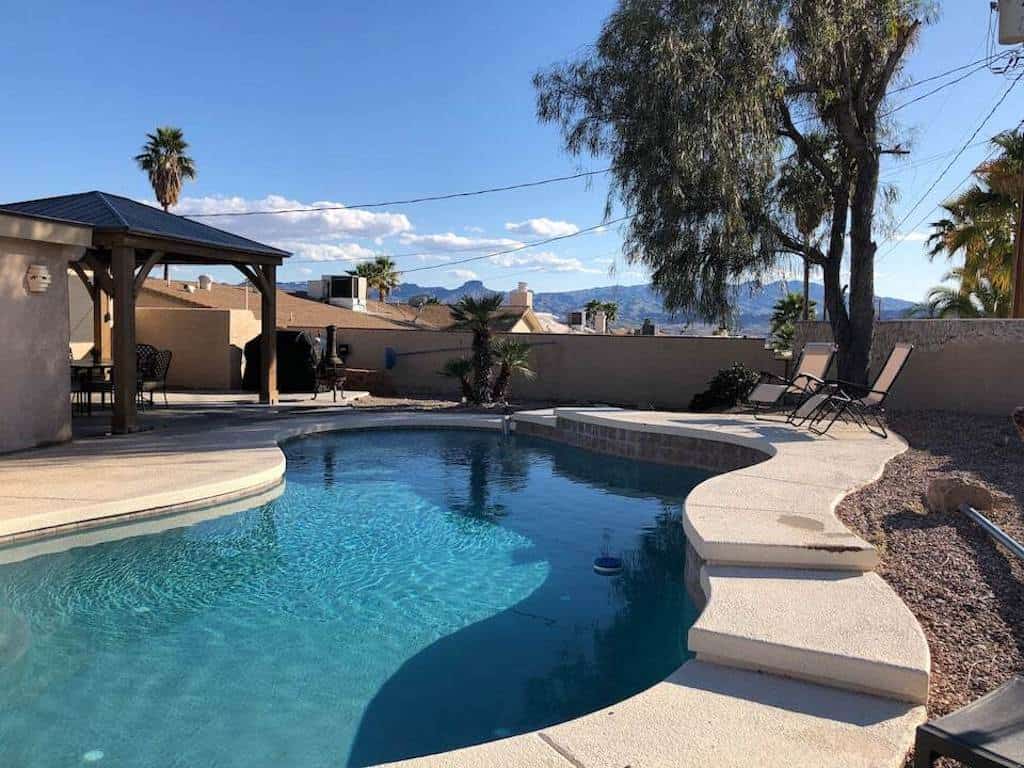 Got a big family who enjoys relaxing? This beautiful south-side home includes three bedrooms and two bathrooms, with room for 12 people. Spread out in 1,700 feet of living space, enjoy the beautiful in-ground pool, and explore that all Lake Havasu City has to offer. A full kitchen is available for preparing meals, there free Wi-Fi throughout, and a washer/dryer to make life easier. There's even a 27′ Tritoon boat available to rent! The best part is this lovely home is available for under $100 a night. Pets must be approved beforehand.
Pet-Friendly Lake Havasu Home with Air Hockey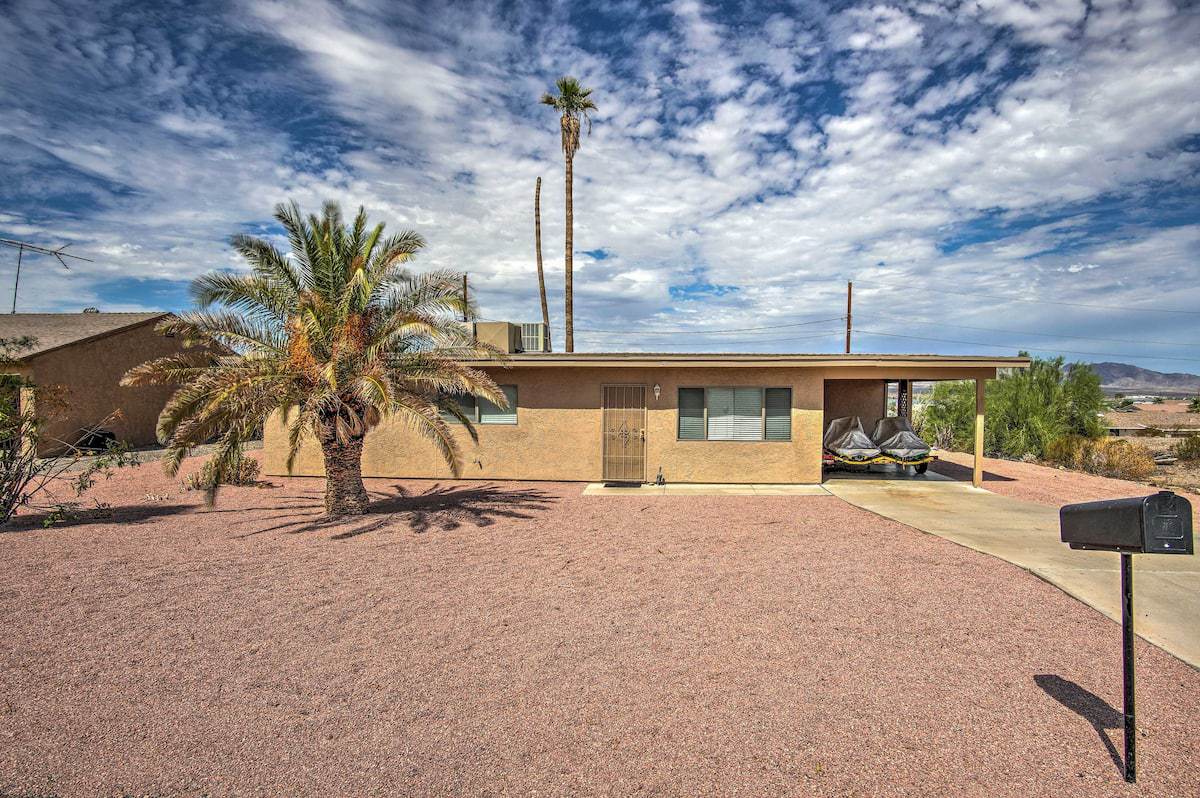 This pet-friendly home is stocked with board games, two seating areas, a breakfast bar, and an air hockey table – everything you need for an evening of relaxing after exploring the town. It's conveniently located just 1.5 miles from Lake Havasu's famous London Bridge, as well as the waterfront area, beaches, and restaurants.
The space includes two queen-size beds, a pull-out sofa, and two bathrooms with 1,350 feet of living space. There is a flat-screen TV, a washer/dryer, and Wi-Fi so you can stay connected during your stay. Pets are permitted for an additional fee.
Small Family Rental with Spacious Backyard and Pool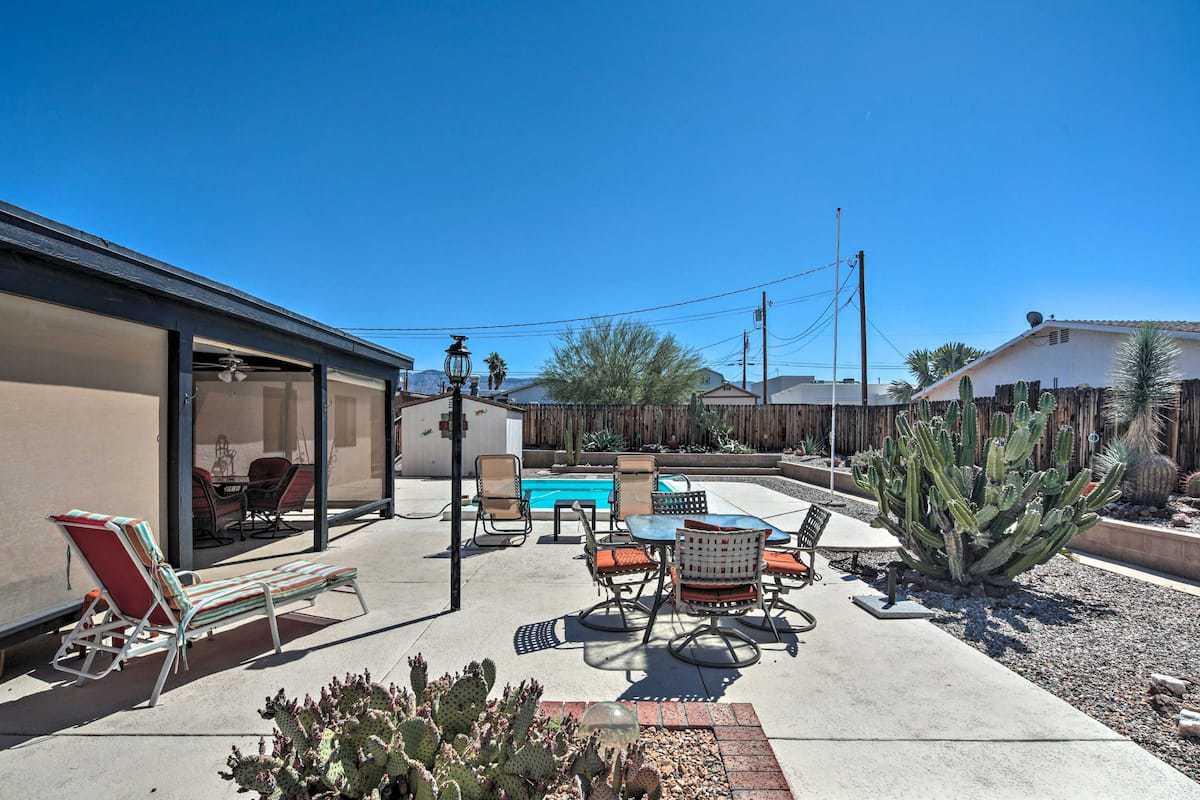 If the goal of your Lake Havasu City vacation is to spend as much time outdoors as possible, you can either go camping or stay in this lovely vacation home with room for four guests. This two-bedroom, two-bathroom vacation rental is situated away from the crowds of the city, but just two miles from the waterfront. It includes a fully-equipped kitchen, two queen-size beds, three flat-screen TVs, an indoor fireplace, Wi-Fi, and air conditioning. There's even water/electric hook-ups outside so you can bring your boat or camper.
The highlight of this gem of a place is the gorgeous backyard with a pool, patio furniture, a covered eating area, and a fence for privacy. It's a great spot for a smaller family to relax while enjoying Lake Havasu. Pets are not permitted.
Beautifully Decorated Lake Havasu Home with Pool and Sauna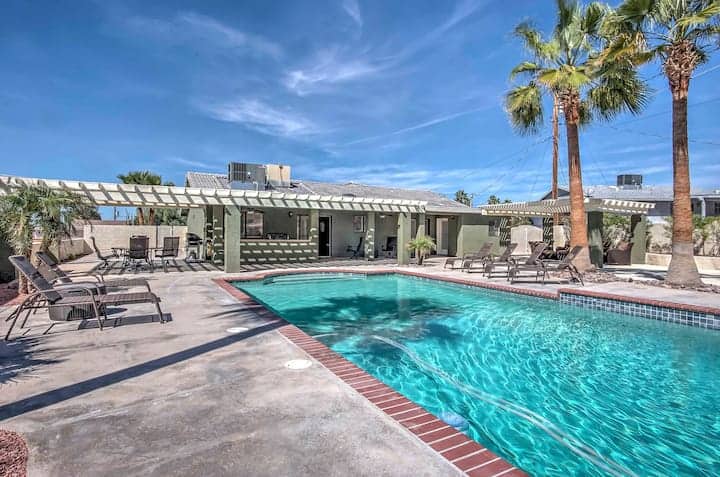 This lovely backyard can be yours during your stay in Lake Havasu City! You'll also get three bedrooms and two bathrooms with a sauna and room for six people. You'll have 1,580 square feet of living space with Wi-Fi, two flat-screen TVs, a full kitchen, a washer/dryer, and an outdoor dining area. It's a great vacation house with every detail considered!
The private pool includes a waterfall feature and lots of room for the whole family. This gorgeous home is meticulously decorated and only 5 miles from London Bridge! Pets are not permitted.
Centrally-Located Home with Pool, Putting Green, and Hot Tub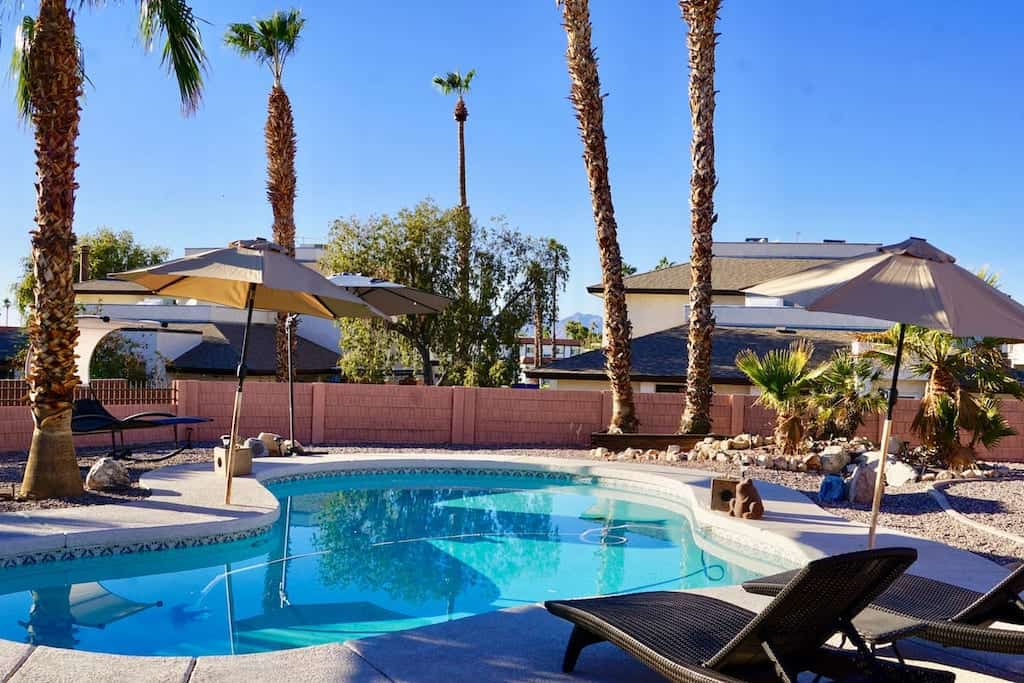 This immaculate home has been newly remodeled and it's only a mile from London Bridge and the waterfront attractions in Lake Havasu City! Three bedrooms, two baths, three smart TVs, and cable in every room. The spacious kitchen includes all the essentials, plus you've got Wi-Fi and a washer/dryer to make life easier during your stay. Outdoors, you have access to a gorgeous pool, an above-ground jacuzzi, and your own putting green. There's plenty of parking for your car and/or RV. No pets in this one, but your kids will love it!
---
These amazing Lake Havasu Airbnbs make it easy to plan a fabulous Arizona adventure for you and your family! Here are a few more posts to inspire you to visit!
---
Pin for Later?