Towering red rocks against a turquoise sky. Vast landscapes of barbed plants. Rugged hiking trails. Spring carpets of colorful wildflowers. Arizona conjures up all kinds of beautifully accurate desert associations.
And a few that have been designed to strike fear into your non-desert-dwelling heart — coiled rattlesnakes waiting behind every giant saguaro, cactus spines that jump right off the plant into your tender skin, and sun so hot that just looking at it will leave you listless.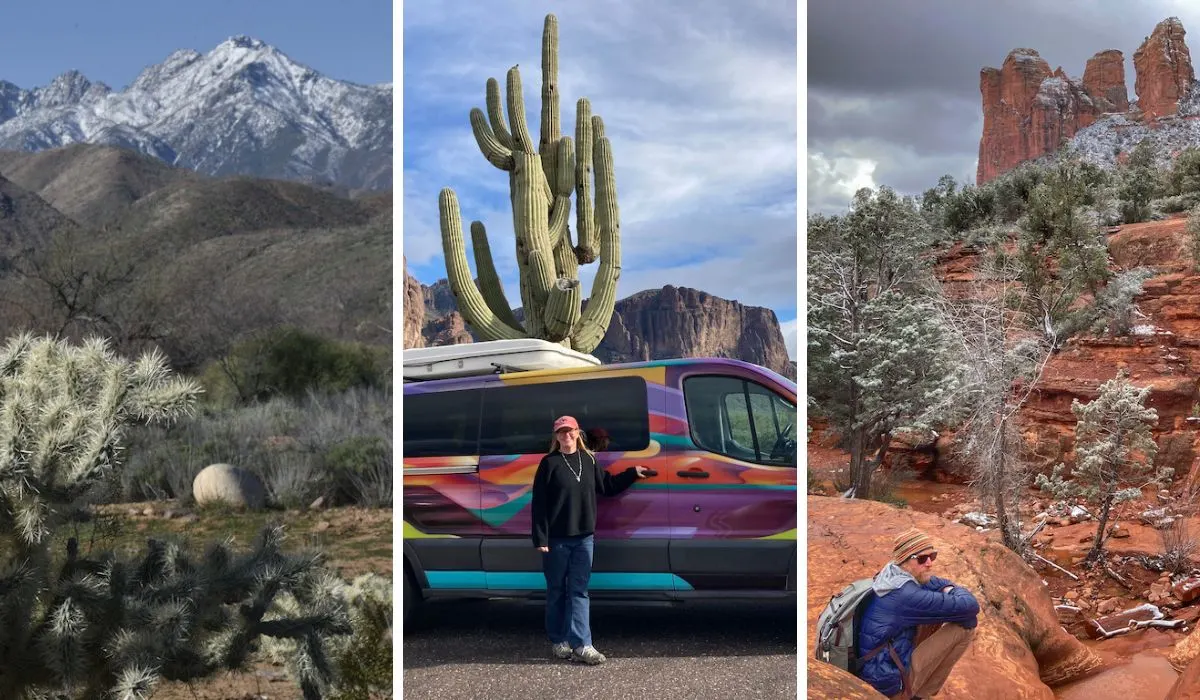 The truth is that Arizona's varied topography and huge tracts of public land make it the ideal destination for outdoor lovers, who come from all over the world to discover a bit of Arizona magic.
Arizona is the ideal state for a camping road trip, and your biggest issue will be pairing down your trip to aptly explore a state that offers a lifetime of adventures.
Check out Escape Campervans for an Enchanting Arizona Road Trip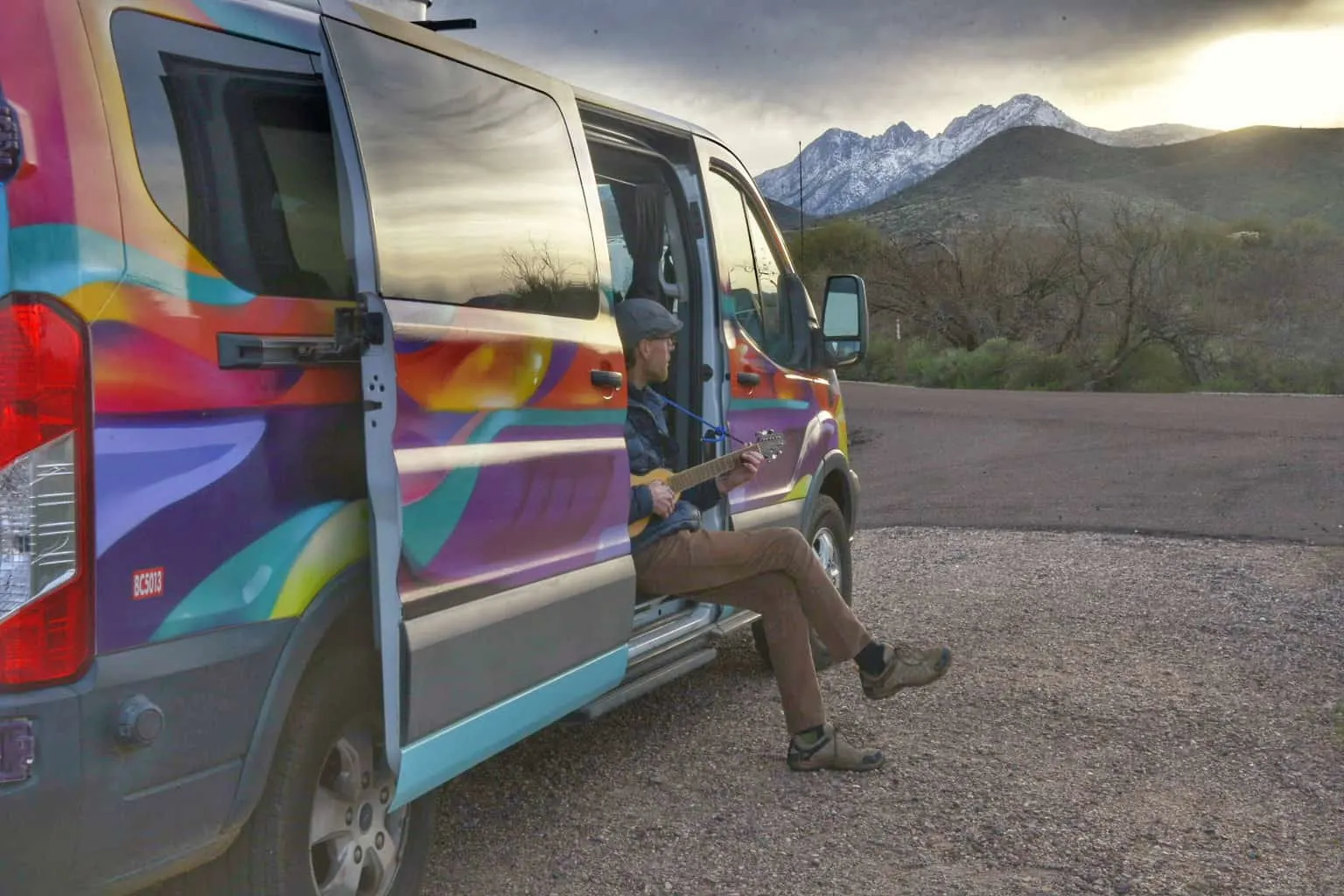 Because my dad called Arizona home for many years, Eric and I have spent lots of time exploring, and each time we visit, we are a little more blown away but Arizona's varied beauty.
In February, we tried a new-to-us adventure — an Arizona road trip with Escape Campervans. We picked up our campervan in Phoenix, just a few miles from Phoenix Sky Harbor International Airport, and from there we motored to the Superstition Mountains, north to Cottonwood and Sedona, and south again for a few days of camping near Phoenix.
Our seven-day road trip took us through three state parks, two national forests, and two national monuments. We hiked dozens of trails, camped under the canopy of a billion stars, and shivered through a couple of snow storms.
This was our very first van-camping trip and it surpassed our expectations in so many ways!
As avid tent campers, setting up and breaking down camp is just second nature. We do it without complaining, and we don't even hate sleeping on the ground.
Having the ability to wake up and drive from our campground to the trailhead (or the coffee shop) was a game changer for me. As was climbing into a cozy bed with real sheets each night. We even had heat for three nights of our trip (thanks to electricity at the campground and a plug-in space heater).
I will freely admit to being smitten with van camping, and I've already started planning more adventures.
Disclaimer: We are affiliate partners with Escape Campervans, and except for an auto insurance policy, our van rental was free. We designed our Arizona road trip itinerary and paid out of pocket for all other expenses.
7-Day Arizona Road Trip Map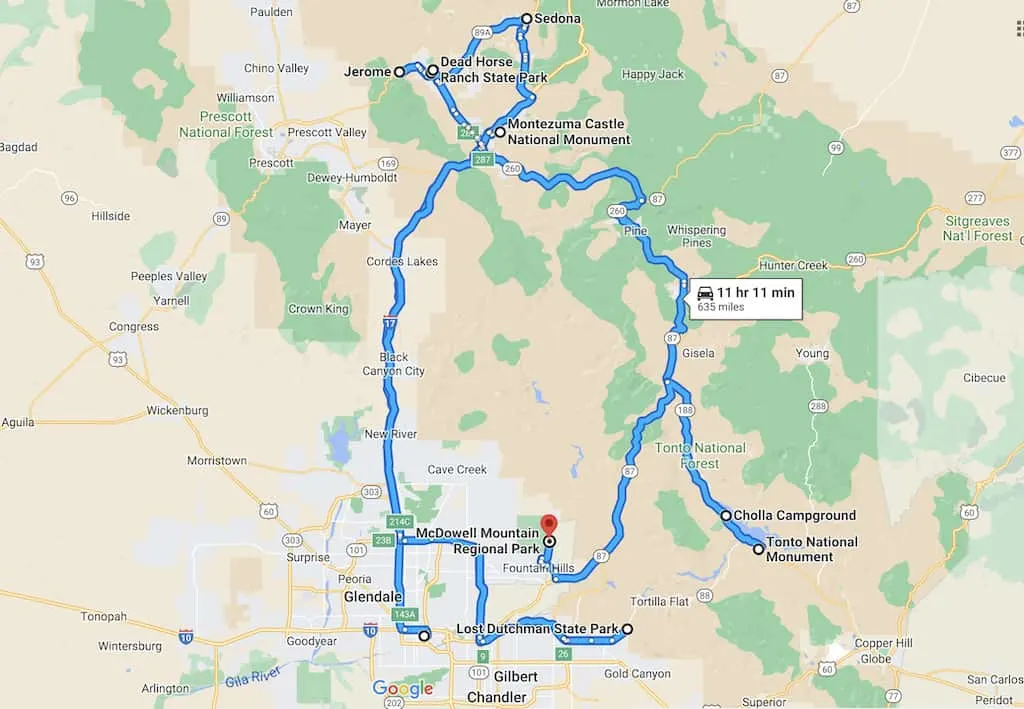 Day 1: Phoenix to Lost Dutchman State Park
Drive time: Approximately 40 minutes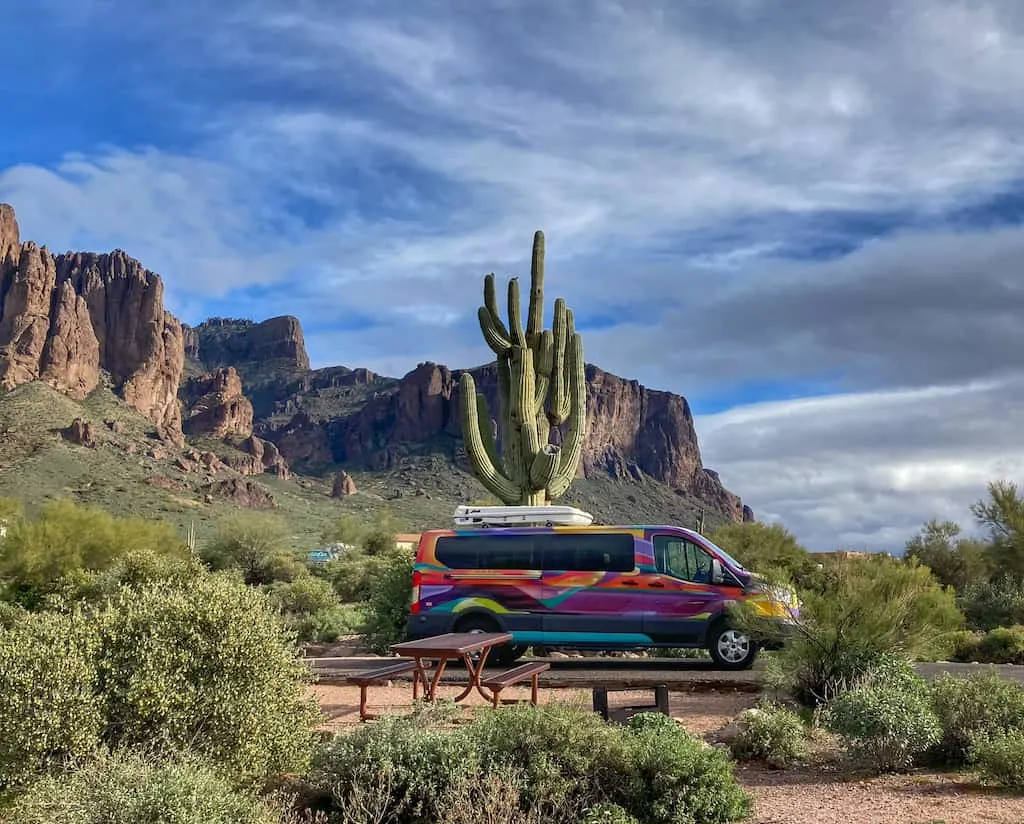 The Phoenix area is known locally as the Valley of the Sun, and it's surrounded by jagged mountains just begging to be explored.
The good news is that you don't have to travel far to explore these beautiful mountains, especially on the first full day of your Arizona road trip.
Put your van in drive and head east for about 40 minutes to Lost Dutchman State Park on the edge of the Superstition Mountains and Tonto National Forest. This is one of Arizona's most popular state parks in the winter and spring, so be sure to make camping reservations ahead of time.
There are 135 sites at Lost Dutchman, 68 of which have electricity and water hookups. The bathrooms have free hot showers and a dishwashing station for easy clean-up. Sites are $25 for "rustic" sites without hookups and $35 for sites with hookups.
Located at 3,000 feet in elevation, the campground offers three campground loops with no limit on RV size.
During our February visit, we only encountered RVs and campervans, and I suspect that tent camping is far less popular due to the large paved pads and prickly plants covering much of the ground.
Insider tip: When you pick up your Escape Campervan, definitely ask for the electric kit ($40 extra), which includes an extension cord, power strip, and a small space heater. We used the space heater four out of seven nights during our February trip (whenever we had an electric hookup at our campsite). The temperatures were well below freezing, but we were very toasty in the campervan.
Take a Hike into the Superstition Wilderness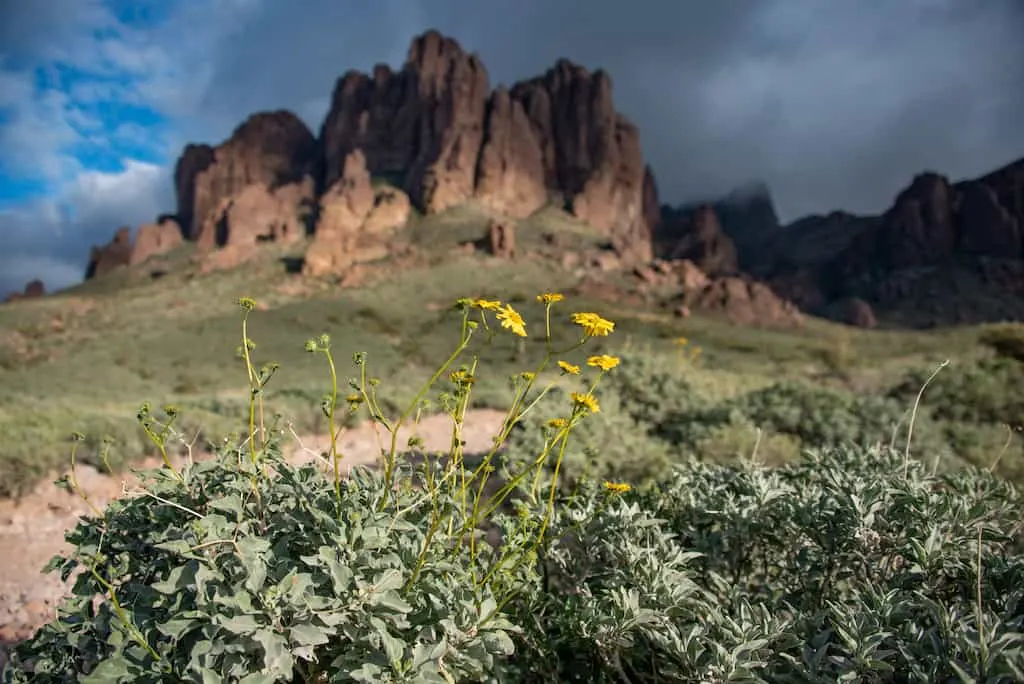 So many trails loop through Lost Dutchman State Park and lead into Tonto National Forest, and many of them can be combined to create longer loops.
During our stay at Lost Dutchman State Park, we were able to squeeze in an afternoon hike and a morning hike before moving north, but if you want to explore more of the park, plan on camping here for two nights instead of one.
Treasure Loop Trail #56: This 2.4-mile loop gives you a nice overview of the area by looping through the foothills at the base of the mountains. It's rated as moderate and gains 500 feet in elevation. In late February through March, this is one of the best wildflower trails you're likely to come across (dependent on winter rains).
Siphon Draw Trail: Siphon Draw winds into the canyon and up to the top of Flatiron Mountain, gaining 2,640 feet in elevation over 2.75 miles (5.5 miles round-trip). We hiked for a few miles into the canyon but did not make it to Flatiron. The last mile is a steep scramble, and not maintained. It's a gorgeous hike, even if you don't make it to the top.
Day 2: Montezuma Castle National Monument and Cottonwood, Arizona
Drive time: 2.5 hours
Dead Horse Ranch State Park in Cottonwood, AZ will be your home base for the next three days and nights. From this lovely state park, you'll be within an easy drive of some of our favorite spots in Arizona, including Sedona, Jerome, and Montezuma Castle.
You will not run out of things to do, I promise!
Drive north on Interstate 17, which travels from the land of endless sunshine into the rocky mountains of central Arizona.
Check out Montezuma National Monument in Camp Verde, Arizona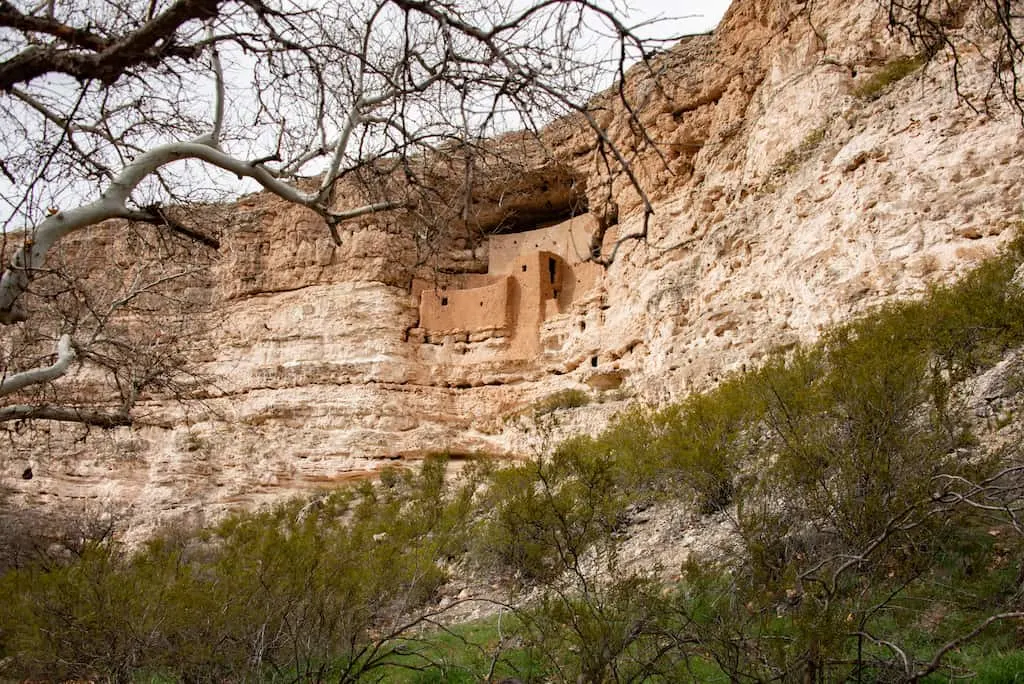 It's a bit of a misnomer, as Montezuma Castle has nothing to do with Montezuma, the famous Aztec emperor, nor is it a castle.
The dwellings at Montezuma Castle National Monument were built by the Sinagua People, who were living in the Verde Valley as early as 650 CE.
Montezuma Castle is a collection of 20 rooms originally belonging to multiple families, similar to a modern-day apartment building. The Sinagua lived in pueblos and cliff dwellings until around 1400 CE and then abandoned them for unknown reasons.
It's a short, 1/3-mile accessible trail leading to the base of the cliffs, and while visitors aren't permitted to see Montezuma Castle up close, it's still impressive to view it from the ground. After reading interpretive signs and viewing the Sinagua ruins, loop back to the Visitor Center along Beaver Creek.
Entry into Montezuma Castle National Monument is $10 for adults. Children under 15 are admitted free.
Insider tip: This trip explores two national monuments and Coconino National Forest. Entrance to all of these sites can be obtained by purchasing an annual America the Beautiful Pass for $80. You can purchase yours at Montezuma Castle National Monument.
Explore Old Town Cottonwood, Arizona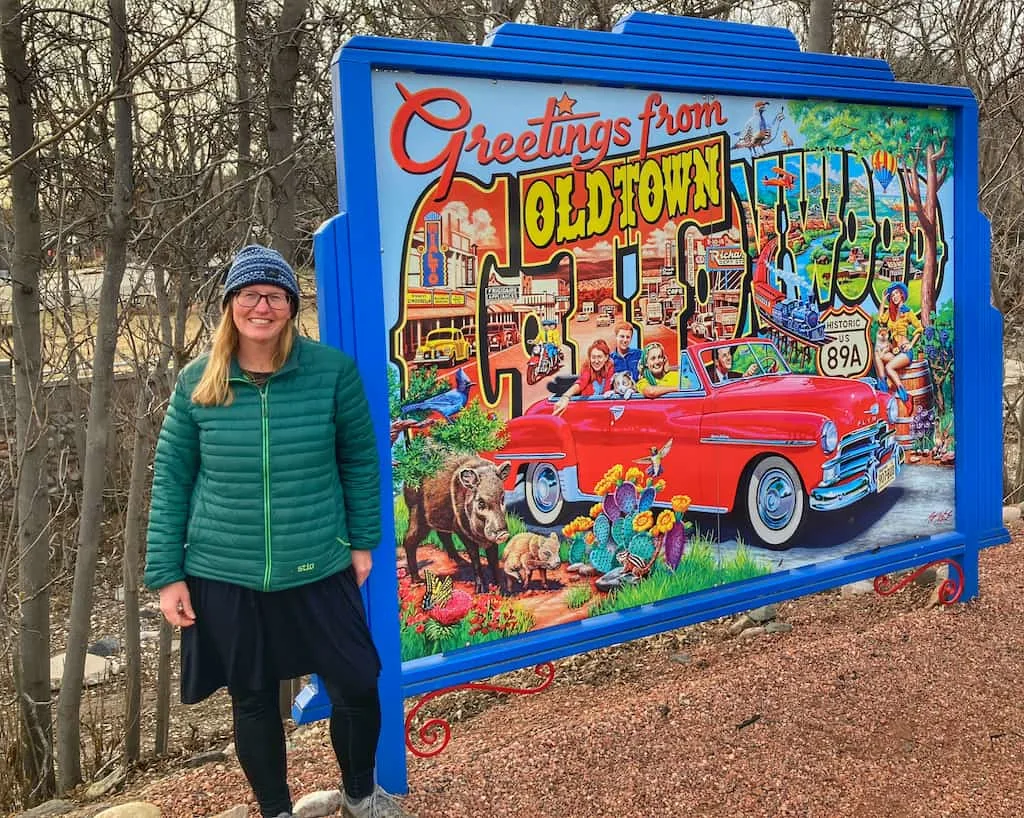 Head into civilization for a bit to explore the adorable mountain town of Cottonwood where the streets are lined with wineries and shops, and the snow-capped mountains loom just beyond town.
An afternoon is all you'll need to explore Old Town Cottonwood, but you're staying just down the road at Dead Horse Ranch State Park, so chances are, you'll be here for meals, shopping, and sipping for the next few days. Here are some of the cool spots we discovered while meandering around town:
Burning Tree Cellars: We couldn't visit Arizona without trying a few of the local wines. I wish I could say that we researched a bunch before choosing, but honestly, we were walking through Old Town Cottonwood when it started pouring, so we popped into Burning Tree Cellars for a tasting.
We chose to do a combo flight of red and white wines and while we enjoyed them all, we went "home" with a bottle of the 2020 Colibri Syrah, which was rich and complex, perfect for a cold night in the van.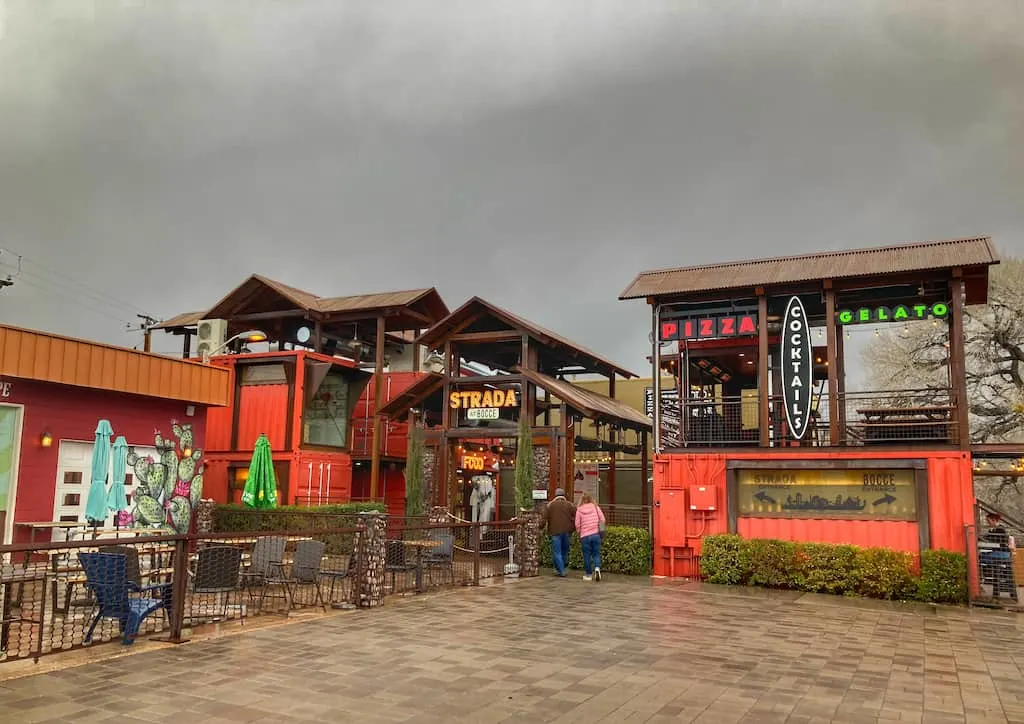 Pizzeria Bocce: We asked all the locals we could find where we should eat in Old Town and without exception, everyone said we should go to Pizzeria Bocce.
There was a short wait for indoor seating, so we opted for a table outside. We enjoyed a hand-stretched wood-fired pizza, local craft beers (Oak Creek Nut Brown Ale), and a special Valentine's Day dessert sampler.
Food: 5/5 stars
Beer: 4/5 stars
Service: 6/5 stars
Belfry Brewery: We popped into Belfry to sample a few beers and did not try the food, but it looked delicious. We tried McKillion's Irish Red Ale (sweet and malty) and a Heavenweizen (refreshing).
Old Town Cafe: For the biggest, flakiest croissants and a heavy pour of strong coffee, stop at Old Town Cafe!
Home-Sweet-Home: Dead Horse Ranch State Park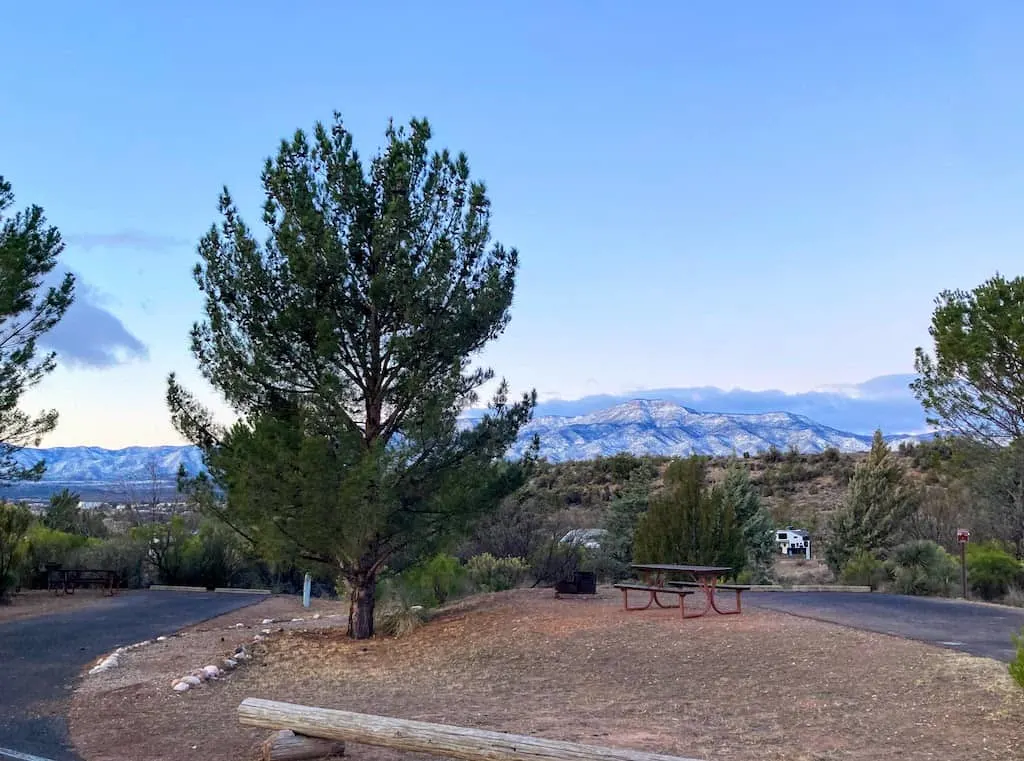 100+ RV sites with no size restrictions, electricity and water hookups, and fully heated bathhouses with free hot showers. This is why we chose to spend a few nights at Dead Horse Ranch State Park.
Gorgeous sunrises, wonderful camping neighbors, and a fantastic location. These are things we appreciated after we spent three days here. There are also 20+ miles of trails that we didn't get a chance to take advantage of (this time).
At Dead Horse Ranch State Park, there are three camping loops for RVs or tents and an additional loop that is reserved only for tents.
Because it was so busy during our February trip, we reserved two nights in Red-Tailed Hawk and an additional night in Cooper's Hawk for $35 per night.
Each campsite has a picnic table, a fire pit, and a hookup for electricity and water. Sites are close together and there isn't much privacy, especially in the winter without leaves on the trees or bushes.
The amenities and friendliness of the staff made up for the lack of privacy, and we loved coming back to Dead Horse Ranch State Park each evening. Camping here was one of the best parts of our Arizona road trip itinerary!
Days 3 and 4: Hiking in Sedona Arizona and Exploring Jerome
Drive time: 30-minute day trips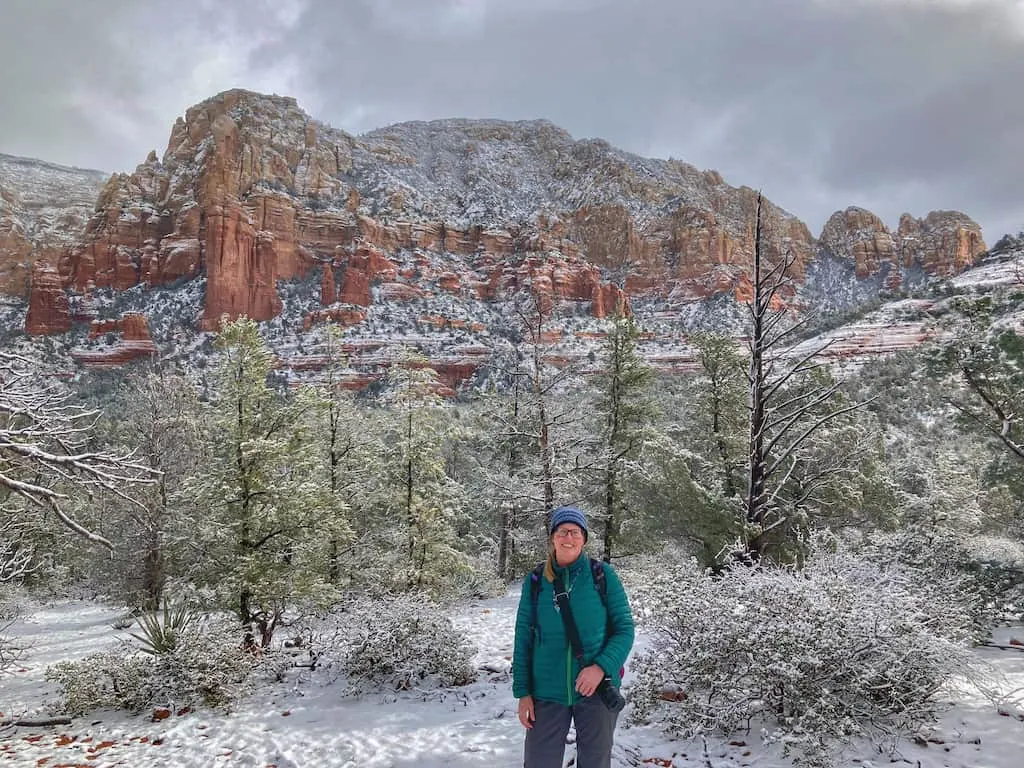 Just 30 minutes north of Cottonwood and Dead Horse Ranch State Park, Sedona might as well be on another planet.
And while we loved hiking in Sedona more than any other part of our trip, we're so glad that we stayed in Cottonwood. Sedona is a busy place, and we really appreciated the peace and quiet of our campground after our hikes.
The truth is you could spend months exploring Sedona hiking trails without hiking the same path twice, and while many trails require rock scrambles and uphill climbs, there are plenty of easy hikes in Sedona that you can tackle without much effort.
Hiking in Sedona was one of our primary goals on this trip, and we crammed a lot of hiking into days 3 and 4, plus the morning of day 5.
Our favorite trail of all of them was Brins Mesa-Soldier Pass Loop, which was 5.5 miles of enchantment. Here's an overview of nine easy Sedona hiking trails so you can plan a perfect couple of days of hiking.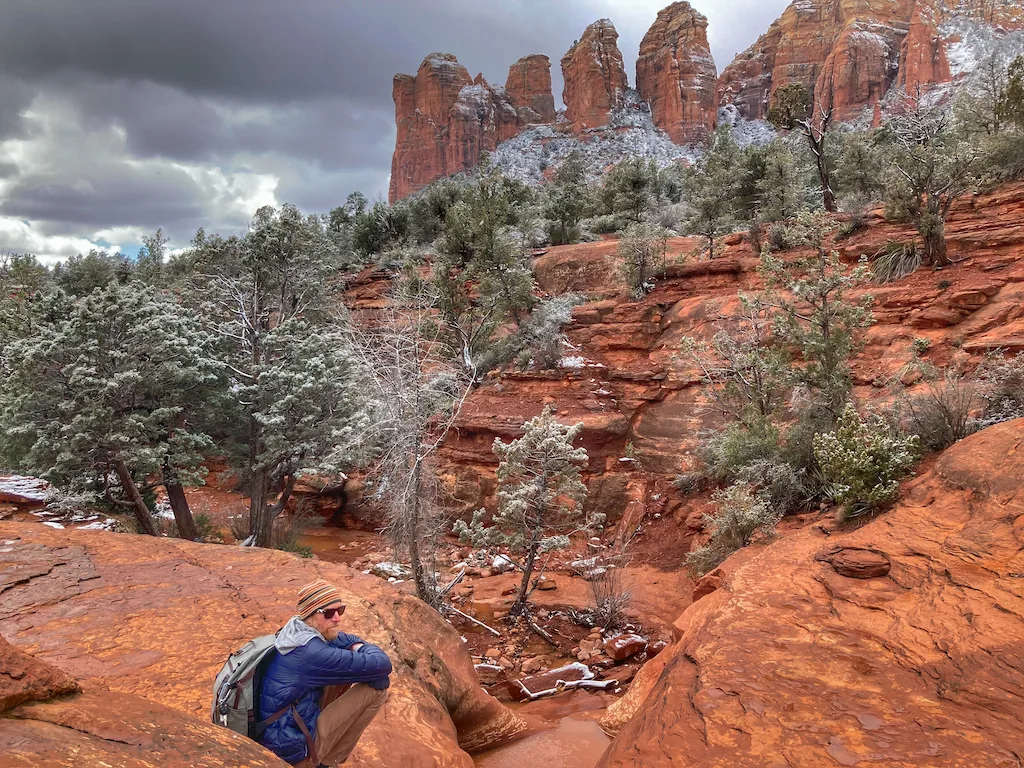 Here's how we scheduled our hikes into this part of our Arizona Road Trip itinerary:
Day 3: Brins Mesa-Soldier Pass Loop (5.5-mile loop rated moderate) and Chapel Trail (1.9 miles round-trip rated easy).
Day 4: Bell Rock and Courthouse Butte (3.9-mile loop rated as easy/moderate) and Baldwin Trail (2.5-mile loop rated easy).
Morning of Day 5: Marg's Draw (4 miles round-trip rated easy).
If you have more time to spend, and you enjoy hiking, I would definitely add a day or two in Sedona. There are so many lovely trails for all skill levels to choose from.
Explore Jerome, Arizona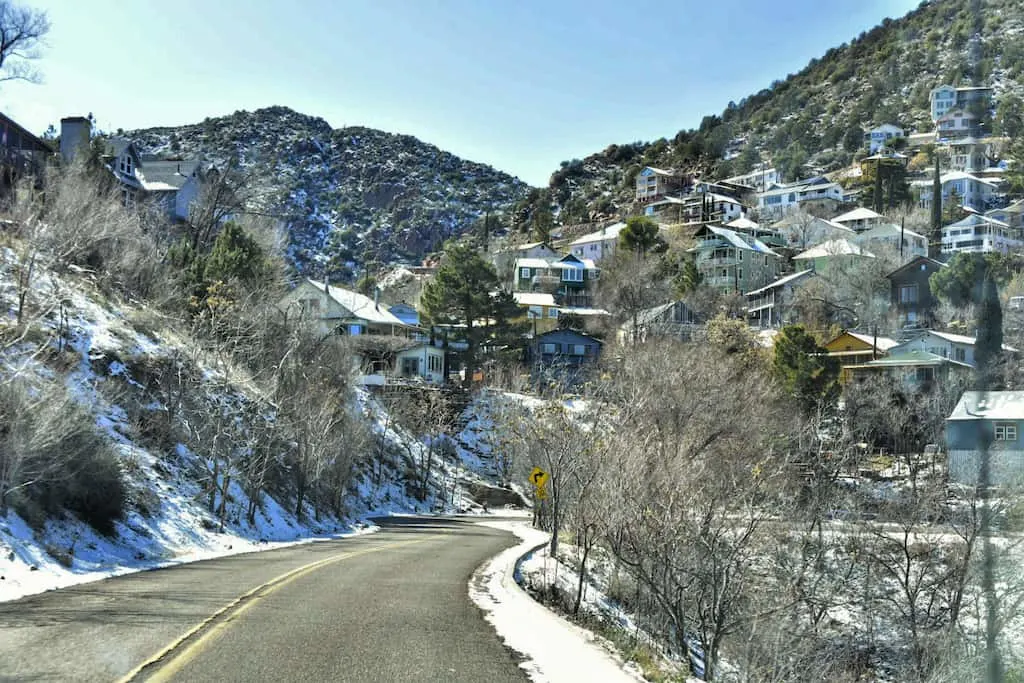 Located just nine miles from Dead Horse Ranch State Park, you should have time to spend an afternoon or evening in the tiny village of Jerome, which is perched precariously on the side of Cleopatra Hill and boasts a fascinating history.
The town sprung up around a booming copper mine and was once known as the "Wickedest Town in the West."
Jerome was once the fifth-largest town in Arizona, with 15,000 residents. When the copper mine closed in 1953, the population quickly dwindled to fewer than 100 hearty souls.
Today, Jerome is a delightful mix of art colony and tourist destination with an abundance of shops, wineries, and restaurants. Its hillside location provides incredible views of distant Sedona, the San Francisco Peaks, and the Mogollon Rim.
To learn everything you could possibly want to know about the history of Jerome at Jerome State Historic Park, and then head into town for a history walk and lunch at the Haunted Hamburger.
Day 5 and 6: Tonto National Forest at Roosevelt Lake
Drive time: 2.5 hours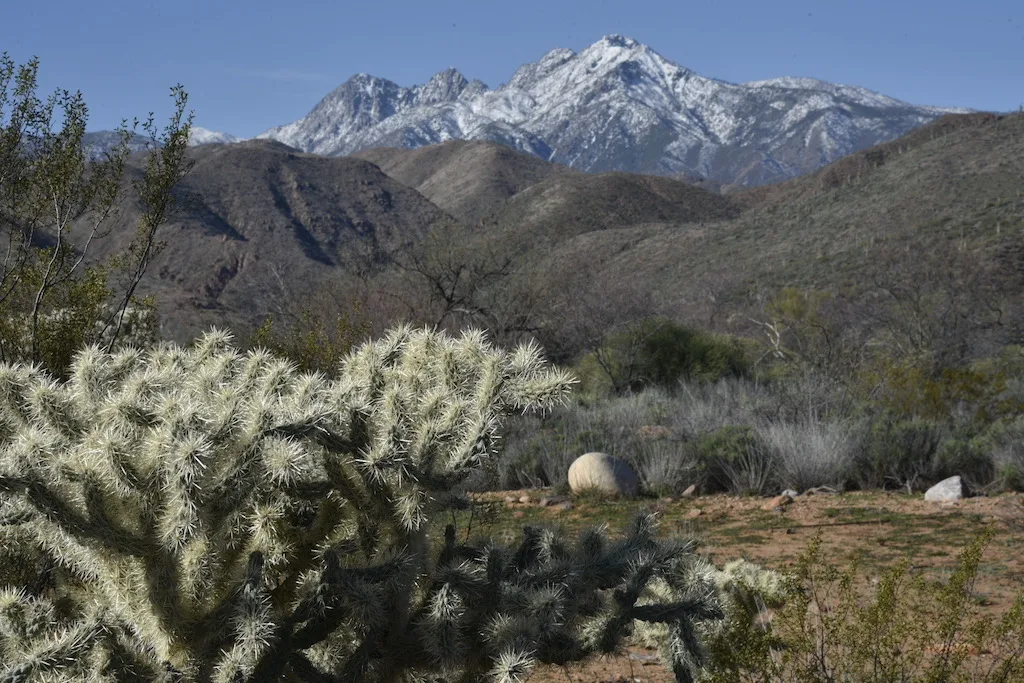 Time to head south again! From Sedona, take the gorgeous Red Rock Scenic Byway (State Route 179) south and take in a few last views of Red Rock Country. From here, you'll be taking Route 260 to Route 188 into Tonto National Forest and Cholla Recreation Site on Roosevelt Lake.
This is a beautiful drive, with high-elevation mountains and snow in the winter.
For lunch, I recommend stopping at THAT Brewery in Pine. They have a great selection of beers and the food, while nothing out of the ordinary, is fresh and tasty.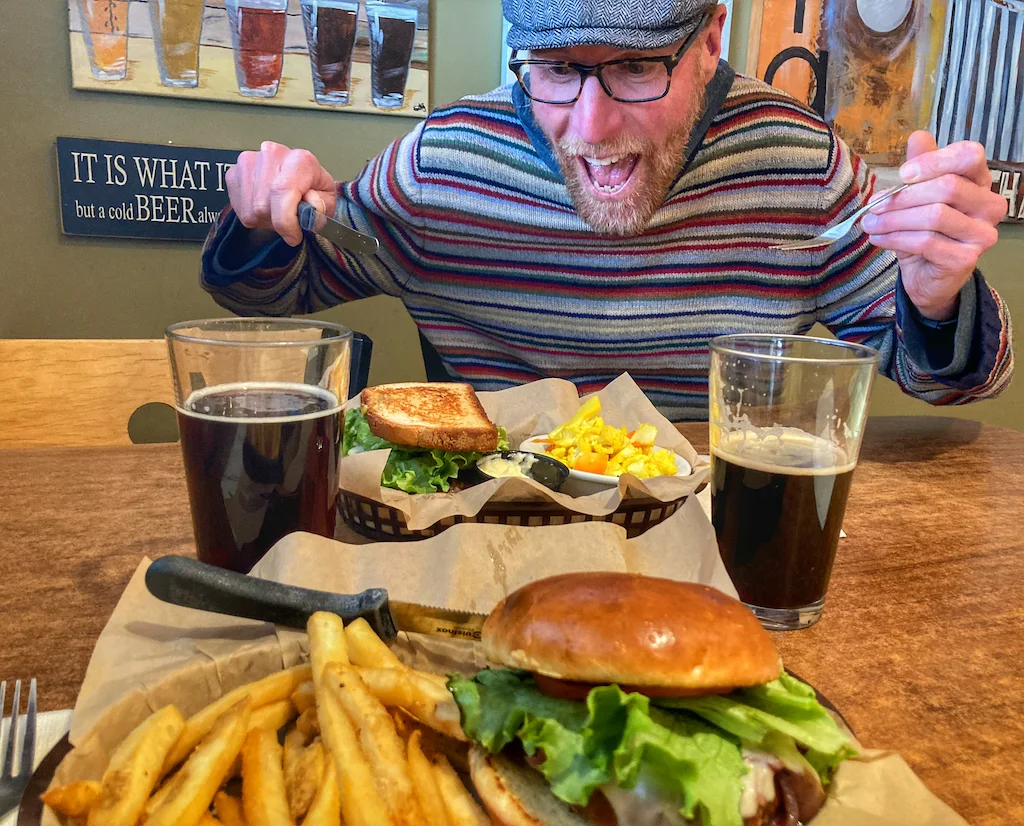 Cholla Campground is a sprawling desert campground in Tonto National Forest on Roosevelt Lake, which is central Arizona's largest Lake, and an important stop for migratory birds.
Each of its 206 campsites has a shade ramada, firepit, grill, and picnic table. Playgrounds, showers, restrooms, and potable water faucets are scattered throughout the campground and there is a paved boat launch nearby.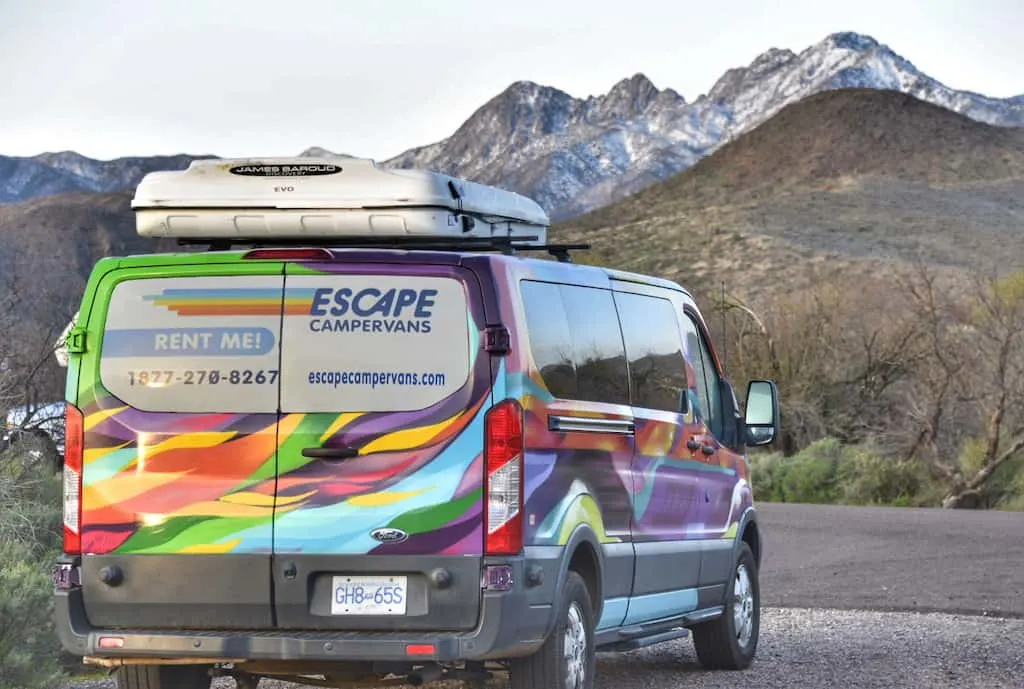 The tent sites here were our favorite. They are right on the water and very secluded. Alas, with our campervan, we were stuck in the RV area, but our site was spacious and our camping neighbors were very nice.
During our two-day stay at Cholla Campground, we saw and heard so many birds! Pelicans, geese, and ducks were plentiful on the water, and our campground was full of warblers, finches, quail, and roadrunners. We spotted a few eagles and osprey too!
There are numerous trails throughout the campground and leading into the hills. The best way to explore this area is to just meander and see where the wind blows you!
Tonto National Monument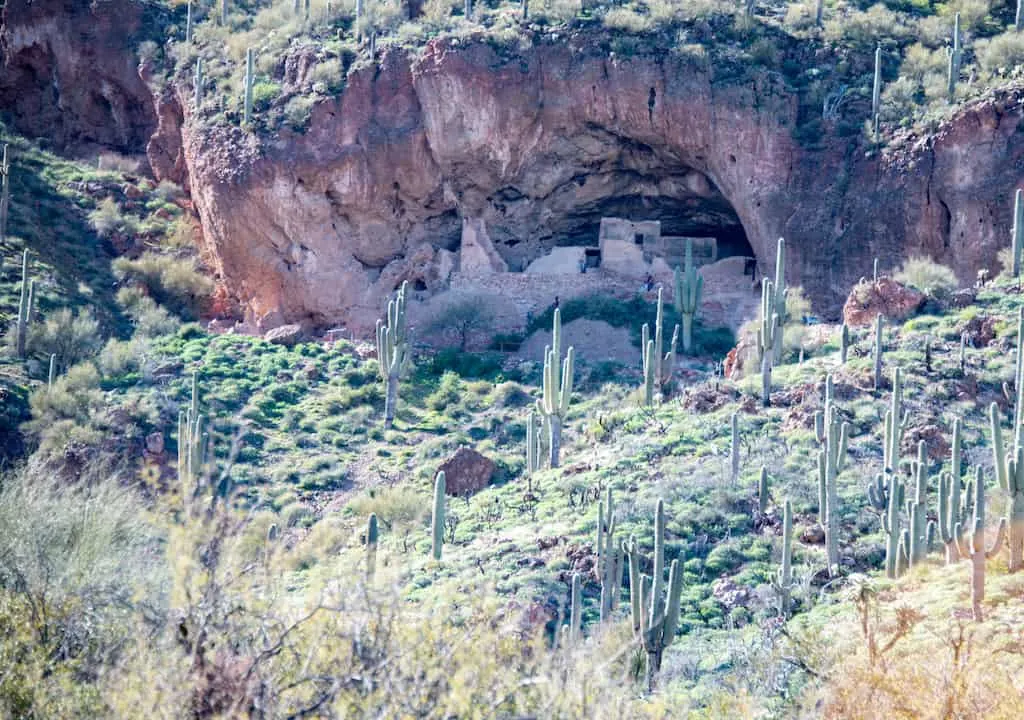 Another really interesting cliff-dwelling that you can go right into, Tonto National Monument preserves two ruins built by the Salado culture, who lived in the Tonto Basin between 1250 CE and 1450 CE.
According to archeologists, the Tonto Basin was a true cultural melting pot, a mix of Ancestral Puebloan, Ancient Sonoran Desert People, and Mogollon cultures.
Entrance into Tonto National Monument is $10 per adult. Children and America the Beautiful pass holders are admitted free. From the Visitor Center, you can hike a steep 1/4-mile trail to the lower cliff dwelling.
The lower cliff dwelling is open from 8 am to 4 pm between September 1st and May 31st. In the hot summer months, the trail closes at 12 pm.
Tours are offered to the Upper Cliff Dwelling from November through April, every Friday, Saturday, Sunday, and Monday, but must be booked in advance.
The hike up to the lower cliff dwelling was a tough one, but it was so worth it. A ranger is available to answer all questions and the views of Roosevelt Lake are gorgeous.
Bonus – Tonto National Monument is just nine miles from your campground!
Day 7: McDowell Mountain Regional Park
Drive time: 1.5 hours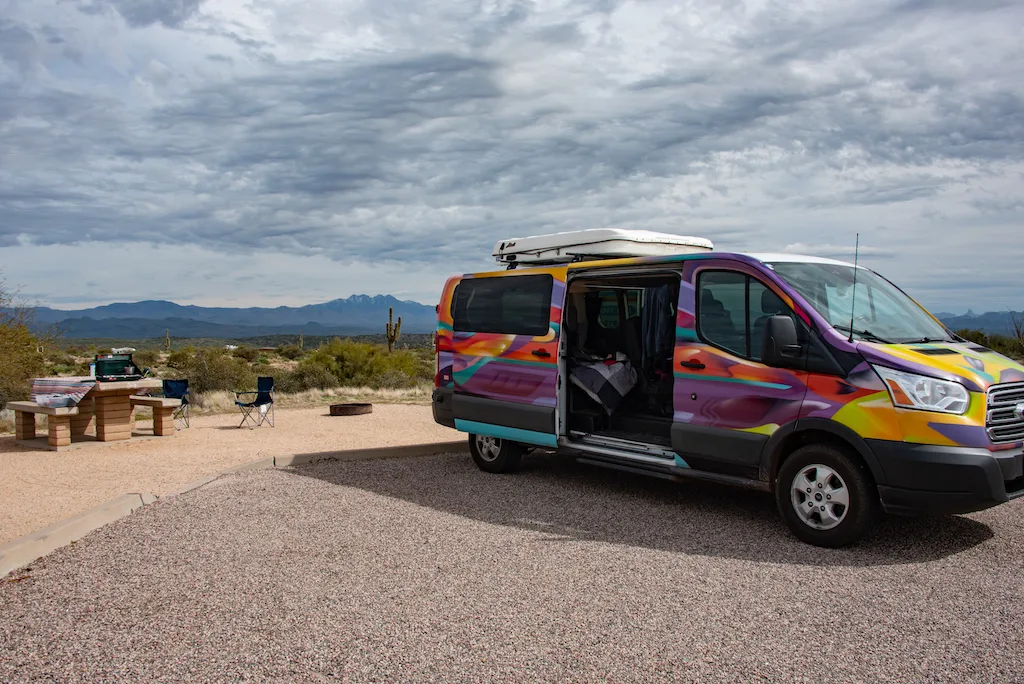 From Tonto National Forest, it's time to head back toward Phoenix for your last night of camping. Escape Campervan drop-off times are between 8:30 and 10 am, which is why we chose a campground close to Phoenix for our last evening.
McDowell Mountain Regional Park is a massive county park (21,099 acres) with excellent hiking and mountain biking trails and beautiful, spacious campsites. I had no idea that a county park could be so incredible.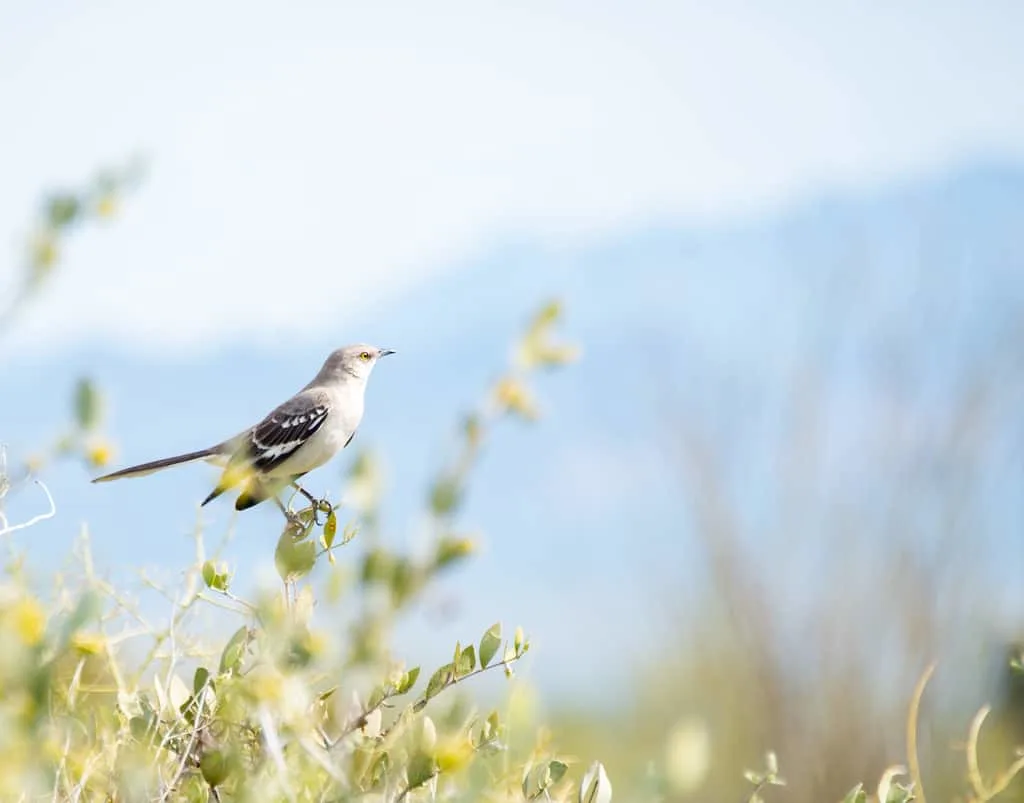 We hiked a few of the trails near our campsite, but this last day was mostly spent tidying up the campervan, packing our bags, and eating up the last of our food.
There are more than 40 miles of trails throughout the park and 75 campsites, each with a picnic table and fire ring. Flush toilets and free hot showers are provided in each campground loop, and ranger-led programs are offered on the weekend.
---
Extend Your Arizona Road Trip!
We wanted to spend more time at every single place we visited on our Arizona road trip, but all good things must come to an end, at least for now!
If you have more than a week to spend on your Arizona road trip, we've got even more ideas for you!
---
Follow us on social media for more road trip inspiration!
Pin for Later?