Is there anything more magical and inviting than a misty, secluded hot spring on a cold winter day?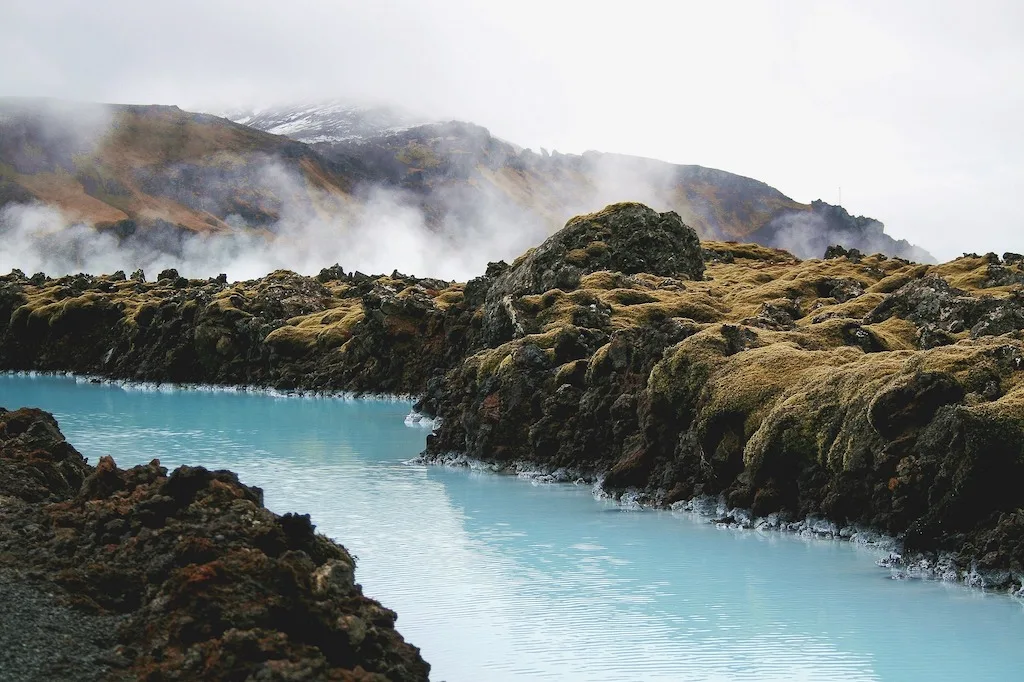 Maybe, but I haven't discovered it yet. The Western United States is teeming with natural hot springs just waiting for you to discover them.
No matter where I travel to, if the weather is below 70 degrees Fahrenheit, you can bet your bottom dollar that I'll be looking for the most secret natural hot springs near me.
Visiting hot springs in winter often requires a trek through the snowy wilderness, and sometimes they're right on the side of the road. I love them all, and the harder they are to get to, the sweeter the reward.
We've rounded up the best natural hot springs in the United States so you can discover them for yourself.
Pack your towel and your sense of adventure because these amazing geothermal sites are perfect for visiting all through the year, but they're especially enchanting in the winter.
But First, What Exactly Are Hot Springs?
Hot springs are formed when water, heated deep underground, bubbles up to form pools on the earth's surface. Many of these hot spring pools in the United States are privately owned and have been turned into luxurious spas, swimming pools, and tourist traps.
Plenty of others can be found on public land, and exist in their wild, primitive state. If you've been reading this blog for any length of time, you know where my affinity lies…
Many hidden hot springs can be found throughout the United States, but not all of them are perfect for bathing. When spring water comes in contact with magma in volcanic areas, hot springs may be hot enough to boil. These pools are obviously not safe for bathing.
Most wild hot springs are found in the western half of the United States, much to this Vermonter's dismay.
What Makes a Perfectly Inviting Natural Hot Springs Pool?
I'm sure the characteristics will be different for everyone, but just so we're on the same page, I'll tell you what we look for when visiting natural hot springs in winter around the United States.
Seclusion. We've been to several hot springs resorts in the United States and they're fun, but not always relaxing. We look for secret hot springs off the beaten path.
Easy to get to. The farther you have to walk, the more secluded you'll find yourself. Sounds awesome, but we tend to visit hot springs that are less than two miles from the trailhead, mainly because we just can't wait to get there. Of course, we're not knocking the hot springs that require a good trek, but our favorites require a little hiking, but not too much.
Hot, but not too hot. What's the perfect temperature for bathing outside when the snow is flying? I'd say that 104℉ to 110℉ degrees (40 to 43.3 degrees Celsius) is just about perfect for hot springs in winter, but we'll take what we can get. Waters this warm will raise your core body temperature and aren't suitable for pregnant women.
Clean. The sad truth is that even secret hot springs have been loved a little too much. Soaking among trash and debris is no fun, even if the water is perfectly inviting. Please respect your wild lands and practice Leave No Trace principles.
Awesome Natural Hot Springs in the United States for Winter Bliss
These winter hot springs are secluded, not too far from the trailhead, and warm enough to relax in on a chilly winter day.
The downside is that virtually all of the primitive hot springs in the United States are found west of the Mississippi River. Have I mentioned that yet? Secret hot springs road trip anyone?
When planning a hot springs getaway, my recommendation would be to make a weekend of it (or a couple of days during the week). Pitch your tent for a few nights or hole up a cabin so you can enjoy the hot springs, hike local trails, and just relax in nature.
We've included recommendations for either camping or lodging after each winter hot springs destination to help you plan the perfect winter vacation.
Here are the best wild hot springs across the United States — for total winter bliss.
Natural Hot Springs in New Mexico
New Mexico is home to a variety of different hot springs, from secluded pools that require a long trek into the wilderness, to upscale hot spring resorts that cost a week's pay to enjoy. The following are two of our favorite wild hot springs in New Mexico, perfect for winter soaking!
Spence Hot Springs: Jemez Canyon, New Mexico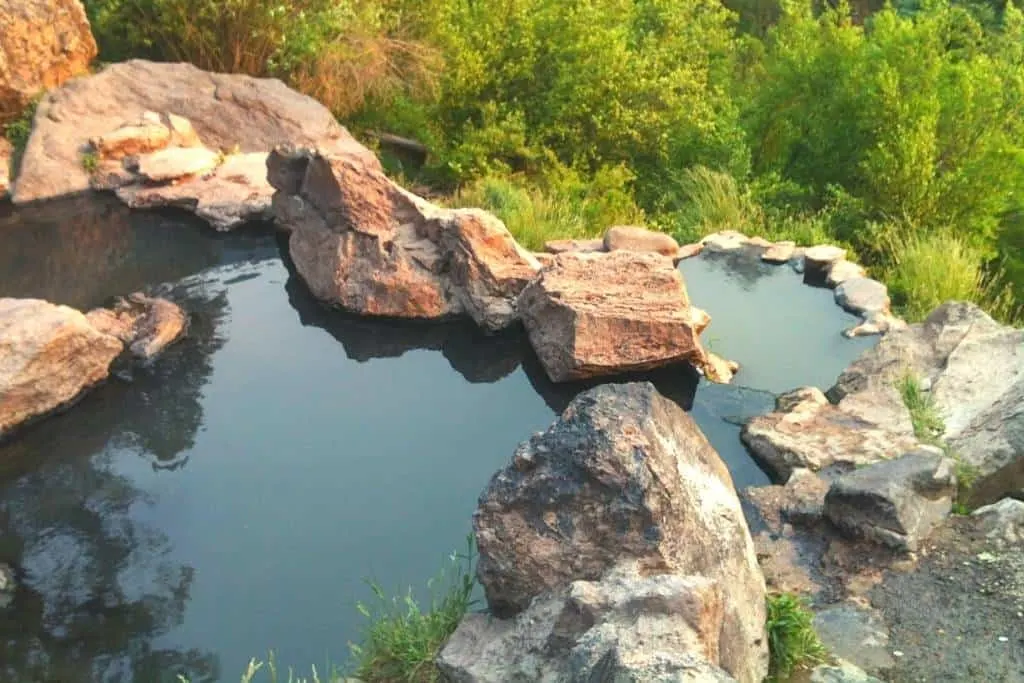 Located in the Santa Fe National Forest, an easy hike leads to Spence Hot Springs, with spectacular views and warm thermal waters. These natural hot springs are a popular destination on weekends, especially in the summer. Since you've got winter on your side, you shouldn't have a problem with crowds. Nudity is prohibited at Spence Hot Springs.
Make your trek to Spence Hot Springs in the early morning and you're practically guaranteed solitude. The only downside to this small pool is that temperatures have been cooling in recent years, now hovering around body temperature. This may be too cool for some and perfect for others.
The Spence Hot Spring pool is pretty small, with room for five to ten people. For more information, check out the Santa Fe National Forest website.
Google Map directions to Spence Hot Springs
Where to stay: Your best bet is to camp in the Santa Fe National Forest near the springs. There are a few campgrounds near Spence Hot Springs, including Vista Linda Campground, which is very clean, only $10 per night, and suitable for large RVs.
The closest town is Jemez Springs, NM, where you'll find sparse lodging opportunities. The nearest hotel is the Comfort Inn, 23 miles away in Los Alamos.
---
San Antonio Hot Springs: Santa Fe National Forest, New Mexico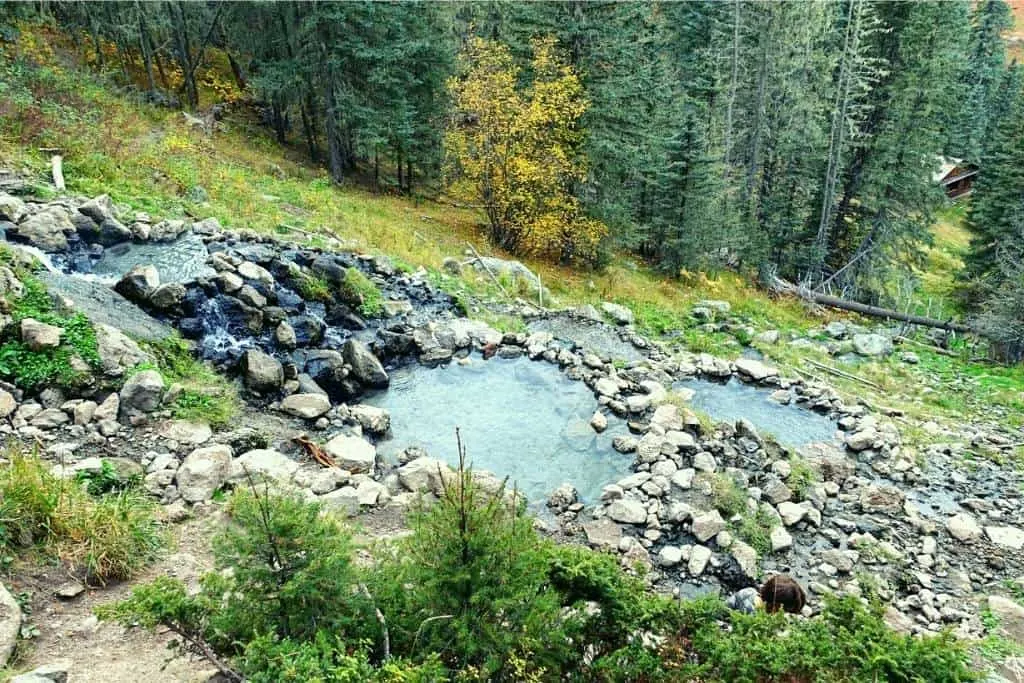 These secluded New Mexico Hot Springs are tucked away on the side of a mountain, providing stellar views as you soak. There are four or five hot spring pools of varying temperatures, perfect for winter soaking. San Antonio Hot Springs is just 10 miles from Spence Hot Springs, so be sure to visit them both!
To get to San Antonio Hot Springs, you will need to drive about five miles on an incredibly rough road (4WD only), followed by a .7-mile hike. If you don't have a four-wheel-drive vehicle, the hike is closer to six miles. The road closes after heavy snow, so be sure to check the Forest Service website before visiting.
San Antonio Hot Springs does get busy during the summer months, but if you visit in the off-season, you'll likely have the place to yourself.
Google Map directions to San Antonio Hot Springs
Where to Stay: The nearest campground is San Antonio Campground, about seven miles from San Antonio Hot Springs. It is open from May to October and sites can be reserved in advance on Recreation.gov. This is a National Forest campground with 20 sites that are $10 a night.
Another great option is this gorgeous pet-friendly vacation rental, just outside of Santa Fe National Forest. Springs. With room for five people, this makes a perfect weekend getaway for the whole family in the winter. Did I mention that it has a hot tub?
---
Natural Hot Springs in California
California has quite an abundance of natural hot springs in all corners of the state. It's a geologically active landscape just waiting to be explored.
Keough Hot Spring: Eastern Sierras – Bishop, California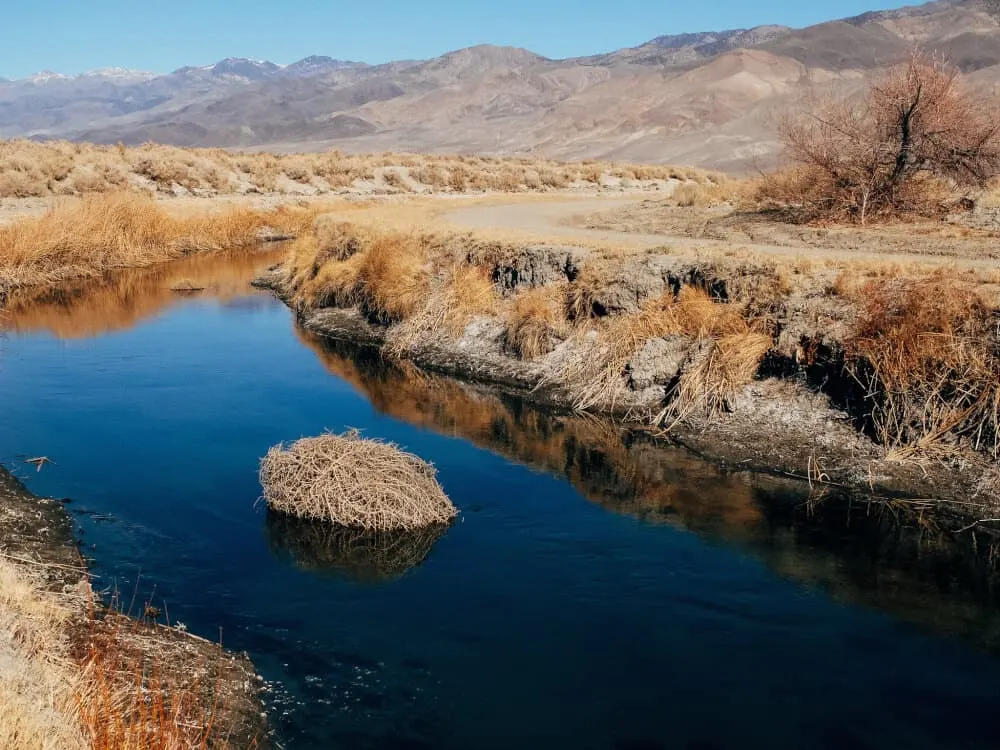 The coolest part about Keough Hot Springs is that you can have a pretty laid-back resort experience for a fee or you can experience the primitive natural hot spring tubs for free.
Normally I wouldn't even mention Keough's Hot Springs Resort, but it's pretty awesome for a commercial facility. They maintain several outdoor pools, a campground, and a couple of tent cabins and "modular retreats," otherwise known as mobile homes. The place is pretty quiet in the winter, and it caters to families so it's really clean and quiet.
Now for a walk on the wild side. Just below Keough's Hot Springs Resort are a few rustic soaking pools. They're right off the road, so little or no hiking is required. These natural hot springs overlook the high desert and are mostly clean and uncrowded, especially in the winter.
Nudity is common among soakers at Keough Hot Springs, and people seem to be respectful of this special place. To get there, take Keough Hot Springs Road and head toward the resort, then turn right on the second dirt road. After you cross the stream, the hot springs will be on your left. There's no camping at the hot springs, but there are lots of camping nearby in the national forest.
Google Map Directions to Keough Hot Springs
Where to stay: You can certainly stay right on-site at Keough's Hot Springs, which offers private rooms and campsites. The pet-friendly Vagabond Inn in nearby Bishop has comfy rooms and an outdoor pool, and the closest camping is in the Big Pine Area of Inyo National Forest, but many of these are closed in the winter.
---
Wild Willy's Hot Springs: Mammoth Lake, California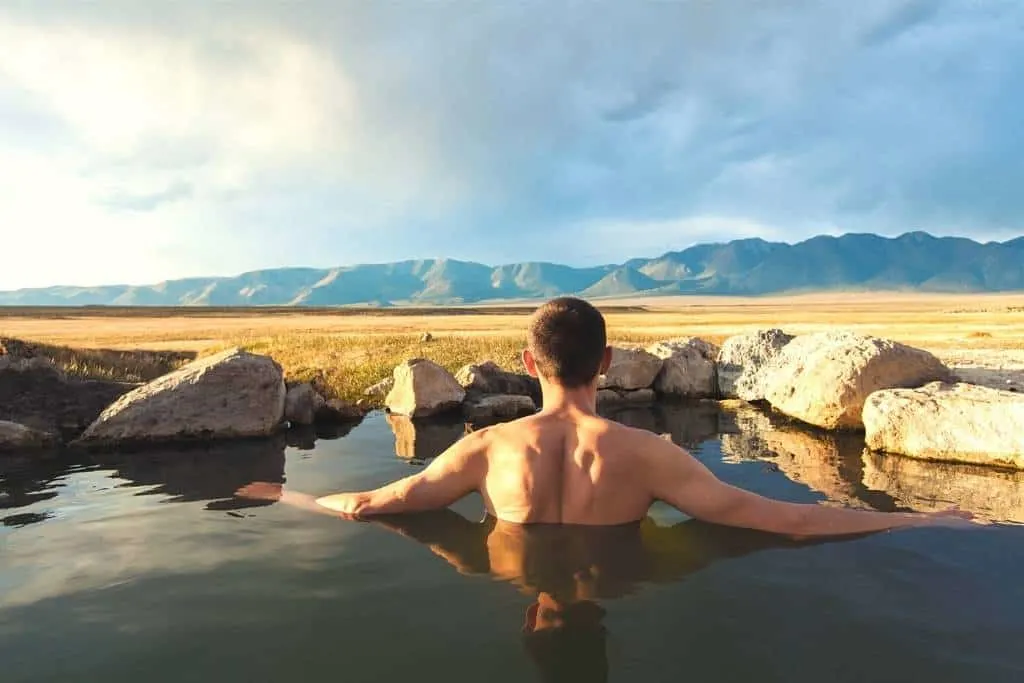 Wild Willy's Hot Springs is located in the Long Valley Caldera near Mammoth Lakes. While these springs are easy to get to and well known, they are also serene and beautiful and 100% worth the trip.
You'll find two hot spring pools (also known as Crowley Hot Springs) at the end of a short boardwalk. While the temperature of the hot springs varies from day to day, the range is usually between 95 and 105 degrees Fahrenheit. As you soak, be sure to take in the fabulous mountain views – the eastern escarpment of the Sierra Nevada to the west and the Glass Mountain Ridge to the east.
The area known as Mammoth Lakes is a geothermal hot spot, with many natural hot springs nearby. In the winter, you can travel the dirt roads looking for tell-tale signs of rising steam and find your own secluded gem.
While you're in the area, be sure to check out Hot Creek Geological Site within Inyo National Forest. Swimming is not permitted here as the water temperatures are unpredictable and often too hot for comfort.
Google Map directions to Wild Willy's Hot Springs
Where to stay: There are several camping areas within a half-hour drive of Wild Willy's Hot Springs, including Mammoth Mountain Campground (private) and Twin Lakes Campground (federal), which is lakefront. Need more space to spread out?
This pet-friendly condo has a full kitchen and room for five people. It's within walking distance of great hiking, skiing, and dining too!
---
Natural Hot Springs in Oregon
Let's take a moment to head up to the Pacific Northwest on our hot springs journey. There are around 50 known hot spring pools in Oregon that are suitable for soaking in, but these are our favorites.
Deer Creek Hot Springs, Oregon: Central Cascades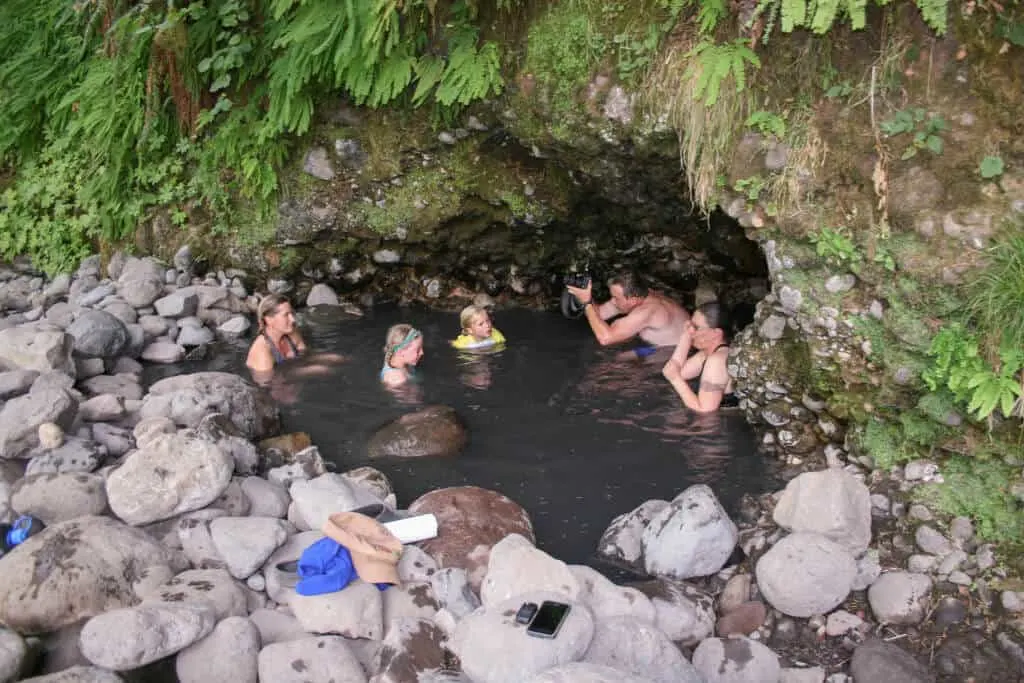 Deer Creek Hot Springs, also known as Bigelow Hot Springs, is a little pool that sits right next to the McKenzie River in the Central Cascades of Oregon. With room for just four people, it's imperative that you hit this one up in the early or late hours of the day. It closes after sunset to keep things from getting rowdy.
These natural Oregon hot springs are a lovely 103℉ in the summer months. In the winter, it can be much colder because it mixes with the nearby river water. For more information and directions to these luscious hot springs check out Oregon Discovery.
Google Map directions to Bigelow/Deer Creek Hot Springs
Where to stay: You will find more camping opportunities than lodging near Bigelow Hot Springs, with many private and national forest campgrounds nearby. For lodging, we recommend the Horse Creek Lodge & Outfitters, which has nice cabins for rent with full kitchens, and Wi-Fi.
For a more secluded getaway for four people, check out this waterfront cabin just minutes from Bigelow Hot Springs.
---
Umpqua Hot Springs (Toketee Hot Springs): Umpqua National Forest, Oregon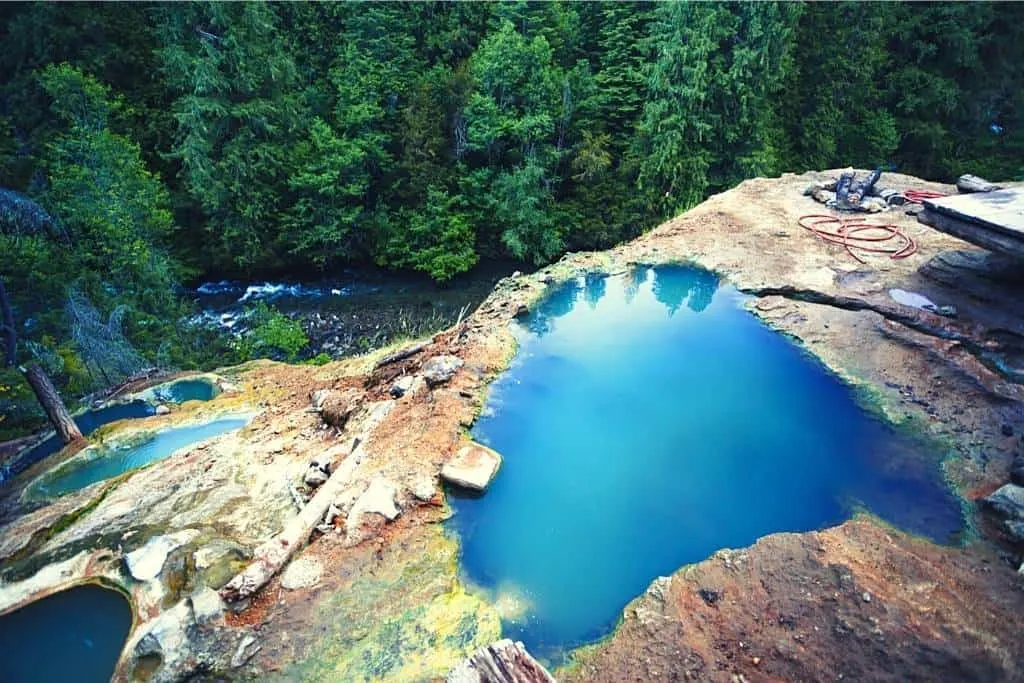 The terrace of hot spring pools is located on the Umpqua River and is easy to get to after a short, .4-mile hike to Umpqua Hot Springs. Because the trail is short, you can expect to share the hot springs with other soakers unless you head up early (like 6 am early). You can also expect nudity, but I would say that's a given at most hot springs.
Umpqua Hot Springs sits high above the river, with spectacular views of the forest. The water in the uppermost pool is a relaxing 108 degrees Fahrenheit, and each pool is progressively cooler as they travel down the slope.
The trailhead and surrounding area are day-use only, and there is a vault toilet in the parking area. A parking fee of $5 is required to help maintain the site. There are lots of waterfalls, hiking, and camping in the area. Read about some of the other Umpqua National Forest adventures on Oregon is For Adventure.
Google Map directions to Umpqua Hot Springs
Where to stay: If you're camping, we recommend Toketee Lake Campground, which is run by the National Forest Service and can't be reserved in the winter. There are 33 primitive sites, but they are only $10 a night. Oh, and did I mention that the campground is right on Toketee Lake? Very pretty!
There are many lodging options in Oakridge, including this riverfront cottage with room for 10 people and pets!
---
Hart Mountain Hot Springs: Hart Mountain National Antelope Refuge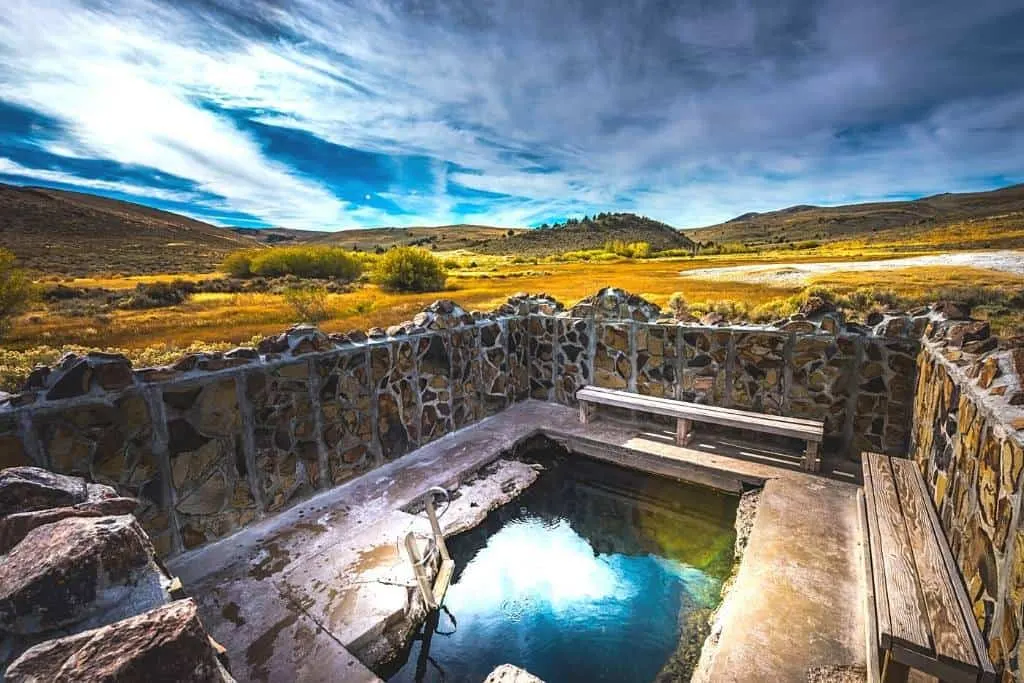 Located on a desert plateau deep in the wilds of Central Oregon, Hart Mountain Hot Springs is rarely crowded, especially in the winter months, although heavy snow may make getting here a challenge during the coldest months.
The main pool is actually surrounded by a rustic concrete and rock structure, but the water is a very comfortable 102 °F (38.89 °C).
There is a small, more natural soaking pool a short walk from the main pool. Just look for the steam rising up from the grass. This wild hot spring is warmer than the main pool and there's the added benefit of having expansive views in every direction. You will find pit toilets nearby. Clothing is optional.
Where to stay: Camping? Definitely stay at the Hart Mountain Hot Springs primitive campground, just don't expect any luxuries! The nearest lodging is located in the town of Plush, about an hour and a half drive from the hot springs. See why camping makes sense?
---
Natural Hot Springs in Idaho
There are more than 130 hot springs in Idaho that are suitable for soaking in, making this state one of the hot spots for thermal activity.
A winter hot springs road trip would be perfect in Idaho. Remember winter is really winter here, so if you do decide to come in the winter, bring your snowshoes and the 10 essentials, and let someone know where you'll be.
Bonneville Hot Springs: Lowman, Idaho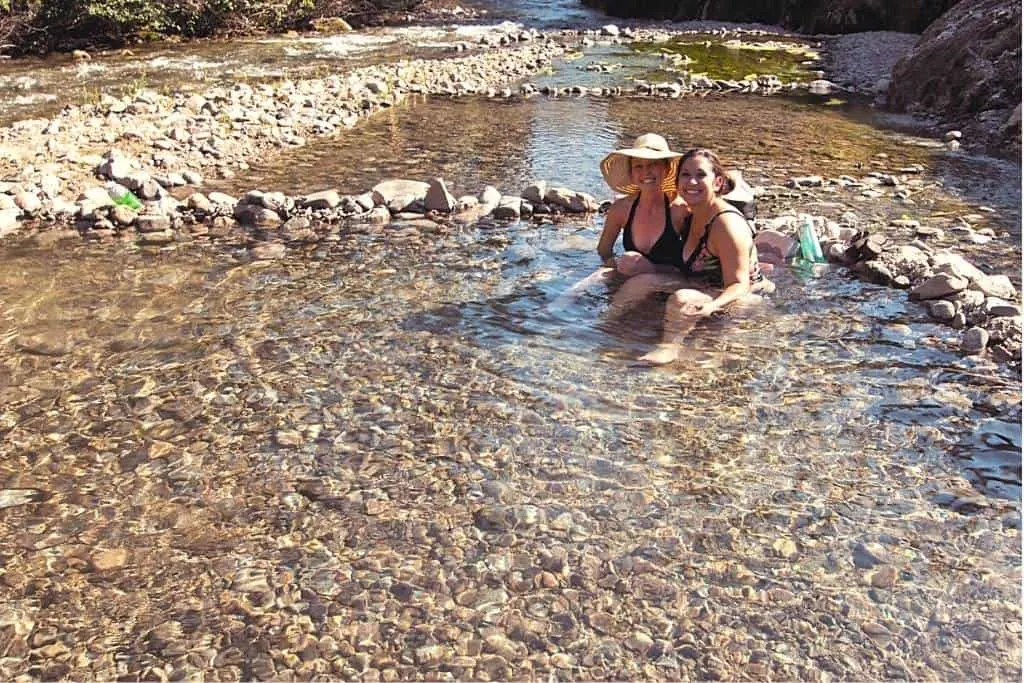 If you're planning the ultimate hot springs road trip, Idaho is the place to be, but if you can only choose one natural hot spring to visit, choose Bonneville Hot Springs.
Bonneville Hot Springs can be found at the end of an easy ¼ mile hike. You may need snowshoes, but that just makes it more fun. There are several pools here for soaking and even a soak shack with a bathtub and piped-in water. There's a great little campground open in the spring through fall, but visiting when the campground is open makes for a more crowded soaking.
Head out in January and you'll be rewarded with sandy-bottomed pools all to yourself. To learn more about Bonneville Hot Springs head over to the Boise National Forest website.
Google Map Directions to Bonneville Hot Springs
Where to stay: Campgrounds will be closed around Bonneville Hot Springs during the winter months, but if go during warmer weather, check out Bonneville Campground, a federally-run campground with sites for $15 a night. The town of Lowman is about 19 miles away, and there are a few lodging opportunities available year-round. Need more space? Check out Sourdough Lodge, which has different room configurations and cabins.
---
Goldbug Hot Springs: Salmon, Idaho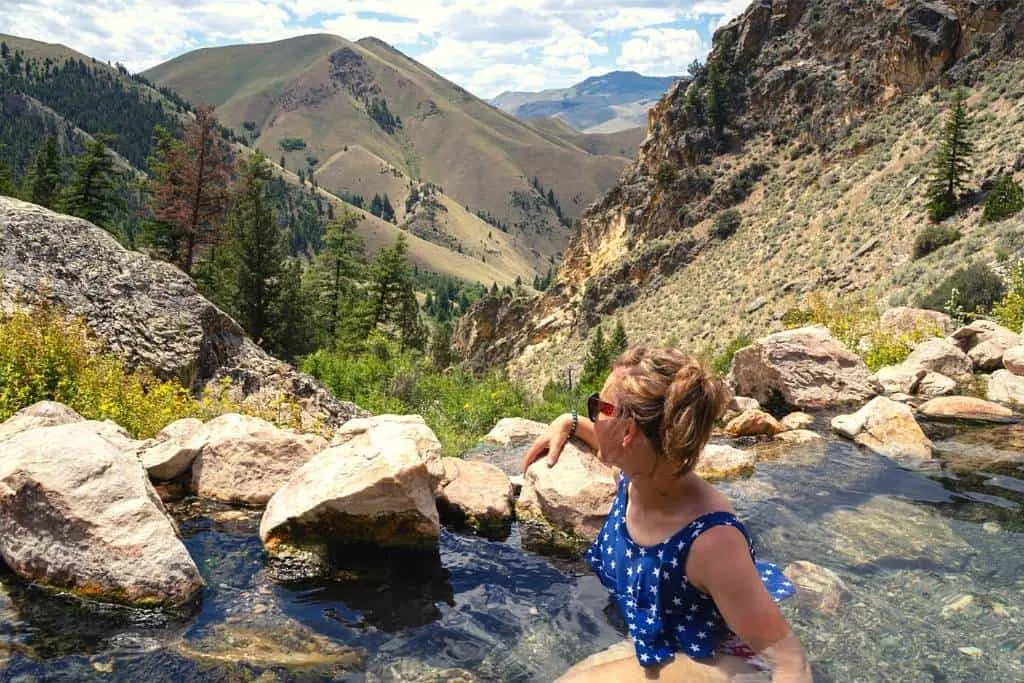 At the end of a steep and well-traveled two-mile trail in Salmon, Idaho, you will find the oasis that is Goldbug Hot Springs (also called Elk Bend Hot Springs). While the climb is steady and rises more than 1,500 feet, the reward is a magnificent hot spring pool hugging the side of a cliff.
The water tumbles over the cliffside forming a 15-foot waterfall of deliciously hot water to feed two more soaking pools below. The pools farthest from the top are cooler as the water flows away from the heat source. Temperatures also vary depending on what time of year you're visiting.
Google Map directions to Goldbug Hot Springs
Where to stay: There are a few flat campsites near the trail before you get to the hot springs if you don't mind roughing it. The town of Salmon, just north of the trailhead has a few lodging options, including the Stagecoach Inn, which has an outdoor pool, modest, but clean rooms, and free breakfast.
---
Natural Hot Springs in Nevada
Nevada has got to be the hot springs capital of the United States with more than 300 pools spread throughout its vast landscape. Add that to a relatively mild climate in the winter months, and you've got the makings of an awesome hot springs road trip. Here are some of our favorite secret hot springs in Nevada.
Ruby Valley Hot Springs: Ruby Valley Refuge, Nevada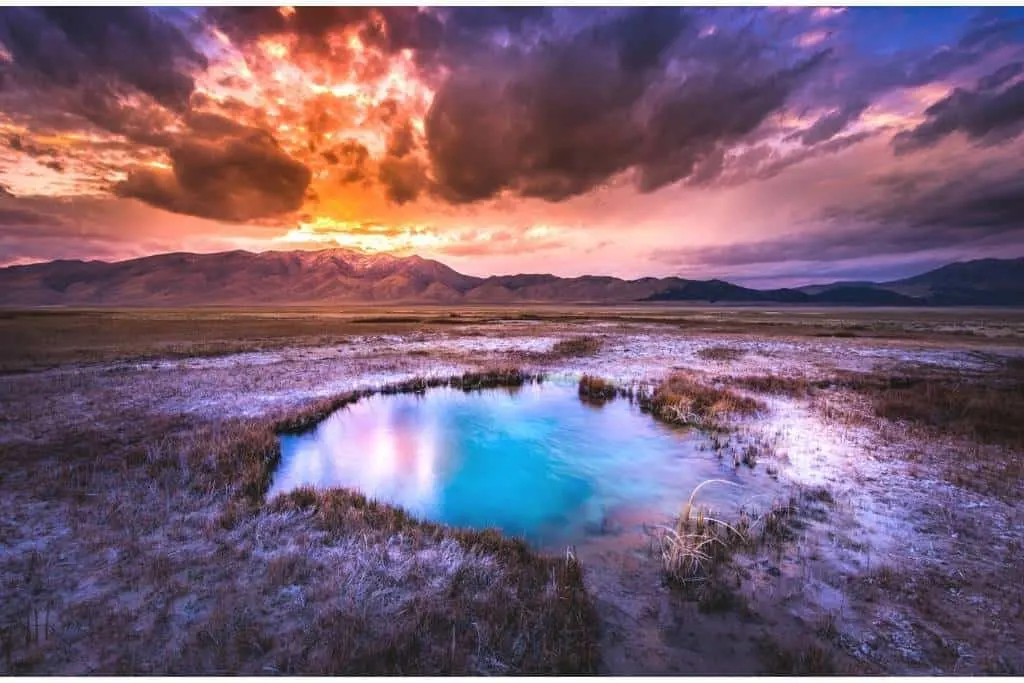 Located at 7,000 feet above sea level in Ruby Valley of Central Nevada, this beautiful marshy area is home to several primitive hot spring pools known as Ruby Valley Hot Springs. The largest pool is about 100 °F (37.8 °C) and is more than 30 feet deep. There are several smaller pools nearby. Be sure to test the water first, as some of the hot springs may be too hot for soaking!
The whole area surrounding Ruby Valley Hot Springs is marshy with mud surrounding the hot springs, but if you don't mind the mud, you'll love this place. The road to Ruby Valley Hot Springs is rough, but you can make the trip without 4WD.
Visit the USA directions to Ruby Valley Hot Springs
Where to stay: There is camping in Ruby Lake National Wildlife Refuge at South Ruby Lake Campground. Sites are $17 and can be reserved in advance. The nearest hotels are more than an hour away in the town of Elko.
---
Panaca Warm Springs: Panaca, Nevada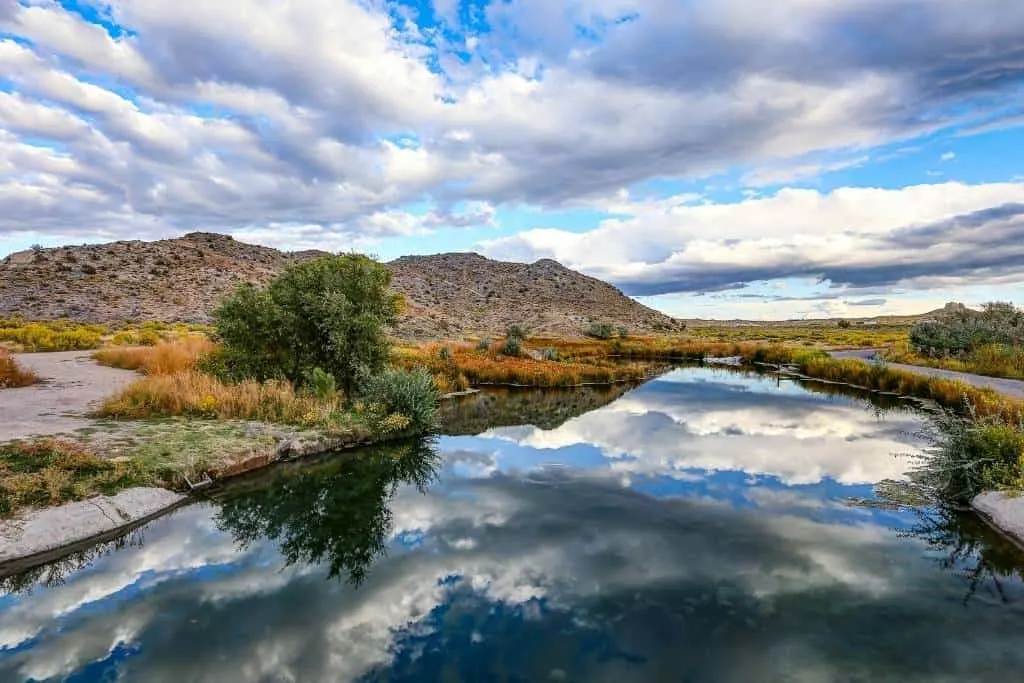 Panaca Warm Springs are the only springs on our list that aren't actually hot. They maintain a constant 85 °F (29.4 °C) year-round. It's also one of the clearest and largest pools you'll find — perfect for swimming!
Panaca is a very small town in Eastern Nevada, and many of the local residents come to Panaca Warm Springs in the summer. A quick dip may be all you can handle in the winter, but it will be a lovely dip!
Because the water is warm, not hot, you will share your soak with fish and frogs, but the bottom is delightfully sandy. While you're in the area, be sure to visit nearby Cathedral Gorge State Park with its interesting rock formations and gorgeous canyon trail.
Google Map directions to Panaca Warm Springs
Where to stay: Definitely camp at Cathedral Gorge State Park. It's an oasis in the desert and so beautiful. Nearby Panaca has a few small hotels, restaurants, and shops. The Pine Tree Inn and Bakery is rustic and clean.
Tips for Enjoying Natural Hot Springs in Winter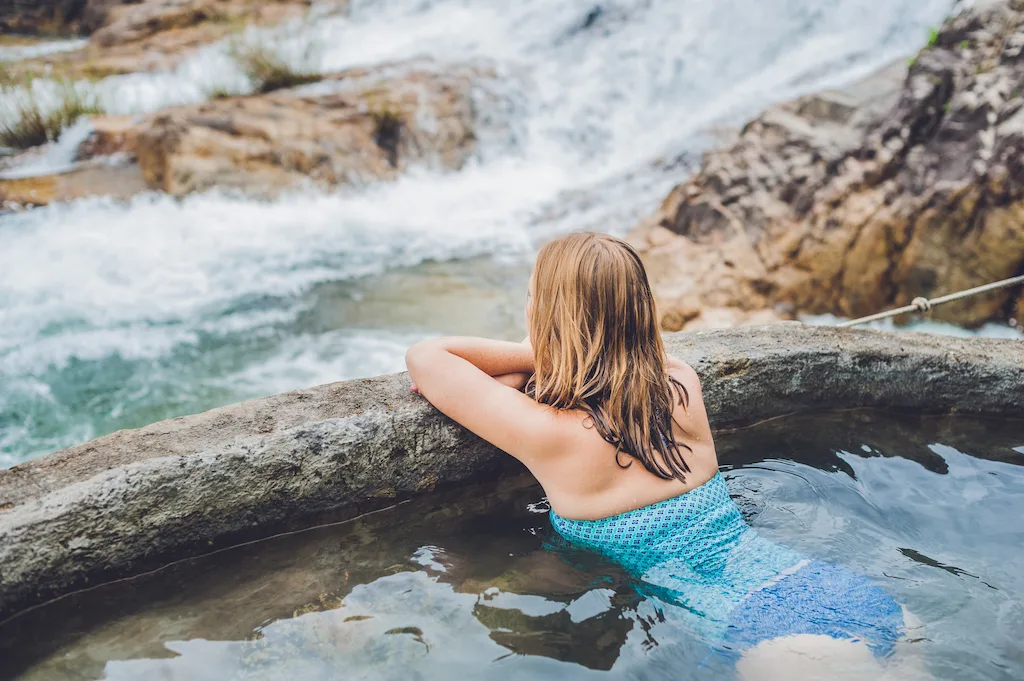 Yes, you can visit these awesome natural hot springs any time of the year, but here are a few extra tips for enjoying them during the winter months.
Dress in layers. There's a good chance that all sorts of temperature extremes will make appearances on this adventure. Be prepared by dressing in layers, and make sure your outer layer is waterproof and windproof.
The hotter the water, the quicker the soak. It may be tempting to while away the afternoon in a sizzlin' hot springs pool, but soaking for too long in really hot temperatures isn't good for you, plus it will make you all drowsy and you won't want to trek back to your car.
Don't forget extra water for drinking. It will be easy to trick yourself into thinking you're hydrated if you're surrounded by water. Don't forget to drink up — before, during, and after your soak. And while we're on the topic, I should mention that alcoholic beverages don't mix very well with hot springs. Or hiking, for that matter.
Skip the cotton and invest in a pack towel. This huge towel from REI can hold up to eight times its weight and wrings out almost completely dry. Plus it weighs in at only 6.4 ounces.
---
Ready to take the plunge? I want to hear all about your favorite United States hot springs experiences. For even more wild hot springs, head north into Canada – specifically, British Columbia, where there is a plethora of steamy waters to enjoy.
If hiking to a secluded hot spring for soaking isn't your thing, check out some of these incredible hot springs resorts in the United States. They make for more luxurious adventures, but the effects of hot thermal water are pretty mind-boggling, no matter how you choose to enjoy them.
---
Follow us on social media!
Pin for Later?