Glamping season is coming around again in New England, and we have some amazing properties for you to visit with your dog this year! As you probably know, Glamping is not camping. You may sleep in a tent or something tent-like, but you always get to sleep in a real bed. A New England glamping experience is a unique way to explore the outdoors, whether you're off on a weekend getaway or a mega road trip.
Glamping accommodations are one-of-a-kind experiences with a strong emphasis on immersion in the natural landscape. In our search for pet-friendly glamping spots in New England, we found so many cool places, from a cozy woodland yurt in New Hampshire to a beautiful glamping resort on the coast of Maine. We can't wait to share them with our favorite dogs, and of course with you!
Where to Find Pet-Friendly Glamping in New England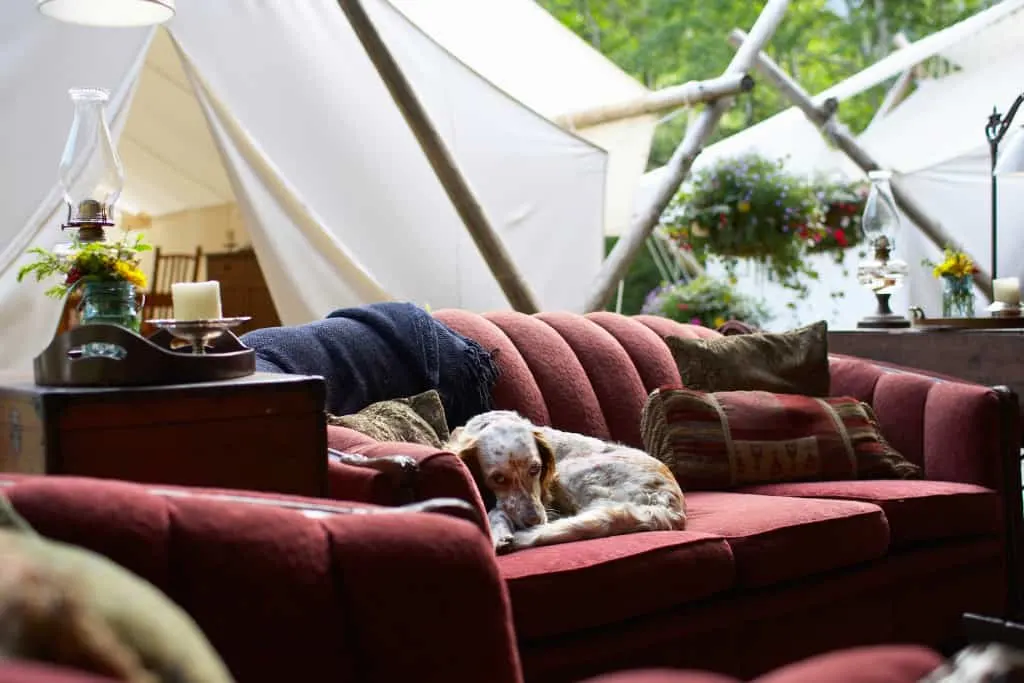 In addition to booking glamping stays at our favorite New England glamping resorts, we use a variety of online platforms to find glamping properties, so if you don't find something you like below, hop online and check out some of the resources below. Here's an overview of the booking platforms we used to find some of these glamping gems.
The Best Dog-Friendly Glamping in New England
I say dog-friendly because many people travel with dogs, but some of these places allow cats too. Here are some of the coolest pet-friendly glamping spots in New England for both dog and cat lovers!
Toad Hill Yurt in Chatham, New Hampshire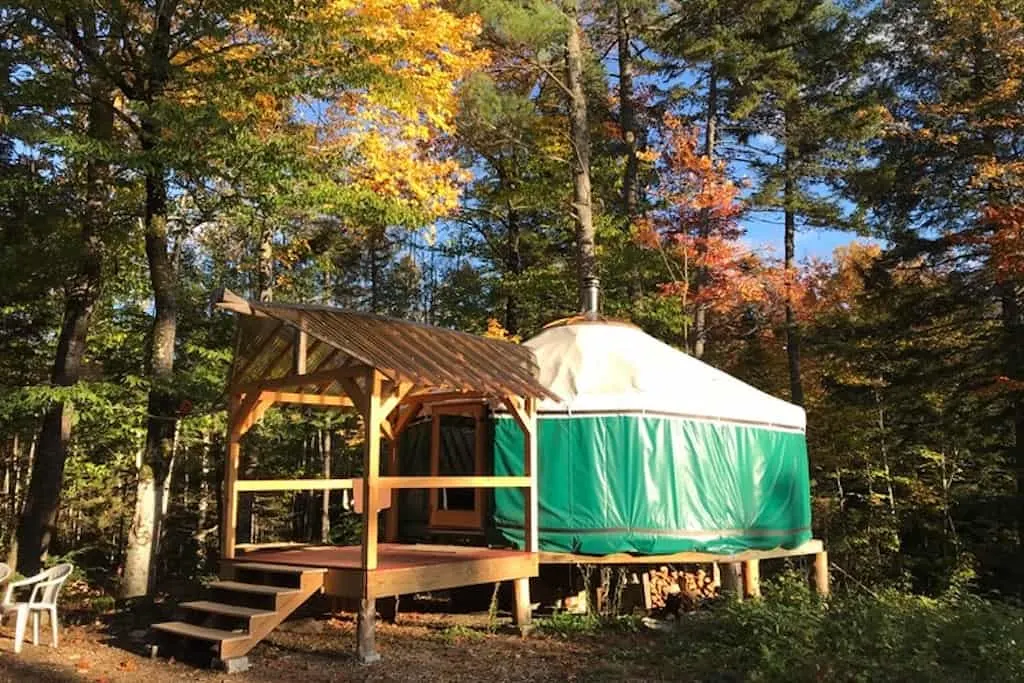 This cozy, weatherproof yurt is located on 45 secluded acres in Chatham, New Hampshire (near the Maine border). Toad Hill offers several different glamping opportunities, including two tipis and an ambulance, but we loved the look of this yurt. The yurt is fully equipped with a wood stove, full-sized futon, table, chairs, tea, mugs, cooler, camping cook stove, grill, and fire pit. There is a private outhouse nearby.
The property surrounding the yurt is part of the White Mountain National Forest, and there are plenty of hiking and biking trails that can be accessed directly from Toad Hill, and farther afield. You and your dogs will love the two glacial ponds and the stream with waterfalls. Your host is around and available to give you a fly fishing lesson if you're interested, or you can rent a gold panning kit to try your hand at panning the Langdon Brook for riches.
---
Rustic Waterfront Cabin in Cherryfield, Maine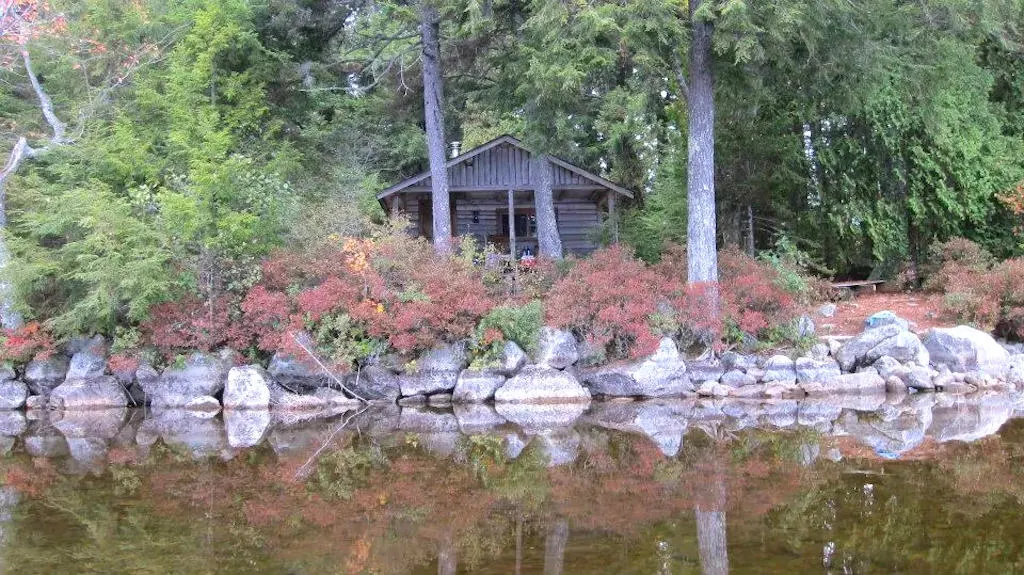 Welcome to this charming, but rustic log cabin in Downeast Maine! Is this incredible cabin what you need for your next New England getaway? If you don't mind giving up some luxuries and walking a short third of a mile with your gear, then you will love this cabin. Inside you'll find the bare necessities like a comfy queen-size bed, a propane stove for cooking, and five gallons of spring water. There are pots, pans, and silverware in the kitchen, and a woodstove to keep you warm.
The cabin is about 15 feet from the shore of a pristine, clear lake. You can paddle around in the provided canoe during the day, and relax next to the fire pit as the sun goes down each evening. You won't even miss those modern luxuries like running water or electricity. I promise!
Be sure to visit Catherine Hill Winery for locally crafted wines from small vineyards and regional fruit (it's dog-friendly too!).
---
Glamping Tent on Finnegan's Farm in Milford, Connecticut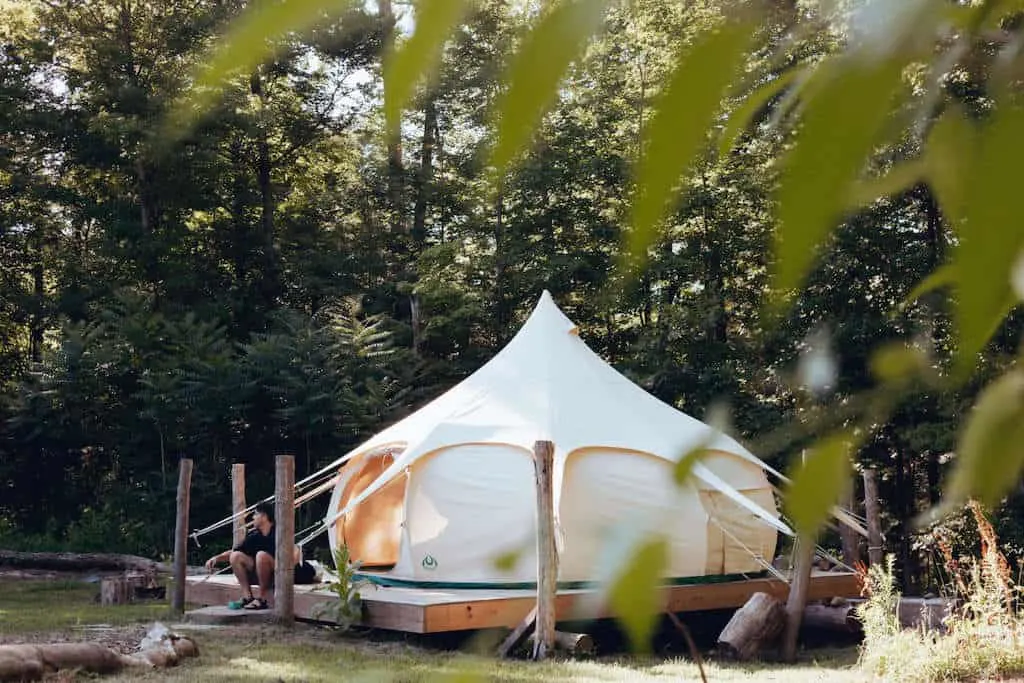 Enjoy a farm stay in this luxurious yurt tent complete with queen size bed and outdoor shower on Finnegan's Farm in Milford, Connecticut. Meet the goats, cows, ducks, chickens, and the pony, Mr. BoJangles. During the growing season, stop into the farm shop and purchase in-season veggies, maple syrup, or jam to make your stay even more memorable.
This yurt-style tent is a minimal and luxurious way to enjoy nature. Inside, you'll find a cozy queen-size bed and basin for washing. Outside, there is a private deck and fire pit, a picnic area with a charcoal grill, and a private outhouse with a composting toilet. Solar lights and candles glow inside in the evening, and the stargazing is spectacular! There is no electricity inside in the yurt, but you won't even miss it.
There are lots of adventures nearby too. Visit the many vineyards and breweries, take a cooking class at Hunt Hill across the street, or visit the quaint towns of Kent or Washington.
---
Hilltop Glamping Tent on 220 Acres in Chelsea, Vermont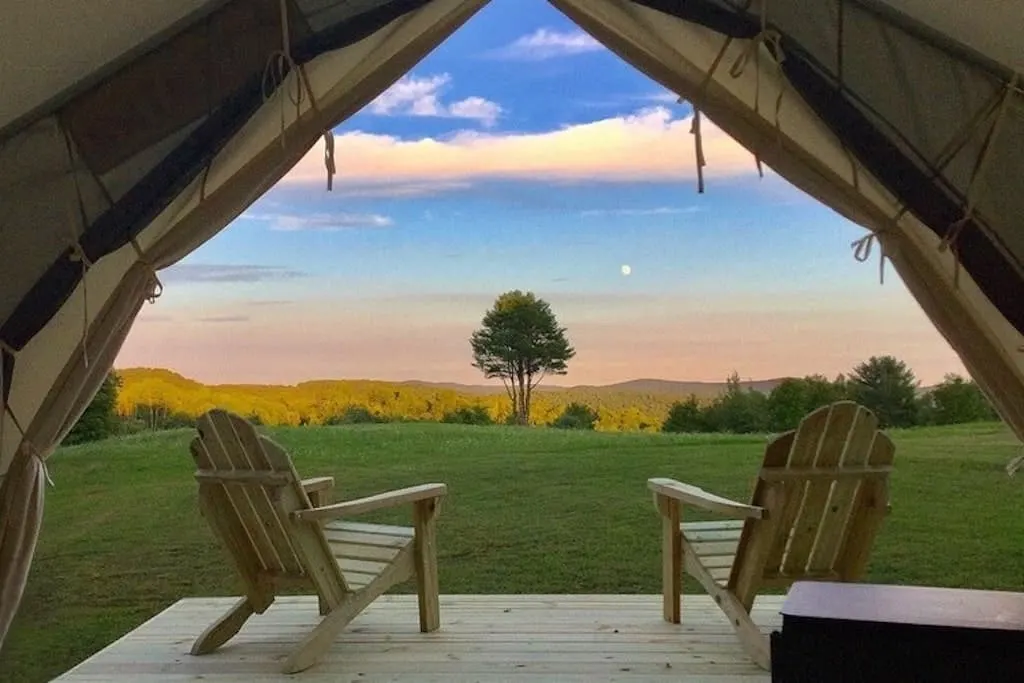 This gorgeous hilltop campsite is located on 220 acres with fields, forests, and a lovely pond in Central Vermont. The glamping tent is located on an expanse of grass at the edge of deep woods, and there are lots of trails to enjoy on the property. The large pond is available for swimming, kayaking, or just relaxing on the dock. Hikers and bikers will find good opportunities on the vast network of dirt roads that wind through the neighborhood and beyond.
This is a Tentrr Signature Site, so it comes with a queen-size bed, a wood stove for chilly nights, a full outdoor kitchen set-up, a fire pit, and Adirondack chairs. Chelsea is 30 minutes from South Royalton, Vermont, which has a food co-op and a few restaurants, including Worthy Burger, one of our favorite burger joints! This is such a beautiful area to explore with lots of small farms, cute villages, and back roads, so it's perfect for a dog-friendly Vermont vacation.
We also recommend driving the short distance to Allis State Park to hike up to the fire tower on Bear Hill Trail.
---
Terramor Outdoor Resort in Bar Harbor, Maine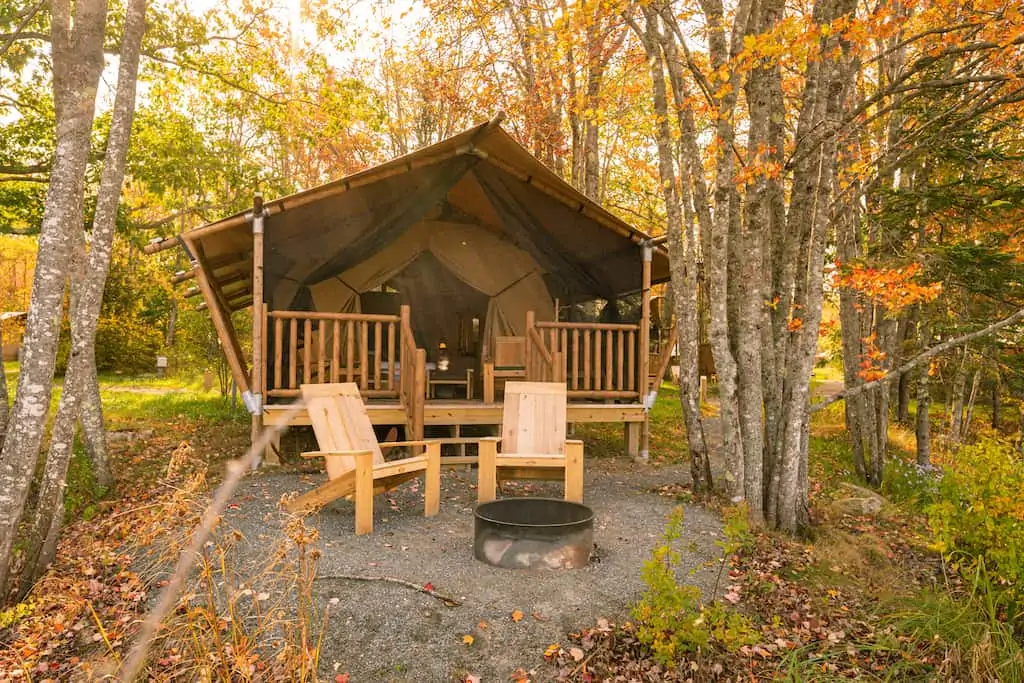 Take your pup and escape to the woods of Bar Harbor, Maine. Terramor Resort provides a variety of canvas tents with different amenities and price points, but they all provide a private oasis where you can convene with nature while your dog snoozes by the campfire. Most of the tents include private bathrooms, and all of them have electricity and Wi-Fi, so you can choose whether or not you want to unplug.
Unlike some of the secluded glamping properties on this list, Terramor provides a rustic, resort-like experience for glampers. Head to the lodge for dinner and drinks, relax near the communal campfire, or take a dip in the pool or hot tub before turning in for the night. Terramor is located just a short drive from all the amazing natural attractions within Acadia National Park, where all the carriage roads are dog-friendly!
Don't forget to visit downtown Bar Harbor, where you'll find great shopping and dining to go with those spectacular ocean views.
---
---
Pet-Friendly Cabin in Londonderry, Vermont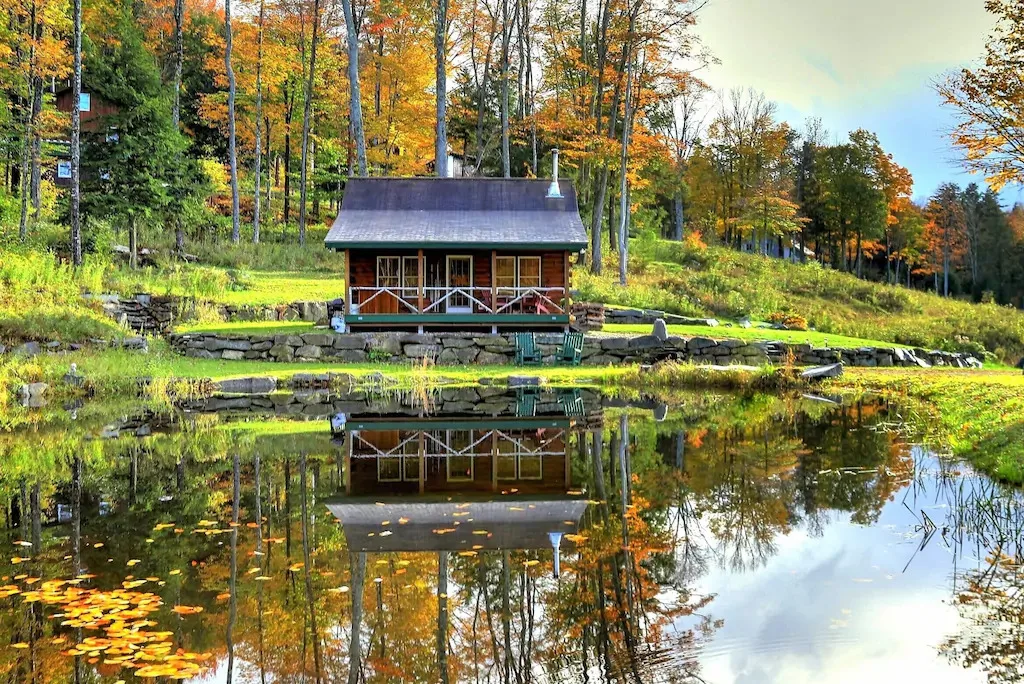 Retreat to the mountains of Southern Vermont with your pond-loving dog! This private log cabin on Magic Mountain is just steps from a beautiful trout pond – perfect for practicing your fly fishing. The cabin is within walking distance of the main lodge and great hiking trails so you can park your car and explore right from the cabin. There is a queen-size bed in the main sleeping area and two twin beds in the loft. The kitchen includes basic cooking supplies, a refrigerator, stovetop, and microwave. You'll even find a luxurious outdoor shower with stunning views of the Green Mountains.
The town of Londonderry is a short drive from the cabin. While the downtown is small, you will find a grocery store and a few restaurants, plus fantastic hiking throughout the Green Mountain National Forest. We recommend bringing a kayak or canoe and paddling around Lowell Lake with the loons. It's a beautiful, undeveloped state park.
---
When it comes to cool glamping spots in New England, we've just scratched the surface. Fortunately for our readers (and our dogs), we're making it our mission to seek out awesome dog-friendly glamping in New England. We'll keep adding to this post as we find more dog-friendly sites.
Pin for Later?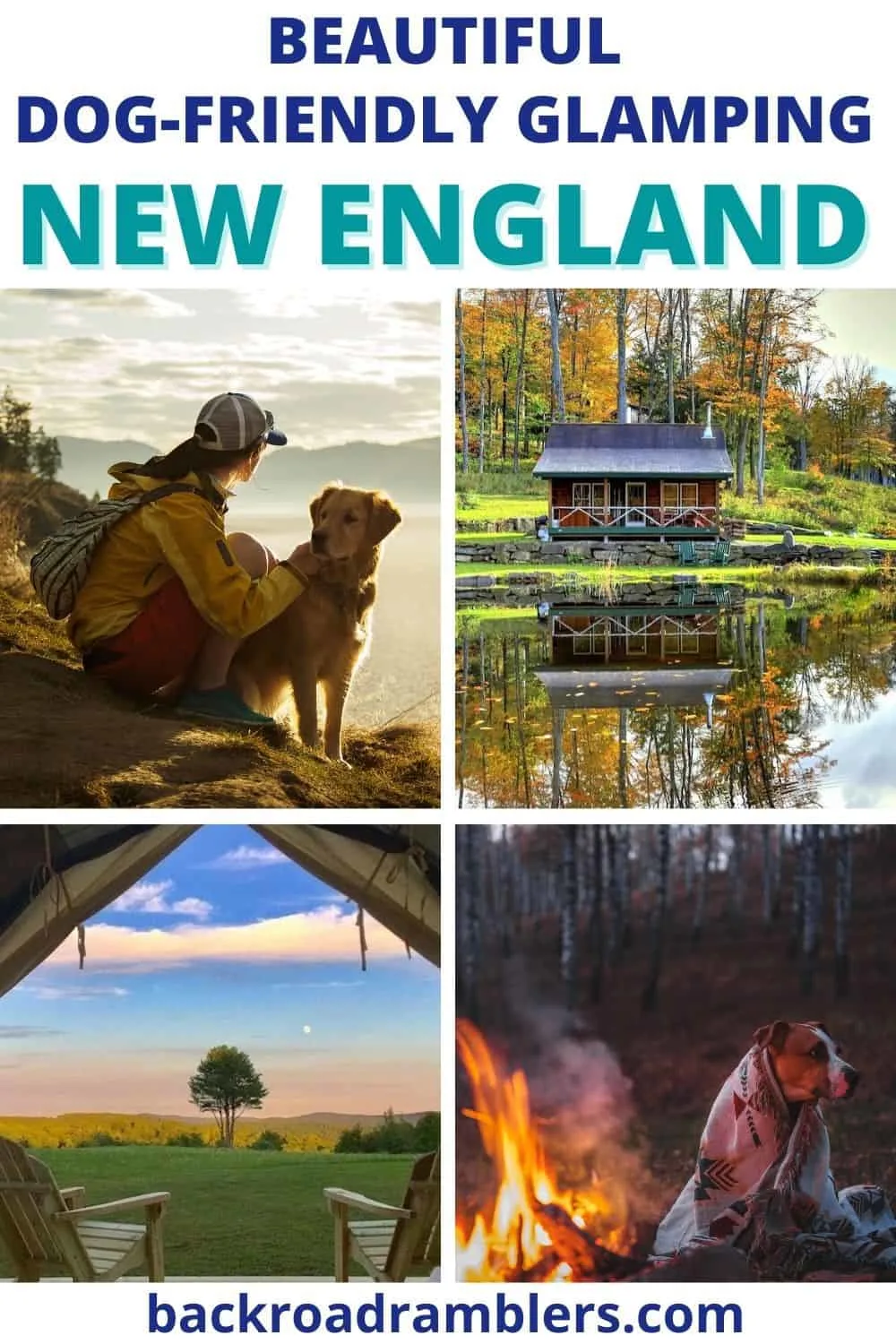 Our Favorite Resources for Road Trips and Outdoor Adventures

These are the resources we use to plan road trips, save money while traveling, and shop for outdoor gear.

Car Rentals: While we use our own car most often for road trips, we also enjoy flying into major airports and then renting a car for more regional road trips. We use Kayak to compare prices and find deals from dozens of car rental agencies at once.

Flights: We use Kayak to search out flight deals.
Money-saving tip: If you find yourself using the same airline repeatedly (we are huge Southwest fans), consider joining their loyalty program and getting an airline credit card. With our Southwest Rewards Visa, we earn a few free flights each year.

Hotels: When it comes to lodging, we seek out small boutique hotels or quirky roadside motels. First, we search for hotels on TripAdvisor so we can read reviews from other travelers. Then, we use Booking.com to make reservations (they have the best prices, plus a flexible cancelation policy).

Camping: Camping is one of our favorite things to do on long road trips. It allows us to explore the outdoors, cook our own food, and save money. We use They Dyrt Pro to find campsites and read reviews before booking on Recreation.gov or state park websites.

Glamping and Vacation Rentals: For weekend getaways and shorter vacations, we love glamping (check out our glamping resource guide). We book glamping properties through Tentrr, Hipcamp, and Airbnb. For cabins and vacation rentals, we like to use VRBO (they have fewer fees and a better cancelation policy than Airbnb).

Guides and Maps: If we are visiting a new region, we usually invest in a Moon Travel Guide for the area. We pass them on to friends and family after our trip. If we are planning on hiking, we also purchase a Falcon guide in the Best Easy Day Hikes series.

Outdoor Gear: We are REI Co-Op members. It cost us $20 for a lifetime membership, but we get a yearly dividend based on our purchases, plus great deals and coupons throughout the year. REI also has a great return policy.

Check out our complete guide for planning a road trip on a budget