Looking for a unique park in the Appalachian Mountains where you can hike with wild ponies?
Tucked away in the southwest corner of Virginia are 4,502 acres of rolling hills, windswept ridges, and dense forest that make up Grayson Highlands State Park.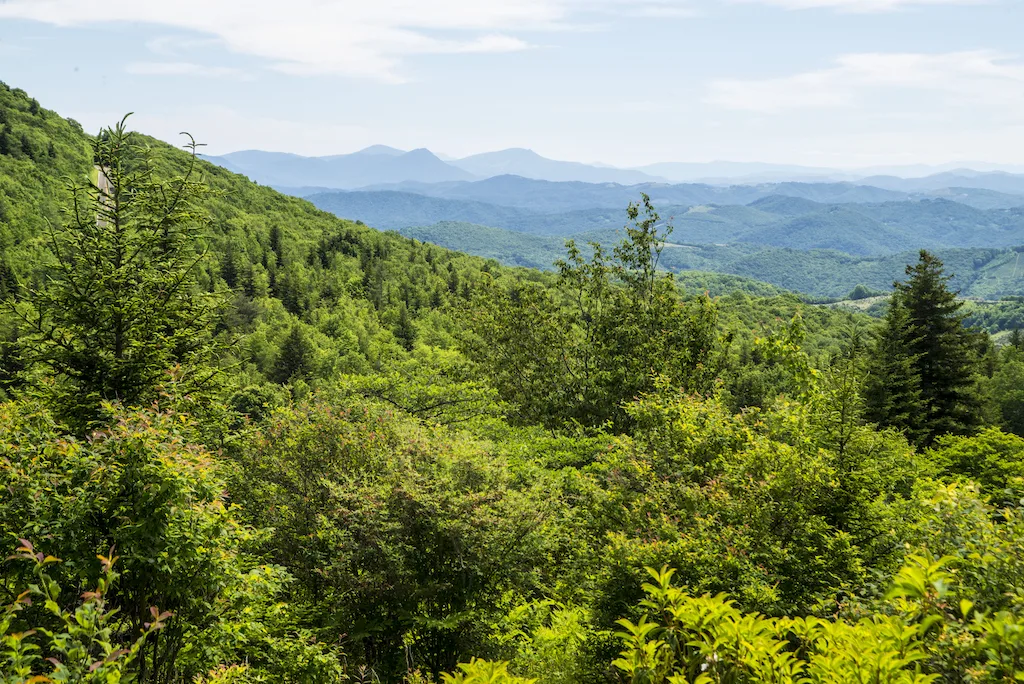 This massive park maintains more than 25 miles of hiking trails, as well as access to the Appalachian Trail and backpacking loops within Jefferson National Forest. It is a very popular destination for hikers, backpackers, mountain bikers, horseback riders, and campers.
Quick Facts: Grayson Highlands State Park
Address: 829 Grayson Highland Lane, Mouth of Wilson, VA 24363
Hours: 8 am – 10 pm unless you are camping in the park
Camping: 36 tent/RV sites with electricity and water, 28 tent/RV sites without hookups, 44 horse campsites with stalls, 4 yurts
Fees: day rate – $7, $10 weekends, camping rate – $10 to $40 depending on site
Dogs: On-leash
Official Park Website
Grayson Highlands State Park is located close to Virginia's two highest peaks, Mount Rogers and Whitetop Mountain, both of which can be reached via hiking trails from the park. We visited in the late spring and were surprised that vestiges of winter could still be found at Grayson Highlands, especially on the flats, which feature elevations over 4,000 feet with limited vegetation.
Grayson Highlands completely wowed me with its gorgeous scenery, amazing hiking trails, well-appointed campgrounds, and feral ponies. Ponies! You can hike alongside these beautiful creatures, which is an absolute highlight in my humble opinion.
---
Read Next: 7 Fabulous Things to do on the Blue Ridge Parkway in Virginia and North Carolina
---
Meet the Grayson Highlands Ponies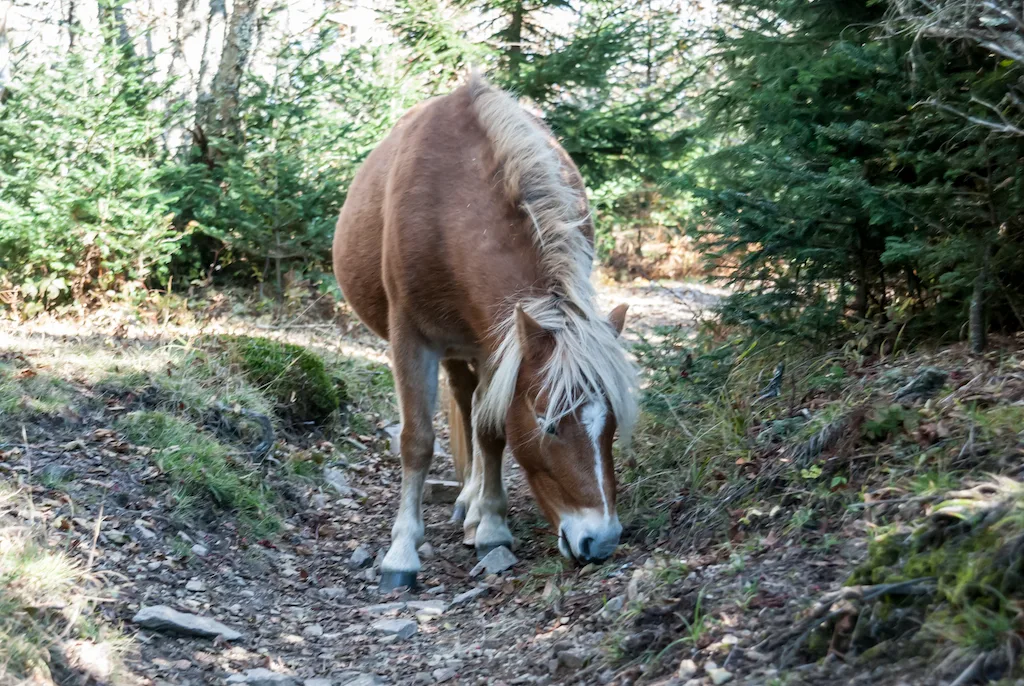 One of the most memorable parts of a visit to Grayson Highlands State Park is the herd of wild ponies that wanders the balds in four seasons. The herd of Grayson Highlands Ponies is about 150 strong and they are charged with keeping the foliage trimmed along the balds and posing for photos.
The ponies are actually feral as they are an introduced species. They are managed by a local nonprofit, which ensures that they get proper veterinary care annually. While petting or feeding the ponies is frowned upon, they are so used to hikers within the park that they rarely shy away from being pet, and they have even been known to raid backpacks that are left unattended.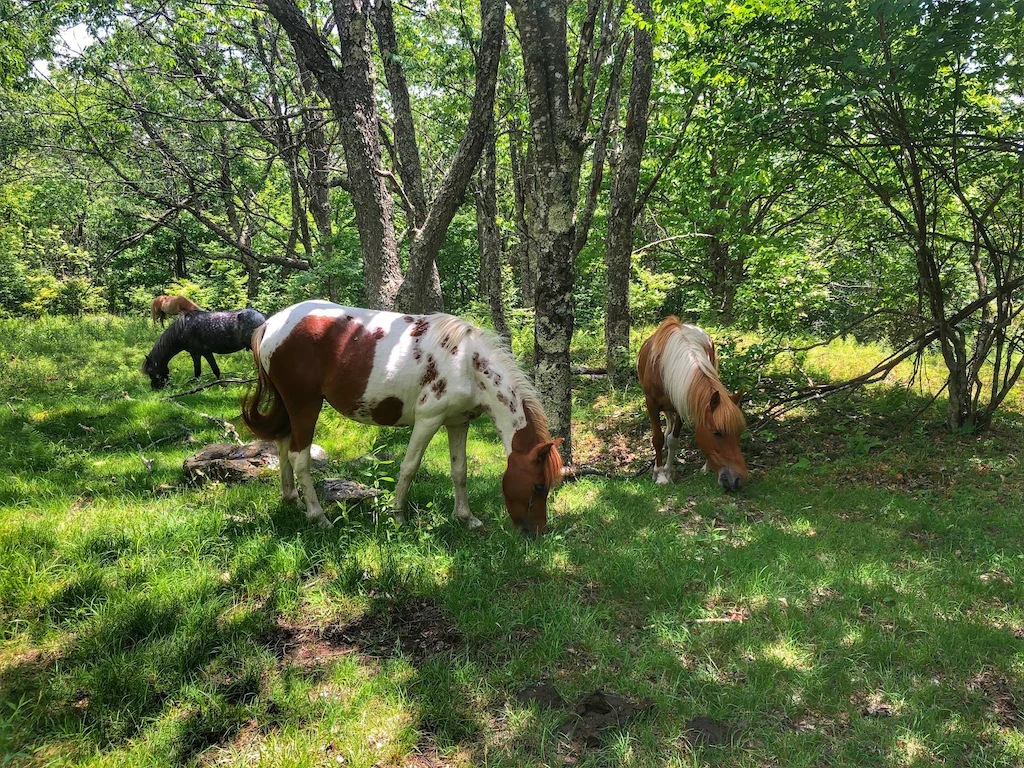 The best place to see the ponies is on Wilburn Ridge, which you can access from the Massie Gap parking area. They also wander around on the Appalachian Trail, which runs right through the park. You can read more about the Grayson Highland ponies in Smithsonian Magazine.
Grayson Highlands Hiking
While my favorite part of Grayson Highlands State Park is definitely the ponies, I also love that there are so many incredible hiking trails. Grayson Highlands is a great destination for day hiking, but also for awesome multi-day backpacking loops that are suitable for beginners.
During my visit, I used Hickory Ridge Campground as a base camp and spent several days exploring the trails within the park, as well as some of the trails that lead into Jefferson National Forest, which is adjacent to Grayson Highlands. Here are some of our favorite day hikes from Grayson Highlands State Park.
Rhododendron Trail to the Appalachian Trail to Appalachian Spur Trail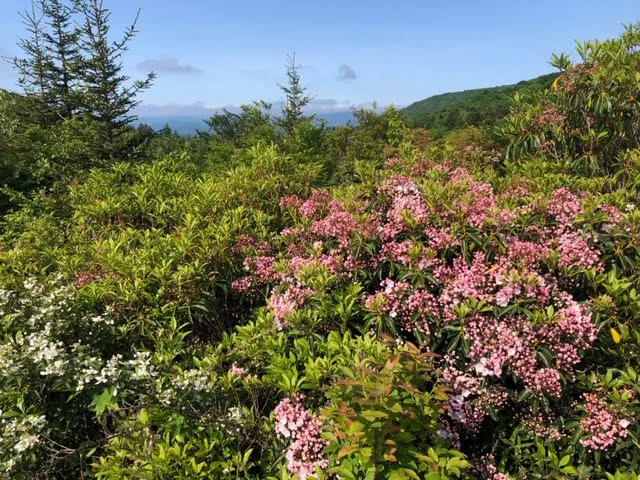 Difficulty level: moderate
Length of trail: less than two miles
Highlights: Ponies! Awesome views, rhododendrons bloom in spring, and blueberries in late summer.
Something to consider: The ponies can be pushy and may beg for, or even try and steal your food.
If you park in the Massie Gap parking area in the center of the park, you will have access to some of the most awesome trails, plus you've got the best chance of seeing the ponies. The loop above is a combination of three trails taking you up to Wilburn Ridge and a section of the Appalachian Trail.
The views from Wilburn Ridge are amazing, and it's a great spot for a picnic. If you visit in June, you'll experience thousands of rhododendrons blooming on the Rhododendron Trail. The photo doesn't do it justice – it's such a beautiful sight!
The Appalachian spur trail travels through shaded woodland and is pretty much devoid of people. The whole thing is less than two miles.
Wilson Creek Trail
Difficulty level: Moderate
Length of trail: 1.76 miles
Highlights: A few small waterfalls, good shade, and places to cool off in the stream.
Something to consider: Can be muddy in spring.
The Wilson Creek Trail is a 1.76-mile loop that starts at the camp store and follows a stream with a nice spot to cool off when it's hot, plus several small waterfalls. It travels through dense shade most of the time, so it's a great trail for warm-weather hiking.
By contrast, if you hike here in winter to early spring, expect plenty of snowpack on Wilson Creek Trail. I loved starting my day on this trail. It left right from Hickory Ridge Campground, was blissfully quiet, and only took about an hour. While not technically challenging, there's a pretty hefty descent and ascent on the Wilson Creek Trail, so be prepared for a bit of a workout.
Cabin Creek Trail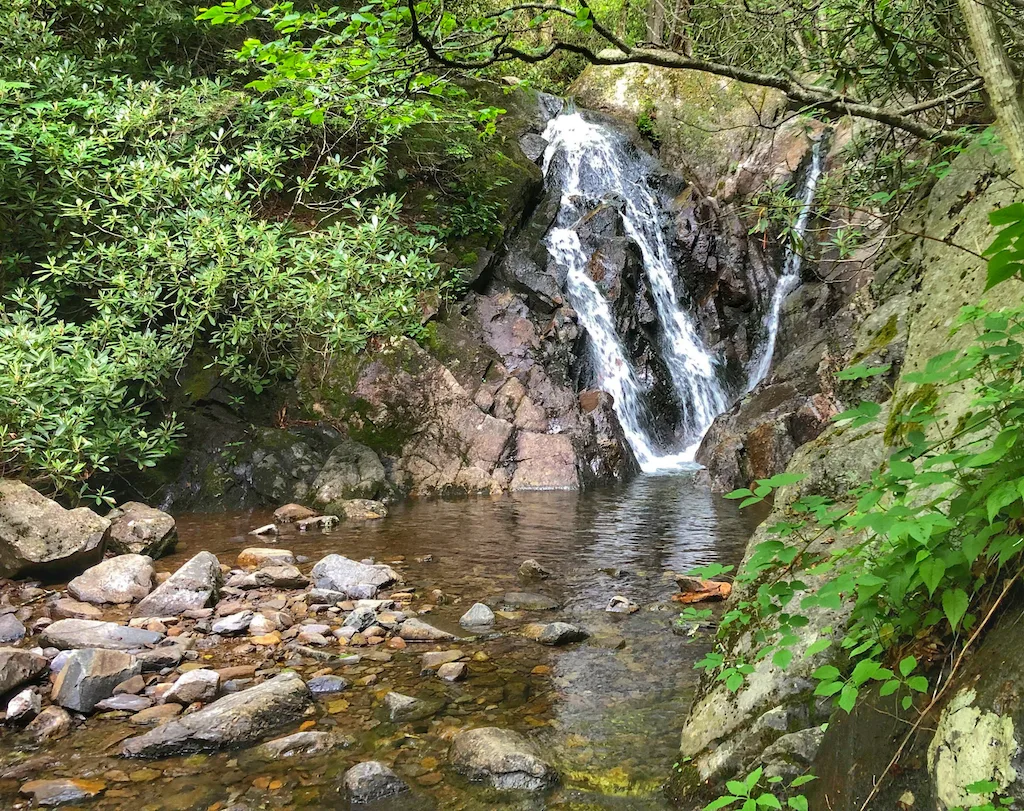 Difficulty level: Moderate with some strenuous sections
Length of trail: 2 miles
Highlights: Water, water everywhere
Something to consider: This loop is best hiked clockwise, which brings you up the more technically difficult parts and down the more gentle slopes.
Confession – I love waterfall trails more than trails with big views. There's just something about being in the woods, listening to gurgling streams and whooshing cascades.
Cabin Creek Trail can be accessed from the Massie Gap parking area, so you can have ponies and waterfalls without getting back in your car. It's a 1.5-mile loop that brings you through deep high-elevation woods, along a beautiful stream, and past several small waterfalls. These aren't knock-your-socks-off waterfalls, but they're very picturesque.
Twin Pinnacles Loop
Difficulty level: Easy
Length of trail: Around 2 miles, depending on where you start
Highlights: Far-reaching views
Something to consider: There is a steep scramble up to Big Pinnacle
Big Pinnacle and Little Pinnacle are two rock outcroppings providing gorgeous views after a fairly easy hike. You can start the loop behind the Visitor Center or from the Massie Gap parking area. This loop is 1.65 miles if you start at the Visitor Center and a little over 2 miles if you hike from Massie Gap.
Despite the names, Little Pinnacle is actually higher than Big Pinnacle, and the highest point in the park at 5,084 feet. This is also a pretty busy trail in the summer, so if you visit on a weekend be prepared to share the trail with a crowd of outdoor lovers.
Short Backpacking Trips in Grayson Highlands State Park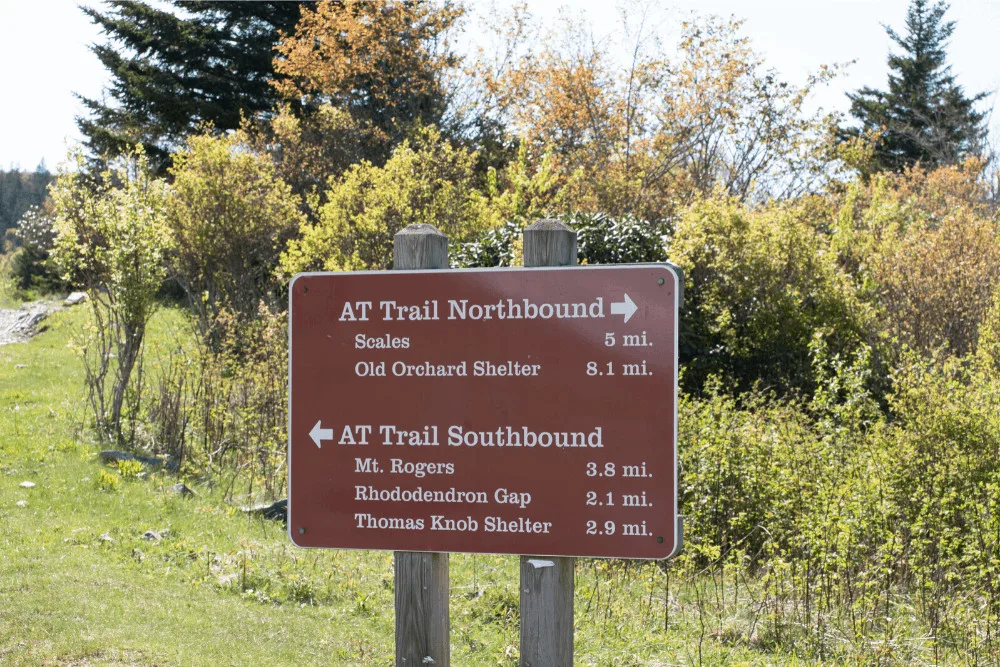 Full disclosure here. I have not backpacked in Grayson Highlands State Park, but it's such a gorgeous park with so many awesome trails, that I'm planning to do some longer trips soon. The following loop overview is based on my research and is as much for myself as it is for you.
This backpacking loop is perfect for beginners or families with kids and includes fabulous views, good camping, and the Grayson Highlands ponies. If you have backpacked through this area, please leave a comment and let me know your route. We're shooting for 2022 for a few weekend backpacking trips in the park.
Mount Rogers Backpacking Loop
I looked at several different websites detailing variations of this trip, and it seems like it totals between 15 and 22 miles, depending on where you start and finish. I think it would be best to park at the overnight backpacker lot in Grayson Highlands State Park to avoid potential break-ins, even if you have to pay a fee for the privilege.
Much of this backpacking loop is on the Appalachian Trail, and once you are outside of the state park boundaries, you will see plenty of places to set up camp, as well as several overnight shelters. The path takes you across the rocky Wilburn Ridge, where you'll likely encounter wild ponies, plus you'll be summiting Mount Rogers, Virginia's highest peak. It sounds like the perfect three-day, two-night trip!
If like me, you're interested in doing this loop, you'll need this tear-proof, waterproof map to the Mount Rogers High Country and Grayson Highlands from National Geographic.
For planning purposes, I used the following websites:
Grayson Highlands Camping at Hickory Ridge Campground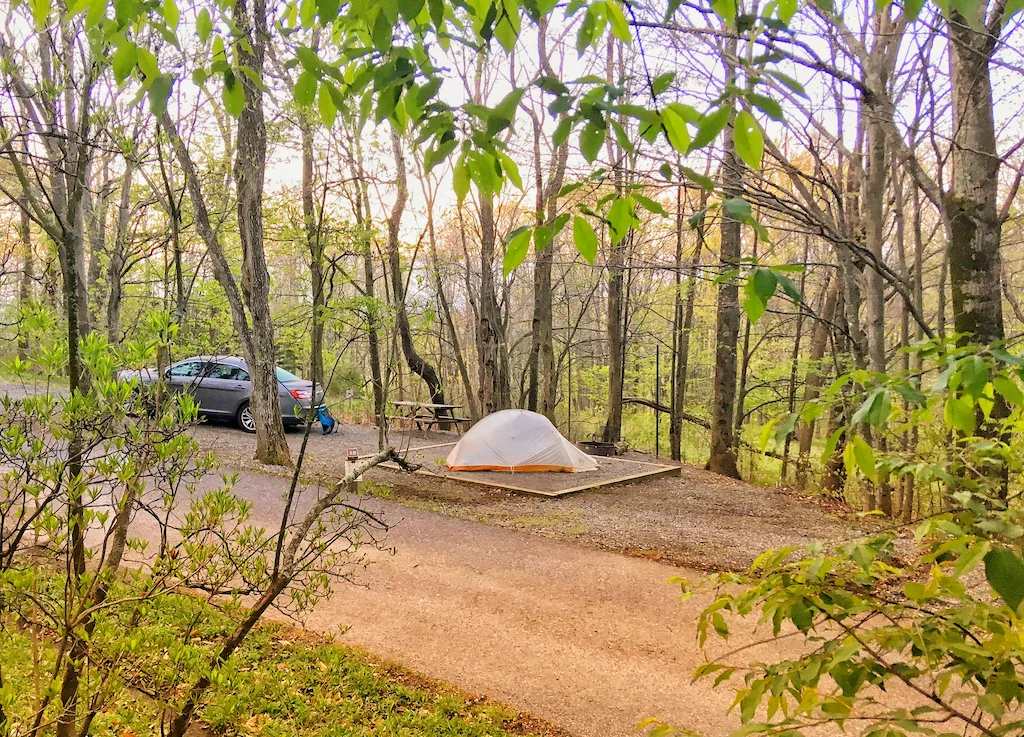 Grayson Highlands camping is the best way to explore all that the park has to offer.
Whether you're day hiking or backpacking, if you're traveling a distance to get to Grayson Highlands, you're going to want to pitch your tent for a night or two, and Hickory Ridge Campground is definitely the place to do it.
I had no problem getting a site for a few nights in May, but my nieces visited in June, and all of the campgrounds in Grayson Highlands were full. If you visit in the summer, or on spring and fall weekends, reservations are a must!
Hickory Ridge Campground includes primitive tent sites, RV/trailer sites with electric and water hookups, and four yurts, which must be reserved for two consecutive nights. A large bunkhouse, which sleeps 14, is also available. Hickory Ridge Campground has a small general store that sells basic provisions, ice, and firewood.
There is a separate area for horse camping in Grayson Highlands State Park with full electric hookups and either open or covered stalls. Eight miles of trails within the park are open to horses.
All of the campsites in Grayson Highlands come with a picnic table and grill and are suitable for a maximum of six people.
The campground is very clean and well-maintained, but the sites are close together and not very private. As I mentioned earlier, backcountry camping is allowed in the nearby national forest, and many backpackers park in the overnight parking lot before heading into the backcountry for a more primitive camping experience.
Grayson Highlands State Park is a beautiful spot for hiking and backpacking, with far-reaching views, bird-watching opportunities, and even blueberries to forage while in season. It's definitely one of Virginia's most lovely state parks.
Logistics and Resources for Visiting Grayson Highlands State Park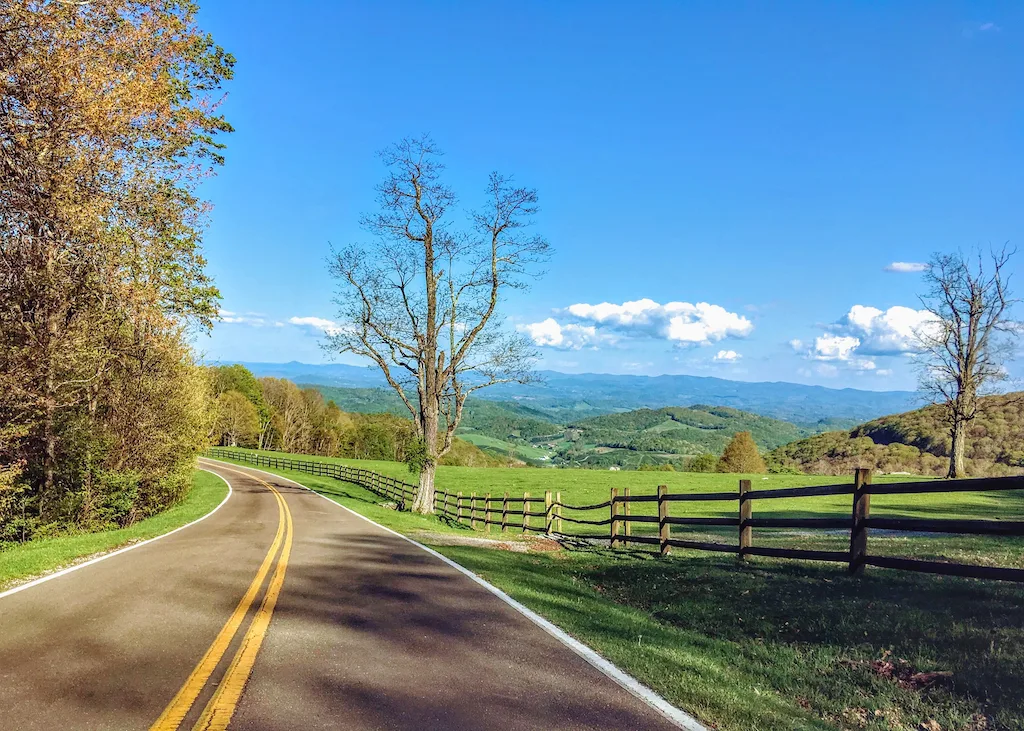 Grayson Highlands State Park is open from 8 am – 10 pm (unless you are camping, of course. The park provides year-round access to the Appalachian Trail and the Virginia Highlands Horse Trail. It is located in Mouth of Wilson, Virginia, about 2.5 hours from Roanoke, 1.5 hours from Winston-Salem, and 1.5 hours from Charlotte.
Admission is $7 per vehicle, $10 on the weekends from April to October, and $8 a night to park in the backpacking lot (reservations required). Standard campsites are $25 per night and $30 for non-residents. Prices increase to $35/$40 for sites with electric and water hookups. Visit the park's official website to learn more.
---
Our Grayson Highlands State Park adventure was part of a larger road trip through Virginia:
---
Follow us on social media!
Pin for Later?