Are you looking for the perfect adventure town for your next outdoor vacation? A town where you can paddle, bike, and hike during the day, and indulge in some fine eatin', strolling, and shopping as the sun goes down? Marietta, Ohio may not be on the top of your adventure-town bucket list right now, but it will be!
Marietta's unique location at the confluence of two beautiful rivers, along with its proximity to Ohio's largest national forest and the Ohio River Islands National Wildlife Refuge, makes it one of the most scenic Midwestern communities you're likely to come across.
Throw in more than 30 miles of in-town trails, nine covered bridges, and a totally walkable and bustling downtown, and you've got an adventure destination that will keep you moving. Here are some of our favorite things to do outside in Marietta, Ohio.
---
Planning a Midwestern Road Trip? We've got more posts about the area that you should check out:
---
Where is Marietta, Ohio?
Marietta is located in southeastern Ohio, 11 miles northeast of Parkersburg, West Virginia. Marietta was the first permanent settlement of the new United States in the Territory Northwest of the Ohio River. The area is part of the Appalachian Plateau, which consists of steep hills and valleys. The nearest major international airport is 125 miles away in Columbus, Ohio.
As I'm more partial to road trips, I should also mention that the back roads surrounding Marietta are incredibly scenic. If you're visiting Marietta, be sure to hop on the Covered Bridge Scenic Byway that runs from Marietta to Allendonia for 35 miles. There are several places along the route to hike and camp, or just enjoy the beauty of Ohio.
A Few Tips for Visiting Marietta, Ohio
If you're not camping in Wayne National Forest, be sure to stay downtown – There are a couple of great hotels that are right in the center of the walkable downtown. Marietta may not be a huge nightlife destination, but it is beautiful at night, and staying downtown will allow you to take in the sites. We recommend the Historic Lafayette Hotel, which has a ton of character, is supposedly haunted and will give you an awesome view of the river. You can even capture a great cityscape from the roof!
The best time to visit is spring and fall – Isn't that the case all over the place? Spring is beautiful in southeastern Ohio. Flowers are blooming, everyone is outside, and the weather is mild. Summer is hot but great for kayaking and canoeing. Fall is crisp and cool, and there's a pretty colorful foliage season. Visit in the winter if you've no other choice.
Visiting in the summer? Sunscreen and bug spray, especially if you're taking advantage of all the awesome outdoor activities.
Visiting in the spring? Bring a rain jacket.
Your First Stop: Marietta Adventure Company
Located on Second Street in the heart of downtown, Marietta Adventure Company can help you plan the perfect outdoor adventure on land or water. Whether you're looking for trail advice, rental equipment, or a full guided paddling tour, this is the place to go.
Ryan and Hallie, who own the shop, are passionate about the outdoors and their hometown. Both grew up in Marietta and moved away as young adults to explore the outdoors in other parts of the country. Marietta, and its opportunities for outdoor adventures, drew them back before too long. In 2011, they opened Marietta Adventure Company, and have been inspiring locals and visitors to explore the outdoors ever since.
Ryan is excited to see more and more people enjoying the rivers that surround Marietta on two sides – "We've seen a dramatic increase in the number of kayaks on the water since we opened in 2011. Prior to our opening, you would almost never see kayaks on the water and since our opening, kayaks are a regular fixture around Marietta. I think we really opened people's eyes to the opportunity."
We were lucky enough to embark on two guided tours with Marietta Adventure Company during our stay. Their passion and enthusiasm for the outdoors was definitely contagious.
Go Kayaking on the Ohio or Muskingum River
The overall consensus is that you can't visit Marietta, Ohio and not get out on either the Ohio or Muskingum Rivers. Marietta was founded on river travel and commerce, and today it attracts a huge number of recreational boaters and paddlers. Marietta Adventure Company provides kayak rentals and a shuttle service to get you out on the water quickly without worrying about transporting boats to and from your adventure. From short paddles, lasting one to two hours, to full day or overnight adventures, there's a stretch of river that is perfect for you in Marietta, Ohio.
If you want a more personalized adventure, I suggest checking out the guided tours. The folks at Marietta Adventure Company offer sunset (their most popular tour) and full moon paddles, as well as an awesome tour of the historic locks on the Muskingum River. You can also work with them to design your own tour to match your interests and level of expertise.
Our group took a short guided paddle starting from Indian Acres on the Muskingum River and ending across the Ohio River in West Virginia. One highlight was getting a fish-eye view of the stately W.P. Snyder Jr., a steam-powered, sternwheel towboat, which is the last of its kind, at least in the United States. For a more in-depth tour of this restored historical landmark, you have to visit the Ohio River Museum on Front Street.
After paddling under several bridges and a smiling, Midwestern sun for a couple of hours we were ready to stretch our legs. We beached the kayaks on Buckley Island, which is actually in West Virginia and learned a bit about its sordid past. The 3.5-mile long island is part of the Ohio River Islands National Wildlife Refuge. The island is completely forested and is an important habitat for migrating and nesting birds, as well as several species of endangered freshwater mussels.
That wasn't always the case, though. Since European settlers came to the area, Buckley Island has been home to an amusement park, a working farm, and a sanitarium known as the Pestilence House, where chronically ill and diseased patients were sent to recover, or more often, to die. We wandered around a bit and admired the views of Marietta, and then headed back out on the water.
Explore Marietta on Two Wheels
Marietta has a thoroughly walkable downtown, allowing visitors to take advantage of dining, lodging, shopping, and cultural attractions without getting into their car. If you want to explore a little farther afield and get a nice workout, I urge you to consider biking around town. Bring your own, or pop into Marietta Adventure Company and rent a bike and helmet for the day.
Our group was lucky enough to score a guided bike tour around town, thanks to Hallie, and while these aren't offered to the public just yet, there was lots of talk about adding a guided bike tour to the summer line-up. In the meantime, head over to Marietta's official website and check out their awesome self-guided walking tours, which can easily become bike tours. The self-guided tours are an awesome way to explore all kinds of hidden gems in Marietta. They've outlined a historic homes tour, churches, ancient earthworks, military relics, and covered bridges.
Here are some sites in downtown Marietta, Ohio that you won't want to miss:
Riverfront Bike Path

– Journey 3.5 miles on a paved path that hugs the Muskingum and Ohio Rivers. This is a thoroughly delightful ride with fabulous views of the city and the waterfront.

Ancient Earthworks and Mound Cemetery

– More than 2000 years ago, the Adena people built ceremonial roads, mounds, and burial grounds in what is now Marietta. Mound Cemetery was built by Marietta's founders around the original Adena burial mound. There are steps leading to the top of the mound, and the cemetery contains the graves of 37 Revolutionary War veterans.

Memorial to the Start Westward of the United States –

Located right of the bike path on the Muskingum River, this iconic local state commemorates the beginning of westward expansion in the United States. It was carved by

Gutzon Borglum, who later

went on to carve Mt. Rushmore. The statue was dedicated in 1938 by president Franklin D. Roosevelt.

Marietta College

– Your bike ride won't be complete unless you take a spin through the 90-acre campus of Marietta College. With tree-lined streets, and lovely brick buildings, and plenty of spots to relax with a picnic.
Hike or Bike Marietta's In-Town Trails
You don't have to stick to the roads to enjoy downtown Marietta. The Marietta City Trail Network includes 30 miles of groomed singletrack for all levels of mountain biking and hiking. According to Ryan, of Marietta Adventure Company, Marietta, Ohio has more miles of mountain biking and hiking trails than anywhere else in the state.
"We are the self-proclaimed mountain bike capital of Ohio. We have some short beginner/family friendly off-road trails at Gunlock Park and the Kroger Wetlands in addition to the River Trail which is a fairly level, paved path through downtown. We have kids bikes and kids trailers for bikes available to rent at the shop. From the shop, you can access the River Trail and are within a few blocks of many of the off-road trails around town."
Not sure where to begin? Check out the trail map to plan your route, or pop into Marietta Adventure Company for some advice.
Our short foray onto the Marietta trails took us on the Chimney Trail and Lookout Loop. After meandering in the woods for a while, I even forgot that we were within city limits. We spotted lots of wildflowers, a tiny bit of poison ivy, and a turtle trying to blend in with his surroundings. The views from the top of lookout loop were impressive, reminding us that, despite our wilderness surroundings, we're still in the city.
Discover Ohio's Largest National Forest
The Wayne National Forest covers more than a 250,000 acres in the Appalachian Foothills of Southeastern Ohio. Within this gem of a wilderness, you'll find 300 miles of trails, several covered bridges, five campgrounds, and an elaborate series of waterways for all kinds of recreational opportunities. There is seriously so much exploring to do in the Wayne National Forest, that I've got to plan a whole new adventure.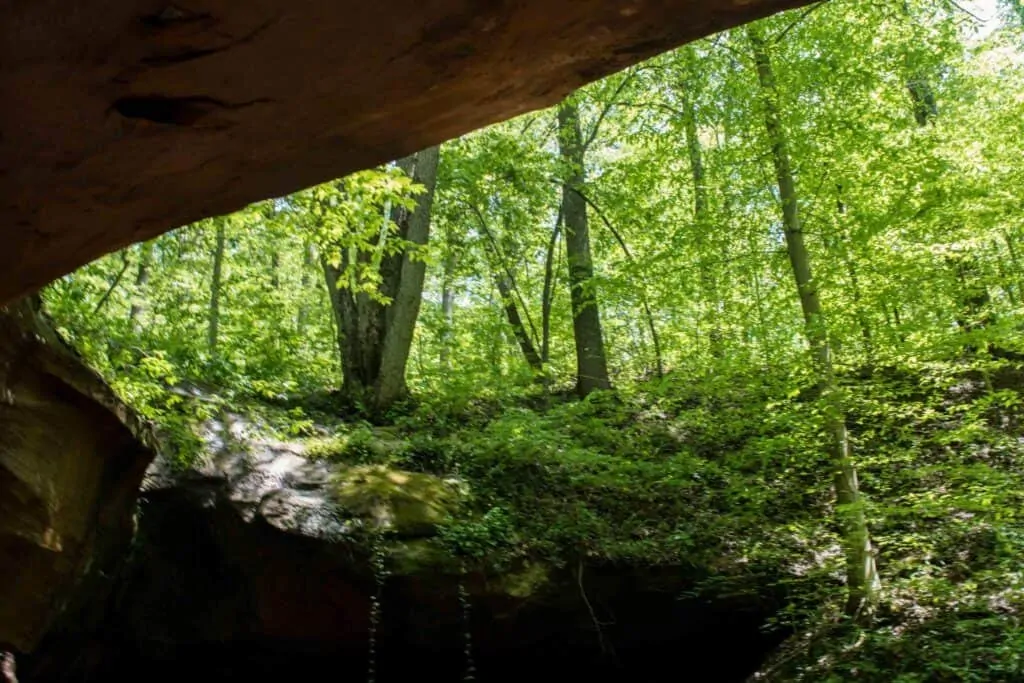 Our day hike did allow us to explore the so-called "Great Cave," which was more of an overhang, but still really cool, the Hune Covered Bridge, and the Irish Run Natural Bridge. Because we hiked on a warm day in May, it was awesome to be trekking through the forest, which was a good 5 degrees cooler than the open areas.
The natural bridge was particularly lovely – it's one of the largest natural bridges in Ohio, at 51 feet long and 39 feet high. You can walk across it (we didn't) or underneath it via a short, but steep trail. It was delightfully cooler under the bridge — a perfect picnic spot on a warm summer day. You can actually, continue on this trail for another nine miles, looping back to your car. We basically returned the way we came, which brought our hike to about 3 miles.
Resources for Visiting Marietta, Ohio
We were generously hosted by Visit Marietta, Ohio during our visit. Our opinions are entirely our own, and we aren't lying when we say that Marietta is a top-notch city for outdoor adventures!