After the iconic summer vacation, the winter holidays are the busiest season on America's highways.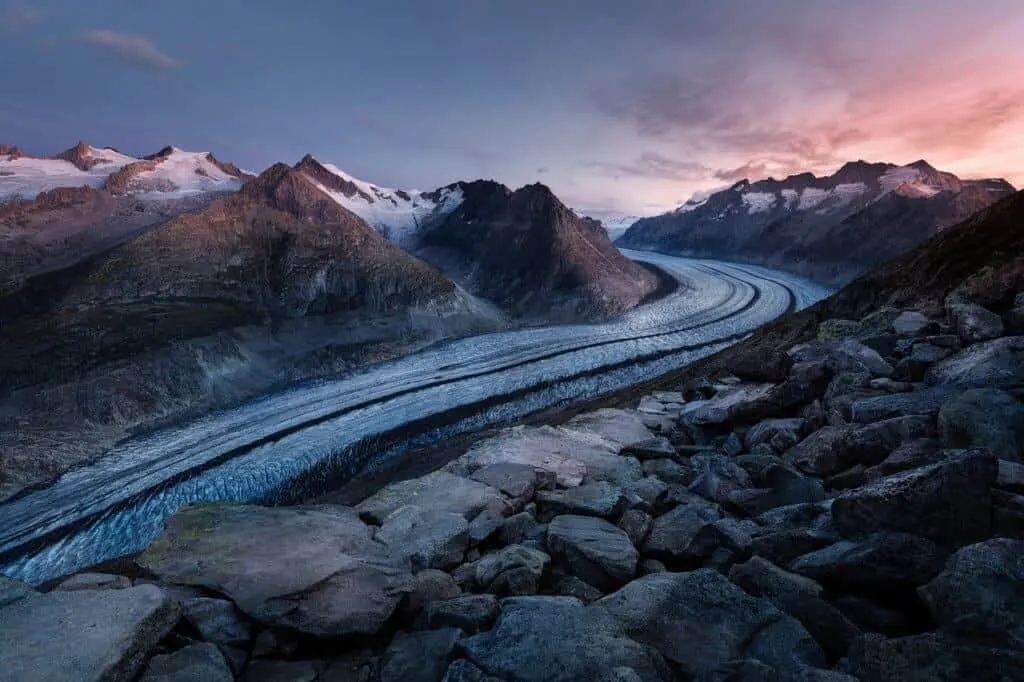 Whether you're headed to Grandma's for Christmas, or you've splurged on that family ski trip, a winter road trip can be a fun way to adventure America's network of highways and back roads.
To make your trip memorable for all the right reasons, we've got a few winter road trip tips that you should take to heart.
While we 100% recommend road trips in every season, we also have to acknowledge that winter road trips require a bit more planning than their summer counterparts.
For one thing, the allure of the open road is often tempered by fickle driving conditions, and outdoor adventures like roadside picnics are a bit more challenging to pull off.
There are, however, some benefits to winter travel and snowy back road adventures, provided you keep your family happy and your car in top form.
Roads and attractions are far less crowded in the winter, and hotels run their best sales after the holidays, provided you're not headed to a popular ski town.
If you are a budget traveler, winter really is the best time to embark on a road trip!
Here are some essential winter road trip tips, whether you're heading out on a weekend adventure or a cross-country excursion.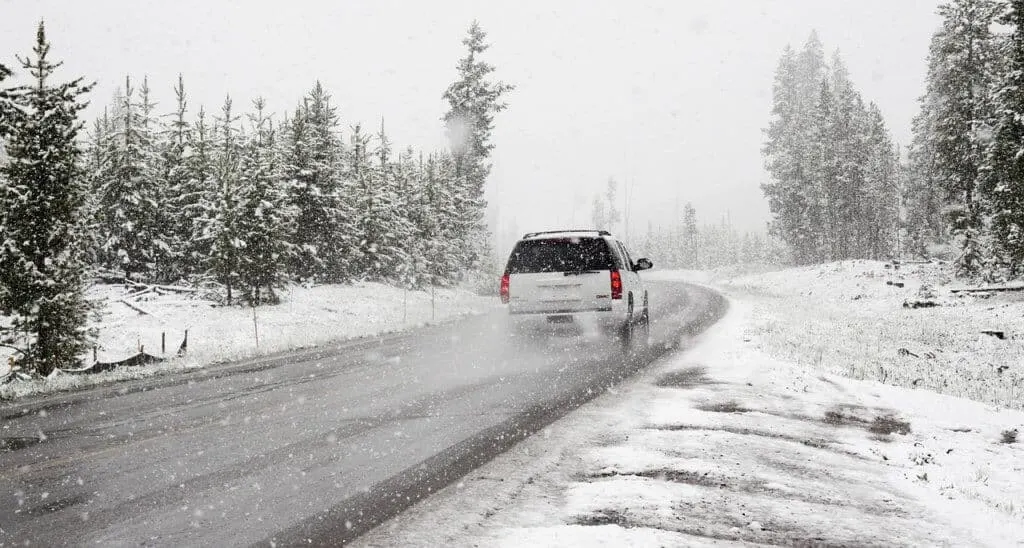 How to Prepare for a Winter Road Trip: Safety Tips
No matter what time of year you're driving, the most important thing is to drive safely and defensively. In winter, this means knowing how to drive in snowy and icy conditions, ensuring your car is equipped for winter travel, and packing appropriately for possible mishaps or emergencies.
The following tips will help you stay safe during your winter road trip.
Invest in a roadside assistance program. We use AAA and they've never let us down. We have used them to tow us out of ditches, fill our empty gas tank, and rescue us when our dog locked us out of the car in a fit of excitement.
If you think that your dog (or child) might do the same to you, remember to keep your cell phone on your person at all times.
AAA provides 24-hour emergency roadside assistance, discounts on many hotels throughout the US, and identity-theft protection. I believe the cost depends on where you live, but in Northern New England, we pay $49 a year, which includes five miles of free towing.
AAA Plus gives you 100 miles of free towing and is probably a better choice if you're traveling in really rural areas (back roads for the win!).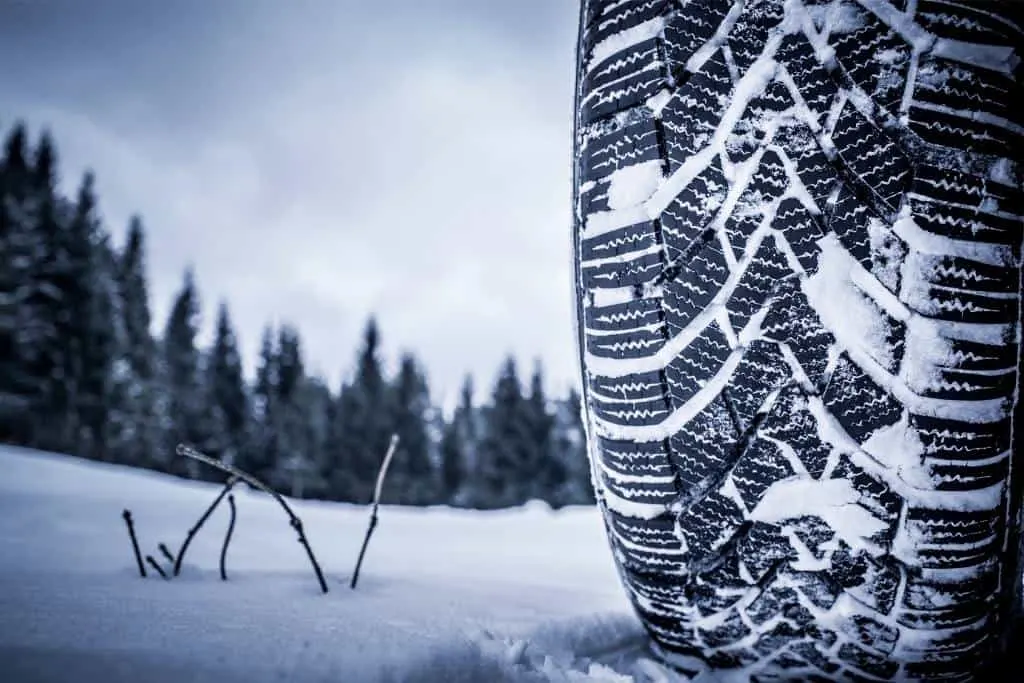 Snow tires are awesome! What a huge difference snow tires make for winter travel!
Be sure to check your tire pressure before your trip, especially if the temps have dropped. Air contracts as it cools, so your October tire pressure will have dropped significantly by December, and will even change from day to day if the temperature goes up and down while you're traveling.
Have your car serviced by your local mechanic. Before your winter road trip, you should have your battery, tires, wipers, hoses, and other systems checked to ensure your car can handle a long journey. Of course, you can do this yourself if you have the skills. If not, ask your mechanic to inspect your car before heading out on a winter road trip.
Check your car's fluids before each trip. While this isn't specific to winter road trips, there's a good chance you'll need that extra washer fluid if you're driving in slushy conditions. Check your oil, transmission fluid, and coolant levels too, and keep extra fluids in your car just in case.
Keep your gas tank at least ½ full. Keeping your tank full will prevent your gas lines from freezing up, and it will ensure that you have a reliable source of heat if you are ever stranded.
Dress Appropriately. Driving in full winter garb isn't much fun, but no matter what you wear when you're actually driving, be sure to have appropriate winter clothing with you.
And if you've got teenagers who think they know how to dress, remind them that they need boots, mittens, and warm coats for the journey. They may think they'll be all warm and cozy in the car for hours on end, but they won't be smiling if the car breaks down and they have to get out and walk.
Winter Road Trip Check List: Car Safety Essentials
Running into car trouble is no fun, and if you're on a winter road trip, it can put a huge damper on your adventure. Here's what to pack in your car's trunk, so that you're prepared in case of mishaps or emergencies:
Your AAA card and emergency phone numbers
Fully-inflated spare tire
Towels and rags for spills, dirty windows, etc.
Extra fluids – motor oil, washer fluid, antifreeze, and transmission fluid
Jumper cables
Emergency blankets
Emergency firestarter kit
Basic tools – include a hammer, wrenches, pliers, and screwdrivers
A flashlight with a fully-charged battery
A fully-charged cell phone and a car charger
A paper map detailing your trip
Extra food and drinking water
Warning light or flares in case you break down on the roadside
A road trip first aid kit
---
Winter Road Trip Tip: We've created a free printable winter car maintenance and safety checklist to help you plan your next adventure. Download this winter road trip checklist so you don't forget any of the winter road trip essentials!
---
You can find ready-to-go emergency car kits on Amazon that include many of the equipment listed above. These also make perfect gifts for road trippers and new drivers.
Winter Road Trip Driving Tips
Driving in the winter can be challenging, and over the past few years, even southern states have experienced icy roads and snowy conditions.
No matter where you're headed this winter, follow these winter driving tips to stay safe on the road.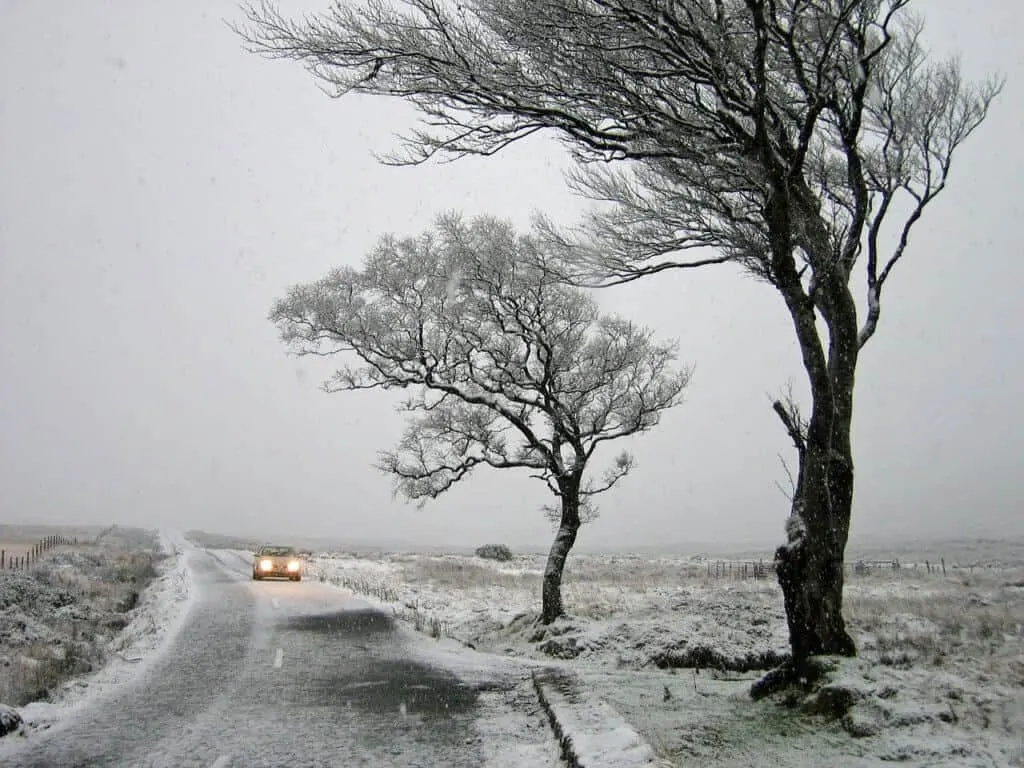 Accelerate and Decelerate very slowly. Sudden braking and acceleration could cause you to skid and lose control.
Increase the following distance between you and the car in front of you. Instead of the 3 or 4-second rule, shoot for keeping 8 to 10 seconds behind the car in front of you.
If you can, slow down instead of stopping. This is especially important on hills where you may slide backward if you try to start and stop again.
If you become stuck or snowbound, stay in your car. It makes it much easier for rescuers to find you, and your car provides shelter from the storm. Call your roadside assistance service, and if you don't have service, call the police. Tie a bright cloth on your door handle or your antennae as a sign of distress. If you are stranded at night, keep your dome light on so that others will see you.
Renting a Car for a Road Trip in the Winter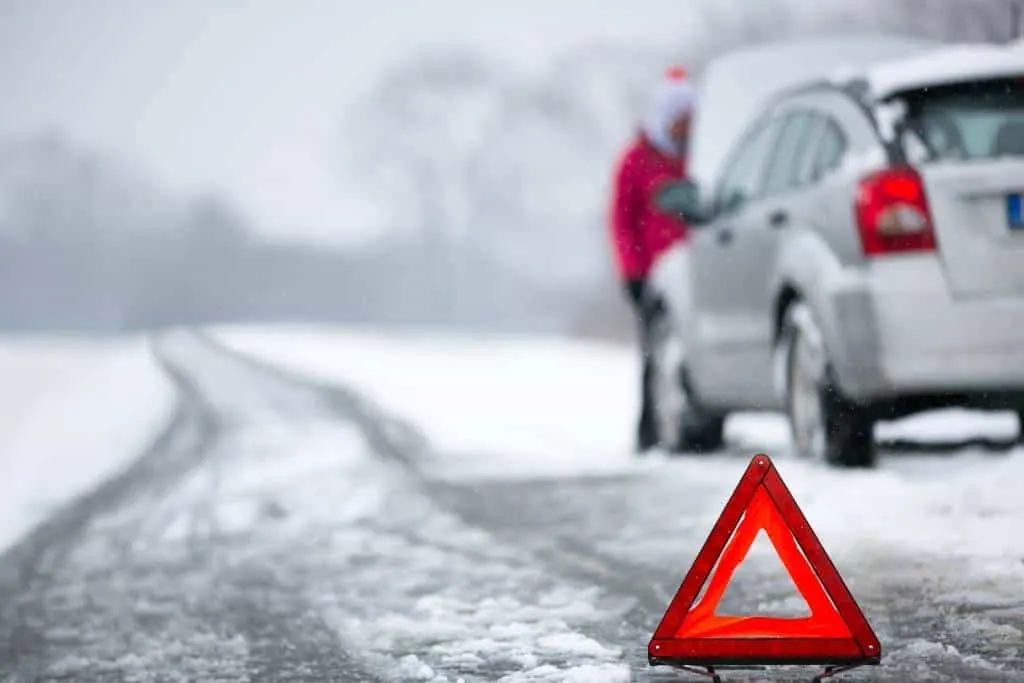 If you're planning a winter road trip and are worried about the reliability of your car, you may want to consider renting one. Renting a car for your winter road trip is ideal for those of you that drive small cars, older cars, or cars that don't perform well in winter conditions.
Rental cars are usually new or just a few years old, so the likelihood of maintenance problems is minimal. You will save wear and tear on your own car, and you'll have the opportunity to choose something that is a bit larger or more fun to drive.
If you know that you'll be driving in the snow and ice, rent an SUV or truck with four-wheel drive.
In the past, we've chosen in the past to fly to our winter holiday destination and drive a rental car home. Why? Because we always end up with more luggage than we anticipated!
Renting a car allows us to exchange gifts with our family without worrying about how much space they'll take up.
Winter Road Trip Tips for Staying Sane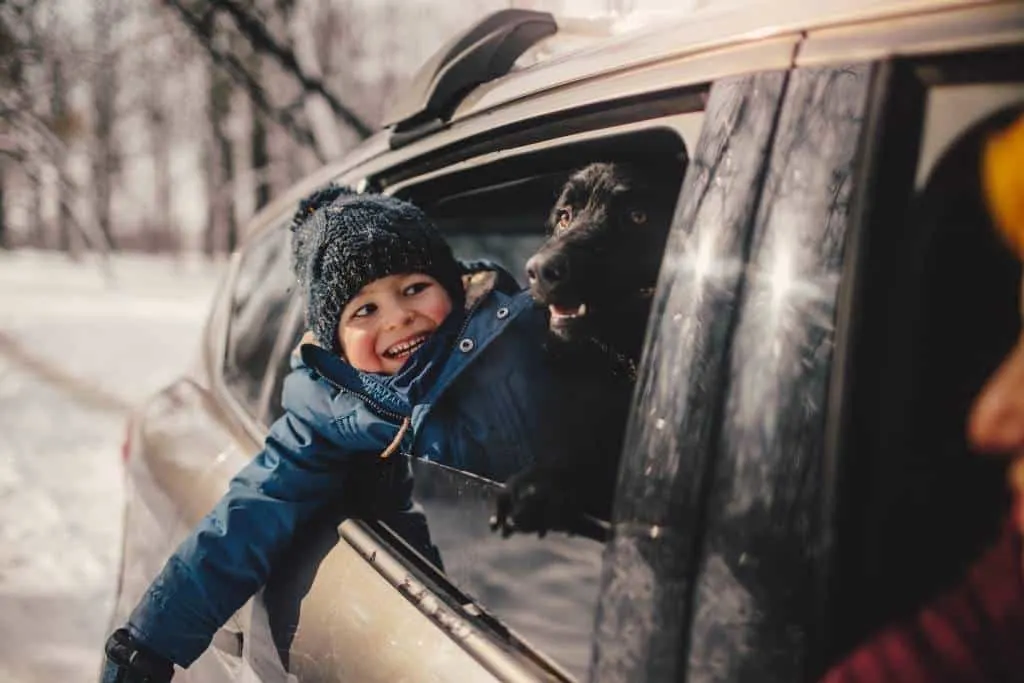 Winter road trips can be challenging, but we know you're up for it. Here are some tips for keeping everyone sane en route to your destination.
Audiobooks are such a lifesaver that it's worth repeating a hundred times. Here are our favorite books and stories for families read by awesome narrators. We also make use of our Audible subscription on just about every road trip.
Hot chocolate. Is it worth having to stop and pee? Absolutely. Fill a thermos with hot chocolate before you head out, and suddenly, your winter road trip becomes just a bit more magical. These Hydro Flask vacuum-insulated coffee mugs will keep your cocoa hot for four hours, and the locking lid prevents spills on your upholstery.
Pit Stops. In the summer, we tend to stop for picnics, hikes, and other outdoor adventures. We do that a bit in the winter too, but sometimes we have to settle for the mall – our favorite pit stop at night or in bad weather. You can still run around a bit in the mall (with some restraint), and the rarely-visited food court (at least for us), becomes a special treat.
Christmas Music? Maybe not — I can already hear my kids groaning at the thought. If I were part of a different family, I would recommend that everyone sing carols and get silly. Maybe that family is yours.
Have a rest-area snowball fight. Great fun if everyone has their mittens handy. This is a great way to blow off some steam, and it might be a reason to wish for snow before your trip.
Eat good food. Keep sugary snacks to a minimum unless you are prepared for a meltdown. Instead pack trail mix, cheese and crackers, beef jerky, and carrots with hummus. Here are some of our favorite road trip snacks for kids and adults.
Stay in a hotel with an indoor pool. We're a camping family, but winter road trip camping is beyond us, so when we have to, we splurge on a hotel with a pool (and a hot tub). Parents and teenagers always look forward to winter road trips that involve hotels. Find the best deals and read reviews on hotels with pools on TripAdvisor.
---
Those are our tried-and-true tips specific to the winter road trip. Want to read more secrets to family road trip success? Get your wanderlust on —
Got any winter road trip tips to add to our post? Leave a comment below to make our day. And if you found this post useful, we'd love it if you'd share it far and wide.
---
Connect with us on social media!
Pin for Later?