The winter road trip doesn't get near as much love as it deserves. Without open windows, sun-kissed hair, and outdoor picnics, road-tripping in cold weather can be a hard sell.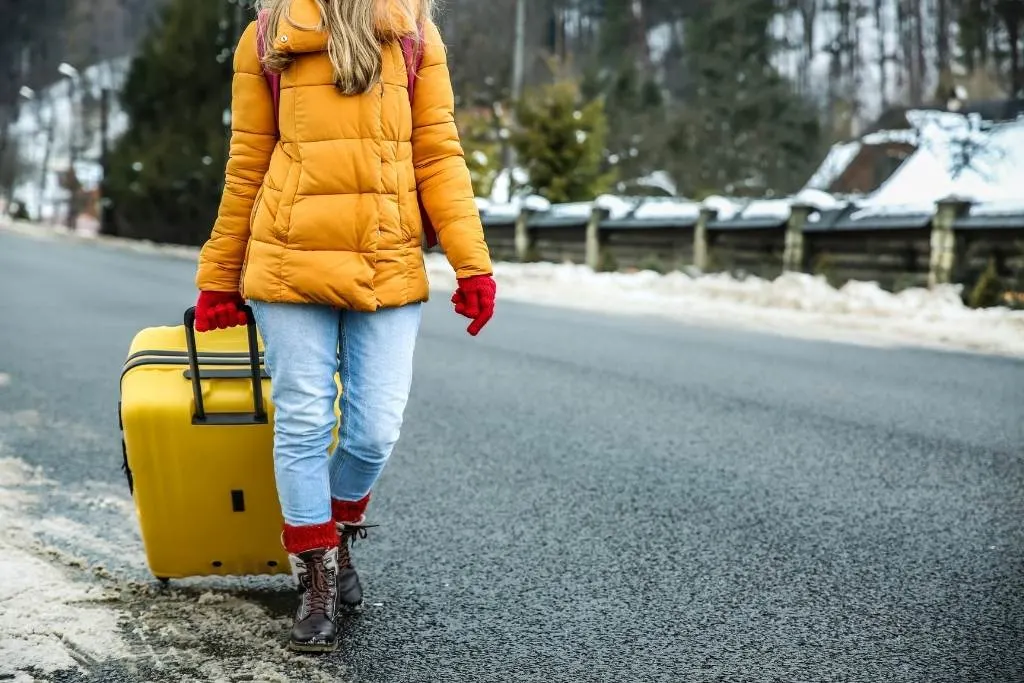 There are reasons to love a good winter vacation, though: fewer crowds, less traffic, and cute sweaters, just to name a few.
If your next road trip is taking you to northern latitudes, this is the post for you! We're sharing all of our favorite gear and clothing for winter travel (did I mention that we get snow seven months out of the year here in Vermont?).
You may be thinking that you have to pack an insane amount of clothing for winter travel, but I'm here to bust that myth.
We travel light in all seasons, and even though we're all about road-tripping, we can also fit a month's worth of winter clothing into a single carry-on. Check out our packing list for cold weather below to see the details.
The secret to packing light for winter travel? It's in the fabric! I'm going to introduce you to my favorite lightweight workhorses for staying warm in the winter: Merino wool, silk, and down. Onward!
Why Merino Wool and Winter are Such Good Friends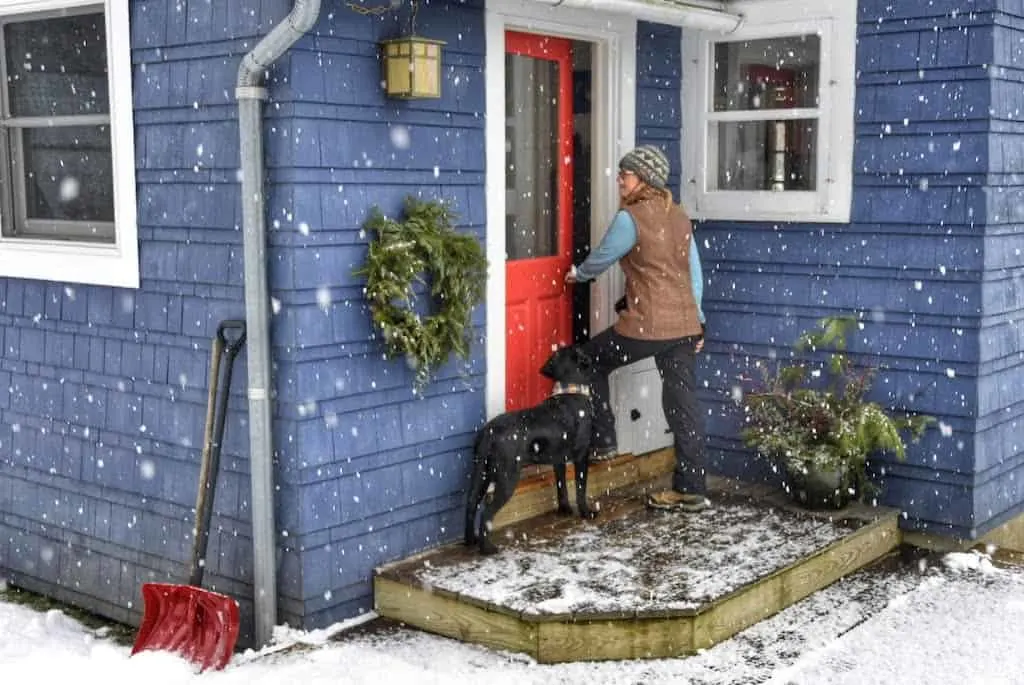 I know people who legitimately can't wear Merino wool because of allergies, and if you are one of these people, you have my deepest sympathies. If you don't think that you can wear Merino wool next to your skin because it will make you itch, I'd like to urge you to give it another go.
Today's Merino textiles have come a long way from the Army/Navy surplus goods that our grandparents (and husbands) wore.
Modern Merino wool base layers are so soft with none of the itch. They are machine washable and dryable and can be laundered with all of your other clothes. No shrinking, either.
Want more reasons to wear Merino wool?
The fabric helps regulate your body temperature, keeping you comfortable in both the summer and winter. Merino wool is naturally anti-microbial so you can wear it over and over without the stink that you get with synthetic fabrics.
Working up a winter sweat? Merino wicks moisture away from your body and then dries super fast so you stay toasty warm.
We've got a few Merino staples to recommend in our winter packing list below.
Supporting Roles go to Silk and Goose Down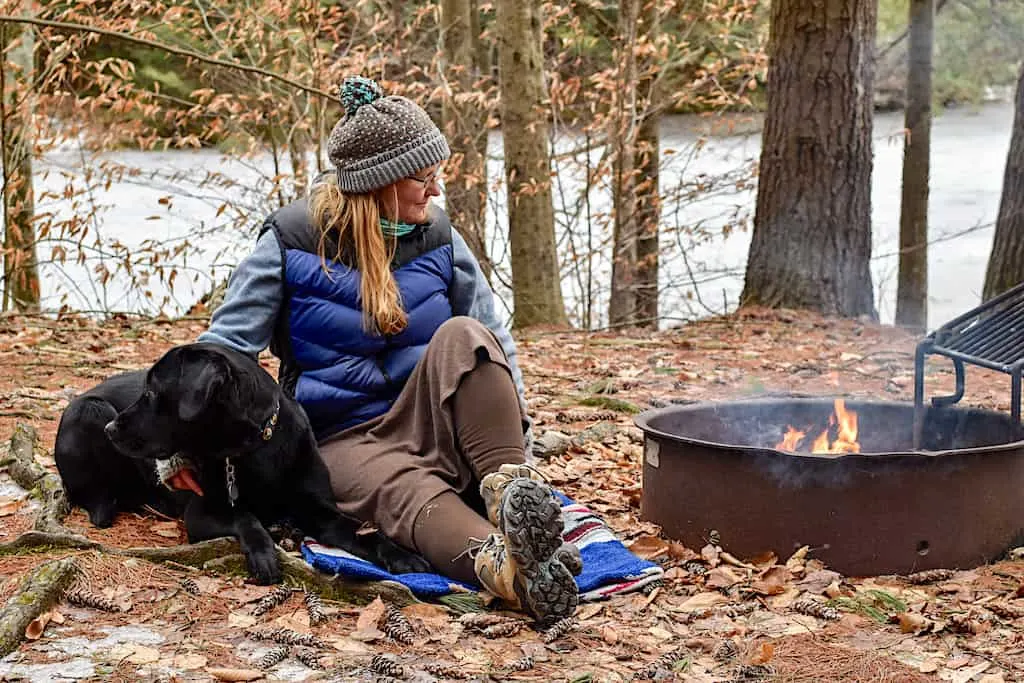 I will sing the praises of Merino wool all day long, but our household also swears by silk base layers when we need less bulk, and a packable down puffy coat for a warm layer that packs down smaller than a water bottle.
The softness of silk is legendary, and while it probably won't last as long as wool, it is supple and very easily worn under other layers – great for days that are cold, but not frigid.
And finally, you can't beat the insulating qualities and packability of a good down jacket.
Down is not feathers, but the fluffy undercoating that keeps waterfowl warm. The structure of down provides warmth by creating thousands of tiny air pockets.
Ounce for ounce, down is warmer than nearly all synthetic insulations, plus it retains its shape and loft well. The downside of down (ha!) is that it doesn't work well if it gets wet and it takes a long time to dry.
While silk and down both have some limitations, we love them for most winter adventures!
A Basic Clothes Packing List for Cold Weather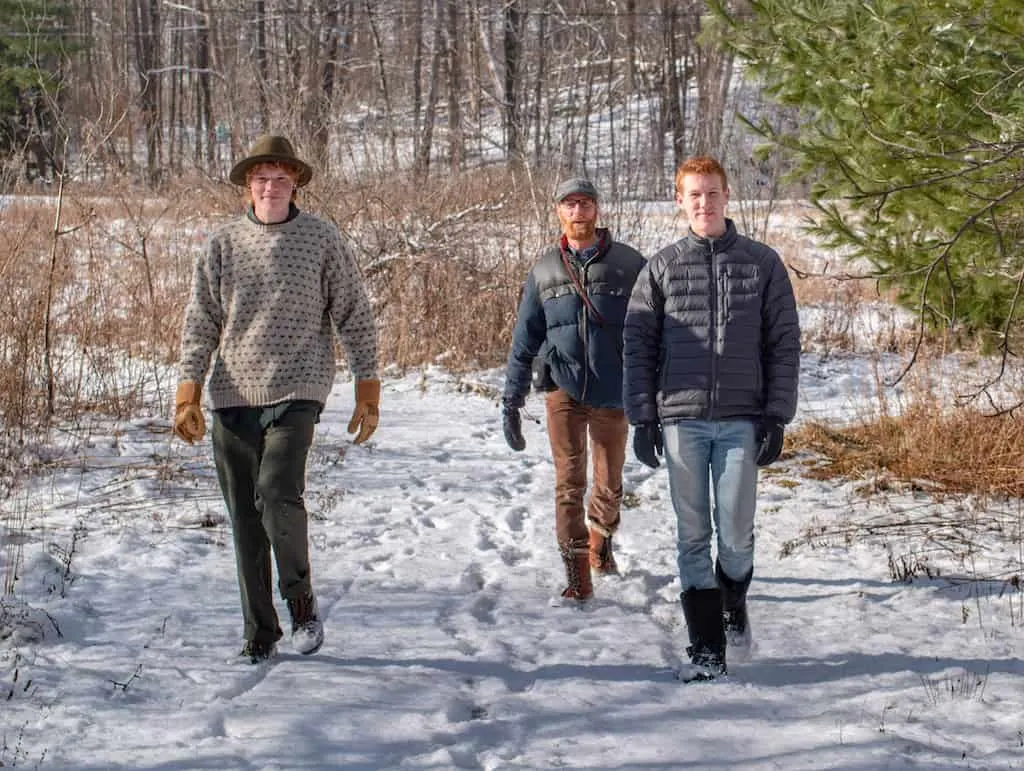 I hesitate to post packing lists because we are all so different.
What you do on your winter vacation will be different than what I do. So, here's my disclaimer: I am not a huge fan of new clothes or fashion trends, but I do love clothes that look and feel good.
We always plan our trips around outdoor adventures, but we also enjoy museums, shopping, and going out to dinner.
Here's a basic overview of what we pack for most winter road trips, whether we're heading out for a weekend or a couple of weeks. Remember that most people are only going to see your outer layer, so you don't need to pack a huge variety of clothing.
Two pairs of pants: Eric and I both pack a pair of jeans and a pair of hiking pants. I love these Halle II Pants by Prana because they are rugged enough for hiking but look decent enough for going out to dinner. They're also quite waterproof (unless it's really pouring(. Eric loves these stretchy twill jeans from Patagonia.

One pair of leggings/long johns: For women, they're called leggings. For men, they're the very unflattering long underwear. My new favorites are these incredibly soft leggings from Woolly Clothing Co.. I have a whole drawer full of leggings, and these are the only ones I wear in the winter. Eric has lightweight 100% silk long underwear from Terramar that he loves.

Two or three long-sleeve shirts: I'm all about these 100% Merino wool shirts from Woolly.
One t-shirt: A wool T-shirt is useful for lounging in front of a fireplace or as a base layer. I love the Ultralight Sunday Shirt from Woolly. They have wool T-shirts for men too!

2 light wool sweaters: Wool sweaters are versatile for winter travel. Dress them up with a scarf and you're good for a night on the town. Throw one over your base layer and you're good for a day outdoors. Here's a current favorite for women and a lambswool sweater for men.

A winter parka or heavy coat: A waterproof and windproof shell is as useful on the winter streets of Chicago as it is on the ski mountain. This is the winter workhorse of cold-weather road trips, and 100% worth the investment! This insulated jacket from Columbia is my current favorite, and here's a great windproof/waterproof jacket for men.

A packable down puffy jacket and vest: The down puffy is a critical piece of gear for three seasons. It's lightweight, packs down to the size of a water bottle, and is warm enough for most winter conditions. The down sweater from Patagonia comes in sizes for both men and women, plus we love the color variety! When the weather is mild, I wear a down vest with a wool sweater. While Patagonia gear is more expensive up front, their stuff lasts forever and they have a great warranty/return policy.

Flannel PJ bottoms: There's nothing like slipping into a pair of Vermont Flannel PJs after a day out in the cold.

One pair of insulated hiking boots: Everyone has their favorite hiking boots for winter, and mine are the Oboz Bridgers, which are great if you have a wide toe and narrow heel. I'm on my 3rd pair! They make insulated boots for men and women, and they're awesome!

Packable slippers: So important for shuffling around your hotel or vacation rental at night.

A wool hat or beanie: Make sure it covers your ears! Our favorite beanies are made by Turtle Fur because they are double-layered with wool on the outside and fleece on the inside.

Scarves: Scarves don't take up much room and can dress up an outfit nicely. I pack a few warm ones for winter travel but don't have a favorite brand.

Liner gloves and waterproof mittens: I prefer gloves to mittens, but on really cold days, gloves won't keep my hands warm. I pack these liner gloves from Smartwool that I wear on all but the coldest days. For those, I wear big waterproof mittens.

Wool socks: I will never recommend any wool socks other than Darn Tough Vermont. Why? They are soft, warm, and guaranteed unconditionally for life. I have never had to return a pair!

More Winter Road Trip Essentials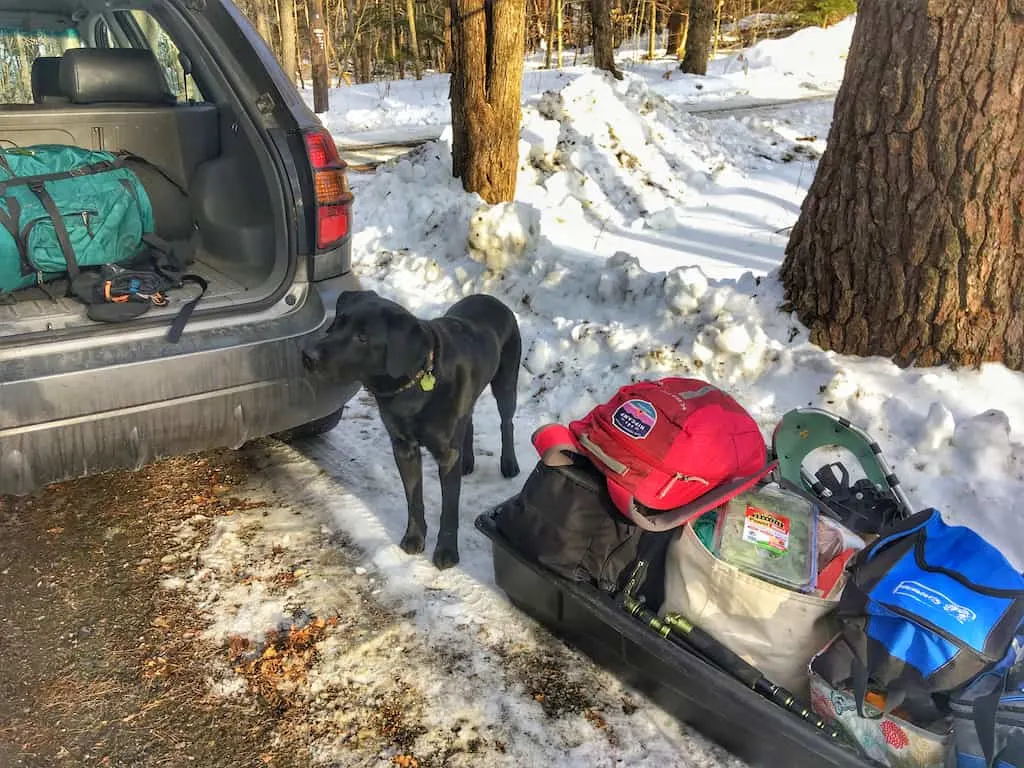 In addition to warm clothes, there are a few other things that we always pack for winter road trips. Some items offer peace of mind, and some are just for fun!
Hand warmers: Hand warmers are great for impromptu hikes when traveling. We always add them to everyone's Christmas stockings so that we have a stash for traveling.

A car blanket: There are lots of reasons to carry extra blankets in your car. If your car won't start or breaks down, extra blankets are crucial, but it's also nice when one person is always hot and the other is always cold! We love this affordable down puffy blanket from Get Out Gear. It packs up small and is perfect for summer picnics too!

A thermos for coffee or tea: A thermos is an essential piece of gear for winter travel. We take our Stanley thermos on winter road trips, hiking in the mountains, or when we are skiing/snowshoeing.

Microspikes and/or snowshoes: If winter hiking will be part of your road trip, you will want to pack Microspikes for icy conditions. These strap onto your boots and make winter walking much easier. Snowshoes aren't always necessary, but we always tuck them into our cargo box if we have room.

Winter safety items: Prepare for emergencies, and pack these safety essentials for winter travel in your car's trunk!

A day pack: Whether you're walking the streets of your favorite small town or heading into the hills, a day pack is essential. It's great for stuffing layers into, as well as your thermos of tea, your moisturizer, and your camera. A 20-liter daypack should work perfectly for all of your full-day adventures. We love Gregory Packs and Ethnotek bags!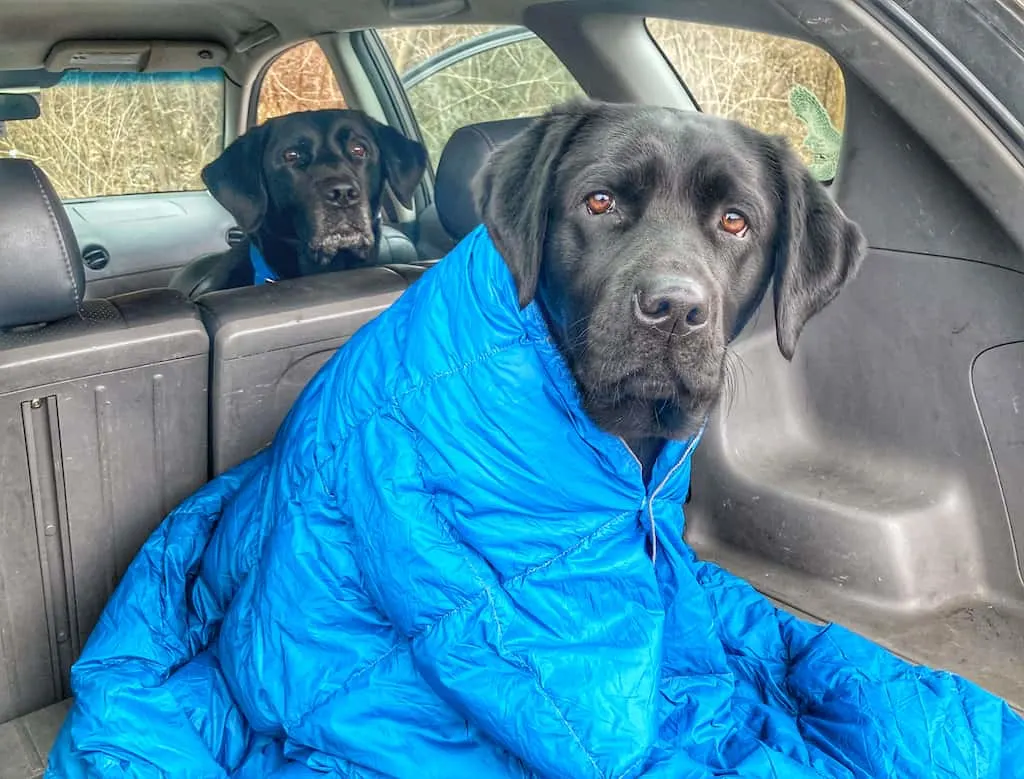 Pro Tip: Keep a blanket in your car so that you have it for road trips, impromptu picnics, and emergencies! This down puffy blanket from Get Out Gear is lightweight, affordable, and water-resistant, making it the perfect road trip blanket.
What would you add to our packing list for cold weather?
---
Follow us on social media for more outdoor inspiration!
Pin for Later?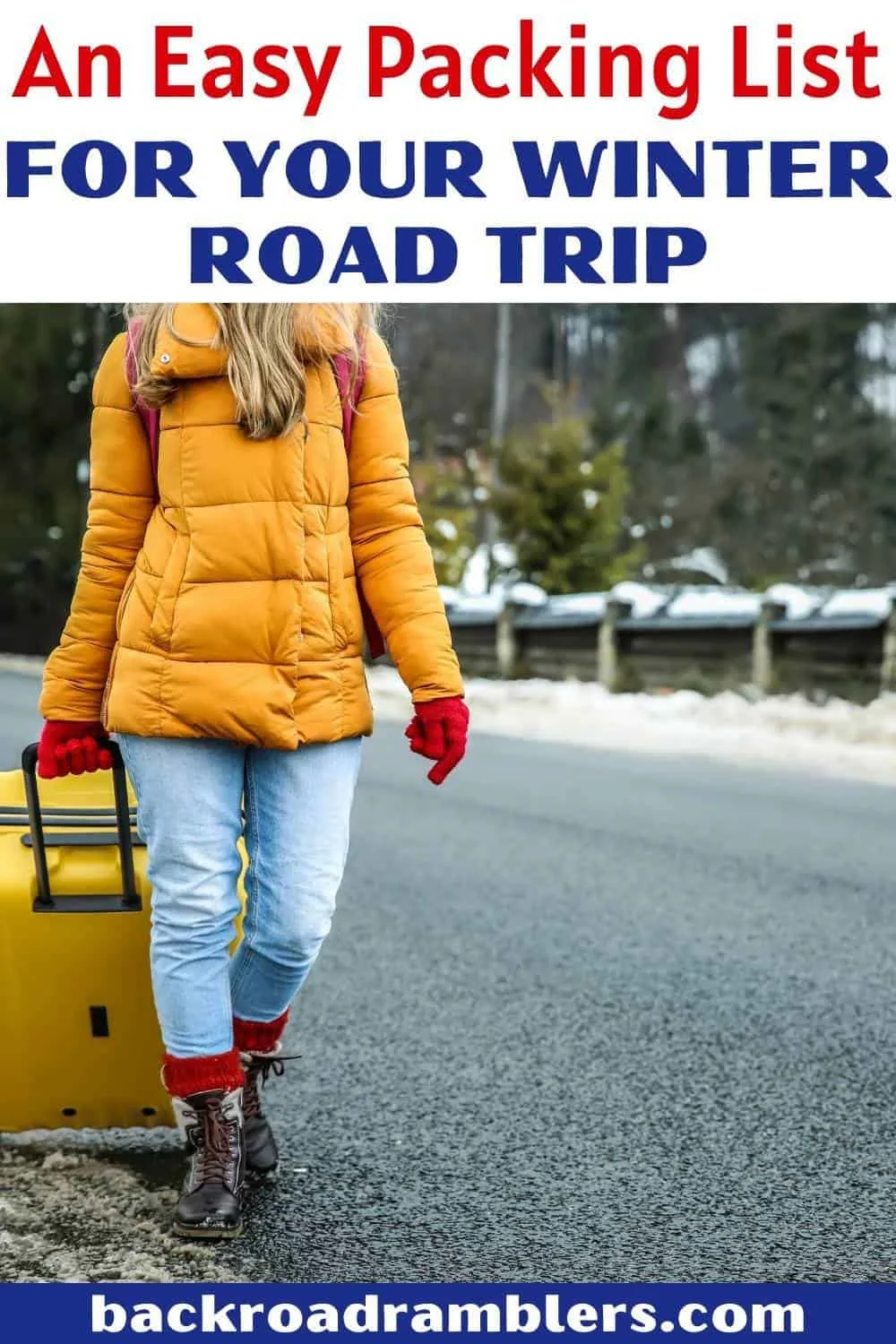 Our Favorite Resources for Road Trips and Outdoor Adventures

These are the resources we use to plan road trips, save money while traveling, and shop for outdoor gear.

Car Rentals: While we use our own car most often for road trips, we also enjoy flying into major airports and then renting a car for more regional road trips. We use Kayak to compare prices and find deals from dozens of car rental agencies at once.

Flights: We use Kayak to search out flight deals.
Money-saving tip: If you find yourself using the same airline repeatedly (we are huge Southwest fans), consider joining their loyalty program and getting an airline credit card. With our Southwest Rewards Visa, we earn a few free flights each year.

Hotels: When it comes to lodging, we seek out small boutique hotels or quirky roadside motels. First, we search for hotels on TripAdvisor so we can read reviews from other travelers. Then, we use Booking.com to make reservations (they have the best prices, plus a flexible cancelation policy).

Camping: Camping is one of our favorite things to do on long road trips. It allows us to explore the outdoors, cook our own food, and save money. We use They Dyrt Pro to find campsites and read reviews before booking on Recreation.gov or state park websites.

Glamping and Vacation Rentals: For weekend getaways and shorter vacations, we love glamping (check out our glamping resource guide). We book glamping properties through Tentrr, Hipcamp, and Airbnb. For cabins and vacation rentals, we like to use VRBO (they have fewer fees and a better cancelation policy than Airbnb).

Guides and Maps: If we are visiting a new region, we usually invest in a Moon Travel Guide for the area. We pass them on to friends and family after our trip. If we are planning on hiking, we also purchase a Falcon guide in the Best Easy Day Hikes series.

Outdoor Gear: We are REI Co-Op members. It cost us $20 for a lifetime membership, but we get a yearly dividend based on our purchases, plus great deals and coupons throughout the year. REI also has a great return policy.

Check out our complete guide for planning a road trip on a budget