Did you know that you can score a totally private camping spot perched on the banks of a wild river less than an hour from Portland, Maine? Not only that, but the campsite in question is really more like an awesome New England glamping site, and in our humble opinion, one of the best spots to get off the grid and go glamping in Maine.
We're so fortunate that Tentrr teamed up with Riverside Lavender Farm in Steep Falls, Maine to create a one-of-a-kind glamping experience that is totally private and unlike any overcrowded campground you'll find in Maine, or anywhere else for that matter.
Glamping in Maine during the summer months will allow you to take full advantage of the Saco River — swimming, kayaking, boating, and fishing, but I could definitely envision this spectacular location for a fall getaway as well. Here's everything you need to know to embark on a sublime Maine glamping trip at Riverside Lavender Farm, courtesy of Tentrr.
But First, What in the World is Tentrr?
So glad you asked! Tentrr is an online discovery platform that connects landowners (known as CampKeepers in the Tentrr world) with the camping community. Similar to Airbnb, campers use the Tentrr booking platform to find private, one-of-a-kind camping and glamping opportunities across the United States.
Tentrr campsites are carefully scouted and designed to offer plenty of privacy on unique and beautiful landscapes. The average Tentrr campsite sits on 12 acres, and many of them feature gorgeous views, access to water, or onsite hiking trails.
Tentrr's streamlined search, booking, and payment system for campsites, additional amenities "extras", and experiences allows campers to plan an incredible camping trip in minutes.
Why Choose a Tentrr Campsite over a Traditional Campground?
Tentrr Signature sites come completely set up with a canvas tent and innovative camping equipment — no need to pack your car full of gear or spend time pitching a tent. Each Signature site includes an elevated wood platform; canvas tent; queen-size cot or bunk bed; woodstove; storage chests; Adirondack chairs; a CampBox (a sleek dry-storage box, food preparation station, table, and benches); firepit, grill, Tentrr loo; sun shower.
The other reason you may want to choose a Tentrr campsite over a campground is that you will escape the crowds that plague most campgrounds in the summer. Tentrr sites are totally secluded to help you find privacy and a deeper connection with nature. Want to dance around your campfire naked? Embark on a romantic getaway with the one you love? Totally unplug from the rest of the world? Do it with Tentrr!
Maine Glamping at Riverside Lavender Farm
Our Maine glamping trip to Riverside Lavender Farm was our first time checking out a Tentrr site. This secluded campsite is located behind the farm, tucked in the woods on the banks of the Saco River in Steep Falls, Maine.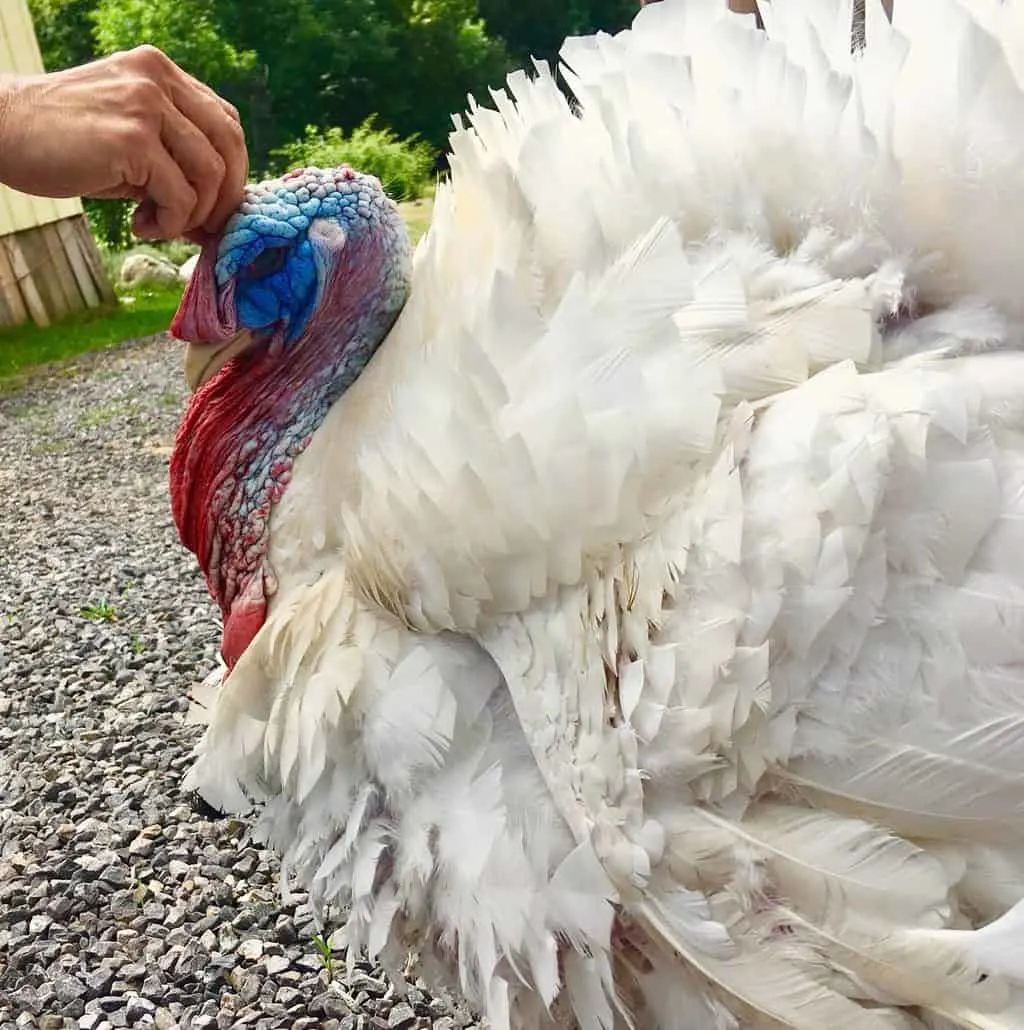 We arrived at our Saco River glamping spot late in the day and were greeted by Tammy, resident farmer and Tentrr CampKeeper, and Nutty, the turkey. Nutty is a pet turkey, and he loves to strut his stuff around the farm, so be on the lookout for him. Tammy walked us down to the Saco River past the lavender fields and we followed behind in the car.
We parked our little Pontiac at the edge of the farm field and walked a few yards to the gorgeous Tentrr campsite on the Saco River. We spent the next 24 hours kayaking, swimming, and relaxing by our riverside campfire. The best part? All we packed for our glamping trip were our clothes, food, and sense of adventure.
It was everything we hoped that glamping in Maine would be!
What You Should Know About Glamping at Riverside Lavender Farm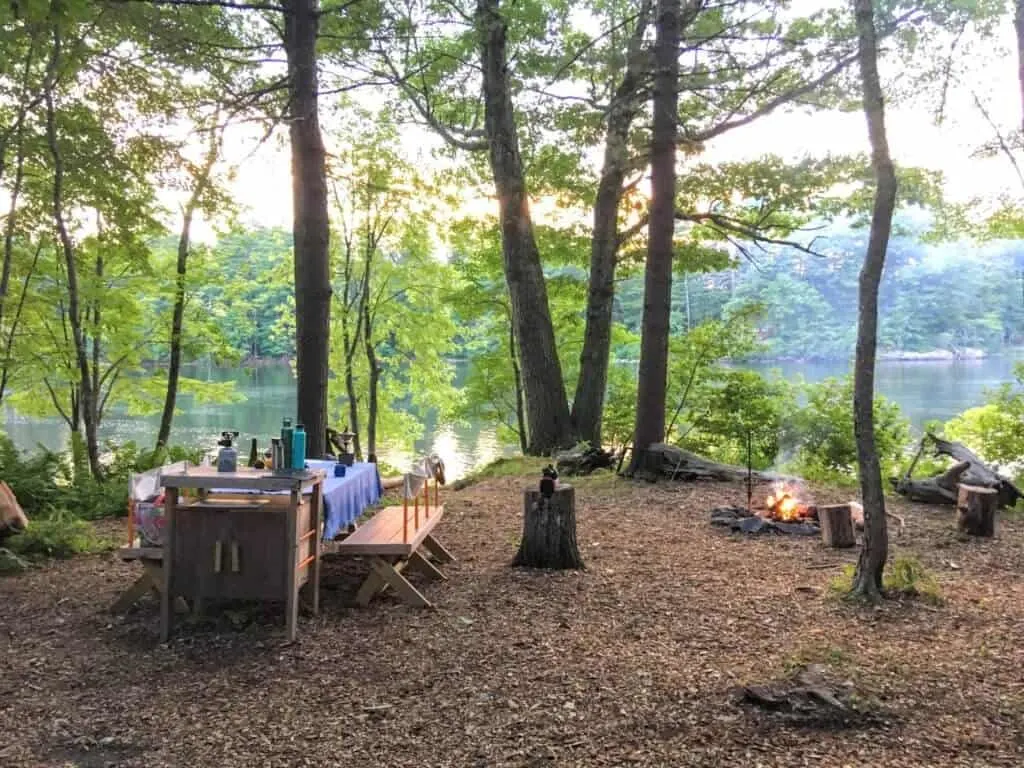 Want to create your own Maine glamping experience at Riverside Lavender Farm? Here are a few things you should know before making your reservation and heading to Steep Falls.
You will have as much privacy as you want – Your riverside campsite is for you and your guests, and you will not be bothered. You are welcome to wander around the farm and common spaces, and if you have questions, Tammy is always available via phone or text.

This Tentrr campsite is dog-friendly – As long as your dog won't bother the turkeys and chickens who roam the farm, they are welcome. Your Tentrr site even includes a dog bed and a life jacket for dogs.

There are kayaks and canoes available – Camping in the summer? Bring your drybag and bathing suit because there are several kayaks and a canoe that can be used as part of your Maine glamping package. The Saco River near Riverside Lavender Farm is pretty slow-moving, and we recommend paddling downstream for the best views and swimming. Supposedly the fishing is awesome as well.

Firewood is provided. You should bring your own lamp oil for the tiki torches and charcoal if you're going to use the grill, but you'll have plenty of firewood to use during your stay.
What is Provided at Your Tentrr Campsite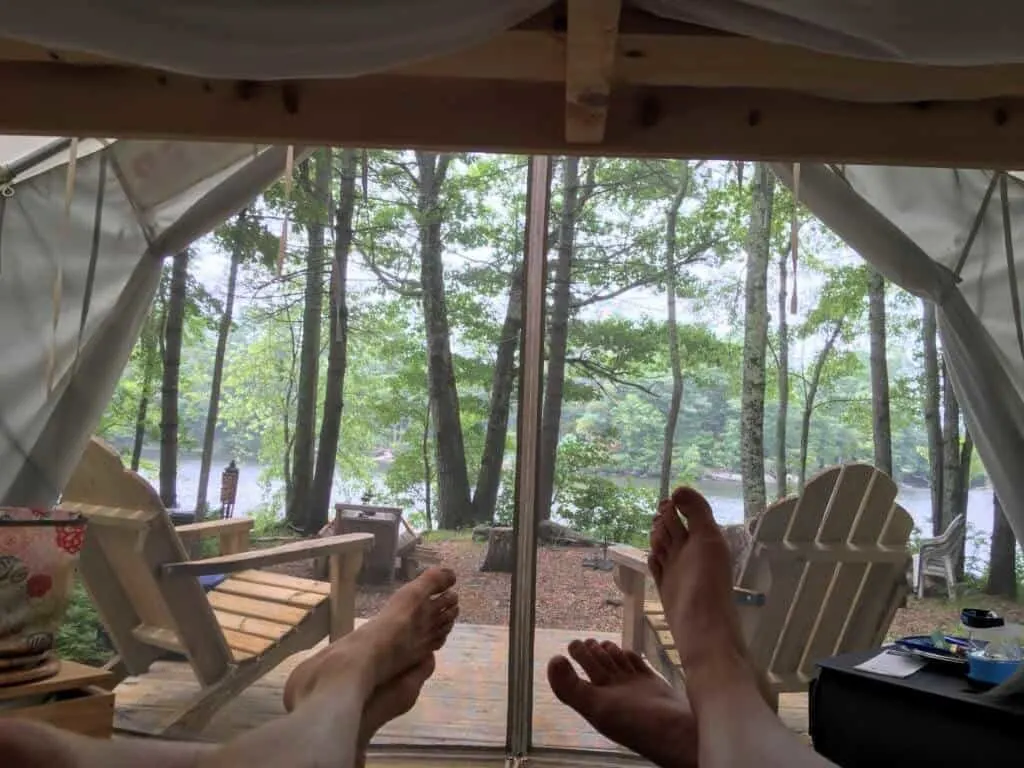 No need to pack your trunk full of camping supplies for this trip, as most of what you'll need is provided for you. Here's a list of everything you'll find at this Tentrr campsite:
An elevated wooden platform with a canvas tent
Queen-size bunk beds – real beds, not air mattresses
A wood stove inside the tent for chilly nights
2 storage chests with extra linens
2 Adirondack chairs
ACampBox with a sleek dry-storage box, food preparation station, table, and benches
Firepit with grill
Tentrr loo – Your toilet is located inside your canvas tent
Sun shower – plus extra shampoo
A container with 5 gallons of drinking water
A lined trash can
Plates, bowls, silverware, and mugs
A charcoal grill – bring your own charcoal
Paper Towels, Clorox wipes, dish soap, and sponges for cleaning up messes
Linens for your bed – sheets, pillows, a comforter and extra blankets.
Corn hole
Firewood
Outdoor Adventures Near Riverside Lavender Farm in Maine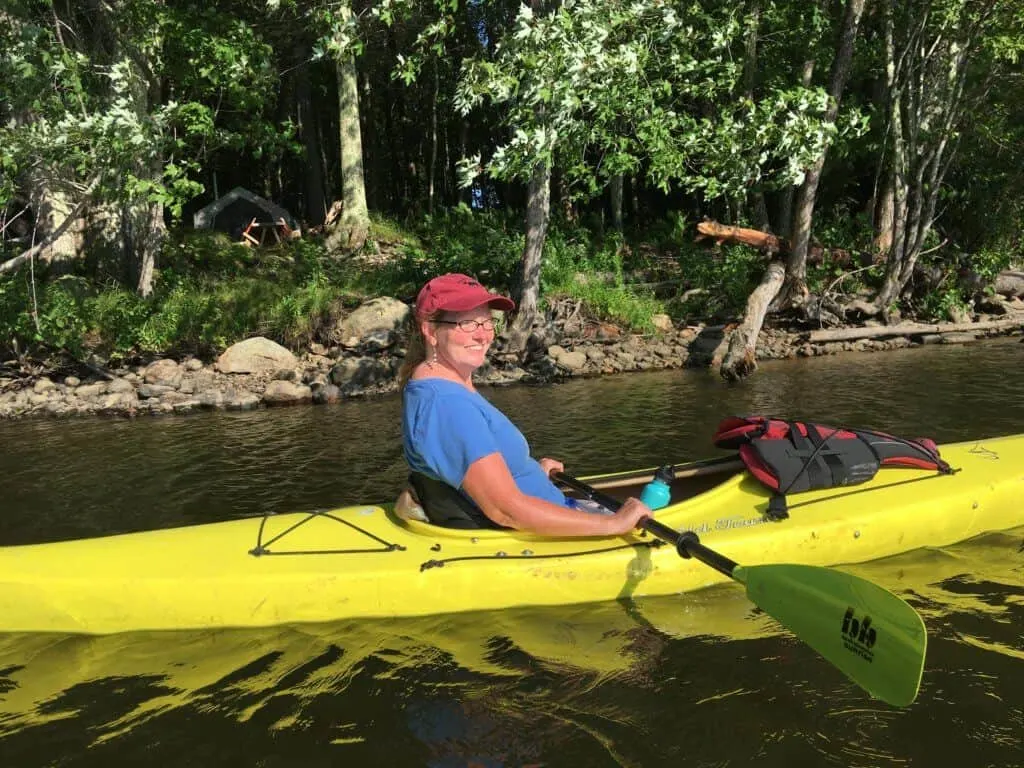 Let's just pretend for a minute that hanging out on a secluded stretch of river is not enough excitement for you and you want to explore farther afield. This part of Maine has lots of outdoor adventures not far from your Tentrr campsite. Here are a few suggestions:
Sebago Lake – Maine's second-largest lake is also the deepest lake in New England. Lower Bay and the southern end of the lake are just 8 miles from Riverside Lavender Farm. You can hike a portion of the Sebago to the Sea Trail, rent kayaks, or swim in the icy waters.
Randall Orchards – Visit in late summer to pick apples, or anytime to hike the Randall Orchard Trail, which is an easy 1.5-mile loop around the orchard and surrounding forest.
Great Falls – Also known as the Hiram Falls dam, these are the closest falls to Riverside Lavender Farm on the Saco River (14.2 miles). The water rages most of the year, but it's a great spot to practice your waterfall photography, and the dam is pretty impressive.
What to Pack for Your Maine Glamping Trip in the Summer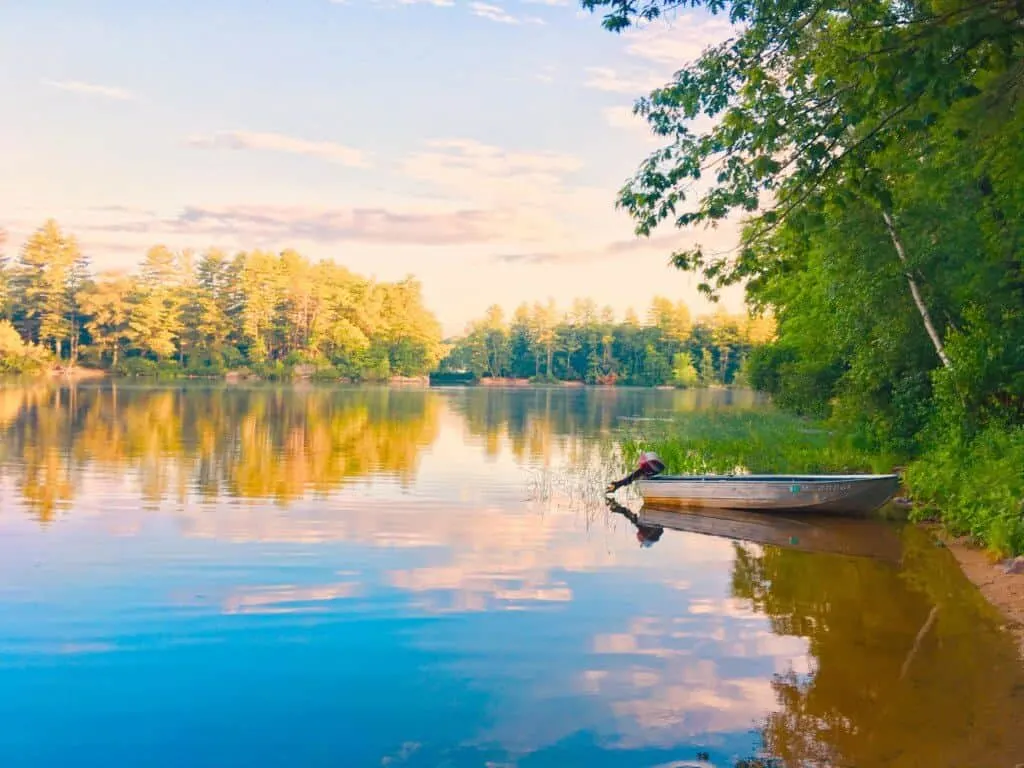 I was only partly kidding when I said you only needed to pack your clothes and your food. Those are definitely the bare necessities for a successful and fun Maine glamping experience, but of course, you can always pack some extras to make your stay more enjoyable. Yes, you can leave most of your camping gear at home. Here's what to pack for your Maine glamping trip to Riverside Lavender Farm in the summer.
Clothes for the Outdoors
Shorts
Tshirts
Lightweight hiking pants
Underwear
Wool socks
Hiking boots
Water shoes or sandals
Swimsuit
Quick-dry towel
Fleece or wool sweater
Rain Jacket
Pajamas
Camping Gear and Supplies
Headlamps
Lantern or candles for the table
Tablecloth
Small backpacking stove (so you don't have to light the grill or start a fire for your morning coffee)
Drybag for kayaking
Water bottles
Lighter/matches
Newspaper for starting your fire
Corkscrew
Pocket Knife
Personal Items
Toothbrush and toothpaste
Soap
Bug spray
Sunscreen
Sunglasses
Deodorant
Deck of cards
Musical instruments
Waterproof Bluetooth speaker
Camera
A good book
You can book your Maine glamping adventure at Riverside Lavender Farm on Tentrr and read more about Riverside Lavender Farm on their website.
---
Want to read more about Camping and Glamping in New England? Check out these posts:
---
If you found this post useful, save it for later on Pinterest: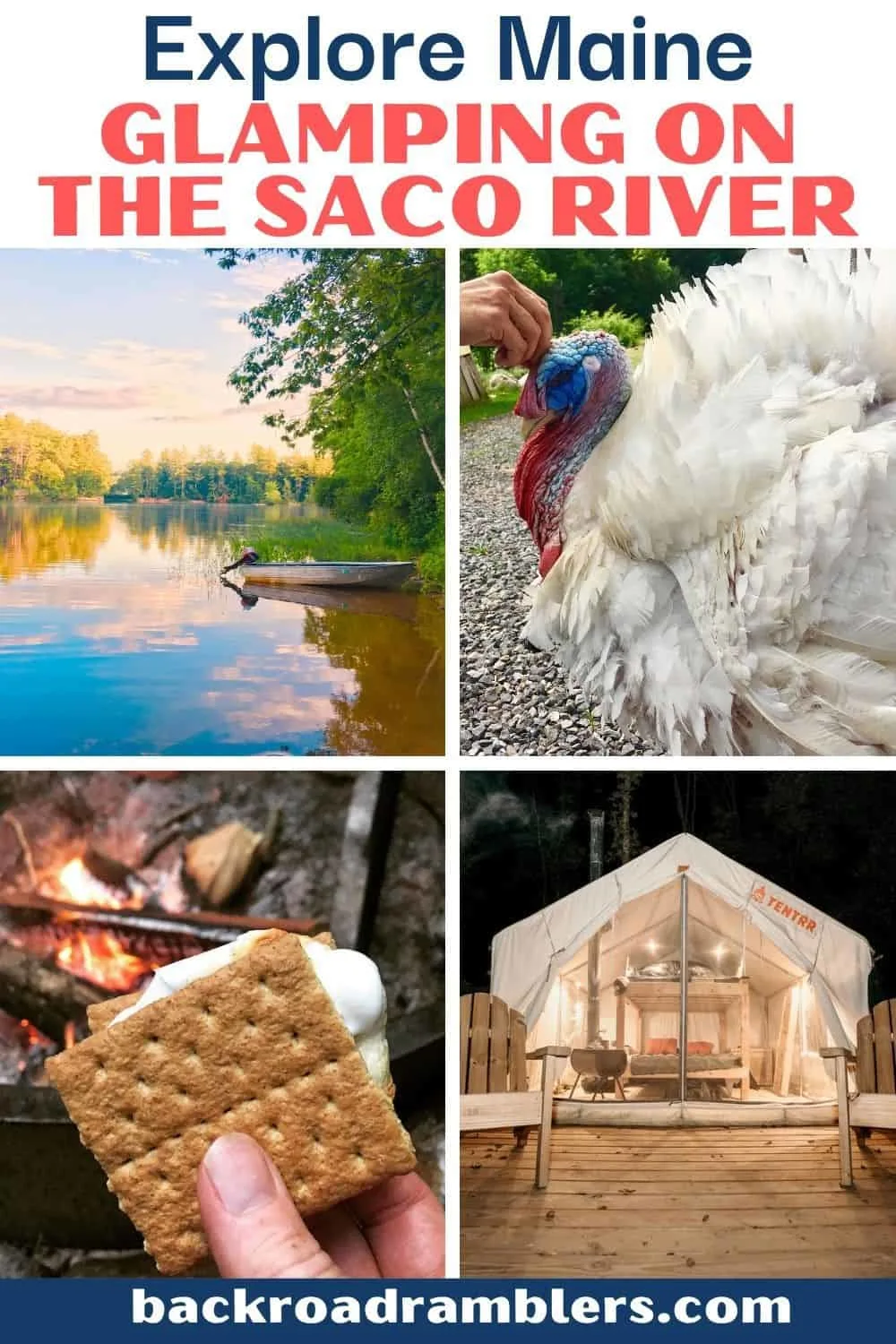 Our Favorite Resources for Road Trips and Outdoor Adventures

These are the resources we use to plan road trips, save money while traveling, and shop for outdoor gear.

Car Rentals: While we use our own car most often for road trips, we also enjoy flying into major airports and then renting a car for more regional road trips. We use Kayak to compare prices and find deals from dozens of car rental agencies at once.

Flights: We use Kayak to search out flight deals.
Money-saving tip: If you find yourself using the same airline repeatedly (we are huge Southwest fans), consider joining their loyalty program and getting an airline credit card. With our Southwest Rewards Visa, we earn a few free flights each year.

Hotels: When it comes to lodging, we seek out small boutique hotels or quirky roadside motels. First, we search for hotels on TripAdvisor so we can read reviews from other travelers. Then, we use Booking.com to make reservations (they have the best prices, plus a flexible cancelation policy).

Camping: Camping is one of our favorite things to do on long road trips. It allows us to explore the outdoors, cook our own food, and save money. We use They Dyrt Pro to find campsites and read reviews before booking on Recreation.gov or state park websites.

Glamping and Vacation Rentals: For weekend getaways and shorter vacations, we love glamping (check out our glamping resource guide). We book glamping properties through Tentrr, Hipcamp, and Airbnb. For cabins and vacation rentals, we like to use VRBO (they have fewer fees and a better cancelation policy than Airbnb).

Guides and Maps: If we are visiting a new region, we usually invest in a Moon Travel Guide for the area. We pass them on to friends and family after our trip. If we are planning on hiking, we also purchase a Falcon guide in the Best Easy Day Hikes series.

Outdoor Gear: We are REI Co-Op members. It cost us $20 for a lifetime membership, but we get a yearly dividend based on our purchases, plus great deals and coupons throughout the year. REI also has a great return policy.

Check out our complete guide for planning a road trip on a budget