Are you planning a pilgrimage to visit the tallest trees in the world? The old-growth redwoods on the California coast are kings and queens of the forest, and if you're traveling north through California, your last chance to camp in a primeval forest of ancient redwoods is nine miles east of Crescent City in Jedediah Smith Redwoods State Park.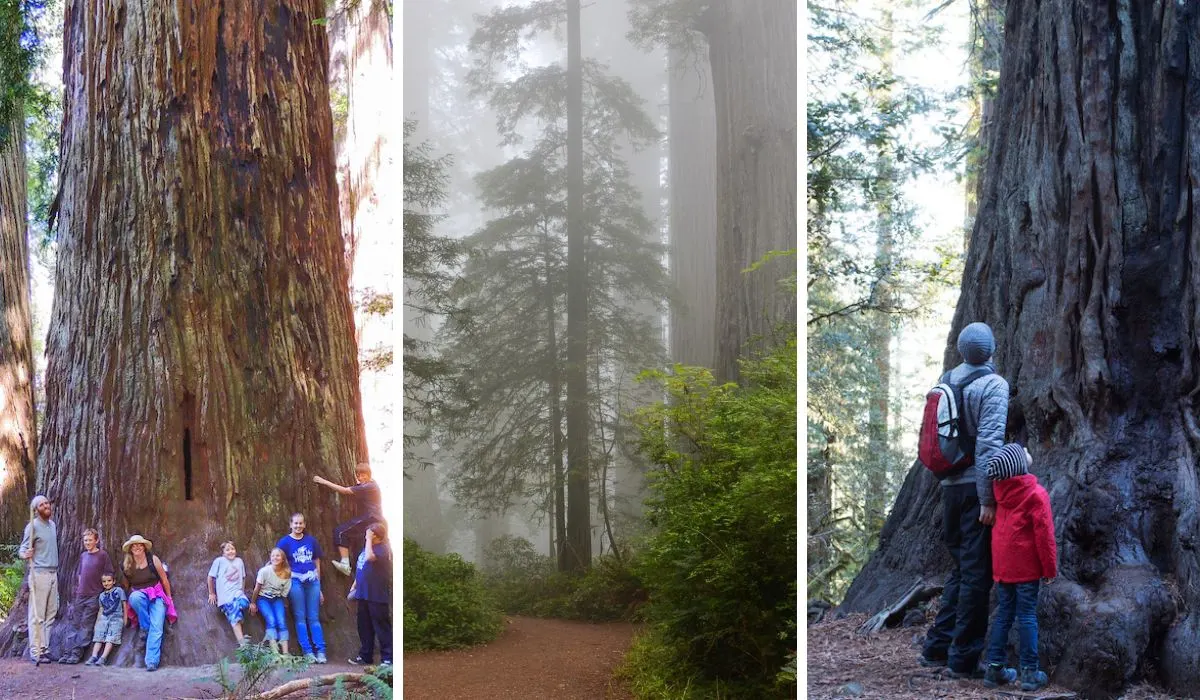 If you haven't camped in the Redwoods before, it's an experience not to be missed. I can't imagine even making a trip to California without stopping to sleep and dream for at least one night amongst these silent giants of time and space. If you feel the same way, consider visiting any of the incredible redwood parks along the coast, but especially Jedediah Smith Redwoods State Park, which is our favorite (so far). Here's an overview of this very special park, as well as some of the amazing trees that live here.
Quick Facts: Jedidiah Smith Redwoods State Park
Open: Year-round, day-use sunrise to sunset
Activities: Hiking, camping, swimming
Camping: 86 tent/RV sites (no hookups) and 4 cabins
Fees: $10 per car for day use. $35 per night to camp, $100 per night cabin rental
Dogs: on-leash in the campground, not on trails
Directions
Official Park Website
Jedediah Smith Redwoods State Park is the last in a long string of redwood parks that stretch up Northern California's coast. According to the park website, Jedediah Smith contains seven percent of all the old-growth redwoods left in the world. The park was established in 1929 with a small parcel donated to Save the Redwoods League by the family of lumberman Frank Stout.
Many of the great redwood trees that live here were planted by the winds, waters, and fires more than 500 years ago. Their world offers a glimpse into the past that we visitors can scarcely believe still exists beyond our imaginations.
We were lucky enough to spend several days at the Jedediah Smith campground in the Redwoods, and here's what we discovered.
California's famous redwoods are a rarity in our world indeed. Occurring naturally in a narrow strip of land between Monterey County, CA, and the southernmost tip of Oregon, they are strangers to every other place on earth. They are also the tallest trees on the planet and have been known to reach a neck-craning height of 379 feet.
You can never really see their tops if you're standing in the forest. You can only imagine what the view is like from up there. If you have trouble visualizing how tall a redwood tree actually grows, check out this infographic from Candide Gardening.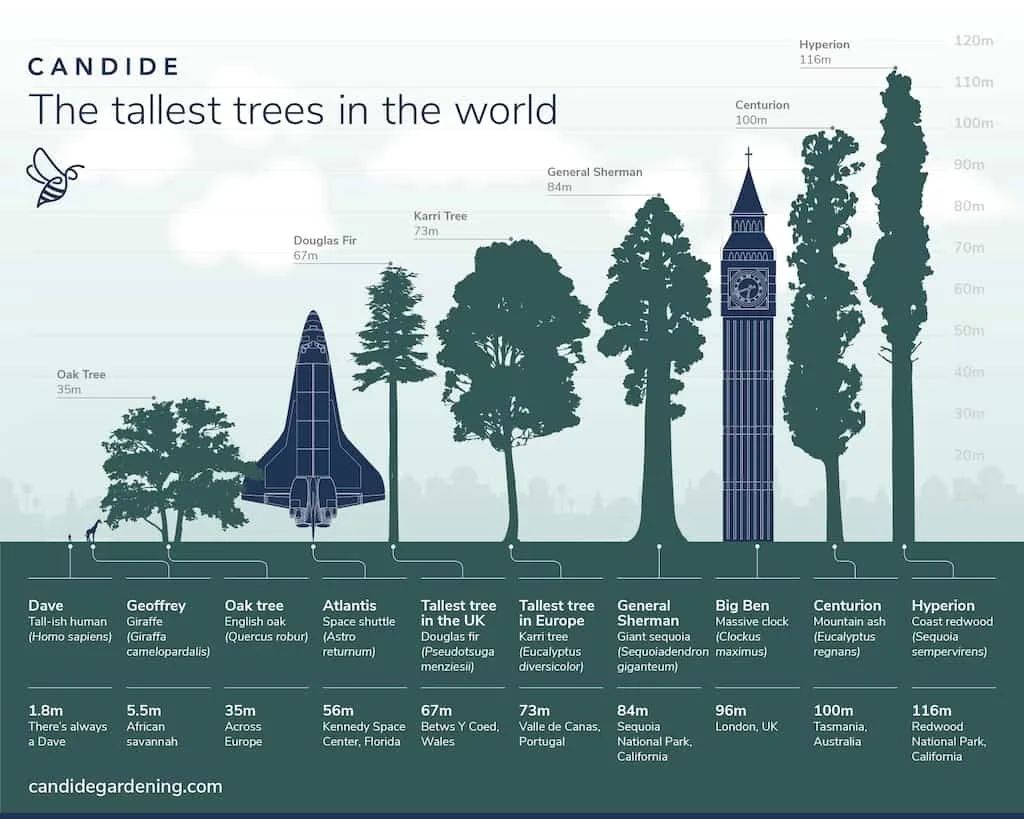 Jedediah Smith Redwoods State Park encompasses 10,000 acres, which are managed cooperatively by the National Park Service and California State Parks. A World Heritage Site and International Biosphere Reserve, Redwood National and State Parks protect 45 percent of California's remaining old-growth redwoods—an area almost four times the size of Manhattan Island.
Jedediah Smith Redwoods State Park FAQs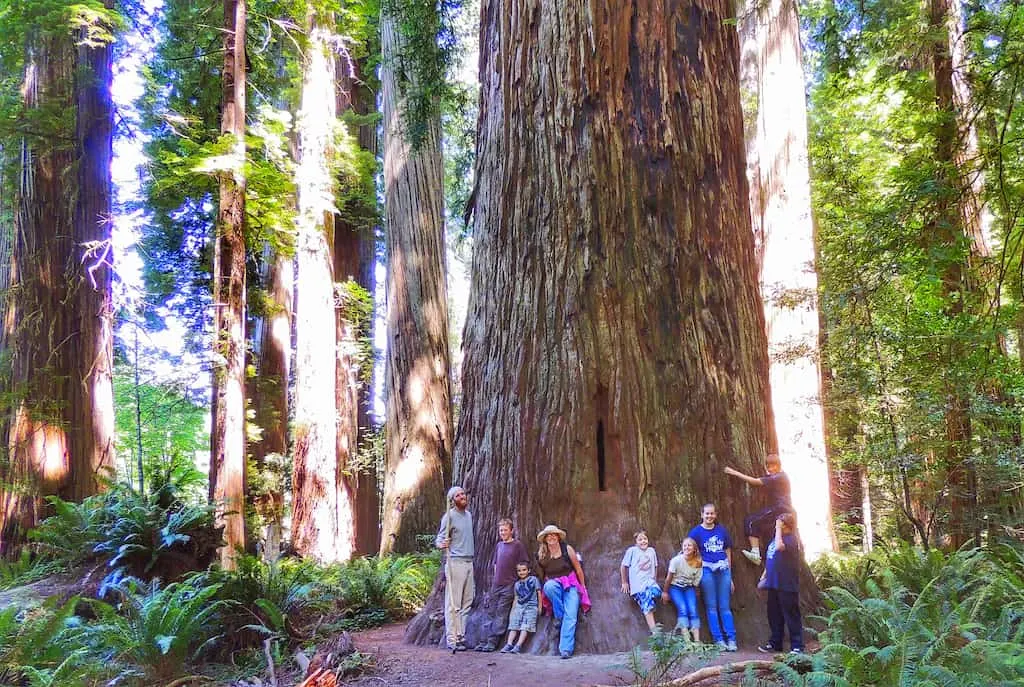 Before your plan your trip to the California Redwoods, here are a few things that you might want to know before visiting this part of northern California.
Visiting the Redwoods in California FAQs
What's the best way to get to Redwoods National and State Parks?
The parks are located in northern California just below the Oregon border. It's a 7-hour drive north of San Francisco, about a 4-hour drive west of Redding, and an 8-hour drive south of Portland, Oregon. If you are flying in, the closest major airport is in San Francisco (fortunately, it's a gorgeous drive up the coast). There is also a small regional airport – The Del Norte County Airport/Jack McNamara Field in Crescent City, California. There are rental car options in both places.
What's the weather like in the Redwoods?
Summer temperatures vary from a low 50s°F to the low 70s°F. Winters are cool, between the low 40s°F and low 60s°F, but with a considerable amount of rainfall, up to 100 inches in some parts of the forest. We recommend bringing layers during all four seasons, and a sturdy rain jacket!
What's the best time to visit Jedediah Smith Redwoods State Park?
Our favorite time to visit is in the summer when the temperatures are warmest, and we can take advantage of swimming in the Smith River. The trade-off is that you have to deal with summer crowds. I would love to visit in May before the summer tourists arrive, but when the weather is starting to warm up.
Why is the area called Redwoods National and State Parks?
This is a unique partnership between California and the US government. In the 1920s, citizens and the state of California began buying land to preserve some of the redwood groves. Parts of these purchases are now three of state parks that are located here. In the late 1960s, the federal government purchased some of the last sections of old-growth redwood groves and this became a national park. The state parks and national park sections are in close proximity and share many borders. In 1994 the management and operations were combined. State park employees work alongside national park employees, and as a visitor, you might not even notice the difference. In fact, you can even use the America the Beautiful pass to get into all of the state parks.
Psst… Have you seen those groovy campervans meandering around America? They're Escape Campervans and you can rent one for all of your explorations in coastal California.
There's an Escape Campervan rental center in San Francisco, about six hours from Jedediah Smith State Park (it's a gorgeous road trip!).
These iconic vans include everything you need (and a kitchen sink) for your van camping adventure. Talk about a memorable experience!
Camping at Jedediah Smith Campground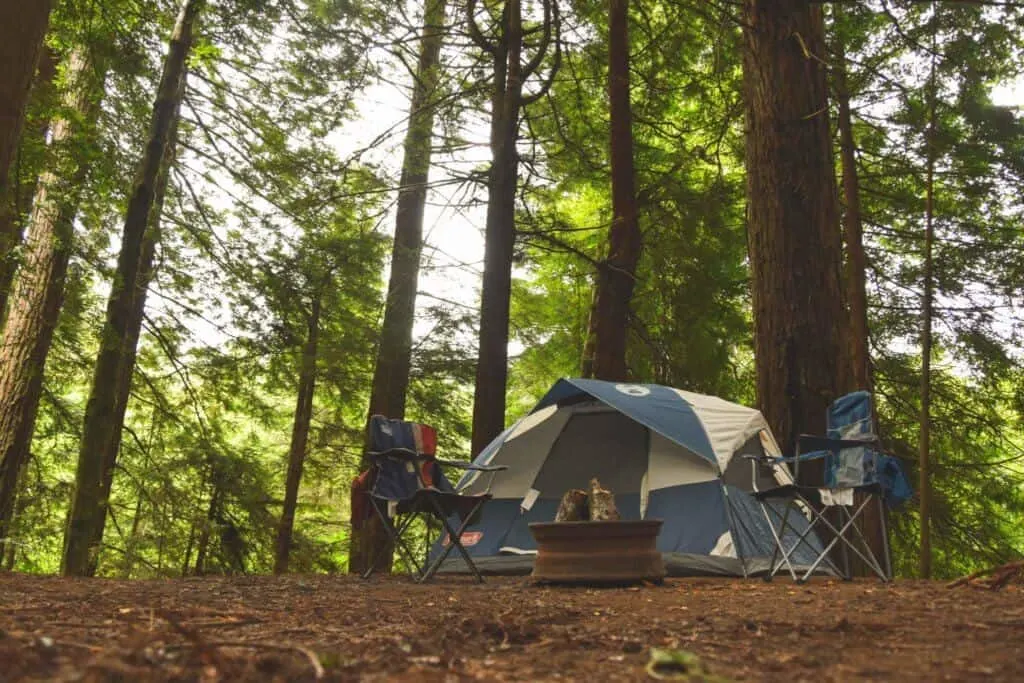 Camping in Jedediah Smith State Park is a bit like spending a night on the Forest Moon of Endor and, if you're a sci-fi dreamer, you might find yourself looking out for Ewoks hiding among the massive fallen trunks and head-high ferns that spout like green fountains from the loamy carpet beneath your feet.
That's because George Lucas filmed the Endor scenes from Return of the Jedi in the redwood forests around the Smith River. Of course, you're much more likely to spot a big banana slug smooshing its way along a wet stump near a campground spigot.
Chances are you'll also meet lots of people from all over the country in Jedediah Smith State Park. The Jedediah Smith campground is quite busy in the summer, but you'll find plenty of room in the forest for exploring and lots of space in the river for cooling off.
The bigger, more international crowds will generally flock to Redwoods National Park, while here in Jedediah Smith State Park, things feel a bit more "local."
The Jedediah Smith campsites are large, fairly private, and feature lots of under-story vegetation and fallen redwood trunks and stumps that our kids enjoyed playing on and around. Keeping campsites "crumb clean" is strongly emphasized in the redwoods because of the close proximity of humans to predators like mountain lions and black bears. A
t night, it's very dark and closed in under the deep canopy of the redwoods so listen for the sounds of spotted owls, coyotes, and maybe even bobcats or mountain lions.
Campsites at Jedediah Smith State Park include a picnic table, fire pit, and bear box, plus ample room for your tent or RV. A few of the sites have direct access to the beautiful Smith River, but even the ones that don't have access to the River Beach Trail, which takes you right to the river. Campsites do not have electric or water hookups, but there are hot showers in the bathhouse, and water faucets sprinkled throughout the campground.
During the summer months, reservations are strongly recommended, and sites definitely fill up. From October to April, the Jedediah Smith Campground is first-come, first-served.
Jedediah Smith State Park Cabins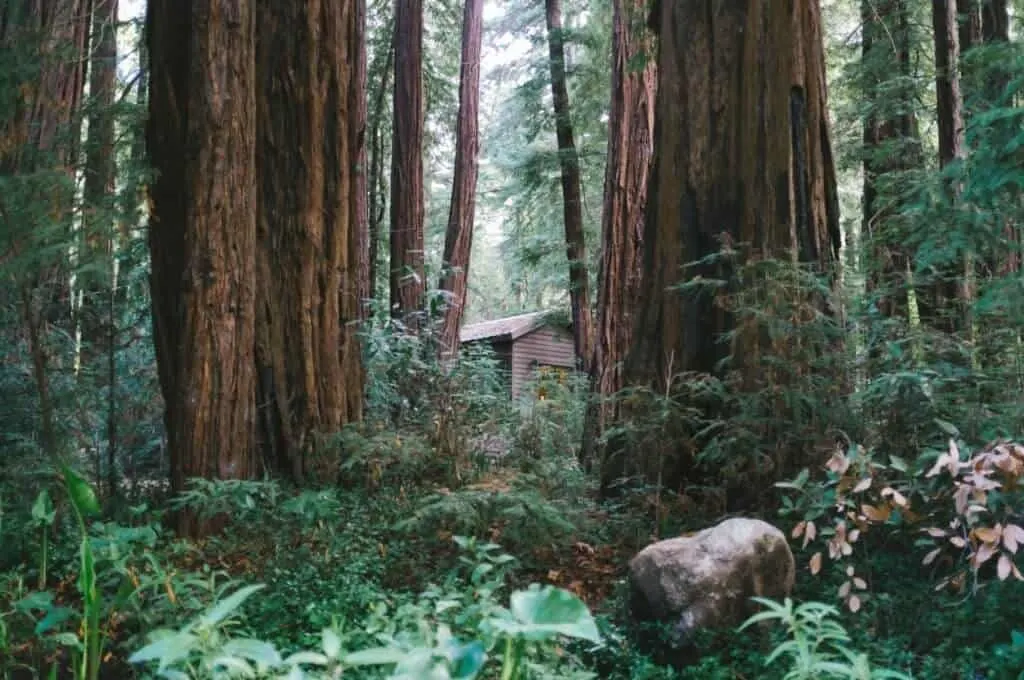 You don't need to pitch a tent to enjoy the beauty of the redwoods in Jedediah Smith Redwoods State Park. Four cabins are available to rent for $100 per night in the summer and $80 in the winter (2021 rates). Cabins are ADA accessible and are located within the Jedediah Smith Campground.
Jedediah Smith cabins have electricity – heaters and lights, but no kitchen or bathroom.
The maximum occupancy is 6 people. Each cabin has 2 bunk beds, each with a twin over a double bed. Guests should bring their own sleeping bag or bedding. There is space for a small tent outside to accommodate an additional 2 people maximum.
The cabin rate includes entry for one vehicle; additional vehicles will be charged $8 per night.
No pets are allowed in the Jedediah Smith cabins
No smoking, cooking, or open flames inside the cabins. Cabins each have an outdoor barbecue, fire pit, bear box, and picnic table.
Walking and Hiking in Jedediah Smith Redwoods State Park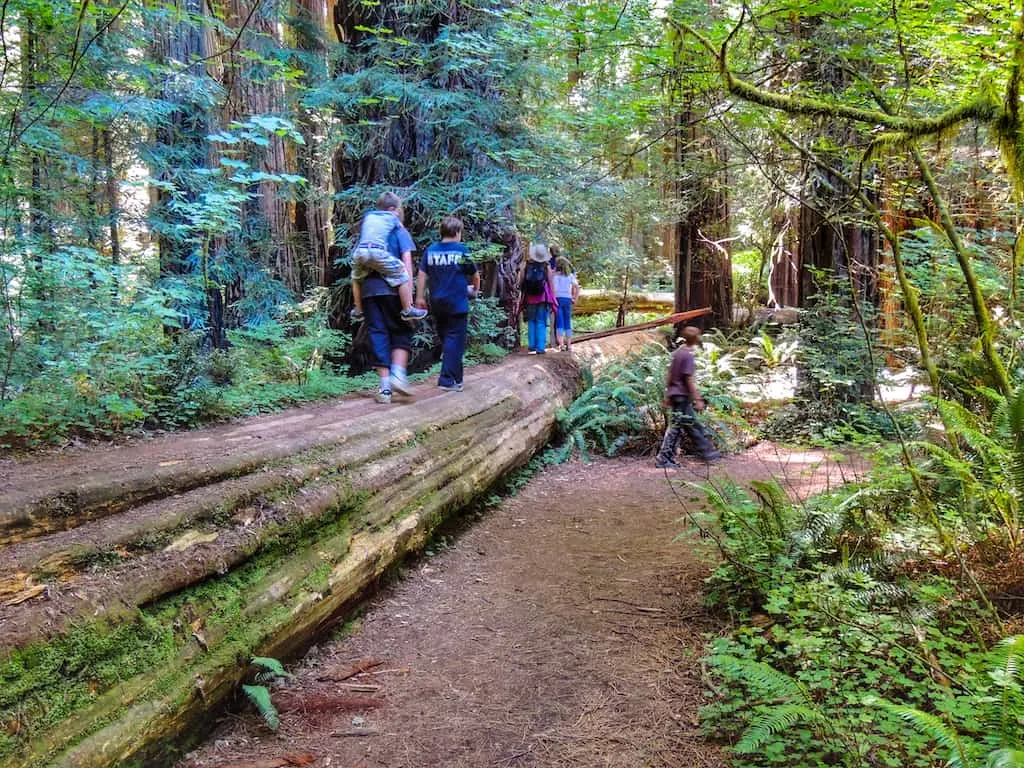 Walking and hiking are great ways to explore the Jedediah Redwoods. 20 miles of hiking trails give visitors lots of chances to easily experience the grace and magic of this special forest. Silent cathedral spires of redwoods mingle with old-growth douglas fir, Sitka spruce, evergreen tanoak, Pacific Madrone, bigleaf maple, California laurel, and red alder.
Trails in Jedediah Smith State Park are well-marked, fairly smooth, and mostly easy for legs both young and old. The understory of the redwood forest is very open and you'll be able to see a surprising distance along the ground. Be sure to make frequent stops to daydream nestled in the roots of these age-old wonders. You should not climb them but definitely enjoy their company.
Our Favorite Trails in Jedediah Smith Redwoods State Park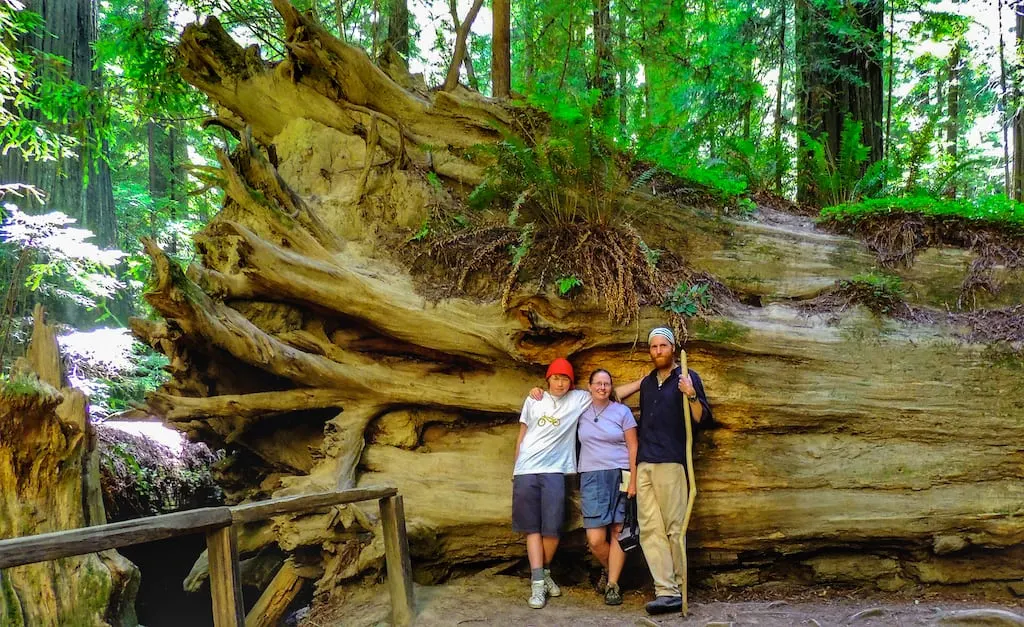 Leiffer-Ellsworth Loop Trail: A 2.6-mile loop through the redwood forest, with flowering bushes and wildflowers below.
Simpson-Reed Trail: The trees here are ancient, nearly 1,000 years old! You'll also find lush undergrowth, a meandering stream, and maybe even some wildlife. This was our favorite trail during our visit to Jedediah Smith State Park. It's only a mile, but it's so pretty!
River Trail: Take the River Trail if you want to swim in the Smith River. This one-mile trail gives you great views of the river and the forest ecosystem. It's a mile long and accessible from the campground.
Redwood forests are surprisingly accommodating. The ground is loamy and soft, the trees seem to be always listening, and sounds melt away into the distant trees or frequent fog that help provide the moisture necessary to the redwoods' survival.
Long corpuscular rays of sunlight filter through the redwood canopy, illuminating verdant green mosses, and sword ferns, and pastel flowers of azaleas and California rhododendron. Some evenings the fog rolls in from the sea, filling the river valley and spilling out into the forest until all is enveloped in hushed tones.
In the morning, the fog leaves the same way–floating like a ghost out of the forest, down the banks of the river, and finally back down to the sea. Be mindful of this magical fog if you're hiking close to dawn or dusk. Park rangers will also tell you to talk, whistle, and sing so that nearby predators know where you are and stay out of your way.
Swimming in the Smith River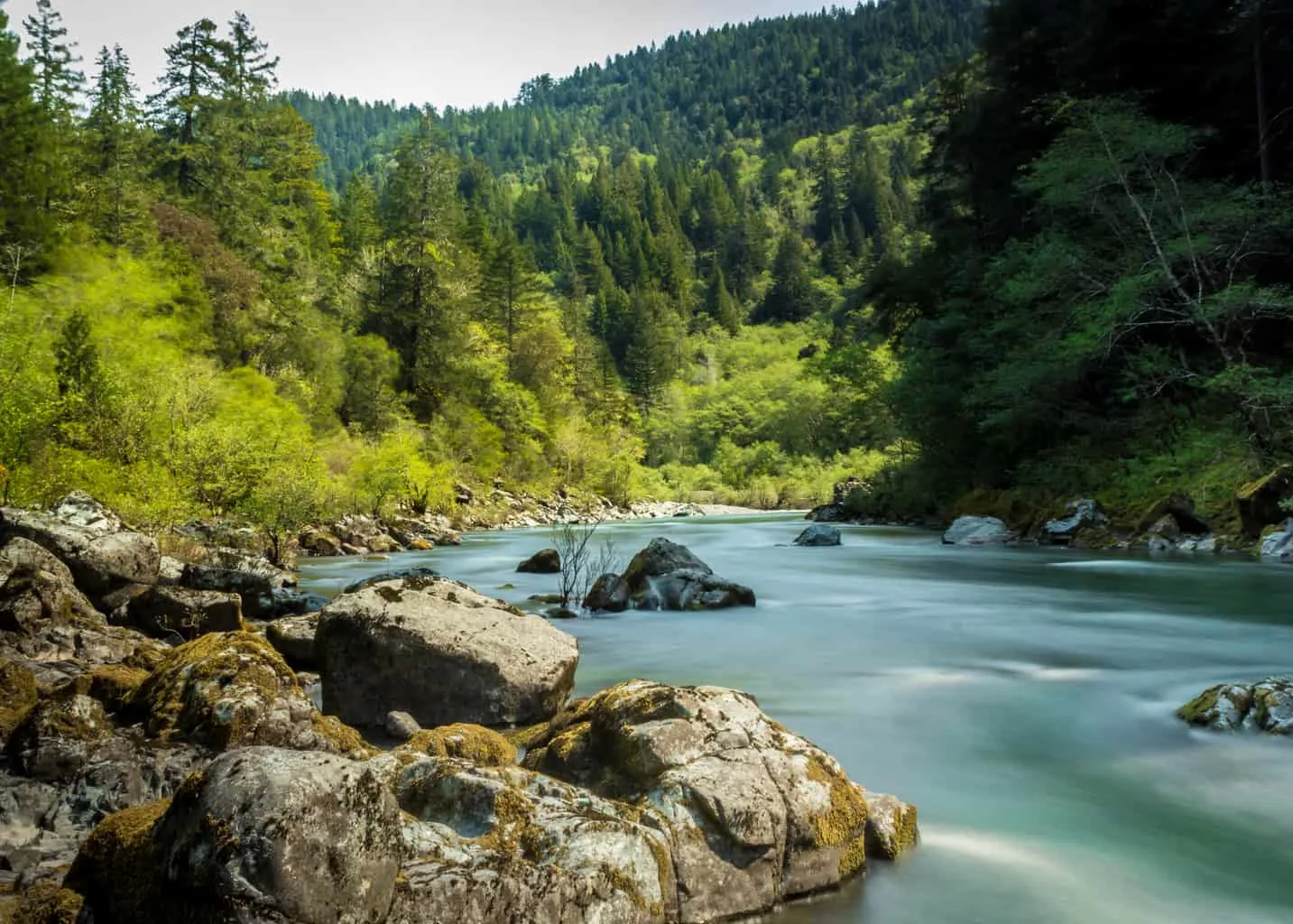 Snaking its way through this ancient forest are the crystalline waters of California's last big wild, free-flowing river-the Smith River, also known by the name Tolowa. No dams spoil its 25-mile journey from mountains and forests all the way to the Pacific Ocean.
The Smith River is unforgettable for swimming, snorkeling, kayaking, canoeing, and fishing. Float along its meandering path to the sea and take breaks on the mammoth islands of rock in its deepest sections. Dive from these islands into the breathtakingly clear water for a refreshing oasis you'll never forget. You can see clear to the bottom even at its deepest points of over 12 feet within the park.
Watch for record-breaking steelhead rainbow trout and chinook salmon as they dart from under rocks and flash reflections of sunlight through the clear water. Sun yourself at the little sandy beaches scattered along its edges as you watch the shadows from the redwoods changing the colors and moods of the forest. You might even catch a glimpse of the area's wildlife while the river flows by — bald eagles, northern spotted owls, black bears, bobcats, mountain lions, beaver, river otters, black-tailed deer, elk and coyote all make their homes in this locale and frequent the sparkling waters of the Smith River.
---
Read Next: The Perfect Oregon Coast Road Trip for Outdoor Adventures
---
Tips for Camping and Exploring Jedediah Smith State Park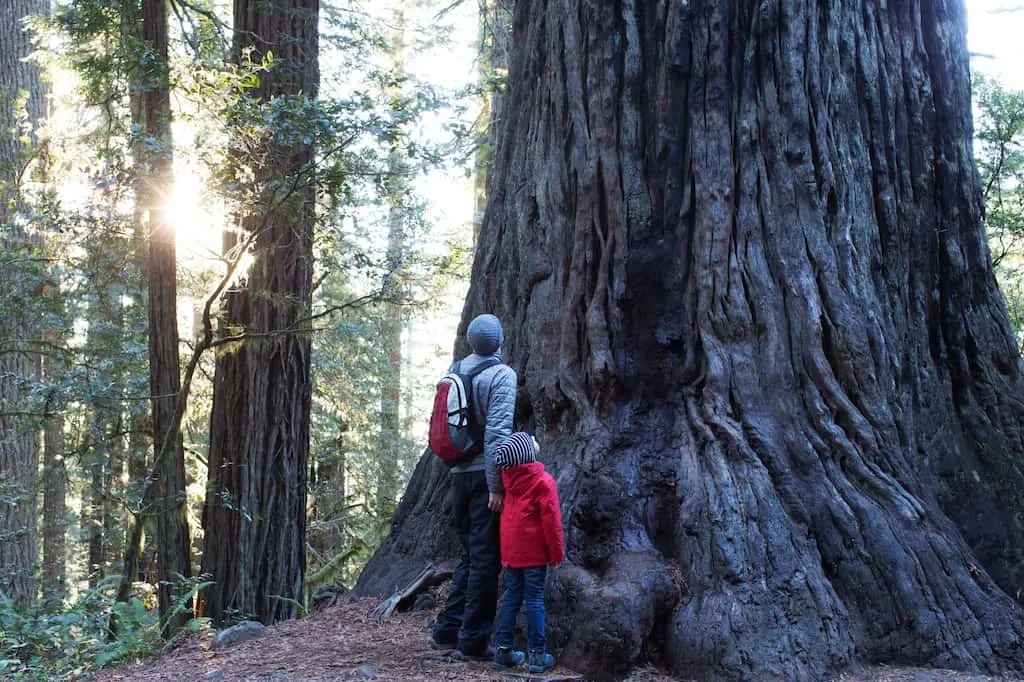 Respect the forest. This stand of ancient redwoods is listed on the United Nation's list of World Heritage sites and has stood here for thousands of years. Follow Leave-no-Trace Principles and good campground etiquette.
Keep your camp immaculately clean from food debris. You don't want to attract animals to your campsite, especially while you're out enjoying the forest and river.
Northern California can be surprisingly cold at night and hot during the day. Bring your sweaters and cozy sleeping bags, but don't forget your sandals, shorts, and swimsuits.
Check out Jedediah's Park Ranger Programs. The Rangers make these programs so much fun and the woodlore you bring back to the forest makes exploring even more dynamic.
Meet your neighbors. This can be a busy campground with folks from all over. Forming bonds at a busy campground is a great way to make your camping feel less like "getting away from it all" and more like a shared human experience.
Keep those lanterns handy. The redwoods can feel pretty dark and close at night.
Take a river swim from the walking bridge down to the campground. Seeing the park from the river, even if you don't have a kayak or canoe, is totally different than seeing it from the forest. This river has some beautiful deep areas and great rocks for jumping that you'll only find if you swim it. Bring your water sandals if you're a tenderfoot. Those colorful round river stones in the shallows can make for very sore feet.
While walking around the Jedediah Smith campground, be especially careful about coming into contact with poison oak. This fun spoiler is easy to identify once you know it and many signs throughout the campground point directly to the plants.
Resources for visiting Jedediah Smith Redwoods State Park
Ready to explore the redwoods of the California Coast? Jedediah Smith Redwoods State Park is one of our favorite California destinations. In fact, just writing about this incredible park is making me nostalgic for those friendly trees. Have you visited these giants of the Pacific?
---
California Dreamin'? Read this next:
The Family Exploration Guide to Joshua Tree National Park
---
Follow us on social media for more outdoor inspiration!
Pin for Later?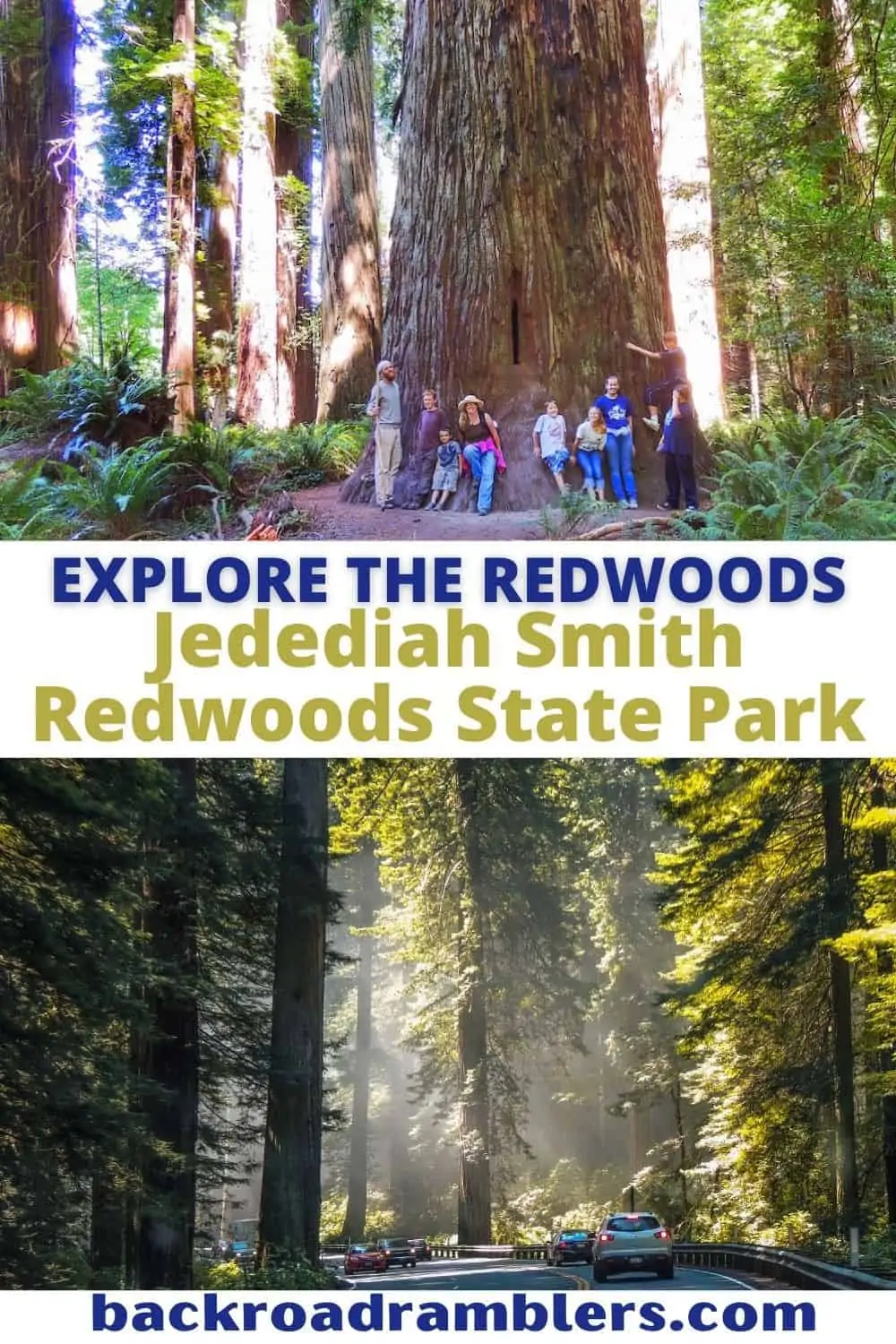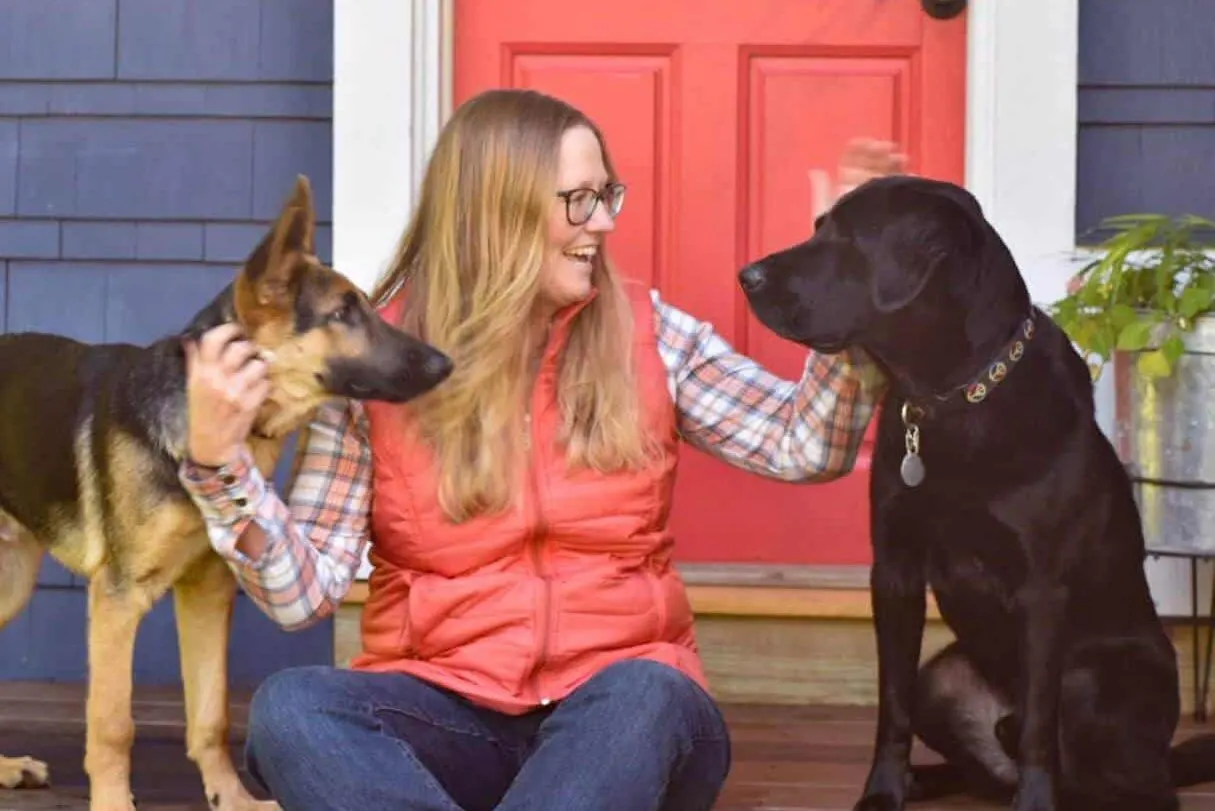 Our Favorite Resources for Road Trips and Outdoor Adventures

These are the resources we use to plan road trips, save money while traveling, and shop for outdoor gear.

Car Rentals: While we use our own car most often for road trips, we also enjoy flying into major airports and then renting a car for more regional road trips. We use Kayak to compare prices and find deals from dozens of car rental agencies at once.

Flights: We use Kayak to search out flight deals.
Money-saving tip: If you find yourself using the same airline repeatedly (we are huge Southwest fans), consider joining their loyalty program and getting an airline credit card. With our Southwest Rewards Visa, we earn a few free flights each year.

Hotels: When it comes to lodging, we seek out small boutique hotels or quirky roadside motels. First, we search for hotels on TripAdvisor so we can read reviews from other travelers. Then, we use Booking.com to make reservations (they have the best prices, plus a flexible cancelation policy).

Camping: Camping is one of our favorite things to do on long road trips. It allows us to explore the outdoors, cook our own food, and save money. We use They Dyrt Pro to find campsites and read reviews before booking on Recreation.gov or state park websites.

Glamping and Vacation Rentals: For weekend getaways and shorter vacations, we love glamping (check out our glamping resource guide). We book glamping properties through Tentrr, Hipcamp, and Airbnb. For cabins and vacation rentals, we like to use VRBO (they have fewer fees and a better cancelation policy than Airbnb).

Guides and Maps: If we are visiting a new region, we usually invest in a Moon Travel Guide for the area. We pass them on to friends and family after our trip. If we are planning on hiking, we also purchase a Falcon guide in the Best Easy Day Hikes series.

Outdoor Gear: We are REI Co-Op members. It cost us $20 for a lifetime membership, but we get a yearly dividend based on our purchases, plus great deals and coupons throughout the year. REI also has a great return policy.

Check out our complete guide for planning a road trip on a budget